Bangalore often gets to me. I find it difficult to network and make new friends. That is a first for me. I usually make more friends than I can handle. I talk to almost everyone I meet. After 3 years in Bangalore the situation in my eyes was becoming scary. I was going to become a crazy cat lady! That was fine with me. But becoming a recluse is something that I can't handle! That's why when Janet suggested a Macaroon workshop I was all ears!
THE OVERSEAS WOMEN'S CLUB OF BANGALORE
To me the Overseas Women's club of Bangalore sounded exclusive. You can only join it as an expat or if you are an NRI. It was this club that was hosting a Macaroon workshop. So how did I get a chance to join? Members are allowed to bring non member guests for the activities that the Overseas Women's club of Bangalore conducts. I am so so glad that Janet invited me because I had a ball!
The Macaroon workshop which was organized by the Overseas Women's club of Bangalore was held in the Novotel. Luckily the venue was not too far from where we stay. The traffic did make it seem longer but from our point of view we made it in record time.  Then again time goes fast when you are catching with all that happened in the previous 24 hours!
THE MACAROON WORKSHOP BEGINS
Before we started off with the workshop we made sure that we checked if our names were on the list and paid for our seats. How much? 2100/- for non members and 1800/- for members. Sound expensive? It wasn't! The price included a three course meal at the Novotel and a bag of goodies that we got to take home.
All in all we were around 10 people. Our teacher was Chef Vishal who immensely patient with us through the whole process. I have to say that he had everything well planned out. He showed us how to choose the ingredients and told us the importance of weighing them. He even weighed the egg white! Now that is something that I have never done before.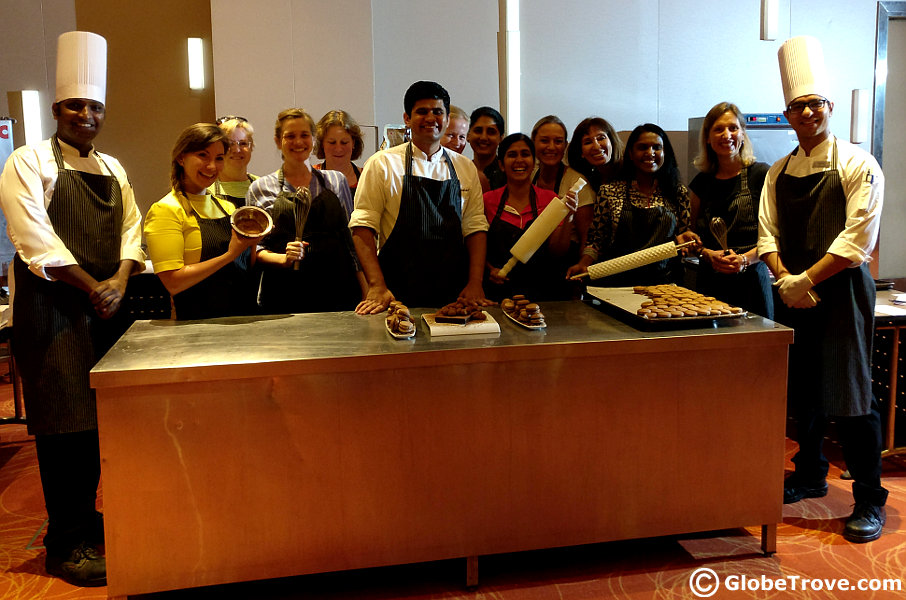 The happy bakers!
One thing that I liked about the Macaroon workshop that the Overseas Women's club of Bangalore organized is the fact that we got to get our hands dirty. We were taught how the mixture should look and were given a chance to see how it should feel. We were given individual attention such that at the end of the workshop we each knew how to place the Macaroon on the tray before baking.
Who knew that there were so many tiny little tips that could change the way your macaroon tasted? I certainly didn't. I used to think that pulling up a video or a recipe from the internet is the best way to go about learning something new. In retrospect there must a zillion ways in which I could have destroyed the macaroons had Chef Vishal not told us about it.
THE TUMMY MUST BE KEPT HAPPY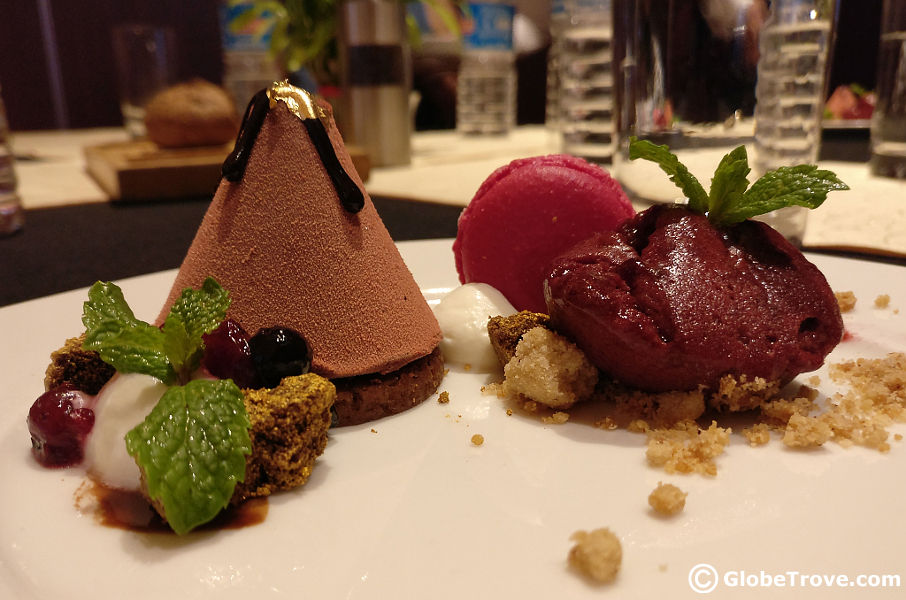 The deserts were drool worthy!
Once we got the main part of the Macaroon workshop out of the way, it was time for lunch. The conversation was interesting to say the least. I thought I wouldn't fit in but everyone was so remarkably friendly. Everyone had their own ways of adjusting to Bangalore.
That's when it became obvious that I was doing something wrong. I wasn't moving out of the four walls of my house. Work can only get you so far. If you need to find friends you need to find common interests. I'm probably going back for the next cooking workshop that the Overseas Women's club of Bangalore organizes. Not just because I love cooking but because I love the company!