We tried a wide variety of restaurants and local cuisine during our 8 day stay on Gili Trawangan and I think you may benefit from our experiments. In fact, I think it would be wise to learn from our mistakes.
After traveling through various parts of Indonesia, I can say this with certainty: Food in Gili Trawangan (And Meno and Air!) is overpriced! Yes! In some parts of the country you can spend the same amount of money to eat at a five star restaurant. So pick your food with caution for you may not get the best food for the money you pay.
This is especially true when it comes to seafood. That is pretty ironic because Gili Trawangan is an island. The truth of the matter however is that commercial fishing is banned on and around the island. Fish must come from a nearby island called Lombok. Hence the fish is not always fresh. Combine this with the fact that the fish is kept on display without being adequately cooled and you will find that the seafood isn't what you want to have.
I have a list of places to eat in that I particularly liked. You can find out a bit more about them as you scroll down.
The Market Square also known as the Night market
Kayu Café
The Pearl
Scallywags
Trawangan dive
The local haunts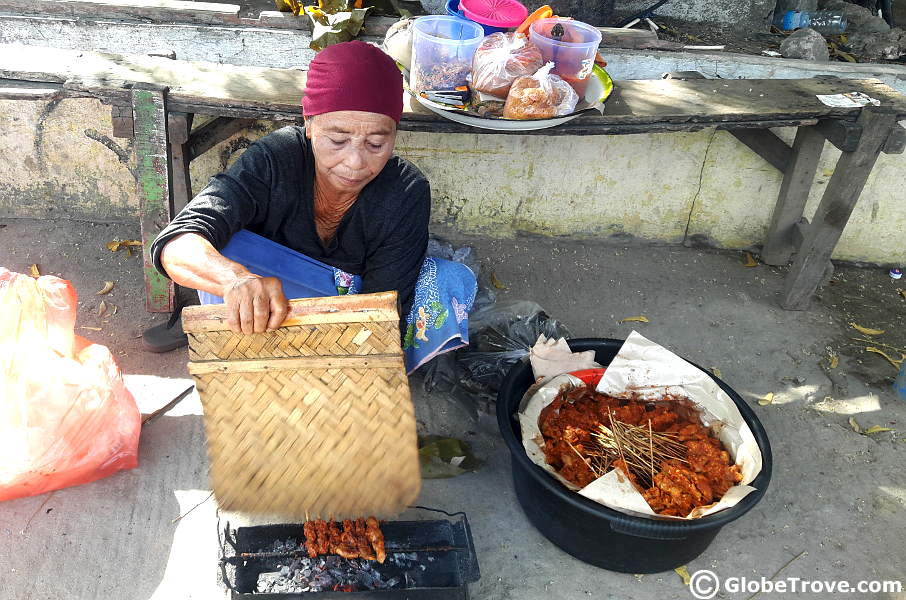 Food tastes best when made with love.
As I mentioned before, almost all of the food that you get in Gili Trawangan is tapered to suit the tastes of the tourists. With just a week into our holiday we found ourselves craving spice. Ironically while the food may not be spicy, the authentic Indonesian cuisine is noted for the fire it can cause in the pit of your stomach.
On our last day on the island we found an old lady sitting at the edge of the market square. She had a small grill in front of her and was grilling satays (beef and squid). We decided to give her food a try. It was by far the spiciest and tastiest food we had since we started off. Needless to say we wanted more. With the help of a few locals we managed to translate what she was trying to say.
Cost:
10,000 rph for 3 satays
25,000 rph for a Nasi Campur which includes 2-3 rolls of Longton (An Indonesian rice dish), a mix vegetable curry, a vegetable that included dry fish and 3 satays
30,000 rph for 6 satays and Nasi Campur
I have tasted Nasi Campur at different places throughout my one month in Indonesia but I must say that the thought of the home cooked meal that was prepared by that old hand makes my mouth water even today!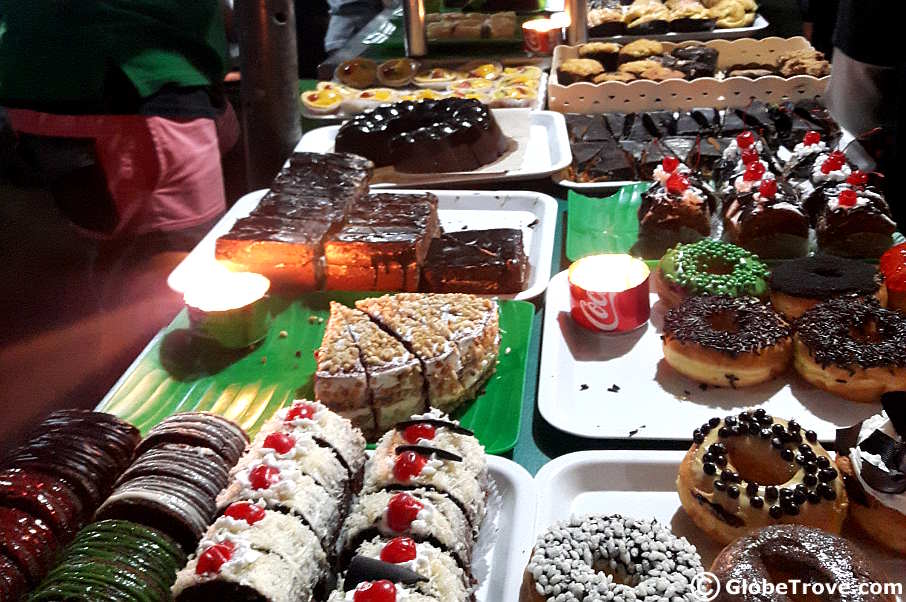 Too many options… Too little time!
If you are searching for places to eat in Gili Trawangan, you will find that the market square is certainly the most popular eating spot. It provides cheap and tasty Indonesian food. The food however is tapered to the tourist's palate and lacks the spice of the Indonesian cusine. If you do ask for spice, you will be directed to a large bowl with a spicy sauce called 'Sambal'. Ketchup and a peanut sauce are other accompaniments that you will find.
The Market square is open only during the night and has a number of different places to eat. In fact, you can spot small stalls all over the market square. A number of tables and chairs are arranged in between each stall. The idea is to get your food, eat and go. If you stay to long, you will be politely asked to leave if your meal is done. This is because of the long queues of people waiting for a seat.
Nasi Campur is a popular favorite. All the stalls have it but each stall has a different billing system so ask before you order. The Nasi Campur side of the stall is filled with containers of different sorts. They contain everything from vegetarian to non-vegetarian food. You select what you want and you get billed for what you take. At first we were hesitant to try the Nasi Campur but once we got used to it we started having it every night.
The island is inhabited largely by a Muslim population. That is why you won't find pork being sold. You will however find beef. The stalls also have beef satays, seafood satays and whole array of seafood that can be grilled and served.
We did try the grilled fish twice but as I explained before, seafood isn't the best item n the list and I classify it as one of the worst food disasters we have had during our entire trip.
The Sweets were a must try. In one corner of the market square, you will find a vendor that has an array of Indonesian sweets. These sweets attracted my attention every time I walked through the square. The variety of sweets is astounding and you will find that each night brings something new. Choosing from the large selection is probably one of the most difficult things I have ever done!
We spent an amazing day at Gili Teak but the day was marred by a bad experience with their staff. The food was good, the ambience was simplistic but what spoilt the day was the lack of honesty and the deception. If it wasn't for these two things I would have returned to eat at their restaurant again. Let me tell you about it so you can make your own judgment.
The three of us had decided to spend a quiet day at the beach. We wanted a restaurant to lounge in. Our requirements were simple. We wanted happy hours and good food. So we set about looking for a place that would give us both. We passed through a few restaurants and since they did not match up with what we wanted, we moved ahead till at last we reached Gili Teak.
A conversation with the waitress ensued and she reassured us that there were happy hours. We had originally planned on enjoying the 'Bintang' which is the local Indonesian beer but since she told us that happy hours only extended to the cocktails we settled on having two cocktails (buy one get one free). Shawn had the Long Island Ice tea and I had the Strawberry Daquiri. The LIIT was average and the Daquiri was not something that I would recommend.
Our day wound off late in the evening. It was now time to pay our bill. The previous morning shift waiters and waitresses had left for the day. The new shift presented us with the bill. Surprise! Surprise! We were charged for both drinks. Naturally we thought that they had made a mistake. So we told them about it politely. They however said that the restaurant did not offer happy hours. Wow! We then asked them to contact the other shift staff. (I'm not sure that they actually did this!) After 15 minutes of waiting, we were told that the staff said no such thing.
Paying the tab wasn't a problem. It was over our designated budget for the day but we did not mind. The problem was the way we were deceived. Maybe it is me or maybe it is the way I see life. I don't like deception. I don't think anyone does. We paid our bills, reviewed Gili Teak on TripAdvisor and left. A sad end to a happy day!
A small quaint place nestled amidst a number of restaurants, Kayu café was a place after my own heart. Suffering from Irritable Bowel Syndrome means that I have to search for a place that agrees with my tummy. While traveling, I find that this is hard to do. I stumbled across Kayu café quite by accident.
Kayu Café offers a variety of different options. Their bread, cakes, smoothies and juices are their popular attractions. I found myself indulging in their smoothies. While compared to the rest of Indonesia, the Kayu Café may be considered expensive; on Gili Trawangan the cost was not really that much. Even if it was, I would have kept going back because the smoothie was lip smacking delicious! My tummy had no complains either!
The downside to the Kayu café is the fact that they close at 8 pm. You need to get your order in by 7:15 pm at the latest so don't leave this place for the last.
The Pearl is meant for fine dining. The ambience of the restaurant, the style in which they serve their courses and the way the staff interacts with their guests sets the Pearl apart from the other restaurants of the island. With fine dining comes a cost and if you are willing to pay it then the Pearl is the place to be.
The day before Joal departed, we decided to have a nice dinner at the Pearl. The soft lapping waves and the food really made our day. It was peaceful and serene. It was a nice end to his vacation. Ours however was to extend on (thankfully!).
A popular choice amongst the tourists is a restaurant called Scallywags. It is renowned for its food and its alcohol. With the hordes of people visiting this restaurant, with found that we had to give it a try. On one side of the road is a grill. An assortment of fish and meat are arranged for your observation and selection. It was this arrangement that tempted us from the very beginning.
The monster ribs (beef) seemed to have our name written all over them. Scallywags offers a salad plate with every grill option chosen. While Joal helped himself to a steak, Shawn and I ventured to share the monster ribs. They were delightful and I was glad that we decided to share because there was no way I could have finished the ribs all by myself!
A pitcher of Sangria added to the merriment. The alcohol was a hundred times better than the one served at Gili Teak. The music was lovely. Not too loud and not to soft!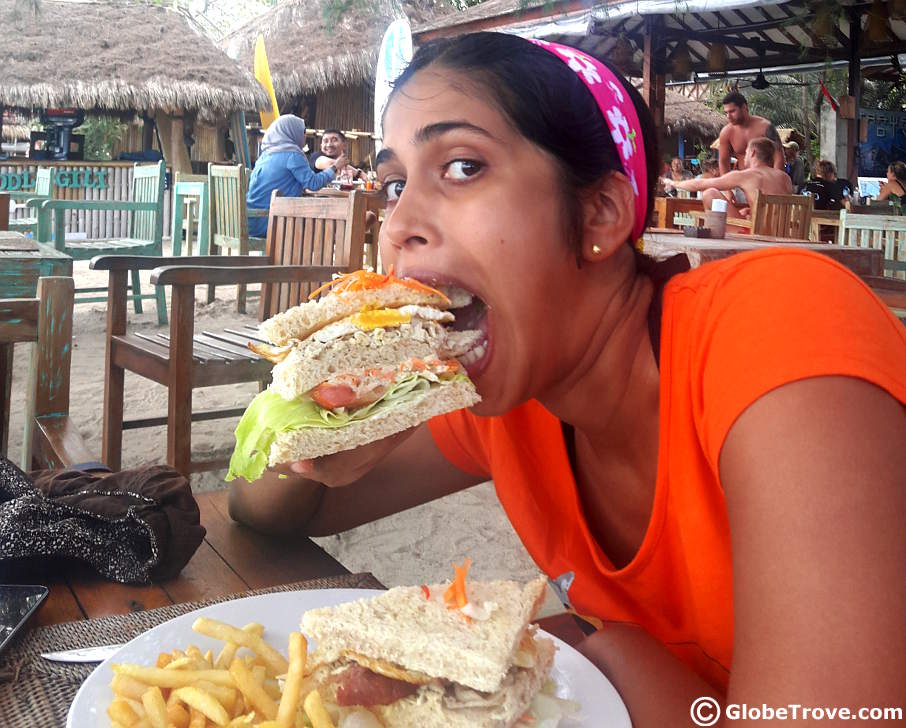 The sandwich was too big for me to take a bite decently!
Snorkeling, scuba diving, kayaking, paddle boating… The list of water activities that can be done on the island are numerous. Trawangan dive is possibly the most popular spot to rent equipment. It was but obvious that we made their restaurant our base camp for the day. Between long snorkeling trips and kayaking over to the neighboring island we found our stomachs rumbling and telling us it was time to eat. Trawangan dive did not disappoint.
The sandwiches and burgers were definitely the best thing on the menu. The other items were not bad either. If you are ever in the vicinity, do give their smoothies a try. They are possibly the most innovative drinks that you will come across and they are mighty tasty too!
The best part about Gili Trawangan is that there is something for everyone. You can eat cheap street food or you can make your way into a fine expensive restaurant. The food is delicious either way. If you like Indonesian food that is! If you don't then don't worry, a number of restaurants also cater to the western tastes.
Have you been to Gili Trawangan? What was your favorite spot to eat?