Gaya island lies in the Tunku Abdul Rahman Park and is usually not covered under the standard island hoping trips. The island however has a little secret. Since it is a bit more expensive that the neighboring islands, Gaya island is free from the hordes of tourists. If you want to visit Gaya island you have to either book a day trip or stay on the island. Staying on the island was too much for our pocket so we opted for a day trip. Can't remember exactly how much we paid though. Sorry… My memory is really fails me sometimes!
BOOKING A TRIP TO GAYA ISLAND
Gaya island has two main resorts. One is the Bunga Raya Island Resort and Spa and the other is the Gayana Eco resort. We decided to head out to Gayana on a day trip because the Marine Ecology Research Center is a part of the resort. That was something that definitely made my list of things to do in Kota Kinabalu and I was excited at the opportunity to tick it off. You can book the day trip at Jesselton point. We called ahead to let them know that we would be joining them on that day.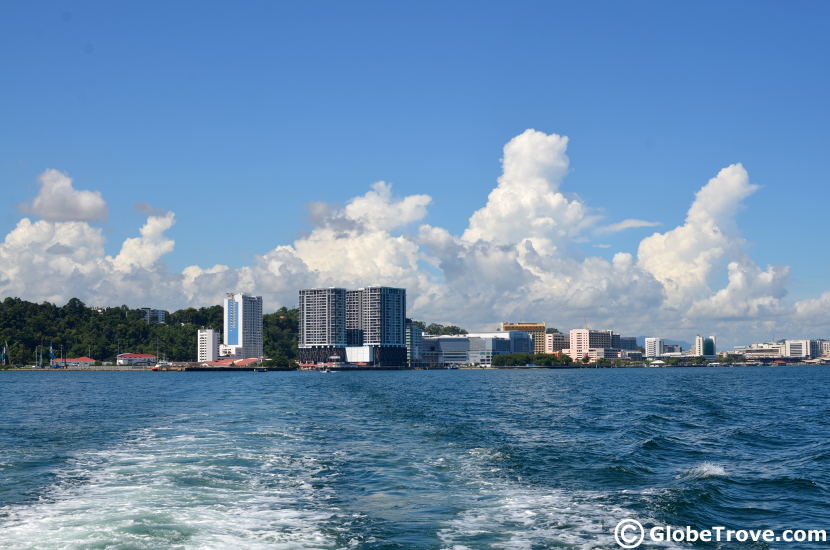 A glimpse of Kota Kinabalu as we left.
The boat trip to Gaya island took us around 10 minutes. It left at 10 am and you had to report 15 minutes in advance. You pay the man at the Gayana office and he guides you to the boat that will take you across. Unlike the small speed boats that take you island hoping through Tunku Abdul Rahman Park, the Gayana boat is larger and slower. It carries the staff and some of their daily rations too but the boat is really clean and comfortable. You can walk around and Shawn didn't get too seasick which is always a good thing!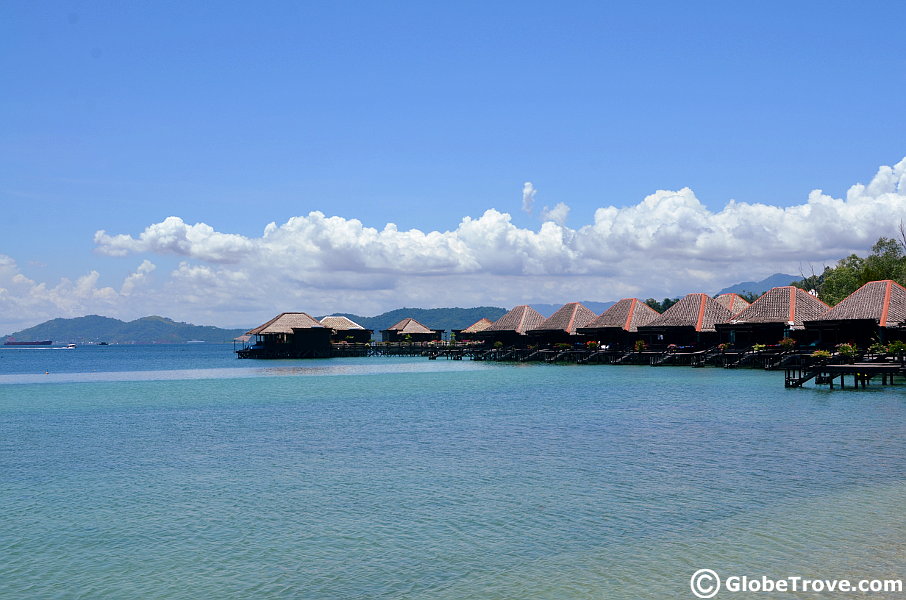 Gayana is just so easy on the eyes!
The very first thing that you notice about Gayana is the view. It hits you the moment you see it in the distance. For me it was exactly how I expected the Maldives or Mauritius to look like. In short it was beautiful. Did I mention that we were the only tourists on the boat? Once we docked we also realized that most of the villas were unoccupied. That meant that we had the island practically all to ourselves. Nothing can better than that!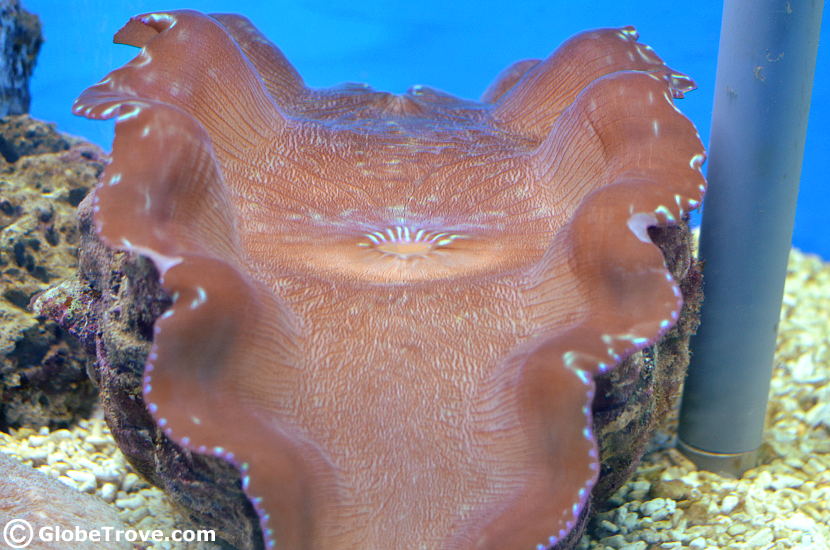 Conservation of clams!
The Marine Ecology Research center (MERC) was one of the main reasons why I wanted to visit Gaya island. Located in the Gayana Eco Resort, MERC aims at conserving the 7 native species of giant clams which are under threat due to various reasons. They are also working on the conservation and restoration of coral. One of the things that I loved about the Marine Ecology Research Center was the way they taught their visitors about each individual species that they were treating. The experience was educational, fun and even hands on!
RELATED ARTICLE: The Marine Ecology Research Center (MERC)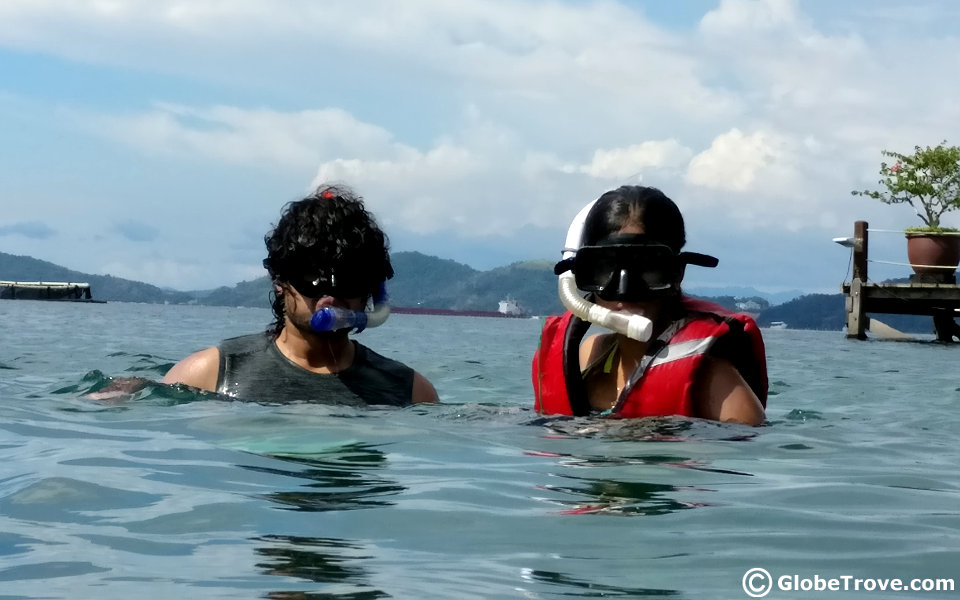 Snorkeling is always better together!
There is quite a lot of fun to be had on the island. Kayaking, snorkeling and scuba diving are the top picks. Day trips are also included for people who stay in the resort but for people on a day trip to Gayana, the top three are your best picks.
We decided to stick with snorkeling because scuba diving was way too expensive especially when we compared it to our experience on Kota Kinabalu main land. Snorkeling around was really fun especially since we were the only two people snorkeling in the area.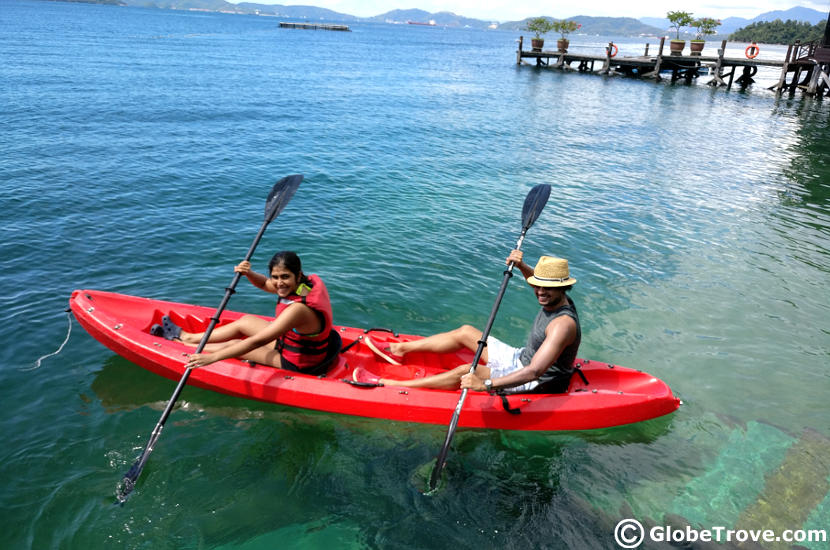 My favorite water sport: Kayaking!
After our first round snorkeling we came up for a snack (which we had packed) and a short breather. One of people working at the counter told us that kayaking was free for an hour so we jumped at the opportunity. We certainly had fun because we managed to kayak right till the MERC headquarters. Unfortunately when we came back we realized that the employee had mistaken us for guests who had rented the cottages. The kayaks were not free for day trip guests. We landed up shelling out a bit more than expected.
We had another set of snorkeling before the it was time to return our gear and head back home. The day at Gaya island went by rather fast. Then again that is what happens when you really enjoy yourself right? Me I would recommend heading out to Gaya if you are trying to escape the crowds. It's quiet and peaceful but it is a tad bit expensive.