One of the most popular activities in Kota Kinabalu is the island hopping. That does not come as a surprise because the islands off the coast are known to be beautiful and are famous for snorkeling and diving. The Tunku Abdul Rahman Park houses a cluster of five islands. These islands are none other than  Sapi island, Manukan island, Mamutik island, Sulug island and Gaya island. Each of these islands has beautiful reefs that attract tourists from all over the world.
GETTING TO TUNKU ABDUL RAHMAN PARK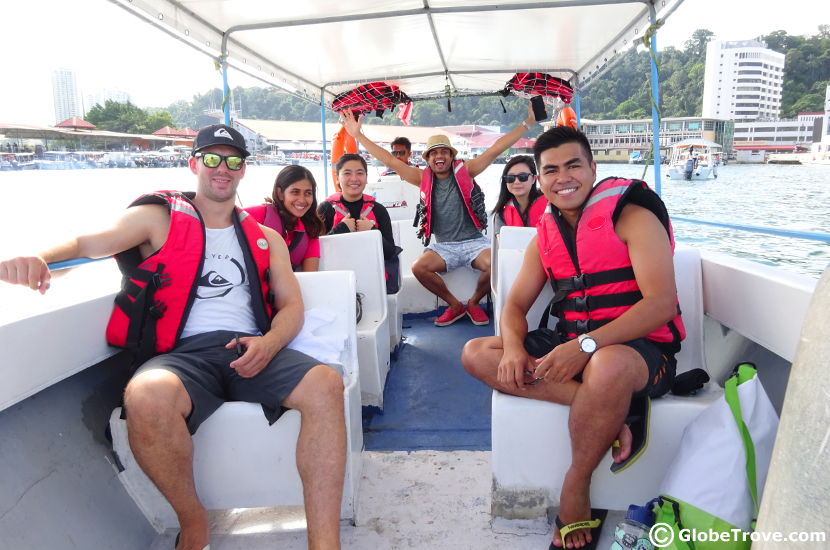 Our sea chariot!
Getting to the Tunku Abdul Rahman Park is really easy. Head over to the Jesselton Point Ferry Terminal. On your right hand side you will see a building. Enter in and you will greeted by a number of ticket counters. These are various agents who will show you their rates for a 15-20 minute boat ride to whichever island you want to go to. You can club many islands together to see more in one day. There are however three points that you should keep in mind.
The timings are from 7:30 am to 5 pm. These will tell you when your first and last boat in and out is.
These hop on and off boats do not include Gaya island. Getting to Gaya island is a whole different ball game and I will dedicate a separate post to that.
You have to pay extra to rent snorkeling masks, fins and life jackets.
We were a big group so we decided to hire a boat specifically for us and we chose to head out to two islands: Sapi and Manukan
RELATED ARTICLE: Finding Out The Secrets Of Gaya Island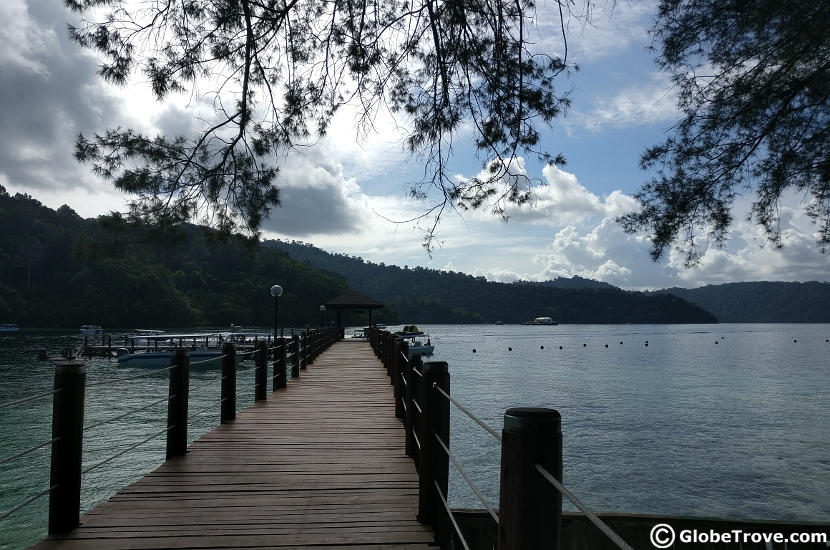 Land Ahoy! And what a pretty sight it was.
The 15-20 minute boat ride is really enjoyable. The boats were open and small and they go at considerable speed. That means that you get bounced around a lot. You have to tell the guy in charge of the boat what time you want him to collect you and you are good to go.
Note: Harbor rules state that you need to wear your lifejacket at all times when traveling on the boat.
The first thing that you notice as you step off the boat is the crystal clear water surrounding Sapi. The second thing you notice is the large crowds. Don't worry. They shouldn't bother you too much and don't ditch Sapi just because of them yet. Why? Because in all the places I've snorkeled and dived, Sapi has the best reef. That being said I have no idea about Sulug and Mamutik.
You follow the long boardwalk until you enter a shaded entrance. Here you will find that you have to pay and entrance fee for the Tunku Abdul Rahman Park. At first we thought that the fee was included with the ticket that we have paid. That was the understanding that we had had with the person at the counter of Jesselton point but I think something got lost in translation. The entry fee is RM 10 for foreigners and RM 6 if the foreigner is below 18 years old. The fee is different for Malaysians and stands at RM 3 for adults and RM 1 for children.
THE SNORKELING AREA AROUND SAPI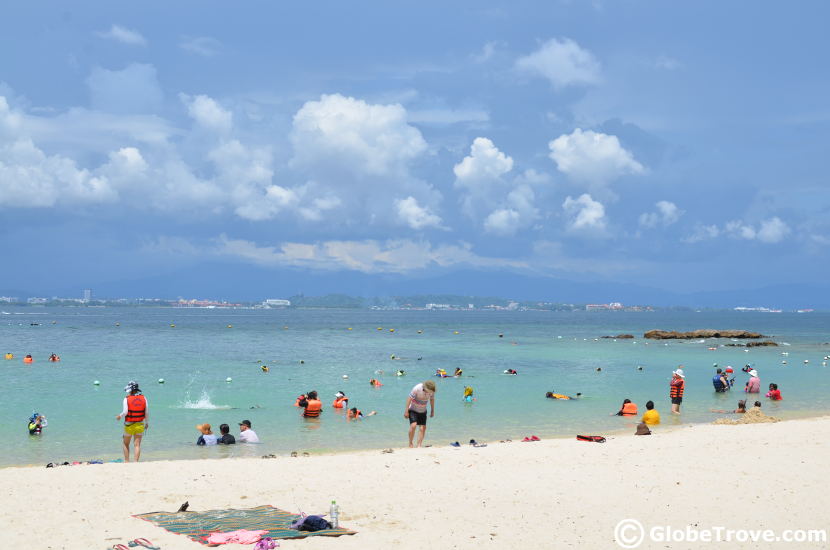 A view of the crowds.
The snorkeling area around is cordoned off by floating buoys and ropes. You need to swim within these areas. This prevents you from coming in the way of any passing boats. Safety is important and I was so happy to note that the lifeguards on the island are extremely alert. There is a flag system that is followed and it warns you of different dangers so give it a glance before you enter.
LUNCH IN TUNKU ABDUL RAHMAN PARK
Lunch differs from island to island. You can pack yourself a snack or you can decide to eat a buffet lunch on whichever island you are on. We choose to go with the buffet on Sapi. It is a bit expensive (can't remember the exact cost!) but you can negotiate and they may drop the price down a couple of ringgits. The food is simple and covers both vegetarian and non vegetarian menus. I particularly loved the shrimp and the sweet potato.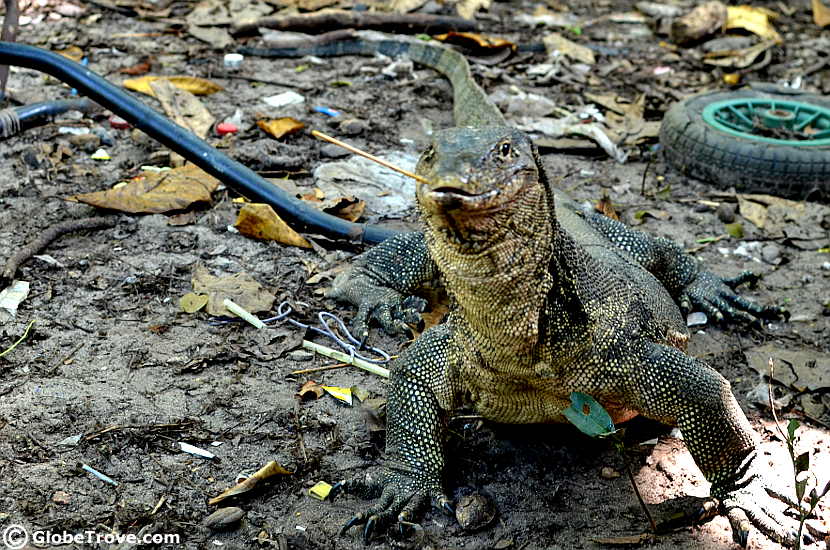 As cute as reptiles can get.
While we were busy eating our food, we heard a commotion amongst the other tourists on the island. 'Lizard' 'very large lizard' 'extremely large lizard'… You get my drift. Curious I headed back to see what was attracting all the attention. What I saw made me forget all about my lunch. A monitor lizard and its family had decided to visit. The monitor lizards were quite comfortable with human company and the locals fed them much to everyone's glee. So I guess they weren't as wild as everyone thought they were! Though I would honestly prefer if people did not feed wild animals because it changes their ability to hunt and makes them more dependent on humans. The locals however had their heart in the right place.
OTHER ACTIVITIES ON SAPI ISLAND
Snorkeling is not the only activity that you can indulge in on Sapi island. Other popular activities involved zip lines, parasailing and scuba dives. There is a lot that can be done and Sapi and completely take up your whole day. A few of our friend tried the zip lines and the parasailing. We however were too occupied with the snorkeling.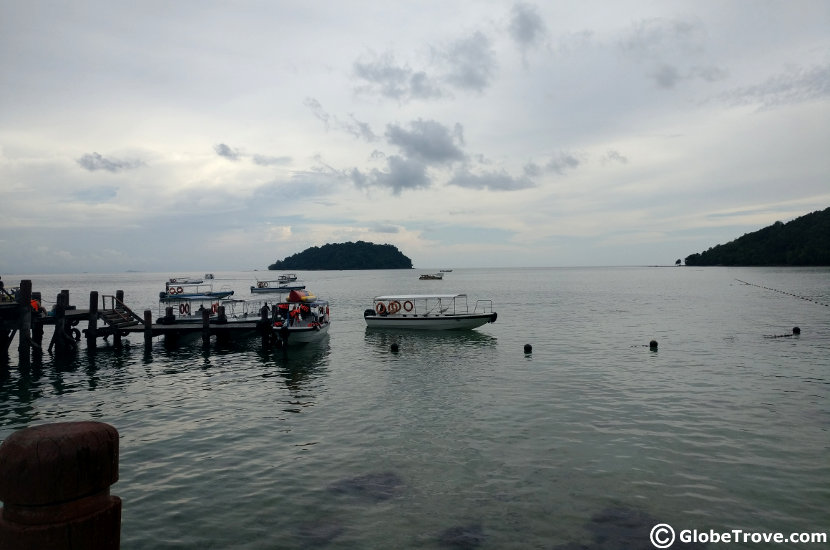 The clouds gathering overhead implied that it was time to leave.
With food and all the activities done it was time to head to our next island: Manukan. Compared to Sapi Manukan was much quieter. It had a similar boardwalk and a similar entrance. Since we had paid the entrance fees once we just had to produce the receipt at Manukan.
Manukan island has coral reefs too but they aren't as pretty as the ones around Sapi. Though we swam in different locations we found very little coral and fish. We had just two hours on the island and we weren't too disappointed.
The clouds seemed to be gathering overhead and it was time to leave. Our time spent island hopping in Tunku Abdul Rahman Park was definitely fun. I can see why it is such a popular tourist attraction. If we had more time we would have probably tried to explore other islands too but then there are just so many hours in a day. Luckily we did manage to visit Gaya island and the Marine Ecology Research center. That however is a tale for another day!