The long weekend has hit Bangalore and we were stumped about what we would do. Luckily for us our dilemma was quickly resolved when Asha from Starbucks invited us over to celebrate the third anniversary of the Starbucks coffee shop in Prestige Shantiniketan (Bangalore). There was no doubt in my mind and even though today is supposed to be a holiday, I kicked Shawn out of bed in the wee hours of the morning because the Starbucks coffee shop in Prestige Shantiniketan is my favorite in the whole of Bangalore. I would go so far as to call it my second home.
WHY IS THE STARBUCKS COFFEE SHOP IN PRESTIGE SHANTINIKETAN MY FAVORITE?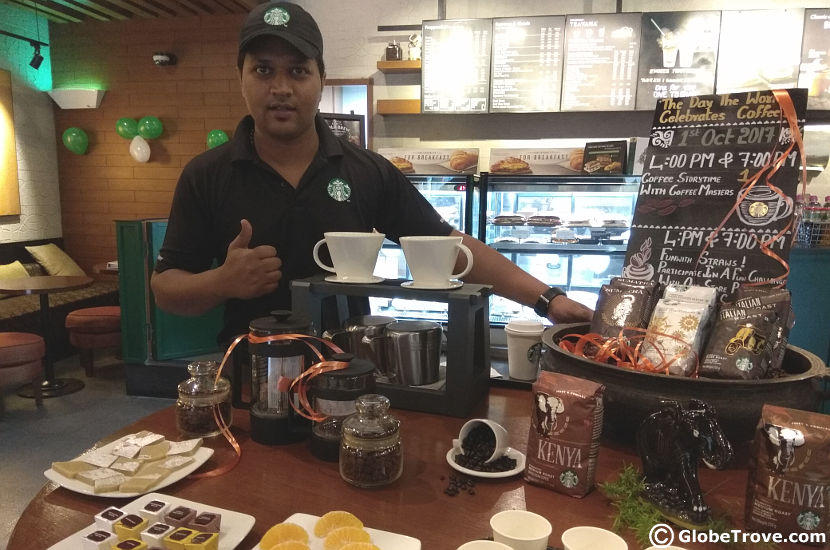 If you had to ask me why the Starbucks coffee shop in Prestige Shantiniketan is my favorite, I wouldn't be able to narrow it down to just one reason. The coffee is awesome even by Starbucks standards. Now I'm not a connoisseurs but the flavors are stronger and it never feels watered down. If it does not turn out just the way you like, the staff will definitely make sure to tweak it or make it again till it's perfect.  More importantly, the Starbucks coffee shop in Prestige Shantiniketan is great place to start my morning because it is so close by and because every coffee is served with a smile!
CELEBRATING THE THIRD ANNIVERSARY OF THE STARBUCKS COFFEE SHOP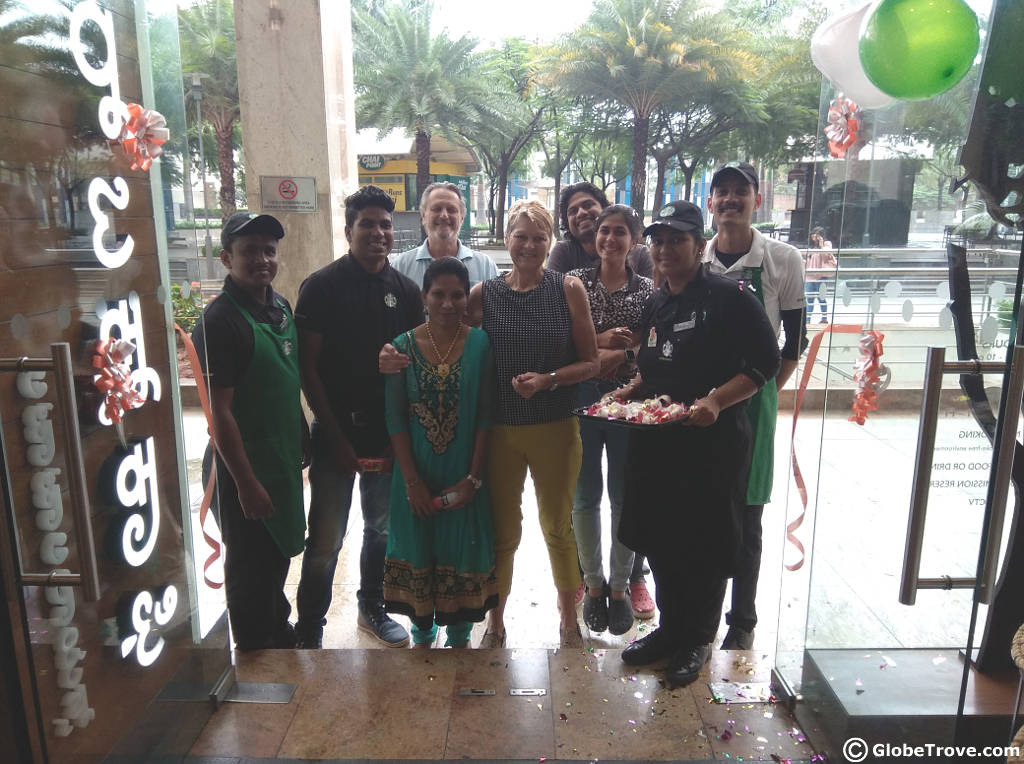 I honestly had no idea what to expect from the morning. Sure, I knew we were going to cut a cake but that is exactly where my knowledge tapered off into non existence. We were joined by two other regular clients and the entire staff (Asha, Tejal, Pradeep, Murthy, Suraj and Kishor) of the Starbucks coffee shop in Prestige Shantiniketan turned up to celebrate. Everyone was super excited and white and green balloons were strung up to add to the festivities. A mysterious table piled with coffee cups and beans sat at the center. Was that oranges that I saw?
THE FESTIVITIES BEGAN WITH A BANG!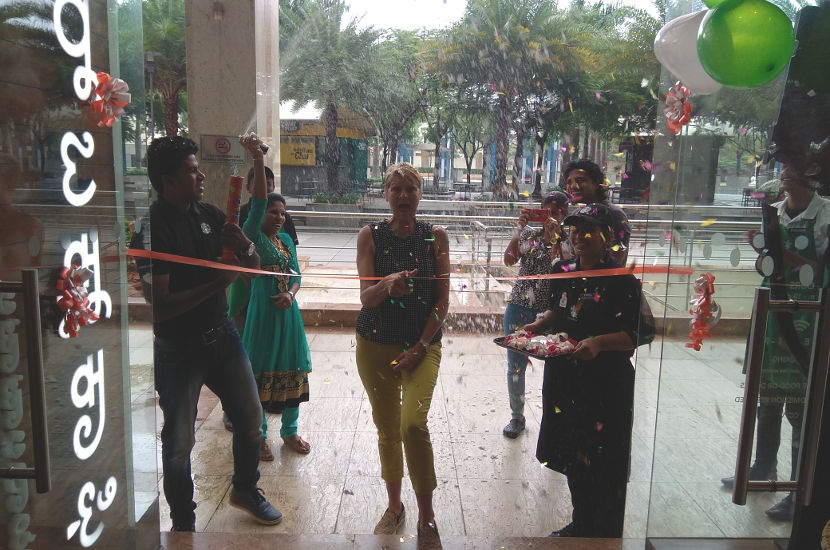 Streamers, artificial snow and so much more!
We started off the festivities with a real bang over our heads while one of the regulars cut the ribbon to the store and someone popped streamers and artificial snow. Lots of laughter and cheer ensured which reminded me why I liked the store more than ever. It was mostly because the team functioned as a family and the clients were welcome to be a part of it. I think that's one of the reasons why I am so hooked to the store. I know each one of them and they know me by name!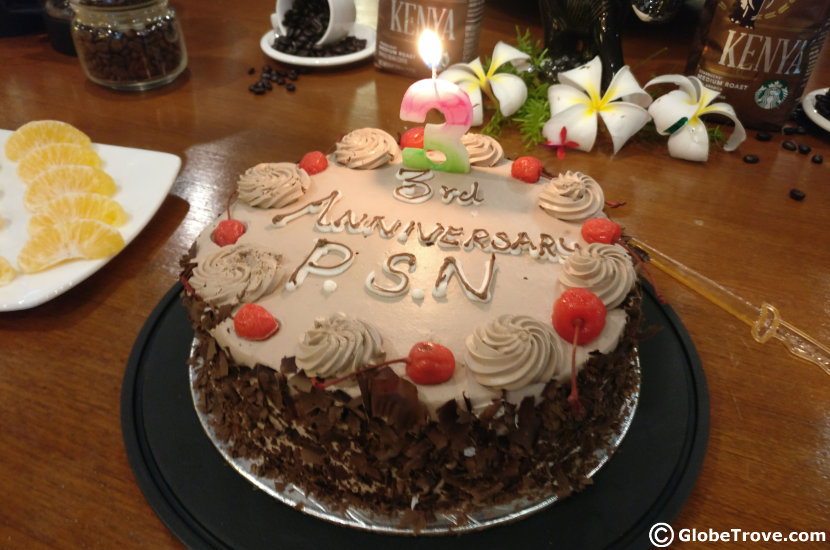 And the store turns three!
Next on the agenda was cutting the cake. While we were a small group, we certainly managed to make plenty of noise. The delicious cake soon made its way into everyone's mouths pretty quick. A sweet way to start the morning but I wasn't complaining.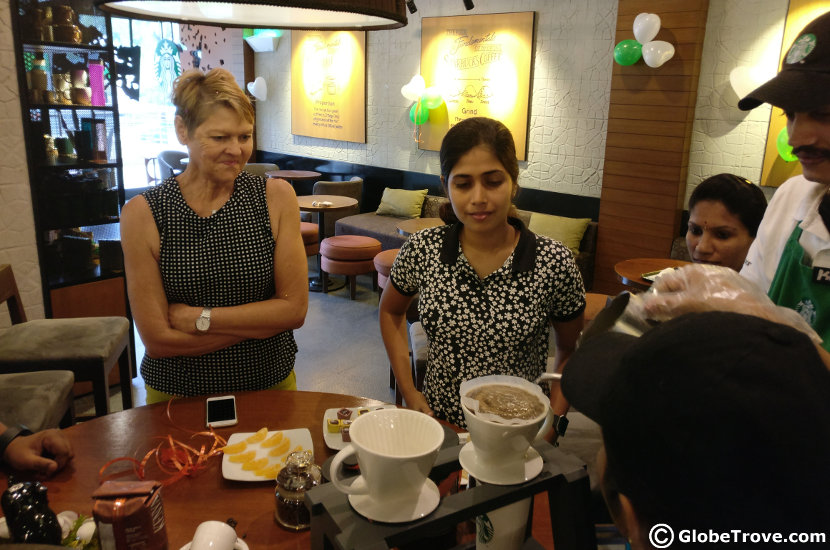 With that I thought that the festivities were done but I was mistaken. We were then informed that tomorrow (1st October) is International Coffee day. Fancy that! I never realized that there was an international coffee day. Well since the Starbucks coffee shop in Prestige Shantiniketan is closed on Sunday, they had decided to combine the celebrations.
Tejal took us through the process by which coffee is filtered. An interesting story that she told revolved about the creation of filter paper. The first filter paper was apparently created by a lady named Mellita Bentz. She wanted to have nicely strained coffee. After experimenting a lot, she finally found a piece of blotting paper in her sons notebook which she then used to strain the coffee. That was how the first filter paper was born. This tiny ingenious discovery let to her setting up a business with her husband and her sons as her first employees. I'm sure that it turned profitable pretty quick. Now if only I could be as ingenious as that!
Tejal also went on to demonstrate how each size of the starbucks cup has a different amount of coffee used. She showed us how to pour the water so we could brew the coffee right. Next we were taught how to taste coffee. Do you know the golden rule of tasting?
It's smell, slurp, locate, describe!
A lesson in coffee tasting.
Smell:
Cup your hand over the coffee and smell. Your nose detects thousands of smells simultaneously. By cupping the cup you allow your nose to only smell the coffee which is a really mind blowing experience.
Slurp:
So slurping may be bad manners but when it comes to coffee slurping exposes your entire palate to the different flavors.
Locate:
Locate sounds like a weird term to use when dealing with coffee but there is a science behind it. The tongue is divided into four parts. The tip is most sensitive to salty and sweet items. The sides tell you about sour food while the back of your tongue is predominantly related to bitter tastes. Locating which part of your tongue catches the taste helps you gain a better understanding of the coffee you drink!
Describe:
That last step is to describe the taste based on the location of the tongue that you taste the coffee most.
Interestingly enough the type of taste that you get from the coffee varies depending on the accompaniment that you have along with it. We were given different types of chocolates, oranges and even kaju katli (A cashew nut based Indian sweet) so that we could distinguish between the tastes. My favorite was the orange. Shocking much?
Last on the agenda of the Starbucks coffee shop celebrations were the coffee games. I must say that the team was very innovative with this one. A pile of coffee beans was handed out to each of the contestants along with a straw. The objective of the game was to use the straw to pick up the coffee beans and place them in a cup. We had one minute to pick up as many coffee beans as we could. That was a whole new level of fun.
I think the one hour that we spent celebrating with the Starbucks team in Prestige Shantiniketan was definitely the highlight of my day. It was fun and enriching in more ways than one. If you are in the vicinity, I would suggest dropping by. You are certain to be served an amazing cup of coffee with a smile and the Starbucks coffee shop in Prestige Shantiniketan is by far one of the best places to work in. For me it's a bloggers paradise.
*This is not a sponsored post
**The post contains affiliate links