Like the rest of our trip, we found ourselves booking our accommodation in Dambulla a day before we arrived. We were rather worried because unlike the previous journeys our trip from Ella to Dambulla was going to take long. It doesn't come as a surprise because we caught a rather long scenic journey from Ella to Kandy by train and then a shorter rather unpleasant journey (due to a series of bad choices which you can read about) from Kandy to Dambulla by bus. Our criteria for choosing our accommodation in Dambulla was that it had to be cheap, reasonably well located and clean. Richwin villa popped up almost instantly and I can honestly say that after three nights of staying in the villa, we loved it! You can see that it scored 5 stars on almost every criteria we evaluated it for.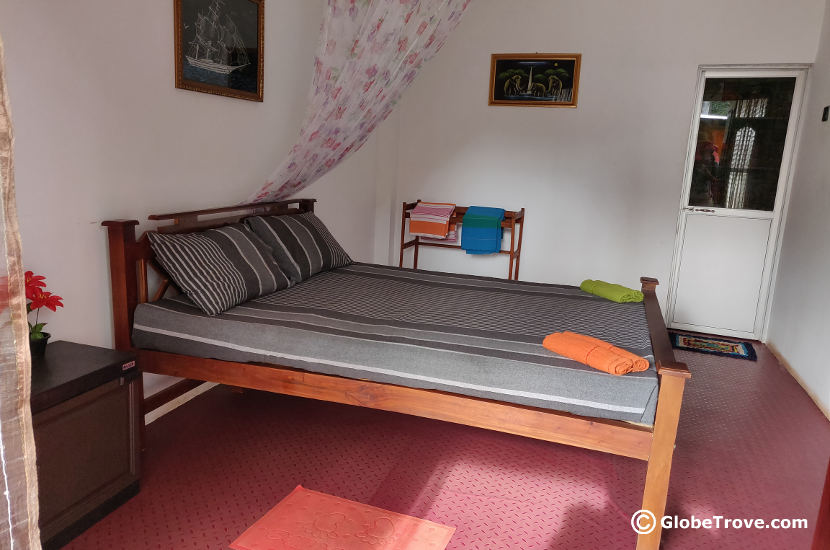 The view of the room in our accommodation in Dambulla.
I've started trying to be more objective in the way that I evaluate the accommodation that we use when we travel. So if you look at the table below you can see where Richwin Villa does well and where it is lacking at a glance. A more detailed review will follow below.
| | |
| --- | --- |
| CLEANLINESS | |
| WIFI | |
| LOCATION | |
| VIEW | |
| COMFORT | |
| CUSTOMER SERVICE | |
Richwin Villa is located at walking distance away from the Dambulla Cave Temple which is the main attraction of the town. A number of buses also pass through this route so if you don't mind a five minute walk, you can catch a bus to the main bus stand where you can head out to Polonnaruwa, Anuradhapura and Sigiriya from. One of the nicest parts about Richwin Villa was that it was located a bit away from the main road, so it was quiet and peaceful.
The room that we were provided was a simple room. Clean which for us was a must and had an attached bathroom. Hot water was also available so that was a big bonus! The room also had a nice little porch with chairs so we could sit outside. There wasn't much to see because we looked into the garden, but it was peaceful and in a way it felt as if we were a part of the Sri Lankan village life. Another big bonus was the grocery store that was a stone's throw away from our room.
One of the reasons why we wanted to stay at Richwin villa was because we read that they give motorbikes for rent in Dambulla. If you have tried to rent a bike in Dambulla you know that it is very difficult. The city is small and the tourists are few. Most people stop in Dambulla just to see the temple and move on. We however decided to use it as our base to visit the rest of the cultural triangle in Sri Lanka. We walked around the city but found that this was the only place that rented motorbikes. If you choose to do this, make sure that you have a temporary driving permit which can be obtained in Colombo. Driving without it is illegal. We got caught by the police on the first day and were super glad that we had our papers in order. In case you are wondering how much we paid for the bike, it was 1500 LKR per day and we got a full tank of fuel.
In addition to the bike rental, Richwin villa will also provide you food on request. We wandered around to different spots in Dambulla in our search for food. The food here however was the best and the prices are reasonable. A couple of other people who were staying in the room next to ours sung praises of the trip that had been organized for them. They had visited Polonnaruwa and the owner had taken them to Sigriya on the way and organized a safari too. We later were told that there are a number of trips that can be organized and personalized. We however preferred to explore the area on the motorbike.
It doesn't matter whether you choose a budget accommodation or an expensive one. Good customer service is key. Richwin villa had it all. We never felt neglected and the hosts were always around to answer our queries. So, I definitely will give them a five star rating for customer service. In fact, on the day we were leaving, they also gave us tips on how to catch the bus from Dambulla to Trincomalee more easily.
Heading out to Dambulla? You can book your stay at Richwin Villa by following the link.
Have you been to Dambulla? Where did you stay? We would love to hear about your experience in the comments below.
*This post contains Affiliate links
**This is not a sponsored post. We paid for our own accommodation and the opinions expressed are our own.