Everyone wants to visit the iconic Halong Bay. The most popular way of doing so is via the Halong Bay cruises also popularly known as the Halong Bay 'junk boats'. The problem with these cruises however is the fact that they are very expensive and don't fit into the backpacker budget. Luckily there is another way to visit this UNESCO Heritage site. That is by staying on Cat Ba island which was exactly what we did. We stayed on Cat Ba island for five days which was quite a bit. Three days is more than enough to see the whole island comfortably. That is unless you want to sit back and relax like us. In order to help other travelers passing through the area, I drew up a Cat Ba island travel guide.
NAVIGATE THROUGH THE CAT BA ISLAND TRAVEL GUIDE WITH EASE
In order to help you get the information efficiently and since the article is really long, I've provided you with a set of links that will help you move directly to the point of the article that you want to read.
The first hurdle to spending time on Cat Ba island is actually finding a way to reach the island. Most people head out to Cat Ba from Hanoi. We however were making the trip all the way from Sapa. Irrespective from which direction you are heading out from, the ferry point that you need to reach is the same: Haiphone. In order for my Cat Ba travel guide to be truly complete, I decided to start my narration from the main land.
The ferry is a 15 minute drive from the Haiphone train station. We found a couple that was heading towards the ferry point and together we shared a cab. While we had booked the ferry seats prior, the other couple had not. There was quite a bit of confusion at the ferry point as we tried to search for an agent to get their tickets. In the end, they booked their tickets from the agent who was manning the ferry after it came in. I can't remember how much they paid for their tickets but we paid was 90,000 VND per person.
GETTING FROM THE FERRY POINT TO THE CITY
All smiles at the ferry point.
If you take the ferry over to Cat Ba island like us, you will find that you reach around somewhere in the afternoon. That means that you will have only a part of your first day on the island. Though Cat Ba is a pretty small island, it takes a while for you to reach from the jetty to the city. The ferry that takes you across also provides you with a bus that takes you to the city. The drive is pleasant and beautiful. If you keep your eyes open, you can even catch a glimpse of the mangroves that are famous nearby.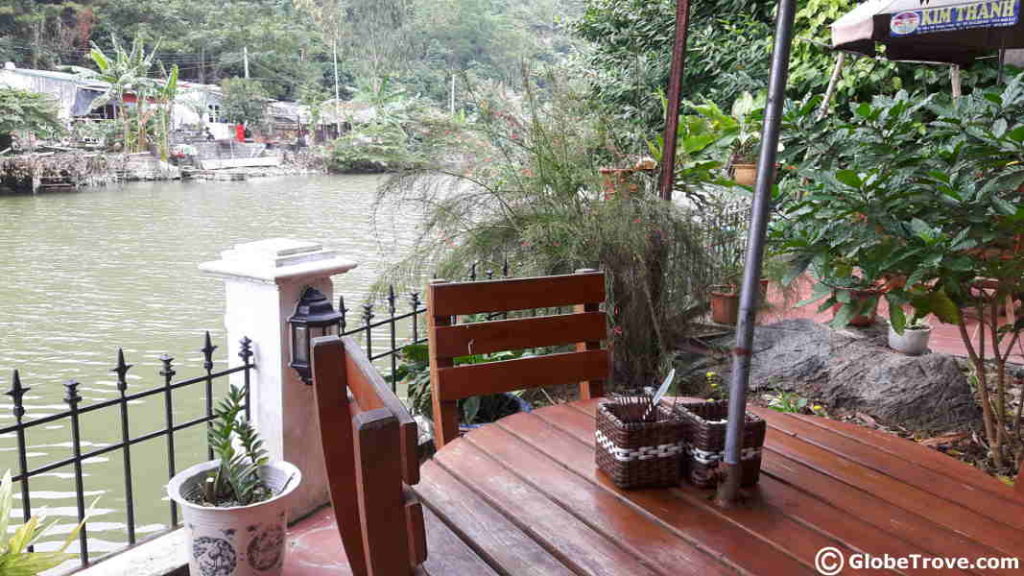 A view from our breakfast table.
A lot of the accommodation is at the city center. In fact, we noticed a number of backpacker hostels in the area when we were walking about. We however chose to stay a little off the beaten path in a place called Little Cat Ba. It had a small stream at the side of it and it was away from the city. It gave us just the peace that we were searching for. You can use the following link to search for accommodation on the island. We prefer to use accommodation that have received a rating of 8.0 or higher.
RELATED ARTICLES: Little Cat Ba: A Refuge By The Water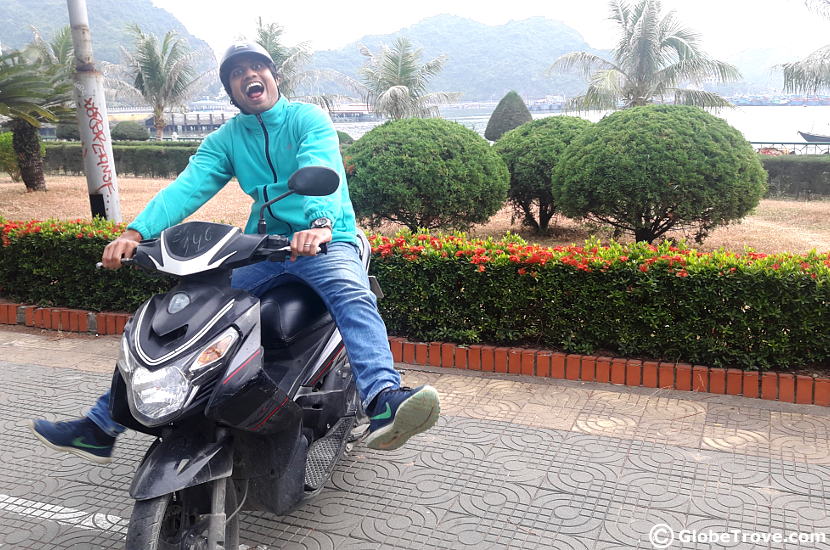 Motorized two wheelers are the most popular mode of transport.
Our Cat Ba island travel guide must include the modes of transport used on the island. Our accommodation provided us with a free scooter with every room rented. Most of the tourists walk, bike or rent scooters. It is the easiest way to get around. The day tours that you buy provide you with transport from the city center so that isn't an issue either. Unlike most other Vietnamese cities, Cat Ba island is quiet and doesn't have too much traffic.
I would suggest spending a total of three days on the island. This would give you enough time to take in all the sights on and around the island. We spent five days on the island and I do not regret it. Since we stayed a little away from the city, we enjoyed unwinding and having fun. Shawn and I aren't really the partying type so it worked for us. Luckily Cat Ba island has both sides of the perspective and as part of the Cat Ba travel guide, I would suggest that if you like a more happening environment then stick to the city area.
It would be remiss of me if I did not add a list of things to do on Cat Ba to my Cat Ba island travel guide. For such a small island there are a surprising number of things to do on and around the island. There wasn't a single day that we spent bored and that is saying something since we spent five whole days there. Anyway getting back to the point… Here is my list.
THINGS TO DO ON CAT BA ISLAND RELATED TO HISTORY
People don't realize that the small island of Cat Ba has a rich history. Sadly most of the history revolves around the wars that the country has been through. Like always, we try to understand the culture by understanding the history. It gives you a new perspective and a renewed respect for the people around you. After the time we spent in Hanoi, we knew that we had to dig a bit deeper and learn a bit more.
One of the old cannons.
Located at the top of the hill, Cannon fort is a short drive away from the city. You could even walk there if you like long walks. Cannon fort offers a great view of Halong bay and provides a number of views of Halong bay. It also tells a story about how the island was used to protect the bay from approaching ships.
RELATED ARTICLES: Looking Through The Eye Of The Cannon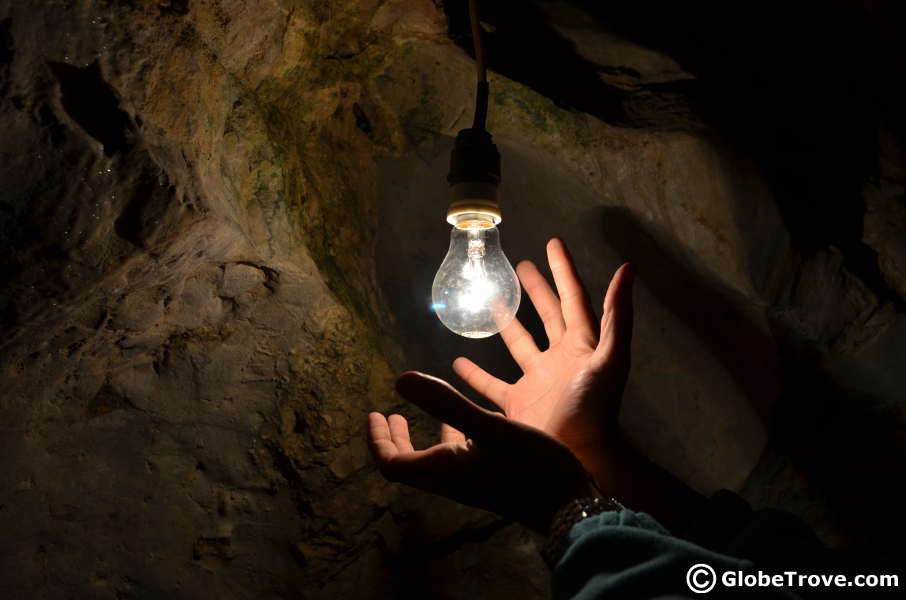 Life in the hospital cave wasn't very bright and beautiful.
The hospital cave is famous on a tourist's things to do in Cat Ba list. The cave is a natural structure that was used to house both patients as well as military personnel. The structure of the cave offered protection and camouflage in case the island was bombed.
RELATED ARTICLES: A Hospital In A Cave
Since Cat Ba island lies in the Halong bay there are a number of activities that you can do that will connect you with nature. I'm just going to list a few of the items because I've spoken about how to do each of them before and I would just be repeating myself. I'm attaching the links in the related articles section below so you can find more details there.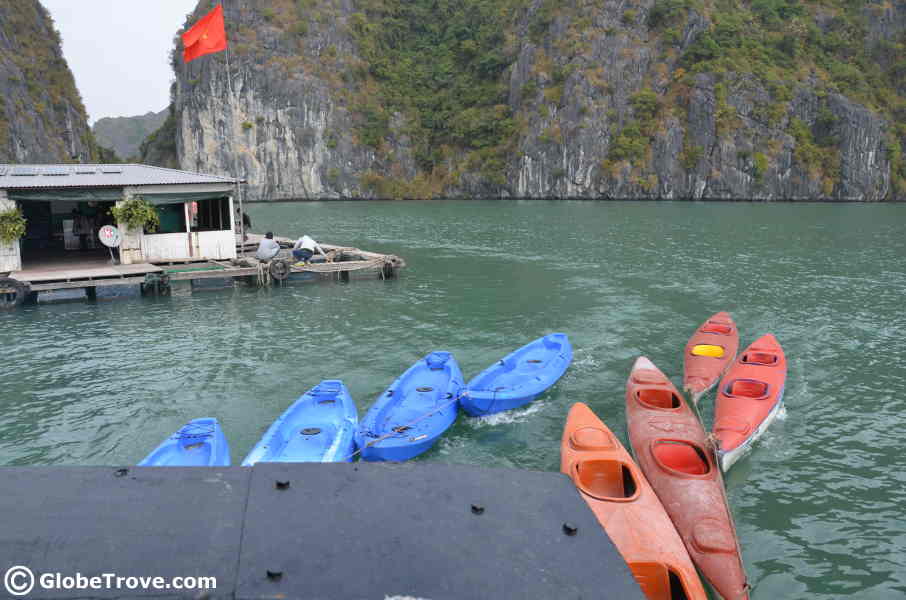 A glimpse of our kayaks being pulled along.
Halong Bay is very popular because of the numerous water sports/ activities that you can indulge in. These activities include kayaking, swimming, snorkeling, cruises, cliff jumping etc. While kayaking and swimming can be done off the beaches in Cat ba island, the other stiff usually requires a day trip to the other parts of the Halong bay.
A Cat Ba travel guide would not be complete without advice on how to choose a tour. There are a number of travel agents that have set up shop in the main center. Visit a few of them before making your choice. The amount that they charge will vary from guide to guide. Remember that if you are in a group you can get a cheaper rate. Also take a look at the route that the guide shows you for the tour. There are numerous routes and the prices vary according to the amount of time you spend out on the water.
RELATED ARTICLES: Halong Bay: It was love at first sight!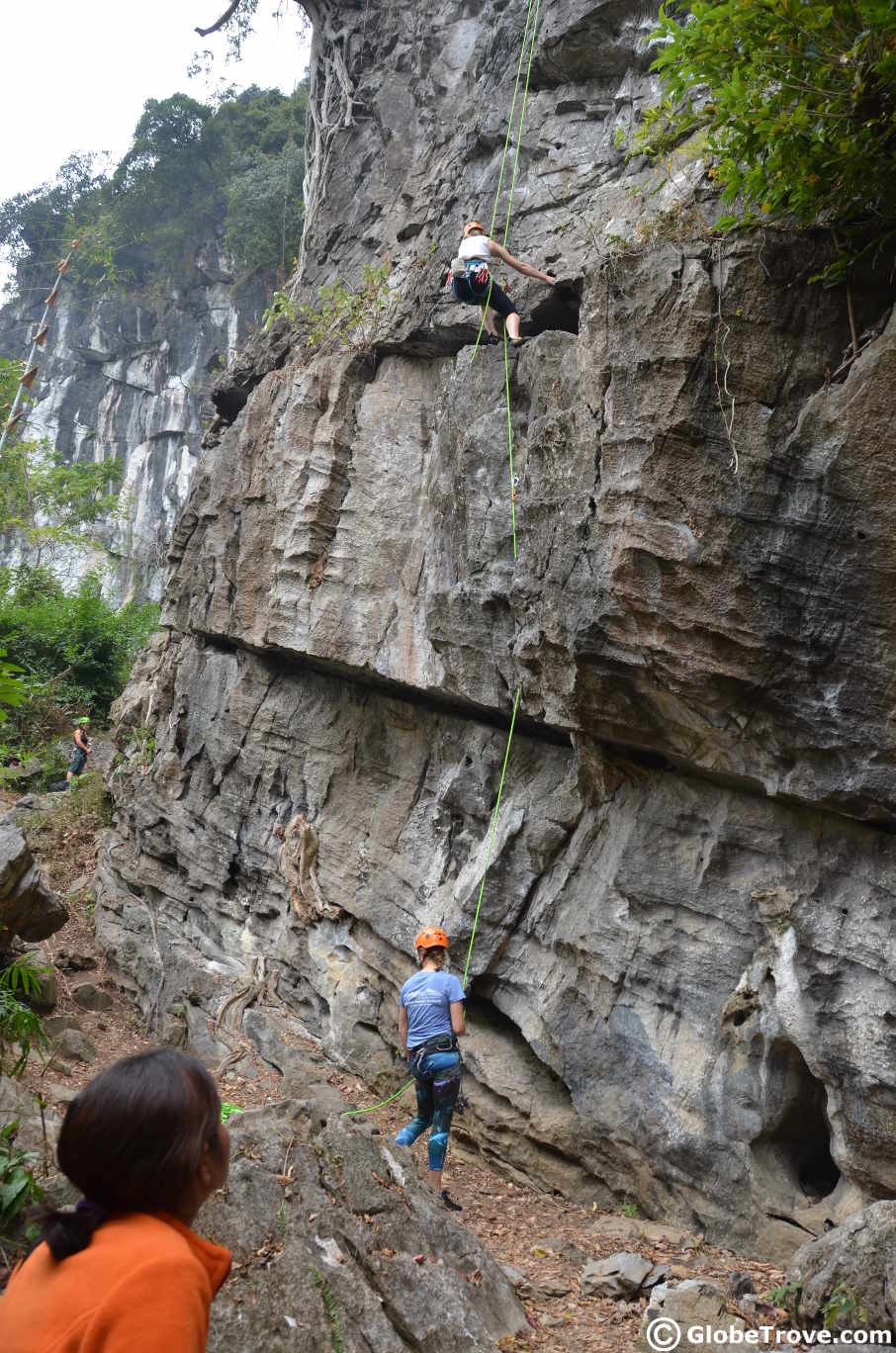 How I wish I was brave and strong like that!
A lot of people come to Cat Ba island for rock climbing. While it isn't my sport of choice, I thought I would mention it in our Cat Ba island travel guide. In fact, we stumbled across this activity as we chased butterflies. The butterfly valley has a cliff face that many people use. If you want to get a little more adventurous head out to the tour guides and ask them for a tour to some of the cliff faces in Halong bay.
RELATED ARTICLES: Butterfly valley: How many butterflies did you say?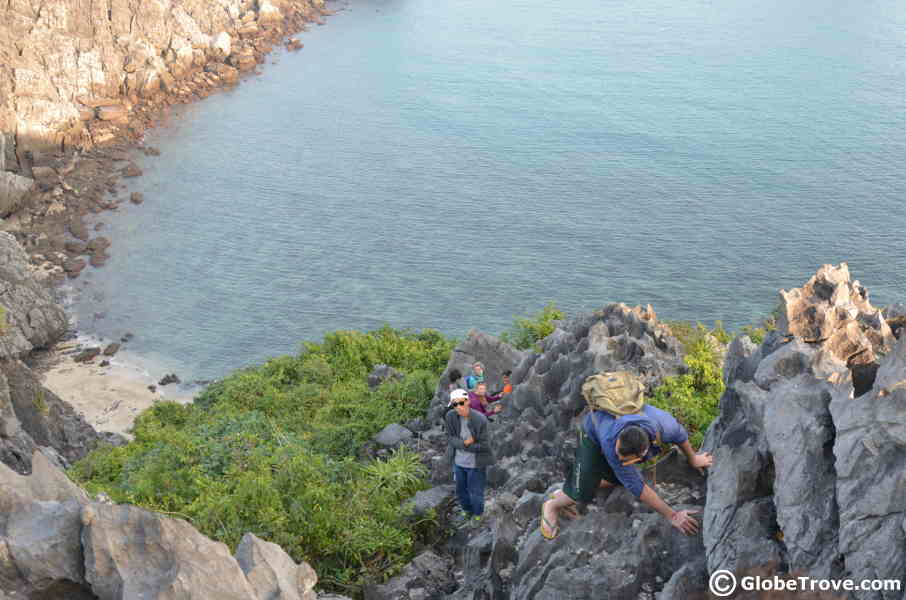 The climb on Monkey island.
Cat Ba National park is one of the places that gives you an opportunity to connect with the great outdoors. There is a short hike and a long hike. The preference is yours. Just remember that if you plan on doing the long hike, you need to be there very early in the morning.
Another short hike that we embarked on was a part of our Halong bay excursion. It was on monkey island. That is one funny story but I will let you read that since I have written about it before.
RELATED ARTICLES:
A Cat Ba island travel guide would be incomplete if I did not give you a bit of advice on the things that you should carry when you head to the island. I think the items that you carry, largely depends on the time of the year that you go. We were on Cat Ba island in December so we had a mix of hot and cold weather.
If you are traveling in the winter months Cat Ba can get cold. A nice windcheater jacket that is light and easy to carry would protect you from the cold and the wind. We had picked up some fleece jackets in Sapa (we were headed to Russia soon) so we were pretty well covered. A windcheater is just more practical. If your windcheater is water resistant then consider it brownie points. Most of South East Asia experiences sudden showers so if you will find that you are glad to have it by your side.
Cat Ba island has a number of pretty beaches. Don't expect a lot of restaurants or facilities on them. Especially when we are talking about the secluded spots, a beach towel becomes an essential. Another alternative to the conventional beach towel is a sarong. It can be used as a temporary/makeshift beach towel and is my preferred choice. I guess it depends on how much you want to pack. Though if you have the space I would suggest carrying a microfiber beach towel.
A lot of what you carry depends on the weather. If you are heading out to the beach or even for a cruise in Halong bay you can catch a burn on those hot summer days. A lot of people don't realize that the sun can get really harsh in South East Asia. That's a reason I make sure to add sunscreen as an item on all my travel guides.
Another great investment is a waterproof case for your phone. With the amount of time that people spend in the sea, keeping your phone protected is a wise choice. I have found that many people overcharge tourists who are just boarding a cruise. There are just a few shops that sell them and I would advise picking one off Amazon.
A lot of people don't realize that there are a number of sharp stones. We had a couple of bad experiences in Indonesia and that's why we decided to invest in a pair of crocs. If you do spend a lot of time in the water when traveling, I would suggest getting a pair of shoes that are specifically designed for use when swimming.
I wrote this Cat Ba island travel guide in order to help other people like me who travel on a budget. All too often people want to visit places that are beautiful and famous. The cost of these touristy locations keeps them away. While there isn't always an alternative for everything, Cat Ba island forms a great alternative to the Halong bay tours.
*This post contains affiliate links.