India is massive. It's hard to begin to know where to start when planning a trip through the country, and how much you can actually fit into a fixed amount of time. With India and a limited time frame, it's best to not try to fit it all in and instead concentrate on a few specific areas. In this post I'll explain the best places to visit for a one month itinerary in north India.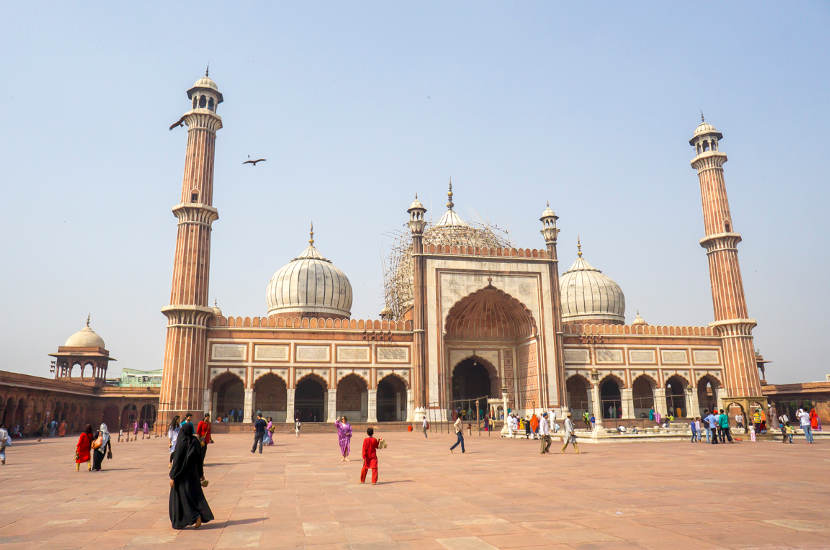 The Jama Masjid Mosque should definitely been on your list of places to visit during your one month itinerary in north India.
If you fly into India you will likely land in Delhi. Delhi is chaotic, polluted, and can feel overwhelming when arriving in India for the first time.  I wouldn't spend much time here, as there are nicer places to be in the country. That being said, if you want to spend a day or two in Delhi to adjust to the time zone, there is beauty to be found. I enjoyed walking through through Chandni Chowk, one of India's oldest and busiest markets. Nearby to the market is Jama Masjid, the largest mosque in India. The architecture of the mosque is gorgeous, and offers some nice views of the city from inside it.
WEEK 1: Walk in the foothills of the Himalayas
The Himalayas are famous across the world and starting your one month itinerary in India at the foothills of the majestic mountain range is almost too perfect to be true! Two popular spots are Rishikesh and Nanital so we are definitely going to talk about those.
Admiring the Ganges River from a cafe in Rishikesh
Rishikesh is a city in India's northern state of Uttarakhand, in the Himalayan foothills beside the Ganges River. Rishikesh is the birthplace of yoga, and world renowned as a center for studying yoga and meditation. The streets of Rishikesh are full of yoga schools, healthy cafes, and ashrams. If you have an interest in yoga and spirituality, Rishikesh is a great place to spend some time and get in touch with yourself. Out of all the cities I visited in India, Rishikesh was my favorite.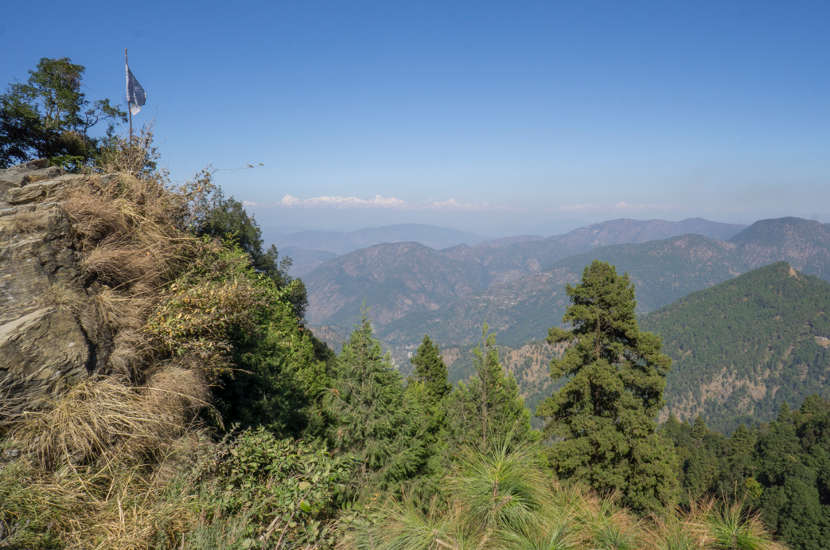 View of the Himalayas from one of Nainital's many viewpoints.
Nainital is in the same state as Rishikesh, but stands at a much higher elevation at 2,000m high. Nainital is a great place to go if you are a nature lover. In the middle of the city is Nainital Lake, where you can rent boats and paddle through the gorgeous scenery. The town also offers several incredible viewpoints of the Himalayas. Take the cable car up to Snow View observation point, where you can see views over the town and nearby mountains including Nanda Devi, Uttarakhand's highest peak.
WEEK 2 & 3: Explore Rajasthan
Rajasthan is the largest state in India. Famous for its colourful cities, majestic forts, and breathtaking palaces, visiting Rajasthan is a must on any itinerary through north India.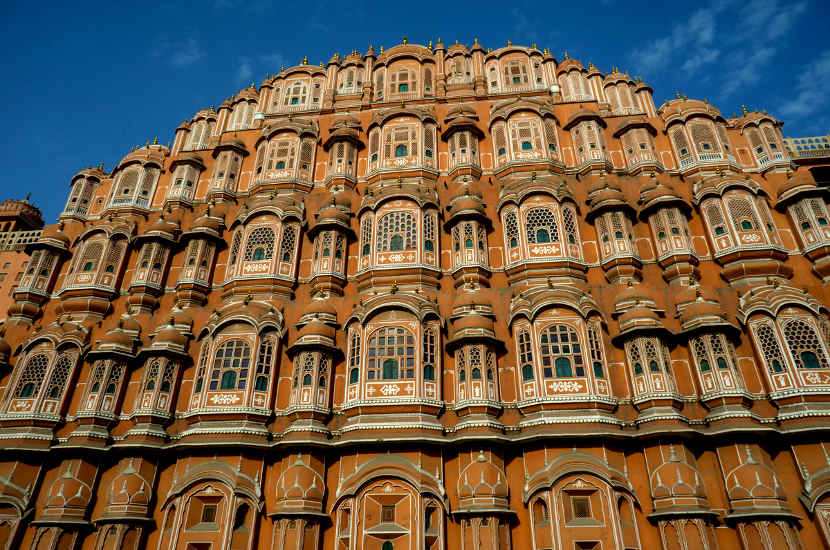 Palace of the winds in Jaipur is another great stop on your one month itinerary in north India.
Jaipur is the capital of Rajasthan and nicknamed the Pink City due to the use of pink sandstone in the cities architecture. The most prominent building in the city is Hawa Mahal  "Palace of the Winds" which contains 953 windows.
There are a number of activities to do in Jaipur. Wander around the local spice markets, where you can buy vacuum-sealed bags of spices to bring home with you. In the evening, check out a Bollywood film at the famous Art Deco Raj Mandir cinema. Another attraction worth checking out in Jaipur is Amber fort, which was the former capital of Jaipur state. Out of all the forts I visited in India (and trust me, there's many), Amber fort was my favourite.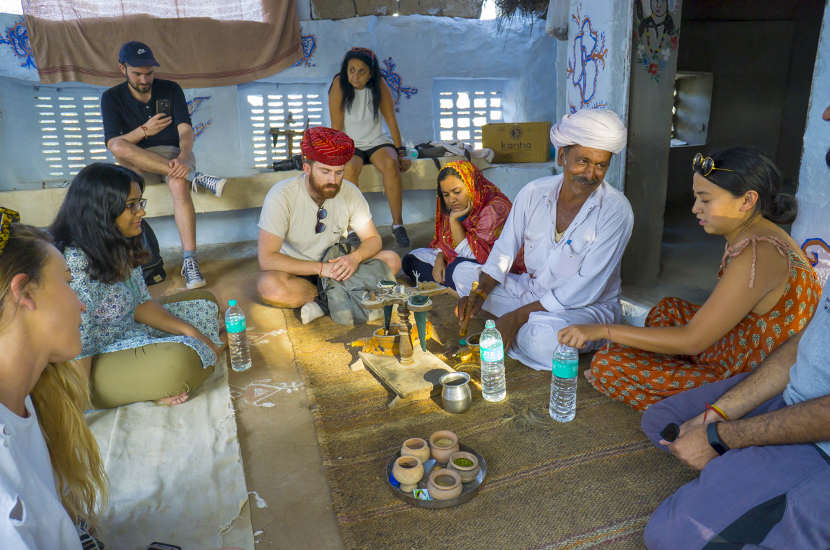 Another great place to visit during your one month itinerary in north India is Bishnoi Village outside of Jodhpur.
Jodhpur is the second largest city in Rajasthan, known as the blue city. In Jodhpur you can visit one of India's largest forts, Menrangarh. The fort is 410 feet above the city, and offers the best views of the blue city below. For a more authentic Indian experience, take a day trip from Jodhpur to the nearby village of Bishnoi. There you can get an up close look at life in rural India.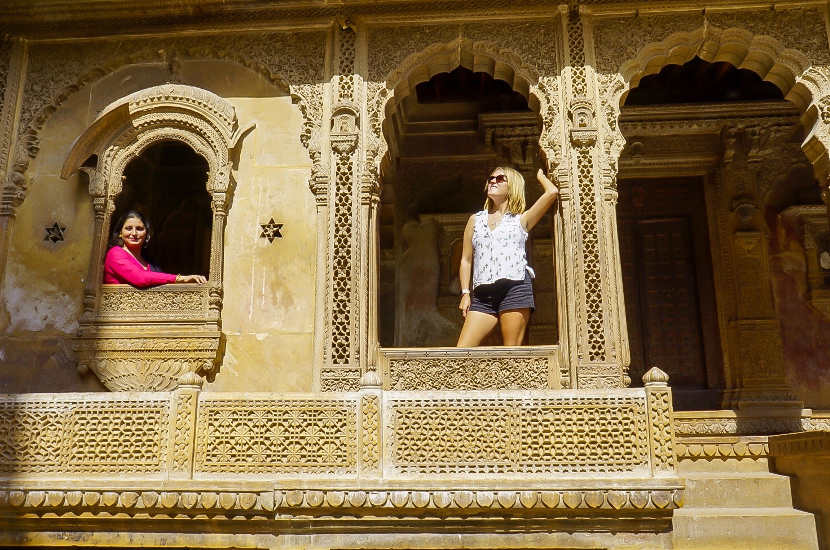 Walking around the town of Jaisalmer should really be part of your one month itinerary of North India.
Jaisalmer, located in the heart of the Thar Desert, is a must see city in Rajasthan, India. Known as the golden city of India due to the common use of yellow sandstone in the construction of the cities architecture. This is seen all over, from the impressive Jaisalmer fort to the intricately carved sculptures in the old town. The Jaisalmer fort is one of the most unique forts in India as it is among the few living forts in the world.  Almost one fourth of the old city's population still resides within the fort!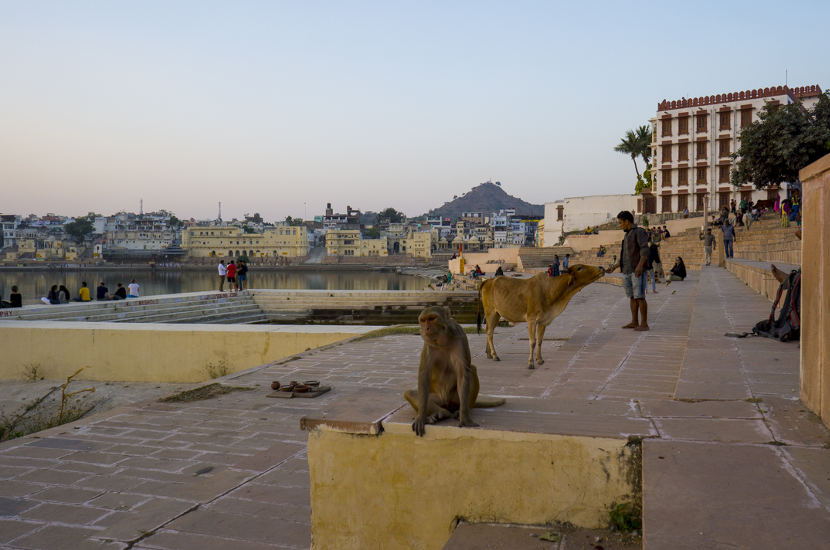 People watching by the lake in Pushkar, where a man feeds the local cows and monkey.
Pushkar is a small city in Rajasthan that has become popular with backpacker due to its unique markets, friendly locals, and overall atmosphere. Pushkar is next to a desert, so it's another alternative to do a camel safari there if you can't make it all the way to Jaisalmer. If you are a vegetarian, Pushkar is a great place to be. As one of India's holy cities, it is illegal to kill animals, so within the city boundaries all food served is vegetarian
Week 4: Visit a wonder of the world
When you think of visiting India, one of the first thoughts that pops into your mind is that it gives you a chance to visit one of the wonders of the world. Luckily for you the Taj Mahal is in the northern part of the country and it is rather easy to fit it into your one month itinerary of north India.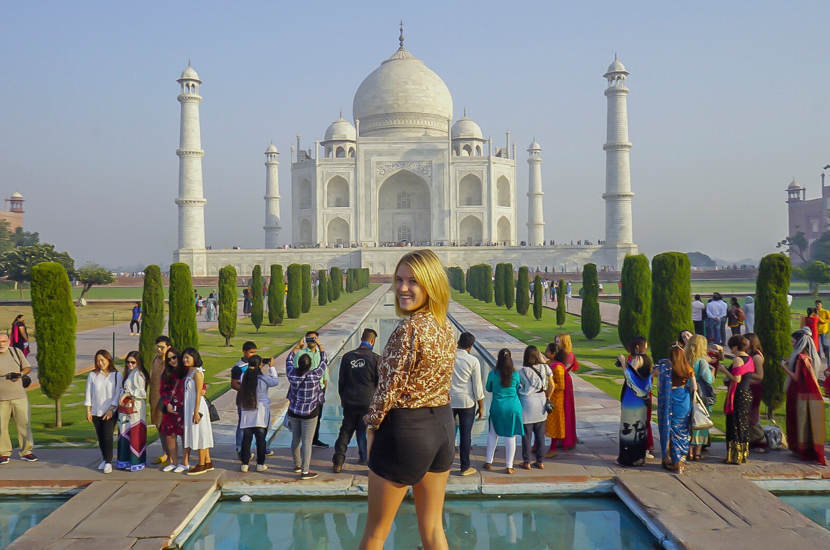 Agra definitely should be on your list of places to visit during your one month itinerary of north India.
Agra is a city in northern India's Uttar Pradesh state, home to one of the Seven Wonders of the World, the Taj Mahal. Although Taj is the primary reason people come to visit Agra, there are other sights worth seeing in Agra. 
The best time to visit the Taj Mahal is at sunrise. The Taj Mahal is among the most popular attractions in India. On busy days, the Taj Mahal attracts as many as 70,000 people. You're never going to have the Taj Mahal to yourself, but if you visit at sunrise there will be significantly fewer people there. As a bonus, getting there early makes walking around a much more pleasant experience since India can become hot and humid during the day.
After the Taj Mahal head over to Agra Fort, a UNESCO world heritage site. The fort is only 3km/10minute tuk-tuk away from Taj Mahal. Agra fort tends to get forgotten in the shadow of Taj Mahal, but it's definitely worth a visit. Later in the afternoon, head over to the Tomb of I'timād-ud-Daulah, also known as Baby Taj. I enjoyed getting to walk around Baby Taj; there were only a few other tourists there when we visited in the late afternoon so it felt much more peaceful then the Taj Mahal.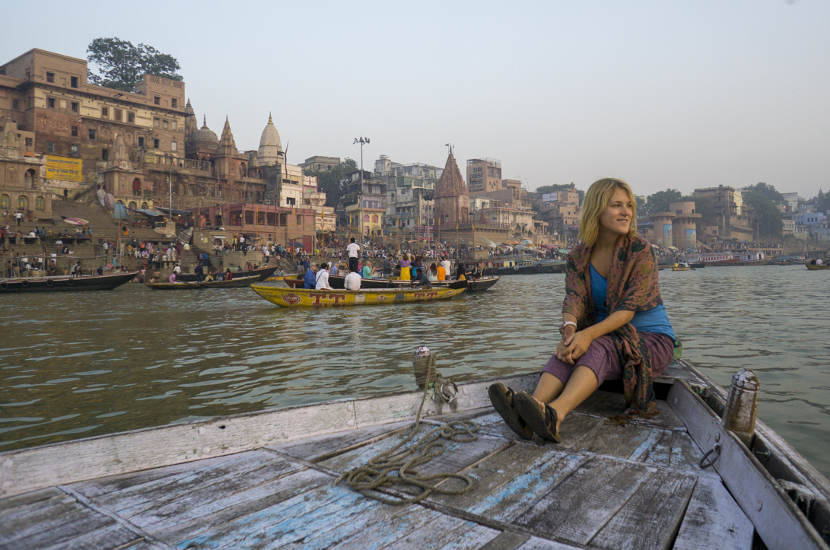 A lot of people include Varanasi on their one month itinerary of north India.
Watching the sunset and the sunrise on the Ganges River is a special experience. At night cremation ceremonies take place on the banks of the ghats of the river. The ceremony consists of bell ringing and an offering of seven, elaborate gifts of light to the river. At the end, the remaining ashes are put back into the river. In the morning it almost feels although you are in a different place, as the road is void of chaos from the night before. Pilgrims come for their morning bathing rituals, and the banks of the river come alive again for another day. Experiencing a cremation ceremony on the Ganges River is a quintessential part of visiting India. 
Given the size of India, travelling between different cities can get confusing. To get between the cities during your one month itinerary of north India, you have a few options:
Hire a private driver

: This is not as expensive as you might think. Me and a couple of girlfriends hired a car and driver for two weeks with unlimited KM and it cost us 50,000 rupees in total ($700 USD). If you have extra in your budget, hiring a private driver gives you the freedom to come and go as you please.

Take a train:

 If you want to save money travelling by train is a cheap option, and an experience everyone should have at least once while travelling through India. The country has an impressive train network that connects most cities. Visit the 

Indian Rail website

 to see the train schedule times. Foreigners can't buy train tickets online so you need to buy them through a tour agency in India or if you know a local they can buy it for you.

Take the bus: 

 Taking a bus in India isn't as bad as you might think, and it's an affordable option. Busses run between most cities and long-distance busses even come with a bed. You can buy bus tickets online.

 My only words of wisdom is that if you do take the bus, opt to spend an extra bit to make sure it includes AC. India is a HOT country! Busses are a great option if the train isn't available.

Fly

: Although not as cheap as the bus or train, there are affordable flights between most cities in India. Flying can save you a lot of time in India, and may be the best option if you want to see many places in a short period.
However you decide to get around, definitely include these places on your itinerary through Northern India. Each one is unique in it's own way, helping to create the beautiful, crazy place that is India.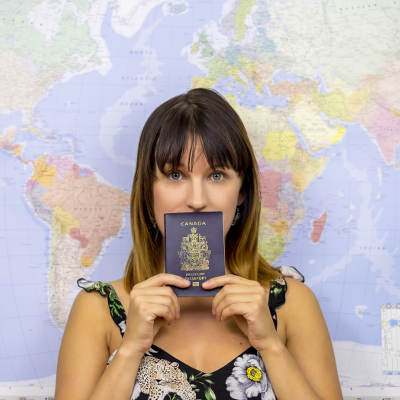 ABOUT THE AUTHOR
Lora is a Canadian travel blogger on a quest to visit every country in the world and discover the best wildlife and nature that each one has to offer. She has travelled to 49 countries and just returned from a one-year trip backpacking around the world. While travelling her favourite activities to do are hike, dive, and photograph wildlife. Lora is passionate about wildlife conservation and responsible tourism. Her blog, Explore with Lora, aims to show readers that anyone can live their travel dream, no matter how big or small, without harming the planet. In fact, it's quite the opposite. On her blog Lora writes about organizations and projects that are leading examples of responsible and sustainable tourism, as well as destination guides, inspirational posts, and advice on solo female travel. You can explore the world with Lora on Instagram and Twitter
*This post contains Affiliate links
** The photographs in this post are not the property of Globetrove and have been provided by the author.