There is much that one must learn when one travels. Shawn and I are not particularly fond of tours but sometimes there is no option but to take one. When we do take one it is usually the day tours and we are particularly picky when we choose. In Halong Bay (Vietnam) a Cat Ba tour company called Cat Ba Local certainly surprised us with a delightful package that was both economical and fun. After browsing through their catalogues we settled on a tour that took us to Halong bay tour.
The Halong bay tour was a 9 hour tour and it allowed us to have two rounds of kayaking. Most of the other tour companies offer long trips but tend to go the overtly crowded locations. This isn't fun because you keep bumping into each other. Since we were in the Halong bay in the middle of December, jumping into the cold water didn't make sense either. Hence the need for the second kayaking option.
THE WEATHER AND THINGS YOU MUST CARRY
Weather is particularly crucial during the December months because it is usually cloudy or rainy. I've been told that the weather forecast is not very reliable but so far we haven't had much trouble. After our prior experience in Sapa we decided to check in advance and saw that amongst our 4 days on the island we had only one sunny day. That's the day we booked our tour on and it turned out to be a very wise decision.
It doesn't matter if the weather is sunny or cloudy, the wind makes sure that the cold sticks to you. Luckily we were forewarned by a delightful English couple at our hotel. We carried a fleece and a windcheater. Carry your own towels because the tour group doesn't provide those and you will want to dry off after kayaking or swimming.
Cat Ba local does give you a dry bag, a 1.5 litter bottle of water and a life jacket in case you should require one. The last one was a particular relief because I can't swim and jumping into a kayak without the reassurance of life jacket isn't something I would do at any sane point in my life.
Trekking up to Monkey forest (which is also part of the tour) requires some form of foot protecting. Shoes, crocs, etc are a good idea but slippers aren't. The rocks are jagged and you will be glad to have a sane pair of footwear.
PICK UP FROM CAT BA LOCAL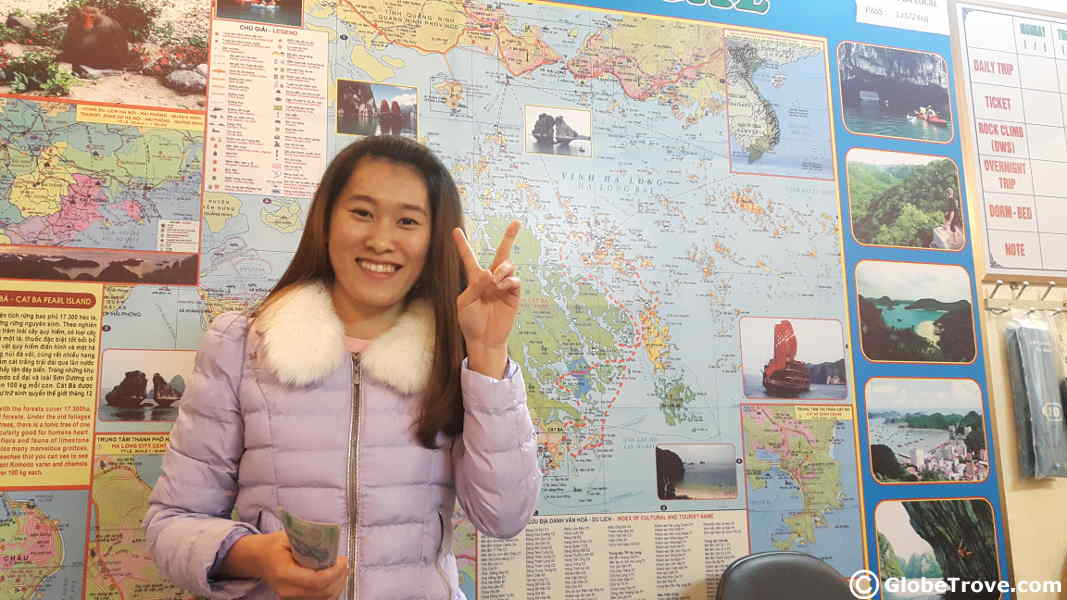 Our pickup for the Halong bay tour was at 8 o'clock from the Cat Ba Local booking office. Since it wasn't summer, the number of tourists was few and our boat was to host just 19 of us! Definitely not too crowded! I've often been lead to believe that the kind of company you have on a tour will determine the experience. As things would have it we lucked up! A few Americans, Australians, Spanish, Germans and us two Indians formed the group and we had a ball of a time. I quite feel as if I have known them my entire life!
A minivan takes you to the harbor. It gets a little cramped for those whose legs are way longer than my short ones but it is just a three minutes drive so it isn't something that you should worry about too much. We just let our taller counterparts take the front seats while we huddled behind.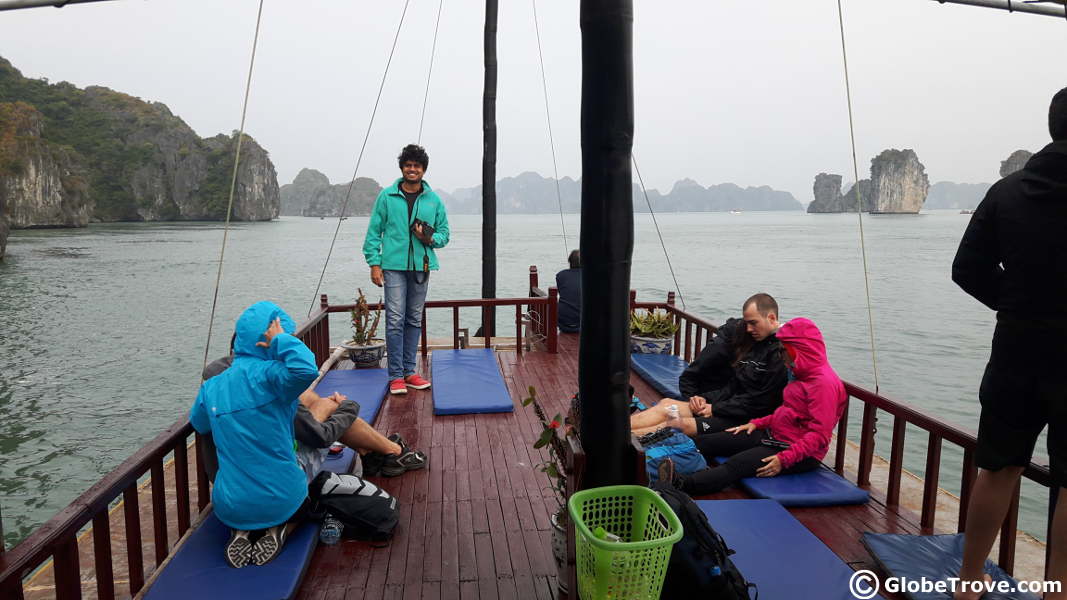 The boat certainly reminded me of a pirate's ship. Black with yellow lines through it, the boat was just as welcoming as a boat can be. It didn't have cabins but it had a nice sun deck, a dining room and two washrooms. Perfect for a day at sea!
Getting on to the boat requires a little maneuvering over a plank. Everyone had a good laugh when I muttered that we were lucky that the plank was to the ship and not to the ocean! And so it was that with the help of the crew we found our legs firmly planted on the deck.
A quick introduction to our English speaking guide 'Kay' was in order before he gave us a short idea of what our Halong bay tour was going to be like.
The itinerary was simple and yet pleasing. Cruise through the bay, visit a fish farm and sea a 100 kg fish, pick up our kayaks, cruise again, stop do some kayaking for 2 hours, cruise again, lunch, kayaking, monkey island and then finally cruise back into port.
AND THE CHARIOT WAS SET ON CRUISE CONTROL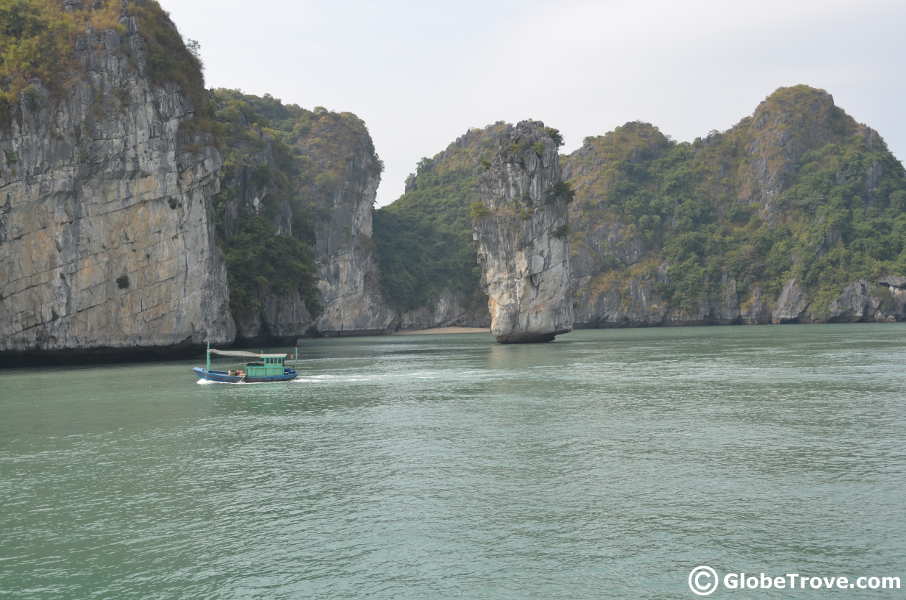 Cruising along the Halong bay was a simple and yet pleasing experience. We had yet to get to know our tour mates properly and the initial few minutes was spent clicking pictures of a small fishing village and the numerous islands. As time passed we began to bond and I guess that is where the real fun started.
Kay let us enjoy our cruise without interruptions except to ask us if we needed refreshments. The sun began to peak out from beyond the clouds and left us baffled. There were points in the bay where the wind didn't blow and there points were it tore through us. We felt hot and we felt cold in turns. We put on our jackets and stripped them off in turns.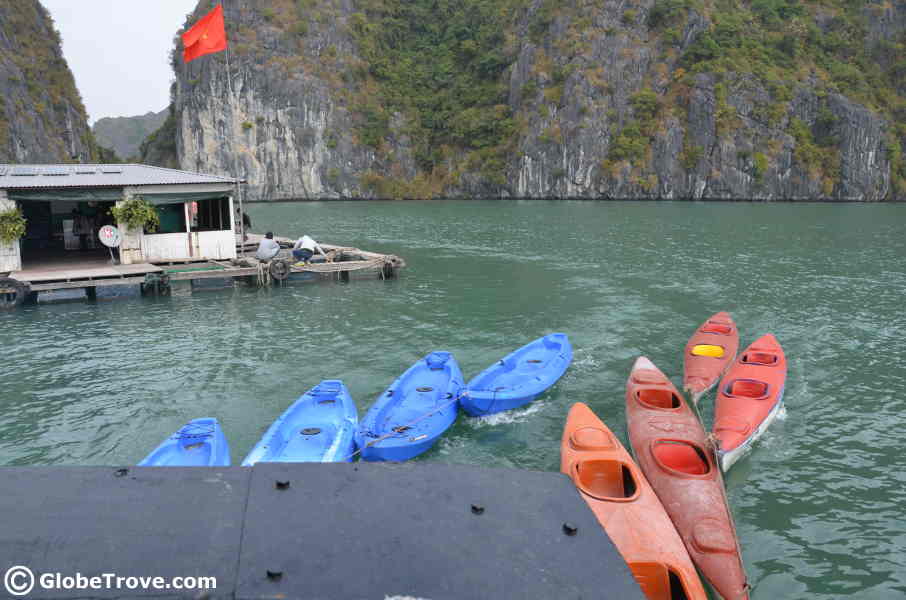 The fish farm was a small house that floated in the middle of the sea. I can think of no better way to describe it than that. It had nets that were stretched out in squares about it where the fish are grown and breed. The fish are then used for food and/or to be sold. I couldn't quite understand which of it was.
The attraction of this particular fish farm was a large 12 year old grouper that was estimated to be around 100 kg. Kay lifted the nets a bit so that the ginormous beast came into view. It saddened me a bit to think that a fish so large was forced to live in a net so small.
Our stop at the fish farm was short and while we were busy ogling the fish, the remainder of the crew quickly strapped on kayaks for the next part of our trip.
KAYAKING IN THE HALONG BAY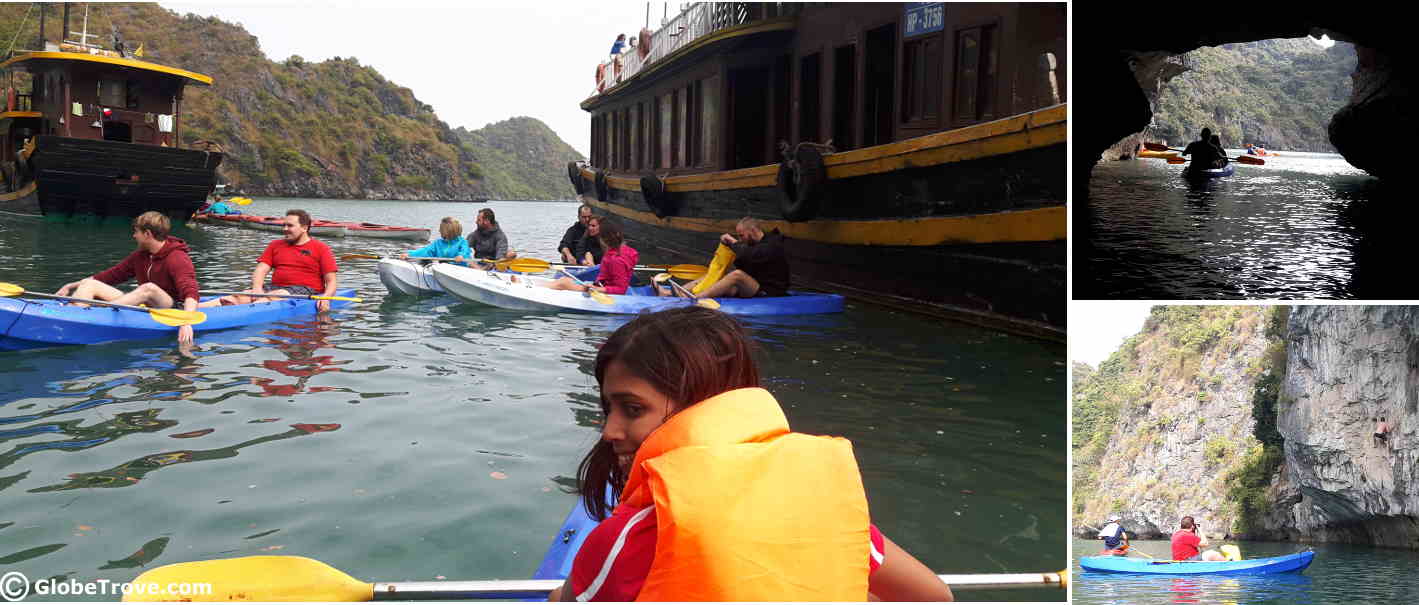 The first round of kayaking took place in the Halong bay. Kay acted as our guide and led us through a myriad of water pathways. We went through some tunnels and had to duck our heads quite a bit. These tunnels often lead to secluded lagoons. As luck would have it, the clouds parted and the sun filtered through. This not only warmed us but gave us the perfect lighting for photographs.
One of our German colleagues (all muscle on that man!) decided to have a little rock climbing expedition of his own. Kay was equally eager to help him out. With a year of rock climbing experience in his pocket, he climbed up to what Kay said was 7 meters (freaking high!) and took a plunge into the water below. Needless to say, the lagoon echoed our cheers for a few minutes!
WHEN THE STOMACH DEMAND SUSTENANCE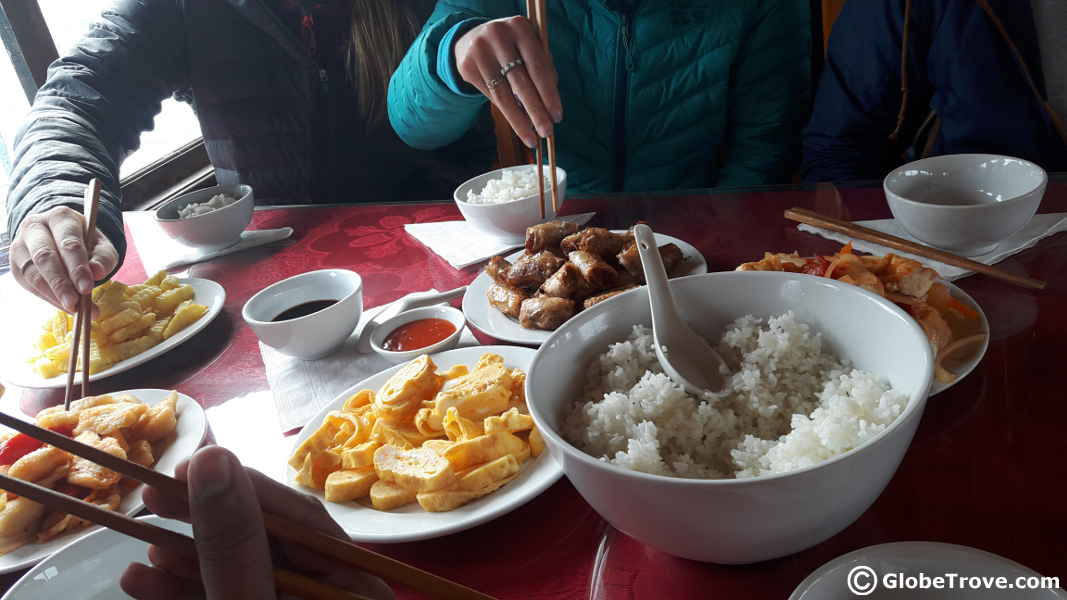 The sea tends to make a man hungry and I can attest that we women feel the same stomach churning cramps of hunger too! Normally I am not a big fan of tour lunches and I did pack my on bread cheese just to be safe. I am happy to report that I didn't need it.
Swapping conversations with our tour mates (who were an amazing bunch of people!) was the just the thing required to make the meal perfect!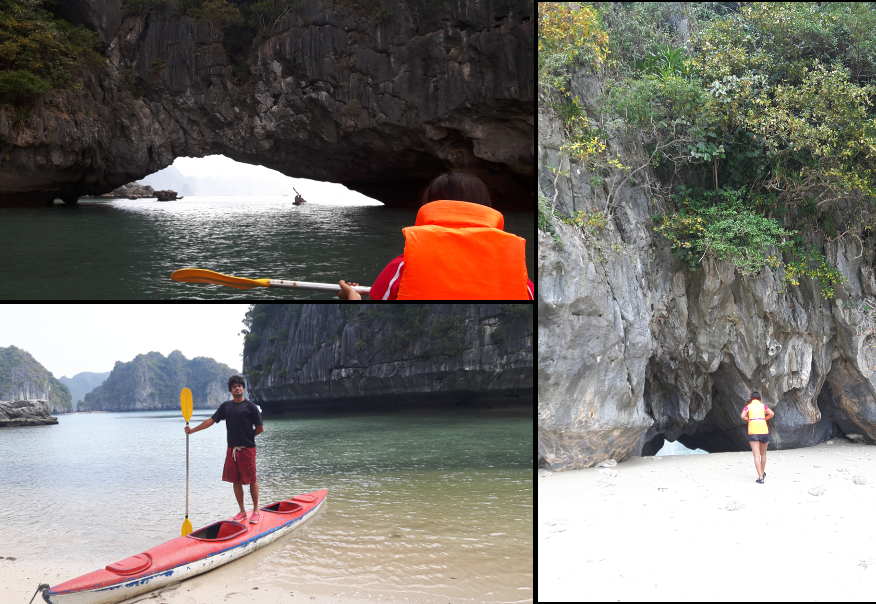 The second round of kayaking on the Halong bay tour took us to the Lan Ha Bay. It was a cozy one hour that we spent. Kay took a backseat and monitored us from the boat while we paddled up to the myriad of tiny beaches. A friend christened one 'Ronald island' and we beached our kayaks on the 'Ronald beach'. Needless to say we had to hail our king who was perched upon one of the mighty rocks that scattered the shore.
One particular island had a tunnel that led you from one beach to another. Tall people beware! You will have to literally crawl through! I'm 5' 2" and I had to do the duck walk with caution. The beach on the other side is tiny but it is so worth going across. The experience is quite different from paddling through a cave with a kayak. You would think that you have more control when you are using your feet but trust me you will be surprised.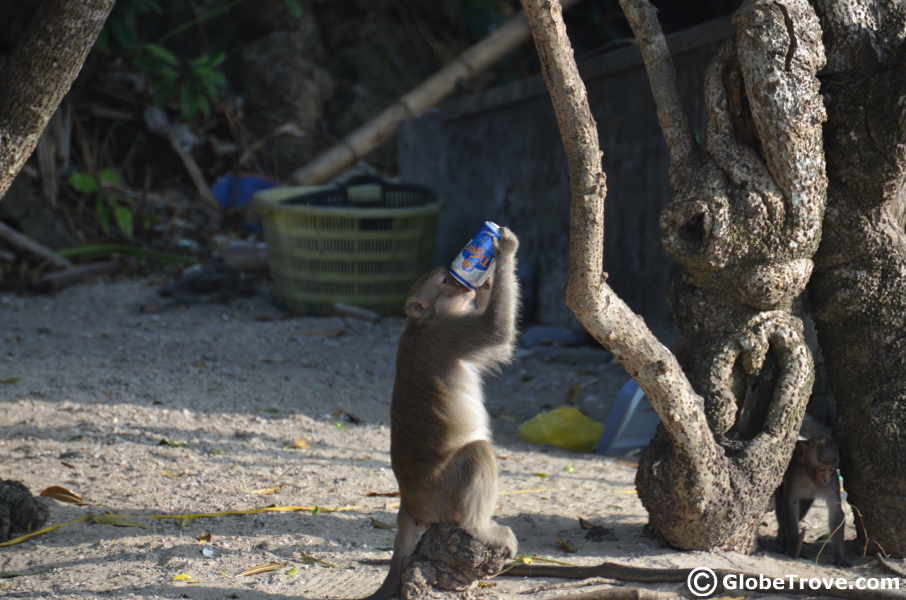 Monkey island is one of the popular attractions that is listed on almost all of the Halong bay tours. At first we were inclined to ditch it since we had our fill of monkeys in Indonesia but since the Halong bay tour that we selected included it we resigned to our fate. I must say that the Monkey island in Halong bay is quite unlike the Monkey forest in Indonesia.
While the monkeys are playful they aren't quite so many of them. It is fun to watch their antics on the shore but there is more to monkey island than just monkeys. A short but mildly difficult trek takes you up to the peak of the island. The view from there is exquisite but the last few meters up are pretty challenging. Shawn managed to conquer the peak right till the top. My fear of heights kept me watching from a few meters down. It doesn't matter where you stop near the peak. The view is certainly worth it.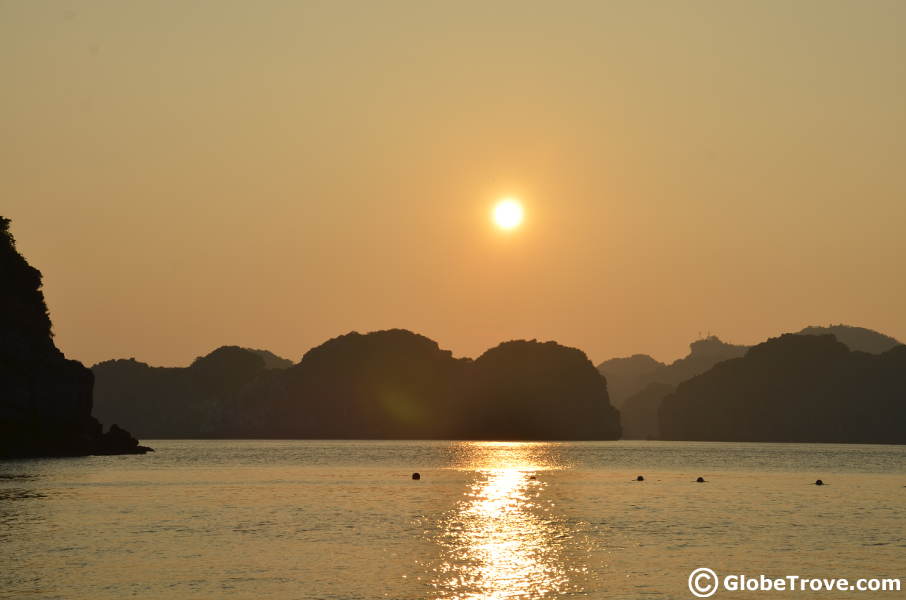 You need a real nice clear day to see the sunset and I'm glad we had one. The sunset amidst the islands is beautiful. The skies turn orange, the water shimmers and life seems perfect. You are so far away from the noise and bustle of the city that peace seems to settle around you. It's the peace that only the lapping waves of the ocean can give.
Saying goodbye to newfound friends has never been quite so hard as it was that day. The Halong bay tour was a testament that no matter how different you are and no matter where you come from, traveling can unite you. We all have different perspectives of each other and of other countries. All that we hear may not be the truth. True knowledge comes from experiencing culture and keeping an open mind.
THE HALONG BAY TOUR IN A NUTSHELL (A 5 star review)
Halong bay is one of the biggest attractions of Vietnam and rightly so. The view is spectacular and the experience is something that you must not miss.
The weather is unpredictable but try and get a sunny day. You will need it to warm yourself when you get in and out of the water. Look at the weather forecast the day before to help you decide which day to go.
We choose a two part kayaking experience. This meant that even if it was cold (and you don't want to swim) you could use a kayak to get in the water.
Monkey island provides a view of the bay and the monkeys but don't forget you trekking shoes.
The sunset on the bay cannot be compared to anything on land. Enjoy it to the fullest.