Life is all about what you do and where you go. After an amazing couple of days at Mount Bromo, we were finally all set to head out to our next destination: Mount Ijen! Yes… Another volcano but this one spits out blue fire instead of ash and smoke.  Our journey from Bromo to Ijen was fraught with a lot of goof ups and bad decisions.
Now that I look back at our journey from one volcano to another, I laugh and say that it was an experience of a lifetime. Why? There are just so many things that people don't tell you about getting from Bromo to Ijen. It is a tough journey because of some unconventional difficulties. Mind you… I'm Indian and I have travelled on Indian buses so suffice to say my expectations were not really high but even I was surprised!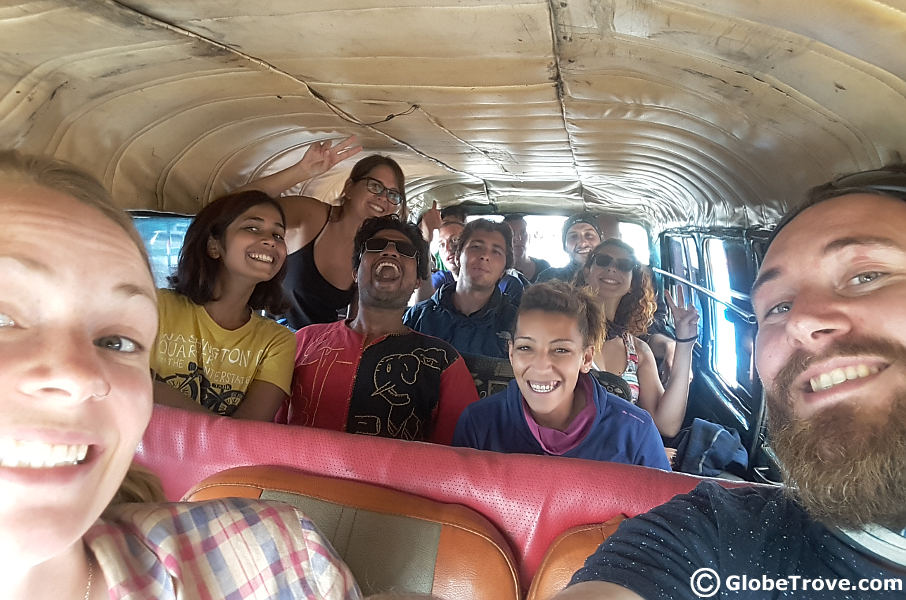 Making new friends is always the best part about travel!
Our journey was due to begin at a small village called Cemaro Lawang which is situated at a walking distance from Bromo. While the village is popular, it isn't exactly overflowing with tourists. There are just three places that you can catch a bite to eat and you are sure to find yourself sitting on tiny plastic stools.
We had decided to trek up to the view point in order to catch the sunrise before we left. So we started plodding upwards at around 4 am. So much for beauty sleep! After 3 hours of trekking, one hour of packing and a quick bite for breakfast, we grabbed our backpacks and headed down to catch the minibus. It was time to start our journey from Bromo to Ijen!
As luck would have it we knew that if we wanted to get out of Cemaro Lawang the cheap way we had to take the minibus. The minibus usually leaves at any time between 10 -10:30 am. It all depends on when it gets full. Most people are tempted to stroll in at sometime in between. Luckily we always love to be early. With a number of people who were staying in our hotel we found that the minibus scheduled to take us on our first leg of our journey from Bromo to Ijen filled up quickly.
The 3 stragglers were left waiting for the next minibus. Be forewarned! The second minibus is a rarity so you may have to spend an extra day in Cemaro Lawang if there aren't enough people to fill it up. The other option would be to take the more expensive private transport.
PRICES: It Is Always Important To Know The Correct Fare!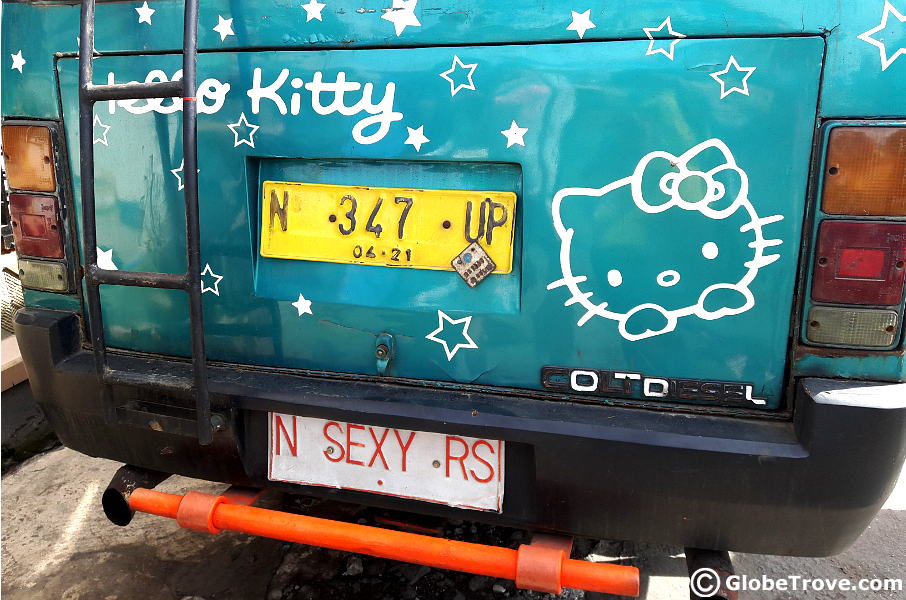 This cracks me up even now!
The minibus was a means of transportation for our first leg of the journey from Bromo to Ijen. That is from Cemaro Lawang to a city called Probolinggo. The fare was IDR 35,000 ($2.6) per head. In case the bus does not fill up to its full capacity (15 people), the driver will offer you another option. That would be to divide the actual fare for the whole bus by the number of people who are traveling. The actual fare is usually IDR 550,000  or approximately $41.
A SERIES OF ERRORS BEGINS
We had originally planned to head down to the train station and catch a train from Probolinggo to Banyuwangi. We made a number of friends on the all too short drive and since a number of us were headed in the same destination we decided to go together.
MISTAKE NUMBER 1: Instead of running to catch the train (we had half an hour left) we decided to take the bus because it was closer and we didn't have to stress ourselves out.
By the time we sorted out that the bus was going to take us 5 ½ hours to reach Banyuwangi our chance to catch the train had been lost.
MISTAKE NUMBER 2: We took the cheapest option available to us because we wanted the ticket sellers to stop hassling us.
Not checking the route and the number of stops the bus made was a sad mistake. Instead of the requisite 5 ½ hours we took over 7 hours to reach our destination. Just when Google maps told us that we would take one hour to reach our destination, the driver shifted off the road and took an alternate road that added an extra 1 ½ hour to our journey.
MISTAKE NUMBER 3: I wore jeans!
To make matters worse, the temperature was scorching. It was such a big difference from the cool temperature that we were used to at Cemaro Lawang. The bus was definitely not air conditioned and the wind was as dry as it could be. Every minute that we spent in the bus seemed to drain our energy a bit more. Luckily for me the bus stopped for a rest. I quickly jumped off and headed to the restroom for a change.
I did have a major struggle because I did not want to dirty my clothes and most surfaces were wet. Suffice to say that I managed without falling over and breaking a leg. Probably thanks to all those yoga classes were forced to take as children!
The journey was far from boring. With a book to keep me company and Shawn dozing away at the side of me I alternated my time between looking at the passing landscape and reading. That being said we did have some in bus entertainment periodically. Albeit the unconventional kind!
THE TRANSIT JOURNEY FROM BROMO TO IJEN ENDS
It was dark by the time we reached Banyuwangi. Three of us had our accommodation booked so we weren't too worried. Our other two friends had to hunt for theirs so their journey was far from over. Our initial plan was to hike up to Ijen the very same night but we barely had enough energy to hike our way to bed.
A shared auto rickshaw took us to our residence for the night. Our two unlucky friends trudged their way to our home stay only to find that it was booked out for the night.
While we were tired at the end of the day we were happy. We made a couple of great friends, we got a chance to experience the authentic Indonesian life first hand and despite the heat we did have a relatively good time. So when life throws you lemons make sure to make lemonade. It is a good way to rehydrate in the heat!