Hanoi marked the start of our three week journey through Vietnam. It was a long journey to reach the city from Bangalore but it was one that we were excited to take. My desire to visit Vietnam was a dream that started out three years before and it just kept coming back. So actually spending three weeks in the country was a dream vacation.
Hanoi was our first stop and we had two days to see the city. To say that we had two days may have been a bit of a stretch because we reached in the evening of the first day. That being said, we were determined to make the best use of our time. I proud to say that we covered a large number of things to do in Hanoi. I'm drawing up our two day itinerary in Hanoi to help others who have a short stop in the city.
DAY 1 OF OUR HANOI TRAVEL ITINERARY
Like I said before our first day consisted of only the evening and night. With so little time in the city we did not have the luxury of relaxing. Even if we did have time I doubt that we would have stayed in. It was not only day 1 of our time in Hanoi, it was also day 1 of our vacation and you know how excited we get at the start of a trip. We decided to head out to get a feel of the city and to get some food in our stomach.
STOP 1 IN OUR HANOI TRAVEL ITINERARY: Old Quarter
One of Hanoi's famous destinations is the Old Quarter. Since our hotel was in part of the Old Quarter we had to walk through it to get to any place we wanted to. The helpful receptionist told us about a water puppet show that is held every night. Armed with a map and Google we set out to tick off at least one thing on our list.
The Old Quarter is quaint and its streets are lined with numerous shops. At first it was baffling. The buzz of the city was overwhelming. It took a while for it to seep in. I vaguely remember browsing through the night market because we had little time.
STOP 2 IN OUR HANOI TRAVEL ITINERARY: The Water Puppet Show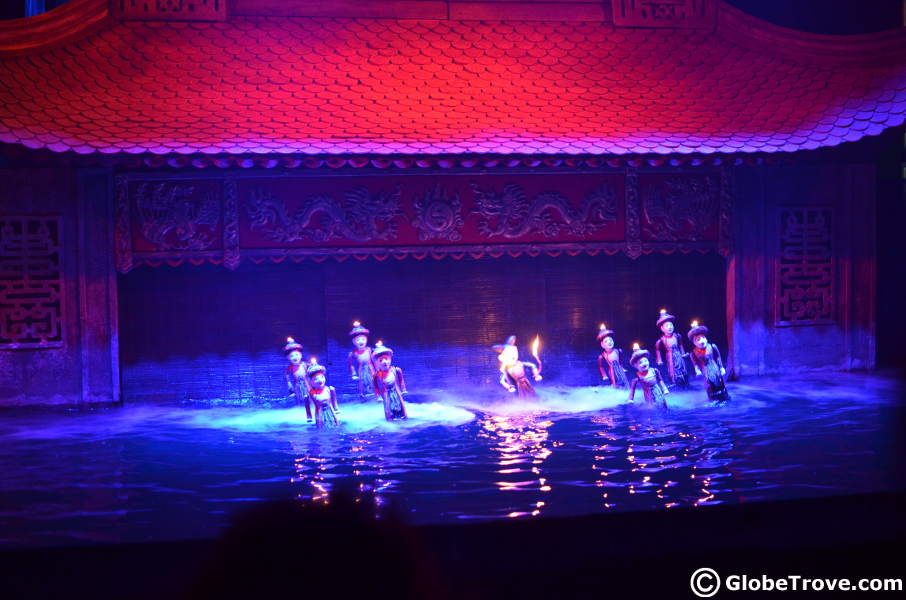 The water puppet show and its special effects.
We were lucky that we caught the water puppet show in time and got good seats. It was a matter of fifteen minutes before the show was scheduled to begin and our stomachs growled in protest. Luckily there were a number of street vendors in the vicinity and we had just enough time to catch a bite to eat. Unfortunately, it also meant that a full stomach and the tiredness of the day caught up with me. Somewhere in the middle of the melodic music I dozed off to sleep.  Just for a few minutes…. But yes! It was tiring. The water puppet show was interesting. The songs tell a story but since we don't understand Vietnamese it was hard to understand what that story was. We were content with watching the puppets dance across the water in tune.
STOP 3 IN OUR HANOI TRAVEL ITINERARY: Hoam Kiem Lake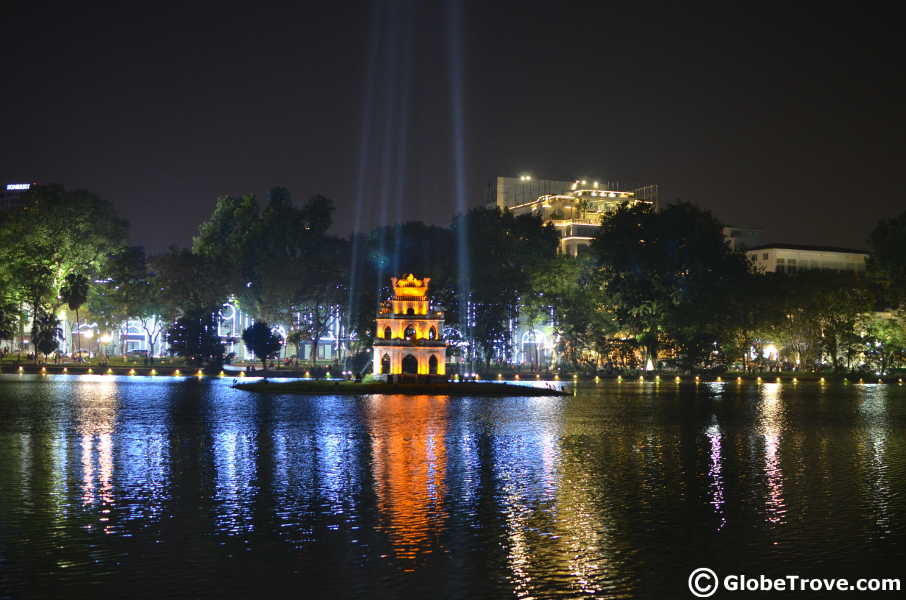 Hoam Kiem Lake at night.
We were tempted to head back to the hotel because we were drooping on our feet but as we walked by Hoam Kiem lake seemed to call our name. The lake looked so pretty in the night that we decided to stop for a photograph. We knew that we wouldn't get to see it at night again so it was definitely worth spending a few minutes on the way.
RELATED ARTICLES: Hanoi's Gem That Glistens In The Dark
After spending a little while on the streets of Hanoi, our weariness got the better of us. We headed back to the hotel for a good night rest. The next day was certain to be more active that the first.
DAY 2 OF OUR 2 DAY HANOI TRAVEL ITINERARY
I wish I could say that we got up bright an early but that would be a lie. At least we did not get up late. We had our breakfast and were out of the hotel by 9 am. It wasn't a bad start especially when you realize that almost all the attractions have their own opening time. This time we had studied our map better (over breakfast) and had sort off laid out our route. While there are different modes of transport, we decided to walk everywhere.
STOP 1 IN OUR HANOI TRAVEL ITINERARY: Hoa Lao Prison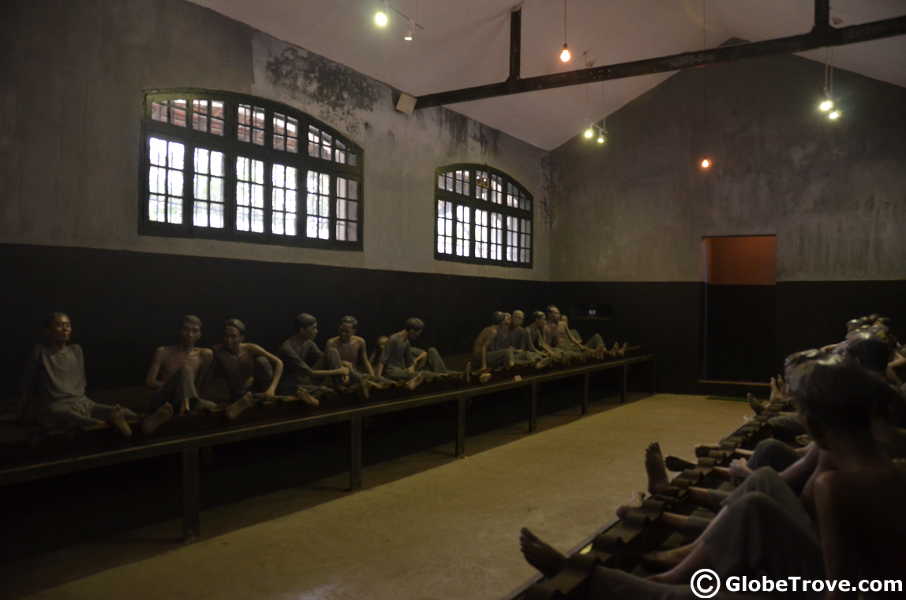 A display showing how the prisoners were treated.
The Hoa Lao prison was our first stop as it was the closest to us. I need to be honest. The Vietnamese wars were not covered a lot in our history textbooks. I guess it is largely because it wasn't a part of our Indian history but I had heard a lot about it. Visiting the Hoa Lao prison was the first step that we took into learning about the gruesome history that Vietnam has.
STOP 2 IN OUR HANOI TRAVEL ITINERARY: The Temple Of Literature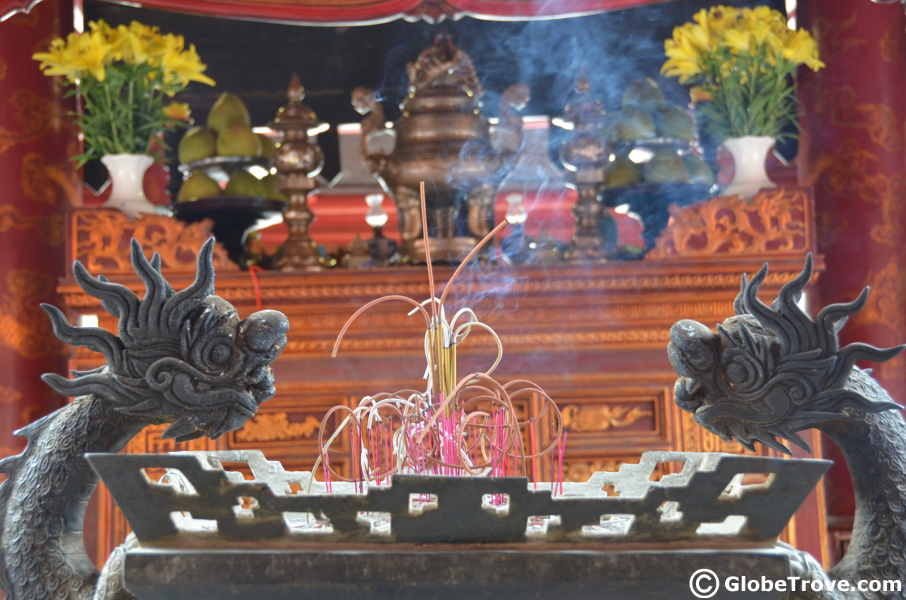 Burning incense makes for good photographs.
The Temple of Literature wasn't really on our list. We happened to be passing through that area and we noticed it as we passed. Needless to say, we were intrigued and we stopped. That's the awesome part about our itineraries: They are flexible!
The Temple of Literature turned out to be a really pretty place. It is also known as Van Mieu- Quoc Tu Giam. That's a little hard to pronounce and type so I'm just going to stick with Temple of Literature for now. The temple is dedicated to education and learning. It was the first university of Vietnam. The whole building has numerous symbols that tell their own tale. I particularly loved the colors of the university. They were bright, attractive and seemed to draw you in. I've always thought that cheerful atmospheres are really conducive to learning.
STOP 3 IN OUR HANOI TRAVEL ITINERARY: West Lake And Truc Bac Lake
Sometimes you need to unwind and have fun!
We were on our way to see the Tran Quoc pagoda when we walked past the West Lake and the Truc Bac Lake. The lakes may not be clean by European standards but when we compared them to the Bangalore lakes they were a thing of beauty. I digress…  The lakes are close to many tourist attractions and it is worth pausing for a moment to hear the city buzz to its on tune.
STOP 5 IN OUR HANOI TRAVEL ITINERARY: Tran Quoc Pagoda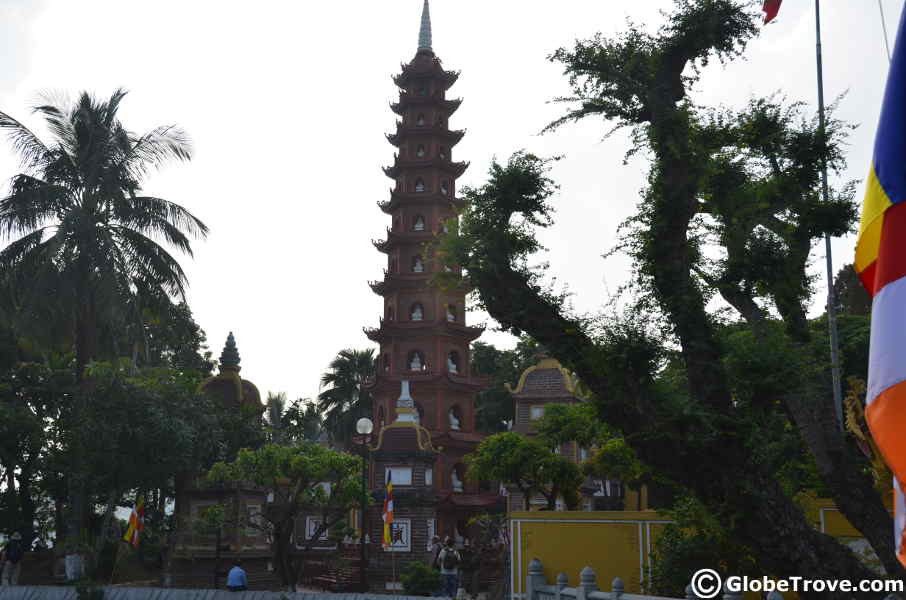 My favorite pagoda in Hanoi.
Tran Quoc Pagoda is a very old pagoda. It dates back to the 11th century. While the pagoda itself is captivating and beautiful, one of its interesting attributes is that it looks as if it lies in the center of the lake. It depends on which side you approach it though. The Tran Quoc pagoda is still in use and we noticed that a large number of believers flocked there to pray.
STOP 6 IN OUR HANOI TRAVEL ITINERARY: The Presidential Palace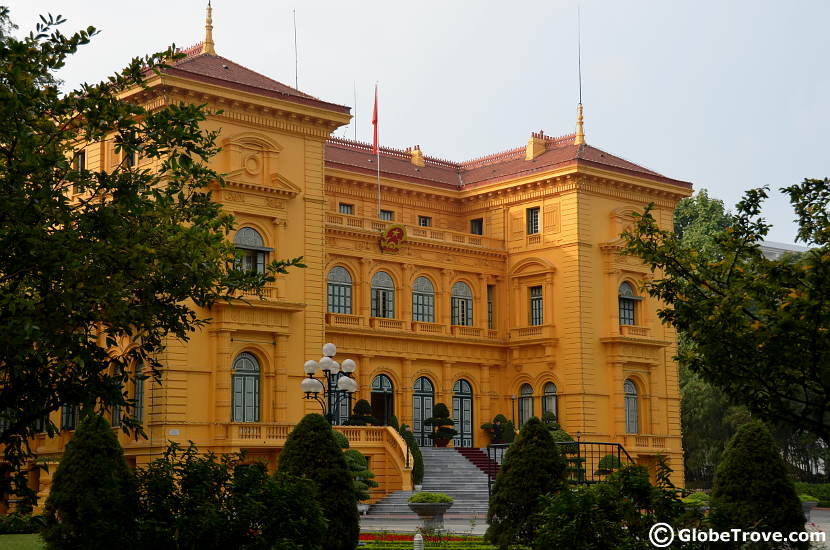 The bright colors of the Presidential palace.
We then made our way to a cluster of monuments. You have to purchase a ticket to see the monuments. I can't recollect how much each ticket was. Way too much time has elapsed for that. Sorry. But I will take you through all the monuments that we saw.
The first stop we made was at the Presidential palace. It is a huge yellow building that captures your attention the moment you come in viewing distance of it. Getting into the Presidential palace however was not on the cards. What we did see was far more interesting than that.
Ho Chi Minh, Vietnam's most loved leader refused to live in the grand Presidential palace. He instead lived in a small traditional Vietnamese house which was built on stilts. I found the house very enchanting. It even had a view of a small pond in front.
STOP 7 IN OUR HANOI TRAVEL ITINERARY: The Ho Chi Minh Mausoleum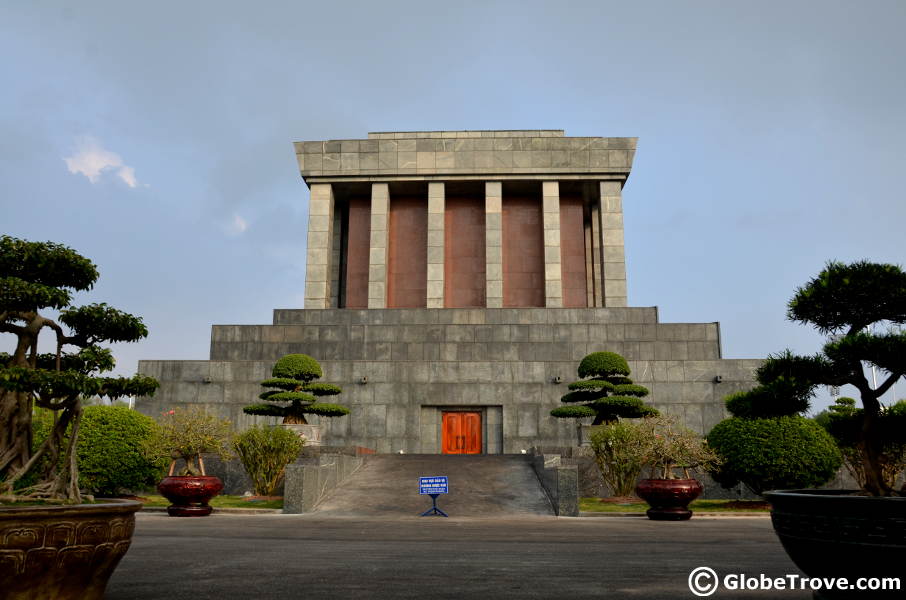 A glimpse at the Mausoleum.
The Ho Chi Minh Mausoleum is the final resting place of the President Ho Chi Minh. Unfortunately it was under renovations when we visited last year and we did not have a chance to enter it. From the outside, the Ho Chi Minh Mausoleum appears impressive. The gardens around give it a very peaceful feel.
STOP 8 IN OUR HANOI TRAVEL ITINERARY: The One Pillar Pagoda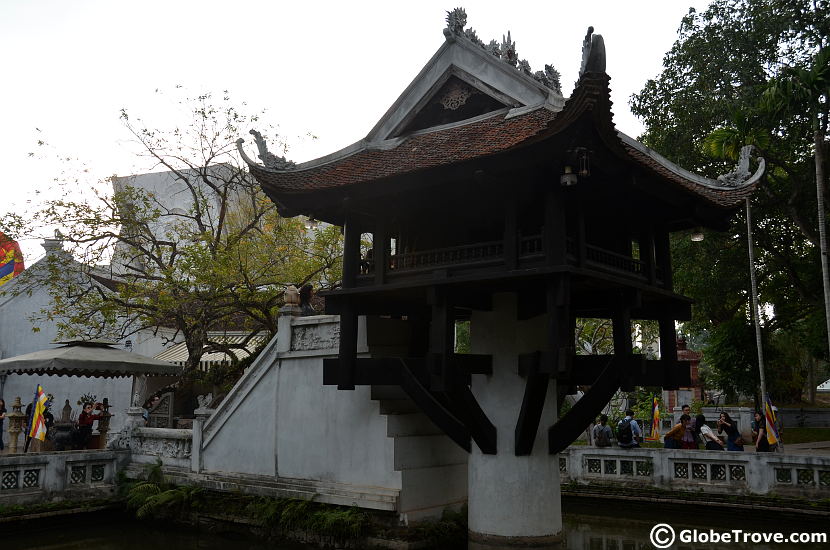 A view of the structure of the one pillar pagoda.
The One Pillar Pagoda is another famous tourist attraction and I just had to add it to my 2 day travel guide to Hanoi. When I heard about the entire structure being supported upon a single pillar, I must confess that I did not know what to think. By the time we made it to the One Pillar Pagoda it was already late in the day. The crowds grappled with each other for the best photograph. I strolled behind and caught one with the flickering flames of the lamps that were lit.
STOP 9 IN OUR HANOI TRAVEL ITINERARY: Hoam Kiem Lake
Even though we had already seen Hoan Kiem lake, we landed up wandering near it. It was a quiet way to end the day. It was interesting to note that the locals came out and interacted with each other. People were strolling, children were playing… The whole ambiance was really nice and happy.
With the day's activities at an end headed back to the hotel to freshen up and get ready for our journey to Sapa. That however is a story for another time. I hope you found our two day Hanoi travel itinerary helpful.