Being from India, South East Asia isn't really that much of a culture shock but I can see how it can baffle people from the Western parts of the world. It's the allure of difference and beauty that draws people to South East Asia. I've had so many interesting experiences in so many different countries South East Asia. That got me thinking that I was in all likelihood not alone. Intrigued I asked some travel bloggers to share their tales of their most memorable experience in South East Asia.
I was quite overwhelmed by the response that I got. These amazing bloggers are part of the Female Travel Bloggers group on Facebook and they've reached out to talk about their most memorable experience in South East Asia. I hope this narratives will serve to inspire you because there are many adventures out there and so many experiences just waiting to happen!
SPENDING A DAY AT AN ELEPHANT SANCTUARY IN THAILAND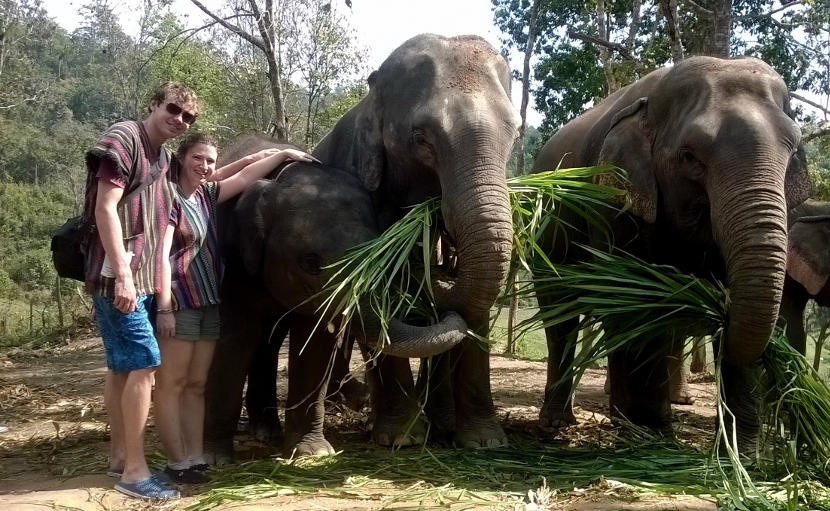 Janine's most memorable experience in South East Asia was at an Elephant camp in Thailand.
My favourite travel experience to date is spending a day at the Elephant Jungle Sanctuary near Chiang Mai, Thailand. One reason I really wanted to go here was to support the amazing people that are looking after these elephants. In other parts of Thailand elephants are still used for labour, carrying timber or passengers all day every day, and they can be subjected to physical and mental trauma from being treated this way.
The tourist industry is still part of the problem, and many visitors come to Asia to ride elephants. The best thing you can do to fight against this is to visit an elephant sanctuary and see the elephants roaming around happy, healthy, and free.
We visited the Elephant Jungle Sanctuary in January 2017. We got picked up in Chiang Mai along with the other visitors and made our way up the mountains. After about an hour and a half we struggled down some dirt tracks and arrived at the sanctuary. As we walked towards the sanctuary through the forest, some of the elephants meandered down to say hello. It was such a surreal experience to see them so close for the first time.
We were introduced to the sanctuary, where we learned how they saved the elephants, and some rules to keep in mind. Obviously elephants are huge creatures, so we were told to be careful not to walk too close to their feet. We were given a poncho to wear and we went to greet the elephants.
First, we had to let them become familiar with us, so we introduced ourselves and let them approach us, then stroked their sides and trunks. Then we fed them sugar cane and bananas. It was so funny to feel their trunk take the food from our hands! Some of them kept coming back for more and you could tell which were the greedy ones.
After feeding time it was time to get ready for the mud bath! This part was super fun, with everyone in their swimwear throwing mud at each other and rubbing mud onto the elephants. You get super super muddy, but it's all part of the fun and definitely not to be missed out on.
Next was cleaning off in the river. This was definitely much needed to get everyone (elephants and humans) mud-free. We had buckets to throw water over the elephants (and each other) and some of them even lay down in the river, it was magical to see them having so much fun.
After that it was time to chill for a bit before saying goodbye. Being able to interact, feed and bathe with the elephants in such a natural setting is certainly an experience that will be close to my heart forever. Despite their size I never once felt scared and definitely think of them as gentle giants. I would highly recommend visiting an elephant sanctuary to anyone travelling Thailand. It's such a worthwhile cause and an unforgettable experience. I am a huge animal lover and after that day I realised how much I want to volunteer with animals in the future.
MOTORBIKING ACROSS THE VIETNAMESE HIGHLANDS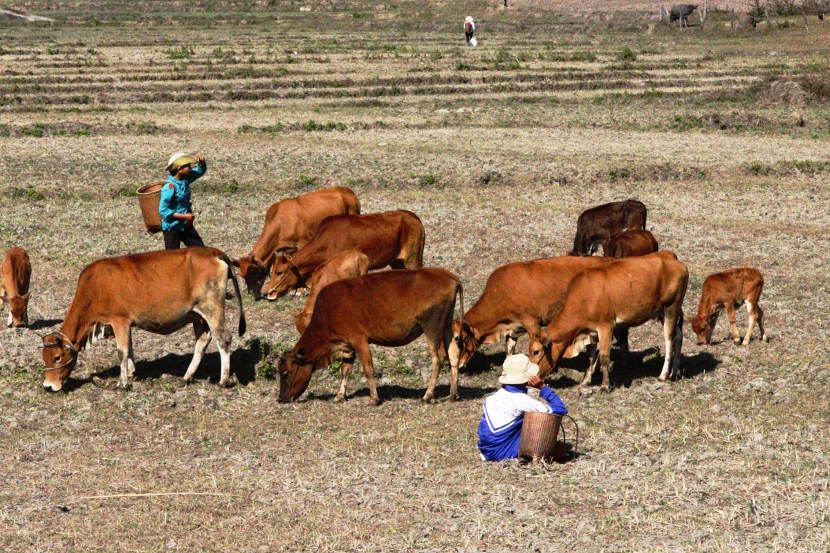 Jasmin's most memorable experience in South East Asia was motorbiking across the Vietnamese highlands.
I find myself in a tiny highland village somewhere between Dalat and Nha Trang. I have no idea where I am but just by looking at the village I can tell that tourists don't show up here often. There are pigs and chickens running below the stilt house where I'm staying the night with my fellow travelers, nobody speaks English and there isn't a single souvenir shop in the whole town. This is the Vietnam you don't see on guide books.
I have spent the past twelve hours on a back of a motorbike. We've been cruising across the Vietnamese highlands and I've experienced more than I could have ever imagined. I've seen so much natural beauty, experienced so much kindness by the people I've met and learned so much about the country that it's hard to put in words. We have visited minority villages where people have had nothing, factories where nobody has heard of minimum wages and listened stories about the political state of the country. In every stop that we've done on our journey, we've been treated with kindness and curiosity and people have always been willing to let them show us parts of their life.
I've met the people with whom I'm doing this crazy journey less than a week ago but they feel like friends you've had for life. I refuse to call our local friends tour guides because they've felt like friends since the first moment we've met them as well.
We spend the evening drinking rice wine, eating local delicacies and laughing. I cannot think another place where I'd rather be. After the dinner we gather our blankets and carry them outside the village to keep us warm while we are stargazing. The sky is white of stars and I can see the milky way for the very first time in my life. It's the most magical thing I've ever seen and yet again I find myself speechless admiring the beauty of this country.
Motorbiking in Vietnam with the locals was something I had never planned to do. The only reason I did it was simply because I had met some lovely people in my hostel and wanted to travel with them for a while. I never thought this trip would turn into one of the coolest travel experiences I've ever had in my life but still after visiting dozens of countries all across the world this motorbike trip is the first thing that pops into my mind when people ask me about my greatest travel experiences.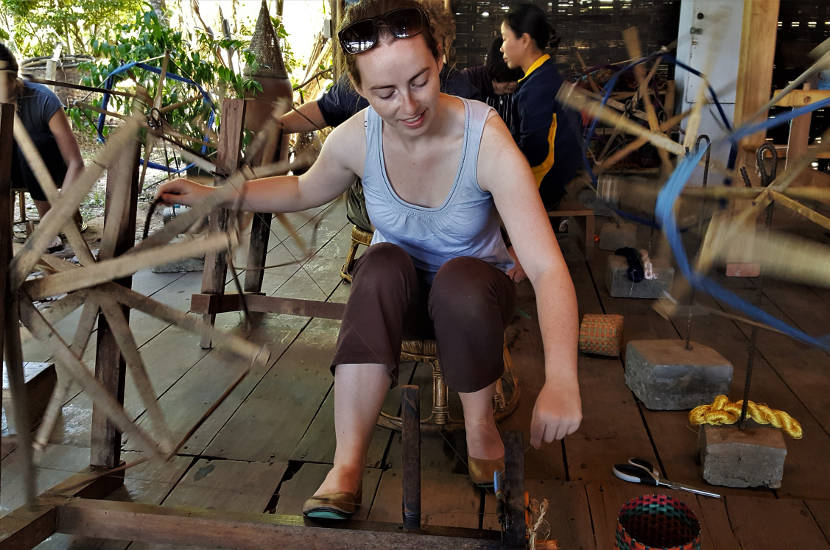 Danielle's most memorable experience in South East Asia was weaving in Laos.
I don't care whether you're planning a trip to Laos or not. I'm here to tell you that weaving at Ock Pop Tock is one of the hands down coolest things you can do in Southeast Asia. I am a firm believer that art is one of the best ways to connect to another culture. In my pursuit to live creatively and travel more, I often choose destinations based on their local art scenes, and even when that's not the case, I try to find something artistic to do there.
Museums are wonderful of course, but nothing compares to engaging experiences – the kind wanderlust dreams are made of. When I was planning my RTW trip, weaving in Laos – a country semi-famous for its textiles – seemed the perfect way to see an unfamiliar place through a unique lens. Ock Pop Tock offers a few different lesson packages. You can spend a half day learning how to color silk with natural dyes like indigo, lemongrass, and turmeric, a half day working with a master weaver to create your own silk placemat, or a full day doing both. Each student is paired one-on-one with a master weaver, while an English-speaking instructor introduces each step of the process and helps translate. My class was just four people in total, each of whom picked two colors of silk to weave into a traditional Lao motif. We learned how to spin the silk onto spools and how to pass a canoe-shaped shuttle loaded with the silk back and forth while pressing alternate bamboo foot pedals to separate the threads on the loom. While some of the masters knew only a little English, I find art is a phenomenal connector, a bridge between cultures. The workshop is set amongst a stunning, lush tropical garden right on the banks of the Mekong River. Looking over the water as I wove, I watched the occasional slow boat pass by and remembered my own three-day journey down the river from Chiang Mai just a few days before. Laos was a place I knew next to nothing about before my RTW trip, but it quickly cemented itself as one of the greatest highlights of my travels and the hands-on experience of learning to weave definitely contributed to that.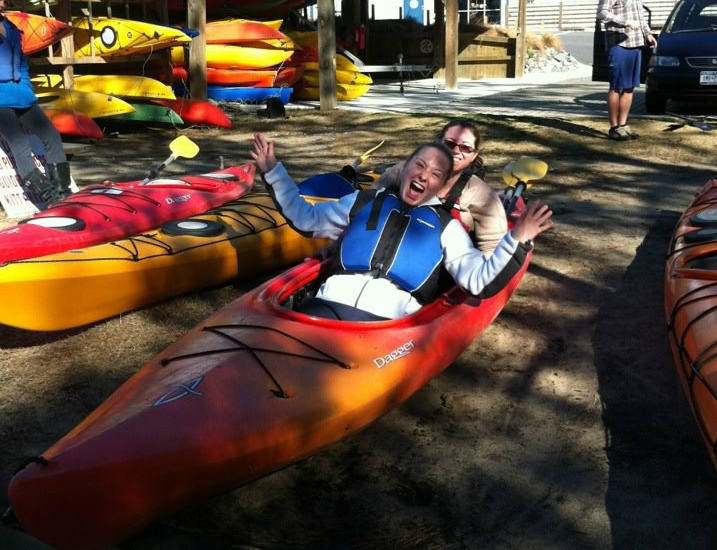 Kelly's  most memorable experience in South East Asia was kayaking to see the phosphor-luminescent algae in Thailand.
When I traveled to Thailand, I did a lot of super cool things like trek through the jungles of Chiang Mai and explore the ancient temples of Bangkok. But the coolest thing that I experienced by far was the John Gray's Seacanoe tour in Phuket.
Now I know it doesn't sound like much, but it was one of the most profound experiences of my life. Not only were the tour guides cordial and super helpful, but the food on the boat was some of the best Thai food I have ever eaten. There was also a ton of it too so even someone like me didn't go hungry.
But the real highlight of the trip was sea kayaking at night. I mean thank goodness we had guides in the boat because otherwise I would have tipped the boat over and been eaten by a shark. But with the help of my guide, the trip was a tranquil, peaceful, and almost surreal experience as we glided across the water, amidst the complete blackness of the night sky.
It was eerily dark and quiet on the ocean surface as we all silently glided through the water, with our paper lanterns in hand. We were ready to light these lanterns and release them into the sky, in the hope of finding peace and good fortune as we let go of each and every concern that ate away at our inner peace.
But before we could release the lanterns, the darkness was broken as I dipped my paddle beneath the calm and clear water. As I did this, the water exploded with light that seemed to streak across the surface of the ocean. I was mesmerized by the phosphor-luminescent algae that lit up right before my eyes. It almost felt like the stars from the sky had found their way into the ocean and were shimmering, for all to see. In that moment, I became a kid again because I felt like I was watching the most fascinating magic show of all time. Only in that moment, all the tricks were astoundingly real; a totally mind blowing byproduct of all the beauty that nature has to offer.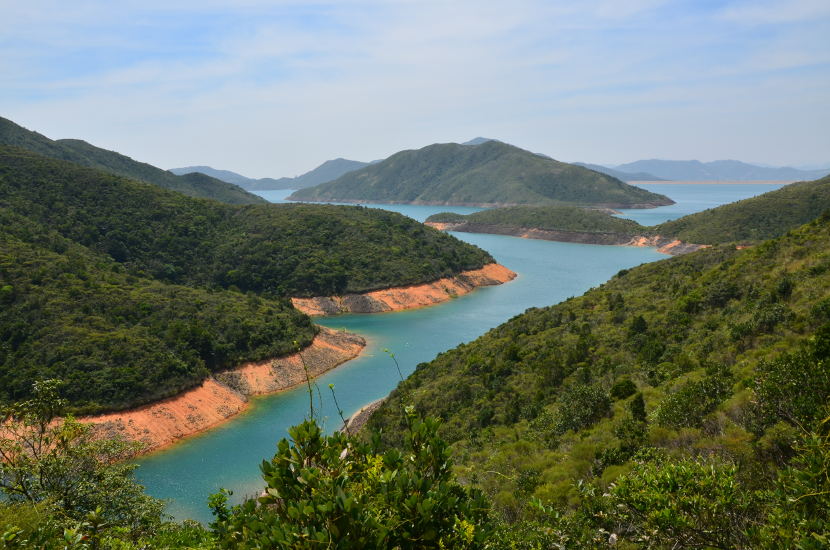 Liza's most memorable experience in South East Asia was hiking in Hong Kong.
Hiking is one of the best activities in Hong Kong. If you haven't been to Hong Kong before, you will probably be surprised. Just before coming to Hong Kong to study for 5 months, I thought that Hong Kong is just a giant city with plenty of skyscrapers and that's pretty much it. I couldn't know that more than 2/3rds of the city are actually natural parks and I definitely couldn't imagine that Hong Kong is one of the best hiking destinations in the world. The best time to go to Hong Kong is probably from March to May and from September to November. The weather's not so hot anymore and it's not raining all day long. In March and November, it could still be a bit chilly, but it's weather perfect for hiking.
Why is Hong Kong so great for hiking? Well, first of all, Hong Kong is really small, so if you climb up to a very tall hill/mountain, you'll see all Hong Kong (or at least a huge part of it) and the ocean surrounding Hong Kong (mainland, Lantau Island or Hong Kong island). There are fabulous hikes scattered all over Hong Kong, but these ones are especially remarkable and impressive: hike to Victoria Peak Gardens (easy), Lion Rock Hike (tough), Dragon's Back Hike (the most beautiful views, moderate) and a hike to Sai Kung to see Sheung Luk waterfall.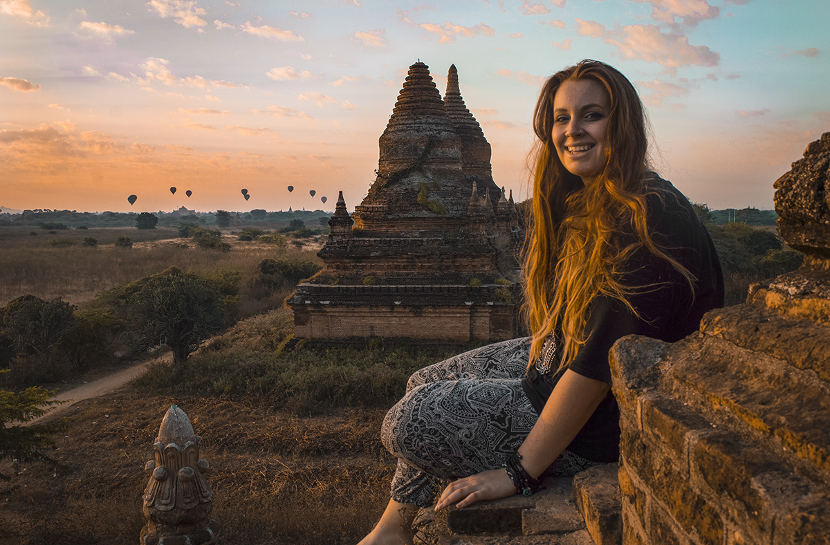 Tasha's most memorable experience in South East Asia was watching the sunrise in Myanmar.
Arriving at the bus station in Bagan I was dazed to say the least. It was my forth day in Myanmar and I had just spent the night on an overnight bus from Yangon. It wasn't the most comfortable of trips with the air conditioning on full blast, a common occurrence in South East Asia. Though, it was so freezing we were covering our faces with the blankets to keep warm. The bumpy road seemed endless and at one point I managed to get myself locked in the onboard bathroom, having to shout for help.
Finally getting off the bus the taxi drivers are standing around ready to attack like lions waiting. They start shouting out crazy prices seeing who will fall victim. Luckily, none of us do. Though, we manage to convince one man to take the three of us to our hotel for this crazy price.
Its 5am and the roads are dead empty, nobody dares to be awake at this hour, well except from the taxi drivers which seem to be making decent money from it. Check in at the hotel has obviously not opened at this ridiculous hour. Though, luckily our hotel lets us ditch the bags in the lobby and the sleepy receptionist says 'go explore temples'.
Its pitch black outside still and the temperature in this desert like landscape is freezing. I chuck on my warmest jacket and venture outside. A short walk down the road one Burmese man is awake and pushing ebikes to the front of his house. We offer him some money and he gives us a quick lesson on how to turn them on, assuming we can figure everything else out by ourselves.
After a not so graceful and very wobbly start we set off down the road following the directions the Burmese man gave us in broken English to a good sunrise spot temple. Heading off the concrete road and onto a sandy path we struggle to keep the ebikes upright sliding along the loose ground. Luckily the temple is only a couple minutes drive and we arrive just as the sun is rising.
Covering the highest part of the temple are tourists, all soaking in the magnificent views from on top. Though being a little bit late I sit down in the lower tier and bask in the beauty. The slight outline of the horizon can be seen in the lessening darkness.
We arrived just in time. Soon the sun pops up, casting brightness over the landscape. The sky turns the most beautiful shades of orange and pink and the hot air balloons float above us. It all happens at once like some spectacular show. The sun slowly positions itself further into the sky and the temples still in darkness contrast each other magnificently. In this moment I definitely know that the horrible overnight bus journey and starting my day at 5am was worth it. This view is something I will never forget and that it will forever bring back great memories.
No matter where you go, you will find that South East Asia has something different to offer. That is why the number of tourists have gradually increased over time. Have you been to South East Asia? What are your most memorable experience in South East Asia? We would love to hear back from you.
*This post contains affiliate links.
** Photographs and pictures have been provided by the authors for use in this  post and do not belong to Globetrove.