It's been over a year since our Dutch friend introduced us to a whole new world: The world of board games! As time passed we found ourselves getting increasingly addicted. With over 250 games in his collection, Sunday's soon became game days and we waited for every invite (which thankfully is frequent!) that came around.
The temptation to collect board games soon became too tempting to resist and we started scouring our local Indian game shops which was rather disappointing. Our net resort was to ask people who were flying in to get us a game or two. That was until we started hunting for Board Games in Kuala Lumpur.
RESEARCHING BOARD GAME SHOPS IN KUALA LUMPUR
Kuala Lumpur is well known as a shopper's paradise. It had been on my list for over a year and I was finally going to get a chance to visit it. At first I was curious. Would we find board games in Kuala Lumpur? Would I have access to a few of the games that I loved at my friends place? With boardgamegeek as my guide I found a couple of shops that held promise. Unfortunately visiting them all was not an option. I had to make a choice and hope that I picked right!
My final choice was the Meeples European Board Game Cafe and boy! Did I make a good choice!
MEEPLES EUROPEAN BOARD GAME CAFE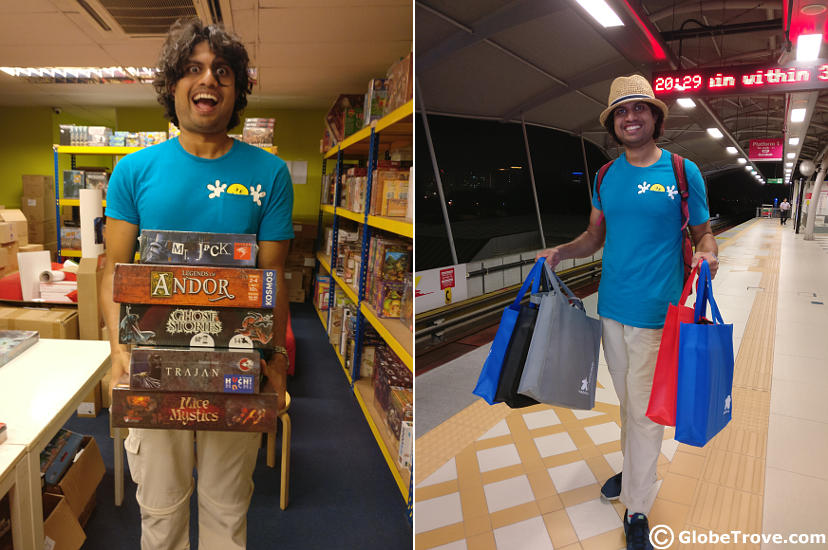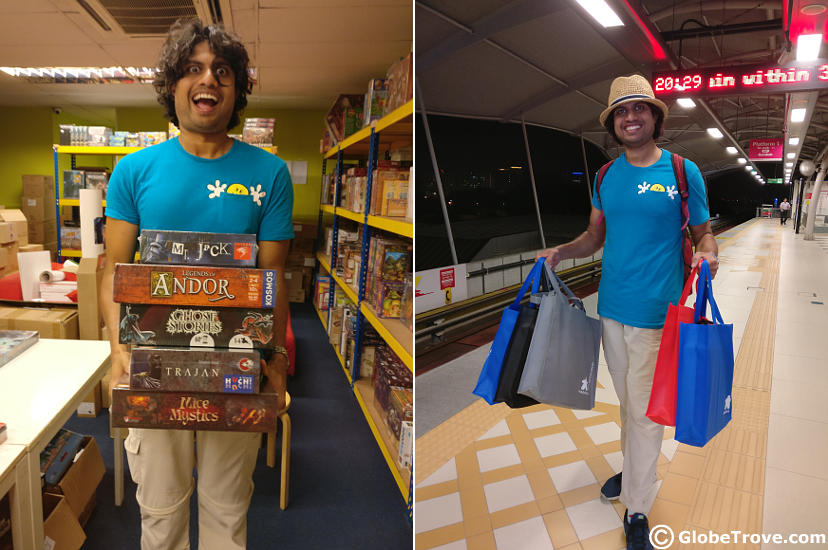 The Meeples European Board Game Café is located at 64-1, Jalan SS15/4D, 47500 Subang Jaya, Selangor, Malaysia. It is easy to find its location on Google maps. We took the metro to the nearest station and it was a short walk from there.
The Meeples European Board Game Café gives you a warm welcome the moment you step in. Excitement coursed through us the moment we saw the number of games which were able to people who wanted to sit and play. We however wanted to buy and were escorted to an even bigger room above which house more games than our mind could process.
Overwhelmed by the choices we could not help but disturb our friend at work. With his help we managed to buy a number of games to take home. Which ones did we buy?
All games that we definitely would not get back in Bangalore. We were particularly glad that we got Ghost stories. It was one of the fist board games that we played and even though it is really challenging we love it.
Some of the other games were rather new and we were able to play them in the café before we decided if we wanted them or not. That was another bonus that we liked. The best part about the Meeples European Board Game Café however was the discounts for members: 20 percent off on any game above MYR 200 and 10 percent off on games above MYR 100. We just had to get a membership since it made sense.
At the end of the day we definitely bought more board games than we expected. With no room in our bags we found ourselves hunting for a new large sized bag. Luckily, Kuala Lumpur has almost everything in their malls and the following day we got what we needed.
Were we happy with our board games? Immensely! We've had a number of fun hours spent playing and enjoying ourselves. Our collection went up a few notches. In fact now it can actually be called a board game collection!