So our day… Let me rephrase… Our night under the Aurora Borealis captured a lot of attention. That being said I need to emphasis that moving around Murmansk in winter can be a tad bit difficult. If you know how to drive in snow, slush and ice then you are good. Unfortunately for use we were not. So what did we do? When you are in the Arctic and the chances of catching the Aurora Borealis are high you really want an alternative other than sitting at home.
It means that you will be looking for a Murmansk Nothern lights tour. That is how we found Oleg (VisitMurmansk.info). Before I tell you why we chose to go with him, I'm going to rewind a bit and tell you about the difficulties we faced when searching for a tour company.
A MURMANSK NOTHERN LIGHTS TOUR TO SUIT YOUR NEEDS
That is very true… It is really difficult to join a tour that goes round hunting for the Aurora Borealis. In fact it is difficult to find a tour for other activities as well. The reason is simple. Most people book their Murmansk Northern lights tour which usually starts from St. Peteresburg or from Moscow. It is all inclusive. I think we were probably the only backpackers in the area.
So what's the alternative? The alternative is to hire a person who will drive you around and probably a translator. We tried that once and we got royally fleeced! It was way too costly and definitely not worth it. Bear in mind that these companies will also advertise their services as 'Murmansk Northern lights tours'. While they are comfortable because you have an entire car to yourself, they did not suit our shoestring budget.
Shawn had messaged Oleg about his Murmansk Northern lights tour initially and had mentioned that we were travel bloggers. I think that was what piqued his interest initially. Language barriers made communication difficult but once we visited him a lot of our doubts got clarified over a cup of warm tea! It soon became clear that Oleg offered us a cheaper alternative to the private tours that everyone else offered. How? Why? His company has numerous groups of tourists coming to Murmansk. All that he was offering was for us to join the troop in the bus. Not a bad alternative.
That being said he charged us 2000 rouble per person. That was the discounted rate that he gave us since we were travel bloggers and we said that we would write a blog about our experience. Fair enough. His company seemed good enough and I was almost completely certain that I wasn't going to mislead my readers so hey! Why not?
For us it was a win-win situation. Other agencies were charging us 5000 rouble a head. Way too steep for our pocket. At 2000 rouble we were able to do the trip twice over. Though I must mention that we had better luck the first time around.
THE MURMANSK NOTHERN LIGHTS TOUR IN ALL ITS CRAZY GLORY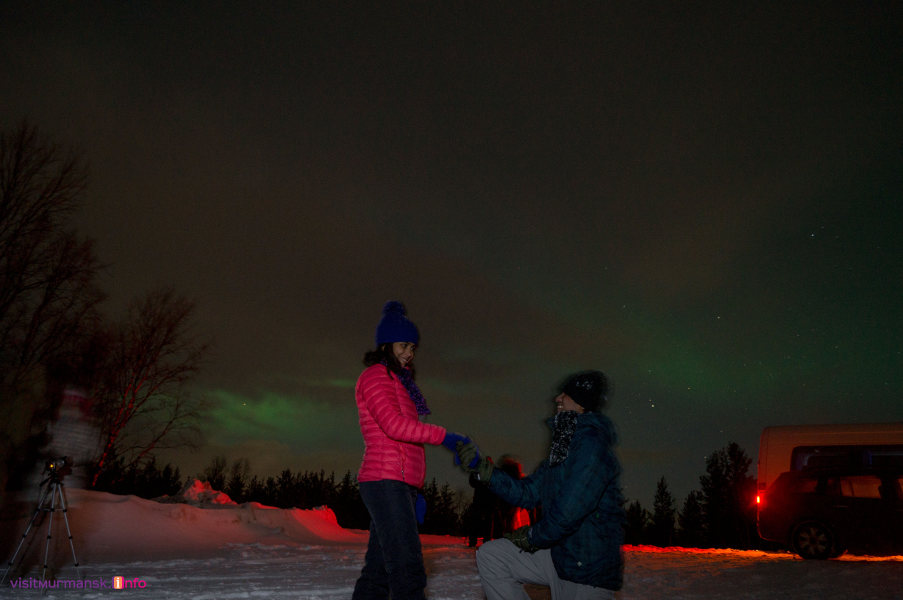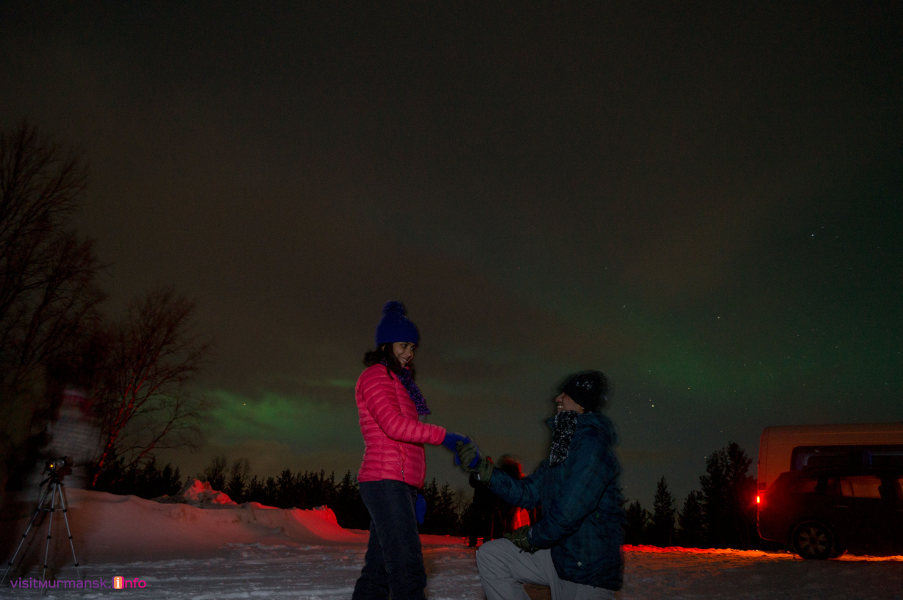 Sometimes you need to act a wee bit crazy! And cheesy… Let's not forget cheesy!
I exaggerate… The Murmansk Northern lights tour wasn't crazy but if you've spent the day walking through ice and snow, you definitely want to rest at night. For us keeping our eyes open was half the battle. Our luck was not overtly good. The forecast was clear but the KP index was low. That meant that even if we had a clear sky our chances of seeing the Aurora Borealis were slim.
At first we thought we would skip and go another day. Luckily we did not for we did catch the Aurora Borealis in Murmansk but it wasn't in the same majesty that people described. We scrambled about to get a good photograph but since we aren't experts our efforts weren't rewarded. Luckily for us what we lacked in skills Oleg had in plenty. That's how we got our cheesy Valentine's day photograph under the aurora borealis in Murmansk.
(This is one of the reasons why I honestly feel that the type of Murmansk Northern lights tour you book is very important. You can have fun while they capture your memories in print!)
That being said we were really glad that we had joined this particular Murmansk Northern lights tour. While we were on our way scouring the countryside, Oleg's numerous contacts all came in handy. With more than one bus heading in different directions, finding the probability of finding the Northern lights doubled.
MURMANSK NORTHERN LIGHTS TOUR: WINDING OFF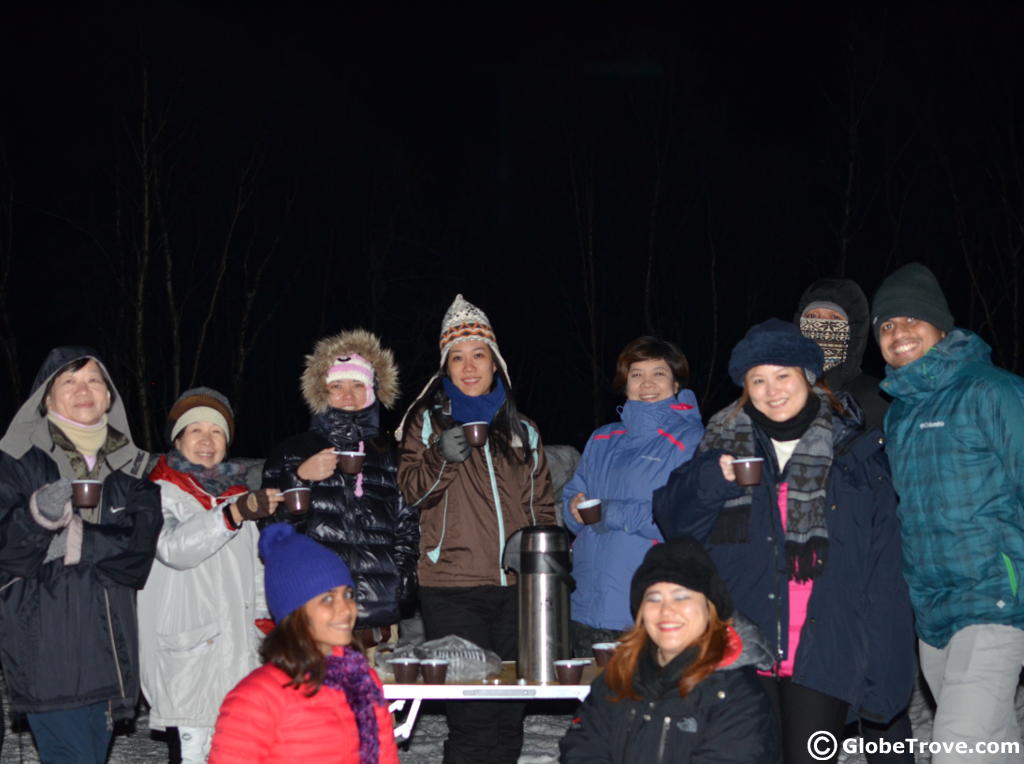 A picnic in the dead of the night… Frigid Arctic weather doesn't stop people who want to have fun!
One would think that the Murmansk Northern lights tour would wind off quickly and we would be on our long drive home. Honestly that is what I expected but no! That's not what happened. The first time we had hot tea, vodka and sherry in the bus. The second time (mind you with the same group of Thai tourists that we had met on the first trip!) we set up a table and had a picnic in the Arctic night. Cool? Nope! Cold! But we needed it because we were freezing as the temperatures dropped.
While the second night was non eventful as far as the Aurora Borealis was concerned, we had so much more fun because we knew everyone around us better. We did try a few light exercises to pass our time. Dimitri (Oleg's assistant) was especially amused!
We had planned on visiting a town call Teriberka which is located a good distance away. Our plan was to join Oleg's group. Unfortunately the weather conditions turned and the road was closed. I must admit that we were a bit disheartened. To make up for our disappointment Oleg sent us on a lovely adventure.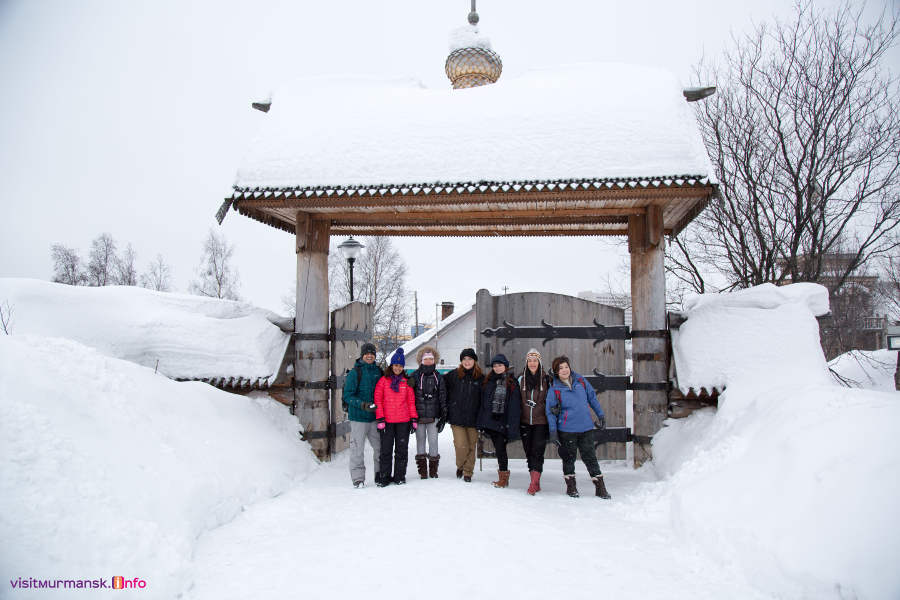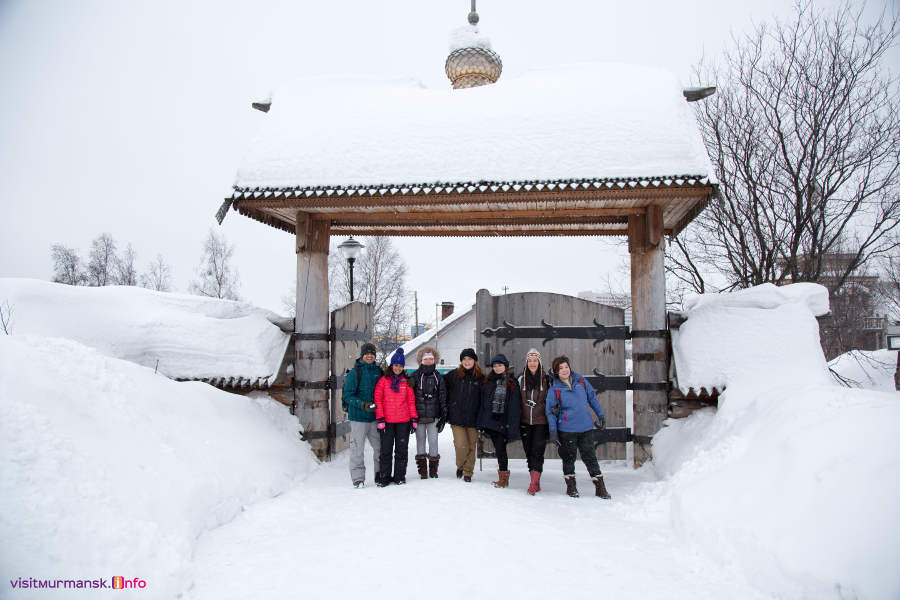 We visited a monastery at first while the arrangements were made. You have got to love those wooden buildings covered in snow. A man came running up to us to tell us not to ring the bell (not that we were going to!). I think some tourists may have done so before. Honestly I couldn't keep my smile under control. It definitely felt like a mischievous prank a kid would play.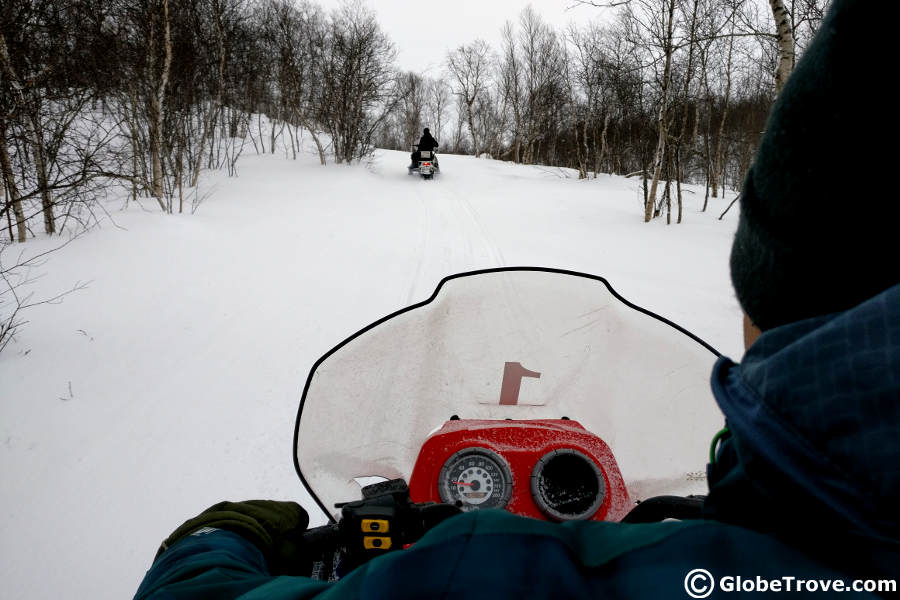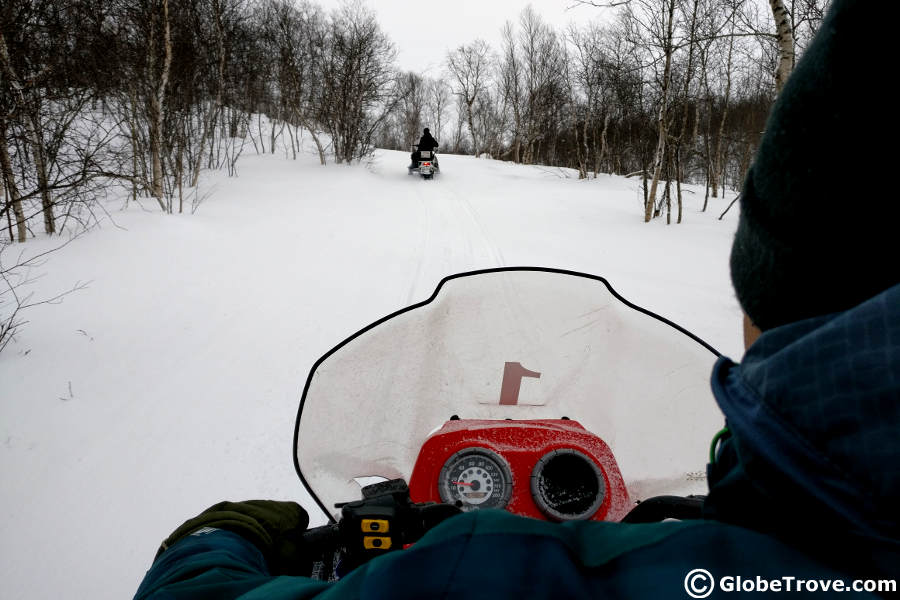 Taking the reins into our own hands!
Next we headed out to a place that was meant for winter activities. We played with some huskies, rode snowmobiles and even did a bit of ice fishing. No! We didn't catch anything other than a cold. It's funny how the cold creeps up when you stand in one place for two long!
That being said I must admit that we had a lot of fun. We made some great friends and learned about a new culture. We were lucky to have found a group that suited our wavelength. Half the fun of an excursion always lies with the company you have.
There is so much to talk about and tell you but I'm going to wind off here today. Till the next post then!