The permutations and combinations in forming an India travel itinerary are numerous. This is largely because India is a large country and the cultures, language, beliefs etc differ as you move from state to state. Very often you will find that there are differences in the same state. For us our main limitation is time. So, when we began planning our road trip from Bangalore to Nashik we were hesitant. We had eight days and there was over 2000 kilometres to cover. Would the distance take too much off a toll on us? Was it feasible? One thing we were certain, our trip from Bangalore to Nashik was going to be one of those epic Indian holidays.
THINGS TO CONSIDER ON A BANGALORE TO NASHIK ROAD TRIP
While driving 2000 plus kilometres may not be much in the western developed nations, it is a rigorous journey in most parts of India. The condition of the roads varies from good to bad to non-existent. That is why when planning a road trip from Bangalore to Nashik (or any Indian holidays by road) research is particularly important when planning the route
I will go into a bit more detail about which sections were good and which were not on a day by day basis. This however I will say… The journey to Nashik was much more pleasant than our return with one glitch… It took us one and a half hour to get out of Bangalore even though we left at 5:30 in the morning. The worst section was in Yashwantpur. Unfortunately, it is not a section of the road that can be avoided when heading out of the city.
Another important point to note when planning your Indian holidays is the local language. In this case since our Bangalore to Nashik road trip was based largely in Maharashtra, the local language was Marathi. You will find a couple of people who speak English in the main cities. Hindi is also another spoken language. Luckily for us we spoke all three, so we were good on those terms.
DAY 1 OF OUR INDIA TRAVEL ITINERARY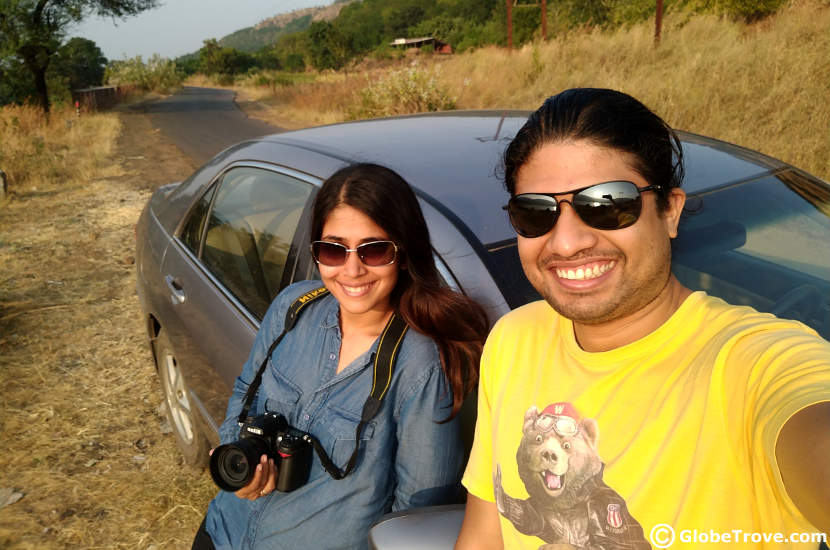 Our road trip started off at 5:30 in the morning. We had a tank full off gas and no worries in the world. That was until we reached Yashwantpur and got stuck there for an hour and a half. Sigh… It is the struggle that everyone living in Bangalore is familiar with. We soon (sarcasm intended) however put Yeshwantpur behind us. The road was great, and we stopped occasionally to stretch our feet. Our first destination was Mahableshwar.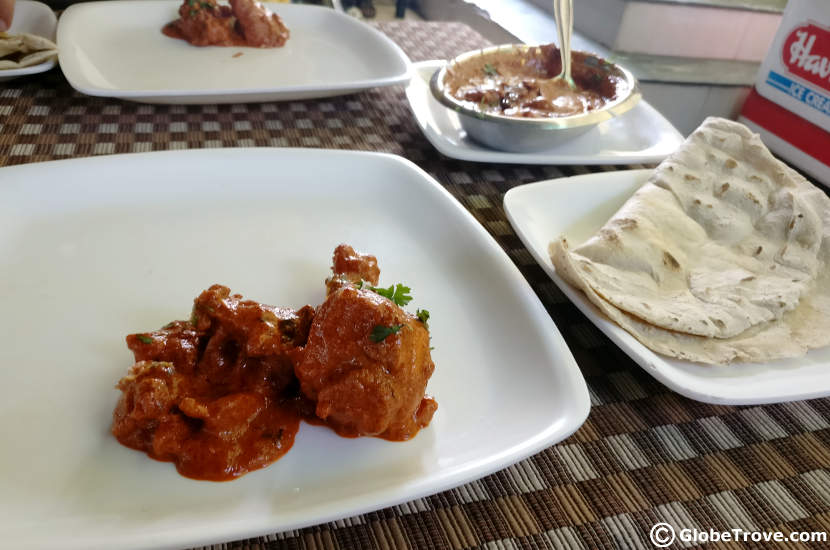 Chicken and Bhakri at Kolhapur.
Our initial plan was to drive from Bangalore to Belgaum and stop somewhere nearby for lunch. Unfortunately, we did not see anything appealing on the side of the highway. So, by the time our journey took us through the outskirts of Kolhaur, our stomachs were protesting. After living in Maharashtra for 8 years (Shawn was there for 4) we knew that Kolhapur was famous for chicken. It's hard to miss when Kolhapuri chicken is written on almost every menu. With that in mind we stopped at a Dhabba (tiny restaurant at the side of the highway). Guess what we ordered? Spot on! Kolhapuri chicken!!!
While scouring the menu I noticed that they had bhakri. Bhakri is an unleavened bread that is popular in Maharashtra. People make I from different kinds of grain. Instinctively I decided that it was what I wanted because it had been long since I had laid my hands on some. Shawn had never eaten a bhakri before. After trying it, bhakri became his go to bread for the trip. Win-win for me!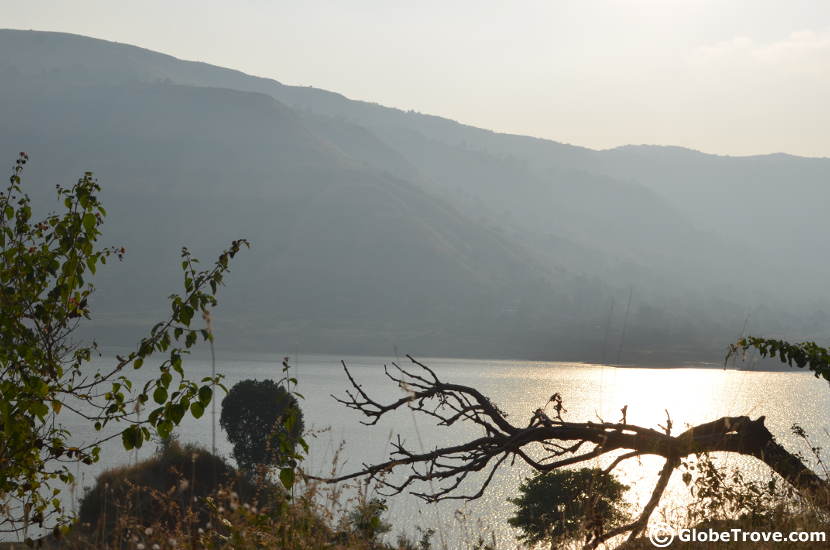 I can't remember the exact location where we stopped but we did get down to enjoy the scenery. It was closer to Mahabaleshwar and Panchgani than it was to Satara. What made us stop was the large water body with a damn that kept in check. Over the next couple of days, we noted the large number of rivers and dams that were scattered through the state. Most of the places were green and agriculture was thriving. That however is something that I intend to discuss in another post.
FINAL DESTINATION ON OUR BANGALORE TO NASHIK ROAD TRIP: Mahabaleshwar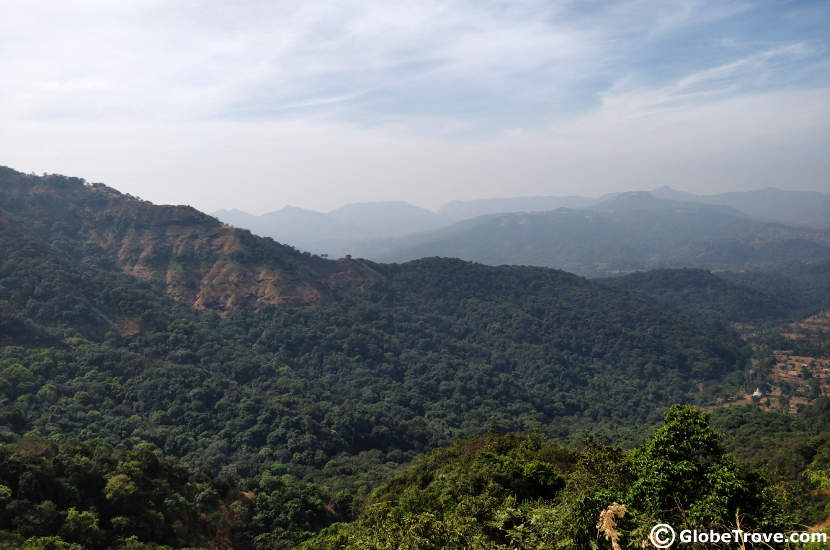 The final stop on day one of our Bangalore to Nashik road trip was Mahabaleshwar.
To tell you the truth, Mahabaleshwar and Panchgani are located very close to each other. Both spots are favourites among the locals because they are hill stations. Places were most Indians head to escape from the scorching heat of summer. Our accommodation was on the outskirts of Mahabaleshwar. That made Panchgani particularly accessible. The accommodation that we chose was cheap, basic and cosy. It was called Hilltop Farm. It's one of those places that we would recommend staying in if you are looking for budget accommodation on your Indian holidays.
The road conditions till Kolhapur were amazing. That is if you discount the Bangalore roads and traffic. Once we turned off the national high way near Satara, the roads became narrower. They were still drivable, and the scenery certainly made up for the minor discomfort.
DAY 2 OF OUR INDIA TRAVEL ITINERARY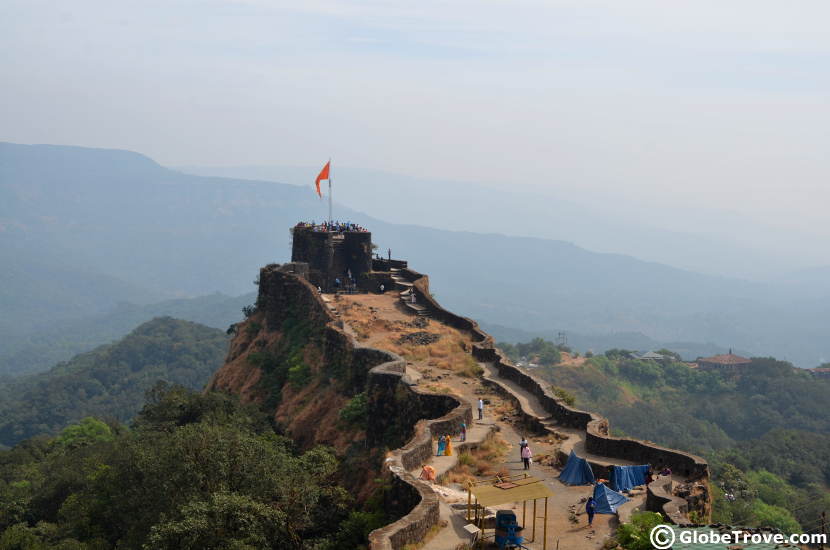 The second day of Indian holiday was spent in Mahabaleshwar. We intended to use the day for some rest and relaxation after the long drive. That however did not mean that we did nothing. We were up in the morning and headed out to take in as many sights as we could. From the Asia Plateau to Pratapgad fort, our day was coloured with the different things one could do in Mahabaleshwar. There are numerous sights and forts that one can access from Mahabaleshwar. Unfortunately, you need much more time. We did what we could and, we plan to go back to Mahabaleshwar for some of our future Indian holidays!
RELATED ARTICLES: Places To Visit (In 24 hours) In Mahabaleshwar and Panchgani
DAY 3 OF OUR INDIA TRAVEL ITINERARY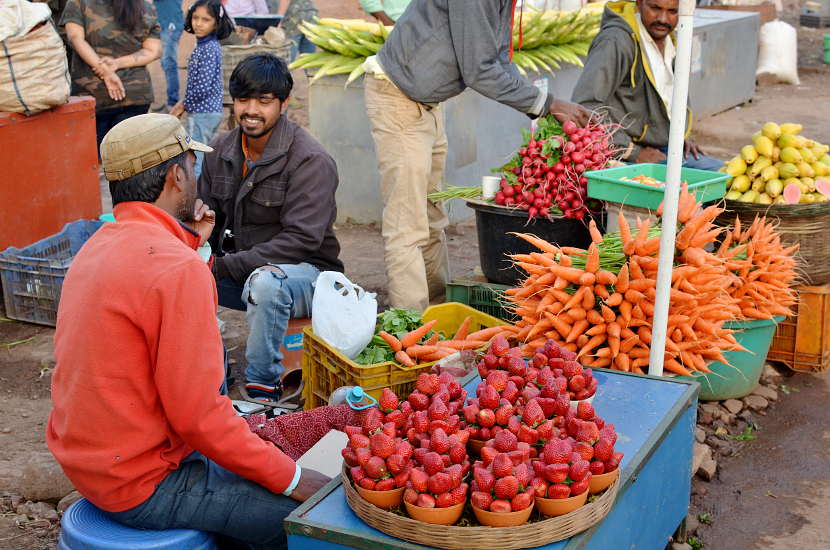 The third day of our India travel itinerary was spent traveling to Pune. Before we left we caught a quick breakfast in Panchgani. Buying the freshly picked strawberries was another tick on our checklist. We set off to Nashik at around 8:30-9 in the morning. Our plan was to skirt around the Pune so that we did not get caught in the traffic.
We were due to reach our final destination on our Bangalore to Nashik road trip. The journey wasn't particularly long. Shawn spent four years in Pune when he was studying, and we spontaneously decided to call the people we knew were in town. By and by we spent almost two hours in Pune before getting on the road once more. We drove a bit out of the city before we stopped for lunch. I think this was the first amongst all our Indian holidays where we met so many people.
FINAL DESTINATION: NASHIK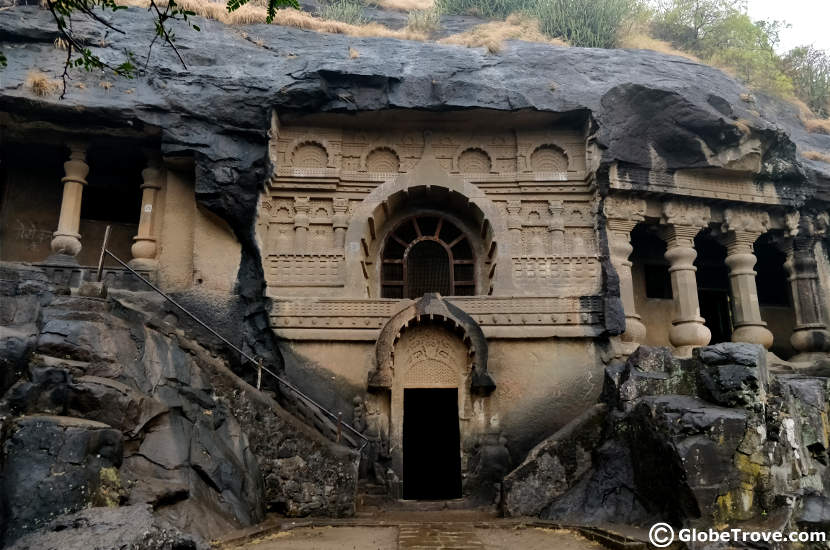 It was late in the evening when we finally reached Nashik. To say that we were exhausted was an understatement. What we did not know was that while we were grumbling about the heat, a cyclone was bearing down on the west coast of India. Our luck held out and the rain lashed through Nashik at night. We spent the next three days in Nashik. Where did we stay? Shawn's old friend Akshay and his family warmly opened their house to us. It was an interesting cultural experience. As I have often stated before, India is a big country with so many different cultures. So, even though we are Indian, every time we hit the road we experience and learn something new. Almost every stop that we made on our Bangalore to Nashik road trip taught us something new.
Staying with Akshay's family was such a refreshing experience. We had a chance to practice our rusty Marathi. His family was so encouraging and supportive that we gained a lot of confidence in our verbal skills. That and we learned to cook some of the authentic Maharashtran dishes. Did I mention that Akshay's mom is an amazing cook?
As I mentioned before, if your any of your Indian holidays involve road travel, you need to consider the road conditions. As off December 2017, the stretch from Mahabaleshwar to Pune was good. It wasn't perfect, but it was good. The stretch from Pune to Nashik was a little worse off but there were patches where it was nice. The journey from Pune to Nashik was particularly difficult because the road passed through many small villages. That meant that we got stuck at junctions and it slowed us down.
DAY 4 OF OUR INDIA TRAVEL ITINERARY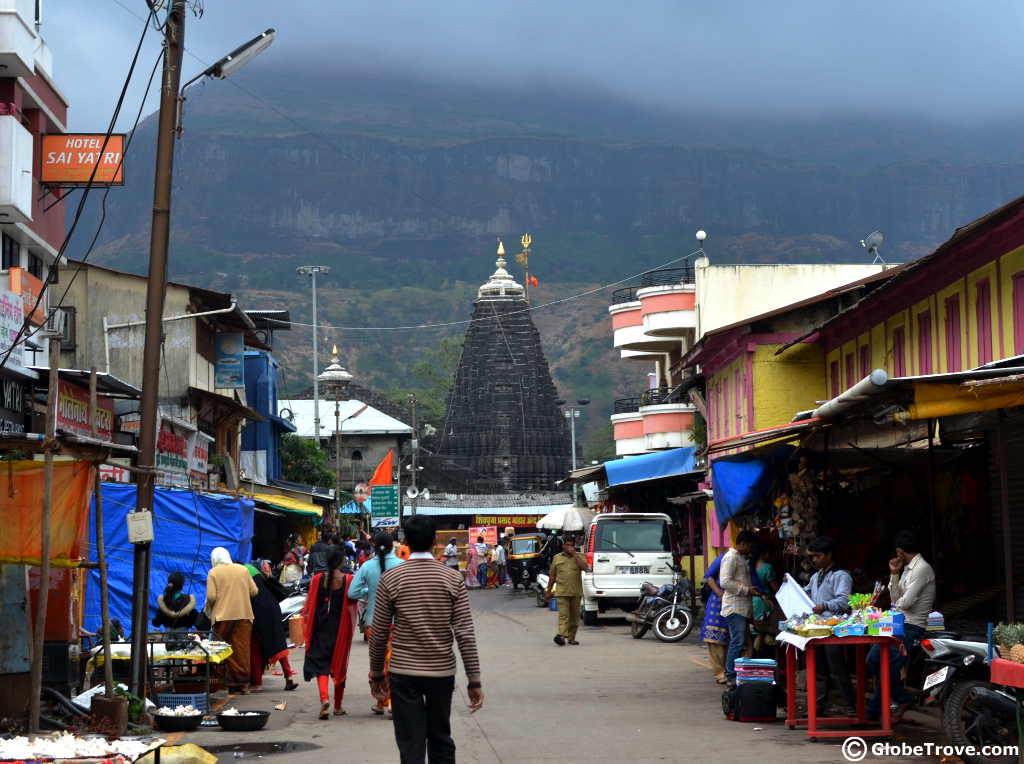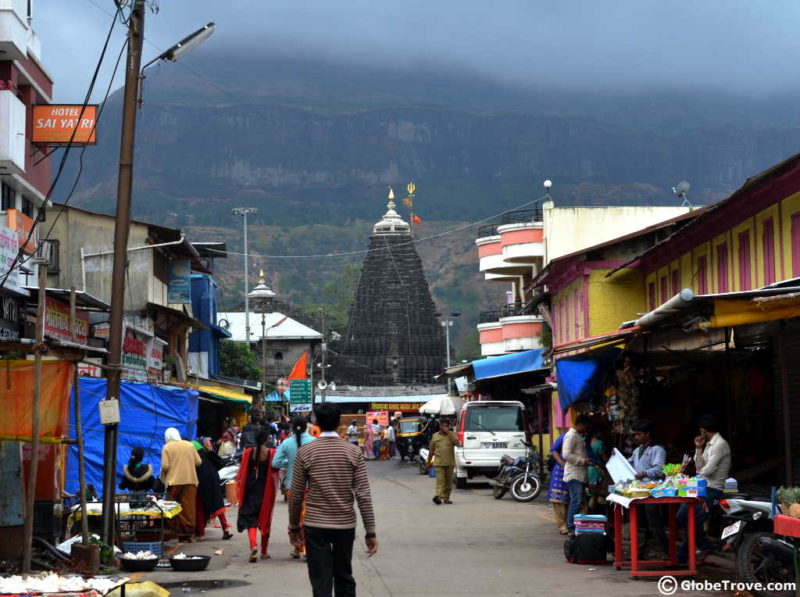 As I mentioned before, cyclone Ockhi had hit the west coast of India and had made its way up to Gujrat. It caused the temperatures in Nashik to plummet and made us feel more like curling up at home than going out. We had to literally drag ourselves out of the house much to Akshay's amusement. Our initial plan was to meet a few friends in the city. A priest (Br. Owen Caston) who happened to be an old acquaintance of my father and Sr. Blessy who was my roommate in our University hostel. Unfortunately, we did not cross paths with Br. Caston on that day. We did however spend a couple of hours with Sr. Blessy. It made me feel really warm and nice to meet her. Too much time had elapsed.
We then headed to the centre of town to see the temples. Unfortunately, the rain made it difficult to wander about, so we decided to put off that part of the sight seeing to the next day of our Indian holiday. Instead, we headed out to the Pandavleni caves which was around eight kilometres out. I won't go into the details of that because we already have a detailed post describing that adventure.
With our wanderings done and the rain playing spoilsport, we headed back to Akshay's house. What could we do to make the evening interesting? That was the question of the day. Akshay had an answer for that. He suggested heading out to meet his cousins in a mall. So that's exactly what we did.
RELATED ARTICLES: A Guide To Places To Visit In Nashik
DAY 5 OF OUR INDIA TRAVEL ITINERARY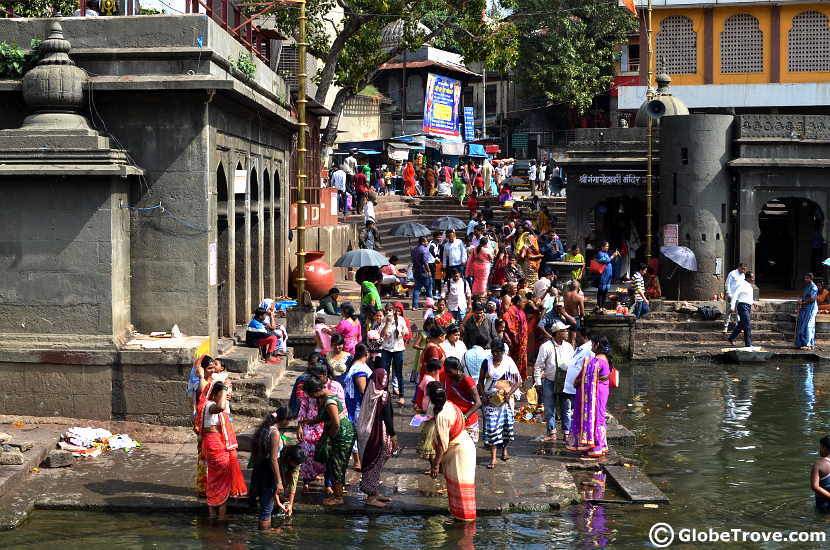 When day 5 of our Bangalore to Nashik road trip dawned, the realization that our Indian holiday was getting over started to sink in. It was the last day we had in the city and we wanted to make the best of it. That was probably the best day we had in the city!
PIT STOP 1: The Shrine Of Infant Jesus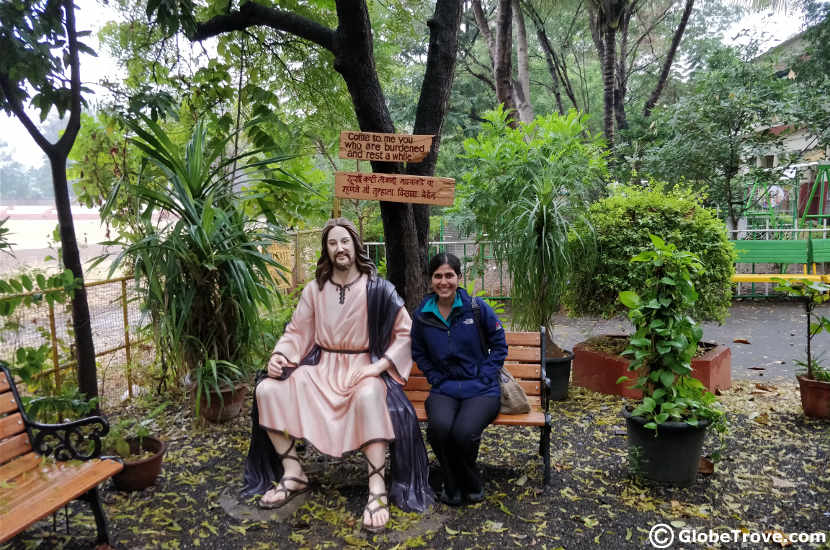 I couldn't resist posing.
Our first stop was to meet Br. Caston. This time we were lucky, and we spent some time catching up. It was intriguing to hear what my father was like when he was a teen. We then got the grand tour of the Shrine of Infant Jesus and the adjoining school. The Shrine of Infant Jesus is a popular pilgrimage spot for Christians in India. It is interesting how Nashik manages to be a pilgrimage town for different religions. The school in particular is trying to focus on green energy. Shawn was particularly interested in the solar panels that powered the school and he got a chance to inspect them from up close.
PIT STOP 2: Temples And Markets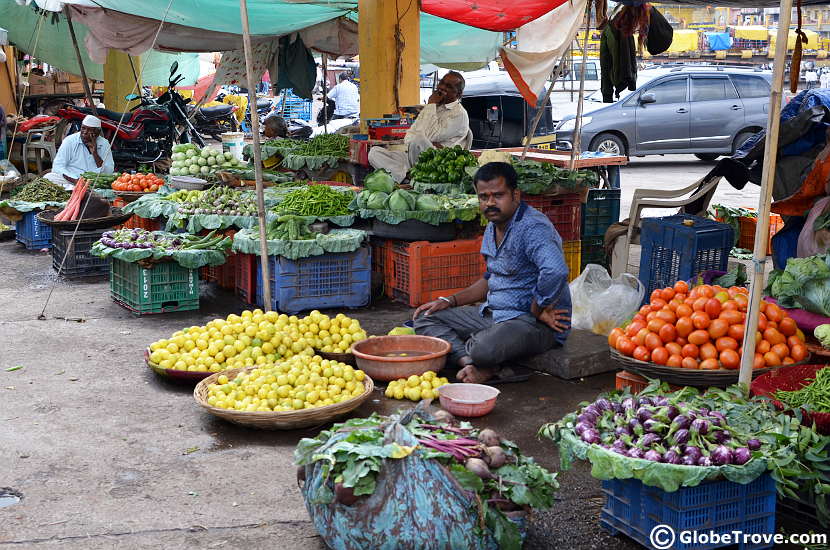 The colorful markets of Nashik.
After we bid goodbye to Br. Caston, we headed to the centre of the city to see the temples. Our friend Janet had taught me to see India from a foreigner's eyes. So, I paused and looked around me. I watched the bustling markets and gave the colourful arrangements due appreciation. Every action around me transformed into an opportunity. A moment to capture what I would have originally thought normal on film. The opportunity sprung from the realization that what is normal for me is not normal to others. The realization was a turning point for me as a travel blogger and an individual. It has given our Indian holidays a different charm and allure.
PIT STOP 3: Chasing Waterfalls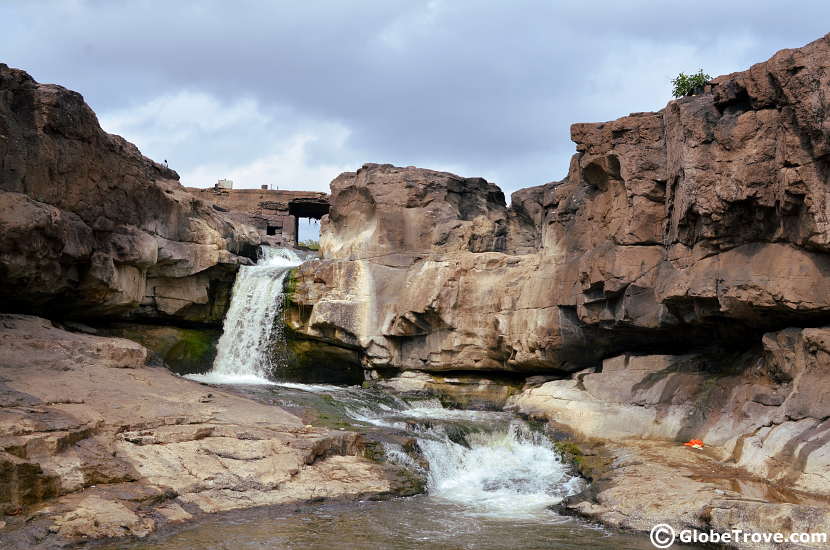 Indian holidays in the western ghats are never complete without waterfalls.
We then drove to the outskirts of Nashik. Our aim was to chase some waterfalls (the rain made it a good time to see them) and to see the Trimbakeshwar temple. The drive was pleasant and relaxing. We stopped on the way for some of Nashik's famous Misal pav  before we undertook the long drive. If there is one thing that we have learned in the past few years of traveling together, it is that one should never ignore one's stomach. A bunch of hangry travellers is not particularly fun!
The day passed quickly enough. We were due to meet Akshay and his cousins at the Sula vineyards in the evening, but we still had a bit of time to kill. So, we headed to the NMC'S backwater Gangapur dam. It was only after arriving that we realized that to visit the dam we needed a special permit.
PIT STOP 5: Sula Vineyards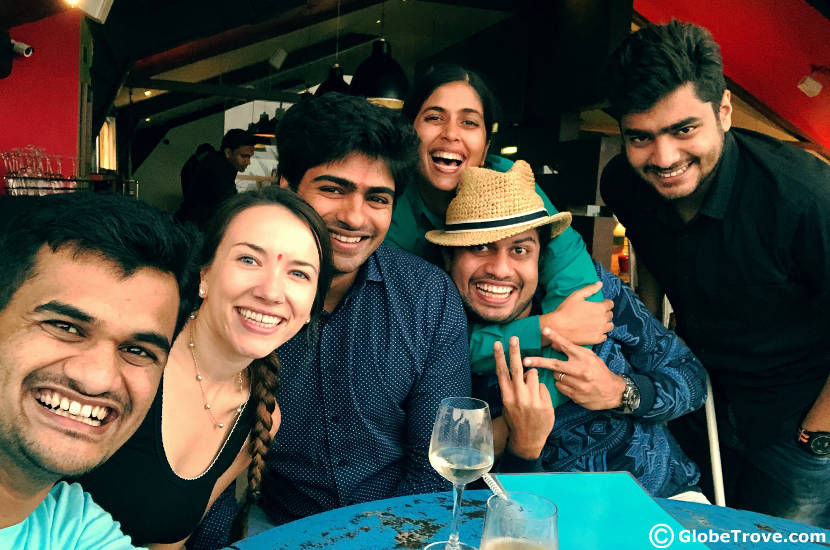 As you can see day 5 of our Bangalore to Nashik road trip was a lot of fun.
Disappointed but still excited we headed back to the Sula vineyards which was close by. For us this was one of the main highlights of our Bangalore to Nashik road trip. With a wine tasting tour and our own wine tasting later, the evening just got more and more interesting every passing moment. That was another set of memories that we will cherish for years to come. I won't go into detail about our Sula vineyards adventures because we have a detailed post on it already up. You can find the link below.
RELATED ARTICLES: Touring The Sula Vineyards
DAY 6 OF OUR INDIA TRAVEL ITINERARY
Our India travel itinerary is pretty long but we did have eight whole days to enjoy. A part of me wishes we had more. On day six, we bid adieu to Nashik and set out on our way back to Bangalore. This was pretty much the final leg of our Bangalore to Nashik road trip. We just had one more stop on our way back: Bijapur. Why did we choose Bijapur? The other obvious choice to break the last part of our Bangalore to Nashik road trip was Hampi. Bijapur is a bit further away from Bangalore but in the direction that we were heading, it was way closer to us. In addition to everything, Bijapur now known as Vijayapura had a lot of historical sites that we wanted to see.
Akshay's mum packed us breakfast. Paratha with the chutney that I love. I swear that lady is the goddess of all Maharshtran cooking. My mouth waters when I think of all the delicacies she made and how patiently she explained how to make them. We stopped by the side of the road and ate our breakfast watching the sun rise over the horizon. She packed so many paratha's (neatly in rolls so we could eat while driving) that we ate stuffed ourselves silly. So much so that we had a rather late lunch.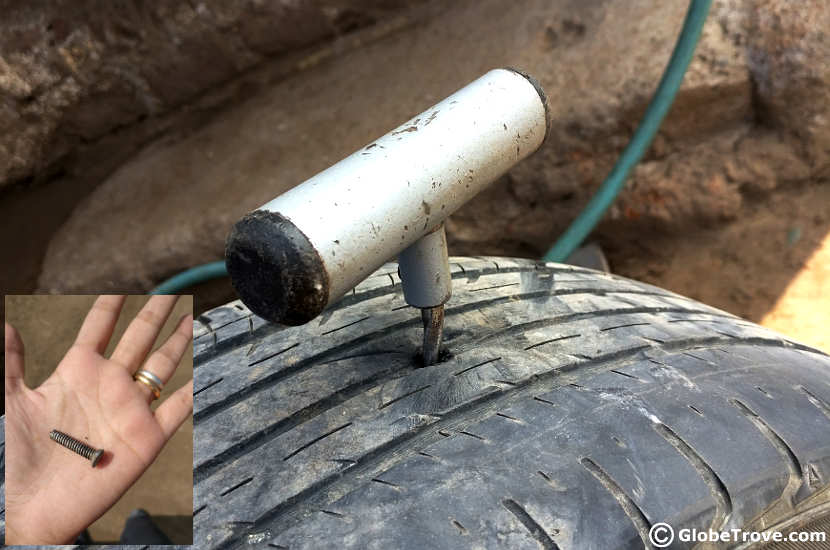 The puncture had to be fixed.
I'm mentioning the road conditions here because it is rather pertinent to the tale I need to tell. We bifurcated off the main Pune highway and followed Google's directions. Usually I watch the map and guide Shawn through it. This time we decided to put Google maps on navigate. The map kept on updating and we did not pay much attention to it till it was clear that the road was getting worse and worse. At one point the road all but disappeared. So much so that there were people building it!!!
By now we were pretty tired, and our tempers were short. It was hot, luckily, we were not hungry, but we were tired. We rechecked Google maps and turned off navigation. It told us to drive almost 20 kilometres back and hit the main road again. Grrr…. That was a lot of time wasted. Not to mention the fuel! Once we hit the main road we decided to stop for chai (tea). That was when Shawn noticed that we had a flat. We were almost in the middle of nowhere, but our luck had not completely run out. Next door was a petrol pump where topped up on fuel, changed and repaired the tyre. You would expect a nail in tyre but in this case, it was a screw!!!
PIT STOP 2: Lunch… Well Sort Off
We lost a lot of time on the way, what with the wrong directions and the flat tyre. It felt good to be finally on a stable road. At Solapur we stopped for lunch but by then it should have been called evening snacks. It was a small restaurant at the side of the road, but it had a rest room and food, so we weren't complaining.
FINAL DESTINATION: Bijapur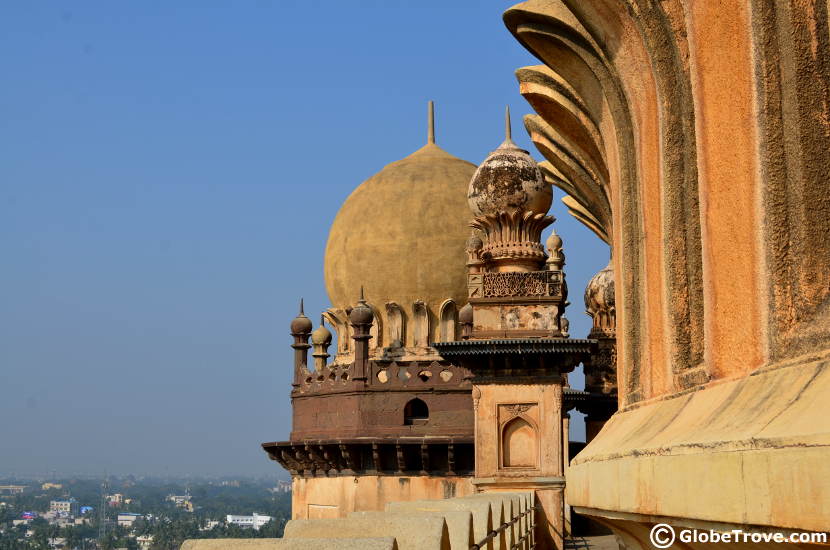 Our final stop on our Bangalore to Nashik road trip was Bijapur.
We reached Bijapur part of our Bangalore to Nashik road trip, late in the evening. It was too late to do any sight seeing but we were really tired by then. All we wanted to do was rest and relax. We stayed at the Sabla heritage home. At first, we were a bit worried that it was out of the main city, but it turned out to be close enough to see all the sights. It was also quiet enough for us to relax and unwind.
DAY 7 OF OUR INDIA TRAVEL ITINERARY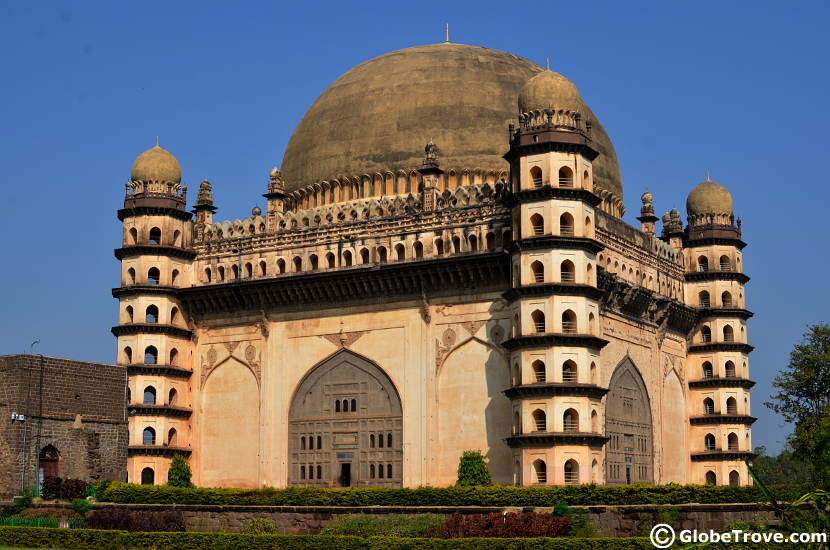 One day to explore Bijapur was a tall order. There are so many monuments that are scattered around the city. It is also very confusing because many of the old monuments are being used for other purposes. Some are government buildings, one was used for IGNOU… So we only reached the monuments to realize that either we could not enter or there was not much that we could see. Most were in some state of disrepair and one (the memory was so horrible I've blanked out which one) smelt of urine!
I'm not going to write a detailed itinerary of what we did there because we already have a post that tells you about our experiences. Quick tip though: The Gol Gumbaz is one of the most popular venues amongst tourists and school tours. If you really want to have time to enjoy it, the head there early. It is a beautiful place but being jostled by the crowds isn't fun.
RELATED POSTS: Historical Places To Visit In Bijapur
DAY 8 OF OUR INDIA TRAVEL ITINERARY
The last day of our Bangalore to Nashik road trip had already arrived. It marked the end of one of our epic Indian holidays, but our journey was far from done. We need to head back to Bangalore. The was 500 plus kilometres and we were well aware that it was going to take time. While we had read that the roads were bad, we really underestimated just how bad they were. The going was really tough and tiring till we reached Chitradurga. Then out it was smooth sailing till we reached the outskirts of Bangalore where we got stuck in traffic once more.
Our eight-day India travel itinerary was covered so quickly. Driving on the Indian roads means that tiredness sets in. While we were sad that our Bangalore to Nashik road trip had come to an end, we were grateful to be back home and in our own bed. The added bonus was that we got to meet our cuddly cat. The best part about coming back home is always her!
Have you been to Maharashtra? Which are the places you visited? We would love to hear about your adventures in the comments below.
*This post contains Affiliate links