We were introduced to Qwirkle some time ago as a filler game and we loved it. In fact, we loved it so much that our friends decided to gift us a traveller's version of the larger game. Ever since then, Qwirkle has been our constant companion while the other travel board games get shuffled around. While it is largely because we love the game, we could also be a tiny bit biased when it comes to playing it because it was the first travel board game that we ever owned. Ours is a bit worn on the edges and for good reason. Thought I would take you through why it is so popular with us and our friends.
CONTENTS OF THE GAME AND PLAYING QWIRKLE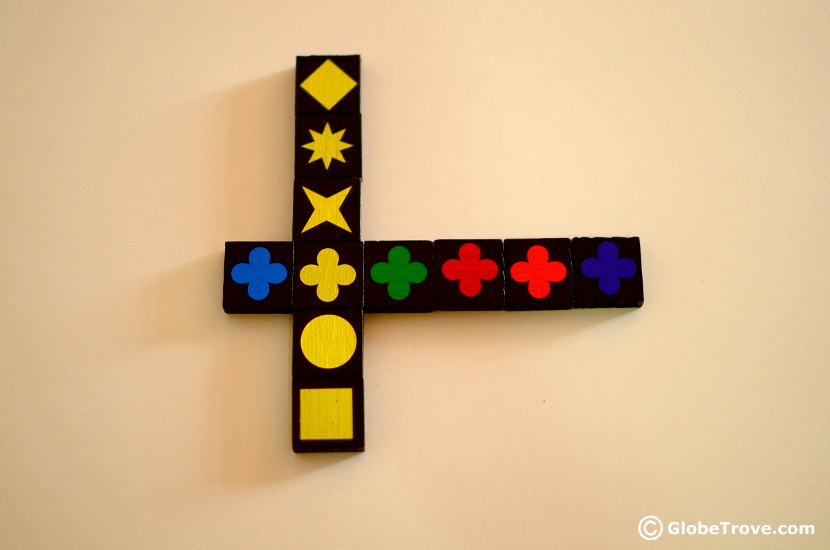 Either six tiles of different shapes of the same colour or six tiles of different colours of the same shape make a qwirkle.
Qwirkle comes with a multitude of tiles or cubes. It depends on the version of the game you own. I strongly suggest using the travellers pack when on the go. It is so much easier to carry. These tiles can have one of six shapes or one of six colours. The objective of the game is to join either six different shapes of the same colour together or to join six different colours of the same shape together. Qwirkle does not come with a board. The board is technically built up by the tiles that are placed. Each tile in the row that is formed by a player garners the player a point.
A 'Qwirkle' occurs when a player forms a row of six tiles of different shapes (and the same colour) or a row of six tiles of different colours (and the same shape). The player then gets a bonus of six points.
PROS OF QWIRKLE AS A TRAVEL BOARD GAME
One thing that I like to do when I consider picking up any board game for a journey is to evaluate the pros and cons of taking it. So, I decided to put my thoughts down when it came to Qwirkle.
SIMPLICITY: Qwirkle is a simple game to master. The concepts are easy to explain which means that it can be introduced to new players very easily. So, it doesn't matter if you are travelling with experienced board gamers or novices or if you want to play with a person you just met on your backpacking trip.
Keeping kids entertained isn't always an easy task. While I may not have kids of my own, I've been a nurse for long enough to know that. The one thing that I realized when playing board games is that not all games are suited for kids of all ages. This is largely because of the complexity of the rules. Qwirkle however is easy to grasp and its simplicity makes it a great game to play even with kids!
WEIGHT: One of the greatest advantages that Qwirkle has over numerous board games is its weight. It is light, easy to carry and it even comes in a traveller's edition which is the one that we own. Qwirkle can easily be carried in one's purse and since it comes in a nice little ouch with tiles, one doesn't have to worry much about it getting damaged.
STRATEGY AND LUCK: Qwirkle relies on both luck and strategy. Your luck varies a lot depending on the tiles that you pull out of the bag. Strategy is what makes the game interesting because luck will take you only so far.
CONS OF QWIRKLE AS A TRAVEL BOARD GAME
Not every game is perfect, and one has to realise that there will always be certain downsides to a game. Weighing the pros against the cons is what makes picking the right travel board game so much easier.
SMALL PIECES: While it is the small pieces that make the game light and portable, it does carry a rather glaring disadvantage when it comes to small children and choking. In which case one may choose to buy the edition with the larger cubes.
SPACE REQUIRED TO PLAY: As a frequent traveller, I know that space is sometimes a luxury. Qwirkle requires a table to play on. As the game proceeds, it can occupy a rather sizable space. Hence it isn't a game suited to be played on different modes of transportation.
YOU ALWAYS NEED A PEN AND PAPER: Okay not so much a con but it is my one pet peeve. You need a pen and paper (can't recount the number of times we have used tissues as a substitute) to record the score.
Like I have mentioned before, we live in India and getting board games is hard because of the cost involved in shipping and customs. Our access to buying board games is largely when we travel or someone else is travelling. We do know that there are a couple of shops in South East Asia that sell games. Personally, we have bought them from Malaysia and Singapore. The games do have a premium on them but not as much as the ones in India. Europe also does have its own market for board games which does not hold too big a premium. USA still has the cheapest market and the reference that we use for costs is Amazon. I've included the link to Qwirkle above in case you do live in the USA and are interested in buying your own piece.
So, there you have it. All my thoughts about why Qwirkle makes a great travel board game and a couple of cons that the board game does present to travellers. I can't wait to hear your opinions. Have you played Qwirkle? Do you like to travel with it?
*This post contains Affiliate links
*This is not a sponsored post. All views about the product are our own.