Russia is definitely a land of surprises. After Shawn's surprise chance to work in Siberia came my chance to visit Russia in general though that wasn't as surprising. We spent our first few days in Moscow and expected to do a lot of sightseeing or rather as much as we could while my tropical body acclimatized to the cold. Luckily for us the temperatures went up from a freezing -23oC to -13oC which was far more bearable. Our plans included meeting up with Shawn's colleague Ruslan and his wife Kristina for dinner. We hit it off and imagine our surprise when Ruslan messaged us later that night and invited us to spend the night at his Russian Dacha the next day.
RUSLAN INTRODUCES US TO THE HISTORY BEHIND THE RUSSIAN DACHA
Before I get ahead of myself I need to tell you about what Ruslan explained for not everyone is acquainted with the Russian Dacha. You would need to turn back the clock to the period of the Soviet Union to fully understand this.
The Russian dacha can be found at the outskirts of a big Russian city. Moscow being one example. In the Soviet era the Russian dacha was presented as a gift by the tsar (the king) to people who were considered elite or who had performed some exceptional service to the Soviet regimen. The word 'dacha' does not really have a proper English translation but Ruslan told us that in Russian it meant 'to give' or 'a gift' and hence the house got its name.
According to Ruslan and Kristina, the Russian dacha was initially a summer house because it did not have heating. People traveled to the dacha every weekend and grew produce like potatoes which they used in day to day life. Today the dachas are used throughout the year and are very different from what they used to be.
THE RUSSIAN DACHA EXPERIENCE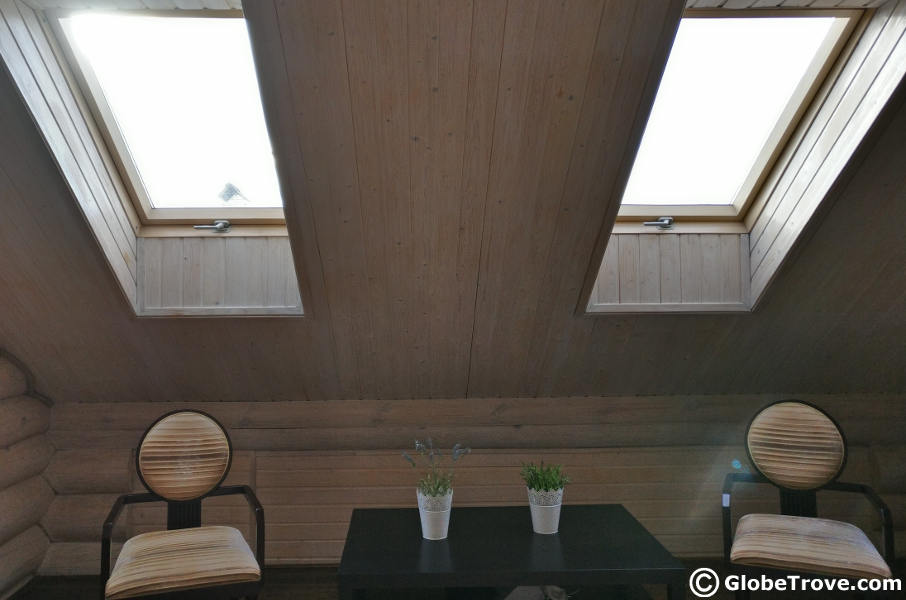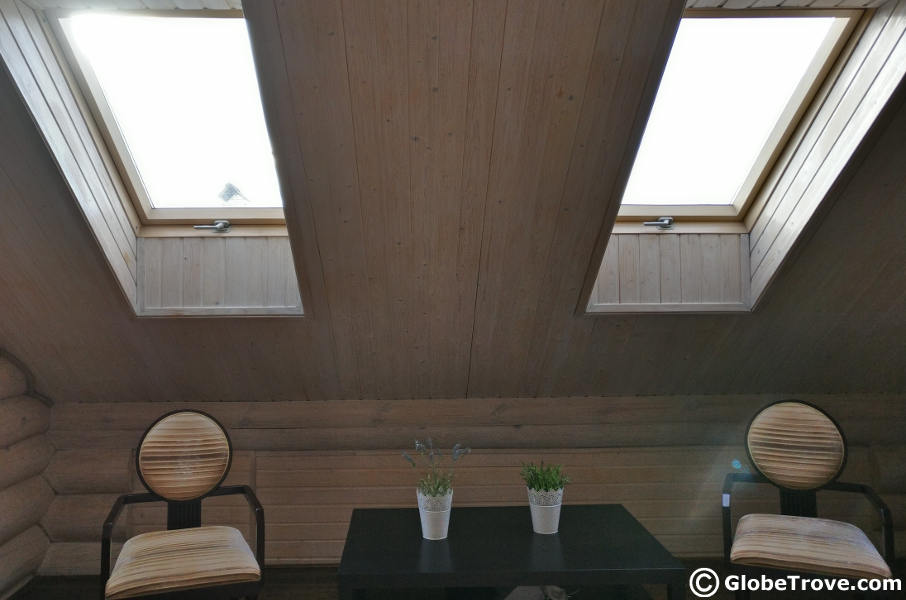 Dreams do come true but not always the way you expect them too!
Ruslan's Dacha is situated around 20 kilometers away from Moscow. With the ice and the snow it took us around an hour to get to it but the Russian roads are really good. Then again I am comparing them to the Indian roads and that is no benchmark.
We must have reached his house at around 11 pm but his parents were up and waiting for us with a warm cup of tea and an even warmer welcome. Ruslan's father did not speak English but his mother was fluent. She lost no time in making us feel at home. I think our first glance at the Russian dacha did not do it justice since it was night. As Kristina took us around the house we were amazed. What Ruslan modestly called his small Russian dacha was actually a mansion in Indian terms.
The whole dacha was made of wood. It had two floors and a basement. That isn't counting the actual ground floor. I think what I loved about it the most was the comfy family feel that you get the moment you stepped into it. It is a warm house with a family that welcomes you into their midst as if you are one of their own. Our initial nervousness melted away very quickly.
The previous night I had mentioned that I always loved the top rooms in wooden houses and I had never had a chance to stay in one. Like I said Russia is a country full of surprises. Ruslan and his family fulfilled my dream. I absolutely adore the slopping roof and the glass sky roof. Waking up to it in the morning was amazing.
BREAKFAST AND ANOTHER SURPRISE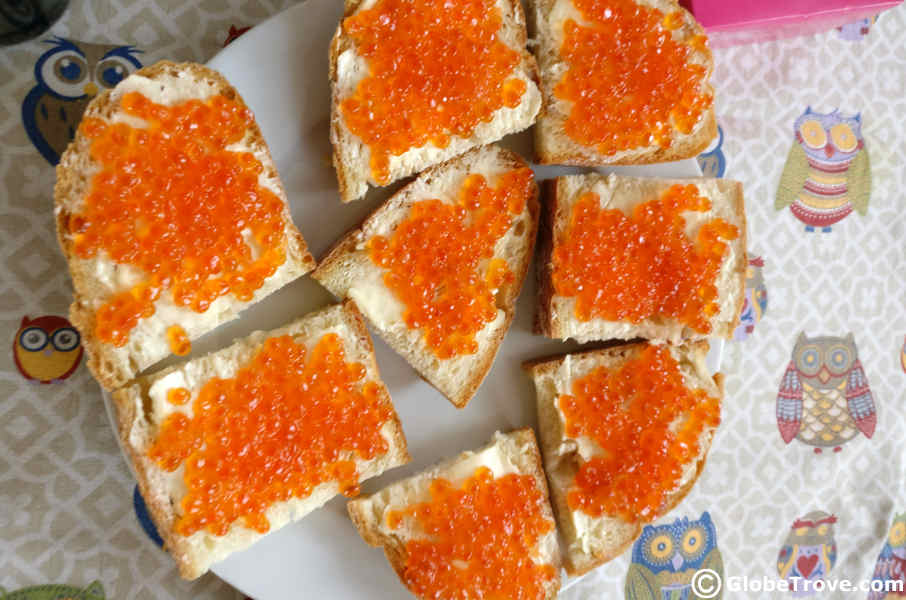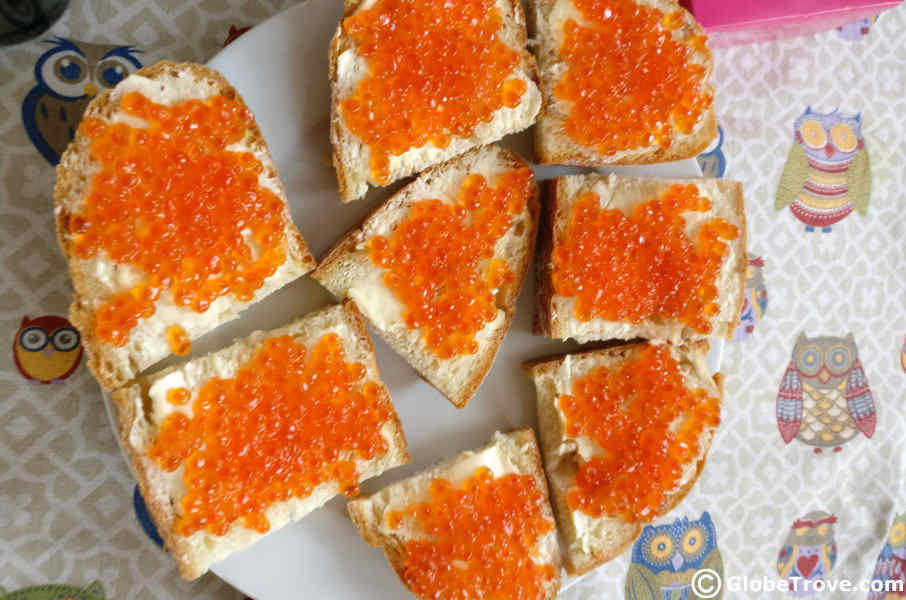 Another tick on the bucket list. This one is called Caviar!
Morning breakfast was a lovely family affair. Eggs, tea, bread and an array of fruits greeted us. I can't begin to tell you how much I appreciate the tiny surprises that were hidden throughout our day. The next surprise that the family had in store for us was caviar. I had never ever eaten caviar. During the course of our previous dinner conversation Kristina and Ruslan had made note of it. So in true Russian hospitality they offered me a chance to taste caviar.
I'm not sure how caviar is eaten in other parts of the world because it was the first time I ever set my eyes on it. In Russia a slice of bread is layered with butter and caviar is put on top of it. We started our breakfast and the conversation was very animated. While everyone was busy I tried to sneak a taste of the new found delicacy.
As soon as I took a bite of it everyone stopped talking and had their eyes focused on me. Kristina couldn't help giggling as my expressions mimicked the feelings inside. I won't lie. Caviar takes some getting used to. At first I wasn't sure if I liked it or not but at the end I realized that I didn't hate it. Just like that the Russian dacha had laid the stage for another tick on my bucket list.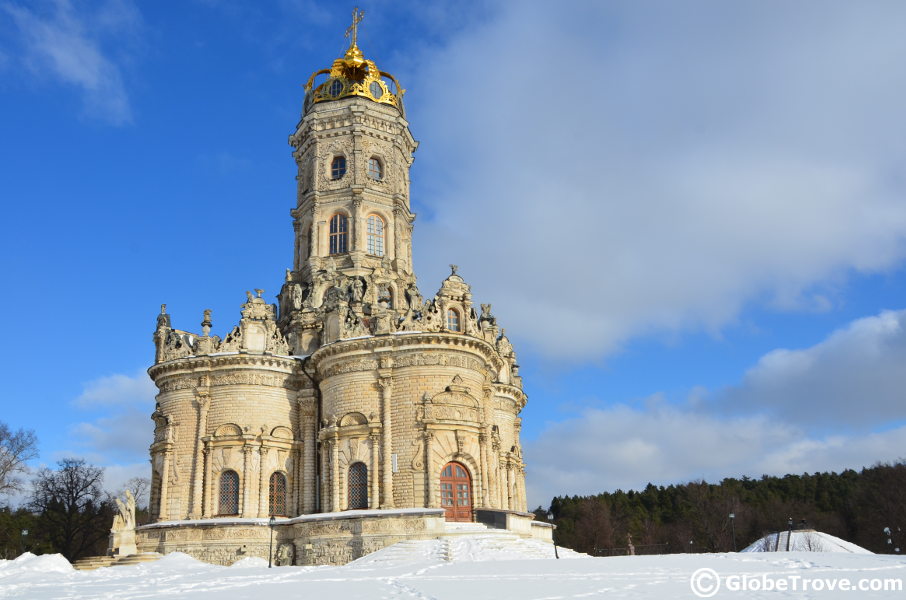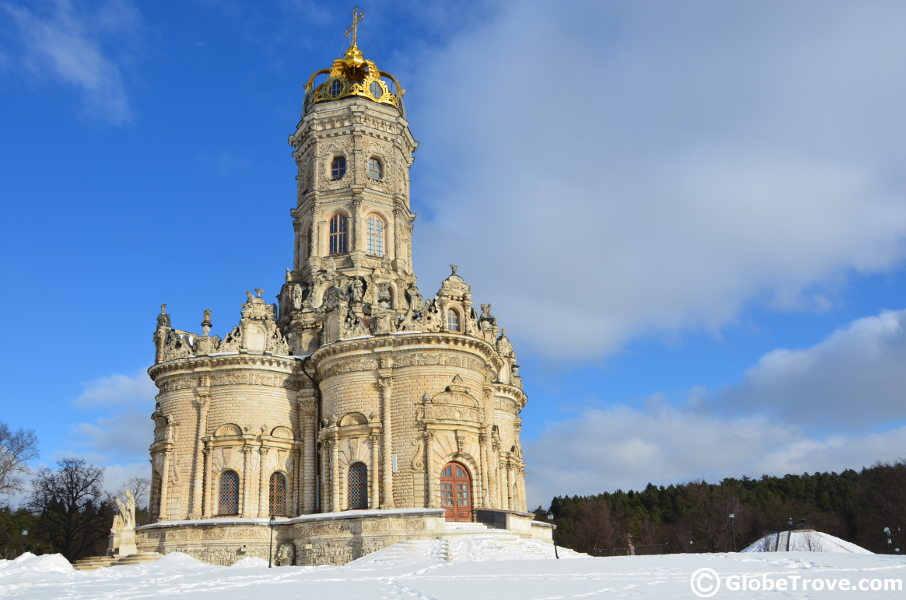 The next thing on the agenda was to visit an old church in the vicinity of Ruslan's dacha. Kristina told me that the architecture of the church is Italian unlike the other churches in Russia. I'm not sure that I got the story right but from what I know the folklore tells that the church was built for the wedding of a Russian tsar. The tsar never did get married in the church but he did visit it. Today the church is popular among couples who come and get married in the building next door.
Like all churches in Russia, you can't click photographs inside. The artistry however is magnificent. What captured my attention was directly overhead. If you look up at the towering hollow tower you will notice the myriad of sculptures that line its wall. True to what Kristina said the paintings and the sculptures do remind you of the Italian style of art.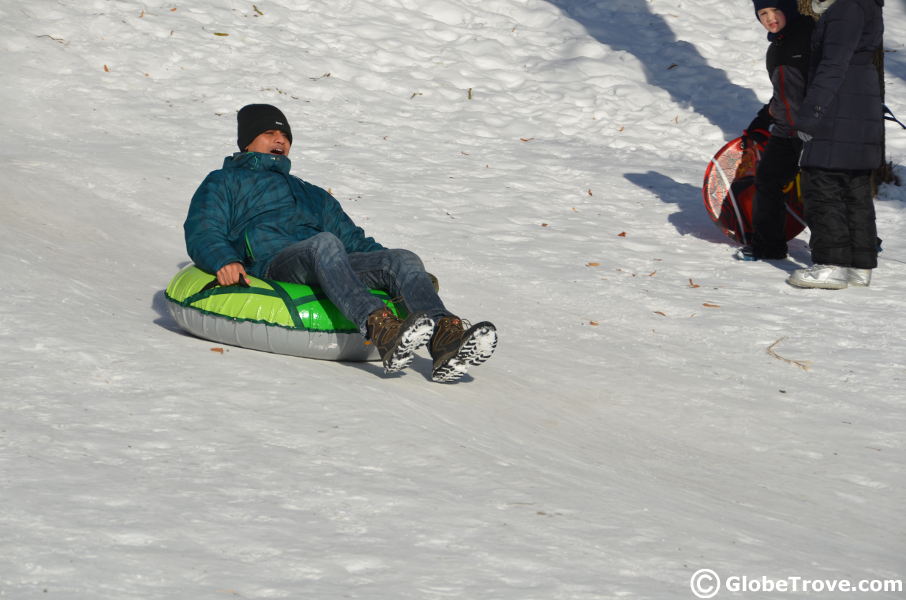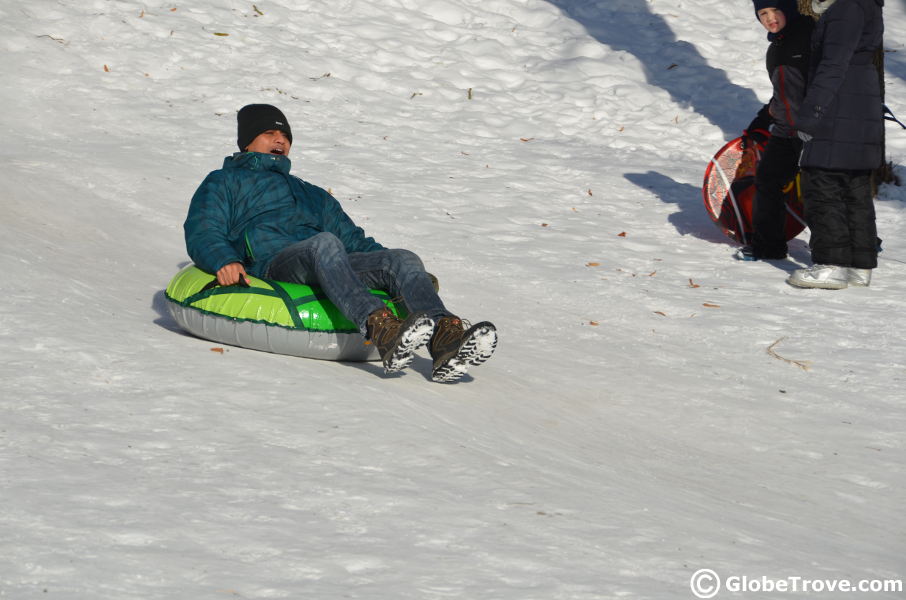 That was one short but bumpy ride!
The surprise however had nothing to do with the church. It was all to do with the activities at the side of the church. The slopes at the side of the church are a local getaway in winter. Children and adults head to them with sleighs, toboggans and tubes to ride down the white slopes. So we headed out to the hardware store (Yes! The hardware store!) and got our own tube.
I have to say that I was pretty nervous but the guys were great sports. The headed down the slopes first. Kristina was braver than me and she took on the first steep one. Me… I preferred to try the smaller slope and I enjoyed myself immensely. Shawn and Ruslan then headed off to try a more extreme slope. They even caught air on their way down! Way to go guys! You made us proud photographers!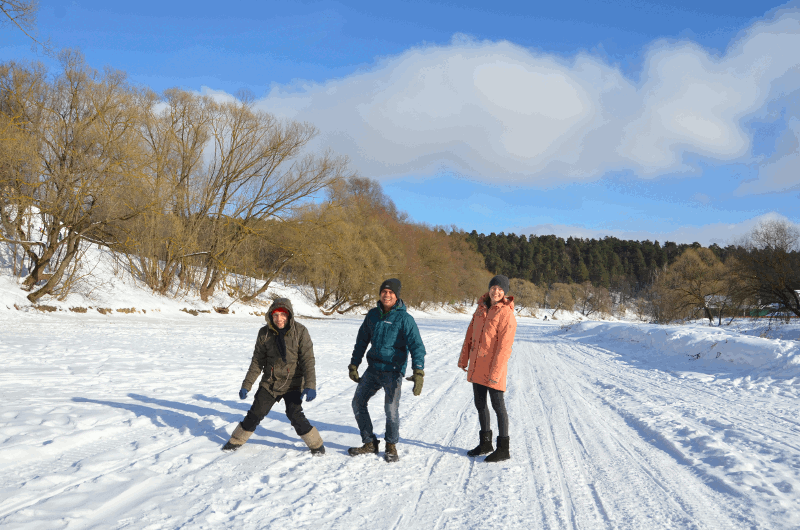 The next surprise was sort of biblical. We had a chance to walk on water. Unlike the water from the bible this water was frozen. While many may take it for granted it was a first for us. Needless to say we needed to jump and test to see if the river was indeed rock solid!
COOKING IN A RUSSIAN DACHA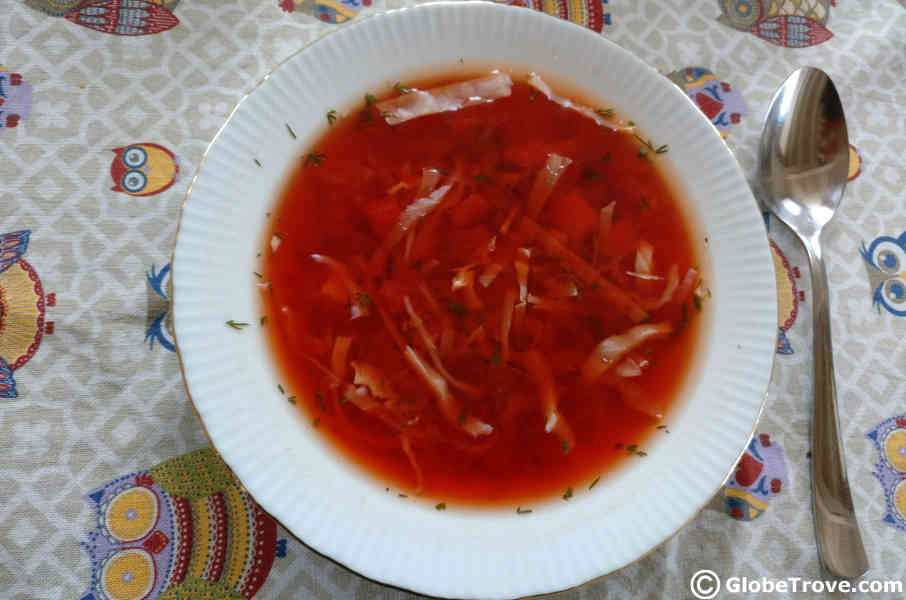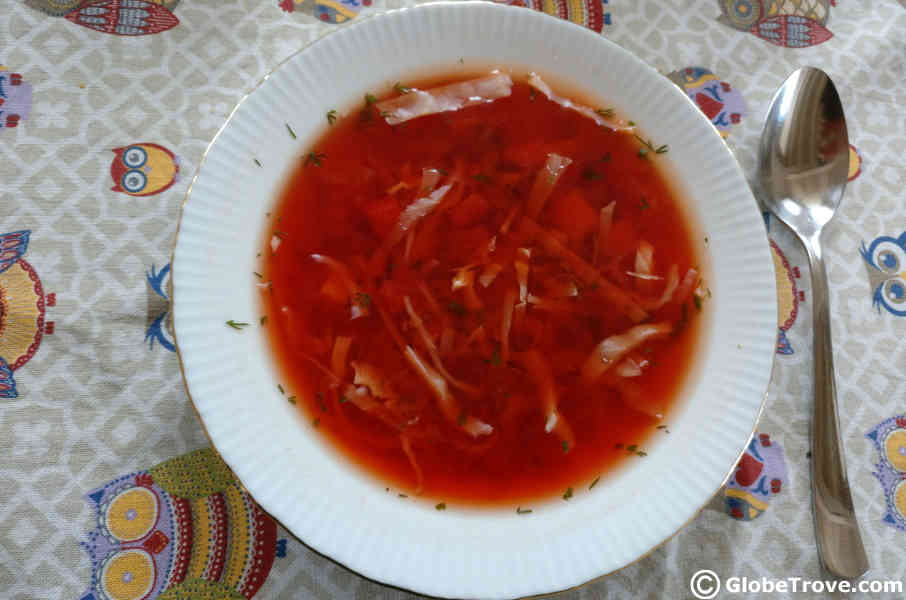 Borscht is a staple soup I won't forget.
Ruslan had to drag the three enthusiastic kids away from the snow and back to his Russian dacha. It was soon going to be time for food and he wanted us to have as many Russian experiences as we could. Cooking at the Russian dacha can be done both indoors and out. So we all set about getting the initial process of cutting the vegetables. It was fun and many hands make light work.
Next Kristina set about making Borscht. Borscht is a famous Russian soup that is made out of beetroot, potato, cabbage and meat. Definitely something worth trying! If you have a chance to top it off with cream cheese you will understand why I say that it is simply divine.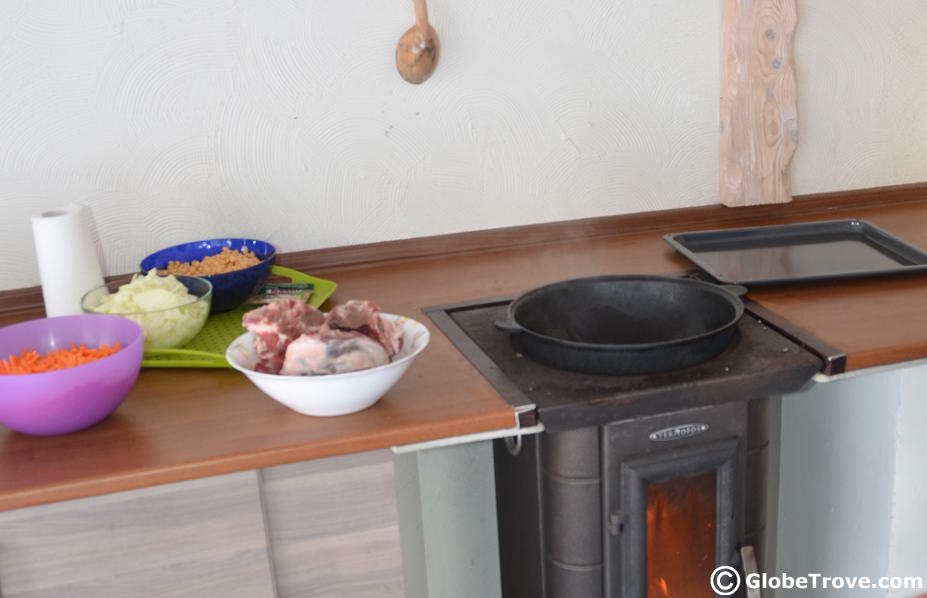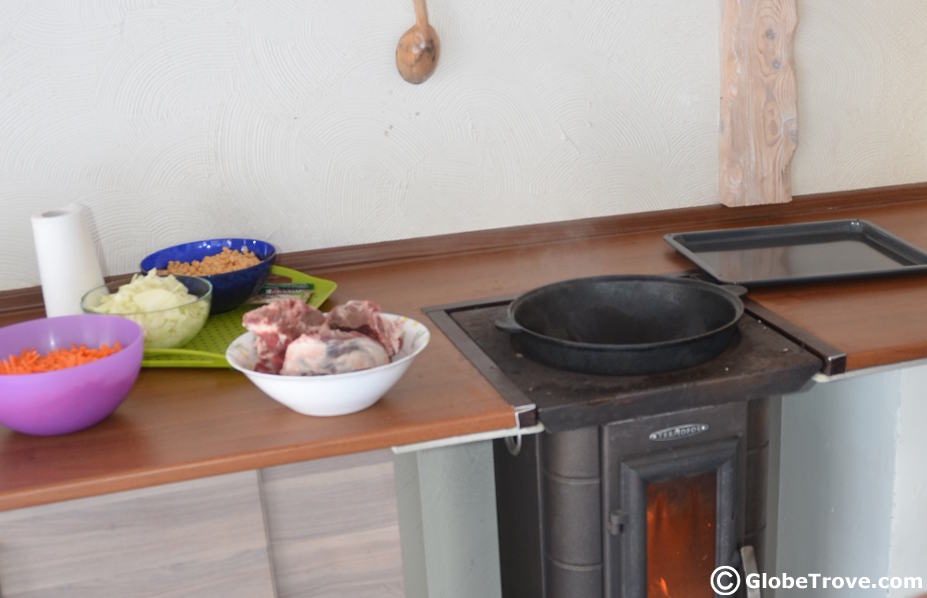 Just because it is outside and cold doesn't mean it isn't swanky!
While I helped Kristina, Shawn and Ruslan gathered the supplies together and headed out to the garden where Ruslan was going to cook pilaf using an assortment of ingredients including mutton. His father had headed out the previous day to ensure that he procured the choicest piece. Now Ruslan warned us that pilaf would take time to make and he wasn't kidding. It was hard work but Ruslan is a really good cook. Needless to say the smell itself was enough to drive a person insane with hunger as we waited for the pilaf to get ready.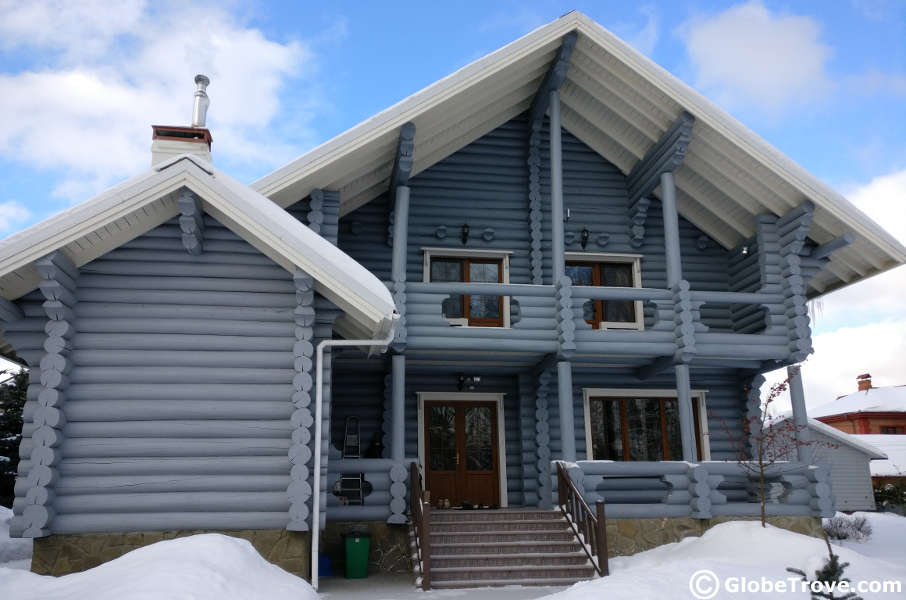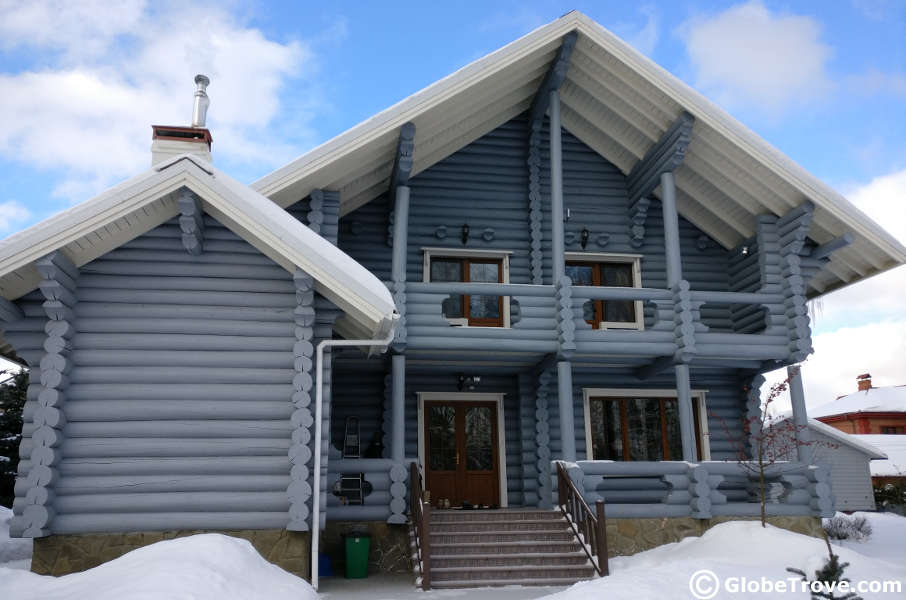 Clear skies are a rarity but the dacha was bathed in the rays of the warm sun that day.
I think the day was really fraught with surprises. People say that Moscow and its surroundings are always cloudy. You rarely see the sun shining brightly but we were lucky. The sun peeked out from behind the clouds and bathed the Russian dacha in warm yellow hues.
Kristina all but ushered me out of the house when I asked her if I should wait to click photographs. She told me that you never knew when the sun would hide once more. The Russian dacha looked so pretty. A few shivers down my back quickly taught me not to stand beneath melting icicles.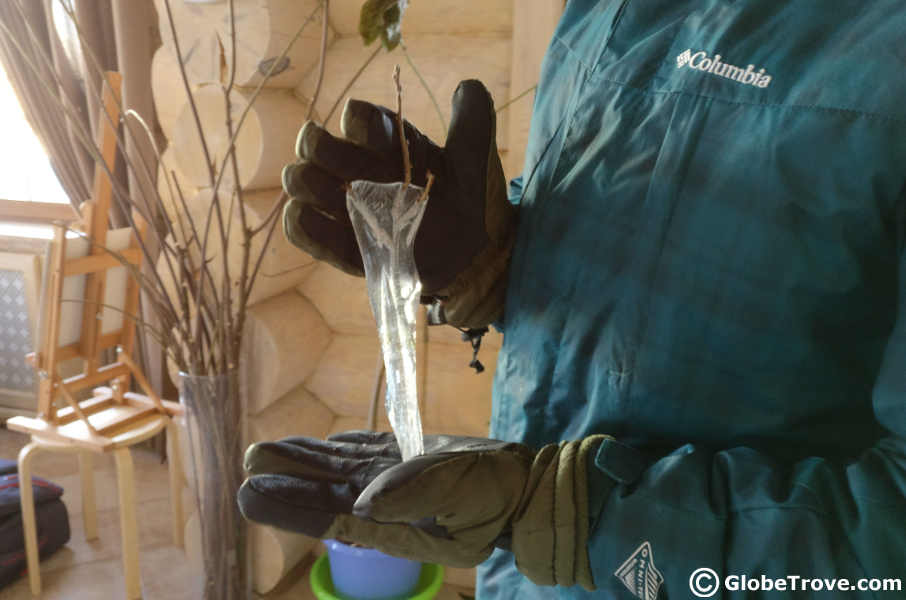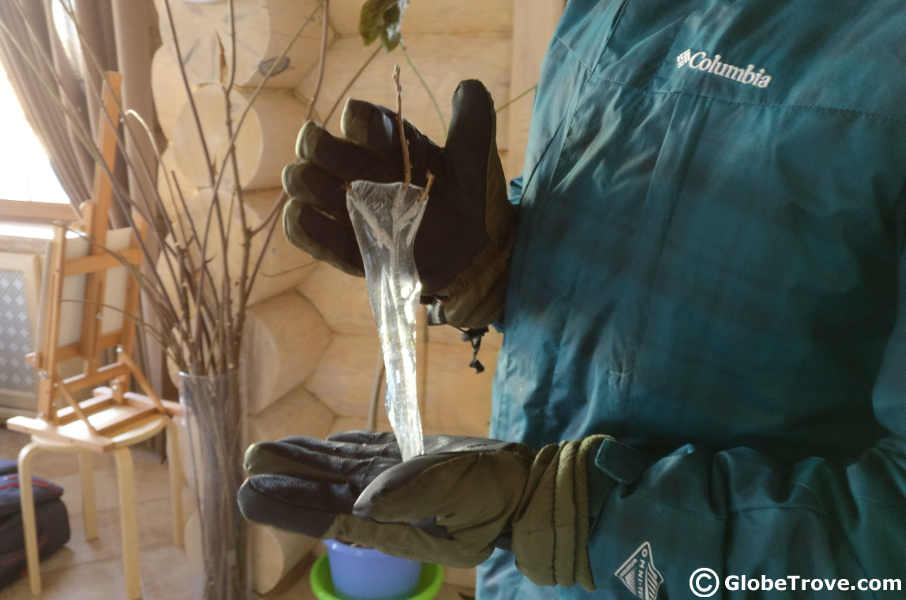 Jewelry of a different kind.
Shawn in all his excitement found a broken icicle somewhere. He tried to convince me to lick it but I decide to be prudent and not try. I just couldn't imagine running to an emergency room because a huge icicle was stuck to my tongue!
That however did not stop us all from admiring the icicle. It was a beautiful specimen with some twigs inside. In fact if it was not so cold it would probably have made a lovely ornament for a necklace. Wait… It was too big and would have probably have melted in a second in the tropics!
THE RUSSIAN DACHA WAS HOME TO ONE BIG HAPPY FAMILY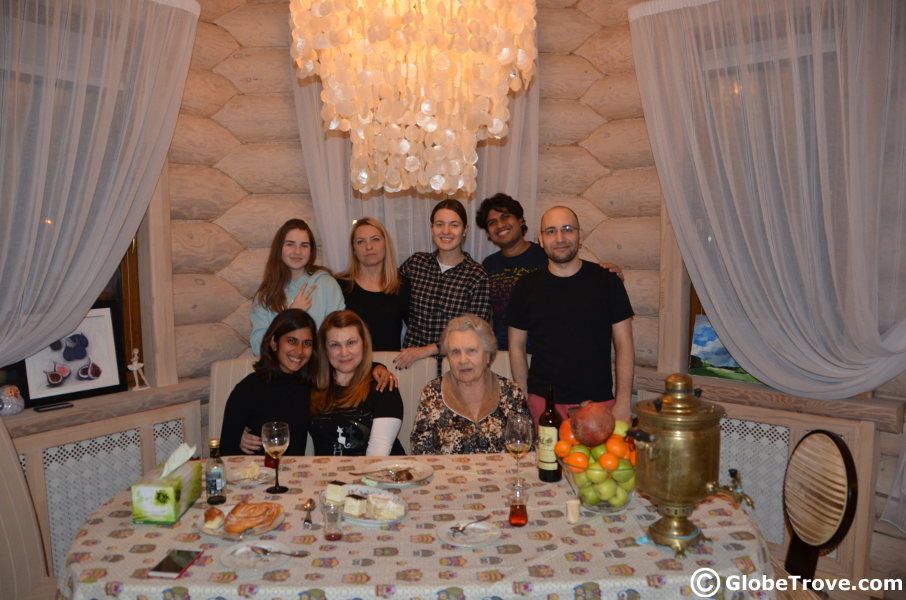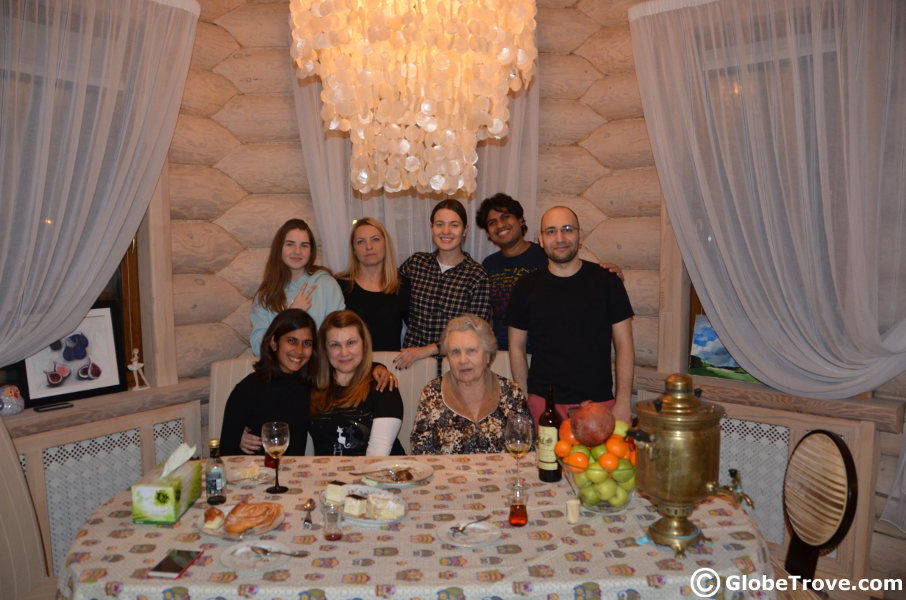 The day ended with us sitting round the table enjoying a glass of wine and hot steaming pilaf. A Russian samovar stood at the center of the table ready to provide us with tea whenever we wanted some. Kristina's parents and her sister Sophia joined us. So did Ruslan's grandmother. Our deficiency in the proficiency of the Russian language was made up by willing and fluent translators.
I can't even begin to describe the experience. Exchanging ideas, talking about customs, beliefs and realizing how similar we all were was the core of the whole conversation. Laughter punctuated the anecdotes and echoed in the wooden hall.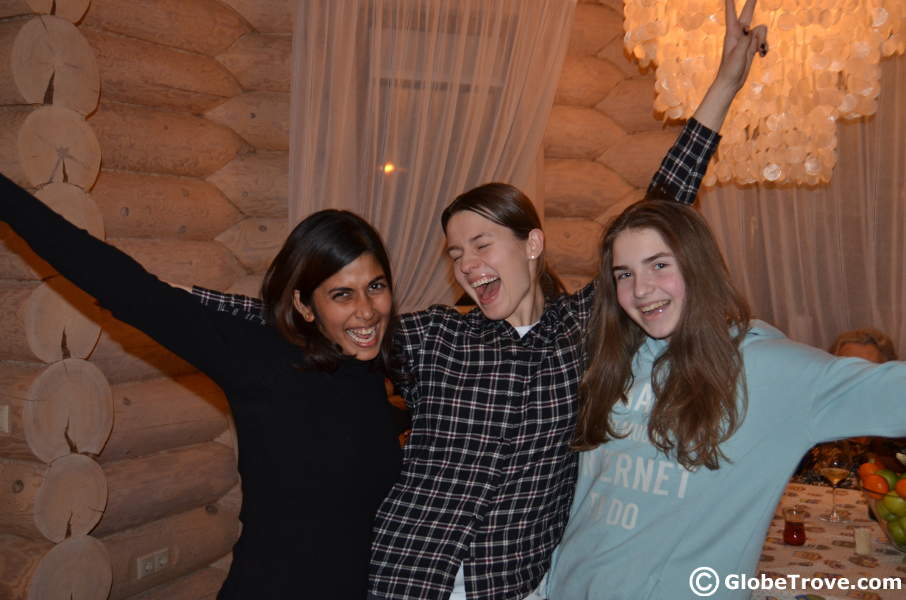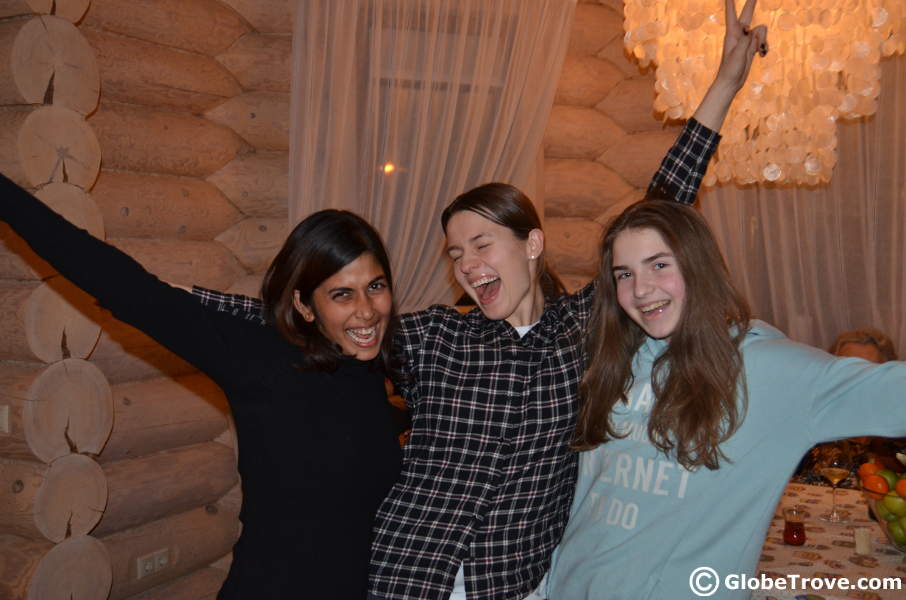 We girls definitely know how to have fun!
As if they had not been kind enough to us, the family offered us a parting gift. The gift of a Russian shawl made of pure wool. Ruslan's mother told us that it was made only in a place near Paveletsakaya. Kristina even helped me tie it in a true Russian style. I loved it and there was no way in which I could or can show my gratitude.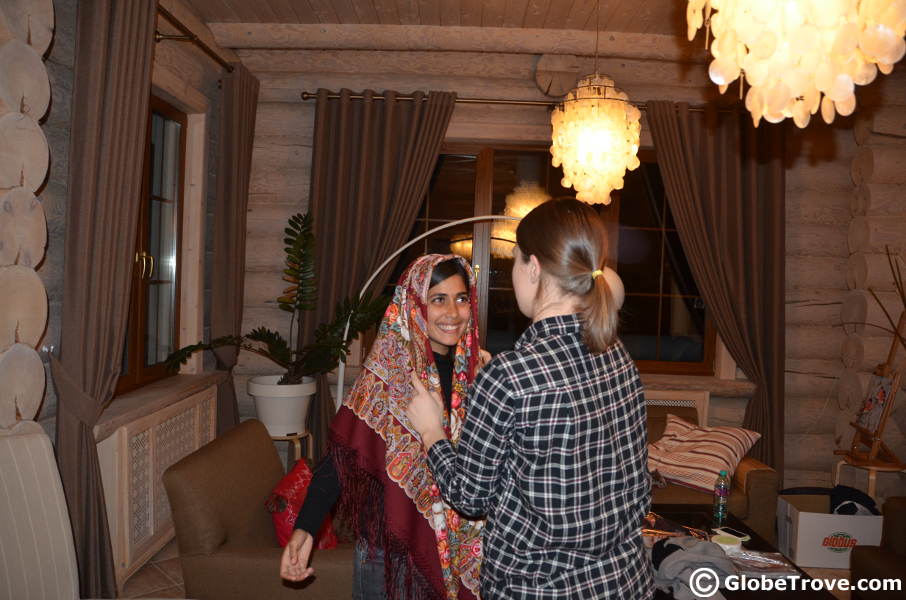 The cloak of Russian culture.
Life goes on and time flies. It was soon time for us to say goodbye to the family and the Russian dacha that we called home for a day. We carried memories, laughter, good will and a newfound friendship back with us. We hope that someday they will come and visit us for the hardest part was saying goodbye.