Singapore's Chinatown is frequently one of the top things to do in Singapore on almost everyone's list. That is largely because this part of Singapore has a mix of brightly coloured buildings, temples, monuments, history, shopping and food. Another thing that makes Singapore's Chinatown attractive is the cost of everything ranges from reasonable to cheap. Despite being what one would view as a touristy part of Singapore, you can spot a lot of the locals heading to Singapore's Chinatown too. It is easily accessible and fun to roam around. With just seven days in Singapore, I think I passed through Singapore's Chinatown almost every other day. Oh… Did I mention that it is also the part f town that has some of the cities hostels?
With that note, I thought I would put together a list of the top things to do in Singapore's Chinatown. Oh, and yes… A lot of tours offer you a guided tour. You can quite easily do it on foot. Everything is walking distance away. Singapore Tourism board also has small plaques up the tell the history of each location.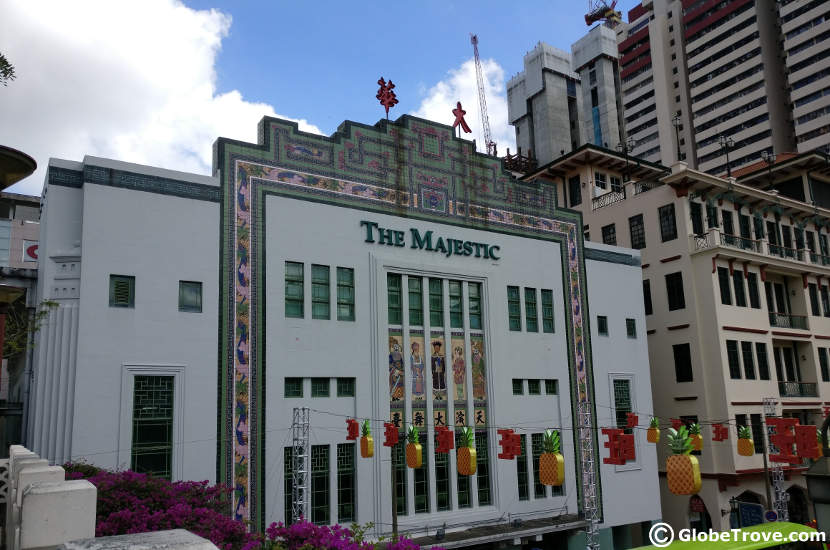 A glimpse of the Majestic theatre.
The Majestic Theatre was formerly known as Tin Yin Moh Toi. It was built by a tycoon named Eu Tong Sen for his wife because she was refused entry into another Opera house. It was his way of offering her consolation. The Tin Yin Moh Toi or the Tin Yin Dance stage (as it was also known) hosted some of the most glamorous stars from China. Eu Tong Sen wasn't just content with one theatre. He bought all the properties on the street and that is how it became known as Theatre street. The Theatre saw its heydays in the 1930's when Eu Tong Sen used it to raise money for China's war against Japan. After the war the Dahua Film Company took over the Tin Yin Moh Toi and named it Majestic Theatre. That is the name that is bears today and it remains an iconic building in Singapore's Chinatown.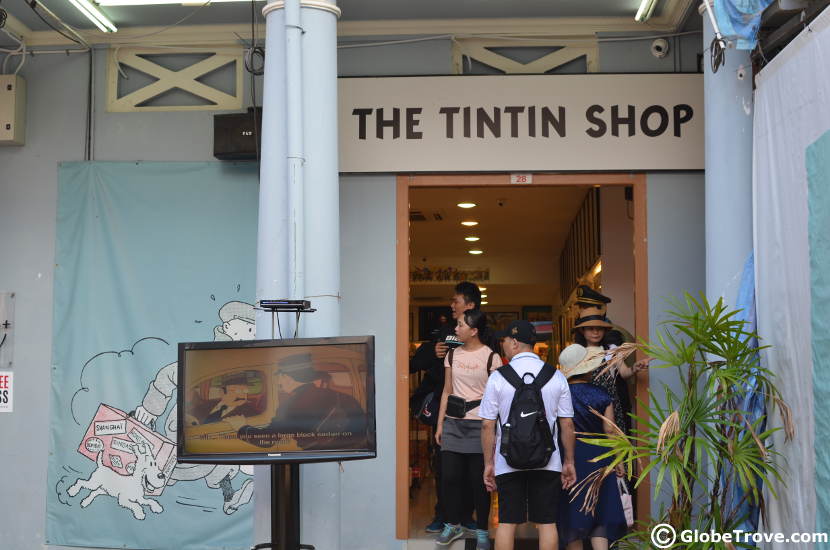 I couldn't resist a Tintin shop.
One of the cutest little shops that I wandered into was the Tintin Shop. I'm not sure if Tintin comics are as popular across the world as they are here. I know that Shawn and I have read them all multiple times and still love them. So, entering a Tintin shop with all the cool Tintin merchandise was super cool. The Tintin shop is located on the same road as the Chinatown Heritage centre. You could also say that it is in Singapore's Chinatown Street Market.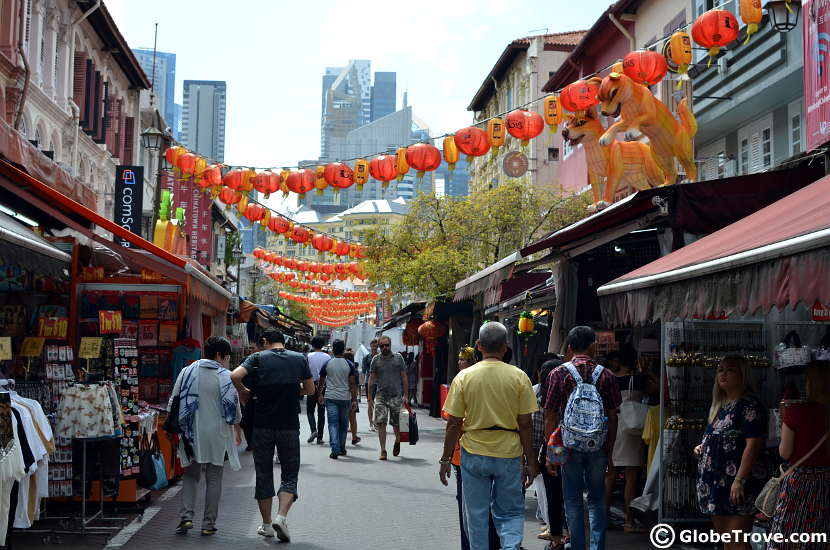 The street market in Singapore's Chinatown is bright and bustling.
The Chinatown street market is lined with shops selling all kinds of souvenirs. At first glance everything seems to have Singapore boldly emblazoned on every article. You soon realize that there are articles worth looking at too. Chinatown street market is decorated with beautiful lights and ornaments. A lot of repair work was in progress during the time I visited but I still found the street breath taking.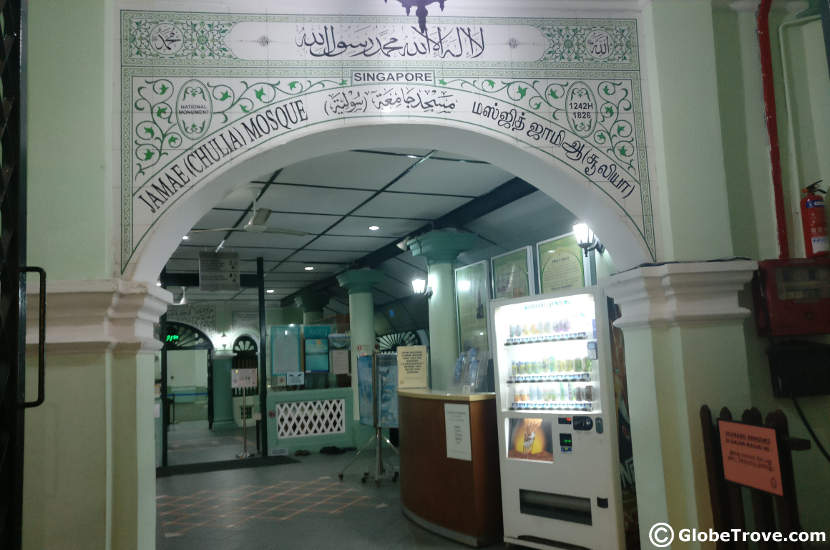 A glimpse of the interior part of the mosque.
The Masjid Jamae Mosque is located on one end of Singapore's Chinatown street market lane. It's a beautiful mosque and can easily be recognized because of its characteristic green and white colours. Unfortunately, I somehow did not get a chance to get in due to a variety of reasons. Time, dress code (I didn't want to be culturally insensitive and the day I passed by I was wearing shorts) etc. It is beautiful and definitely will be on my list when I visit Singapore again.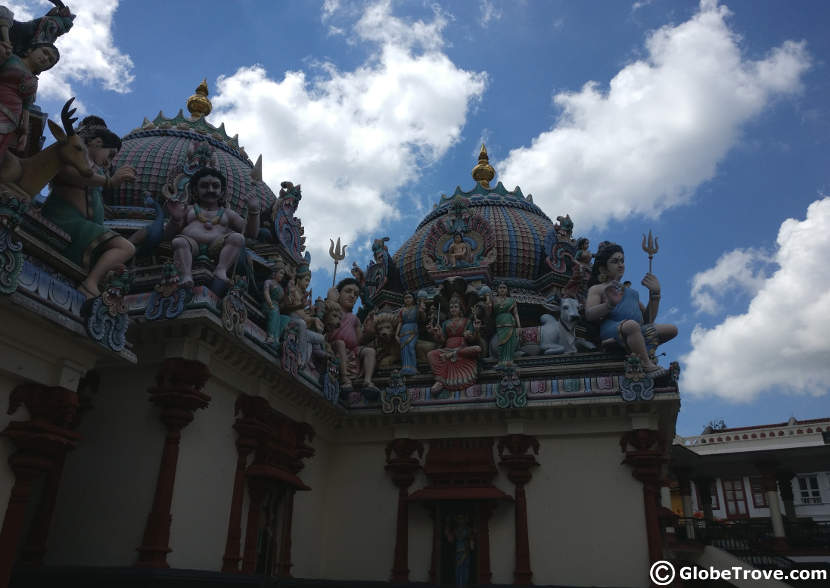 Look at the colourful roof tops of this temple.
The Sri Mariamman temple really stands out when you visit Singapore's Chinatown area. With it's tall triangular sort of roof covered with intricate statues, the Sri Mariamman temple does make a tourist stop right in their tracks. Coming from a person who has seen quite a few Indian temples, I can vouch that it is definitely worth seeing. The temple is well maintained and gives you a tiny glimpse into the Hinduism.
Wandering around Singapore's Chinatown is bound to make you hungry. Don't worry, there is a quick and easy fix for that. Namely Chinatown's food street. Choose from a variety of options and different cuisines. You can have fruits, seafood, chicken and even red meats cooked in the style that you want. If you are up for a walk, then head to Hawker Chan who is the only hawker to receive a Michelin Star. His food is simply delicious!
BUDDHA TOOTH RELIC TEMPLE AND MUSEUM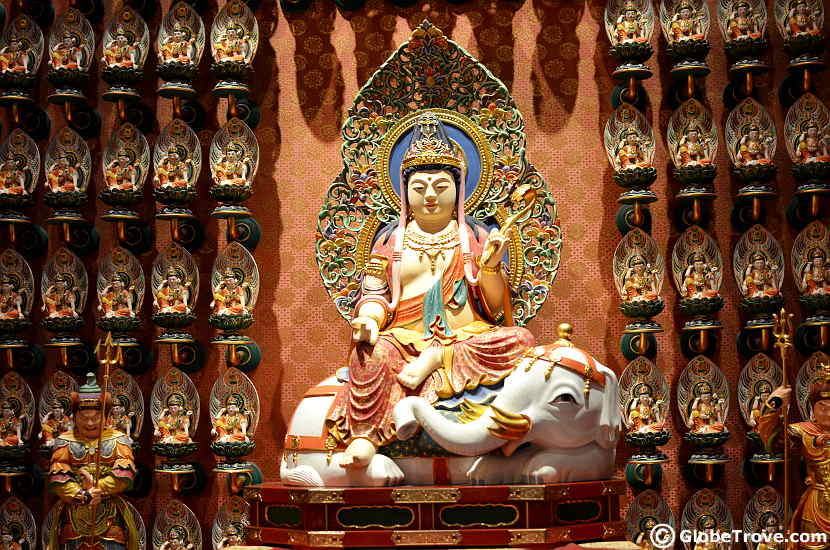 A statue inside the temple.
One of my favourite places to visit in Singapore's Chinatown is the Buddha Tooth Relic Temple and Museum. It is a bit of a walk away and looks so simple from the outside. When you get in however it will blow your mind. The Buddha Tooth Relic has a large room that is has numerous statues of Buddha and dragons decorating it. It is quiet and peaceful making it a big change from the hustle and bustle of Chinatown's streets.
SRI LAYAN SITHI VINAYAGAR TEMPLE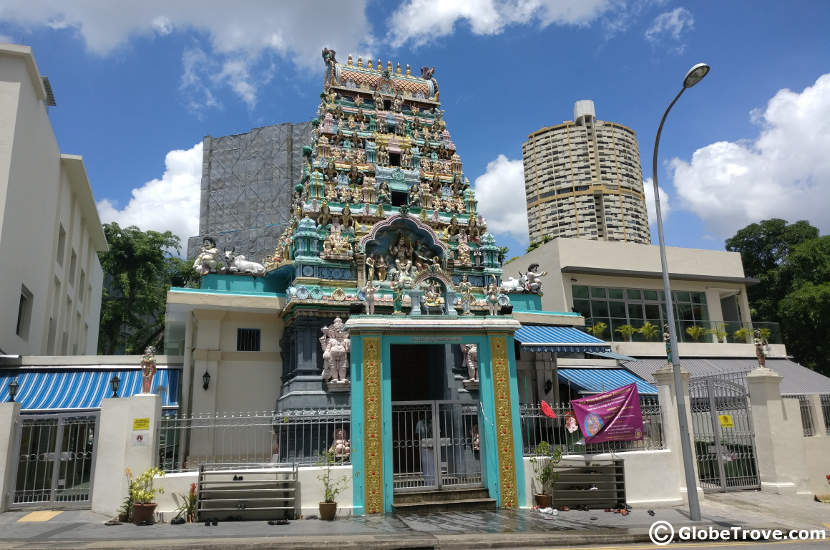 An outer glimpse of the temple.
The Sri Layan Sithi Vinayagar temple is a bit of a walk away from the main Chinatown area. It isn't hard to get there. The temple is not as popular as the Sri Mariamman temple, but it is also very pretty. Unfortunately, the temple was closed when I passed by it, so I did not have a chance to explore the inner courtyard.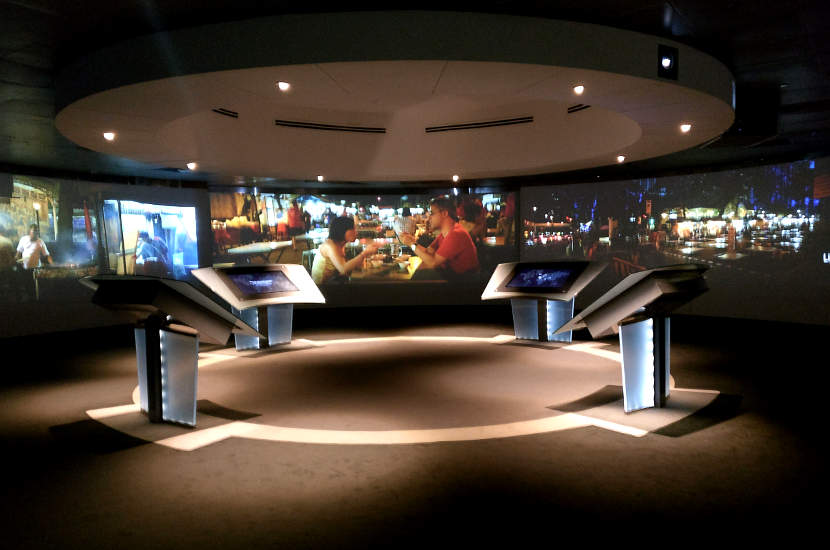 A view of the interactive exhibit of the touchstones of planning in Singapore City Gallery.
The Singapore City Gallery is probably one of the first places that I visited in Singapore. In fact, I believe that it is a great place to start at. The museum talks about how Singapore developed as a city and how much thought was put into planning it. It's amazing to see how Singapore moves towards a greener future and the incentive that put into maintaining the green cover on land. I feel that the Singapore City Gallery gave me a deeper insight into the city and a renewed respect for the people that planned it.
RELATED ARTICLES: The Singapore City Gallery: Understanding How Singapore Evolved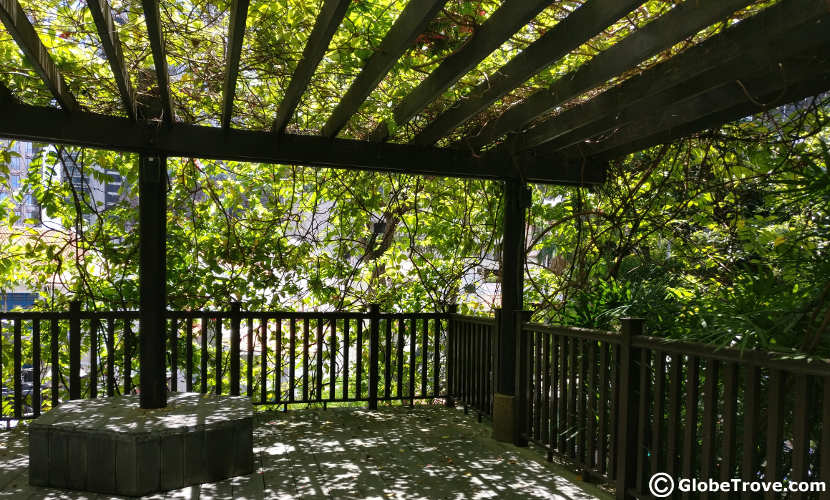 The resting place in the park.
I stumbled across the Ann Siang Hill park quite by accident. In the hot sweltering weather of Singapore, it is a great place to stop for a break under the shade of the trees. Contrary to belief the climb up the hill isn't that much. A lot of people skirt through it as they use the pedestrian pathways to head from place to place in the area.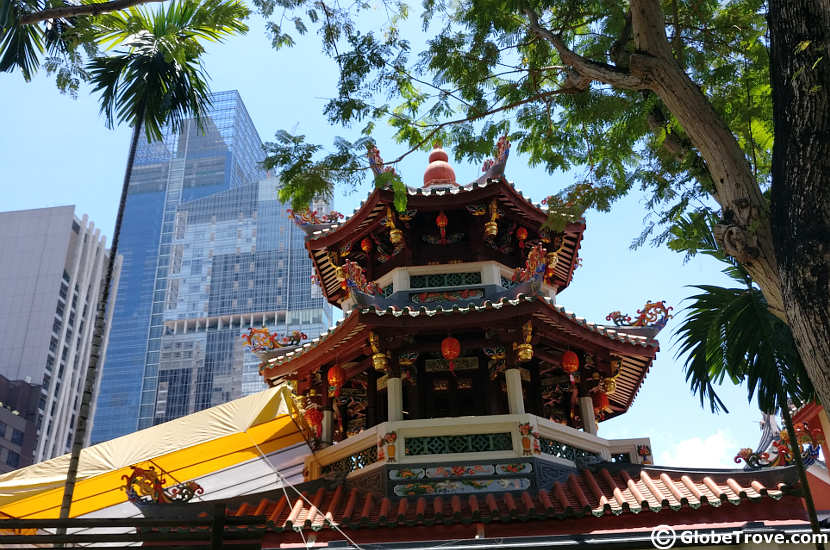 The temple is also known as the temple of the Heavenly Jade Emperor.
The Yu Huang Gong temple is located right next to the larger Thian Hock Keng Temple in Singapore's Chinatown. It is often overlooked but in my opinion the history and the architecture are beautiful. The guardian of the temple is quick to explain the significance of the different parts of the temple. The posters talk about the different deities and give you a glimpse into Taoism as a religion.
RELATED ARTICLES: Exploring The Temple Of The Heavenly Jade Emperor In Singapore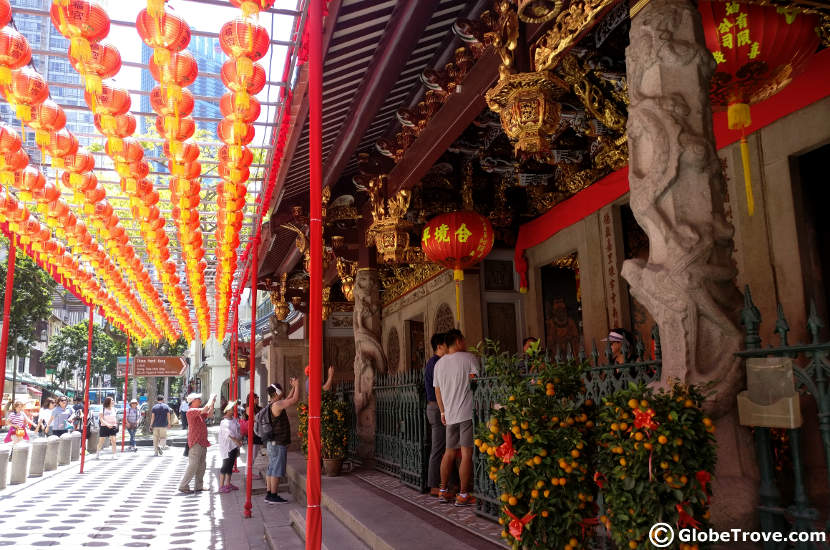 The gorgeous banners and the intricate work is so worth stopping to look at.
The Thian Hock Keng is a beautiful Chinese temple built to worship a Chinese Sea Goddess named Mazu. The temple has a number of different deities in different parts of the courtyard. Each deity has its won altar where people can worship at. A wishing well is located at the back of the Thian Hock Keng temple and I couldn't resist ringing the bells and making a wish. It is probably something you may like to do too!
SINGAPORE'S MUSICAL BOX MUSEUM
Singapore's Musical Box Museum is an interesting place to visit. It has musical boxes that date back to the 18th century. Since the museum has a lot of antiques the tours are compulsory. The museum is open from 10 am to 6 pm everyday except Tuesday. Tuesday is the only day that the Singapore's Musical Box Museum is closed.
GALLERY OF ANTIQUE PERANAKAN TILES
The Gallery of Antique Peranakan tiles is right next to the Singapore Musical Box Museum. At first, I thought that it was just a café. It turns out that the Gallery is attached to a café. It is an interesting place and you can browse through the arrays of tiles on the displays. Just be careful because the corridors are tiny and the tiles could be accidentally toppled over.
I found that Singapore's Chinatown is one of the most fascinating places I have been to. You can spend a whole day wandering around the streets and discovering new parts of this quirky place. There are so many different places that are attractive spots to visit as a tourist. Temples, markets, food streets… There is just so much to see. I know there are a lot of people who offer tours, but I truly feel that Singapore's Chinatown is best discovered on foot and on your own.
*This post contains Affiliate links