Kota Kinabalu is a small city located in Malaysian part of Borneo. In fact, this little city just so happens to be the capital of the Sabah. You may wonder why the city is called Kota Kinabalu. A friend told us that 'Kota' means 'city'. It is also located very close to the famous Mount Kinabalu and that is how it derives its name. Though it is curious to note that the city was formerly known as Jesselton. Kota Kinabalu is popularly referred to as KK both within the local communities and internationally. So if you hear a person talking about KK you know which part of the map to point to.
This article will be talking about Kota Kinabalu and the following reference points should serve to guide you through it. Click on the links if you would like to go directly to that point.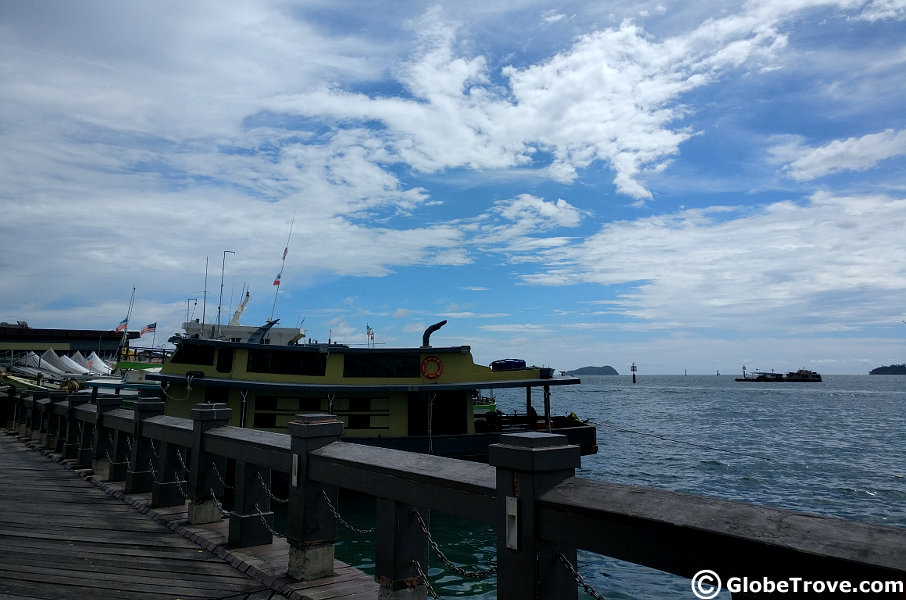 A view of the board walk in the city.
Kota Kinabalu is situated on an island of Borneo which lies in the tropics. That being said, if you look at Sabah as a whole you will realize that Kota Kinabalu is situated very close to Mount Kinabalu. This makes the town a strategic stopover for anyone who wants to challenge the mountain. People who want to do trekking while not being too adventurous usually head over to the Kinabalu National park.
Kota Kinabalu also lies on the coast. The jetty called Jesselton Point gives you access to different islands that are situated in the Tunku Abdul Rahman park. Natural reefs of these islands are popular for coral and colorful fish. They serve as one of the biggest attractions that the city has to offer.
Kota Kinabalu typically has a lot of rain, a constant temperature (read hot!) and high levels of humidity since it is situated next to the sea. People say that Kota Kinabalu is a year round destination but beware that the city has two sets of monsoons. Ideally August and September are considered to be the best months to visit. I spent June in Kota Kinabalu and I found it really pleasant. Sure you do have a couple of days when it may rain but the showers generally pass quickly enough. If it doesn't Kota Kinabalu definitely has a lot of activities that can be done indoors.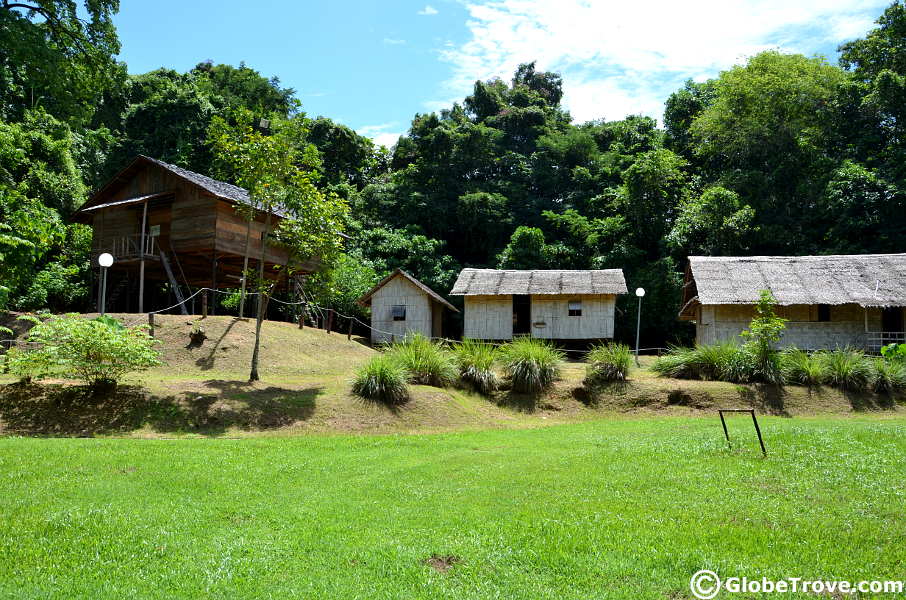 A view of the heritage villages.
At first glance it is obvious that Kota Kinabalu is composed of more than one culture. This isn't just due to the influx of numerous expats from all over the world. It is also related to the history of the island. Over time a number of different more powerful countries took over Sabah and thereby Kota Kinabalu. The British, Americans, Dutch and Spanish all set their toes on the island and thereby influenced the way the locals lived their lives. In addition to these foreign influences, Borneo itself has had its own sets of royalty. A great way to learn about the culture is to head to the Sabah Museum.
RELATED ARTICLES: SABAH MUSEUM: A Glance Back In Time
The main language is Malay but my friend explained that sometimes the same language (i.e. Malay) had different dialects across the country. These dialects were minor inconsistencies that varied from region or state to state.
English however is widely spoken so there is no need to worry about communicating with everyone. During my two weeks in Kota Kinabalu I don't think I came across anyone who did not speak English. Now that is saying something!
The city however has a mix of people from all over the world so you will find that there are a number of foreign languages that are spoken too.
The Malaysian Ringgit is the currency that is used in Kota Kinabalu. There are a number of currency exchange counters in the city. When we arrived late at night the currency exchange counters at the airport were closed and we had to exchange our money at the taxi stand for a premium (Yup!). So if you are heading through from Kuala Lumpur I would suggest exchanging a little so that you have a few Ringgit in your pocket when you land. You will need it for transport.
As I mentioned before, Kota Kinabalu lies on the west coast of the Malaysian part of Borneo. While the city may seem far away from the mainland, Kota Kinabalu has a good enough transport system which makes it relatively well connected considering its location.
BY PLANE:
The international airport is named after the city and is called the Kota Kinabalu International Airport. It is said to be the second most busiest airports in Malaysia and it isn't surprising because it connects both local and international flights to Sabah. Getting to Kota Kinabalu is simple since there is an Airport bus that plies to and fro or you can use the Uber/Grab like we did. It doesn't cost much since the Kota Kinabalu International Airport is located just 7 kilometers outside the city. The roads are good and if you arrive late at night there is usually no traffic.
BY BUS:
Many people travel across Borneo in hopes of experiencing the rich culture of the land. Moving from village to village or city to city is made simpler by the bus transport system. I haven't personally used the intercity buses but I've been told that one shouldn't expect luxury. It gets you from place to place though.
BY PERSONAL TRANSPORT:
You can also choose to hire a personal car with a driver to take you across the island. A cheaper alternative would be to rent a car/bike. The downside of this arrangement is that you have to return to the city that you start off at so that you can return the vehicle.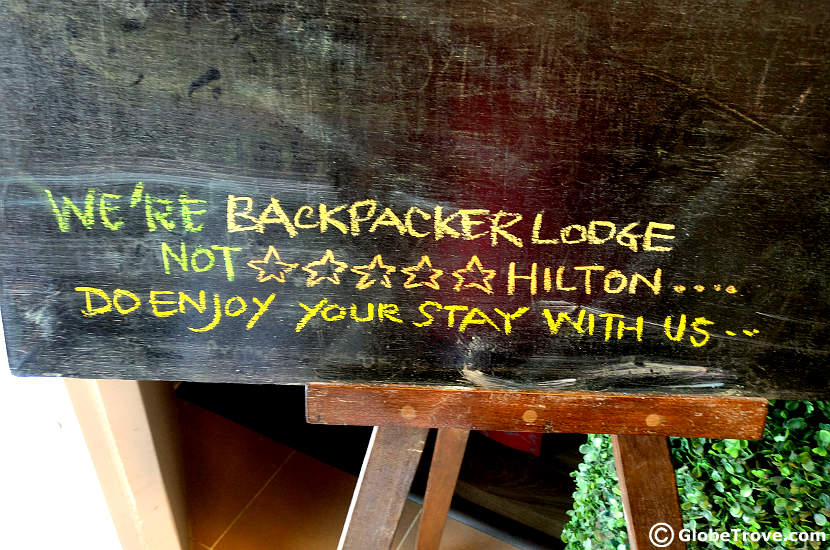 A sign that caught our attention in our hostel.
Kota Kinabalu has a mix of all kinds of accommodation. Jalan Gaya is famous for all the backpacker hostels. The fancier and swankier hotels are situated along the coast. We stayed at places that ranged from both ends of the spectrum. The Masada Backpacker Hostel was an interesting experience. It was situated a short walk away from Jalan Gaya. The Le Meridian on the other hand gave us a front row view of the Borneo coast.
RELATED POST: All about Masada Backpacker Hostel in Kota Kinabalu
Kota Kinabalu has a local bus transport system that isn't very extensive but it seems to do the job since the city isn't very big. Most locals move about using their own cars. We used Uber to move around as it was reliable and cheap. That however was only a couple of times. Since everything was within walking radius we preferred to walk.
A word of caution: It gets really hot in the afternoons so carry water if you are walking about and preferably use some form of sun protection.
Quick tip: Uber runs a number of offers online. All you have to do is search for the code and plug it in. We got some free promo rides!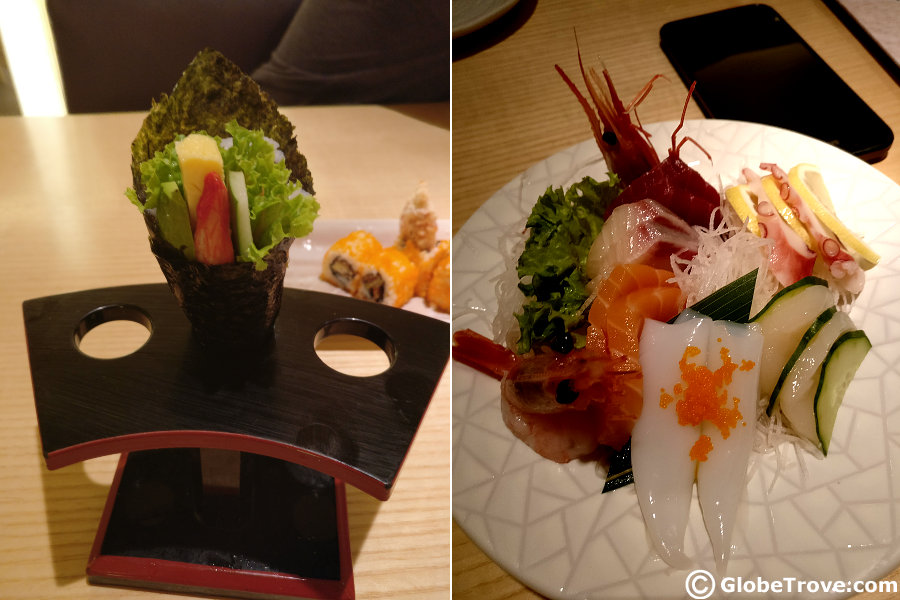 I fell in love with the sushi.
With the influx of people from different parts of the world comes an influx of culture and that is often seen in the type of food that is available. During two and a half week stay in Kota Kinabalu we ate Malaysian, Japanese, Korean, Hungarian, American, Mexican and Chinese cuisines. Bear in mind that there is just so much that one can do in two and a half weeks.
Since Kota Kinabalu lies on the coast the fish is really fresh so I definitely advocate eating seafood. The sushi is awesome and relatively cheap. That however is my opinion and it doesn't matter because as far as food goes, there is something for everyone!
RELATED ARTICLES: The Ultimate Guide To Places To Eat In Kota Kinabalu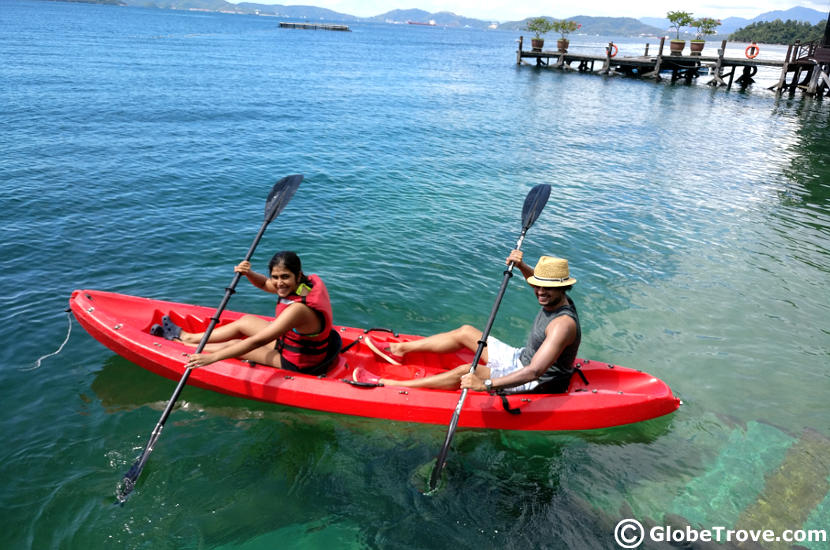 One amazing day out!
There is a lot to do in Kota Kinabalu and I've written a mega post on it so I'm just going to sum it up in short. Kota Kinabalu allows you to choose what you want to do. Do you want to be outdoors or indoors? Do you want to be on a mountain or do you want to be on island? Would you prefer partying or a quite dinner by the beach?
Since Kota Kinabalu is a hub for tourists as well as some businesses, the number of activities range from something cheap like heading to a lookout point or more expensive like say golf. It's not a city that will break your wallet and yet if you want luxury you can find it in abundance. That's what I liked the most about the city: Its diversity and its inclusiveness!
RELATED ARTICLES: Ultimate Guide To Things To Do In Kota Kinabalu
Luckily access to internet is not a problem in most parts of Kota Kinabalu. We had access to Wifi both in our hotel and in our backpackers hostel. Internet plans are also relatively cheap on the cell phone. In order to keep in touch when we were on the move during the day we ensured that we both had working internet.
If you don't want to do that because you are passing through for just a few days, then you find that most of the restaurants offer free internet. Starbucks is one of the obvious choices but other popular cafes do too.
Sunday Market in Kota Kinabalu.
The Philipino handicraft market is in a large building which reminded me of a warehouse. It is located at the side of the road that flanks the coast almost directly opposite the Le Meridian. The markets surrounding the Philipino handicraft market are really intriguing. Fruit stalls, vegetable stalls and even fish stalls exist for the people to but their groceries. It is a highly active place.
Every evening the Night market sets up and local food is served. It is a large enough market and it can get confusing. You can get all kinds of seafood and meats that you preselect and ask the person at the stall to cook.
Another popular market is the Sunday market that is set up every Sunday on Gaya street. The market starts in the early hours of the morning and shuts shop somewhere mid day. Most of the tourists that visit love the market because of the variety of trinkets that you can buy for cheap. We meandered around and found a lot of interesting stuff that ranged from kittens (not a fan of selling animals!) to pineapple drinks.
Kota Kinabalu has numerous malls. Some of them look like normal buildings on the outside. The inside is teaming with shops and people. Two particularly large malls have developed and a quite popular: Imago and Surya Sabah. Oceanus Waterfront mall isn't quite as active during the day but it is a good place to catch a bite to eat while watching the view. I must warn you that the restaurants are a bit pricier here.
In general Kota Kinabalu is very safe. We have walked about on the streets quite late at night without having any problem. Women are warned however not to walk alone at night as some areas can get dangerous. The only time we did have an issue was on our final day in Kota Kinabalu when we were in the Sunday market. A young boy tried to pickpocket Shawn's mobile but Shawn was quick enough to catch him. He got his phone back but the sneaky thief managed to escape into the crowds. So be aware of the surroundings and your things. Kota Kinabalu is safe but there can be unsavory elements in every crowd.
Kota Kinabalu has hot tropical weather. Since it lies at the side of the sea it means that it is both hot and humid. It also has a few showers from the heavens every once in a while. The plus side of the showers is that they cool down the weather. Hence I would suggest loose cotton clothes. Nothing too heavy because it would be too hot and you want something that washes easily.
I was a bit worried about what kind of swimwear I could use in Kota Kinabalu since Malaysia is a Muslim country. I soon realized that people don't really mind your bikini as long as you use it in the water, at the beach or in the pool. I carried a sarong along with me just to ensure that I could cover up whenever needed. It also helped as it doubled up as a beach towel.
If you head out to the beach then you may want something that doesn't trap sand. Sandals, crocs and flip flops do just fine. If you want to challenge the mountain then trekking shoes would be more appropriate especially since they would protect you from the leeches.
After spending two and a half weeks in Kota Kinabalu I learned that there are some things that you may or may not want to carry. The choice is yours but they do go a long way in making it easier to live in the tropics.
Finding a toilet in Kota Kinabalu isn't very tricky. The newer malls have toilets which are accessible and clean. Most of the restaurants have toilets too. I however did not notice any that were attached to the cafes. The pay and use toilet however is available at the lookout point in case you decide to spend sometime there.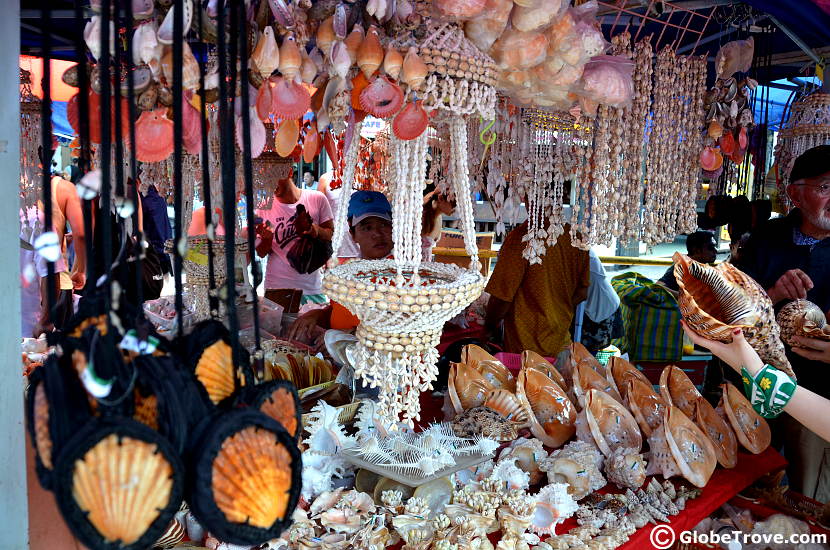 One of the stalls with shell ornaments.
I'm going to be honest. I didn't take back any souvenirs from Kota Kinabalu. I think the memories I took back were what I cherished the most. That being said I can however tell you that the Sunday market is the best place to find something as a souvenir. Shells are used as jewelry and are made into everyday items. (Check and see if customs allows you to take them out of the country and into yours). A lot of handmade articles are the vogue. I spotted a number of really pretty bags too. Unfortunately I was in a hurry and I did not get a chance to buy anything.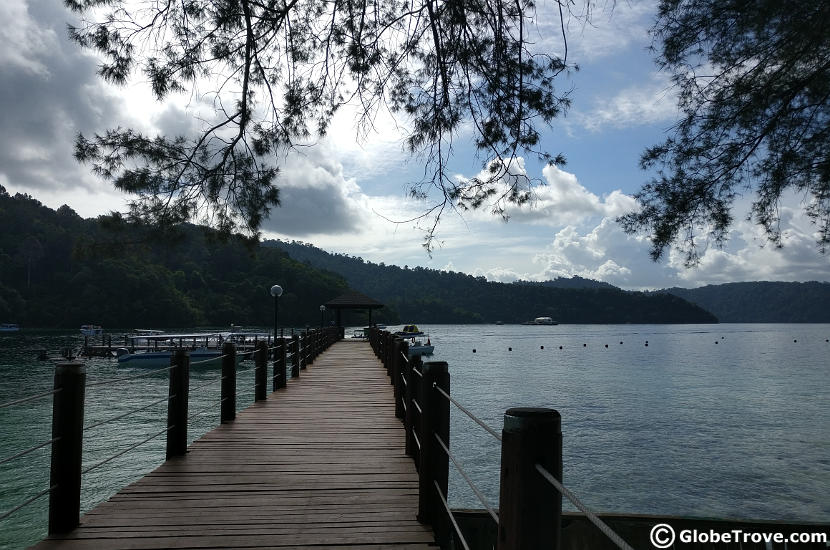 This photograph was taken on one of our day trips to Tunku Abdul Rahman Park.
There is so much to do in and around Kota Kinabalu that it is difficult to cram everything into just a few days. I spent two and a half weeks on the island but still a number of boxes were left not ticked. I compiled a long list of things to do in Kota Kinabalu (You will find the link below). I would suggest using the list as a guide to form your own itinerary.
A lot of people however breeze through Kota Kinabalu. It's often because they are short on time or they come to Kota kinabalu as a weekend getaway. It is for their benefit that I've formed a three day itinerary that encompasses the best of Kota Kinabalu and allows you to savor the culture too. You will find the link below.
RELATED ARTICLES:
What I loved the most about Kota Kinabalu is that there was something for everyone in almost all aspects of life. The activities that are available range from those in the sea to those on the land as the landscape is varied. You can even choose to have a peaceful relaxing vacation if you don't like to indulge in any of the adventurous activities.
The different array of cuisines catered to different palates. You have a choice of what to eat and it does not matter what your diet is. I think that the reason for the broad spectrum of activities and food lies specifically in the fact that the city accepts all cultures. That is what makes Kota Kinabalu so unique. It is also probably the reason why I fell in love with the city.
*This post contains affiliate links.