We were destined to spend two and a half weeks in Kota Kinabalu. Two blissful weeks in a city that was located in what can only be termed as paradise. The more I looked at it the more I realized that I should put my experiences into words and draw up a few itineraries that people can use. That being said here is a three day itinerary for Kota Kinabalu.
DAY 1: Island Hopping And The Night Market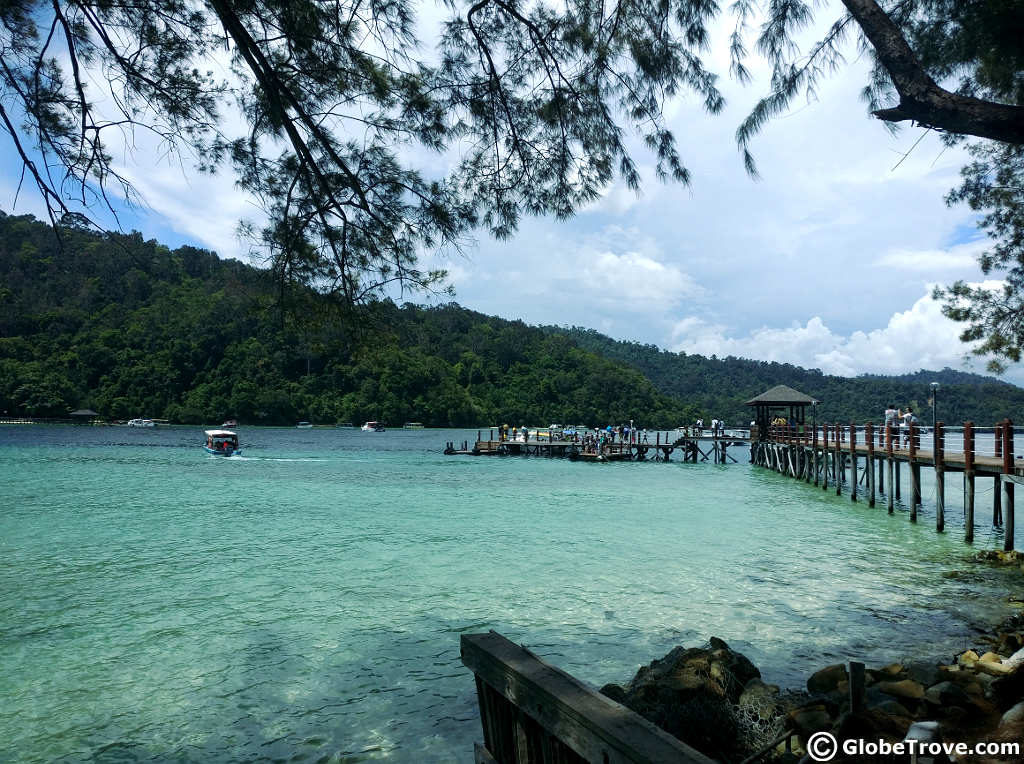 The quiet calm of the Borneo islands.
Your itinerary in Kota Kinabalu should definitely start by heading out to the numerous islands that make up Tunku Abdul Rahman park. The best way to get there is by heading over to Jesselton point. As you enter you will see a huge building which resembles a warehouse on your right. Enter in and a number of tour companies have their stands. Take your pick on the islands that you want to visit. Hop on to a boat and enjoy a day of snorkeling and relaxing on the beach.
While we did not do this on our first day, we did it on one of the days that we were there. Our choice was to visit two islands: Sapi and Manukan. If you are looking for a more peaceful place and don't mind spending a bit extra, then head out to Gaya island. Heading out to Gaya also means that you get a chance to visit the Marine Ecology Research Center (MERC) which was one of my favorite things to do in Kota Kinabalu.
The last boat from Tunku Abdul Rahman park heads in around 5 pm. If you chose to go Gaya island you will probably reach a bit earlier. Needless to say you will probably be exhausted just like we were. A quick trip to wherever you are staying will give you a chance to relax before it is time to head out again.
The night market usually starts getting active around 6-6:30 in the evening. The night market is located on the ocean front. That's why it offers a good view of the setting sun. If you aren't too tired to make it before the sunset, I suggest picking a stall that is next to the lapping waves and bobbing boats. That way you can catch a bite to eat while enjoying one of Borneo's famous sunsets.
QUICK TIP: You can bargain at the stalls that offer you food. The prices are not fixed unless they give you a menu with everything written on them. There were times that some on the stalls quote double and triple the amount that we paid at other stalls. So be forewarned.
I would suggest turning in early because the next day's itinerary in Kota Kinabalu has a lot of activity and you need to leave really easy. Where are we going? To the place where the city got it's name!
DAY 2: Road Trip To Kinabalu National Park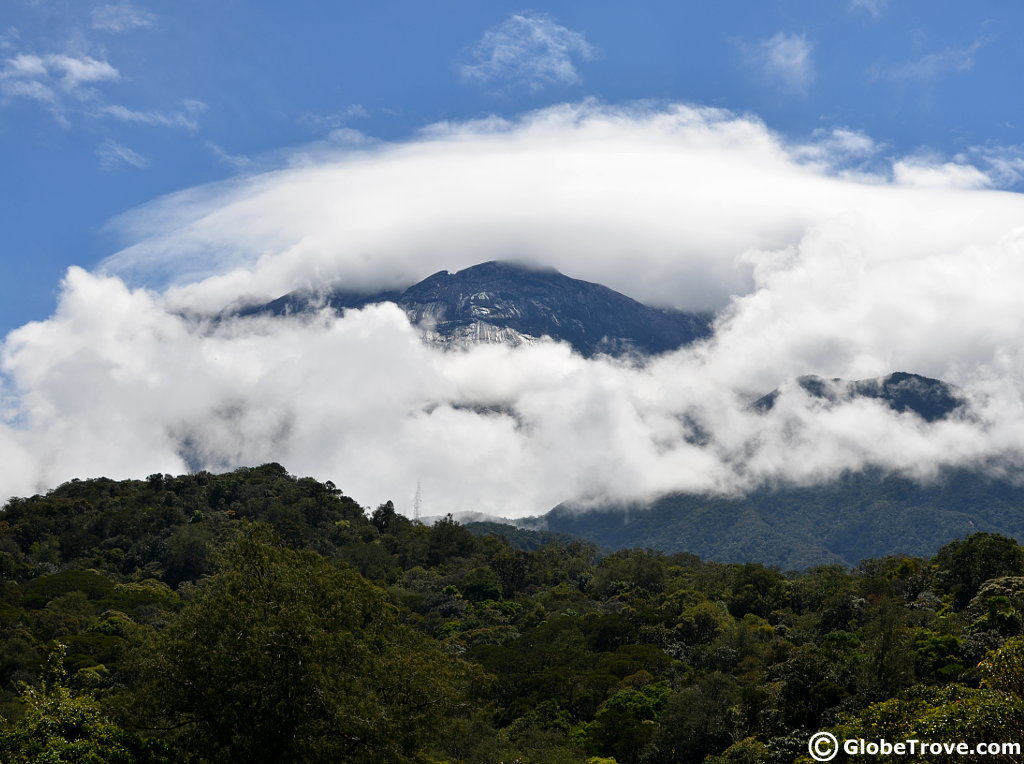 A glimpse at Mount Kinabalu
Mount Kinabalu is where the city derived its name. The word 'kota' means 'city' and hence Kota Kinabalu is quite literally named after the mountain. The Kinabalu National Park is a UNESCO heritage site and Mount Kinabalu is situated in it. A number of people come to Kota Kinabalu to challenge the highest mountain in Malaysia. If you have only three days to spend in Kota Kinabalu then you probably won't have time to do that unless climbing the mountain is all you do. The Kinabalu National park offers a great alternative.
FIRST STOP: Kinabalu National Park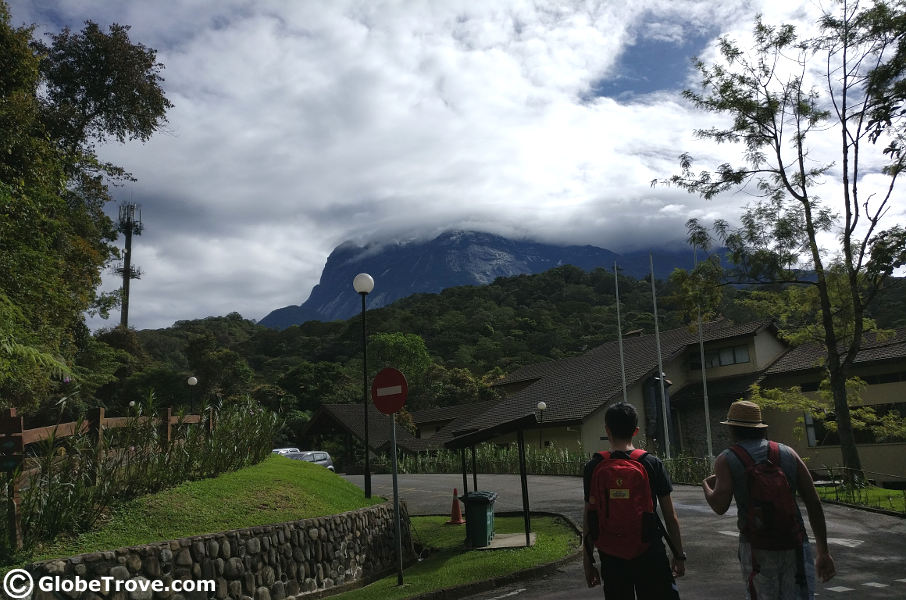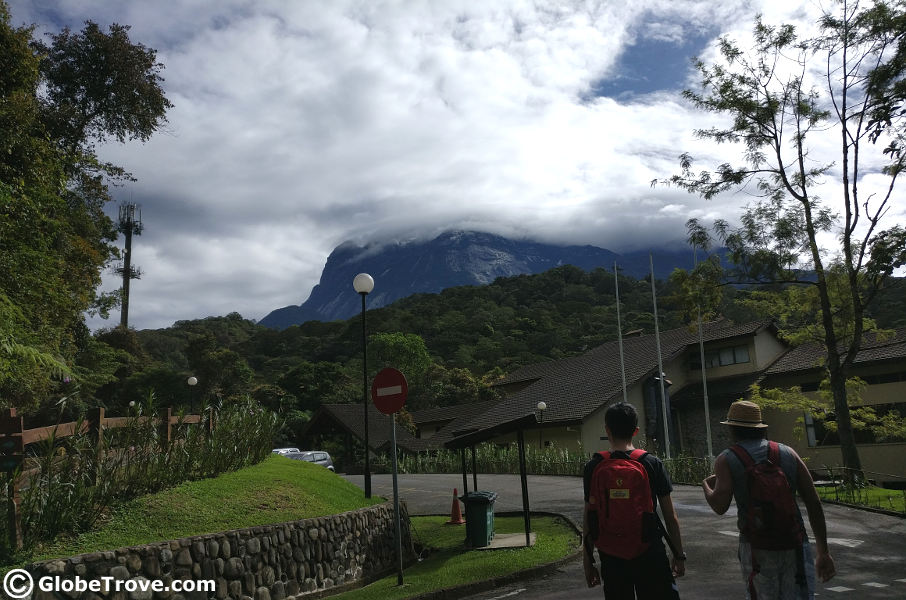 Searching for a trail in Kinabalu National park
Getting to the Kinabalu National park however means a long drive. You can book a tour with one of the tour groups, hop on a bus or rent a vehicle and drive/ride there. We were lucky enough to have a friend who drove us there. The drive took nearly 2 hours. That is why you would want to leave early in the morning. We left Kota Kinabalu at around 7 am and we made good time.
Kinabalu National park has a number of different trekking routes. They range from simple and easy to steep and not to so easy. So remember to wear footwear that is conducive to walking through a tropical forest. The paths will include encounters with leeches and a number of mosquitoes so remember to watch where you stand and carry some mosquito repellent too.
With all that kept aside, trekking through this protected forest is awesome. You can spend quite a lot of time meandering through it. If you can keep real quite you can even here the forest talking to you. I half felt like I was going to bump into an elf or a pixie… Hahaha… That's usually my hyperactive imagination!
SECOND STOP: The Botanical Gardens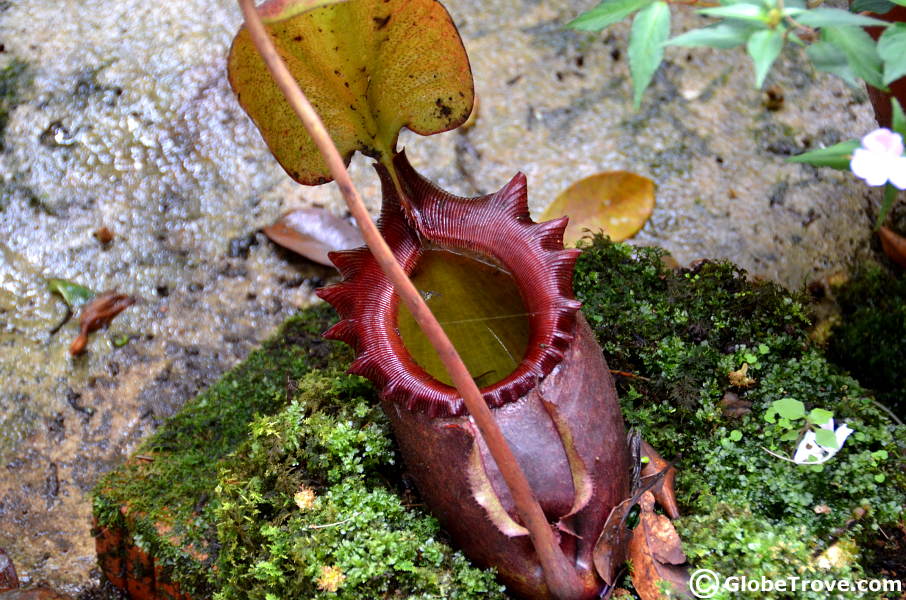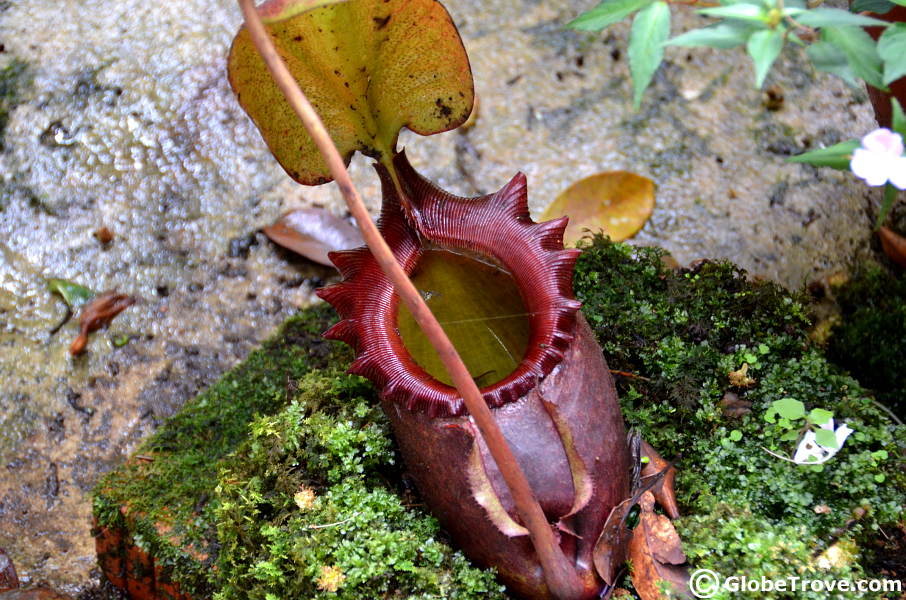 Carnivorous plants never fail to amaze me!
Once you are done trekking don't forget to visit the Botanical gardens that are housed near the park. I found them really interesting because the species were labeled and there was information about them provided. For a lay person like me that made the whole walk through very interesting. The best part about the garden however was the pitcher plants! It was the first time we had ever seen a carnivorous plant!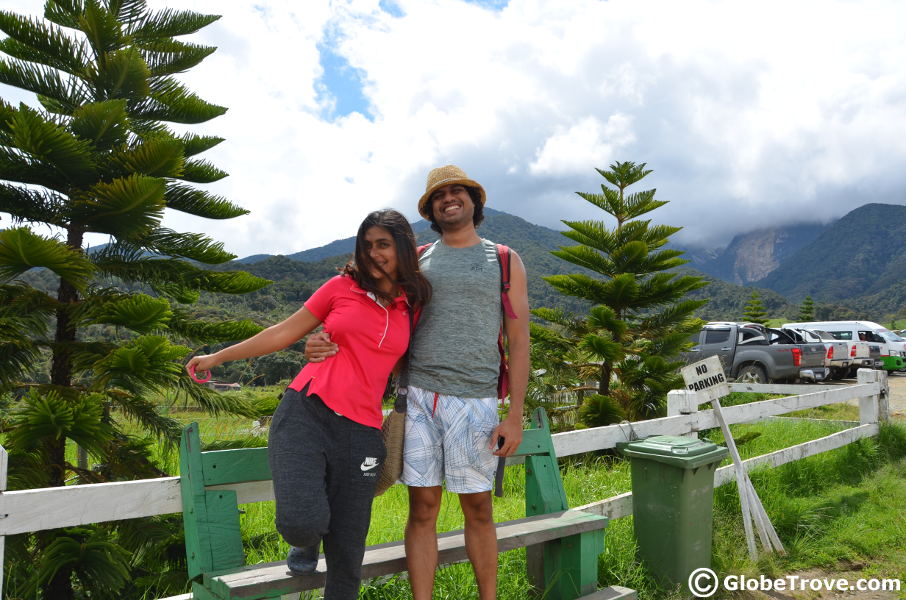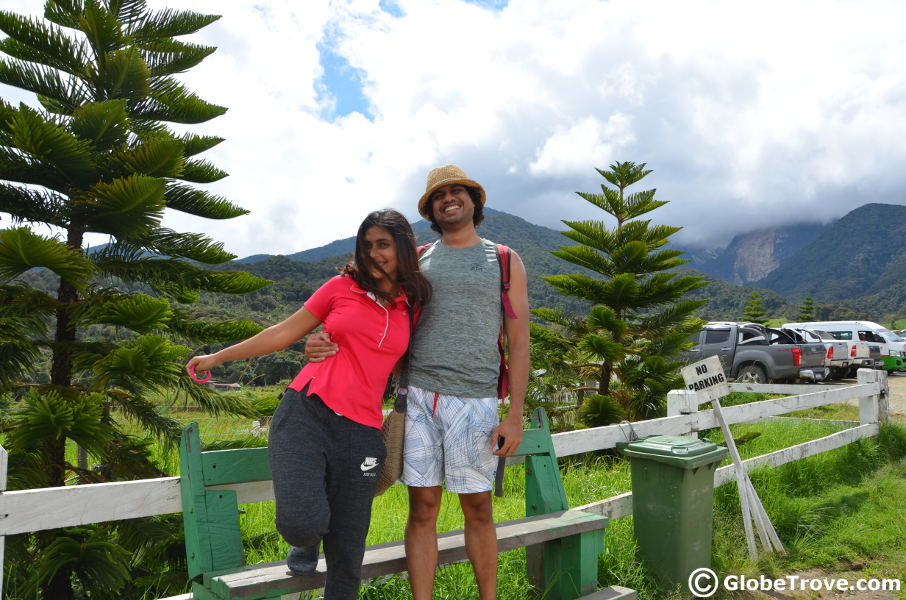 We just had to pose and be part of the scene!
The storm clouds threatened to burst open while we were in the Kinabalu National park so we decided to catch a bite to eat while we tided over the storm. Our friend Tham suggested heading over to Desa farm since we were in the area.
The Desa farm is a famous pit stop for those on a road trip to the National Park. While I don't think I would particularly head out to the farm just to see it, I loved visiting it after our trek through the forest. They have the most delicious gelato ice cream that I have tasted! The part that I loved the best was the views. It was almost as if I was back in Europe all over again.
A number of people also stop at the hot springs along the way. We were way too tired and with a storm coming up it was time to head back to the city. We caught a bite to eat at a Korean restaurant called Bab's. It was there that we bumped into a number of friends there and our first Korean meal turned out to be a social one just the way it's supposed to be.
DAY 3: Culture, Animals And More 
I always believe that to truly experience a city, you need to know about its history, culture, food and the wildlife. That's why if you are planning a three day itinerary in Kota Kinabalu one day needs to be dedicated to taking it in the essence of the city.
FIRST STOP: Lok Kawi Wildlife Park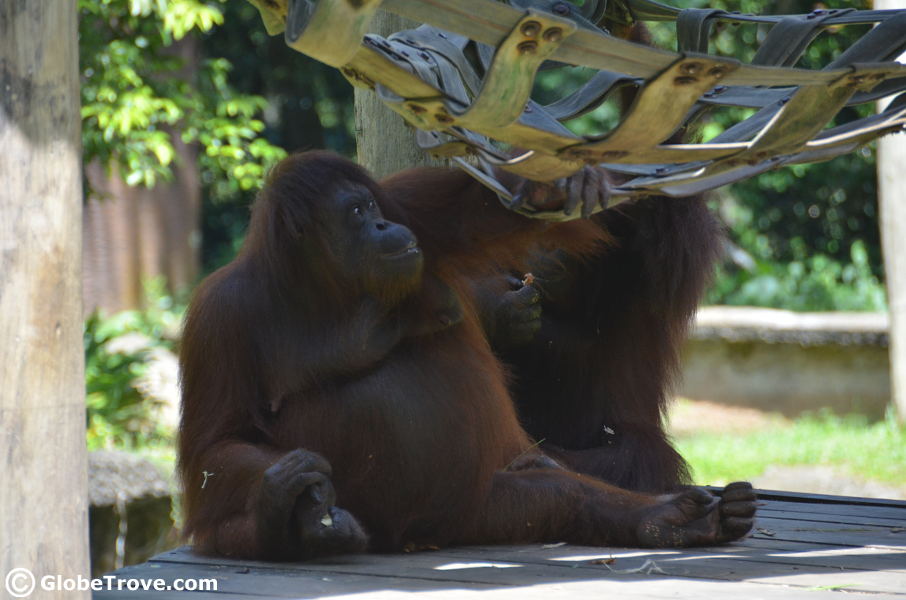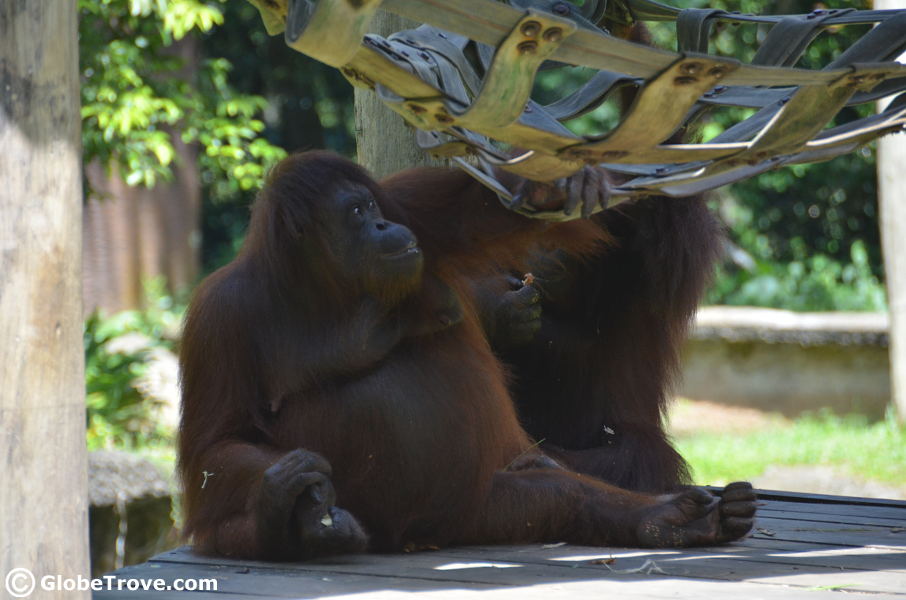 I finally got to see an orangutan.
I would rather see animals in the wild but if you can't go wandering on one of the tours (which can get quite expensive) then the Lok Kawi Wildlife park is a great way to see the animals. I really wanted to see an orangutan and that is how I landed up at the park. You can head to the park by catching a bus or hiring a taxi to take you there. It is a 20 minutes drive out of the city. We chose to rent a bike for that day.
SECOND STOP: The Sabah Museum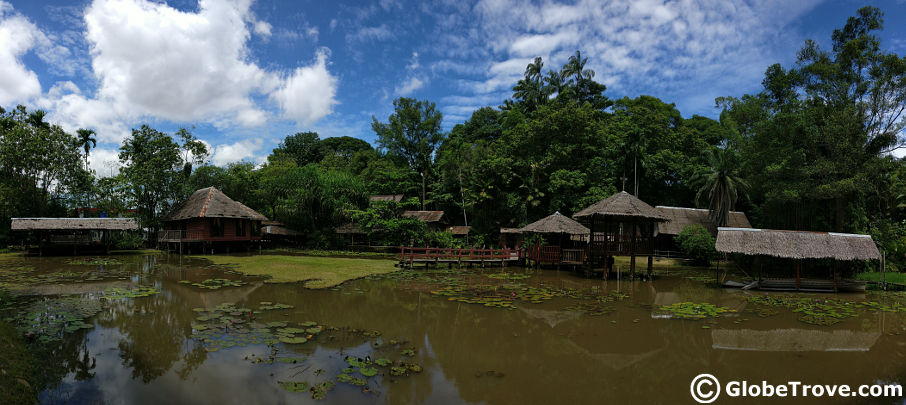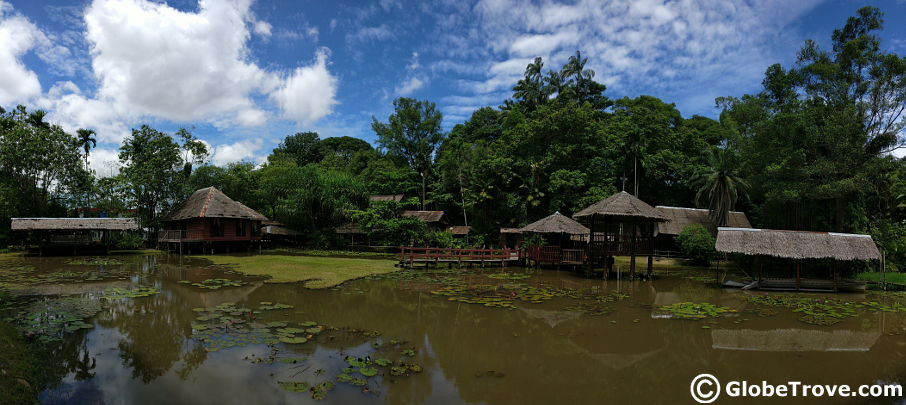 One of the heritage villages in the Sabah museum.
For people who want to learn about the culture of the city, the Sabah museum is a great place to stop at. After you get back from Lok Kawi wildlife park, you can make a stop at the museum. It tells you about the wildlife, the cultural practices and even has different heritage villages which exhibit different kinds of houses. I personally loved all that the Sabah museum had to offer that's why I emphasize on the need to make it a part of your three day itinerary in Kota Kinabalu.
THE MARI MARI CULTURAL VILLAGE
If you manage to snag a tour, then head over to the Mari Mari cultural village in the evening. A lot of people have told me that it is really good. We unfortunately did not get around to going there. The tours leave at different times. There is one that leaves at around 5 pm and comes back late at night. Celebrating Borneo in the heart of a village would definitely be a great way to end your trip. For me I've chronicled that for the next time I head to Kota Kinabalu.
Writing a three day itinerary in Kota Kinabalu is like a short synopsis of the time we spent in the city. It's a little sliver of paradise. While the city may not be paradise itself, it is located close to many locations that can be called paradise. The islands, the forests, the food and the people welcome you with open arms and make it a perfect place to spend a vacation in. It really doesn't matter how short or long it is. In fact there are enough things to do in Kota Kinabalu to keep you busy for weeks on end.
*This post contains affiliate links.