Life is great when you have the hot moist tropical weather and a beautiful sea. Kota Kinabalu seems to have the best of two worlds. It is a city that lies just on the coast of the Borneo island. So you can head to work in the day and relax on the shores in the evening. Well not always but it does come pretty close. That being said there isn't a lot of stuff to do in the city. After almost three weeks here I think I can cover most of the stuff. That's why I decided to put together a list of things to do in Kota Kinabalu.
There are a lot of water activities that you can indulge in. Scuba diving and snorkeling are probably the highest ranking activities. The only downside is that you have to head out to one of the islands. The waters of the islands are really clear and there is plenty of coral that you can catch of a glimpse at. Storms however have destroyed a lot of the coral but if you do go diving the Coral garden next to Sapi island is absolutely gorgeous.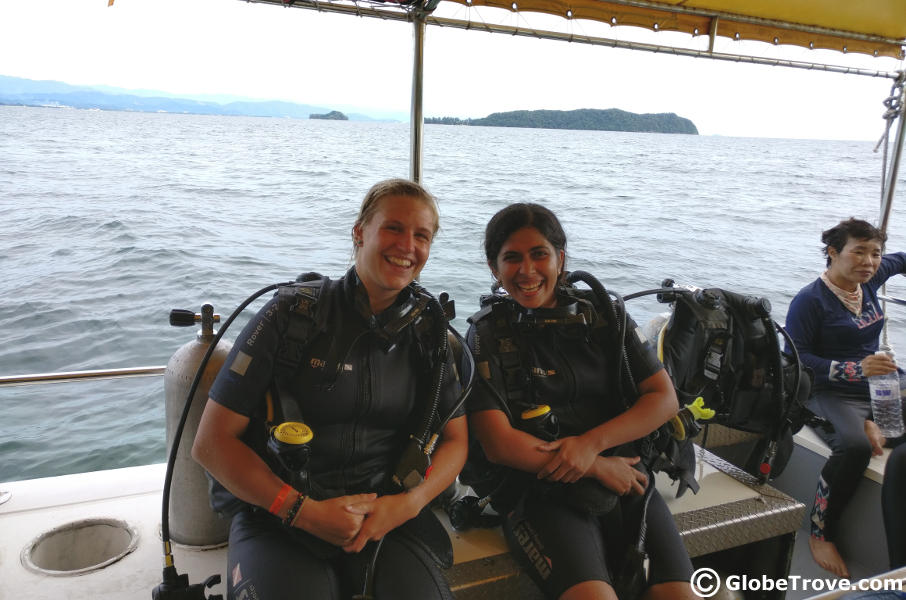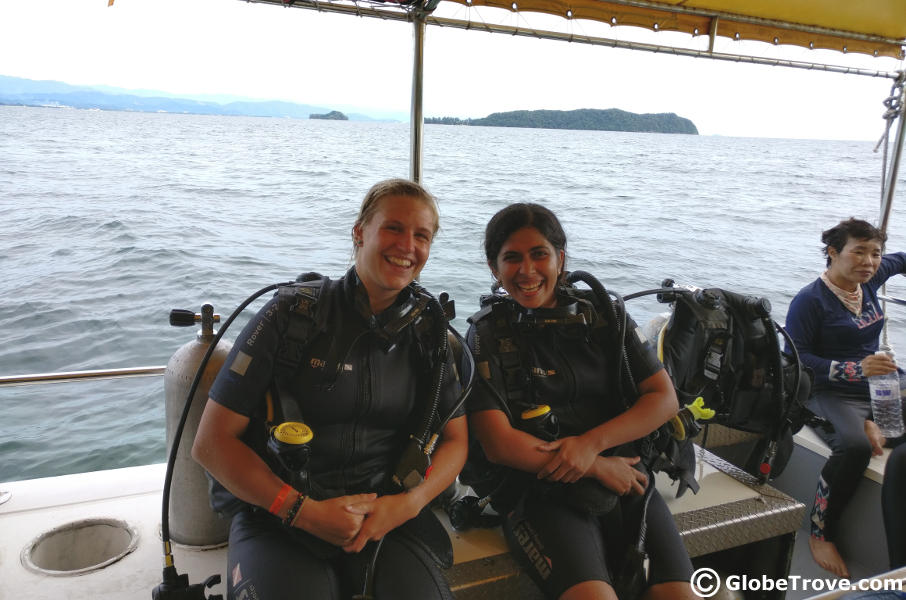 From PADI to Discover Scuba, you can take your pick!
We got to see so many different species of fish down when we were diving. I saw a huge sword fish. It was almost as long as me! We also caught a glimpse of a sting ray too! These however were just the ones that I could recognize.
Shawn did his PADI certification during the first 3 days that he was in Kota Kinabalu. For him it was a dream that came true. For me the Discover Scuba was an amazing experience.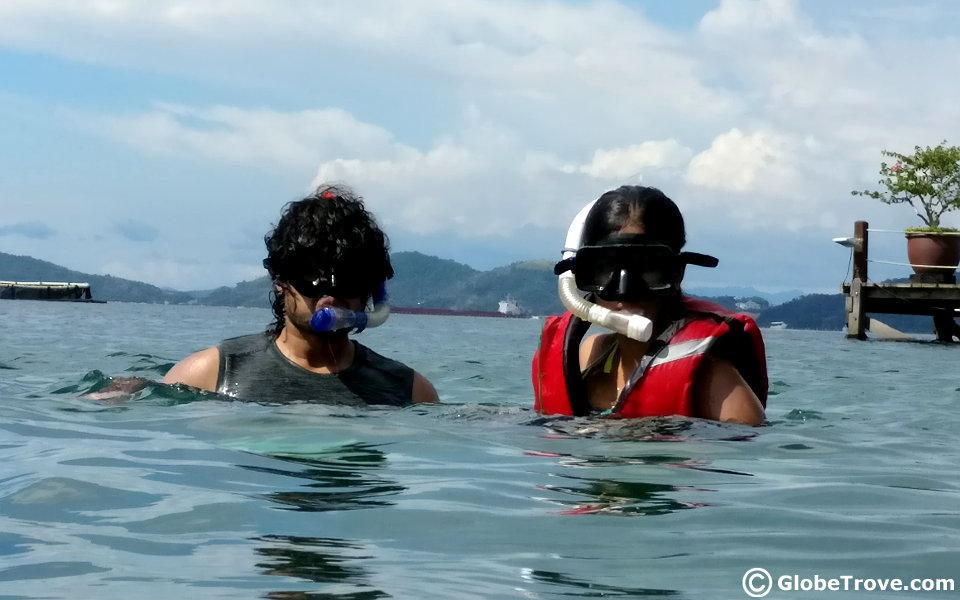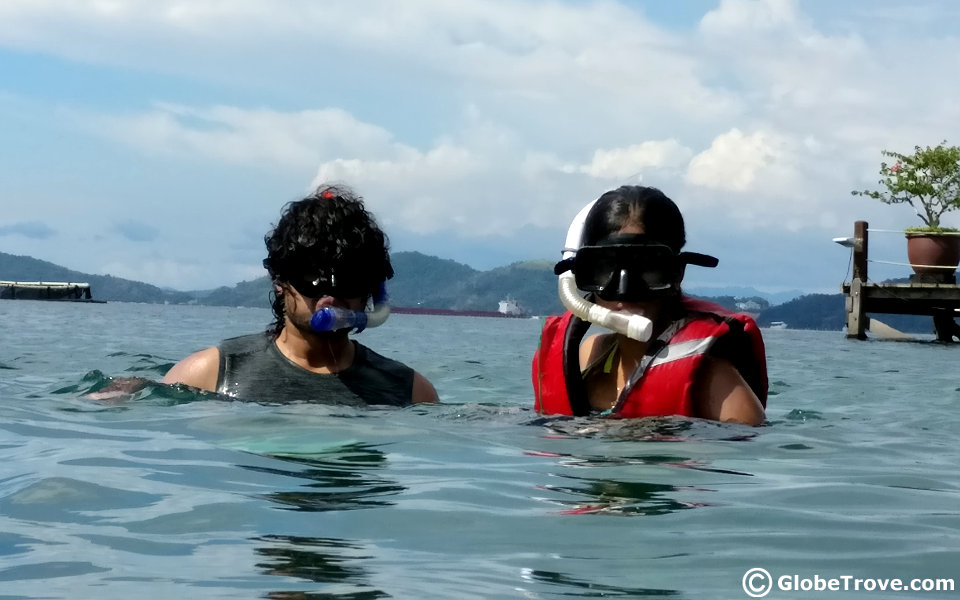 We love snorkeling and that's a biggie because I'm hydrophobic!
The islands near Kota Kinabalu are a paradise for any person who loves water, fish and coral. We visited Manukan and Sapi for a day at the beach. Remember that you need a clear and bright day to see the corals. I would suggest heading out early morning because the clouds tend to come in towards late afternoon. This way you can squeeze in as much snorkeling as you want.
VISIT THE PLACES OF PRAYER
There are a number of different religious sites across Kota Kinabalu. While majority of Malaysia is predominantly Muslim, a large number of people in Kota Kinabalu are Christian. That being said you will find a number of churches and mosques dot the landscape.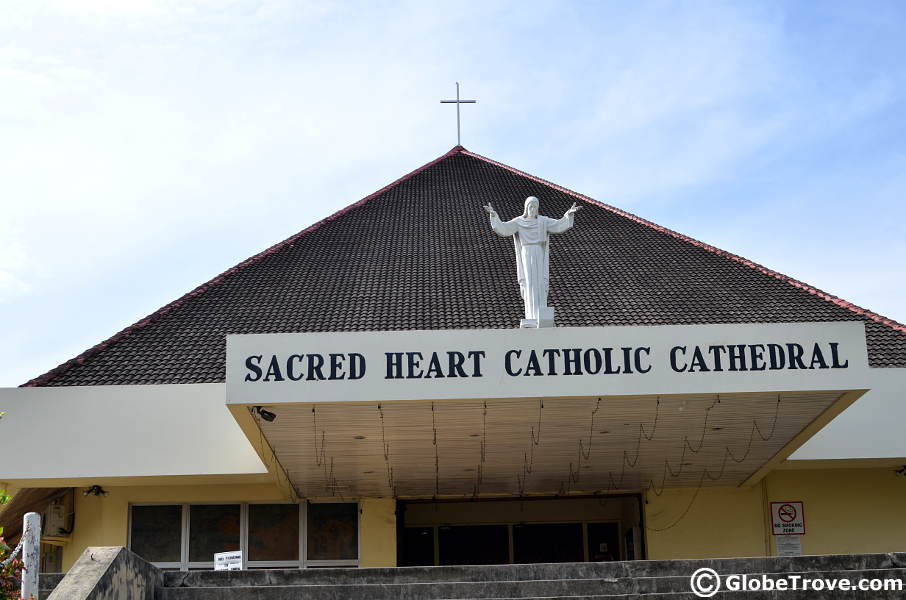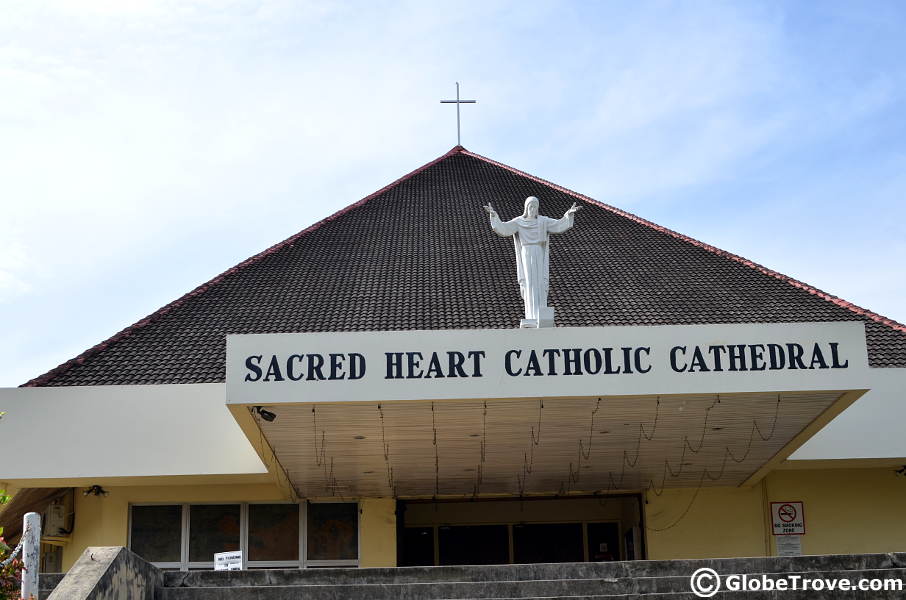 The Sacred Heart Cathedral
I hadn't realized that a large part of the Kota Kinabalu population are Christian. When I heard about it I decided that I wanted to visit one of their churches. I was told that the Sacred Heart Cathedral was the largest so I added visiting it to my list of things to do in Kota Kinabalu.
The Sacred Heart Cathedral was a longer walk away than I expected. Luckily there was more than enough shade along the way though I wished I had carried water. The church in itself was quaint and pretty. A quiet piece of solitude away from the city.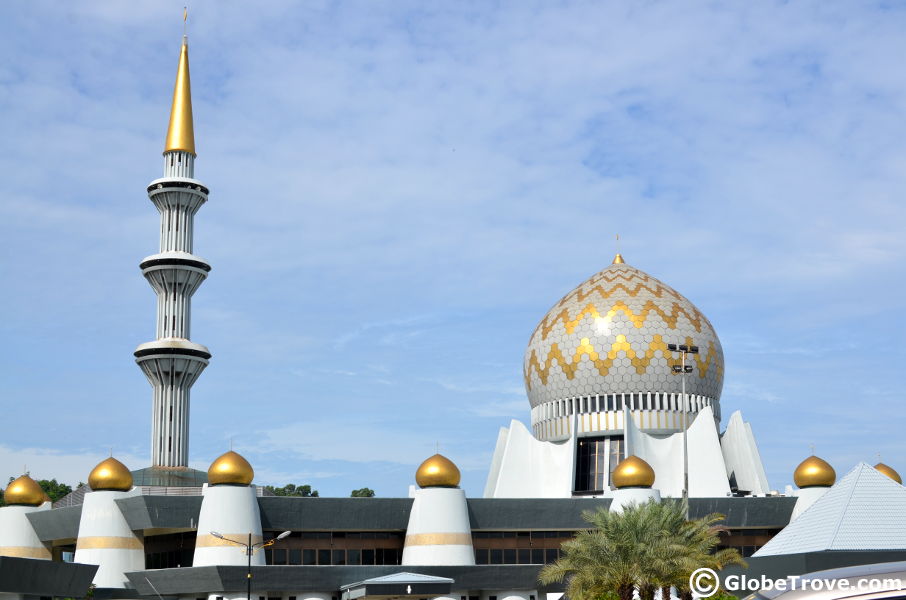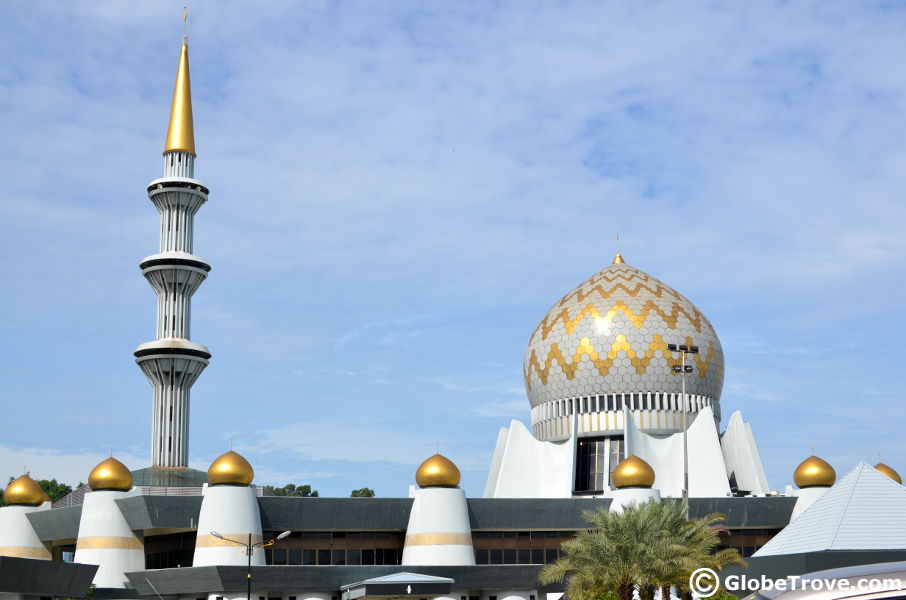 The mosque looked impressive from the outside!
It was the first time that I had ever visited a mosque and that was one of the reasons why I added the Sabah State Mosque to my list of things to do in Kota Kinabalu. I really had no idea what to expect and I even asked two or three people if I was allowed to go in. Turns out that I was! I had ensured to cover every inch of skin and I tossed my sarong around my head. Imagine my surprise when I was offered a burkha to get in. It felt so nice because it meant that no matter who came and how they were dressed they didn't have to turn back. I learned a little bit about the Muslim culture that day.
Kota Kinabalu City Mosque
The Kota Kinabalu City Mosque is actually quite famous. It is surrounded by water on all sides and that is how it earned its name 'The Floating Mosque'. At first I thought that the mosque was situated in the middle of the sea but I realized that I was wrong when we drove past it on our way to Kinabalu National Park. We kept meaning to visit it but somehow we only managed to free our schedules on Fridays. Fridays are important for Muslim prayer (I'm not sure why) and it is usually crowded. People say that it is polite not to visit the mosque on these days if you are going there as a tourist. So we never got around to seeing the inside of the Kota Kinabalu City Mosque.
One of the best things to do in Kota Kinabalu is to take in the view. There are plenty of places that you can enjoy the view at. You can choose to look at it from a height or from the side of the ocean. I chose to move around a bit and I found that I enjoyed the sunset and the sea from so many places.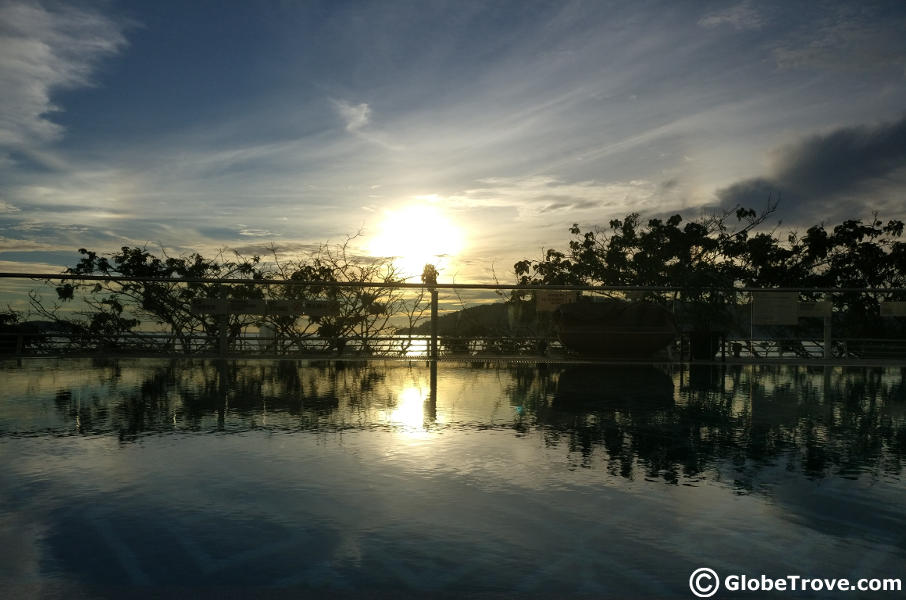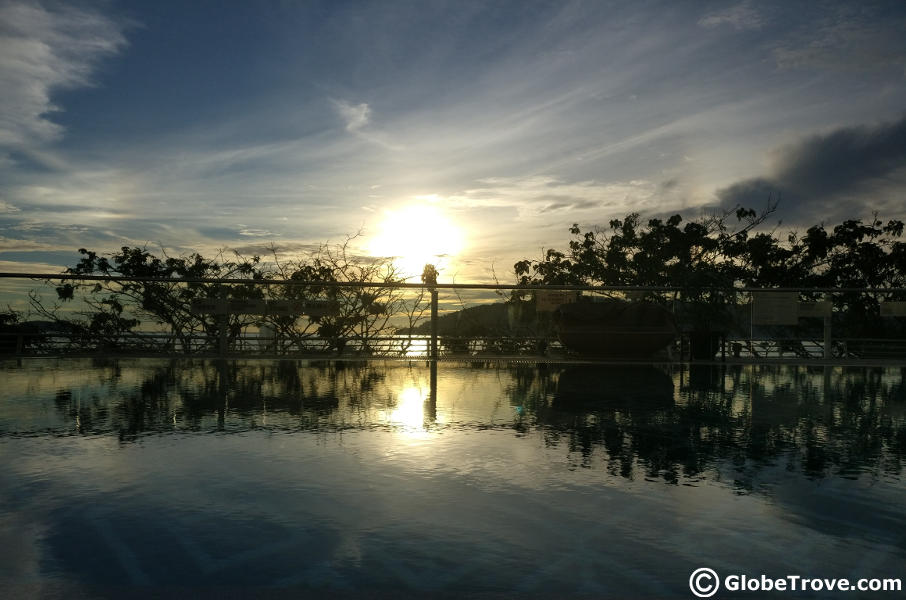 The pool view from the Le Meridian
The Le Meridian (and some other hotels) has a pool bar on the second floor. In fact it was one of our favorite places to watch the sunset. We swam about in the pool as we watched the sky turn different shades of yellow and red. Calm, peaceful and really romantic!
Catch a bite to eat at the side of the sea. If you wander around a bit you will find seats right at the water edge. Watch the sun set in front of you while the boats bob near you. To top it off you can have your dinner served while you chill and relax.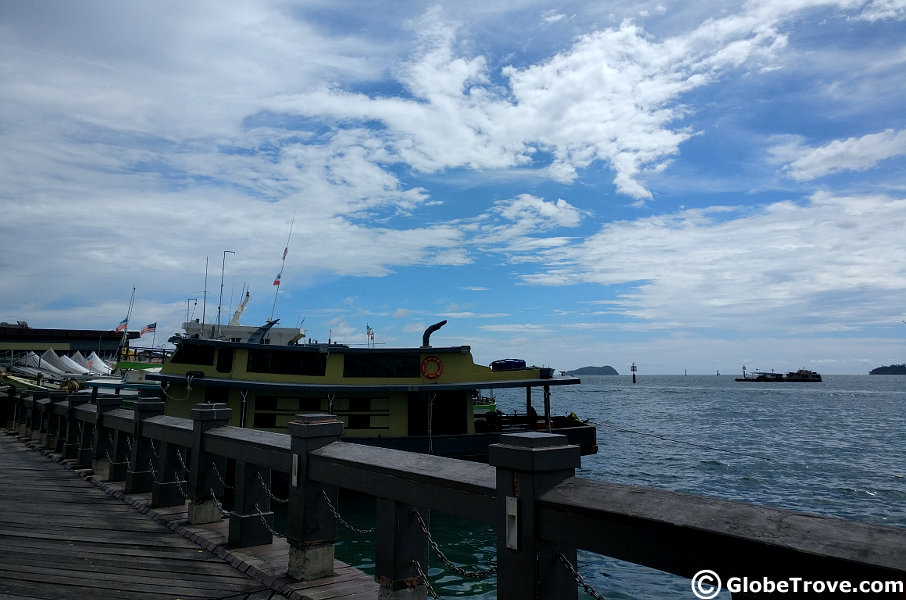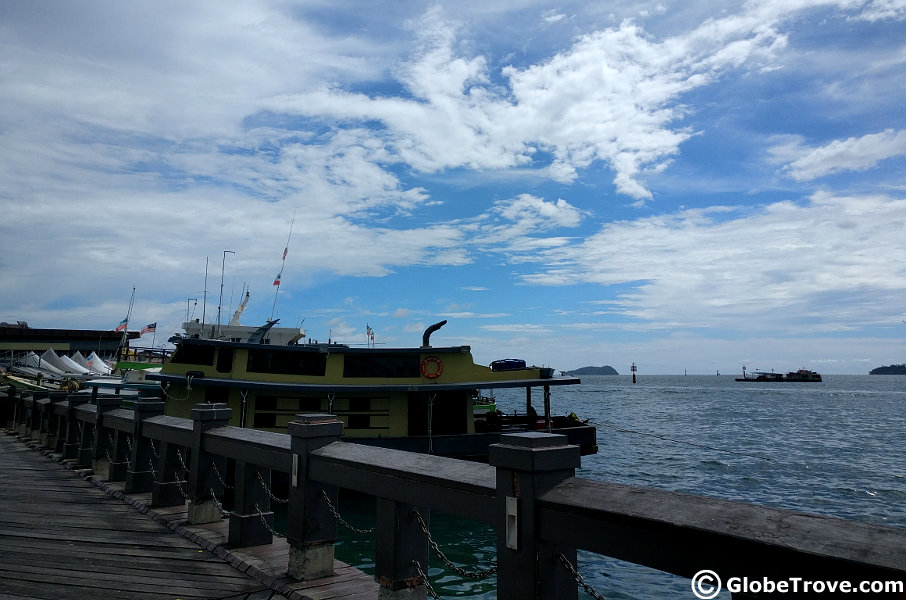 Most of the locals and tourists love to catch the view from here.
There are a number of different restaurants and pubs along the Waterfront. You can take your pick and relax. This is different from the Night Market because it is a little more posh. Definitely more cleaner and it is more expensive. That however doesn't mean it isn't a great place to be. Oh and if it is too expensive then head to Starbucks. It is far cheaper.
Signal Hill Observatory Platform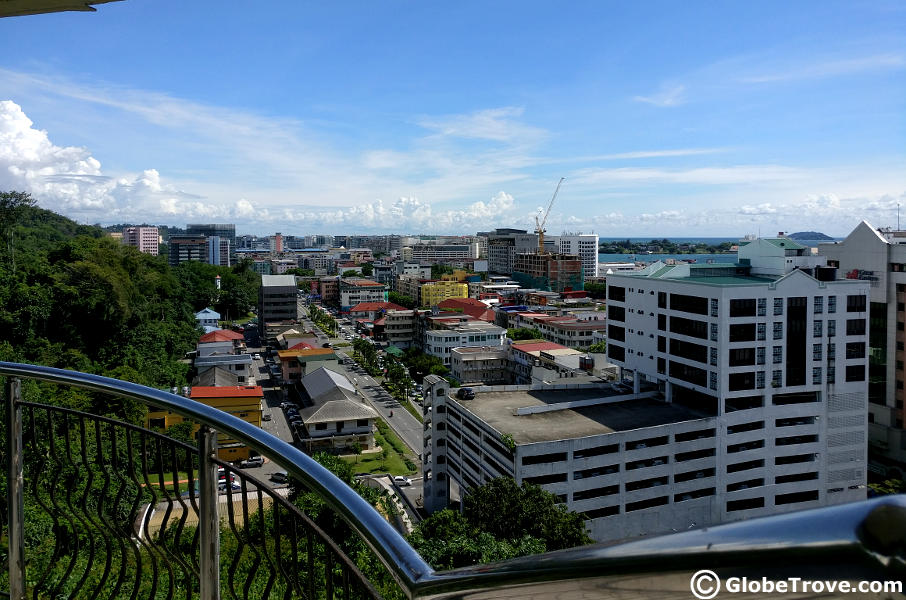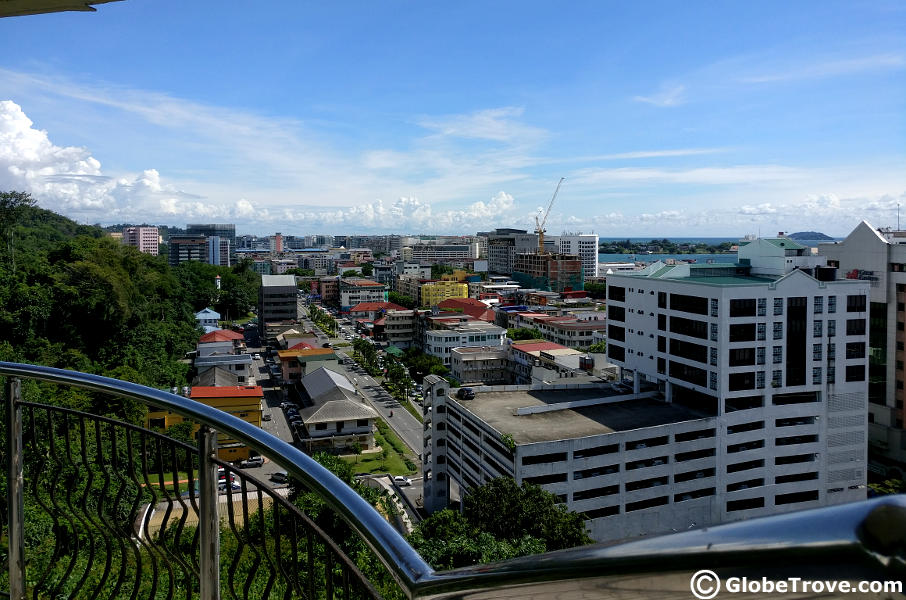 The Signal Hill Observatory Platform is probably my favorite place to relax and chill. It doesn't offer you an unobstructed view of the sea but you can watch the sea unobstructed. It is a great place to look down on the city and pause for a while. There is a great café there too. So don't forget to add it to your list of things to do in Kota Kinabalu.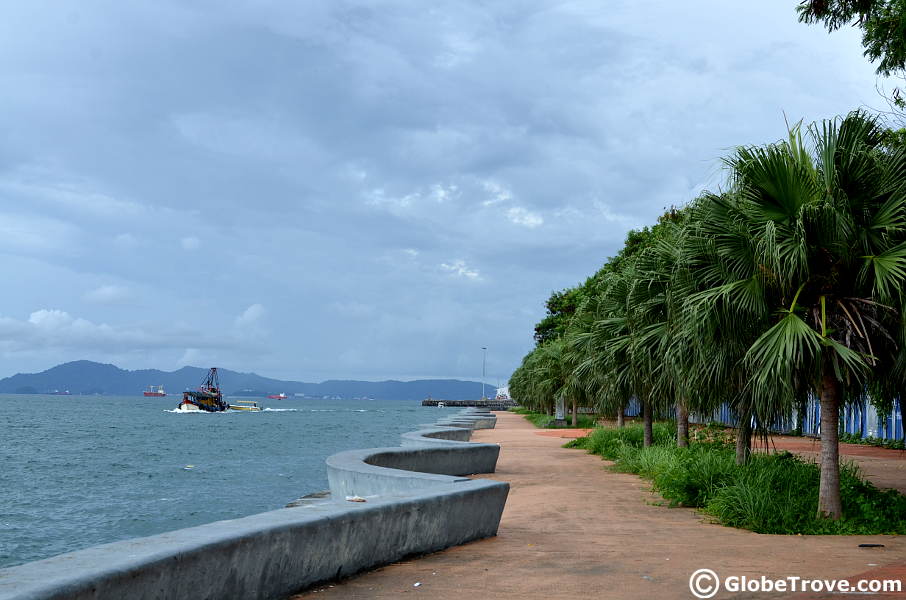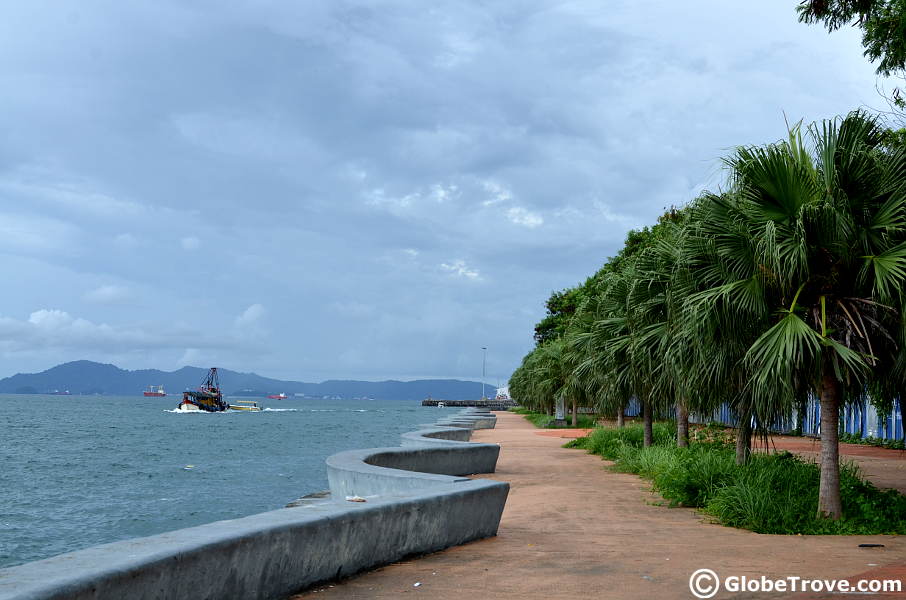 The board walk is always so peaceful in the day! But way too hot!
Walk along the board walk while the sun sets. I don't recommend doing this mid day because it gets way too hot and you could just get a sun stroke but in the evenings when the blazing sun has stopped it is much much cooler.
There are so many markets here in Kota Kinabalu. It is really hard to know which ones to add to your list of things to do in Kota Kinabalu if you are short of time. Luckily for me I was in Kota Kinabalu for almost three weeks.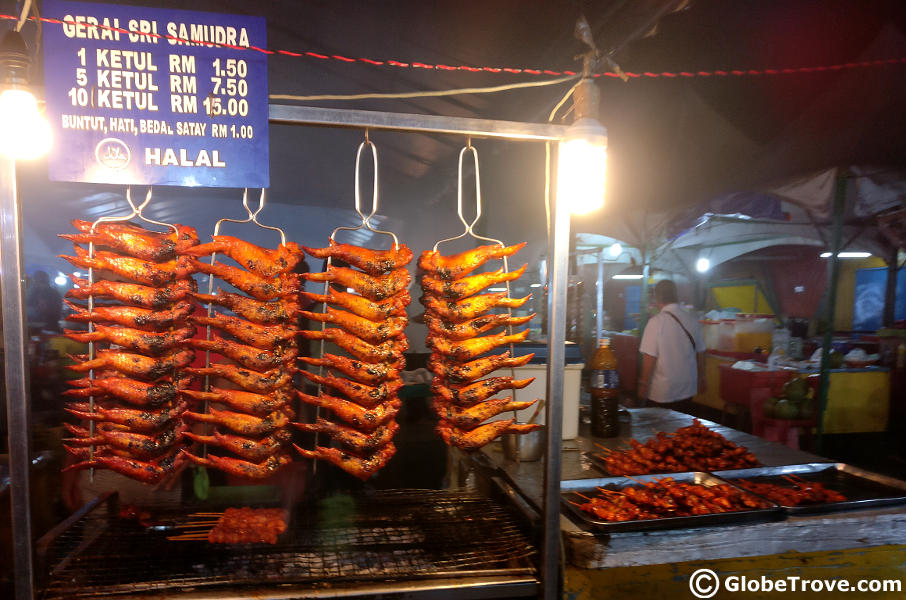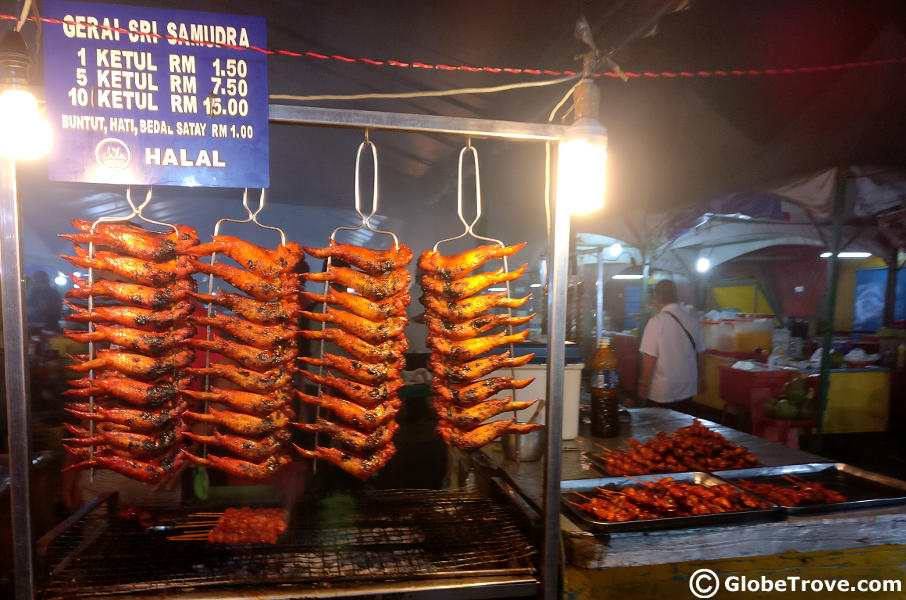 The night market is all about food!
The Night Market is a really popular on the list of things to do in Kota Kinabalu. The night market definitely has a lot of food. As you start wandering around the market you are surrounded by the smell of delicious food. What you will realize is that the market has two parts. One part mostly deals with chicken and the other half deals with seafood. So choose what you want to eat by choosing a side.
The Filipino Handicraft Market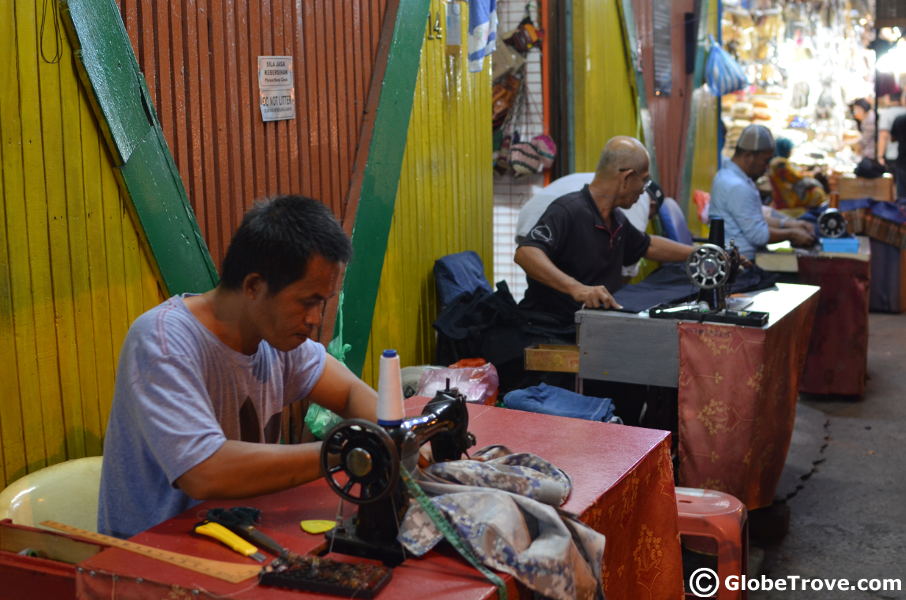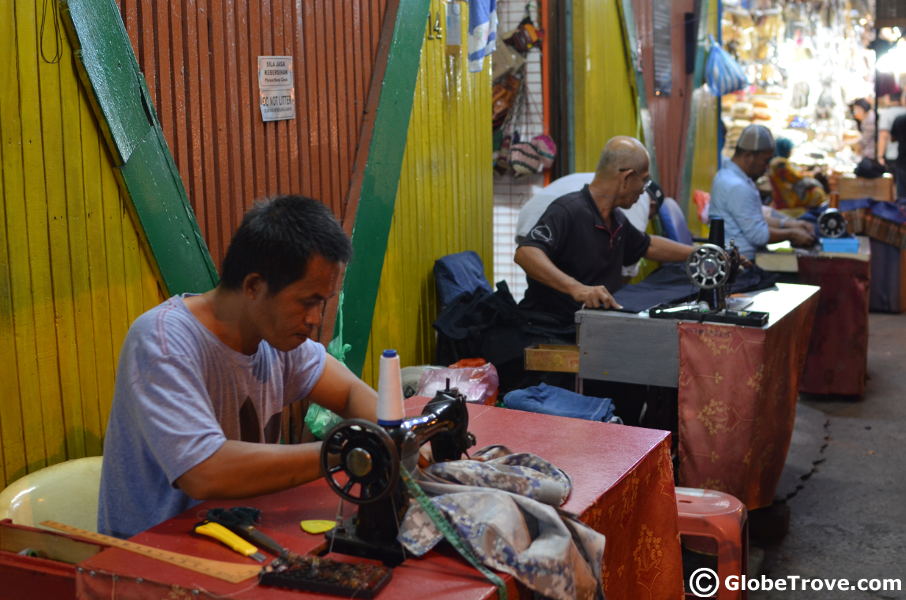 Everyone was hard at work!
I'm not really sure where the Night Market ends and where the Filipino Handicraft market starts. It sometimes makes me wonder whether it is all part of one large market. The Filipino market however has a lot of Handicrafts for sale. You can also find salted fish, fruits and even vegetables in the maze. Wander around in the evening. It is a fun place to be in.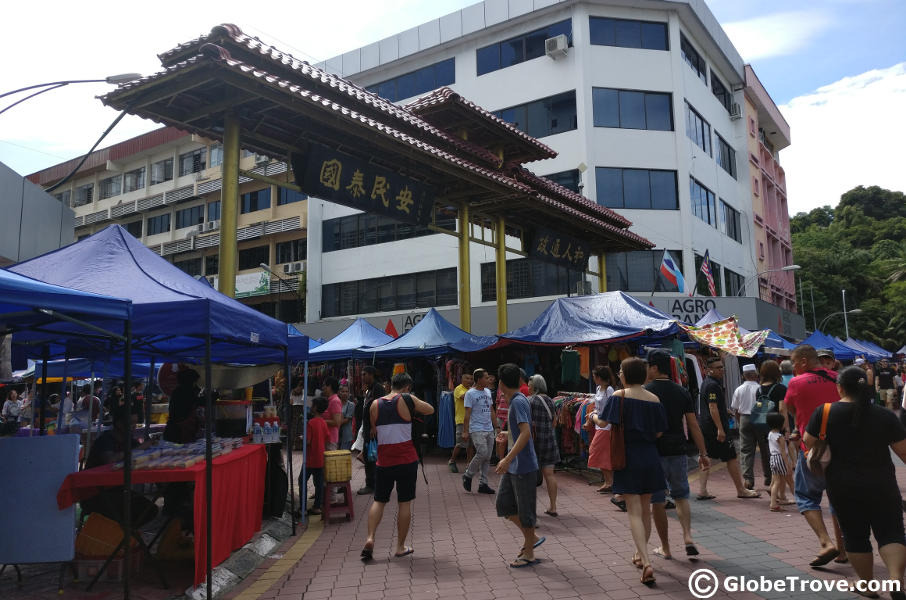 The busiest place on a Sunday morning is the Sunday market!
I love Sunday markets across Asia. I think I got hooked onto them in Thailand. When I added the Sunday market to my list of things to do in Kota Kinabalu, I wasn't really sure what to expect. The market however surprised me. It wasn't just food or handicrafts… It had a bit of everything. There were pets, racks of clothes, food, handicrafts and so many curious things. Bear in mind that the market is open from 6 in the morning and closes somewhere in the afternoon. So plan your day accordingly.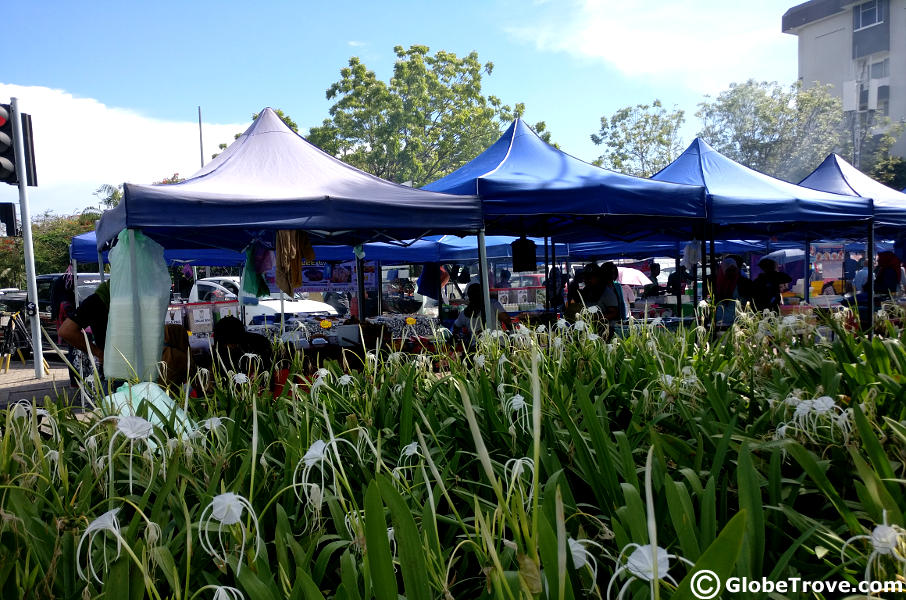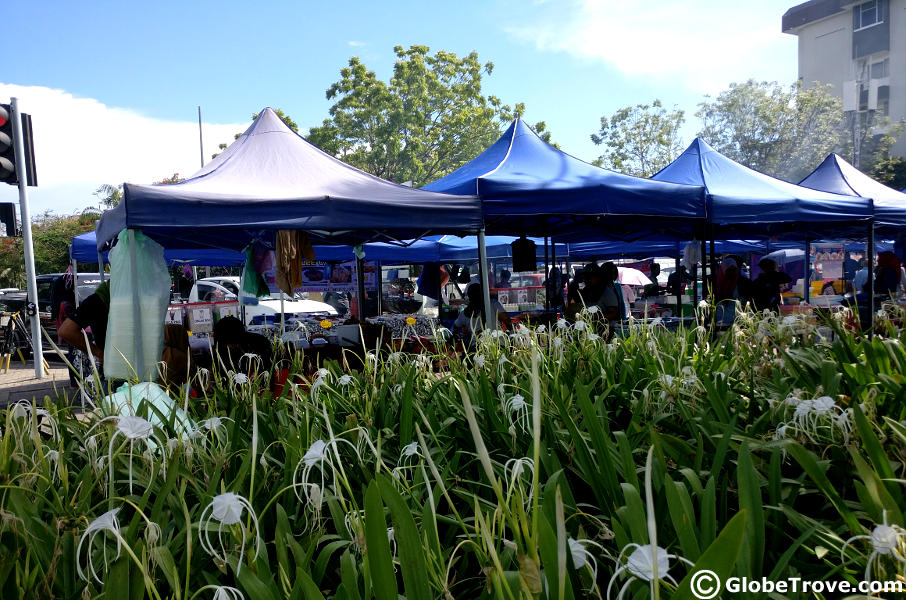 Catching a glimpse of Gaya street in the evenings.
I mentioned Gaya Street when I was talking about the Sunday market but it is important to know that the Gaya Street is a great place to visit on other days too. I've been in Kota Kinabalu during the Ramadan period so every evening a large number of stalls get set up and food literally flows over. Despite the stalls you will find that numerous restaurants that are definitely worth your time.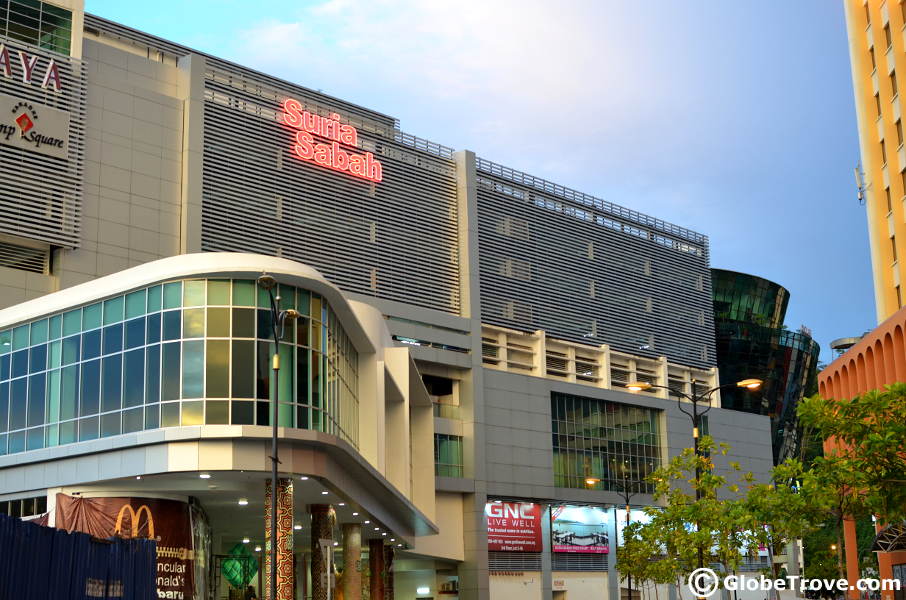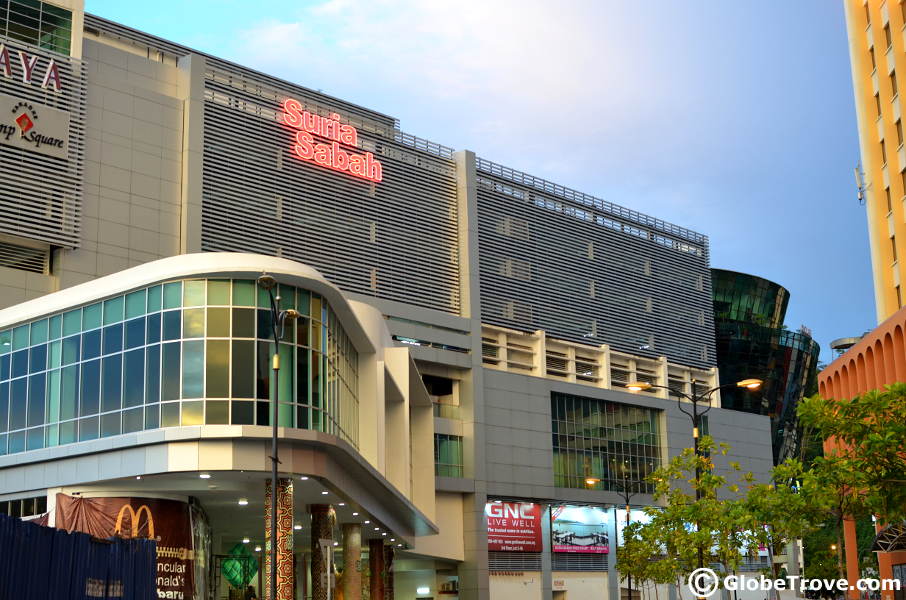 One of my favorite things to do was to explore the different malls. They were all so different!
I have never been to a city that has as many malls as Kota Kinabalu. Almost every second building is a mall. There are big malls and small malls, cheap malls and expensive malls, new malls and old malls… The list is endless and I'm not even going to enumerate on their names because I can't remember them all! I say this while sitting in Kota Kinabalu itself so it isn't my memory that is hazy!
GET ACQUAINTED WITH THE WILDLIFE
Borneo is known for its wildlife. While Kota Kinabalu is a city, you can do plenty of stuff that involves wildlife if you have time. Bear in mind that many of these items involve long drives but they aren't as bad as you would imagine.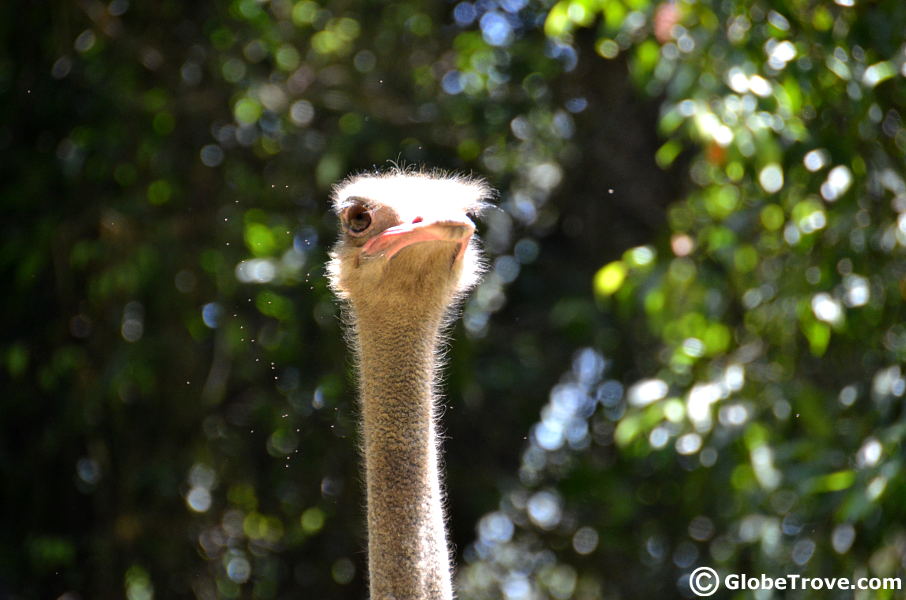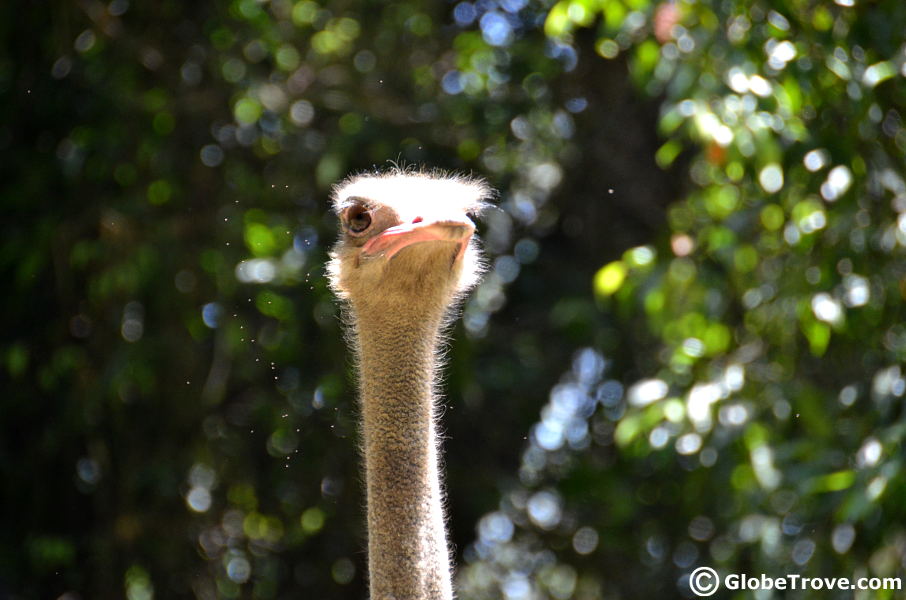 Lok Kawi lies about 20 kilometers outside Kota Kinabalu. It's about a 30 to 40 minute drive but the roads are amazing and it makes the drive so much better. Lok Kawi is a wildlife park and it has a varied collection of different species in it. For me it was a chance to see orangutans in person because I couldn't make it to Sepilok. Lok Kawi also has a botanical park attached to it but you need a non rainy day for you to be able to trek through it.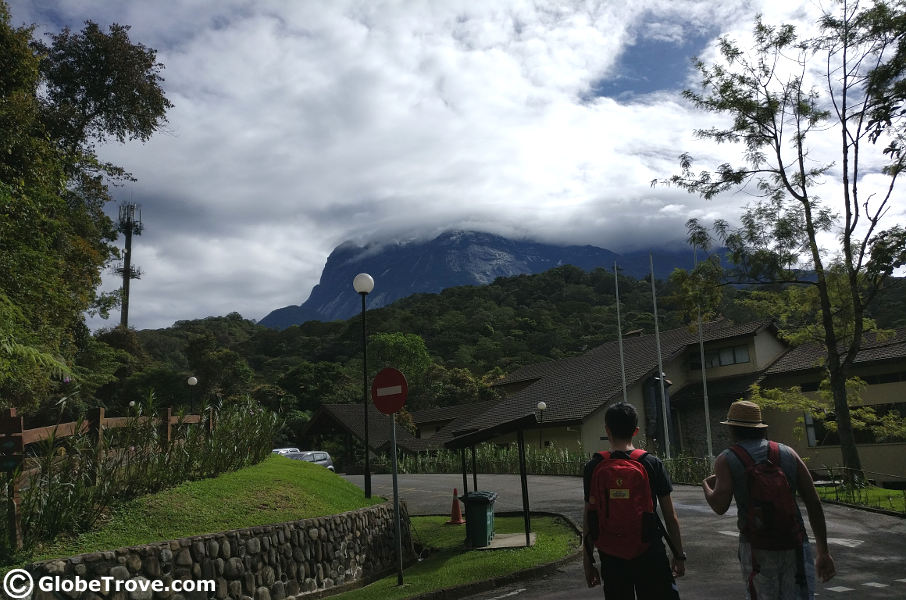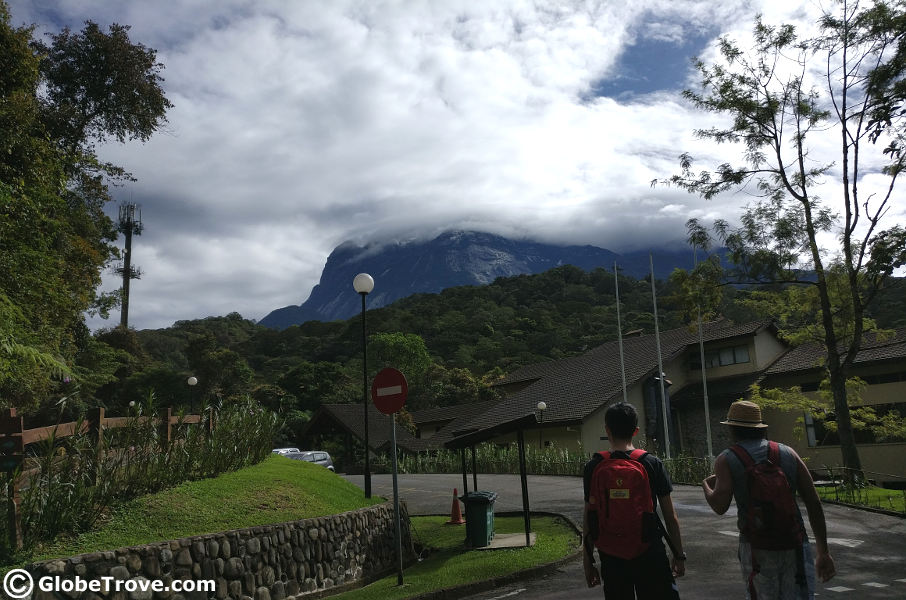 There certainly is a lot of nature to appreciate at Kinabalu National park!
The Kinabalu National Park is a great way to get up close with Mount Kinabalu if you are someone like me who doesn't intend to challenge the mountain. At 4,095 meters the mountain looms overhead. On a clear day you can look up at the heavens and catch a glimpse of the peak as you drive towards the Kinabalu National Park.
Kinabalu National Park isn't just about a glimpse of the mountains peak. There is a lot of nature all around of you. Trek through the trails, learn about the ecosystem or just sit back and relax.
Kota Kinabalu Wetland Center/Kota Kinabalu Bird Sanctuary
The Kota Kinabalu Wetland center is a great place to take in the wildlife near the city or so I hear. It is another one of those items that slipped through our fingers because we kept putting it off due to the weather or lack of time. My research told me that the best time to visit is in the morning. I would rather have done late evening because you usually see birds and the temperature outside is much cooler.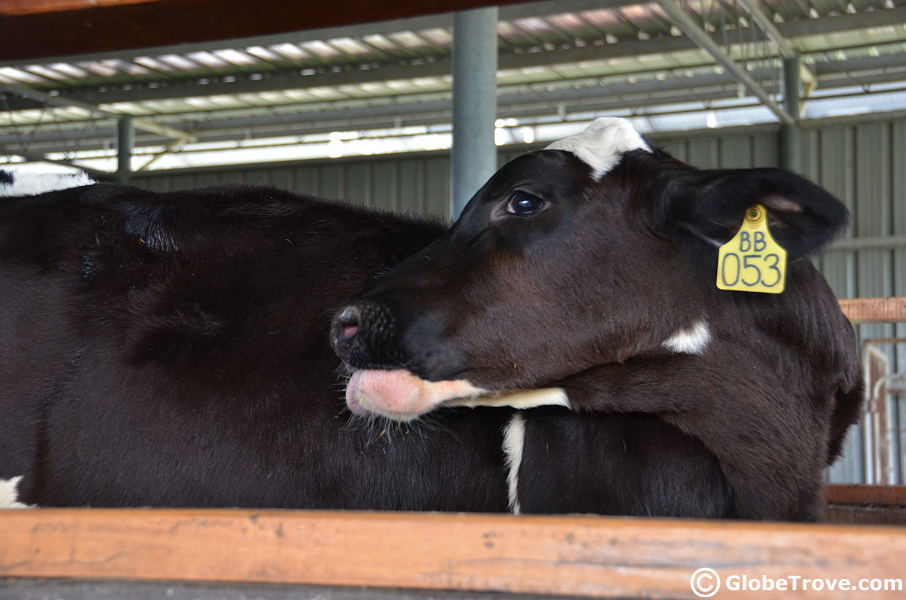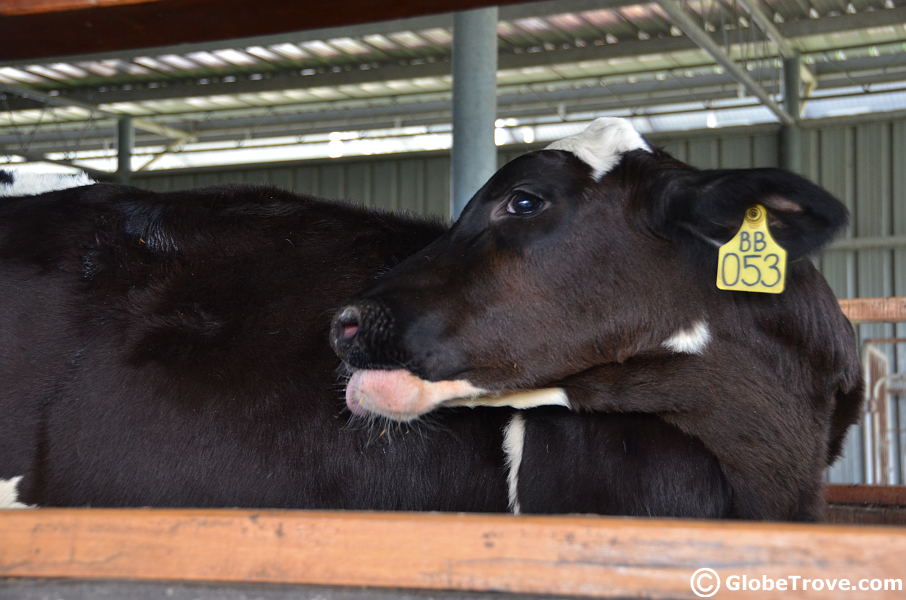 Cows, goats and the gorgeous scenery… That is what the DESA farm has to offer.
When I went to the DESA farm I did not know the amount of history that the farm represented for the Borneo island till a friend told me about it. Apparently the DESA farm was the only farm that supplied the whole Borneo island with fresh milk at one point of time. The DESA farm is a short drive away from the Kinabalu National Park and is good for quick pit stop. Grab a gelato ice cream and watch the how the cows line up to be milked. That's the max that you can do. The views however are really awesome.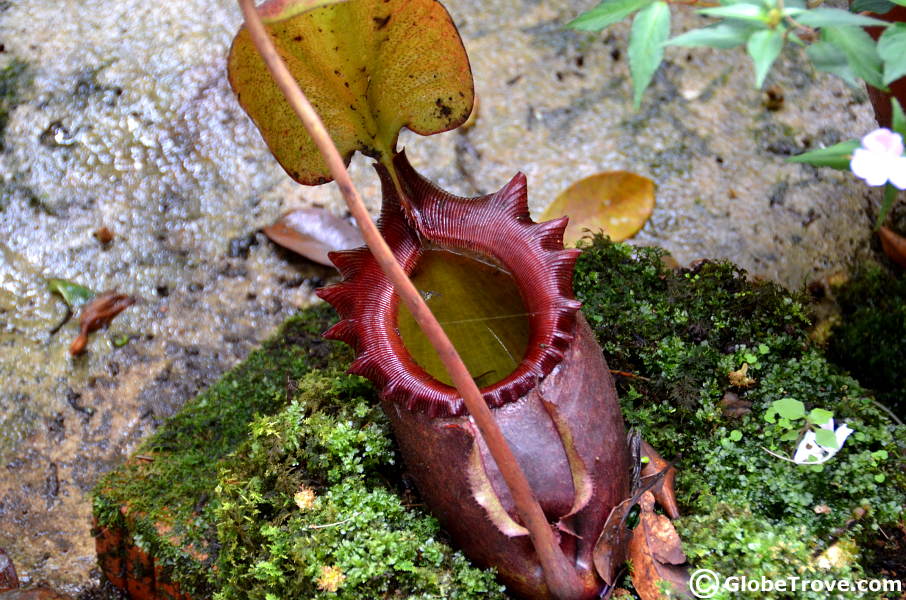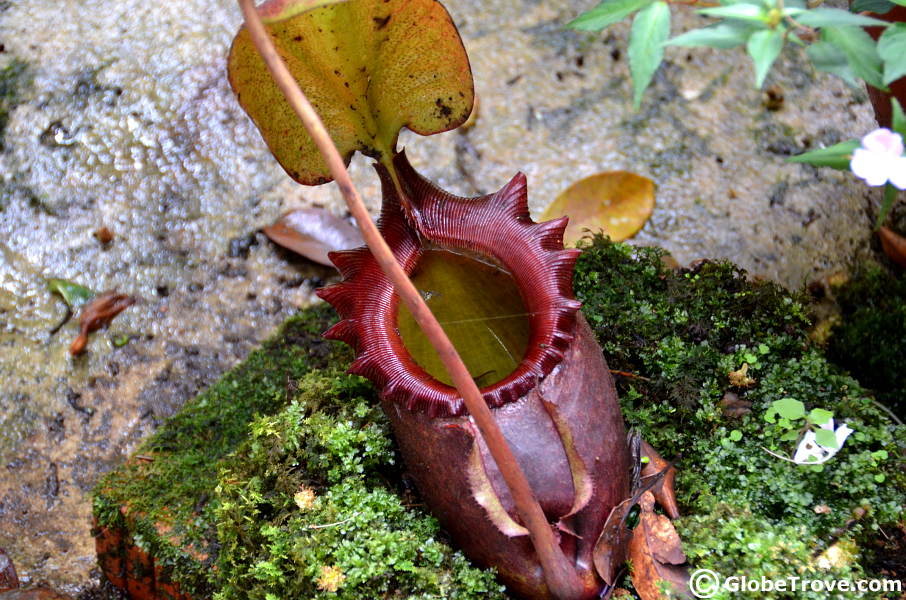 Our first glimpse at a pitcher plant!
The botanical garden is located near Kota Kinabalu national park. I particularly liked this garden because it gave us a chance to learn about the different species of plants that live within the island. Unlike the Botanical garden in Lok Kawi, the plants were labeled and there were a number of helpful signs. We later learned that there was a canopy walk in the Botanical garden. We sadly missed that because we weren't aware of it.
The Firefly River cruise is another popular attraction in Kota Kinabalu. It is a 2 – 2 ½ hour drive out of the city before you cruise down the river to spot some of the wildlife in Borneo. The long drive deterred from heading out on the cruise but I've heard that some people really enjoy it.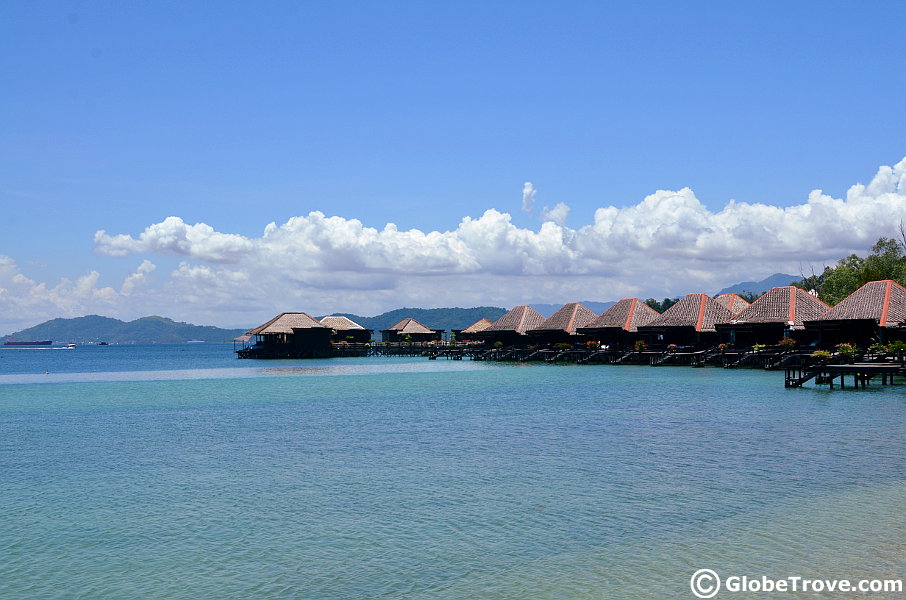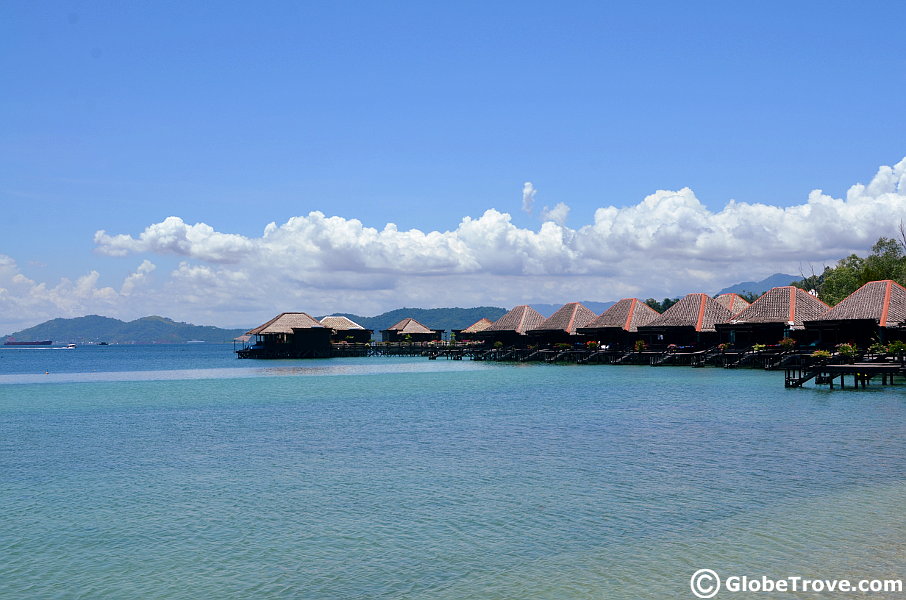 A glimpse at the islands in Tunku Abdul Rahman Park
Sapi, Manukan, Mamutik and Gaya are the four popular islands that are just a 20 minute boat ride away from Kota Kinabalu. Boats depart from the Jesselton harbor at frequent intervals starting from 8 in the morning. Each island has its own coral reef and marine life which is well worth seeing. The islands are perfect for a day trip and you can take your pick of how many islands you want to visit and where you want to go.
Marine Ecology Research Center (MERC)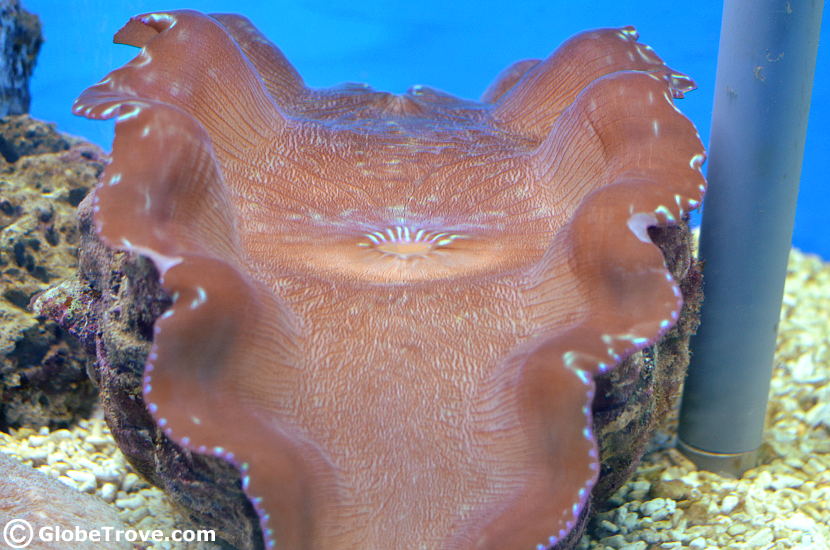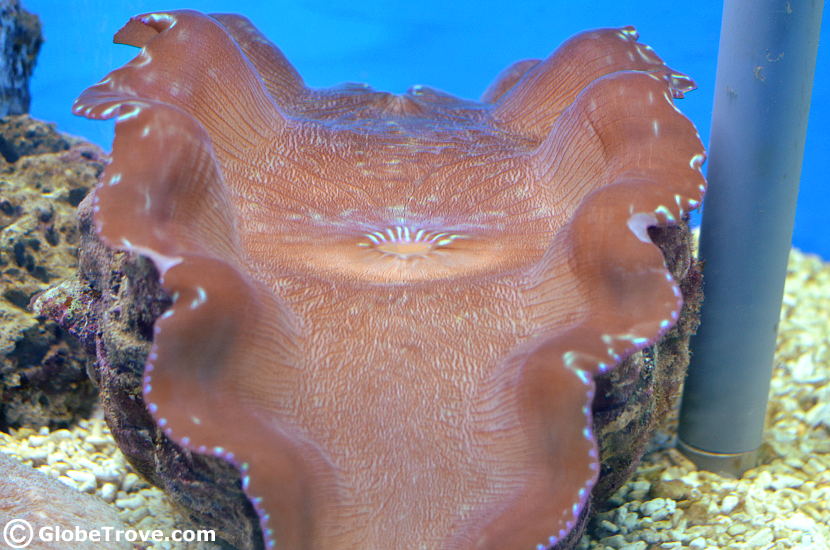 Learn about how important it is to conserve the Marine ecosystem at MERC.
Located on Gaya island, the Marine Ecology Research center works towards preserving the biodiversity of the reef on Gaya island. They plant coral, set up artificial reefs and breed giant clams all in an effort to conserve the reef. When you visit MERC one of the volunteers or Marine Biologists will take you around and teach you about the different species of coral and fish that you can see around the island.
Borneo in general has an interesting past. I believe that truly understand a culture you need to know how the people lived before, what they ate, what they believe in etc. It is not always easy to do this. Kota Kinabalu does offer a few ways through which you can catch a glimpse of the past and the present.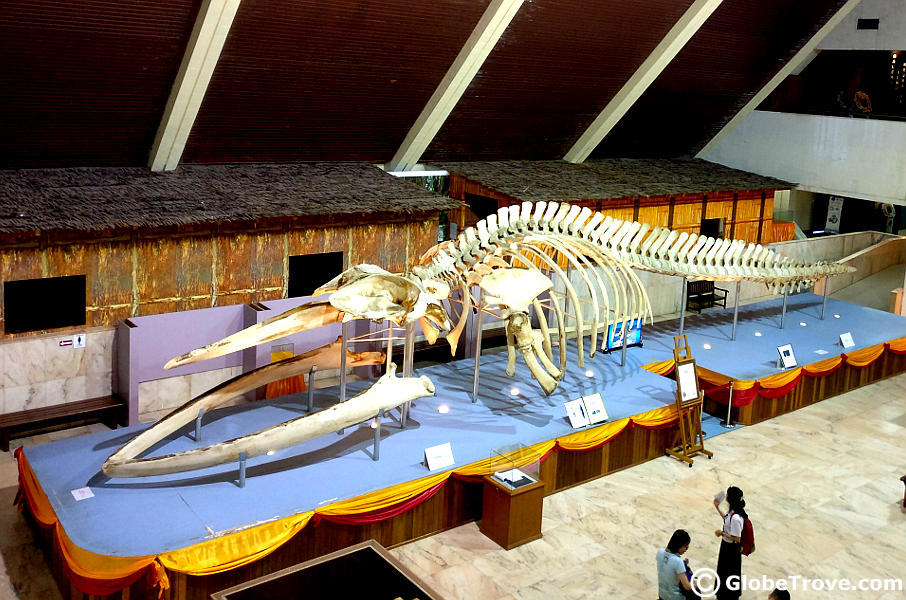 Large bones aren't always dinosaur bones!
The Sabah Museum is a great place to start if you want to catch a glimpse of what Borneo is like. The exhibits tell you about the influence that other cultures have on islands culture. It also gives you an understanding of biodiversity that exists on land and in the sea. Interestingly enough you can walk through the huts in order to see what the traditional accommodation was like.
The Mari Mari village is supposed to be a great way to experience the culture of the island. We never got around to doing this though. A number of tours take you to the culture village. There are three timings. One in the morning, one in the afternoon and one in the evening. The night one is slightly more expensive because of there are a couple of more activities that are included.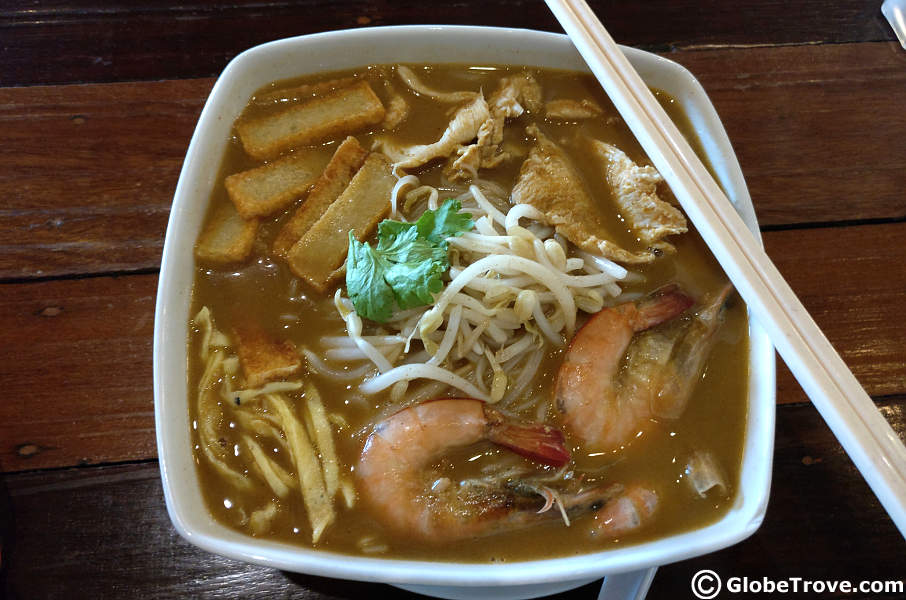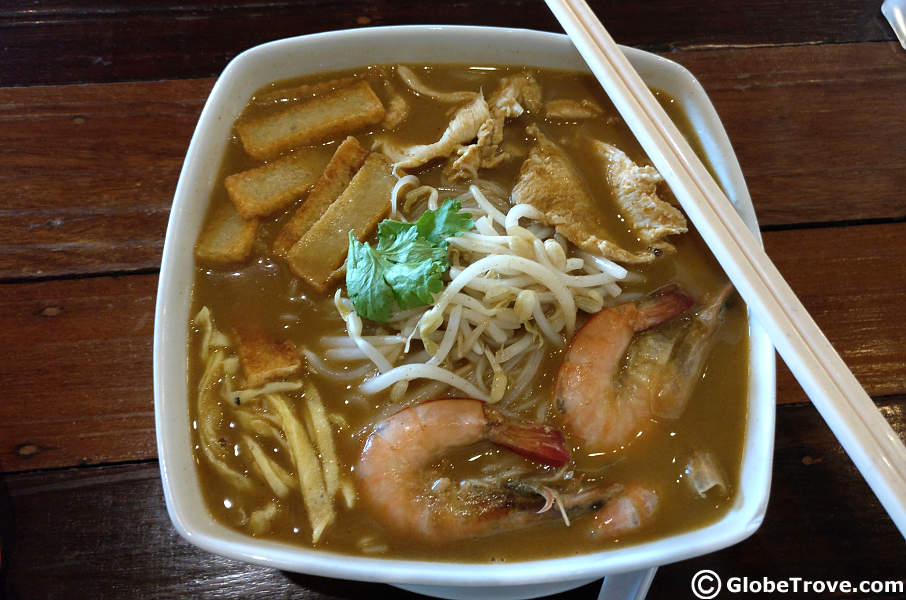 Kota Kinabalu is a foodie's paradise!
Kota Kinabalu has one of the most amazing collections of different cuisines that I have ever seen. Our two weeks in the city meant that we had to treat our palate to the different flavors. Much to our surprise all the favors did not originate from Malaysia. You could find food from different parts of the world. Japan. Korea, America, Mexico, Hungary, India…. The list goes on! That inspired me to write an in depth guide and I call it the Ultimate List Of Places To Eat In Kota Kinabalu.
Kota Kinabalu has a lot of stuff for people who love the adrenaline rush. If you aren't one of them then don't worry, there are a number of peaceful pastimes too! Here are some of the other activities that may interest you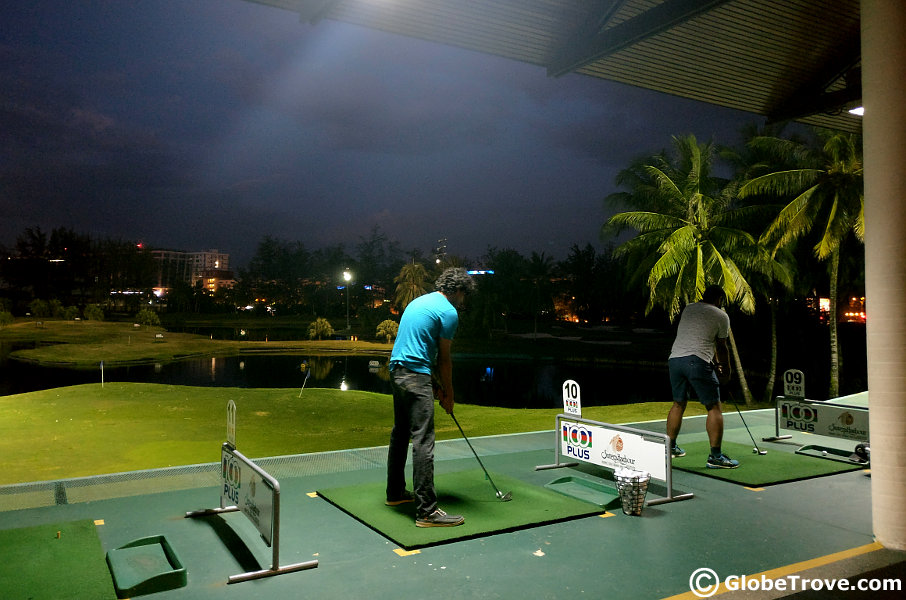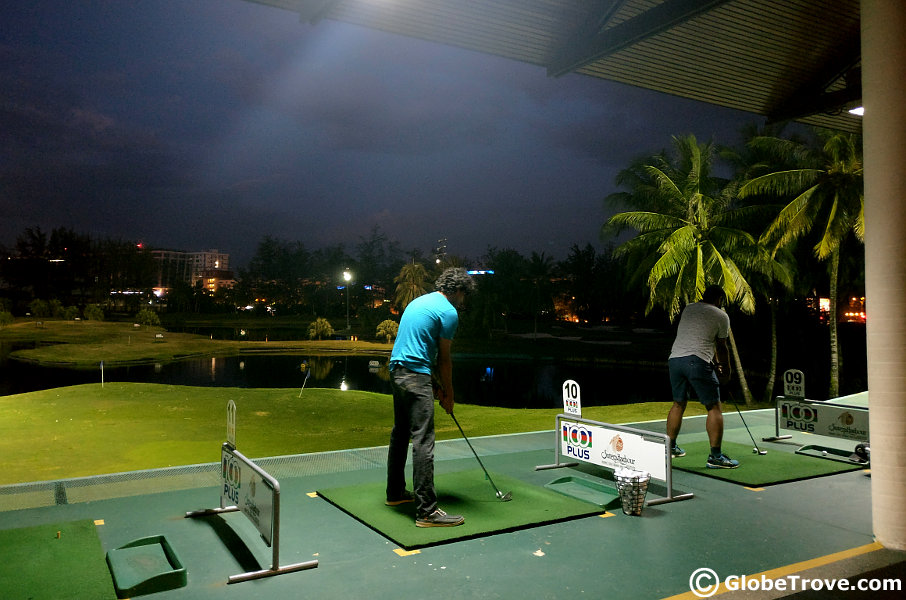 We even tried our hand at golf!
There are two driving ranges in Kota Kinabalu and you can visit either one of them. We went to the Sutera Harbor Golf and Country club. It is a lovely place to visit and they beautiful golf course. It was my first time ever playing golf so we stuck to the driving range. Luckily we had a few experts in the group to teach us.
Kota Kinabalu has a number of movie theaters for such a small city. The shows are numerous so if you are feeling bored just wander in and you will find a movie you can catch. We watched the Mummy while we were in the city and the theaters were quite nice.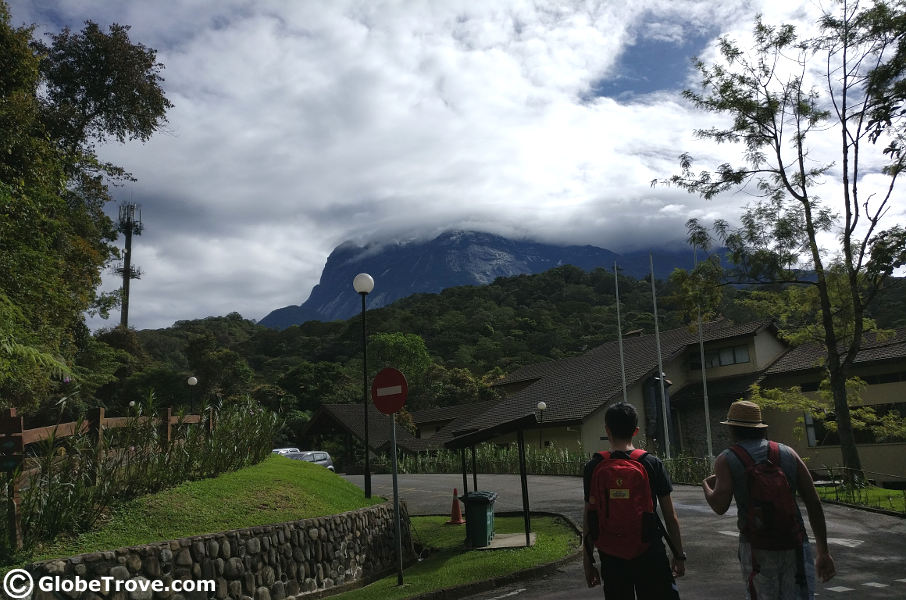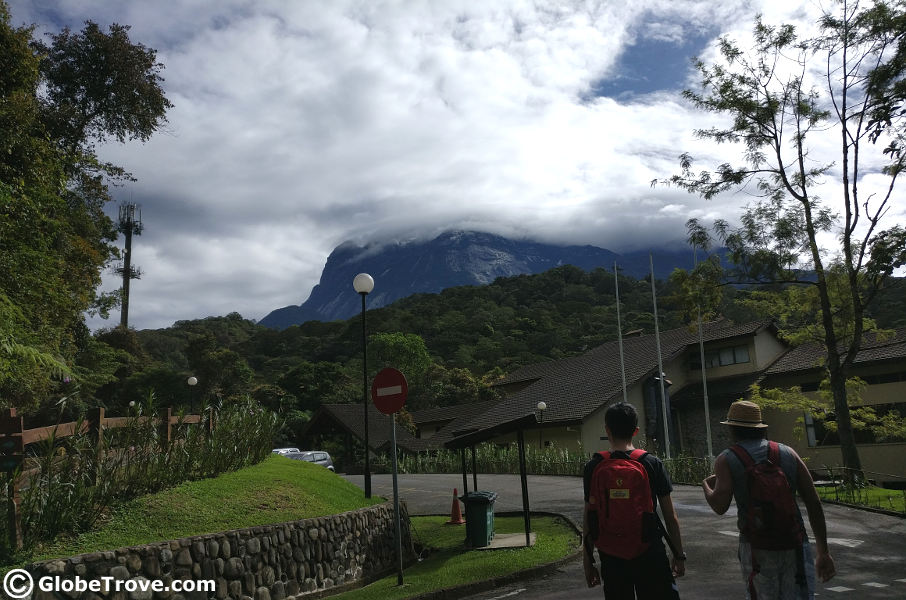 Never underestimate the mountain!
If you love the thrill of challenging a mountain and climbing to new heights then you should consider trekking up Mount Kinabalu. At over 4000 meters the mountain is formidable and the cost to trek up can get expensive. We didn't do it and I would suggest doing your research on the prices before heading out.
Another fascinating thing to do is head out to the zip lines. The zip lines connect the two islands so you are basically flying across the sea from one island to another. A couple of our friends tried it out. So if it is your cup of tea then head out to the island of your choice. Just be sure to check which island has the starting point.
Parasailing is available too. We were at Sapi island when four of our friends went ahead and tried it. Shawn and I loved the Sapi reef way too much so we spent all of our time snorkeling. I'm not sure but I think that you need a minimum number of people to do parasailing. Oh and a tip is to bargain a bit. Be nice and they will be nice too!
Kota Kinabalu is a marvelous place. It has something for everyone. It has the fast pace and yet it has the tranquility. To me Kota Kinabalu is a place that you should go to if you want to get away from the world and yet still feel connected. I find it hard to describe. There are a number of things to do in Kota Kinabalu. You don't have to run about completing them all. Take a break and let the place seep into your being. Trust me you will go back with a better frame of mind. That's what I did and I don't regret it.