Christmas in South East Asia is as magical as it is in the rest of the world. Sure we don't always have the white Christmas that people talk about in USA, Canada or even in parts of Europe but don't be quick to write it off. Last year I spent my first Christmas in Vietnam and I realized just how interesting it is to see how the Vietnamese celebrated Christmas. Christmas in South East Asia was a novel and uplifting experience. That inspired me to get in touch with other travelers who dare to be different.
So if you want to try celebrating Christmas a little differently, Think of considering spending Christmas in one of these locations in South East Asia.
East Timor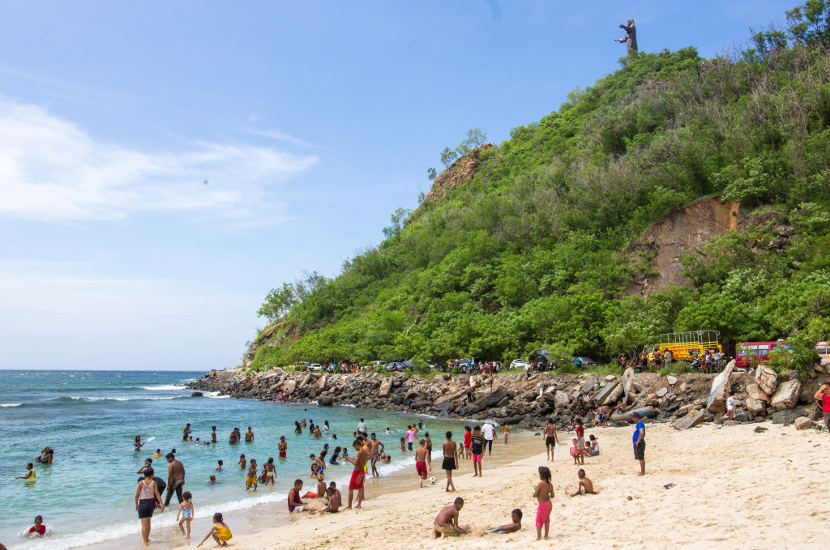 East Timor was Chantae's country of choice when it came to spending Christmas in South East Asia.
East Timor was once occupied by the Portuguese (Catholic) and then occupied by Indonesia, who forbade citizens from believing in more than one god. This caused East Timorese to abandon their former animistic beliefs and convert to Catholicism.
Today, East Timor is a Roman Catholic country, with devout followers who celebrate Christmas to its full scale. In the weeks leading up to Christmas, you'll discover hand-made nativity scenes, called prezepiu, in most public parks, in the front of communities, and even in front of houses. These nativity scenes can take up to three months to make and might even be life sized. The scenes are carefully looked after (sometimes with guards) until the first week of January.
On Christmas Day, you'll likely hear laughter, singing, and maybe even the sounds of local animals being slaughtered for a Christmas feast. Typically, people based in Dili – East Timor's capital – go back to their home villages to visit with family until the start of the new year. Those who stay in Dili flock to the beach for a swim in the tropical water.
If you happen to spend Christmas in Dili, make your way up to the top of Cristo Rei at Cape Fatucama, the second largest Christ the Redeemer statue in the world. There will also be locals climbing the many steps to reach the top of Cristo Rei to pay homage to Jesus Christ and capture stunning views.
Christmas in East Timor is unlike anywhere else in the world. Their strong faith, culture, and unique landscape make it an incredible place to visit during the most wonderful time of the year.
Thailand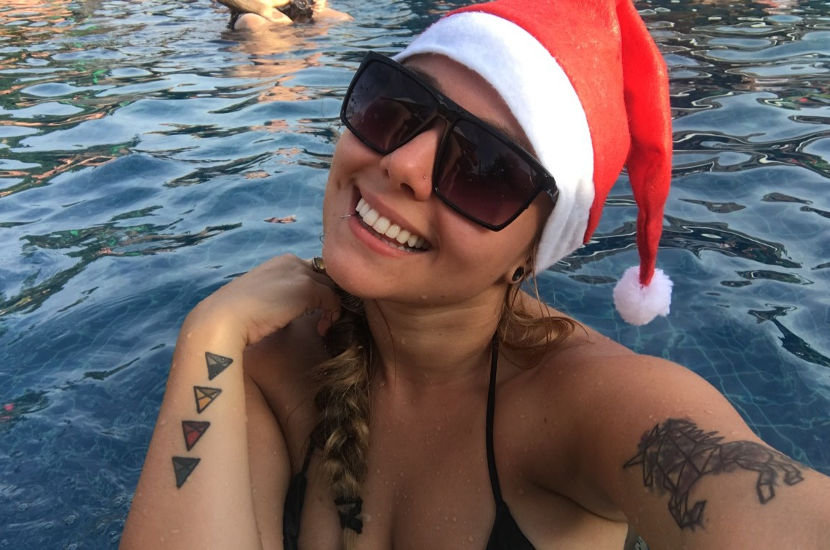 Ania chose Phi Phi islands in Thailand to spend Christmas in South East Asia.
Phi Phi is one of those islands that I love no matter what time of year it is. It is especially lovely around the holidays. During the holiday season Phi Phi transforms into a magical lit up paradise for backpackers and travelers from all over. The entire island is decorated with Christmas lights and everyone is extra friendly around the holidays. There are a ton of activities for everyone, from pool parties, to boat cruises, to renting out water sports, or just relaxing on the beach. The nice thing about being on Phi Phi during Christmas is that tourism slightly goes down. I've been there several times and a few of the times there were just way too many people. Though on Christmas because most people want to spend their time with their families and travel back home before the holidays. The island isn't as busy as it is around peak season.
Everything stays open late on Christmas as well so you have your choice of where you fancy for a Christmas dinner. This past year I went to an awesome pool party at Ibiza Hostel where everyone was wearing Christmas hats, followed by a new tattoo, was able to have some delicious Italian as my Christmas dinner, and finished the night on the beach with new and old friends dancing the night away while watching fire dancers all night. It really is the perfect place for anyone looking to get away and spend time on an island for Christmas.
Vietnam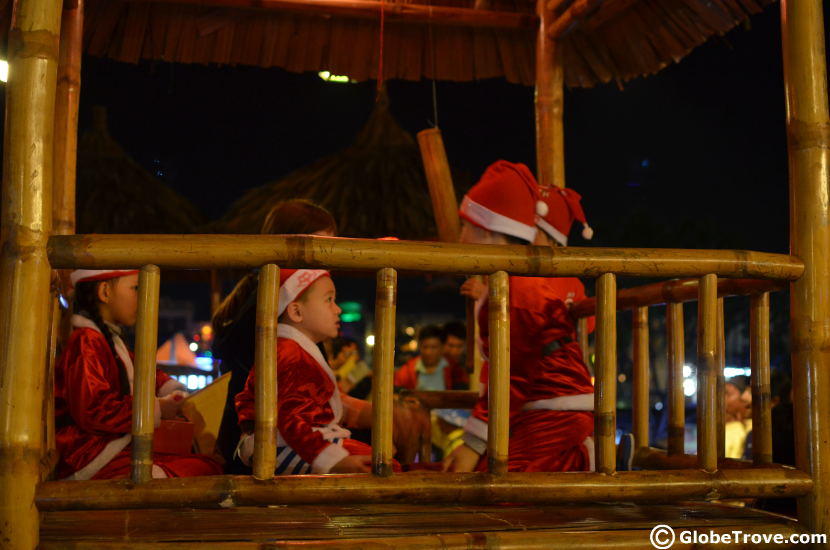 Hoi An in Vietnam was where Shawn and I spent Christmas in South East Asia last year.
We really didn't go to Vietnam to specifically celebrate Christmas. Christmas happened to fall in the middle of vacation plans and being flexible we decided to celebrate it in whichever part of Vietnam we were. While we were on the road we interacted with a number of backpackers. Almost everyone was headed towards the two big cities (Hanoi and Ho Chi Minh) to celebrate Christmas. They talked of fireworks and parties and a whole lot of fun.
We on the other hand were going to be Hoi An. It is located on the central coast of Vietnam and is highly popular because it is a preserved ancient town. Not knowing what to do and how Christmas is celebrated in Hoi An made us a wee bit nervous.
Christmas eve was marked by midnight mass, plays by children outside the church and a lot of Christmas markets. In retrospect Christmas eve was more active than Christmas day. I think is probably because everyone was busy celebrating with their families in their homes. We spent our Christmas enjoying the quiet buzz of the town and wound up enjoying beers on a boat with a few friends. Floating candles released on the banks of the river sure set the mood and a neighboring musician strummed out a tune. Sure… We weren't in the most happening part of Vietnam for Christmas but we were where we wanted to be.
Laos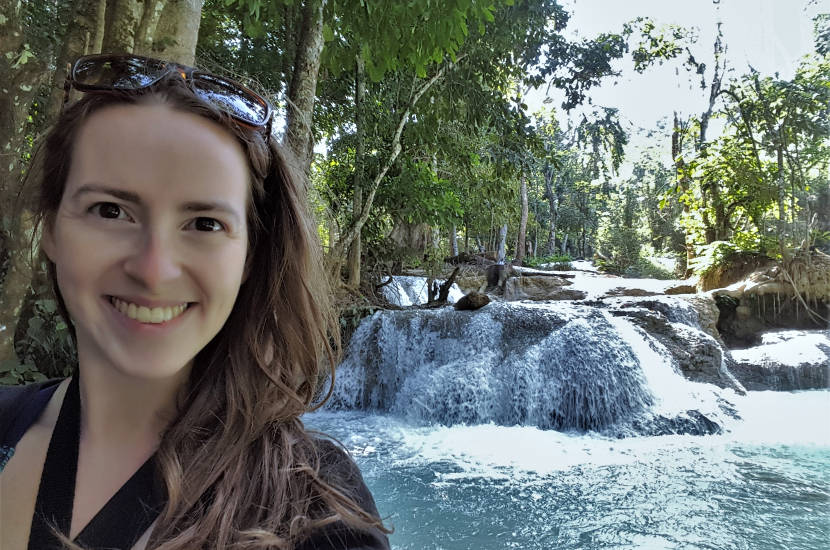 Danielle talks about how she spent her Christmas in South East Asia. Her country of choice was Laos.
When the time came for my first Christmas alone and overseas, I didn't really plan to be in Laos. The time and the place just wound up nestling together in my itinerary as snugly as Laos itself is tucked into Southeast Asia. As it happened, Luang Prabang was a lovely city far enough off the beaten path to have a gentle pace of life, yet with enough tourism to be welcoming to anyone who wants to celebrate Christmas. The weaving collaborative Ock Pop Tock hosts a Christmas Eve event with a gourmet dinner and local folk dance. They also offer classes where you can learn how to dye and weave silk with local master artisans. The placemat I made (with a fair bit of help) is one of my favorite souvenirs from my RTW trip. For other things to do, the UNESCO World Heritage listed city center is your best base. As the center of a former French colony, Luang Prabang is filled with beautiful architecture, one of the region's best night markets, and several Western-Asian fusion restaurants where you can grab a delicious meal. There is also a lot of overlap between Lao and Thai cuisine, so no matter where you end up, you're sure to find a familiar dish. Joma Bakery, a Southeast Asian chain modeled on Western bakeries, even plays Christmas carols during December. (They also have the strongest WiFi in town.)
There are tons of beautiful temples packed into the center, but early birds won't want to miss the one atop Mount Phousi. The climb will reward you with an amazing sunrise view. If you're spending an extra day in the area, hire a tuk tuk to visit the legendary Kuang Si Falls. Pack your swimsuit to take a dip in impossibly opalescent turquoise swimming holes along the easy hike to a striking three-tier waterfall.
Philippines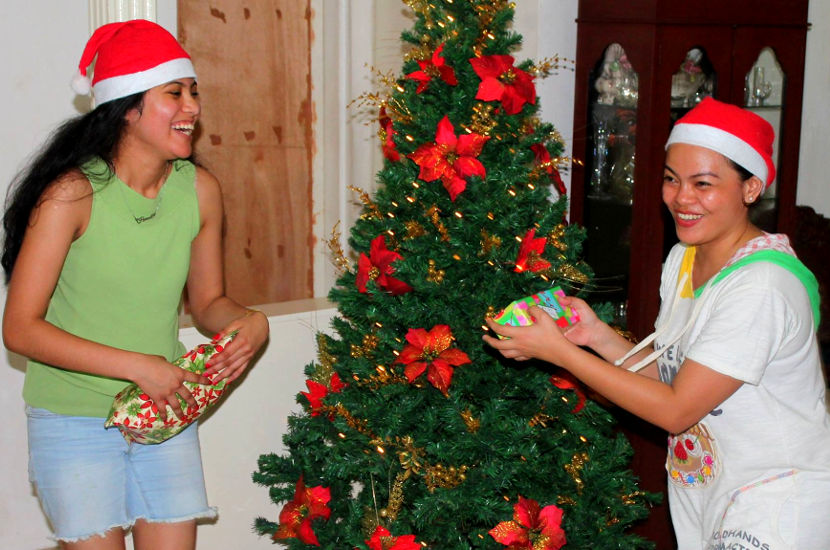 Ferna feels that the best place to spend Christmas in South East Asia is the Philippines.
Growing up in one of the predominantly Catholic countries in the world, it is no doubt that celebrating Christmas in the Philippines is a big thing. Apart from that, the people in the Philippines are known for being hospitable. We started proclaiming Christmas when September 1 strikes and this will last until the first week of January the next year. Making the country known for the world's longest Christmas season. Christmas carols and songs can be heard during  "Ber Months" (Ber Months as the months of September-December) and Christmas decorations were pulled since September 1 and that includes putting Christmas trees. This is a family tradition, but the main celebration is more of like a feast which is in the whole month of December.
Expect people to invite for the known "Christmas Parties" everywhere, may it be with family, or in the office or with friends or maybe a simple long table dinner.  A Christmas will not be complete without a Karaoke for singing and dancing and massive of food, drinks and the popular "Manito Manita" for gift givings. Manito/Manita or Kris Kringle is a tradition where we give gifts in a form of a game. Each party created their own games to make more enjoyable and fun. The Philippines is one of the best to experience Christmas as there is amazing interaction with people, giving more fun to each and everyone. The people value the life of giving and sharing more LOVE during this season.
Christmas day is the day for family, that is why as a Catholic country, people value the religious importance of Misa de Gallo or Simbang Gabi where the local complete the early mass for 9 days starting from December 16. They believe that by completing the early Mass or Simbang Gabi, there will be an abundance in life. Traditionally, there is a great sense of celebrating Christmas in the Philippines.
Oddly enough few people know that Christmas in South East Asia can be a lot of fun. Sure you don't get the picture perfect white Christmas (I had never seen snow till a few months ago!) but it is the experience that is worthwhile.
Have you spent a Christmas in South East Asia? Where did you go and what did you do? Do let us know in the comments. We are always looking for inspiration!
*This post contains affiliate links.
** Photographs and pictures have been provided by the authors for use in this  post and do not belong to Globetrove.