We had to catch the ferry from Bohol to Cebu city and after the last journey from Argao to Tagbilaran (Bohol) we were rather wary. Luckily, I had snapped a quick pic of the ferry timings when we arrived so we were at least aware of when we needed to reach the terminal. There are a couple of different carries that move between the cities but we chose OceanJet since they had the most frequent ferries plying to and fro. The first ferry departs at 6 am in the morning and the last at 6:30 pm. There is one approximately every hour but the timings differ. I'll put up a list of the timings in a bit so you have an idea of the schedule but bear in mind that this may change.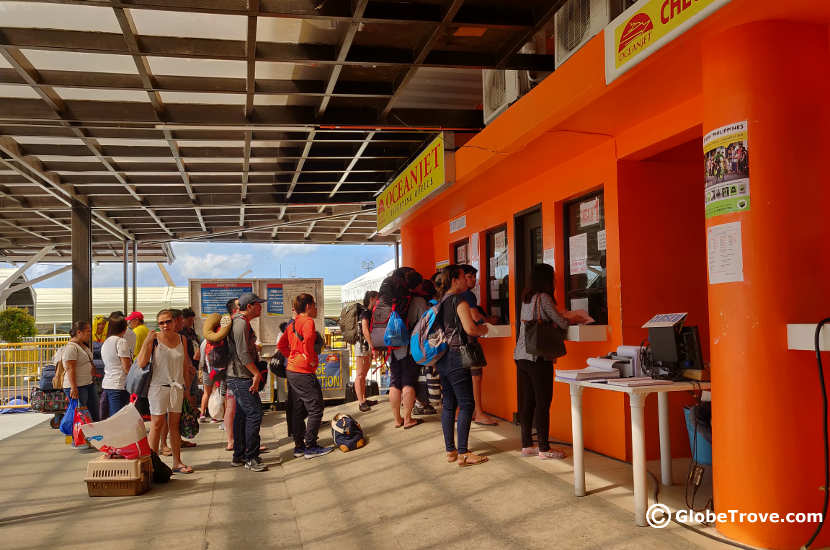 Ticket booth for the ferry from Bohol to Cebu.
We initially assumed that we had to get our ticket from outside the terminal where the OceanJet cubicles were but we turned out to be wrong. You need to walk into the terminal. The tickets are available at the counters in the second building. The security personnel are pretty helpful if you get turned around.
Now one may assume that the process is pretty simple. Buy the ticket and get in. That's what we assumed. Catching the ferry from Bohol to Cebu isn't quite as straightforward as that. Once you stand in line to get the ticket, you have to then check in which means that you stand in another line to check in. With that done, you need to stand in line to pay a terminal fee. You then proceed to a security area where you pass your bags through a scanner. It is only then that you can enter the waiting area. So plan to keep a bit of leeway in your schedule in case the lines are a bit too long.
The tickets are pretty straight forward. They have to classes. One is the open air ticket which is 450 PHP per person. The second ticket is the Tourist class which is 500 PHP per person. The difference is the later has air conditioning.  The terminal fee in the Tagbilaran terminal is 20 PHP and is checked before you board the ferry so make sure you get it or you will be scrambling towards the end.
The waiting area for the ferry from Bohol to Cebu city is rather nice. It has AC which was a big bonus since we came in from the scorching heat. The seating area fills up rather fast but don't worry too much. There is a second seating area on the floor above which was almost vacant till we left. You can even catch a bite to eat at one of the snack counters if you want. It also has a board that tells you about which ferries are departing and at what time. Announcements for departures are made frequently so stay tuned to see when yours is heading out.
When I compare our journey to our previous ferry ride from Argao to Bohol, this one was absolute luxury. Everyone had allocated seats and everyone sat in the same allocated seats. The cool air was refreshing and the ferry left on time. It took us a little over an hour and a half to reach Cebu city. The inside of the ferry was neat, clean and we even had a TV on with a rather nice Christmas movie playing. A big bonus was that it was in English.
I found the seats so much more comfortable. You get up and stretch your legs if that picked your fancy too. Luggage was stored in a compartment in the front so that you had enough room to stretch your legs too.  At the end of the trip, a bag was carried around to ensure that trash was disposed off properly which was something that I liked.
In a way, the ferry ride reminded off checking into an airport and taking a flight except in this case we did not have seats that reclined. We did have great leg room. All in all a really pleasant trip.
Have you taken a ferry in the Philippines? We would love to hear about your about your experiences in the comments below.
*This post contains Affiliate links