We had a month of holidays on our hand and we decided to travel. Why not? I mean who wastes a holiday break like that? We chose to spend Christmas in Vietnam. Why? We loved the food, it was near enough to India (not!) and it was cheap. To tell you the truth Christmas was not really on our mind when we were planning our trip. We decided to celebrate Christmas wherever the wind blew us and in retrospect it was a great idea. Our Christmas in Vietnam was celebrated with in Hoi An, a relatively small town which was once a French colony.
CHRISTMAS IN VIETNAM (OR ANY COUNTRY) IS A LEARNING CURVE
A few days before Christmas I was busy chatting with my aunt and I told her that I felt that the magic had gone out of Christmas. I asked her if it was a part of growing older. To her credit she didn't laugh at me (I'm just 28!) and said that it sometimes feels like that. You need to find the magic for yourself she said. She couldn't have said anything more true.
Vietnam has a relatively small population of Christians and we didn't think that it would be celebrated but it is. It certainly isn't as big a celebration as one in Goa is but it did us good to see the streets lighting up. It was the eve of Christmas and our train arrived late afternoon (and it was late!) in Da Nang. We caught a cab (prearranged by our home stay) at the train station which was to take us to Hoi An. With the rain on our heads and the aches in our bones, I was glad for the small bit of comfort.
IT WAS THE EVE OF CHRISTMAS AND EVERYONE STIRRED INCLUDING THE MOUSE!
The eve of Christmas in Vietnam was spent discovering the old town of Hoi An. Grabbing snacks on the way and wandering through the streets was a cool way to get acquainted with the city. I travelled with family (Shawn!) but there was a part of me that yearned for the Goan holiday with all its trimmings. The simplicity of the day accompanied by family is sometimes one of the most significant lures that a landmass can have. The feeling was contagious and before long Shawn confessed that he felt the same.
We bumped into two German friends who we had met in on our Halong bay tour. A pact was made to find a great place to eat and to meet up the next day. We then wandered on to find the church and the timings of the mass.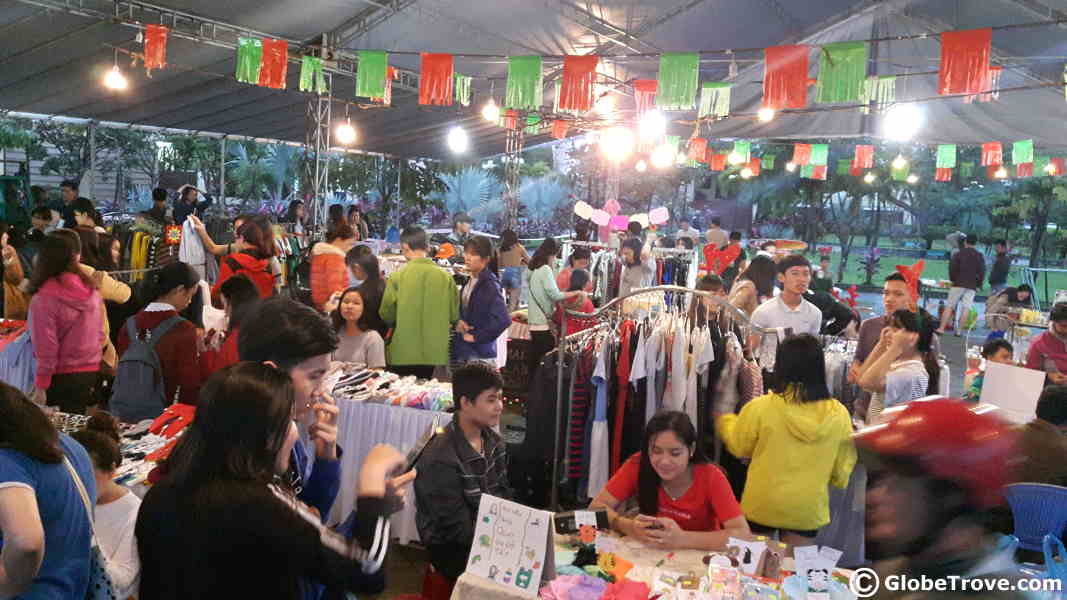 The crowded Christmas market set up by the youth in Hoi An.
Before we could tread on sacred land we stumbled across a small Christmas market that was organized by the youth in the area. It was a fun market with loads of clothes at dirt cheap prices. We joined in on the celebrations. The Vietnamese are really friendly people. They taught us how to eat different Vietnamese dishes and laughed at our mistakes. The magic of Christmas began to slowly creep into our souls once again.
CHRISTMAS IN VIETNAM: A different kind of vigil!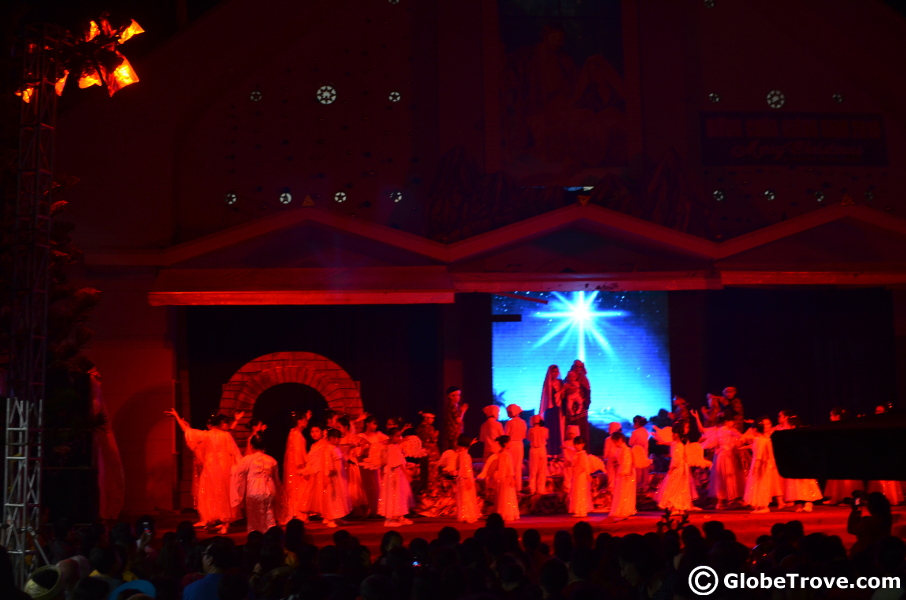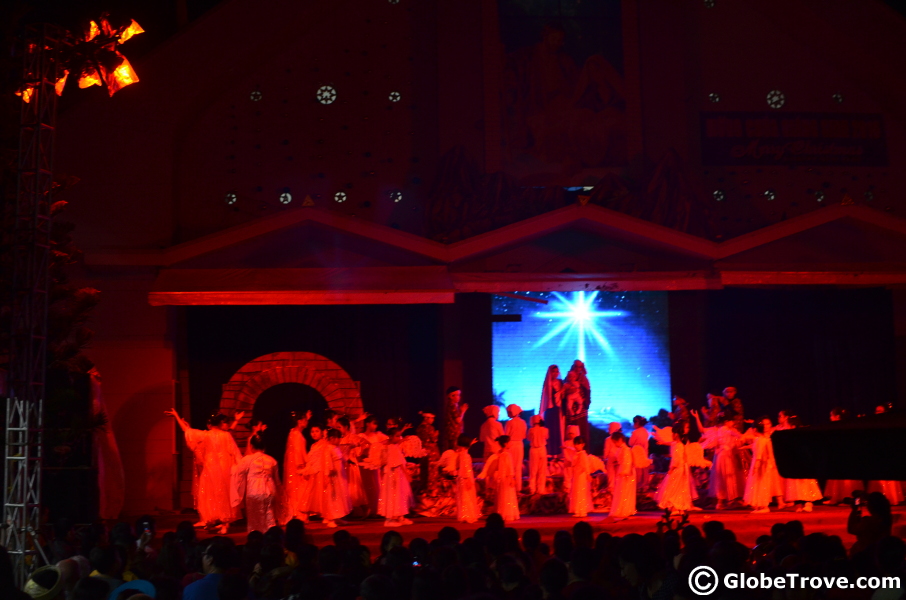 The children of Hoi An acting in a Christmas play.
The Christmas vigil was set to start at 8 pm and the midnight mass at 9 pm. We aimed to reach in time for mass but reached half an hour early. What surprised us was the troves of bikes and people that were headed in the same direction. Walking was difficult but we made it only to find a play being put up by the children. The square was crowded and the play was an integral part of the day's celebrations. It was done so tastefully with backdrops being projected on a screen and even fireworks!
WHAT CHRISTMAS IN VIETNAM TAUGHT ME AT MASS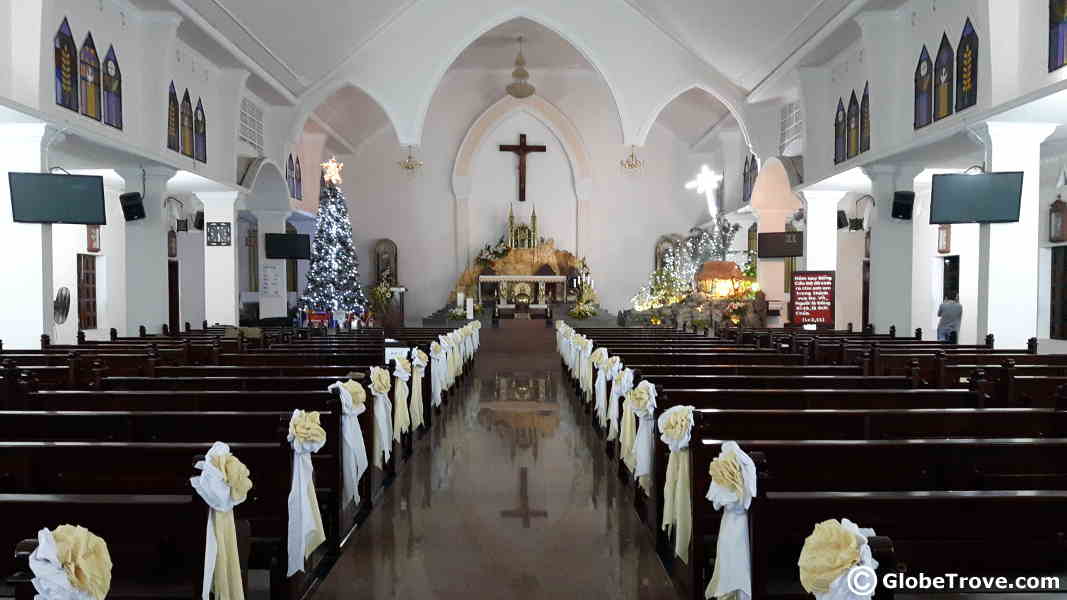 We caught a glimpse of the inside of the church before mass!
The Christmas mass was held in Vietnamese which was no surprise. We seated ourselves very close to the choir and we were very lucky to hear the delightful voices of all the participants in full force. Since there were a lot of foreigners in the crowd, the priest translated a few sentences to English and French. I did learn a few interesting things.
No matter what language the priest speaks, he will always speak in the same tone or tune. Wasn't something that I had realized before!
Customs from the land you live in seep into the mass. In this case, all the participants wore traditional Vietnamese clothing while the locals did not. While we are used to a chiming bell, the Vietnamese mass has both a bell and a drum. Not very significant to a person who does not know that the Vietnamese believe that the bell and the drum are symbols of Yin and Yang. That is why they are always placed together to attain balance.
Silent night is universal! Yes! This made me so immensely happy for they sung Silent night in Vietnamese. I started getting a bit homesick at one point when a girl stepped out and continued to sing the carol in English. It was so heartwarming that I had to go and thank the Nun who included it in the celebratory mass.
Balloon figures were being sold outside the church. I have never seen a Santa Claus face as a balloon figure before. Needless to say I was enchanted. Santa Claus balloons were another big attraction and almost all the children in the vicinity had one in their hand. Red caps, happy faces and a lot of noise was the norm of the moment.
Strangers wishing us Merry Christmas made our eyes light up. There was magic in the air! It was magic that made strangers become friends without the barrier of color, caste or nationality. It made me wonder whether we are at odds with each other because we have lost our magic and we can't see how similar we really are.
CELEBRATING CHRISTMAS IN VIETNAM WITH GOOD FOOD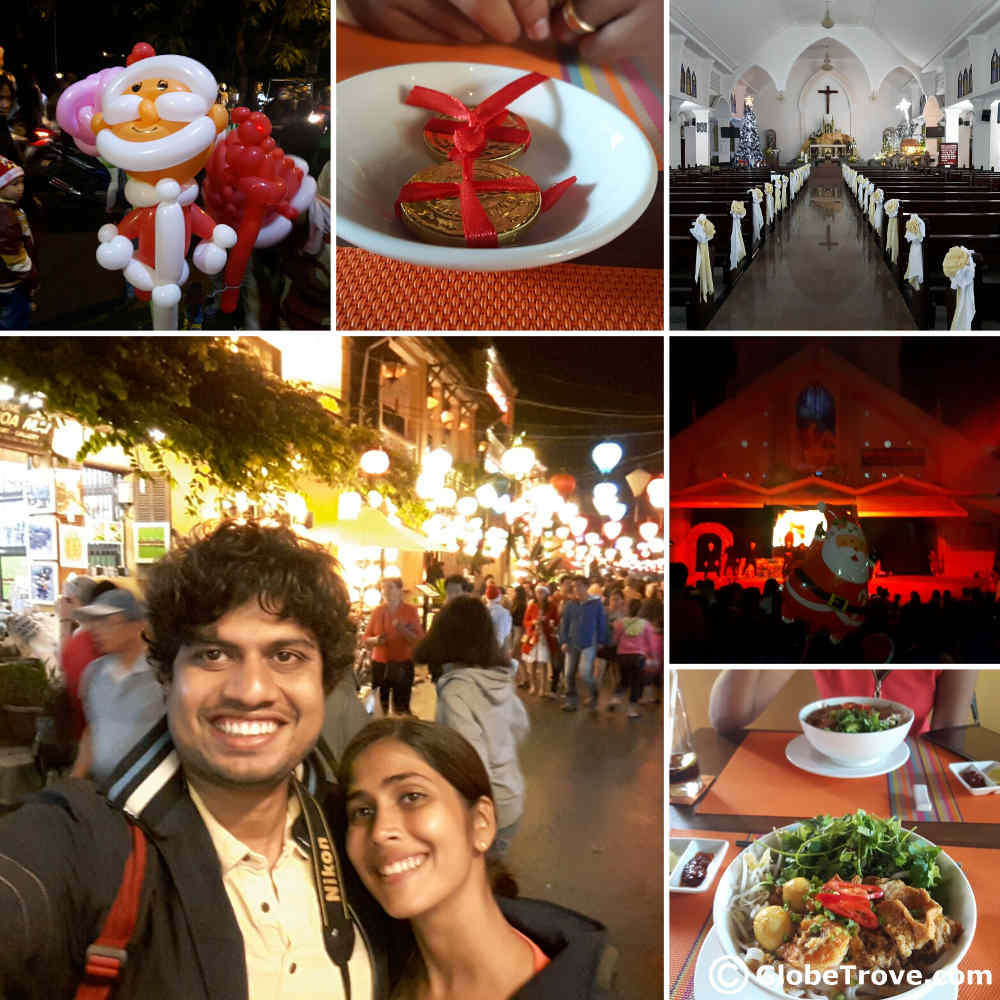 Our Christmas greetings to the world from Vietnam
Food always makes us happy. It is a universal need and I've found that it is one need that seasoned travelers put before every other. Shawn and I decided to engage in a little merriment and dine our family Christmas lunch in one of the top rated restaurants in Hoi An. We weren't disappointed. The food was good but a full stomach didn't stop us from sampling street food when we discovered the Hoi An Food market.
Shawn decided to click a snap and share the location when he realized that they had suggested the very same place! It was a pleasant surprise. Our meal was a nice pleasant affair. I guess the best way to bond with someone is over food. Our friends Stephanie and Thoralf kept us in splits of laughter as we tried to taste as much as we could from the menu.
Wandering through the streets brought us to the boats on the river. We chose one and perched ourselves on it. Beers and cold drinks were supposed to end the day but the day was far from over. We watched the lanterns float by us, listened to a man playing the guitar and exchanged stories on what is considered normal in our countries. All this was done from our vantage point on the boat.
WE JUST HAD TO SHOW OUR FRIENDS THE NIGHT MARKETS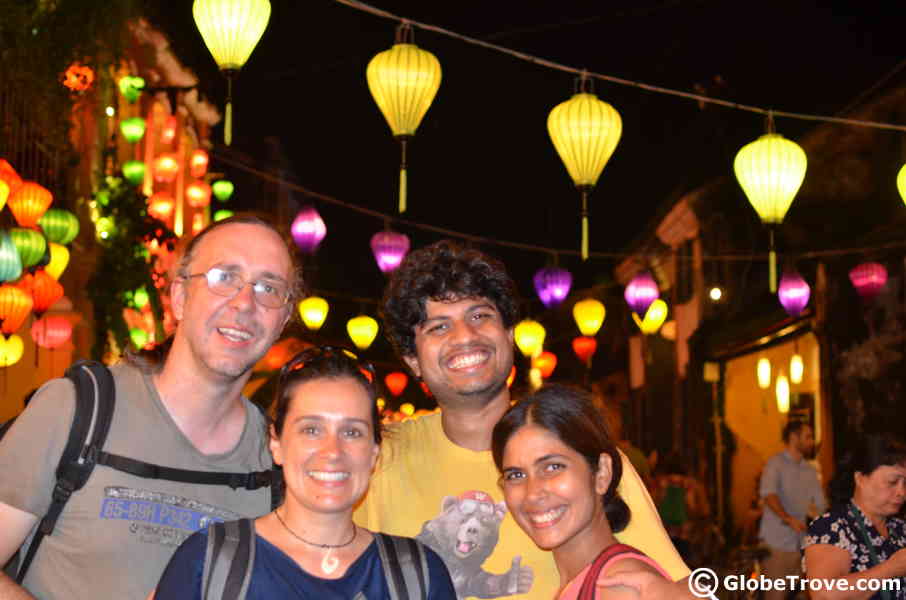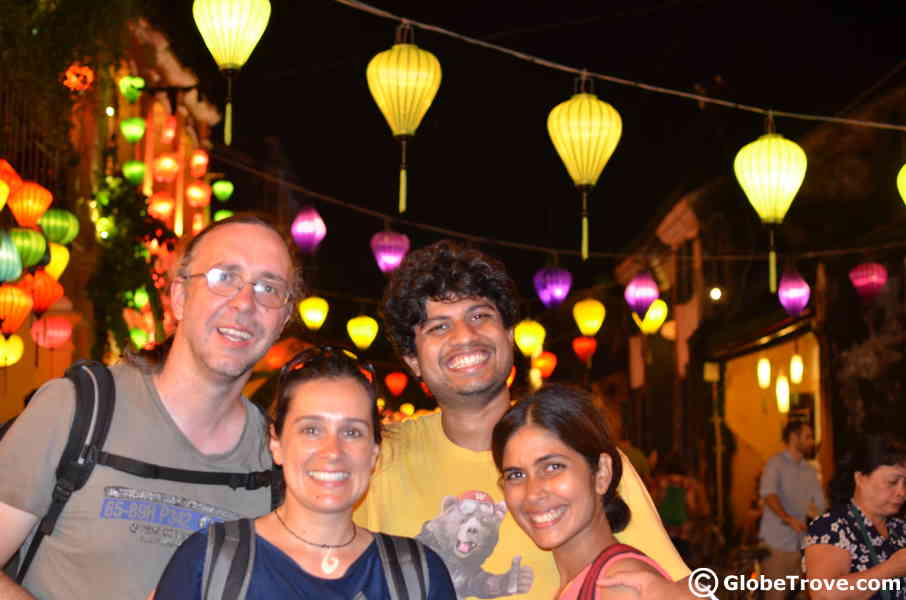 Christmas night in Hoi An old town.
I think that the lanterns on the road gave our Christmas in Vietnam an extra special experience but I think the company was the key. We browsed through shops, discarded the idea of buying lanterns (for they would break) and tried to find a perfect set of chopsticks. Time went by way too fast. The evening had started out at 6 pm and in no time it was bordering around 10. It was a reluctant goodbye and we parted with a new pact on the table. A pact to meet in Ho Chi Minh and discover the sights!
*This post contains affiliate links.