We had spent a rather lovey couple of days in Moalboal and it was now time to head to Bohol. We were presented with a variety of options when we asked our accommodation about how to get from Cebu to Bohol. One was to head to Cebu City and catch one of the numerous ferries that plied from its port. Luckily since we had already travelled from Cebu city, we knew that it wasn't our primary option. The reason was the insane traffic in the city. The second option was to catch a ferry from Oslob. That however wasn't the best option because it involved catching too ferries. Rather tedious in my opinion. The last option and the one that we chose was to go from a place called Argao to Bohol by ferry. The port of entry being Tagbilaran.
GETTING FROM MOALBOAL TO ARGAO
Getting from Moalboal to Argao seemed daunting. We had to catch a bus heading to Cebu city and get down at a city called Carcar from where we would have to figure out how to get to port in Argao. The question that we kept asking ourself was whether it was worth it. Wouldn't it be easier just to take the bus to Cebu city? In the end we decided to be adventurous. What was the most that could happen? We wouldn't get transport to Argao and we would have to catch the next bus to Cebu city.
We managed to catch a bus rather easily from Moalboal bus stand. From the Argao stop, we caught a tricycle to the ferry. At first we thought that it was going to be a long journey but it turned out to be closer than expected. We reached the ferry ticket counter at 10:30 am.
GETTING A TICKET ON THE FERRY FROM ARGAO TO BOHOL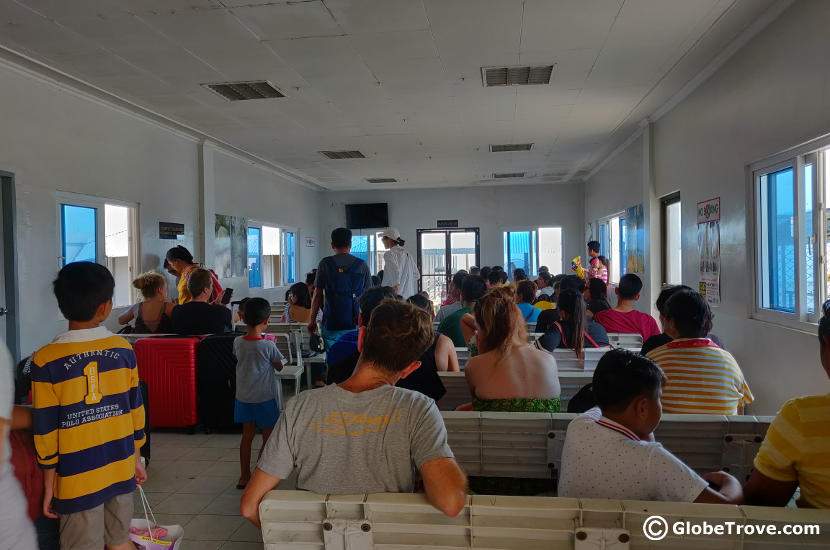 It may not look like much but the sheltered waiting area at Argao port was a relief from the sweltering sun.
The first thing that we did when we arrived was to ask the security guard where we could get tickets on the ferry. Did I mention that there is only one ferry that leaves from Argao and that is at 12 pm? The security guard reassured us and told us that the ferry would come in at 11:30 am and the ticket counter would open then. We heaved a sigh of relief and headed to a nearby store to catch a bite to eat. We had time so we weren't worried. By the time we had eaten and reached the ticket counter at 11 am, a short line of no more than 20 people had formed. Not a big problem. We placed our bags in the waiting area and Shawn volunteered to stand in line.
As we were told, the counter opened at 11:30 am. Only what we did not expect was to wait for more than an hour in line. The reason was that each person in line was buying numerous tickets for their families. Now that wasn't the real issue. The real issue was that the person at the counter was typing out all the information really slowly on a typewriter! We did not know whether we wanted to laugh or cry.
The ticket on the ferry cost us 230 PHP/ person. Once you are done with buying the ticket, you then need to stand in line to pay the terminal fee which is 5 PHP/person. With that done you can now board the ferry.
THE FERRY FROM ARGAO TO TAGBILARAN (BOHOL)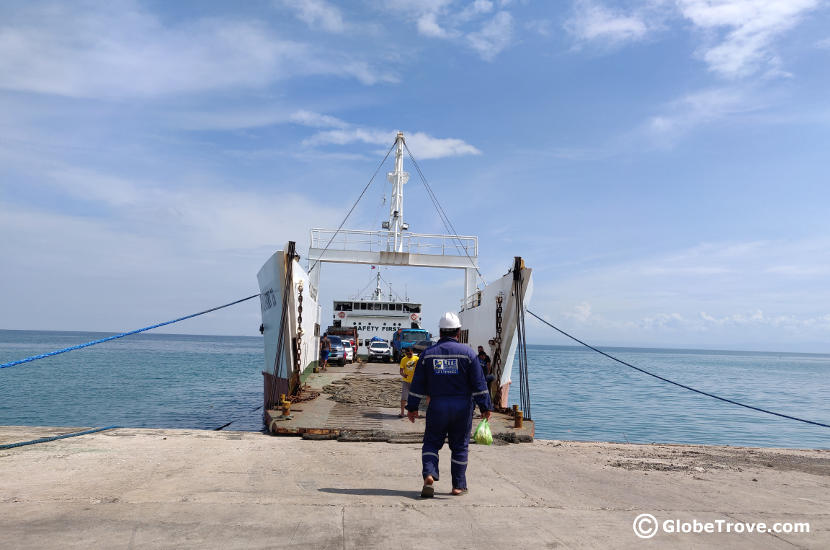 That moment when we finally boarded the ferry at Argao.
The ferry from Argao to Tagbilaran is not the same as the passenger only ferries that leave from Cebu city. This one transports vehicles and passengers which means that the journey is slow. It is however much cheaper. The tickets that you are allocated have seat numbers so rest assured that you will have a place to sit.
We carried our own water but we quickly finished it since the heat was rather intense despite the cloudy weather. The ferry also has a small canteen where you can buy some thing to much on and water. The one downside to taking the ferry from Argao is that it is slow and it took us a long while to reach Cebu city while we watched the faster speed boats leave us in their dust. The journey was surprisingly pleasant despite it all and since we didn't have to brave the traffic in Cebu City we were quite happy.
Have you ever taken a ferry in the Philippines? What was your experience like?
*This post contains Affiliate links