Gili Trawangan certainly brings to mind a number of pleasant memories. In fact I often think of going back there. While people have different experiences on the island, I was glad to have visited its shores during the low season. While at most times Gili Trawangan is a popular destination for young tourists many people are deterred from visiting the islands shores because getting there seems like an insurmountable task.
That is one of the main reasons why I decided to write this post. It was to make the planning your itinerary to Gili T. a little less daunting.
As far as I know there are two main islands that can get you to Gili T easily. They are none other than Lombok and Bali.
From Lombok To Gili Trawangan: Since the three Gili islands lie just off the coast of Lombok. It is pretty cheap to get a boat to ferry you across. If my memory serves me right the cost per head is around IDR 10,000 per head. You ride with the locals and it is a really pleasant journey.
There are more expensive boats if you are looking for a greater deal of comfort. We got into the local boat when we were traveling from Lombok to Gili. I enjoyed the journey immensely. Shawn was a wee bit seasick.
Where do you catch the boat? At Bangsal harbor! Getting there may be a tricky depending on where you stay the previous night.
From Bali To Gili Trawangan: Bali is a relatively big island. It is enormous when you compare it with something as small as Gili Trawangan. That being said you will be surprised that since a large number of fast boats that are available to take you across. They leave from two points on the island: Padang Bai harbor or Serangan harbor.
The Serangan harbor is to the south of Bali and works well if you are staying in Nusa Dua or Kuta area. Padang Bai on the other hand is popularly used by people staying in Ubud or along the East coast of Bali.
SOME MISTAKES CAN BE AVOIDED
We were eternally worried about taking the ferry to Gili Trawangan. Our distrust stemmed from a bad experience we had in Port Blair (India). In order to avoid having a problem we booked the ferry (Blue Water Express Ferry) in advance at IDR 7,00,000 per person.
We realized our folly only when we reached Ubud. The actual cost of the tickets ranged from IDR 1,50,000 to 2,00,000. You apparently pay a big premium if you book online. It was one of those scams that we unwittingly bundled into. Where do you book your ticket? Almost every home stay in Ubud offered to book it for us. I'm sure the rest of Bali will also be similar.
Our mistake turned out to be very costly. So make sure you don't fall in the same trap that we did.
OUR JOURNEY FROM BALI TO GILI TRAWANGAN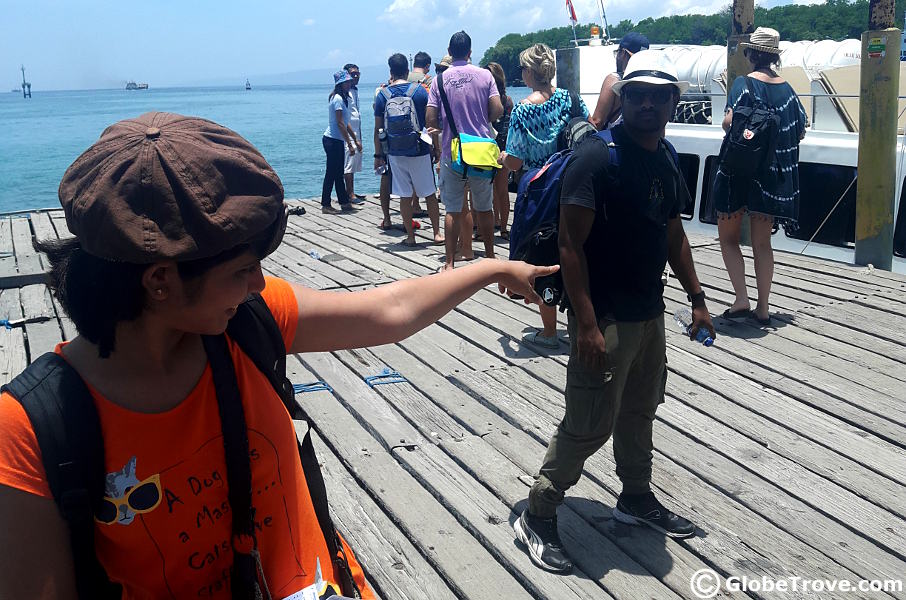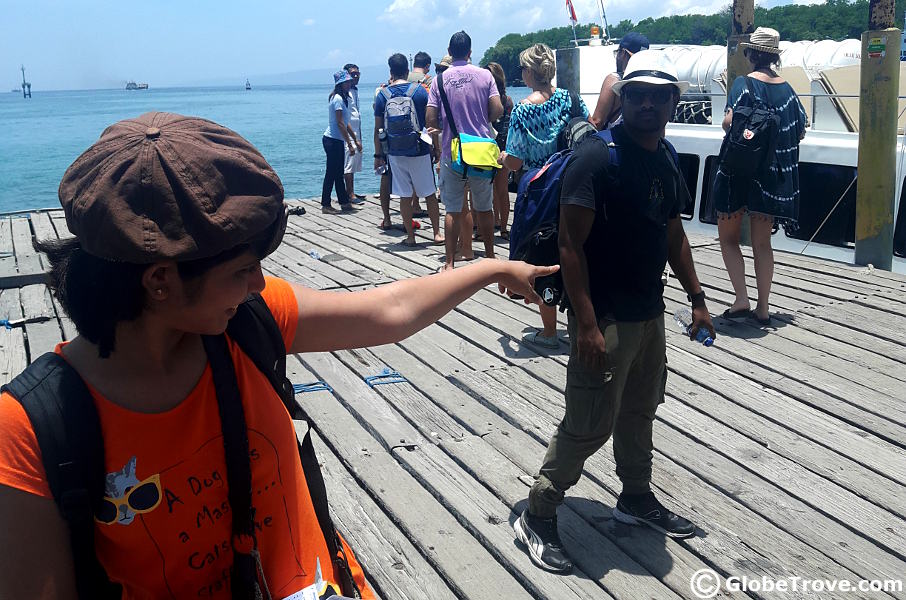 Trying to point Shawn in the right direction.
Since we could do nothing about the ferry we booked without losing a boatload of money (excuse the pun!), we decided to follow the original plan. Joal got his ticket on the same ferry for way cheaper and that added a good deal of salt into our already stinging wounds.
A van collected us from our home stay in Ubud. The drive to Padang Bai was pleasant. I for one found the AC of the van a big respite from the Indonesian heat. Once at Padang Bai our bags were loaded on to a small van and were then carried off to the waiting speed boat. We followed suit a minutes later.
Padang Bai isn't the best place to wait but we used our stop to use the restroom and rehydrate ourselves with a lot of water. That's one thing that we made sure not to forget. For a person who is not used to heat, sun stroke can become an all too real threat.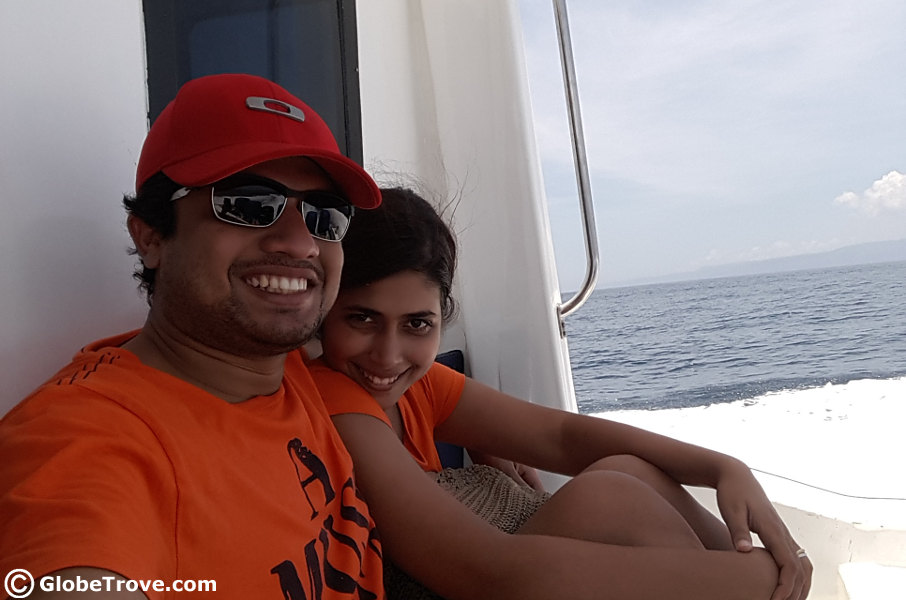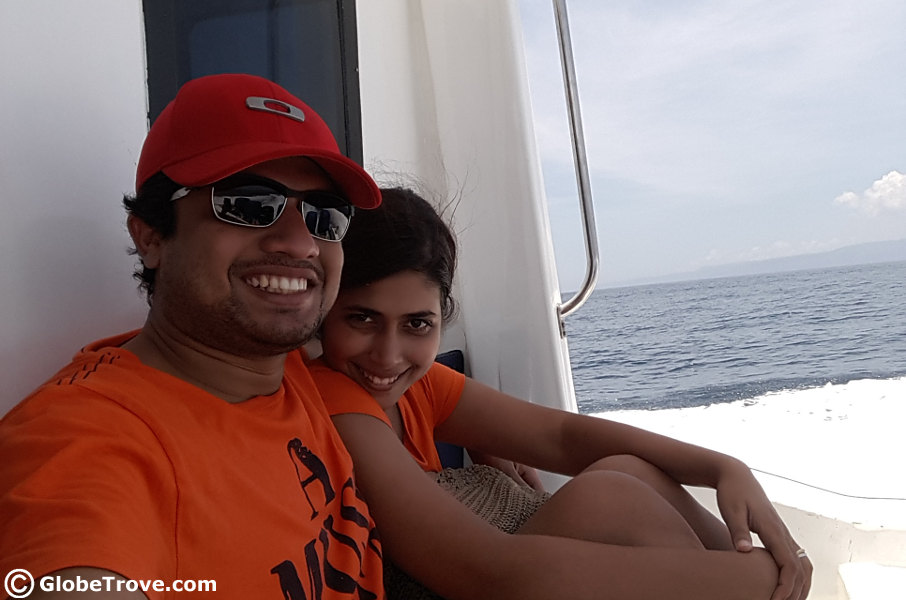 Since we booked our seats ONLINE and since we were checked in we assumed that the ticket numbers referred to the seat numbers that we would be sitting on. Unfortunately it was on a first come first serve basis. Luckily someone volunteered to shift their seat so the three of us could sit together.
The top of the speed boat had a nice spot where we could have sunbathed if we wanted. I however chose to sit at the rear end of the boat where there was shade. A book on my lap, the wind in my hair and a spectacular view made the journey extremely pleasant.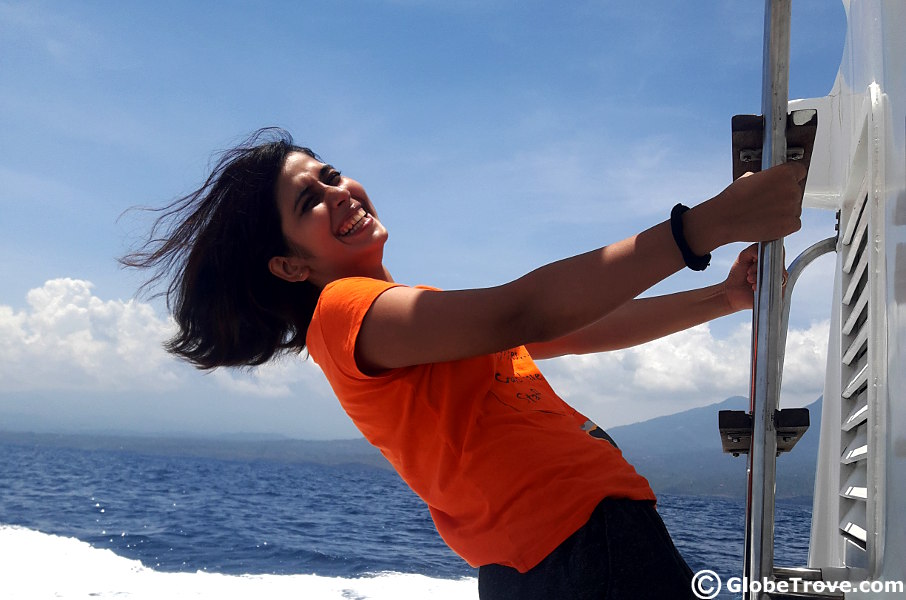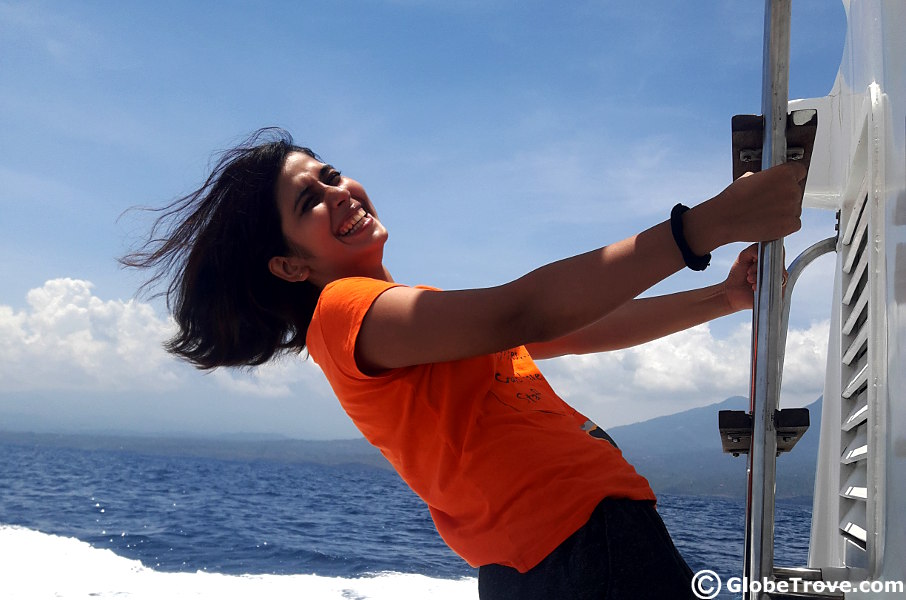 For a person who can't swim this was being adventurous! 
One thing that really brings a smile to my face is how our trip from Bali to Gili Trawangan ended.
Step1: We performed a balancing act that got us from the back of the boat to the front of it.
Step 2: Then we had our bags were tossed to us on board the boat.
Step 3: Shawn then had to jump into around calf deep water because the boat docks at shore.
Step 4: I handed Shawn our luggage once he found his footing.
Step 5: My turn to take a plunge.
Step 5:  We made our way to shore!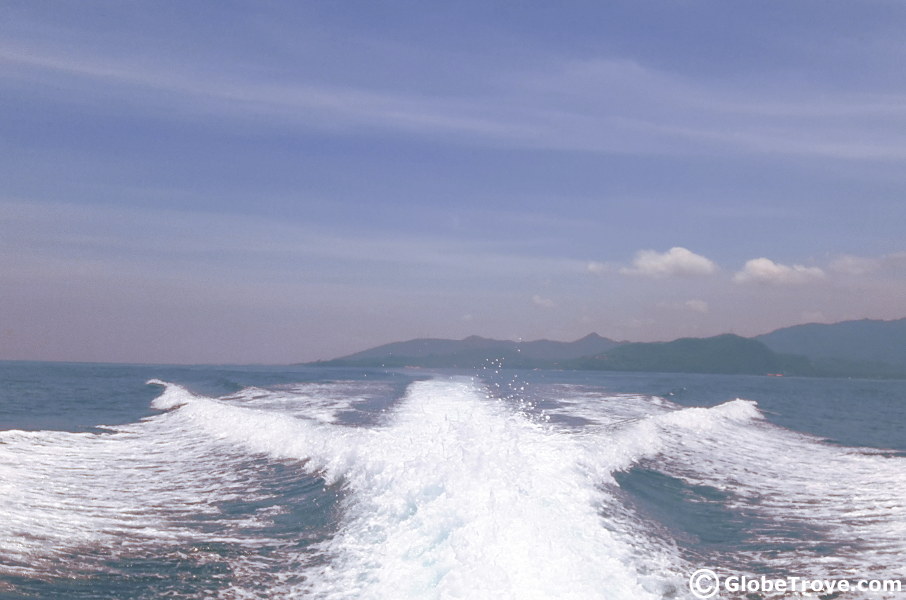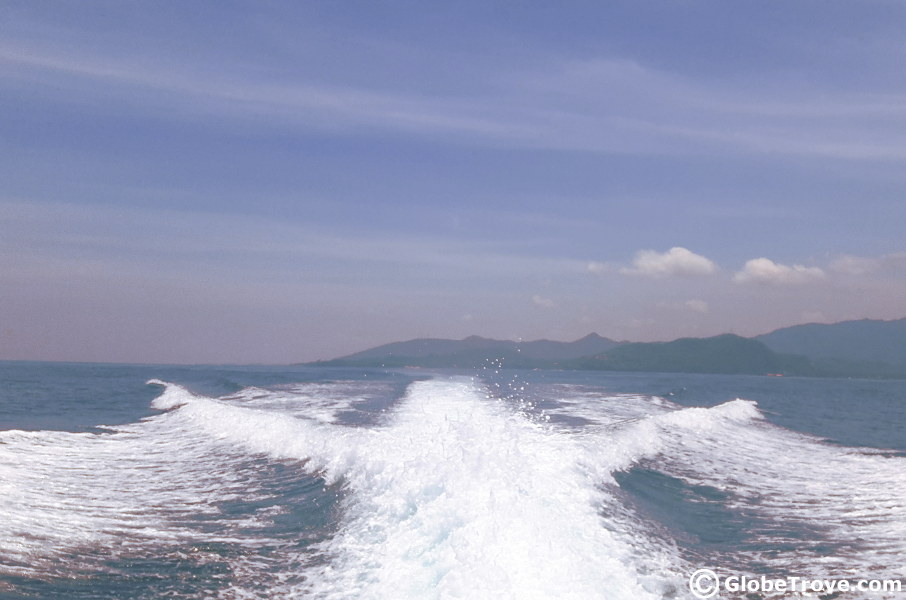 It intrigues me how the smallest challenges can turn out to be adventures. When I look back at our journey from Bali to Gili Trawangan, I remember the breeze in my hair, the blue sea and the book on my lap. Sure our journey was fraught with mistakes but they weren't overtly bad ones. Life after all is all about learning!
*This post contains affiliate links.