Traveling with children should not be daunting. A lot of people believe that children slow you down but that isn't the case. Travelling with children can be fun. With that in mind we thought about all the times we have seen families enjoying their vacations in South East Asia. Contrary to expectations, South East Asia is a great place to travel to with kids. We often noticed that a lot of our readers have kids and since not much of our material caters to them, so we reached out to fellow travel bloggers in hope that we could bridge this gap.
With that in mind we decided to do a post on the best places in South East Asia to travel with kids. Each blogger puts forward their own experience and perspective about what makes the destination their particular favourite. Why they feel it is conducive to travel with children and the best parts about visiting it.
We hope that this list of best places in South East Asia to travel with kids inspires you and helps you plan your next vacation.
KOH LIPE, THAILAND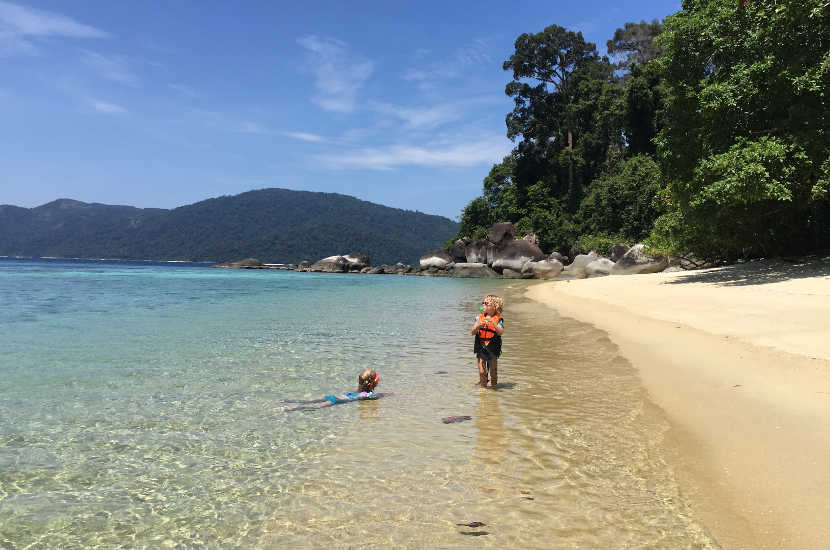 Kyla's pick of best places in South East Asia to travel with kids is Koh Lipe, Thailand.
I love South East Asia!! The food is delicious, there's everything from beaches to jungle, the culture is beautiful, and the history is just incredible. But, it can be chaotic, noisy, dirty and the traffic is enough to make anyone's head spin. Finding a calm oasis that still delivers all the amazing parts of SE Asia without the crazy is hard. However, Koh Lipe is one of these incredible places.
Koh Lipe is a tiny island in the very South-West corner of Thailand. Yes, it's a bit of a hassle to get to, but in my opinion, it's totally worth it! The island is incredibly laid back and a dream for traveling with kids. There are only a handful of trucks on the islands and a few moto-taxis. Other than that, it's strictly pedestrian. It's so small that it's possible to walk from one side to the other in a short period of time. And, there's no worry that your little one will run into traffic, because there isn't any traffic!
Sunrise beach is the place to stay on Koh Lipe with kids. The sand is unimaginably soft, and the sea is as clear as glass. It's possible to snorkel, kayak or just relax on the beach and play in the warm waters. The entire island feels a bit like a resort, without being a resort. It's acceptable to go anywhere in a bathing suit, and shoes are always optional! My favourite part is ordering dinner from a beach-front restaurant, and letting the kids play in the sand until food arrives. There are great restaurants along the beach, and on Walking Street, so you're never too far from some deliciously fresh Thai food. And, if you veer off walking street and head towards Sunset beach, there's even a temple if you're looking for a bit of culture.
One of the best things to do is take a traditional Thai long-boat for a day trip to the neighbouring islands. This completes the perfect island getaway. There's hiking, fantastic snorkeling, and bioluminescent plankton tours. Being able to alternate between relaxation and family friendly activities makes Koh Lipe one of the best places in South East Asia to travel with kids!
BANGKOK, THAILAND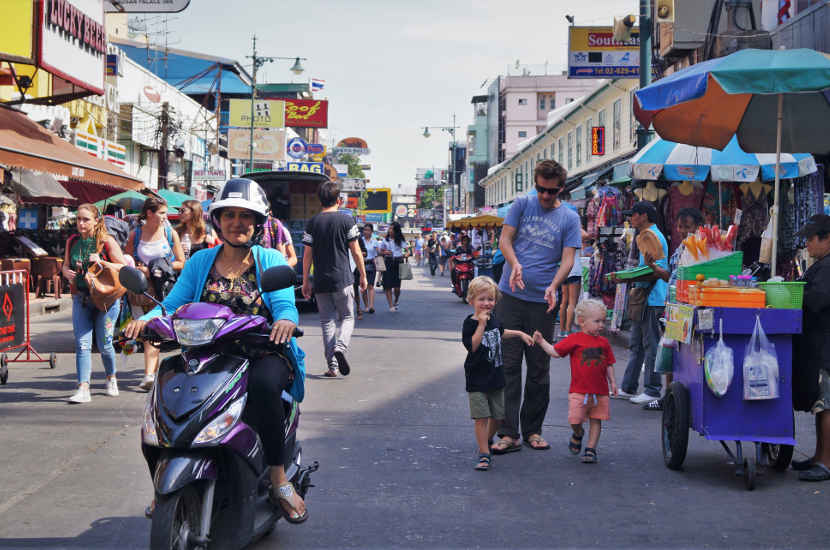 Jenny's pick of best places in South East Asia to travel with kids is Bangkok, Thailand.
Bangkok has to be one of our favourite places to visit in South East Asia with kids. Being one of the main gateway cities, it was a place that my husband and I visited frequently pre-kids and were pleasantly surprised at how accessible the city is for young families when we returned with our boys (who were 1 and 3 years old for their first visit).  We love the energy, the ordered chaos, the ornate temples, the colourful markets, the polite people and the food… oh my THE FOOD! Many of the restaurants along the bustling tourist strip of Th Khao San (Khao San Road) even have high-chairs and we have always received a warm welcome from restaurant staff who consider the boys quite a novelty. However, the streets can get rather hectic, so we recommend carrying little ones in a sling or carrier, rather than attempting to negotiate a buggy. For older children who get a little tired of walking in the heat, they will love careering around in a tuk-tuk – hold on tight!
The city can be a sensory overload for little ones and can get very hot, so we always ensure some downtime back at the hotel in the afternoons. When walking around Bangkok with kids, we stop frequently for snacks and drinks (our boys love the mango and rice), and ensure we have at least one trip over to the playground at Lumpini Park. I recommend visiting Wat Arun over the Grand Palace for a more peaceful and intimate temple experience and a ride on a ferry along the Chao Praya river is always a great way to cool down from the heat of the day.
If you are visiting Thailand, make sure you plan at least a couple of days in Bangkok before heading to the islands. It's a wonderful contrast to the laid-back beach life and you won't regret it.
SINGAPORE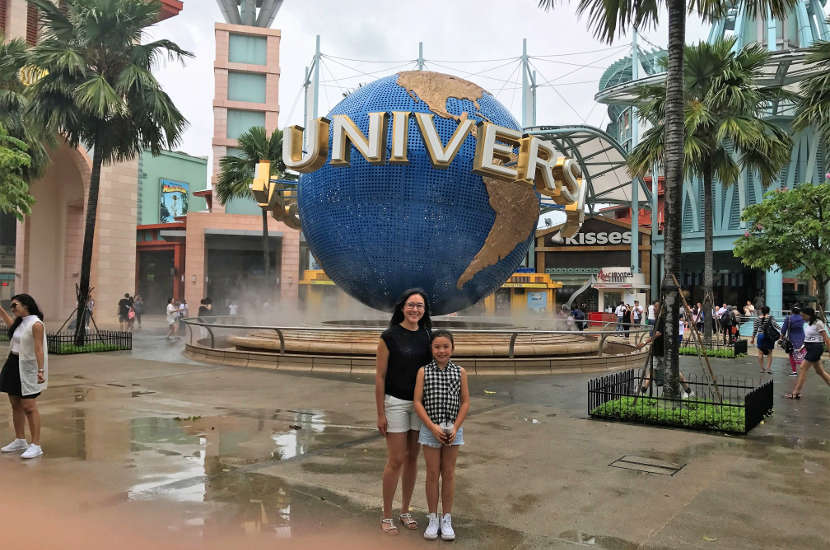 Amy's pick of best places in South East Asia to travel with kids is Singapore.
Growing up in Kuala Lumpur, we went to Singapore almost every year for our family vacation. Back then Singapore wasn't quite the powerhouse it is now, and we enjoyed weekends filled with shopping and food with the occasional visit to Sentosa. As the years have gone by, Singapore has upped the ante and my, what a family friendly destination it is now in Southeast Asia.  And I love the fact that now that I am a parent, I'm able to take my daughter to Singapore for our family travels from Australia.
We love Singapore for numerous reasons. Although Singapore's national language is Mandarin, everyone speaks English, it is one of the cleanest countries not only in Asia but in the world (chewing gum is prohibited in in Singapore), it's a small island country so it's easy to navigate and it has a plethora of family friendly attractions. Sentosa Island has revamped itself into an entertainment hub and now houses Universal Studios, one of the wold's largest oceanarium, Trick Eye museum and the super fun luge. Apart from Sentosa, they have the Night Safari, the world's first nocturnal zoo and Gardens by the Bay which houses about 1 million plants.
Singapore is one of those destinations you can visit as a family regardless of the age of the children as there truly is something for everyone. Particularly useful if you have kids of varying ages. The food scene in Singapore is worth the mention as you hunt down the best chilli mud crabs or dine in the world's first Michelin Star Peranakan restaurant in Dempsey. For the shopper in your tweens and teens, there certainly isn't a shortage of shopping malls or the edgier indie boutiques on Haji Lane.
If you're looking for a gentle introduction into a Southeast Asian country, Singapore would be your best bet. Without too much of a culture shock yet enough to satiate your curiosity, it's a fantastic family getaway.
KUALA LUMPUR, MALAYSIA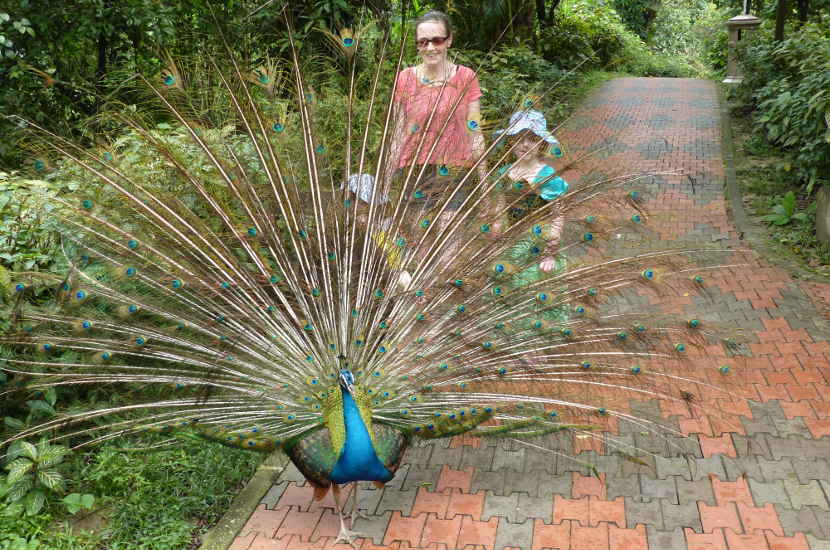 Sharon's pick of best places in South East Asia to travel with kids is Kuala Lumpur, Malaysia.
Kuala Lumpur is one of our favourite destinations for a family trip in the world. This is because it is easy to navigate, there are lots of great family attractions, the food is unreal and it's a very affordable price. It's also very easy to reach here from Australia and very economical as well, thanks to Air Asia. My kids' favourite attraction is KidZania. And thanks to English being a common language in Malaysia, this is a great one to visit. If you have never been to KidZania, it's like a kids' world where kids get to try out different occupations from being a pilot to a surgeon to operating a cash register in a shop. It's highly educational and engaging and my kids love it.
After you've finished with KidZania, there is the KLCC area where there is one of the biggest playgrounds in the world. There is also a huge water play area. Next to the park is a fabulous science museum as well as an aquarium. This is also where you'll find the huge Petronas Twin Towers and a big shopping centre. There are also many cultural attractions in Kuala Lumpur from walking around Little India to exploring Chinatown as well as some of the interesting colonial architecture. I also recommend you eat everything you can! The food is so good especially the Malay, Chinese and Indian.
When you are ready for more kid attractions, there's the big Sunway Lagoon theme park and Lake Gardens where you can find many attractions especially the very impressive KL Bird Park. For indoor fun, the Berjaya Times Square is not just a massive shopping centre but has a big indoor theme park. This is also our favourite place to stay. There is a hotel above the shopping centre which makes it very easy to access food and amenities. If you are looking for the perfect launch pad for your next adventure, go to Kuala Lumpur!
KAOHSIUNG, TAIWAN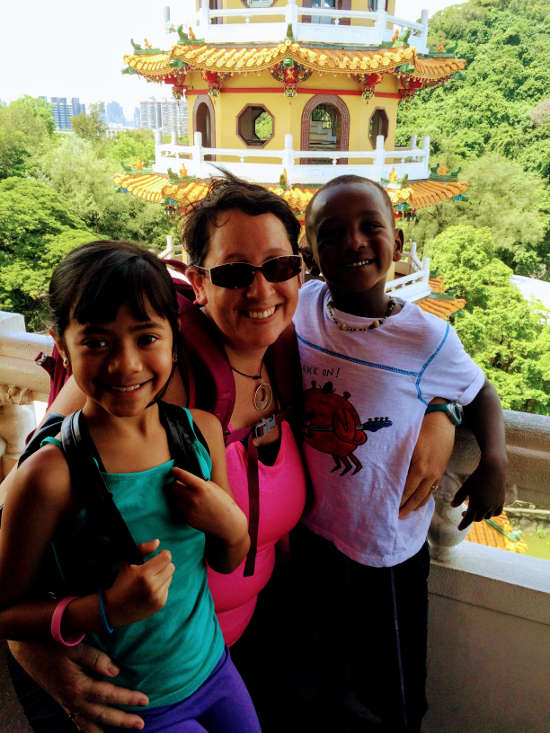 Cerise's pick of best places in South East Asia to travel with kids is Kaohsiung, Taiwan.
Kaohsiung, Taiwan (pronounced "Gow-Shung") is the second largest city in Taiwan and a perfect destination for a trip to Asia with kids. Named as one of Lonely Planet's Top 10 cities to visit in 2018, you will quickly discover how vibrant, friendly, affordable and safe it is to visit this city of 3 million people.
Kids and adults will enjoy the Lotus Pond whimsical lion and dragon pagodas as well as the viewpoint from the top. Ice cream vendors are often set up on the weekends, souvenir and postcard shops are nearby, and festivals are common here during major holidays like the Dragon Boat Festival. Kaohsiung's Pier 2 Art District is famous for large-scale public art near the harbour with huge transformers and characters perfect for a fun selfie. We like going to Cijin Island with a black sand beach on the weekends where you can rent family electric bikes, play beach games, eat fresh seafood, and watch the sunset over the ocean.
Known for its diversity of parks, the Art Museum is a favorite attraction in Kaohsiung with an outdoor sandbox, pretty gardens, walking paths, and awesome wooden forts the kids always climb. I like taking the kids to nearby Monkey Mountain (yes, there are real, live monkeys everywhere!) for a morning hike and spectacular view of the city. The Dome of Light MRT station will have kids gazing at the rainbow display of lights at this popular metro stop that often attracts dancers and musicians practicing.
As evening sets, colourful lighted boats go up and down the Love River in Kaohsiung. Plan a picnic for a relaxing, family-friendly evening in Kaohsiung. Kids will think it's a treat to bring sushi or night market snacks to the park. Our kids especially think its a novelty when we shop for dinner at 7-11! Put Taiwan on your list for visiting SE Asia with kids and make a stop in Kaohsiung.
HALONG BAY, VIETNAM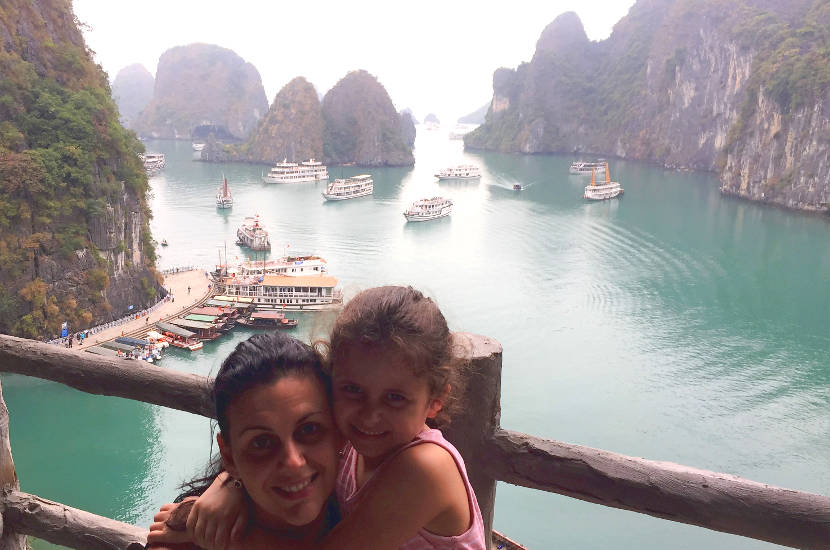 Melissa's pick of best places in South East Asia to travel with kids is Halong Bay, Vietnam.
Halong Bay is one of the most scenic regions in Vietnam and is a must do for anyone visiting the country, including adventurous families.  The bay is filled with thousands of giant limestone cliffs which jut from the water and are covered with lush rainforests. Halong Bay is best visited by a 1 or 2-night cruise.  There are some great family boats with large rooms able to cater the entire family.
During the day families will love kayaking among the spectacular scenery and during the warmer months you can even jump right off the boat for swimming. Most of the boats follow a similar itinerary which includes a stop to explore some caves as well as climbing to a look out where you can get a fantastic view across the bay – perfect family photo opportunity!
All meals are provided on board and most boats even have a bit of a karaoke party and disco.  Our daughter said this was the highlight of the trip for her! Other activities during the cruise include night squid fishing and if you can manage to get up early enough, Tai Chi.  Some boats even have cooking classes.  If you can manage to get a few minutes alone, for me, I just loved sitting on the deck and watching the gorgeous scenery pass me by.
There are a range of cruise boats to choose from, but I recommend looking for a mid-range one – as these boats usually have great family rooms so you can bunk on in together. Cruises depart from Halong Bay, but the cruise operators will arrange transfers for you from Hanoi, around a 4 hour drive from Halong Bay. For families visiting Vietnam an overnight cruise on Halong Bay is an absolute must and will be something your families remembers for a lifetime.
BALI, INDONESIA
Kate's pick of best places in South East Asia to travel with kids is Bali, Indonesia.
Bali is a fantastic location in South East Asia to travel with kids. There is such a wide range of activities to do and places to stay. Whatever your budget is, you can find fun things to do with the kids. Waterbom waterpark is one of our all-time favourites and with the kids we have been 5 times! So much fun trying out all the waterslides and the gazebos make a great spot for the younger kids to have a nap. A bike ride through the Bali countryside is not to be missed. Suitable for all ages, we also visited a Balinese school, coffee plantation, Mt Batur, family compound and finally enjoyed lunch overlooking the rice fields. The kids love learning about new cultures and Bali is so accessible for this to happen. Temples, rice terraces, cooking classes, white water rafting, Balinese dance, the list goes on of things to enjoy for the whole family.
Finding family accommodation in Bali will leave you completely confused! There are so many options in different locations with every budget well looked after. If it's your first time to Bali I recommend staying in the tourist areas of Sanur, Seminyak, Legian, Jimbaran, Ubud or Nusa Dua. Here you will get a feel of Bali but also have access to western supermarkets and restaurants. The list of Bali hotels with kid's facilities is long and waterslides, kid's clubs and kid's menus are throughout the tourist areas. If you just want to relax and enjoy all that the real Bali has to offer you are in luck, cheap guesthouses that welcome kids are everywhere. The hospitality of the Balinese is what makes Bali such a great destination with kids. Their smiles and genuine love of kids will make you feel so welcomed that you will find it hard adjusting back to life after your Bali family holiday.
CHIANG MAI, THAILAND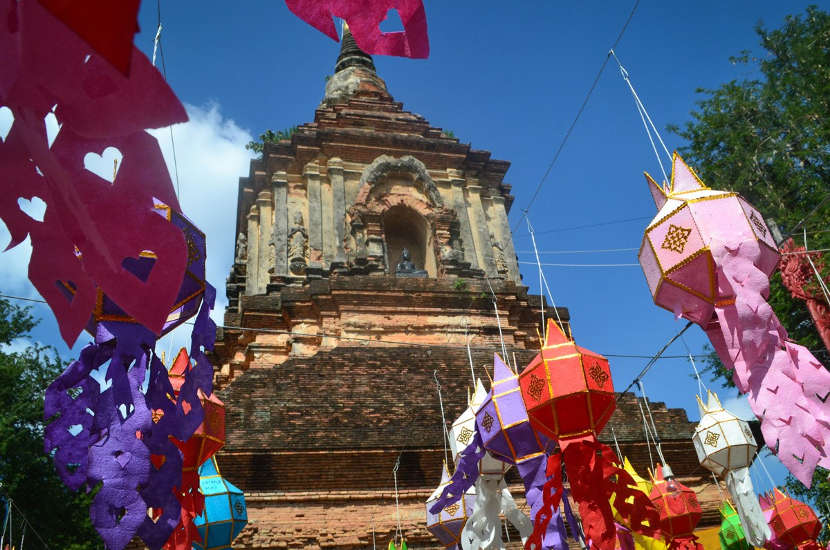 Allan's pick of best places in South East Asia to travel with kids is Chiang Mai, Thailand.
Thailand is not always best-known as a family-friendly destination, but the country itself is undoubtedly fascinating, with nature, local culture, and it just offers the perfect introduction to the mystery of the Orient. And Chiang Mai, the cultural capital of the North, would be one of the better destinations to explore, with its relaxed and friendly atmosphere, as well as its diversity in scenery and attractions. And it is the ideal vantage point to discover the northern 'Lanna' provinces where excursions to the not-far borders of Laos and Myanmar share all sorts of unique cultures including the well-celebrated hill tribes which occasionally offer homestays for cross-cultural experiences.
There are also many excursions and attractions nearer to the centre of Chiang Mai, although they can be an ethical landmine at times. At the same time, there are many eco-friendly and eco-learning opportunities, for example, the 'Elephant Nature Park' is home to 30+ elephants, many saved from the dubious tourist camps, where they now roam free and happy. And it's a bit like a home for rescued animals. Or for just something fun, there are various excursions for white water rafting, ATV Quad Biking, ziplining, and for the younger ones the 'Art in Paradise' 3D Art Museum can be fun.
The old city area can be a bit chaotic at times when it comes to accommodation in Chiang Mai, so it may be best to stay outside in the quieter areas, where it is still easy to travel into the centre at any time. As Chiang Mai is small and inexpensive. And for comfortable travel, the best option would probably be the Grab Taxi App (they bought over Uber), although Tuk-Tuks will always be fun. So, some of the better outside options would be the Chiang University area, where there's a lot of parks and green spaces, although for a mix of both excitement and laidback life the Nimman area works well. Found beneath the backdrop of Mount Suthep. Here the quiet side streets (sois) are dotted with quirky cafés, international foods, and there is the nearby Maya Mall which is perfect to escape the midday hears for air-conditioned shopping and entertainment.
NHA TRANG, VIETNAM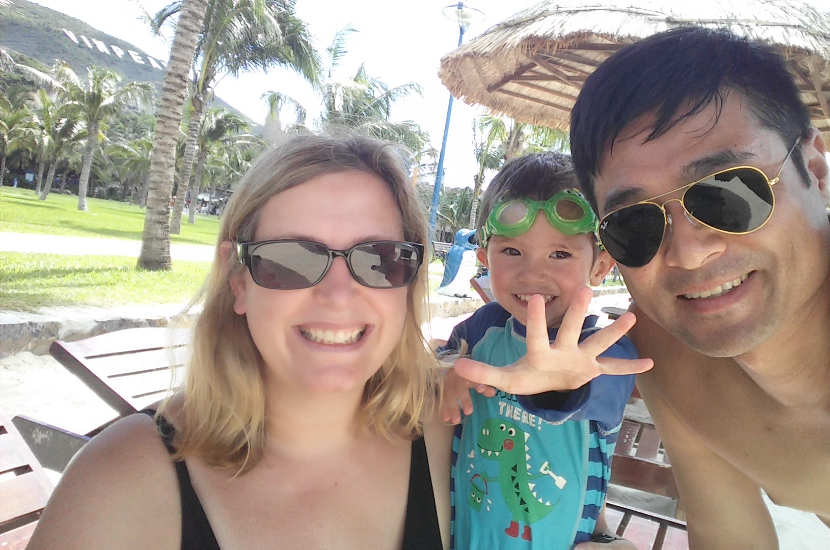 Sandra's pick of best places in South East Asia to travel with kids is Nha Trang, Vietnam.
When describing Nha Trang to friends back home, I tell them she is like the love child of Waikiki Beach and Surfers Paradise. She's all neon and glitz against a long stretch of palm tree-lined sandy beach. There are beachside restaurants and open bars, touts on almost every corner selling crocodile-skin purses, local pho and banh mi stands mixed in between the upmarket seafood buffet restaurants. You don't come to Nha Trang for a tranquil experience, but you can have still a brilliant time as a family.
We stayed in Nha Trang for almost 3 months – me, my husband and our then 3-year-old son.  We rented a furnished apartment directly across from the beach with magnificent coastal views. We didn't intend to stay for 3 months, but we loved Nha Trang from the moment we arrived, and she grew on us even more.
Our days began with a walk along the beach front, followed by a dip in the sea to cool down. We bought an annual pass to Vinpearl Island, an island amusement park, and frequently took the stunning 3km cable car ride across the sea to Vinpearl Island Resort. The amusement park is great fun for all ages. There are rides for all ages, waterslides for the bigger kids and adults, a kid's pool and a family-friendly wave pool where we hung out a lot. The beach at Vinpearl Island is even nicer than the beach at Nha Trang. It was calmer and cleaner, and we often had the whole beach to ourselves.
We ended our days with sand play on the beach and another dip in the sea before dinner at one of the local restaurants around town. Riding the local buses was a lot of fun. We visited the giant White Buddha at Long Son Pagoda. We could see this giant statue 6km away from our apartment. It's well worth a visit.  Nha Trang is a fantastic and fun seaside destination for families. It's easily accessible with cheap flights from Ho Chi Minh City or take the 8-hour train ride.
And there you have it, a list of all the best places in South East Asia to travel with kids according to people who write about travel. Are there any additions to the list that you could think off? We would love to hear what you think.
*  This post contains Affiliate links
** The photographs in this post are not the property of Globetrove and have been provided by the authors in each section.