Sentosa is an island that is just of the coast of Singapore. Sentosa is probably one of the most famous locations in Singapore. That is because it houses some of the city's most famous attractions. From theme parks and activities to resorts and a humongous aquarium and beaches. The baseline is that Sentosa is a place for fun. Fun however does come as a cost as you soon begin to realize. There are however things that you can do for free. So, don't discount the island just yet. Shawn and I spent a day roaming around the island, but we didn't cover everything. I will cover however what we did manage to see and over time try to work with other bloggers to cover the gaps in the information that I have.
Sentosa has all that you need to live in a lap of luxury. It has so much entertainment to choose from that you will find no need to leave the island. Food isn't in short supply either. You can find your pick of restaurants which include some with Michelin Star awards. It doesn't come as a surprise that there are some really lovely resorts on the island too. While I haven't lived on the island and can't in good conscience review them, I am just going to list them, so it makes your life a little easier if you are searching for accommodation on the island. Anyway… These are the ones I know off. I've tried to arrange them depending on the review scores I found online. Hope it helps.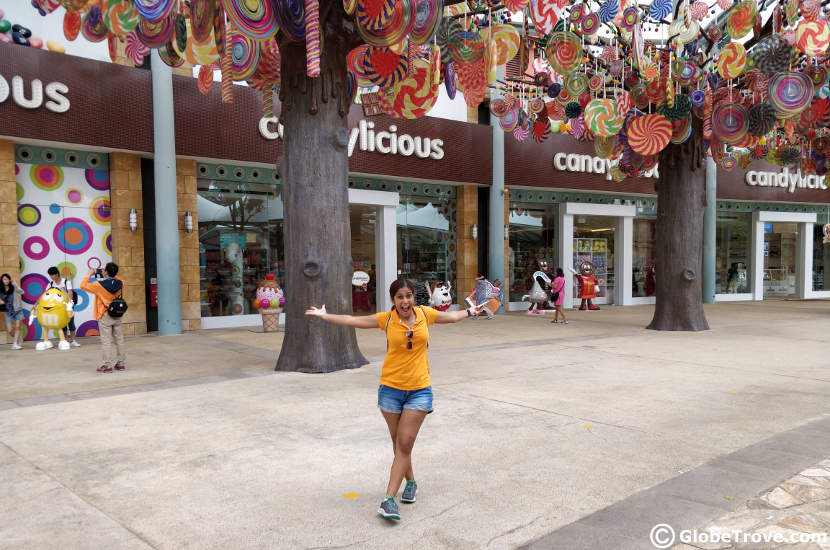 The happiness on my face speaks for itself!
One of the first thing that pops up when you enter Sentosa is all the candy stores. Okay, that's probably just me because I have a mega sweet tooth. Oh, and did I mention that there is also a Candylicious store. My first experience with the brand was in Dubai. I don't need to say that I'm a fan.
There are a lot of restaurants to choose from. You can get a guide from the entrance of Sentosa island. It would be wise to get a map too because finding them can get you turned around. Most of them are in the vicinity of the Universal Studios sign but a few cafes are scattered around in other places. Unfortunately, I don't have the locations and the names of the locations at the moment.
THINGS TO DO ON SENTOSA ISLAND IN SINGAPORE
There are a lot of things to do in Sentosa island in Singapore. With just two days to explore the island, we had to pick and choose what we wanted to do. Getting to most of the attractions can be costly. You can buy a package pass which means that you don't have to pay at each attraction individually. Note that some of the attractions like Madame Tussauds and the Aquarium take up two tickets and not one. Sometimes it may be wiser to pay on site too.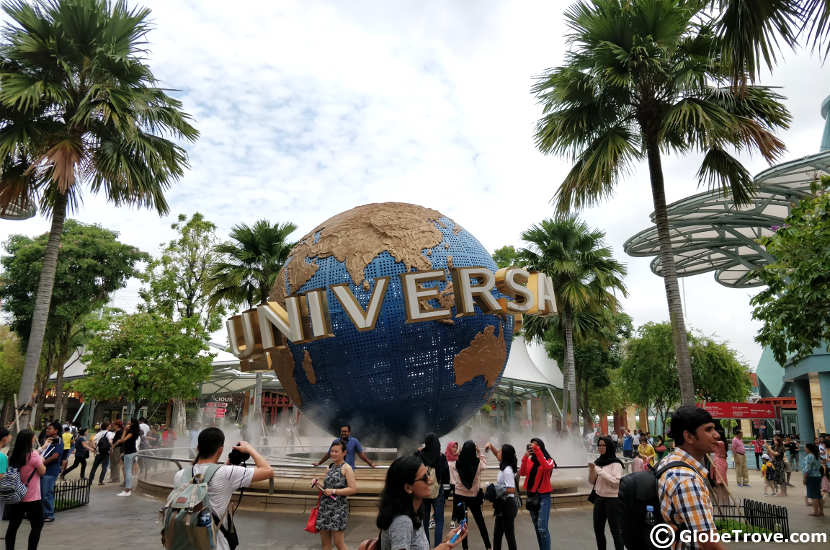 You can see everyone trying to get their perfect selfie.
The Universal Studios sign is another famous landmark on Sentosa island in Singapore. The sign is hard to miss as it is right in front of Universal Studios. You can see the crowds gathering around for their mandatory selfie with the sign.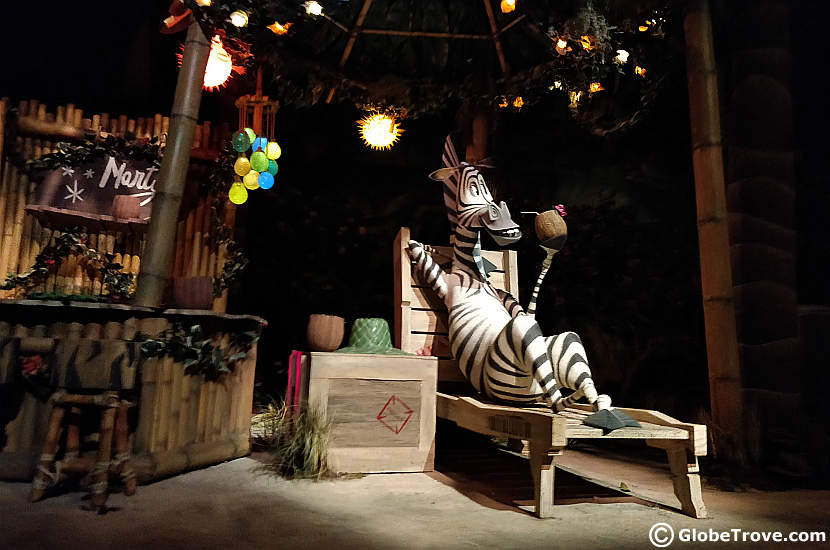 Universal studios was so much fun!
Since, we are talking about the Universal Studios sign, we may as well talk about the park. Universal Studios is a theme park located on Sentosa Island in Singapore. The themes revolve around different movies that were produced by Universal Studios. My favourite was Ancient Egypt. What's not to love about a high speed roller coaster that takes you for loops in complete darkness? I could go on a total rant but since I have a whole post dedicated to the theme park, I'm just going to taper off here.
RELATED ARTICLES: A Traveller's Guide To Universal Studios In Singapore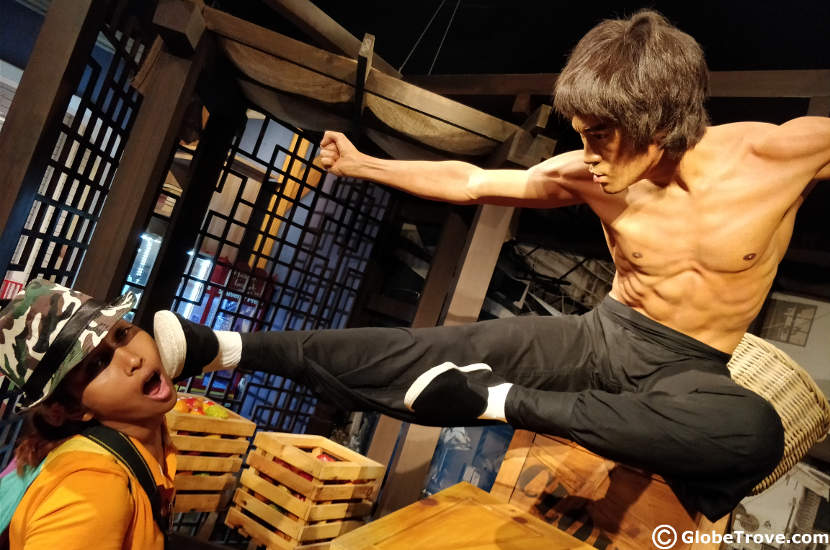 Clicking quirky photographs is something that I love to do!
Madame Tussauds is famous all over the world. Singapore's Sentosa island has one of her famous wax museums. Since we had never been to one before, Shawn and I chose to visit it. I was amazed at how life like the wax statues were. While the crowds in the museum do mean that you have to wait in line, you can find yourself with some funny photographs. You just have to get innovative!
We didn't get a chance to visit the Trick Eye Museum in Sentosa. I do however know that trick eye museums are a barrel of laughs. Everything is centred around trick photography (yeah… I think you got that by now!) which makes you a part of the photograph. It includes mirrors, intricately painted walls and sometimes even props.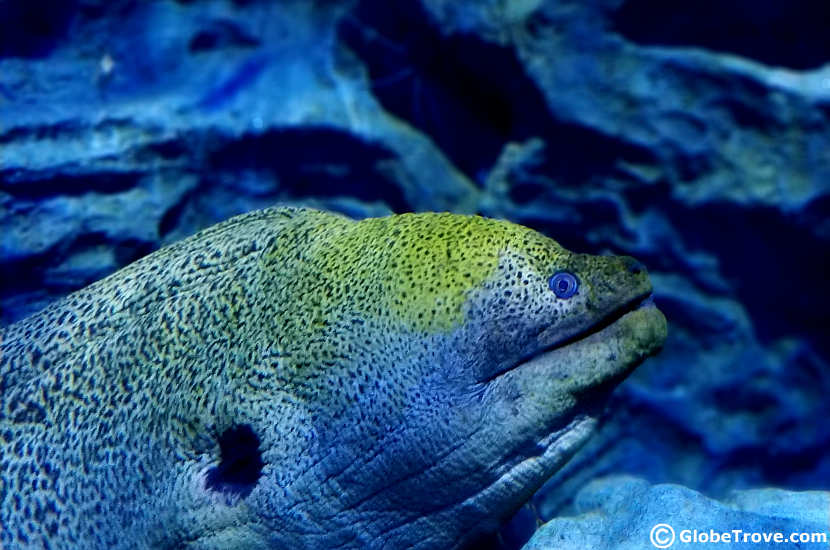 An eel that caught our eye.
One of the attractions that a lot of people talk about is the Aquarium. It was on the top of Shawn's list. I must say that it was impressive. Especially since there were huge tanks and equally large fish. Unfortunately, it just made me sad. When you've been snorkelling and diving in the ocean you can just begin to realize just how trapped these magnificent creatures are.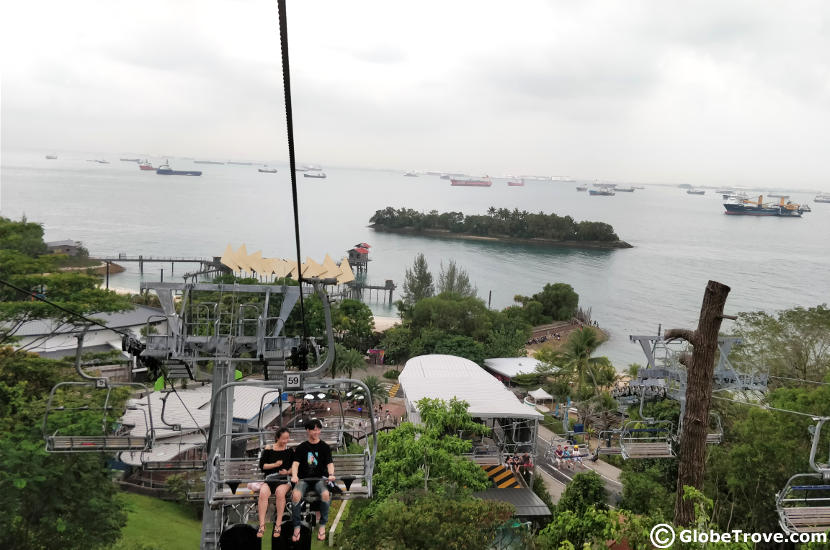 The Singapore Cable Car is another ride that you can take. It gives you a gorgeous view of the island as it takes you above the resorts and the attractions above. It isn't a very long ride. We caught a view while we were enjoying the luge.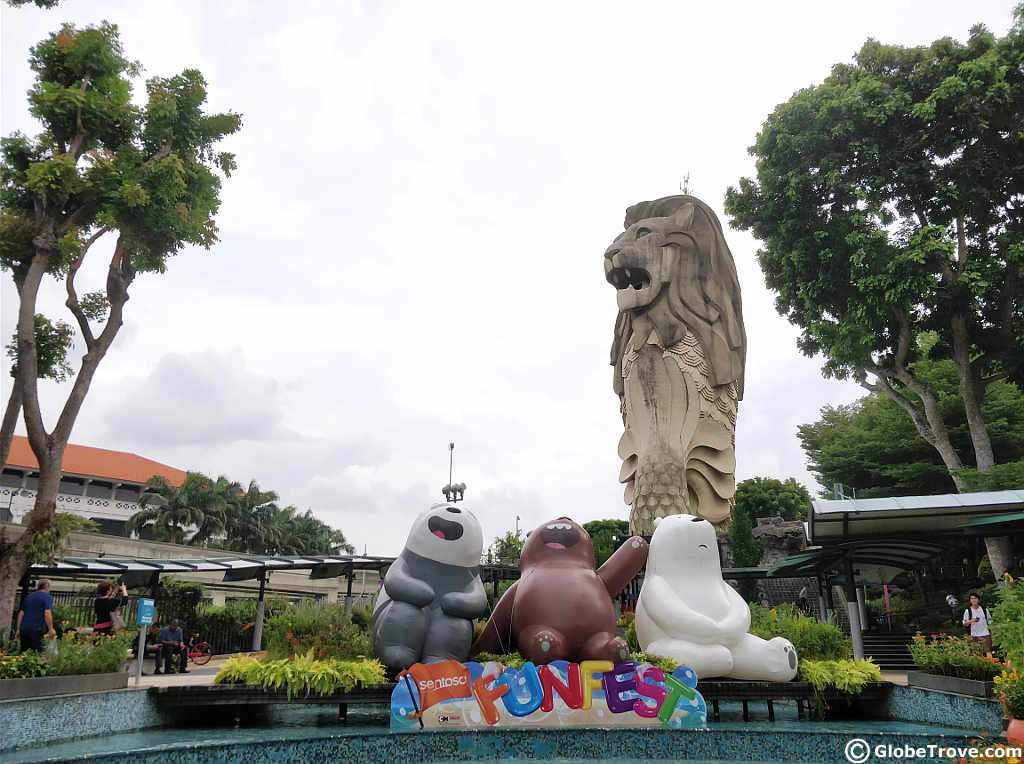 We stopped by the Merlion even though it was raining.
The large Merlion on Sentosa island in Singapore is a particularly famous attraction. You can catch a view from the top of the Merlion if you want to. You need to have a ticket to get to the top. Taking a photograph with the Merlion in the background is free. So, don't hesitate to take your mandatory shot!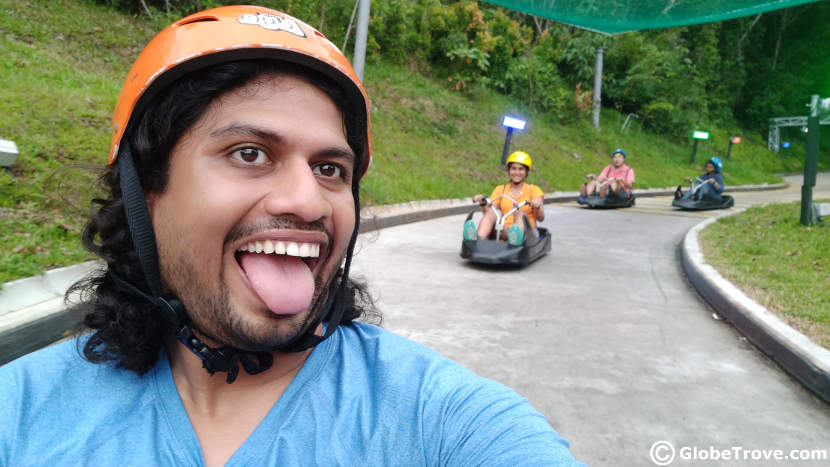 Enjoying the Sentosa luge!
Have you ever been on a luge before? Its almost like a go-kart without an engine. You have a wheel to navigate and a break. Once you are equipped with your helmet and you are adequately certified, feel free to barrel down the hill and navigate down the different luge routes. It is so much fun. You also get a ride to the start point. That means you have an amazing view while you are up in the sky so keep your cameras ready.
One thing that I really regret not doing was exploring the beaches on Sentosa island. We were just so tired at the end of the day that we headed back home instead. From what I've heard the beaches are gorgeous and are really a great place to hang out at. I would have loved to have a picnic at the beach. Oh well… I guess there is always a next time.
From the moment you set foot on to Sentosa island, you begin to see why it is so popular among tourists and locals alike. The entire island is like one big resort and in a way feels like you've stepped away from the city entirely. Sentosa island in Singapore can be as cheap or as luxurious (read expensive) as you want it to be. There are a lot of activities to pick from but if you keep your eyes open you will find some free activities around too.
*This post contains Affiliate links