One of the most popular attractions in Nusa Penida is Broken beach. When I first heard about it, I was really confused. How could a beach be broken? Did it mean that the sandy shores were spilt somehow? Why was it so attractive? What I found out was all my so called guesses were wrong. The place is gorgeous and is definitely worth a visit. Plus, the reason why it is called Broken beach is really very interesting. It does help that it is one of the most easiest locations on Nusa Penida to wander around. Just stick with us for a bit and we will take you through all the information you need when visiting this spot. Including how to avoid the tourists! Did I mention walking distance away from Broken beach is Angel's Billabong, another really famous destination in Nusa Penida? I'll give you a short brief about that too in a bit.
GETTING TO BROKEN BEACH AND ANGEL'S BILLABONG
Both Broken Beach and Angel's Billabong are both popular locations on the island. Located on the west coast of Nusa Penida and very close to each other, you will find that almost all tours to the island include these landmarks. You can choose to get to them in a variety of ways depending on your preference, your motorbike riding skills and the money you are willing to spend.
Take a tour: A lot of day trips from Nusa Lembongan and Bali come across to Nusa Penida and include both these sights. This works well if you are in a rush and want to cover as many spots on the island as you can in a single day. Bear in mind that you will land up elbow to elbow with tourists and there won't be a way to avoid it.
Hire a cab: If you stay on the island, hiring a cab to go around the island may be a great way to see both Broken beach and Angel's Billabong largely because of the heat and the bad roads. It would definitely be a more comfortable way to move around.
Take a local guide: If you are unsure about navigating around the island, local guides will guide you around on their motorbikes. You can choose to sit behind them or you can follow them on a motorbike of your own. This ensures that you don't land up on any wrong routes and they do know some nice spots!
Rent a motorbike: For 70,000 IDR/day you can rent a motorbike and explore the island. This is by far the cheapest option that is available. Now bear in mind that while the main road is tarred, the inner roads can get bad. When I saw bad, there are times when the road barely exists. Make sure that you know to ride a bike before you embark on this quest and don't try to learn here. We've seen a number of accidents on our way and they weren't pretty. Also try and avoid days when it has rained or is raining as the road turns to slush making the experience even harder.
As with every popular tourist spot, you do have to pay an entrance fee to see both these landmarks. Luckily the cost isn't too much! We paid 5,000 IDR/person and 1,000 IDR for parking. There are two parking spots. One is for bikes and the other is for cars. They also have a drop off point for tours which is different that for solo travellers. Don't worry too much about it. It just leads to the same spots.
One of the best ways to avoid the crowds is to head out early. Don't head out too early that you navigate through the bad roads in the dark. I suggest somewhere around dawn. Catch a quick bite to eat first. Most of the tour groups start pouring around 10 am. Sounds a bit late but they do have to gather their troops and catch a boat across from the other islands. This gives you more than enough time to explore and it helps you beat the heat.
You can also choose to head there later in the evening, say post 3:30 -4 pm since most of the tours head back by then.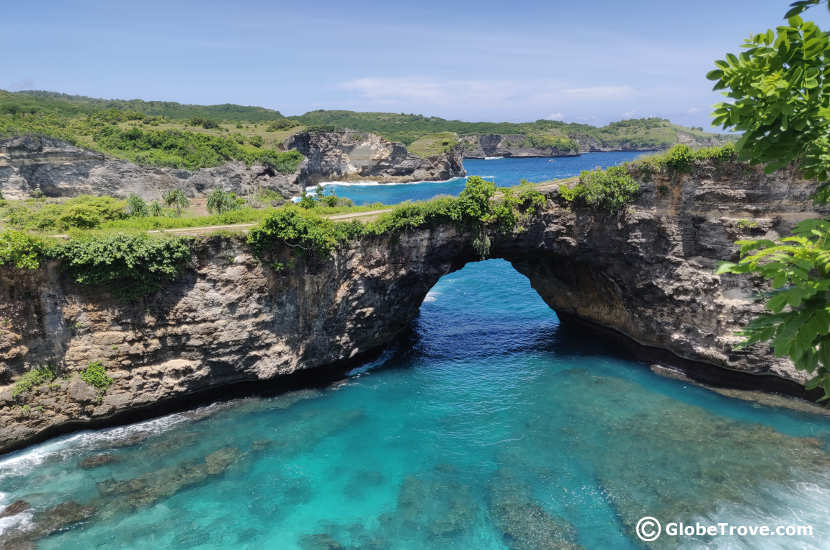 A glimpse of the famous arch at Broken Beach at Nusa Penida.
I have to be honest. Broken Beach fascinated me. Don't get me wrong, its gorgeous, breath taking and all that is good but when I think about how it was formed, it just makes it all the more awe inspiring. The moment you look at broken beach, you notice that it is a circular hole in the ground with an arch way that connects it to the sea. Now that isn't something that you see everyday.
Most of the area around, like the area that compromises the famous beach is made of limestone. A very long time ago (read about a million years), broken beach was covered by a limestone hill which harboured a limestone cave. At some point of time, the roof of the cave collapsed leaving a hollowed-out structure. The arch on one end provided the water of the sea a way to enter and fill it during high tide.
Most people say that the arch is why it is called broken beach. Me… I personally fell that the collapse of the roof is more symbolic and probably more linked to the name. Then again who knows? Irrespective of the history, it remains one of the most gorgeous places that we visited in Nusa Penida and one that I highly recommend visiting.
One of my favourite spots. You can catch a glimpse of the natural pool formed at Angel's Billabong the lower left corner of the photograph.
If you walk from the car parking lot downwards, the first spot that you will see is the Angel's Billabong. The spot is a small cove that fills in with water during high tide is perfect for a dip during low tide. On hot days however the water depletes pretty fast and that was what happened to us. If you are taking a dip in, check the tides at the time you are heading out. It is not safe to head down to it in high tide.
Irrespective what time you reach, you will however find that cliff faces around provide you a gorgeous view. There were loads of people trying to get the perfect shot for their Instagram. We were quite content in standing and taking in the view. It is breath-taking and one can't help but marvel at the furry of mother nature as she lashes on the shore.
NOTE: Please be aware that large waves do lash on to the rocky surface. Stay a good distance away from the cliff face so that you do not get washed out by the waves nor slammed into the rock face. Accidents have been known to happen when a stray wave hits. Be safe!
OTHER THINGS TO DO IN THE VICINITY
There isn't a lot to do in the vicinity but you can catch a tender coconut while you watch the view or head out to one of the little restaurants along the path to enjoy a drink. There is one that has a nice swing and claims to have a good view of the sunset. It is a bigger restaurant located closer to Angel's Billabong and the parking lot. It also has the iconic swings which would make a pretty picture if that is what you are interested in.
WONDERING WHERE TO STAY WHEN ON NUSA PENIDA?
We found ourselves wading through lists and lists of places to stay. While it may not be as overwhelming as the ones in Bali, we were still confused. Do we stay closer to the main sights or would we prefer a place that is a little bit away from the crowds? How much luxury did we want? Did we want to rough it out? One look at the map above will tell you just why we were confused. We finally narrowed down our search based on location, reviews and cost. You can check out the one we selected below.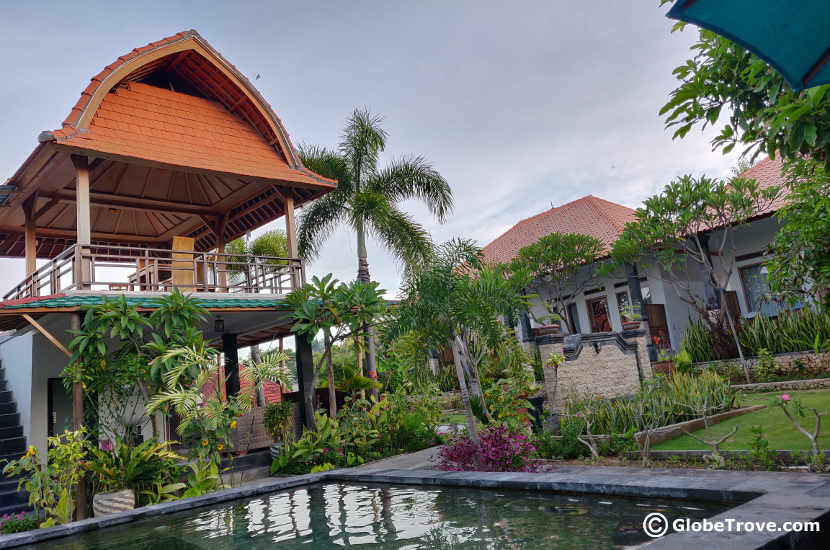 A glimpse of our haven in Nusa Penida.
Govardhan Bungalow was the spot that we settled on. It had a high review score and numerous reviews to its credit so we weren't too worried about the quality. A big bonus was that it had an outdoor pool and that was something I knew that I really wanted. While the bungalows themselves did not have a view, the seating area for breakfast had a spectacular view of Mount Agung and was a perfect place to watch the sunrise every day which turned out to be my favourite activity.
As for the rooms, they were spacious, clean, well stocked and perfect for us in every sense. Plus it had a good supply of hot water and the Wi-Fi wasn't spotty. I think the best part about it was the staff. We were even provided with free transport to and from the harbour and we rented our motorbike from the place itself for the normal price which was a big bonus.
Have you been to Broken Beach and Angel's Billabong in Nusa Penida? What was your favourite part about visiting them? Let us know in the comments below.
*This post contains Affiliate links