I think the most popular attraction in Nusa Penida is Kelingking beach. At first, I was confused at how to pronounce the word. A local told me that it was pronounced as 'Clinking' which kind off made sense after he said it. This particular tourist attraction sees throngs of tourists visiting the area every single day. Unfortunately, that means that unless you know how to avoid the crowds, you can't really enjoy the attraction. If you think that the island doesn't seem to have much of tourists when you are in the local cities, guess again. Most of the tourists come in via day tours from Bali or from Nusa Lembongan.
Don't worry though. There are ways to avoid the crowd and while you can join a tour, you can also explore Kelingking beach and all the other sites near it on your own. Just read on and we will tell you how to.
LOCATION OF KELINGKING BEACH AND T-REX BAY IN NUSA PENIDA
This famous beach is located on the west coast of Nusa Penida and is sort off close to Broken beach and Angel's Billabong. Normally both these attractions are covered on the same trip. The roads getting to both attractions are a bit challenging in the sense that at some point of time they are not tarred. In some places, limestone pieces are crushed to form the road and it can get difficult to navigate through.
While everyone talks about heading to Kelingking beach, not everyone sets foot on it because it requires a lot of energy to reach it. You can however catch a glimpse of it and the famous T-Rex Bay from the top of the cliff if you don't choose to head down but more on that in just a bit.
There are a couple of options that you can choose from if you plan on heading out to Kelingking beach and T-Rex bay. I will mention them all even though I am going to be specifically talking about heading out without a guide just so that you know what your options are.
Take a day tour from Bali or Nusa Lembongan: There are a number of tour operators who offer day tours to Nusa Penida and they do cover this spot in their packages. I can't tell you about the price comparisons between operators or even how much they charge because we did not look into this option even though we knew it existed. The day tours are great for people with a short time frame and who do not want to skip the sites on Nusa Penida.
Book a tour from Nusa Penida: I also know that there are tour companies that will provide you with a tour which starts off in Nusa Penida itself. So, if you are staying on the island and would prefer to join a group, this may be the right choice for you.
Hire a car and a driver for a day: This option is certainly feasible depending on how many people are travelling. It is more costly than renting a bike but it is certainly more comfortable when you consider the state that many of the roads are in. The air-conditioning also does provide respite from the heat.
Hire a guide for a day: One interesting way to visit the landmarks is to hire a guide for a day. The guide may take you on his motorbike or you may follow him on your own motorbike. I guess you need to negotiate it with the guide and it also depends on the number of people in your group.
Rent a motorbike and explore on your own: This was the option that we chose, and we loved it. We didn't take a guide and we figured out everything by ourselves. We even found a couple of neat spots that were off the tourist radar. If you want to delve into this option, you will find that there are a number of people who will rent you a motorbike in Nusa Penida for 70,000 IDR/day. I must however warn you that the roads are bad especially after it rains. If you have not ridden a bike before or are not confident, this is not the place you want to practice on. We met a lot of people who had nasty spills along the way, and many had ugly looking scrapes and injuries.
AVOIDING THE CROWDS AT KELINGKING BEACH AND T-REX BAY
There are two main ways to avoid the crowds. One is to head there early morning and the other is to go late evening. I would advise heading out in the early morning like we did because it gives you the time to climb down to beach and explore the other sites in the area before the vans of tourists arrive. You can then head on to Broken Beach and Angel's Billabong afterwards and reach there at around the same time that everyone heads out for lunch. You can find the details of those attractions in the post I've linked to.
How early is early you may ask. Well, our host suggested leaving around 6:30 am. We finally set out at 7 am because we sat a wee bit too long for breakfast and that worked fine. I guess, it also depends on where you are staying. Our accommodation was Govardhan Bungalows which was at the north of Nusa Penida. Aim to reach there between 8-9 am. That should give you at least an hour before the tourists come in which is usually by 10 am.
The entrance fees here were surprisingly half the amount that we paid at the Thousand islands view point. They charge 5000 IDR/person to enter and if you are headed there on a motorbike you will have to pay parking charges which amounts to 1000 IDR/motorbike. The parking is a little way off from the main area but if you are early no one stops you and you can drive to a closer parking that usually gets full later on in the day.
WHAT TO VISIT AND WHERE TO GO AT KELINGKING BEACH AND T-REX BAY
Like I said, there are a number of sites in the area that can either give you great views or that you may want to visit especially if you have time. We spent nearly three hours just wandering around and we headed out around 10:45 am just after the first batches of tourists had begun to crowd the area.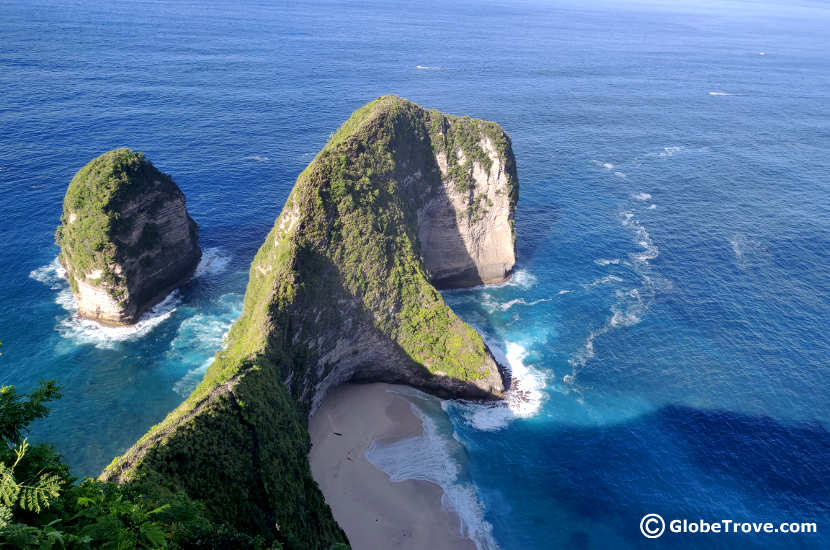 What do you think? Does it look like a T-Rex?
I still remember walking towards the view point and Shawn asked me, what was so famous about where we had come. You really don't get your glimpse of the bay until you are closer to the edge of the cliff. Steps lead down to a view point and along the steps, you can stop at various spots just to take in the view. T-Rex bay got its name because of the shape of the landmass jutting out which many say looks like a Tyrannosaurus Rex (T-Rex). What do you think?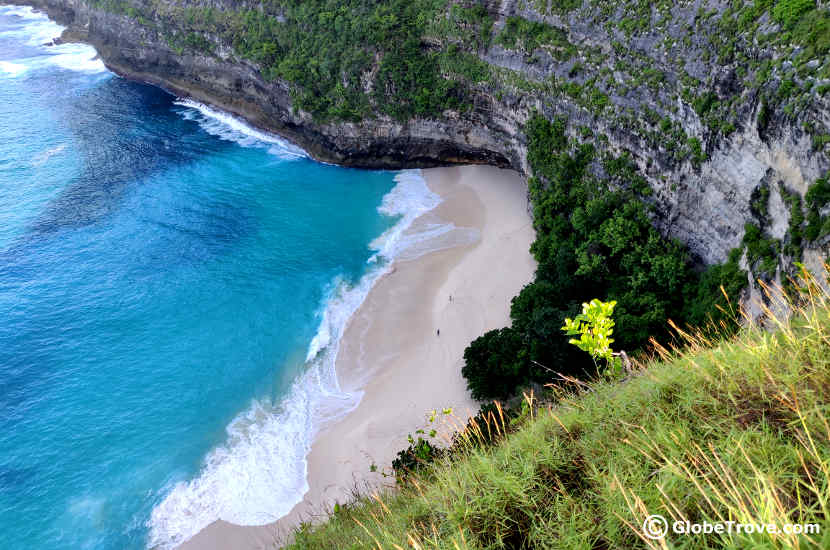 A view of Kelingking beach from above.
I think that a lot of people use Kelingking beach synonymously with T-Rex bay. The thing is that Kelingking beach is an unbelievably gorgeous spot of white sand that lies in the nook of the bay. It is easy enough to spot from the top. To get to Kelingking beach you have to climb down stairs that are cut into the rocky cliff. There are handrails at most sections but it is steep and you have to remember that once you reach the beach, there is no way back other than up!
Shawn and I started down the stairs but at 20 weeks pregnant it soon became apparent that I wouldn't be able to continue so I backtracked and headed up to the more easily accessed paths which I will talk about in just a bit. Shawn on the other hand continued downward and when he came back, he was breathless, tired and awed at how amazing the experience had been. I am so glad that he did it!
There are a number of view points in the area. Two of them however follow a beaten track up the hill. Climb the steps along the cliff face all the way up to the top, pass the restaurant which will be on your right and head upwards. A small trail will lead the way. There are two or three tiny little spots here which give you a remarkable view of the T-Rex bay below. They do not have railings so be careful especially if the ground is slippery.
Another spot to catch a glimpse of the view is to head back towards the Car temple. Just before you reach the temple, you will find a restaurant on your right. It has a couple of spots for some Instagram photographs, a few swings and a chance to see the opposite side of the bay.
CATCH A BITE TO EAT WHILE YOU TAKE IN THE VIEW
If you missed breakfast or just want to catch a bite to eat, stop and sit in one of the quaint little restaurants. You can get some local Indonesian food here. Alternatively, if you make your way right down to Kelingking beach, you are bound to be tired and thirsty when you come up. I would suggest a nice big tender coconut. I found a nice spot to sit in one of them after I was done exploring. The cool breeze and sound of the sea kept me company while Shawn was on his way to the beach. In hindsight, it was one of the most peaceful moments that I had spent on the island.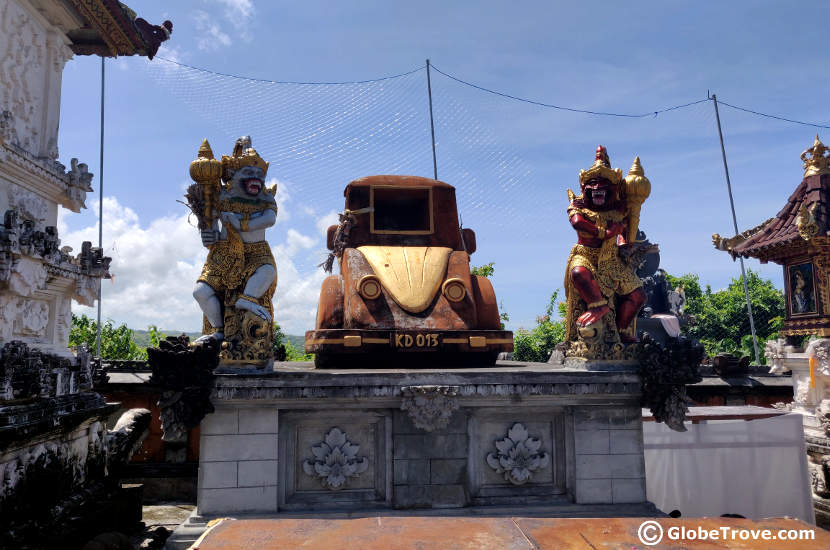 One of the two cars in the Car temple.
This particular took us totally by surprise. When we got our ticket, the man pointed out in the general direction of the temple and told us that it was included in the price. At first, I did not pay much attention to it. I probably heard it wrong. I mean a CAR temple? Once we had finished moving around and taking in the views we headed to it because we were in the area and why not? The Indonesian temples are always gorgeous. It turned out that it really was dedicated to cars. You will find two cars next to the main prayer area. They are rather cute. We tried asking around about the significance, but we did not get a proper answer. If you know what it is do let us know because we are very curious!
WHERE TO STAY IN NUSA PENIDA?
If you take a look at the map above, you will quickly realize that Nusa Penida has a lot of different options. Sometimes too many options makes the decision even harder and this was something that we experienced first-hand. One of the ways to decide which location suited us best was based on the locations that we wanted to visit. I wanted to head out to the Thousand Islands View Point which was on the eastern side of the island. That meant that the most central location was in the North. We then used reviews and our personal preferences to narrow it down. In hindsight, we were not disappointed at all.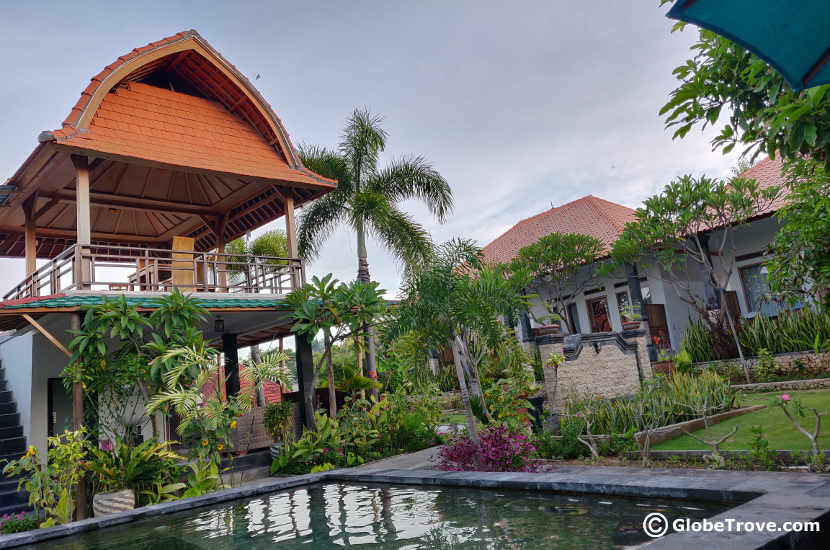 We loved our accommodation in Govardhan Bungalows. 
This was our choice. Govardhan Bungalows is situated in the north of Nusa Penida and is just a tiny bit away from the main road that you don't get the noise of the traffic. They offer free pick up and drop to the harbour where you can catch your boat to your next location. In addition, we also rented our motorbike from here for 70,000 IDR/person.
The rooms were large, comfortable and definitely worth the price. We had a continuous supply of hot water which was great and the Wifi worked without a hitch which is rare on the island. Shawn found that he loved the pool and after a day of hiking around, it did feel good to relax in it.
Have you been to Kelingking Beach and T-Rex bay? Did you use a tour or did you explore by yourself? What did you think of the experience? Let us know in the comments below.
*This post contains Affiliate links