One of the things that cropped up in my list of things to do was a wide range of cooking classes in Sri Lanka. At first, I thought that it was just a fad. However, when we reached the country and had a couple of meals, we fell in love with the food. From the spicy devilled food to the mouth-watering curries, food in Sri Lanka is delicious! It took us less than five days to decide that we wanted to take the taste back home with us and that meant that we needed to learn how to cook Sri Lankan cuisine. The most popular place to learn to cook is in Ella and truth be told, it is a foodie's paradise. We however had time to spare in Tissamaharama and when we bumped into the owner of HotSpot in the city, we decided to take our cooking classes there.
COOKING CLASSES IN SRI LANKA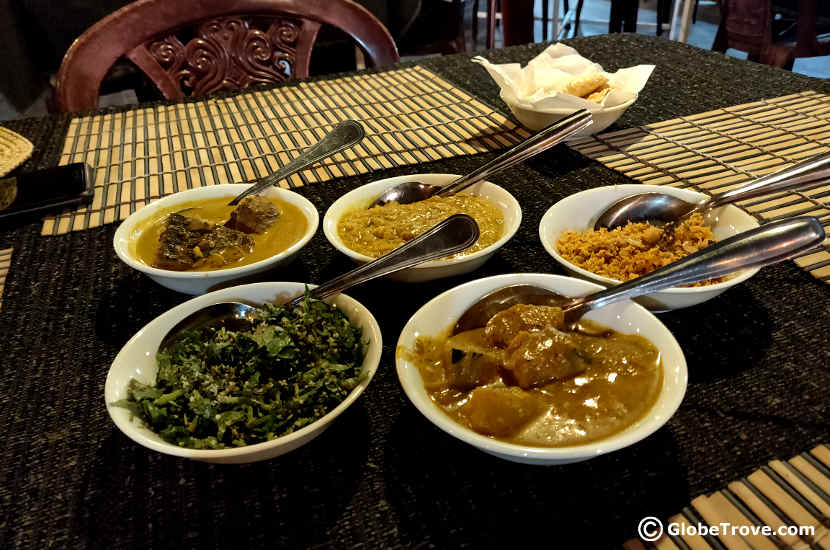 One of the many Sri Lankan meals that made us drool.
The real reason why we asked the owner of Hotspot kitchen to host us for cooking classes was because we enjoyed our dinner there the previous night. In fact, since we wanted to have string hoppers (which wasn't on the menu), he took his motorbike and went out of his way to get us some, just so we could taste them. I have never seen any restaurant ever do that! To say that we were impressed by the hospitality would be an understatement. Anyway, we started talking to the owner of the restaurant and he told us that he would love to have us over to see how they cooked. It was going to be the first cooking class that they held so we were all a bit nervous, but it turned out to be so amazing. What we liked the most was the company, but I will get into that in a bit.
We were due to head out for a safari to Yala National park early in the morning, so we scheduled our cooking class in the afternoon. That way we could cook the food and then eat it for lunch.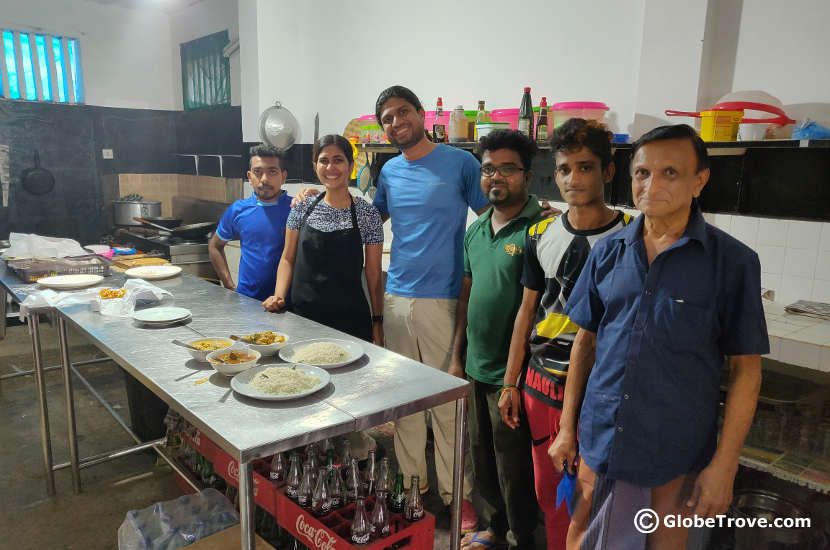 Cooking classes in Sri Lanka? These were the awesome people who made learning fun!
We chose to learn how to cook pumpkin in coconut curry, dal or lentil and how to make a chicken/fish curry. I'm just going to pen down the recipes that we used so that you can see the ingredients and so that I don't forget what we used! Our teachers for the day were Asela and Fernando. We had a lot of other company, but I can't remember everyone else's names. Fernando was the main chef. It was he who gave us directions and Asela helped us as we got used to the kitchen. One thing that we learned from our cooking classes in Sri Lanka was that the food is surprising easy to make. We were given the opportunity to choose what we wanted to learn to cook and we told them the previous day. Our choice revolved around the dishes we enjoyed the most. I do wish I had tasted the baby jackfruit earlier because I would have added that to our list too.
While we slowly chopped our vegetables, we watched in awe how the rest of kitchen functioned. I take an hour to scrape two coconuts, the chefs in the kitchen make short work of it in five minutes. While we spent around 30 minutes learning and writing about all our dishes, I think that we breezed through the process because some of the hard work was already done. Now I know that not everyone knows how to grate a coconut or juice it. We however knew because being Goans it is part of our way of life. It was really nice that the cooking classes that we took were tailored for our needs.
Hotspot also has a buffet for every lunch. We were given a chance to taste and eat from the buffet too. This helped us compare how our food turned out with how it needed to be. It was an interesting way to learn because we were shown how we were going wrong while we were cooking, and we were so much more confident when we tried to cook the same dishes at home.
Anyway, here are the recipes that we tried. As you can see, the Sri Lankan way of cooking almost as simple as putting everything in a pot and boiling it. It is also flavourful and full of spice. It isn't a wonder that we fell in love.
1 slice of Pumpkin
½ a small onion
1 sprig of curry leaves
3 large cloves of garlic
1 stick of cinnamon
1 pinch of fenugreek seeds
¼ tsp Mustard cream
¼ tsp turmeric
¼ tsp pepper
½ Chilli powder
Milk from one coconut
¼ tsp salt
Clean the pumpkin and cut it into medium sized chunks. Mix all the ingredients in a bowl. Add the second juice (thin) of the coconut in and cover till it boils. As soon as the milk thickens, and the pumpkin softens add the first juice (thick) of coconut. Boil till it thickens. Add a dash of sugar for taste. Remove from the flame and serve.
A cup of lentil
½ a small onion
2 chopped chillies
2 cloves of garlic
A sprig of curry leaves
½ tsp of fine chilli powder
½ tsp coarse chilli powder
½ tsp turmeric powder
½ tsp coriander powder
¼ tsp pepper powder
1 stick of cinnamon
Pinch of fenugreek seeds
¼ tsp mustard cream
½ tsp salt
Milk from one coconut
Mix all the ingredients together and add the second juice (thin) of coconut milk. Cover and boil till it thickens. Add the first juice (thick) of coconut milk. Add more salt if required.
1 slice of fish
½ a small onion chopped
2 chillies chopped
1 tsp chilli powder
½ tsp turmeric powder
¼ tsp pepper
¼ tsp mustard cream
Pinch of fenugreek seeds
¼ stick of cinnamon
¼ tsp kokum paste
½ tomato chopped
Salt to taste
Mix everything together and put in a pan. Add half a cup of water and cover with a lid. Boil till it thickens. Serve when done.
Have you taken a cooking class in Sri Lanka? We would love to hear about your experience in the comments below.
*This post contains Affiliate links