Our third stop in Sri Lanka was Tissamaharama and we had to get there from Unawatuna. Like everything that we did on this trip, we found out information about the journey on the go. There are any ways to get from Galle to Tissamaharama and most of the information online when we checked about starting our journey from Unawatuna did not help at all. I noticed that the same was true when it came to our journey from Colombo to Unawatuna and for other parts of our intercity commute. That is one of the main reasons why I decided to pen it down.
UNAWATUNA TO TISSAMAHARAMA
There are numerous ways to get from Unawatuna to Tissamaharama. The best way is to head to Galle and then move on south. This is despite the fact that Galle is a little way up north and you have to retrace your steps when you embark on the main part of your journey. The reason behind this is that the only way to head directly from Unawatuna to Tissamaharama (while not heading to Galle) is by taking the bus. The bus leaves from Galle and makes a stop at one of the local bus stops in Unawatuna. Now the issue with this is that the journey to Tissa is long and the bus is usually full. Getting in Galle means that you get a seat while getting in Unawatuna usually means that you have to stand till a vacant seat comes up. With luggage this could get challenging. Another disadvantage is that (if) you don't speak the language. Since the bus stops for a fraction of a section, it makes it rather difficult to know if you are boarding the right bus. One quick way of knowing whether you are right is to check the side of the bus. The government buses usually have the stops printed on the window tops.
We however chose to head to Galle and head out from there. Now getting to Galle from Unawatuna can be done in a variety of ways. You could catch a local bus, take a tuk-tuk or hire a cab. Where you get down in Galle depends on which mode of transport you decide to take.
GALLE TO TISSAMAHARAMA BY TRAIN
One of the ways to get to Tissamaharama from Galle is by taking the train. I unfortunately do not have information on the timings or on the station. What I do know is that the train starts its journey from Colombo and that it can get crowded. First class tickets are generally booked out but second class and third class (what I think is general) can be obtained. From our experience on Sri Lankan trains we know that having a ticket doesn't usually mean that you have a seat. If you are trying to book a ticket on the spot, head to the station an hour before the train is due to arrive. Your chances of getting a ticket are higher that way.
GALLE TO TISSAMAHARAMA BY BUS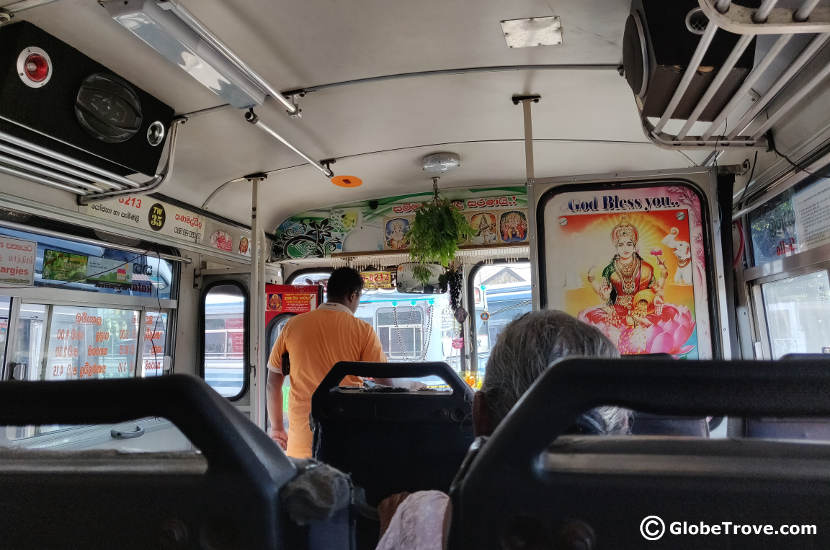 Inside the bus we took from Galle to Tissamaharama.
We chose to travel from Galle to Tissamaharama by bus. We took a tuk tuk to Galle bus station. A trip that cost us 300 LKR. Now the bus depot that you are headed to is not in the centre of the main bus stand but slightly to the side of it. Our tuk-tuk driver called it the Kataragama bus stand. A couple of buses will be parked in line and if you look closely enough you will notice that the names of the stops are printed on the tops of the windows. Our bus had the text in English so that really helped. One thing that you will note when getting into the bus is that many of people will say that it is heading to Kataragama. Tissamaharama is just one stop before Kataragama.
We had to wait a while before the bus that we entered in was scheduled to leave. Being in the hot sun, the bus began to heat up while we were stationary and in my opinion the waiting was the worst part of the journey. Shawn however had the forethought to jump out and get us some fruits. His choice was grapes and they kept us going through the trip while keeping us hydrated. Our bus finally left at 10:15 just as it was mentioned on one of the windows of the bus. If you don't want to jump off the bus and catch a bite for journey, you can pack a lunch for yourself prior or you can buy something from the numerous hawkers that enter the bus at stops. Their wares range from boiled chickpeas to deep fried snacks which give you a taste of what the local food in Sri Lanka is like.
The conductor came along moving through the bus slowly as soon as the bus started off. We paid 226 LKR per person for the entire journey from Galle to Tissamaharama by bus. As you will note that the amount was paltry for the journey and the trip was quite comfortable. We had decent leg space, our luggage had enough space next to our feet and once the bus started moving, the heat was no longer a problem. We kept our eye on Google maps as we did not want to overshoot our bus stop. We had learned our lesson in our previous trip. The conductor stopped the bus in the centre of the town (yes that happens!) and we walked from there. We later learned that the bus stand wasn't very far from there either. We visited it when we headed on from Tissamaharama to Ella, a trip that I will talk about in another post.
All in all, I love bus journeys. Travelling by bus in Sri Lanka was an interesting experience. A lot of foreigners talk about how the buses never slow down and how they fly. I can see where there are coming from but as an Indian, it did not shock me. In fact, I watched how the conductor would step down to help the elderly passengers and how the driver was patient with them. The transportation may not be perfect, but it is great for a budget traveller who doesn't mind roughing it out.
Have you travelled by bus in Sri Lanka? We would love to hear about your experience in the comments below.
*This post contains Affiliate links