Our vacation to Sri Lanka may have been a spontaneous decision but one thing was sure. We wanted to head out to the south and check out some of the more popular Sri Lankan beaches that we had heard a lot about. The problem was that there were so many options on the coast that we could choose from. We narrowed it down to Unawatuna because of how popular it is among backpackers and because of the fact that it was close to Galle, another city that we wanted to explore. We spent two days in the area and I would like to think that we did justice to the place, but truth be told, I wish we had stayed for longer. Since we enjoyed our stay in Unawatuna so much, I decided to put together a Unawatuna Travel Guide to help people who are heading out to there in the future.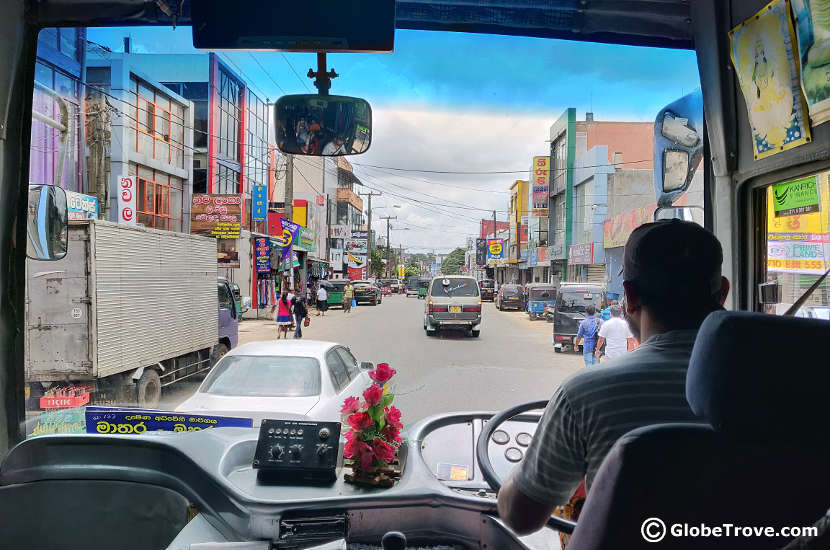 Getting from Colombo to Unawatuna is a scenic journey.
There are a variety of ways to reach Unawatuna and you can head there from different parts of Sri Lanka. The most popular route that people take to head here is from Colombo or from Tissamaharama in the south. Trains do run from Colombo to Tissamaharama (and vice versa) with a stop at Galle which is a short distance away from this coastal town. Aside form the trains, there are buses that head to Galle which seems like the hub for connecting to other cities in Sri Lanka. We took the bus from Colombo to Galle and headed on from there to our accommodation. We made a number of mistakes on the way but I'm not going to get into them as I already have a long detailed post about it already up.
Getting from Galle to Unawatuna is as simple as hoping into a tuk-tuk or a catching a bus. You could also think of renting a scooter / motorbike in Galle and using it to head to Unawatuna. We however chose to rent ours closer to our accommodation.
RENTING A MOTORBIKE IN UNAWATUNA
We couldn't find much of information while we were searching about renting a motorbike in Unawatuna. One thing we did know is that you need a temporary driving permit to drive in Sri Lanka and just an international driving license doesn't help. If you haven't heard about this and would like to apply for one, check out the post we have put up on the process you have to go through. It is fairly simple and organized. All it needs is around an hour of your time and a pitstop on the outskirts of Colombo.
Anyway, as I was saying, renting a bike was on our list because we wanted to visit the Galle Fort too. We wanted freedom to move around and we did not want to spend an arm and a leg on tuk-tuks. We tried a number of places along the main road but all of them quoted 1500 LKR upwards. That was out of our budget range. Our accommodation was closer to the Unawatuna beach and just as we turned onto the road (not the Jungle beach road) we found a lovely lady who rented us a bike for 800 LKR per day.
There are a couple of things that you should do when renting a motorbike. I'm just going to list them out even though some of it may be general information.
As about the bike's documents and the insurance. Find out where the papers are stored so that in case you have to produce them, you don't get flustered.
Take photographs of the bike from different angles. This serves as proof in case the owner later claims that you have damaged the bike.
Check the lights and the brakes. Never rent a motorbike without checking this out.
Ask for helmets. Rentals always provide helmets for both the rider and the pillion.
Ask how much fuel that they will provide and ask where the closest petrol pump is.
CHOOSING YOUR ACCOMMODATION IN UNAWATUNA
I think almost everyone who visits the coast, envisions a gorgeous little room with the sandy beach at their doorstep. I know that I do. Unfortunately, it isn't always possible because the closer you get to the beach the more expensive it gets. We however found a lovely little solution to our budget constraints. We booked our stay at Hansa hotel which is a 2-minute walk away from the beach. It may not have a view of the sand and waves, but you will get visited by a variety of wildlife like monkeys, langurs and peacocks. The owners are really nice, and we enjoyed the time we spent there.
Things To Do In And Around Unawatuna
So, what's the hype around this beach town? Why do people want to head to here and what are the things to do in and around Unawatuna? These were the questions that kept popping in our head as we headed out to our second stop in Sri Lanka. Luckily, we had plenty of time on the bus to figure it out. Our travel guide would really be incomplete if we did not tell you what our research brought up and what we found when we finally hit the ground running. So without too much ado, I'm going to take you through our list.
A glimpse of the gorgeous Unawatuna beach.
This beach is what draws tourists to this small coastal town month after month and year after year. Sprawling white sand, crystal clear waters and waves. That was what we found. Unfortunately, we also found that the sun is really hot too. The beach makes a great place to surf if you are into that, swim if you aren't scared of the waves or just lay back and enjoy the ambiance. We heard a lot about how crowded the beach gets but when we arrived, the beach was relatively empty. It may be largely due to the fact that we travelled in September which is known to be the off season for this sector of Sri Lanka. Whatever the reason was, we loved the place and spent a whole morning, chilling and enjoying the sound of the waves while playing board games. Shawn headed out for an occasional dip to cool off.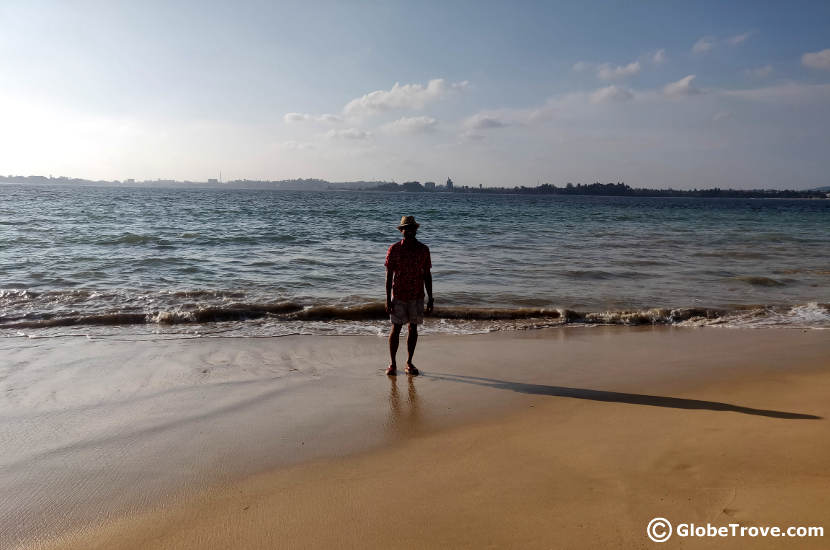 Spending time on Jungle beach.
A lesser explored beach is Jungle beach. If you think that you can stay on this beach, you are mistaken. In fact, you have an easy trek through the jungle that takes you to the Jungle Beach. As you can see, that is how it got its name. Jungle beach however is a distance away from Unawatuna beach and you can get to it by trekking, riding a bike or taking a tuk-tuk. Alternatively, you can stay closer to this beach. While we explored the area, we noticed that there were a couple of places that the tourists stayed at.
RELATED ARTICLES: Jungle Beach in Unawatuna 
THE JAPANESE PEACE PAGODA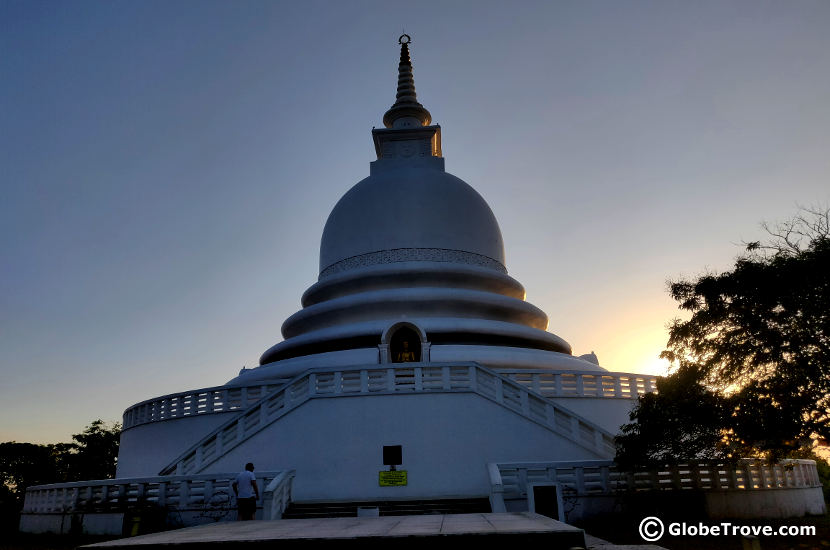 Japanese Peace Pagoda at sunset.
One of the most popular items on most people's the things to do in Unawatuna list is the Japanese Peace Pagoda. At first, I couldn't help wondering why. Since we were close by, we decided to visit it. The Japanese Peace Pagoda is situated at the top of a hill, close to Jungle beach. The large white stupa captures a visitor's presence instantly. Like all religious sites, you need to ensure that you remove your shoes before entering and ensure that both your knees and shoulders are covered. I would suggest going there to watch the sunset because it gives a you a gorgeous view of the bay.
You can also head to the Japanese Peace Pagoda and Jungle beach by trekking through the Rumassala Sanctuary if you are heading towards it from the Unawatuna beach. It is a long walk though and even though we had the bike wee found the journey a bit tedious in spots. I guess it would have been better on foot. The thick green cover is delightful to be in but be forewarned that the mobile coverage isn't good. Our signal dropped off a number of times and that meant that we took a couple of wrong turns.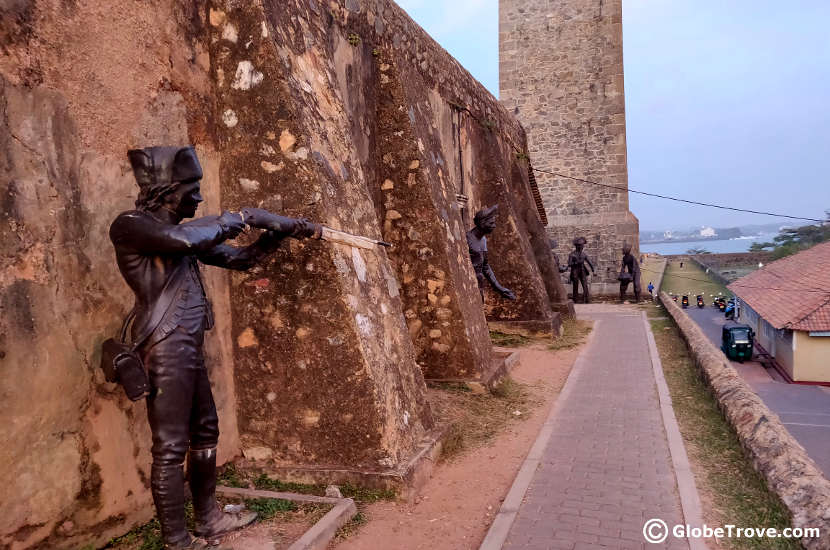 Galle fort is close enough to Unawatuna to make a trip.
Galle is a short drive away from Unawatuna and it certainly is worth a visit largely because of Galle Fort. If you don't have too much luggage weighing you down, you can even explore it on your way. All you need is two to three hours to explore the fort. You can breeze through it too or you can choose to take your time. There are a number of sights to see within the fort. This includes a lighthouse, the fort wall, the old Dutch hospital and a number of religious structures. You can even catch a gorgeous view of the sun setting on the coast. I won't go into much detail about it because we already have a long article that talks about Galle fort and what to do when you reach there.
RELATED ARTICLES: Galle Fort: A Guide To Things To Do And See
Travel Accessories You Should Carry
Like many of the countries in Asia especially to the South East, Sri Lanka has a hot and humid climate. Being on the coast you will find that Unawatuna gets especially hot in summer and it is a big difference when you compare it to places like Nuwara Eliya. It would be remiss of me if I did not tell you about all the travel accessories that you should carry in our Unawatuna Travel Guide. So without too much ado, let's get to it shall we?
I would suggest that the first thing that you pack in your bag is sunscreen. It is especially hot on the coast and despite our darker skin hues and the fact that we are from India, we felt it. I almost forgot to carry ours. Take two types of sunscreen. One that is water repellent and one that isn't. The water repellent one is usually oilier and less comfortable when you are just walking around. We also carry an aloe based after sun lotion that helps rehydrate the skin and is really soothing when/ if you get sunburn.
Sounds very contradictory when I say carry sunscreen and mosquito repellent doesn't it? Since Unawatuna is close to the Rumassala sanctuary, there is a lot of dense vegetation around. That in turn means that the mosquitoes thrive, and you may or may not get sleep at night. Our accommodation provided a nice mosquito net, so we did not suffer. However, if you trek through the jungle to reach the beach or head into the sanctuary or stay late at the beach you may just be a chosen victim.
I usually carry a thin towel that we bought in India because it is light weight and dries quickly. A number of different companies however do produce thin microfibre towels which are meant for travel. They are thin, quick drying and easy to carry/pack. It does come in handy when the odd hotel/hostel doesn't provide one and if you choose to head down to the beach. Alternatively, you could carry a sarong which also doubles as a beach towel and a picnic blanket.
This may not always be on everyone's list, but I always choose to take a travel board game or two with us. It comes in especially handy when you start feeling bored and wonder what to do. It is also a great way to interact with other travellers and break the ice. I recently wrote an article about board games to travel with that became very popular. You may want to check it out.
We loved our time in Unawatuna. The only regret that we had was that we did not spend more time on those gorgeous beaches enjoying the delicious food.
Have you been to Unawatuna? We would love to hear about your experience in the comments below.
*This post contains Affiliate links