Despite the fact that we had arrived in Sri Lanka without a fixed plan, we knew that we wanted to head south to the coast. Our tentative idea was to head to Unawatuna and that meant that we had to find our way from Colombo to Galle somehow before proceeding to the tiny coast town of Unawatuna. As always, we headed over to the internet and scoured over travel blogs to find out how. After all, Google knows everything… Right? Well we did come up with a couple of resources. We had three options: Bus, train and hire a car. Of the three we dismissed the last one immediately. Hiring a car may not be as expensive as Europe but we were on a budget and we wanted to travel like a local. So that narrowed it down to the either bus or train.
Since our ultimate goal was to travel from Colombo to Unawatuna we were a bit stumped. There were no direct trains and no direct buses. The way to overcome this hurdle is to head to Galle and find some transport from there to Unawatuna but I will get to that part in a bit. Let's talk about heading out from Colombo to Galle first shall we?
TAKING THE TRAIN FROM COLOMBO TO GALLE
While we did not take this option because we had to get our temporary drivers permit on the day we were leaving (it was more convenient to take the bus), we did do our research on how to catch the train, so I am just going to add it in. The train to Galle leaves from the Colombo fort train station. From what I know about booking train tickets in Sri Lanka (our experience in Ella), getting your hands on a first class ticket can be quite tough. You can get into the second class or third class compartment if you book an hour before but compartments can get crowded. This is especially true on holidays. I suggest reaching the train station an hour before the trains departure to ensure you get a ticket and seat. Luckily the distance between Colombo and Galle isn't too great.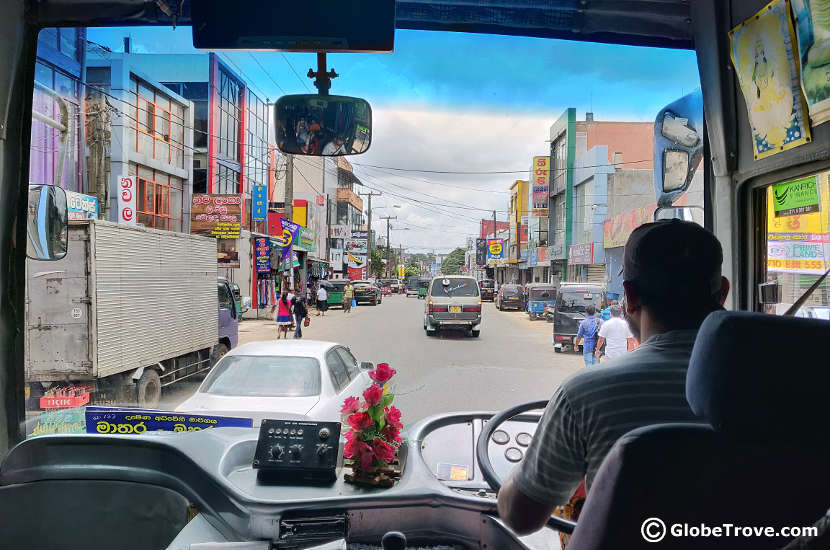 Colourful scenes while taking the bus from Colombo to Galle.
We chose to take the bus because the bus stand to catch the bus to Galle is the Maharagama Bus stand which is located a bit of a drive outside the city. This worked well for us because we had to head to the Department of Motor Traffic in Werahera which was closer to the bus stand. It made better sense than travelling all the way back to the city just to take the train. We took a tuk tuk to the DMV and then another tuk tuk from the DMV to the Bus stand. The buses ply quite frequently, and I am given to believe that they can be caught at a 15 to 20 minute interval.
We caught an AC bus from the bus stand that was due to leave in a couple of minutes. We spent 450 LKR per person which was really cheap in our opinion. Luckily for us we had had a decent breakfast before leaving because we would have probably been hungry as we left close to lunch time. If you haven't carried food along (which I recommend), hawkers enter the bus an sell their wares. It may not always be what you are looking for. Most of the food sold are the deep fried snacks that are popular in Sri Lanka. A few albeit rarer hawkers do sell fruits.
GETTING FROM GALLE TO UNAWATUNA: A Series Of Errors
The best way to get from Galle to Unawatuna would be to hop off at the Galle bus stand and take a bus or a tuk tuk. Alternatively, you could do what we did with a bit more skill and shall we say finesse? The bus from Colombo to Galle reaches a T- junction where one road heads to Galle and the other heads to Unawatuna. We unceremoniously jumped off the bus at the bus stand because… Well why do the trip twice when you are already tired right? Before we go on, I must emphasize that it wasn't entirely a bad idea. Unfortunately, we made a couple of mistakes after that which drained us completely.
At the stop we decided to forgo the tuk tuk. The tuk tuks aren't expensive but we were adamant that we wanted to try the local transport. So we asked someone which bus was heading to Unawatuna and were directed to the next bus which was packed. The helpful Sri Lankans who were sitting offered to hold our bags (which reminded me of Goa!) so that made the journey more comfortable. We however forgot to mention that we wanted to get down at Unwatuna. Mistake number one! This meant that the conductor gave us a ticket to Matara which is where the bus was headed. We were so upset that we were charged the foreigner fare (which we later realized we were not!) that we did not realize that the bus was flying! I kid you not, the local buses drive like they are on a race track. We overshot our bus stand by a couple of kilometres by the time we got down.
The sun was hotter than we expected and trotting through it with a backpack may not have been the easiest thing. We tried to rent a motorbike at a couple of places, but we couldn't help feeling that we were being overcharged. Luckily, just as we turned off the main road and headed to Unawatuna, one of the shops offered us a motorbike rental at 800 LKR per day. Our walk shortened, and it was a relief!
In short, travelling from Colombo to Galle is remarkably easy. Travelling from Colombo to Unawatuna isn't that difficult if you don't make stupid mistakes like we did!
Have you used the local transport in Sri Lanka? Did you enjoy it? We would love to hear about your experiences in the comments below.
*This post contains Affiliate links