If you are planning a trip to Vietnam and you have started your general research, you will know that Hanoi is the capital of the country. Many people consider capital cities a representation of the country as a whole. Me… I consider them a brief introduction or a short finale. It depends on which part of my trip they land up being. It is usually the beginning or the end largely because the main International airports are in the big cities. That's one of the reasons why we visited Hanoi but that's just one. The other reason was that our favorite restaurant in Bangalore was named Hanoi and we loved the food it served. Nevertheless, we had a short while to spend in the city and I decided to talk about how we made the best of it. That's why I drew up a Hanoi travel guide based on the experiences I had as a tourist.
In order to help you navigate through the article (since it a long one), we have provided you with a set of links below. You can click them and head to the topic you want to view directly.
I think that our Hanoi travel guide must have a brief introduction to the city. Like every other part of the world, Hanoi has its own beauty and its own charm. Your time in Hanoi may be short or long, but the basics that this travel guide of Hanoi will provide will be applicable for everyone.
Vietnam is a long strip of land and hence it doesn't come as a surprise that the weather in the north and the south differs. Hanoi is situated at the north of Vietnam. This means that it usually has colder climates during winter months. We were in Hanoi in December and we found the weather really pleasant.
That being said, I did a little research and realized that the temperatures can cross 30oC in the summer. Rain is also something that you need to keep in mind. While July may be the hottest month in Hanoi, it is also the wettest month. This definitely means that you are in for a hot humid climate if you head there at that time of the year.
The currency that is used in Vietnam is the Vietnamese dong. Once you do your conversion from dollars (or almost any other currency) to Vietnamese dong, you will begin to feel quite rich. This is largely because of the number of zeros that follow each number. Unfortunately the zeros don't really matter because once you do your calculations you realize that you start paying with a number of zeros. Despite the large numbers involved in every transaction, Vietnam is a very cheap country to backpack across. So don't let the financials worry you too much.
To say that we had two days in Hanoi maybe a bit of a stretch because we reached and checked out of the airport at around 3 pm. It had been a long flight with particularly long stopovers (one in Kuala Lumpur and one in Ho Chi Minh) and we were all but exhausted. With lack of time on our hands we knew that we had to get to our designated accommodation as soon as possible. The cheapest way to head to the city is via the public transport. There are a lot of taxis and mini vans waiting to be rented but they are much costlier. Just ask anyone at the numerous booths inside the airport and they will point you in the right direction.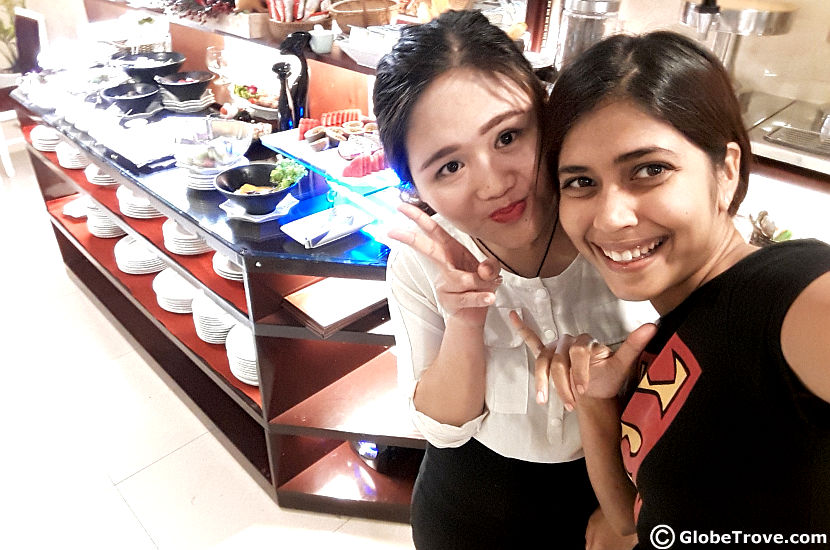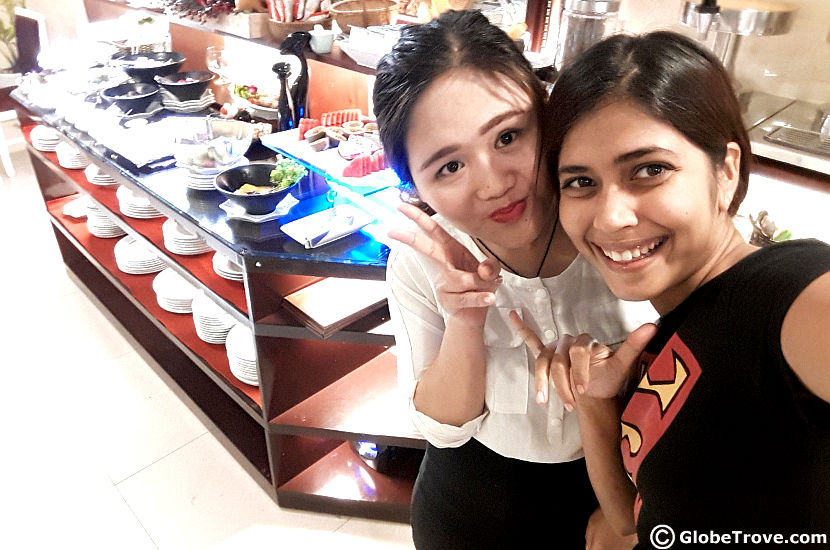 A selfie that I took with one of the staff at Splendora
Hanoi has a number of backpacker hostels and even more hotels. You can take your pick and choose from luxury to bare necessities. We picked somewhere in between and we stayed at a hotel called Splendora. The main reason why we did this was because the accommodation that is available in Hanoi is reality cheap compared to other destinations across the world. So while we did not spend much we did have our own slice of luxury!
You may find this Booking.com plug in useful in finding accommodation that suits your needs. We usually go for a place that has a rating of 8 and above.
My knowledge of Vietnam's history was sadly scant. A trip to Vietnam sorted it out. Learning about the Vietnam started out right from Hanoi (which was the first Vietnamese city that I visited). I think that understanding the history and culture of a place gives you a deeper understanding of the people and their lives. That's why I have included learning about Vietnam's history in my list of things to do in Hanoi.
Places that would include under my list of things to do in Hanoi as far as history is concerned are as follows.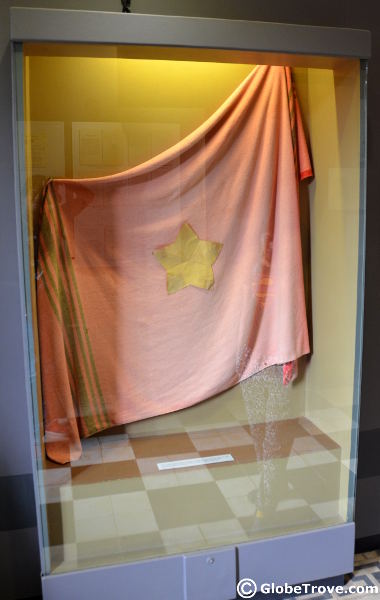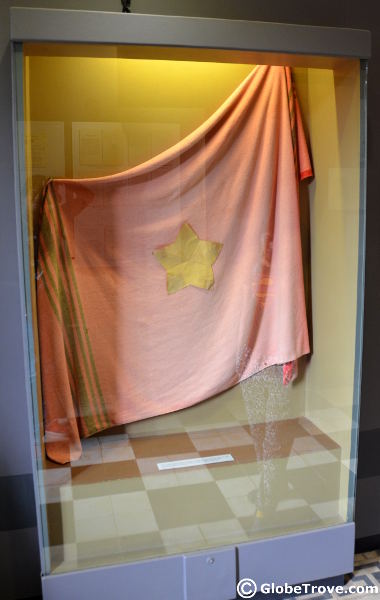 The first Vietnamese flag.
This was the prison where the Vietnamese were held captive. Their living conditions were horrible. It tells a tale of how they crawled through tunnels to escape and it also has the first make shift Vietnamese flag on display. This prison was later used to house the American soldiers who were taken prisoners. The prison does not have a pleasant history. No prison does… But for me this place was where I first begun my quest of learning about the war.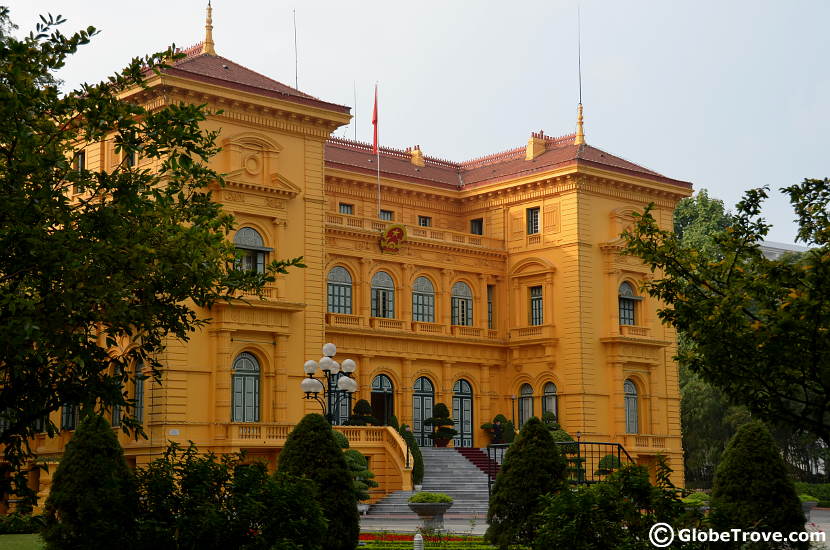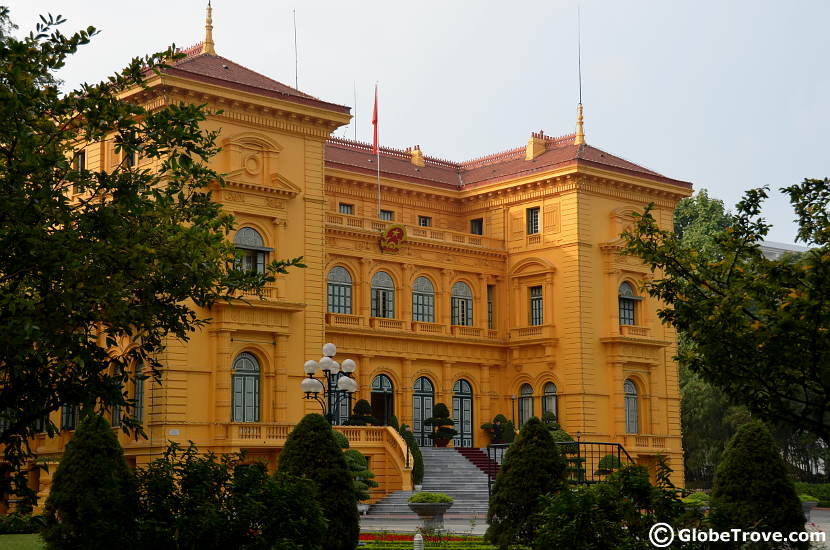 A glimpse at the Presidential palace.
The Presidential Palace was supposed to be the residence of President Ho Chi Minh. The president however declined to stay in the palace and instead took up residence in a small Vietnamese style house that was built on stilts. The house that he lived in exists till this day and you can catch a glimpse of how the man lived.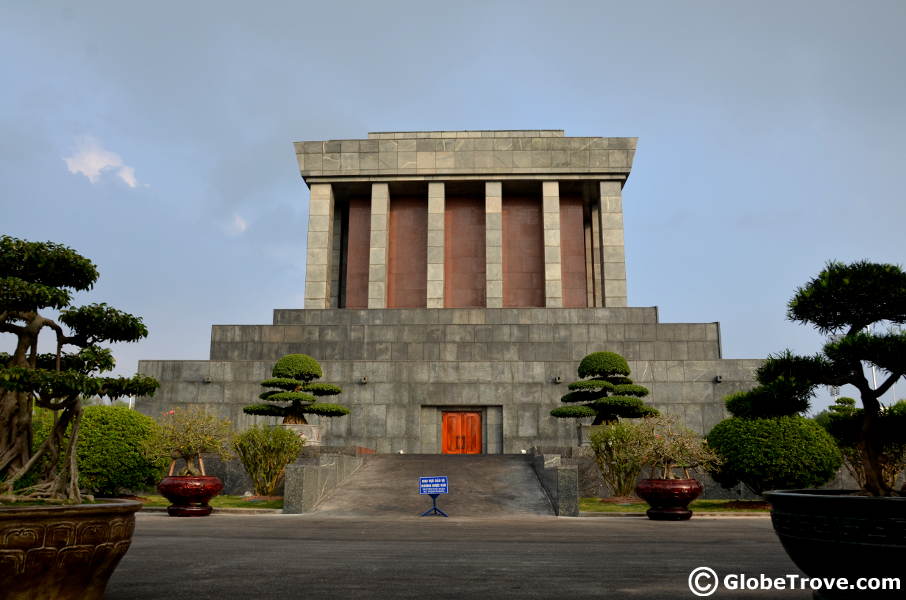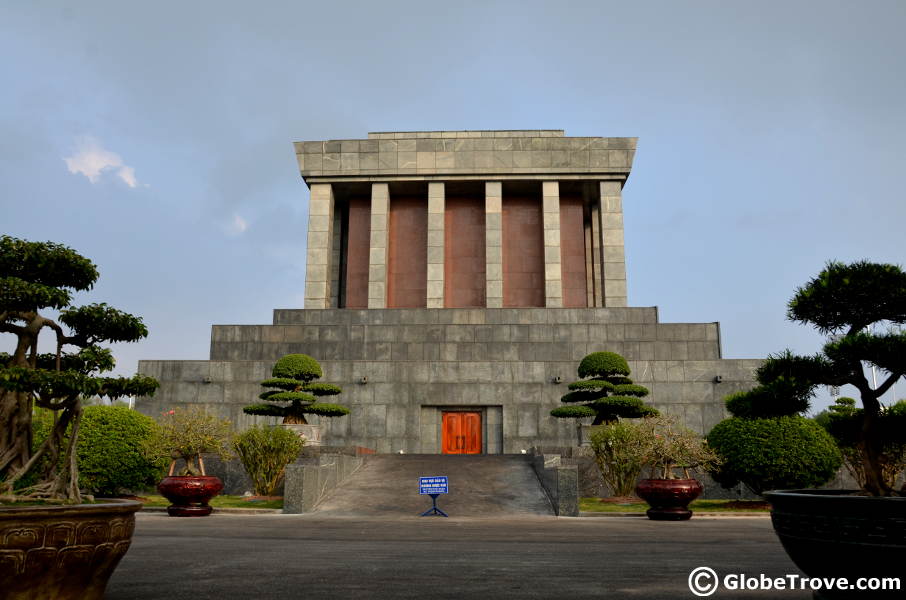 We unfortunately did not get to enter the Mausoleum. 
The Mausoleum lies very close to the Presidential palace. In fact it lies at walking distance away from it. The Mausoleum is the final resting place of President Ho Chi Minh and contains his remains. The Mausoleum was closed for some renovations when we were there last December.
*There are some other buildings/ museums/ structures that have historical significance. I have just listed the ones that we have visited in our Hanoi travel guide.
At first glance there were a number of temples and pagodas in Hanoi. We had to pick and choose a few to fit into our travel itinerary so we decided to do the ones on the way to each of the famous tourist sites. I'm just going to add those temples and pagodas to my list of things to do in Hanoi.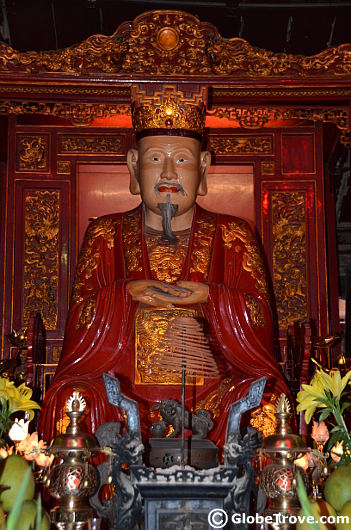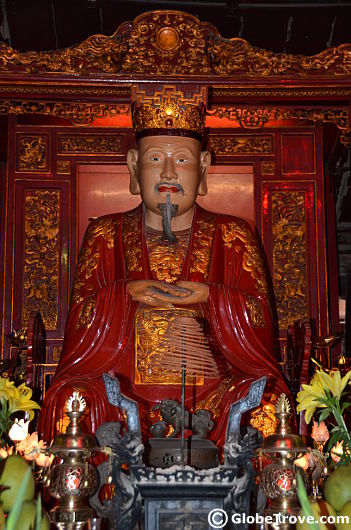 I would definitely add the Temple of Literature to my list of things to do in Hanoi. We stumbled across it quite by accident. We just noticed a large number of people wandering into it and we decided to join the crowd. Sometimes the best things in life come as surprises.
The Temple of Literature is also known as the Temple of Confucius. It was also the first University of Vietnam. The temple has a number of symbols hidden in all corners. Since we did not have a guide I lost out on a few but I did catch a few snippets of what some of the tour guides had to say.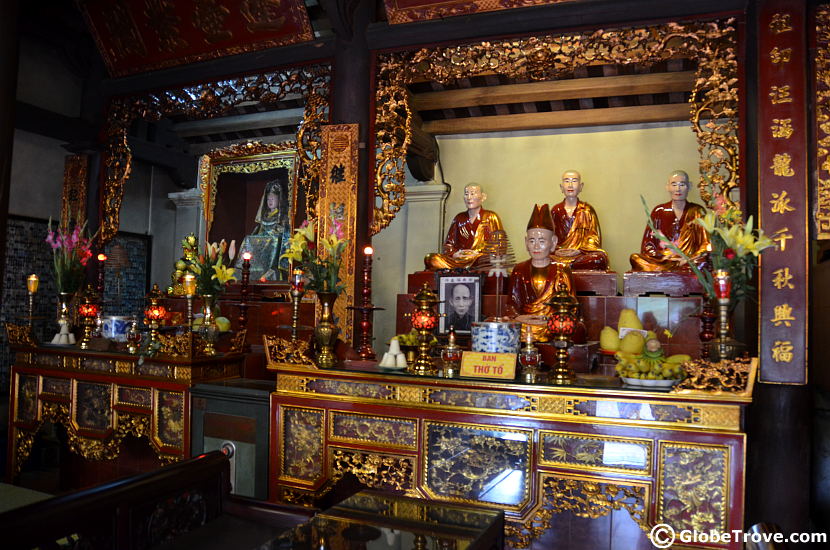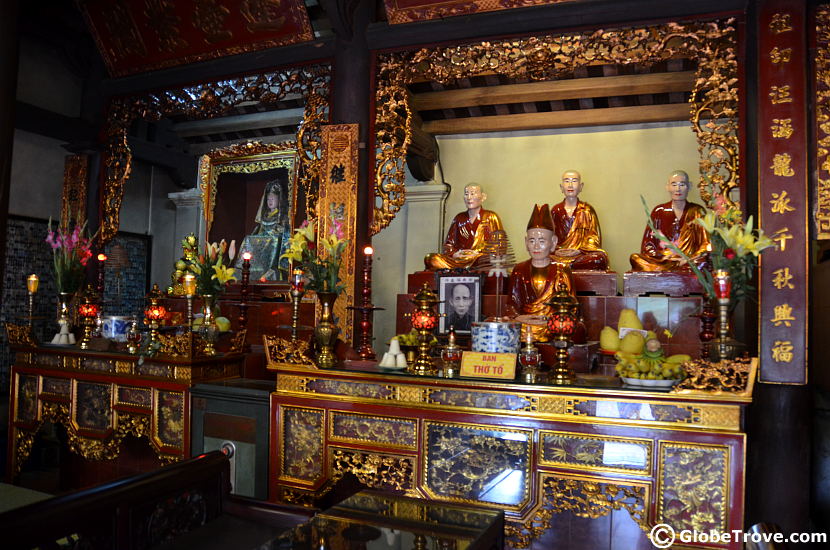 A glimpse inside the pagoda.
One of my favorites on my things to do in Hanoi list is the Tran Quoc Pagoda. As you approach the pagoda from the other side of the lake, it appears to rise up from the middle of the lake. For a pagoda that was built in the 11th century, it is remarkably well preserved. The Tran Quoc Pagoda is still used as a place of worship that is what made it even more fascinating!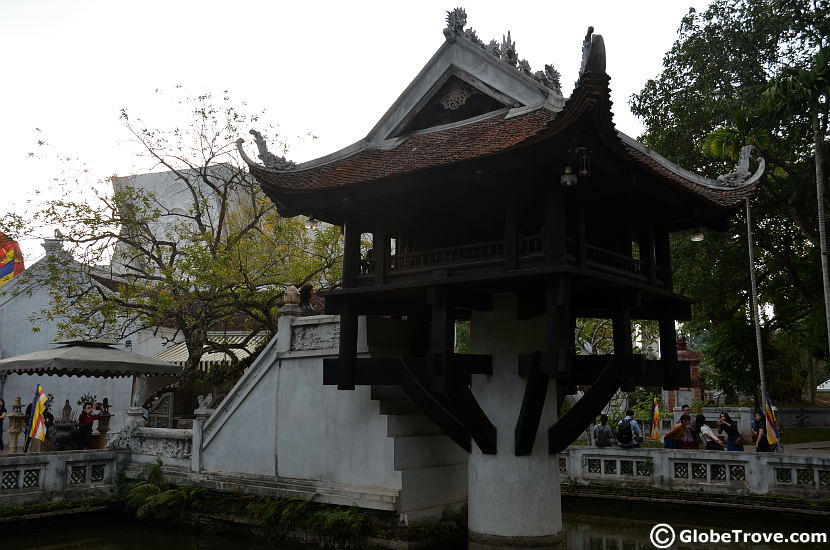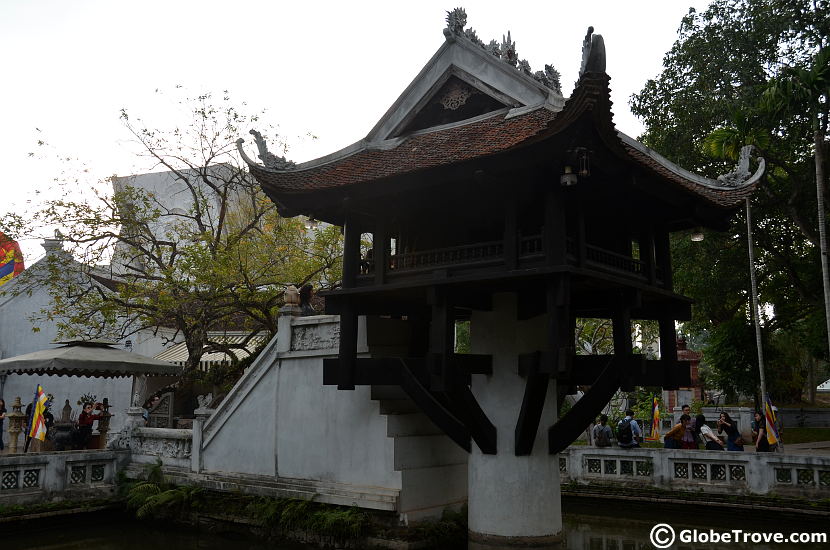 The famed One Pillar Pagoda.
One of the popular things to do in Hanoi is to visit the One Pillar Pagoda. Since it is really close to the Presidential palace and the Ho Chi Minh Mausoleum it is definitely worth stopping by. The One Pillar Pagoda is an old Buddhist temple and is regarded as one of the most iconic structures in the city. If you look closely you will notice that the wooden structure is balance on a stone pillar. The pagoda was built to resemble a lotus.
We really did not get a chance to do much as far as culture was concerned. Now that I look back I can think of two things from our travel itinerary that you can add to your list of things to do in Hanoi as far as culture is concerned.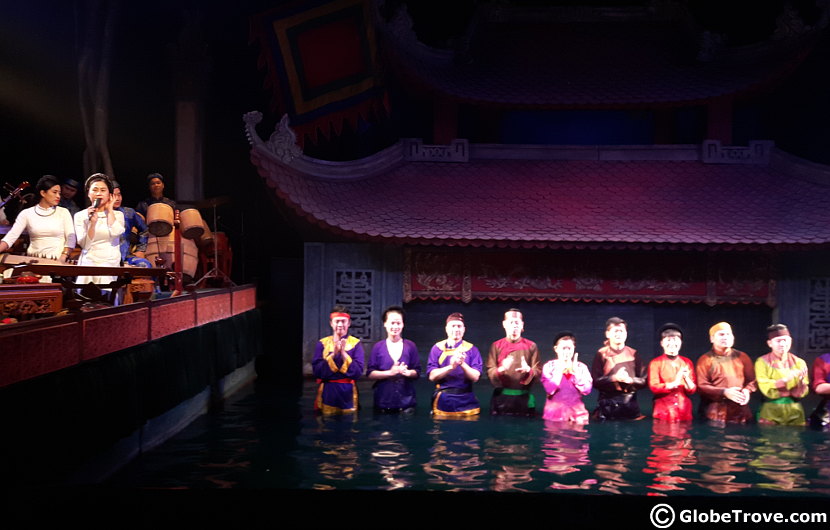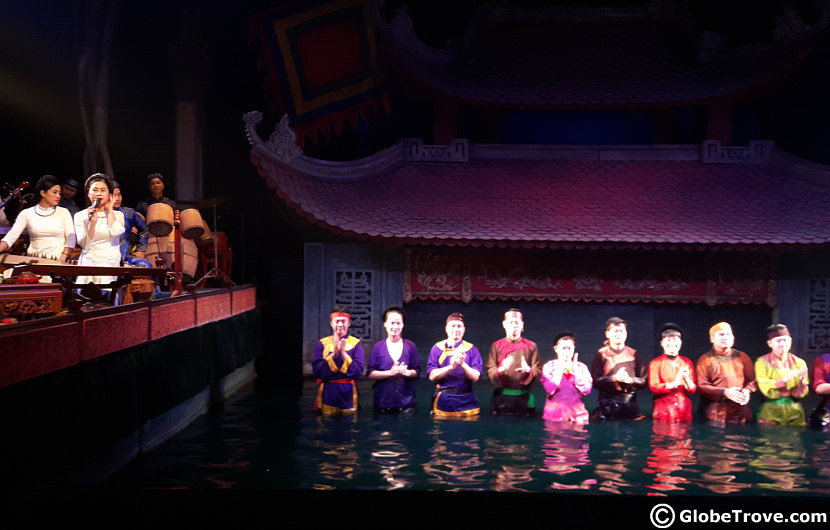 A glimpse of the singers, musicians and the puppeteers.
I think the water puppet show was the only cultural experience that we had in Hanoi. It is a show that takes place almost every night. It depicts the life of the Vietnamese through songs and puppetry. The interesting part of the whole display is the fact that the performers use traditional Vietnamese instruments. I had never seen some of the instruments before.
Everyone invariable lands up moving about in Hanoi's Old Quarter. Despite that I would still like to add it to my list of things to do in Hanoi because the Old Quarter has history and character. The Old Quarter is supposed to be the old part of Hanoi and it is a reflection of how the city functioned in the past.
*These items on my things to do in Hanoi list reflect my observations about the places that people can experience the culture up close. They are the things that we did in the short time we spent in Hanoi.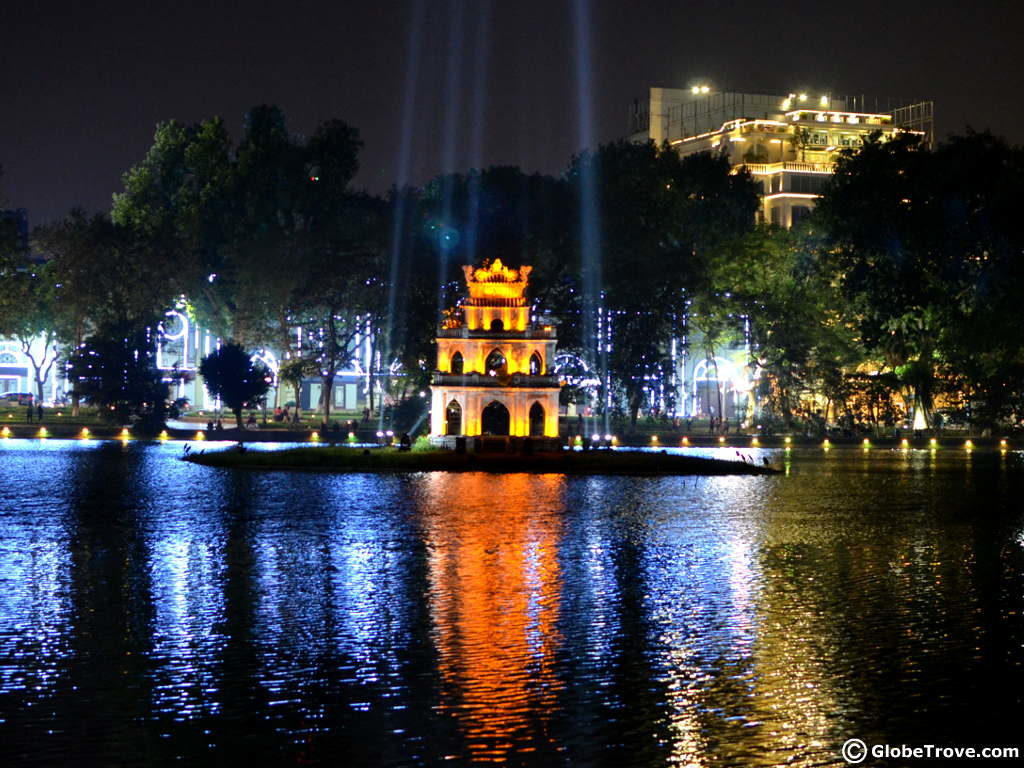 A glimpse at Hoam Kiem lake at night.
Hanoi has a couple of lakes that add to the city's beauty and I would be remiss if I did not add it to our travel guide of Hanoi . Time is changing and a lot of the locals claim that the lakes are being polluted. You can even see signs of it when you visit them. I find this really sad because they are beautiful and they are a part of the city's heritage. We visited three lakes: Hoam Kiem Lake, West Lake and Truc Bac Lake. I would recommend stopping a while to see them.
There are a number of things that the city is famous for and it is only right that we include them as part of our Travel Guide of Hanoi. Despite our hectic schedule we managed to squeeze in a few of them. I just thought I would add it as a few tips in our two day travel guide.
Don't Miss The Egg Coffee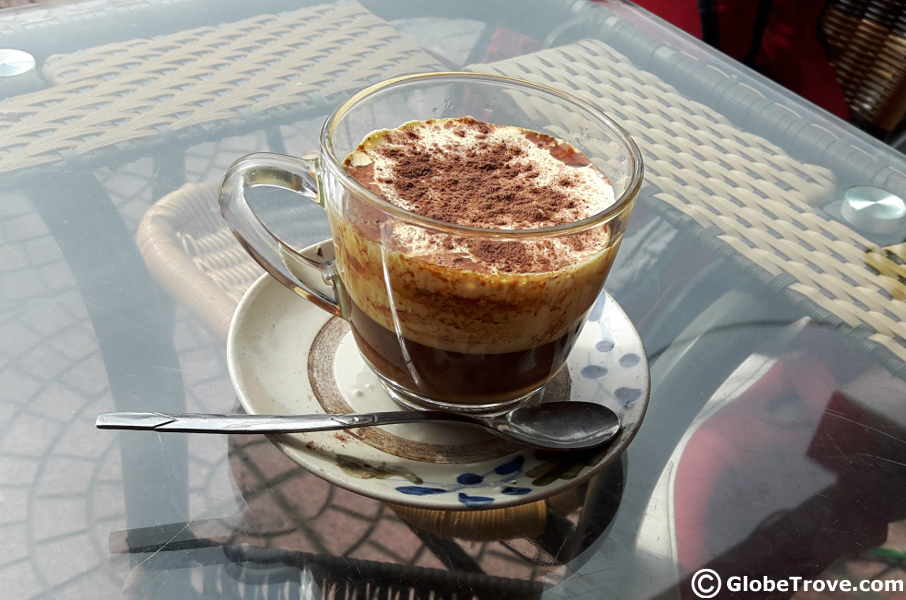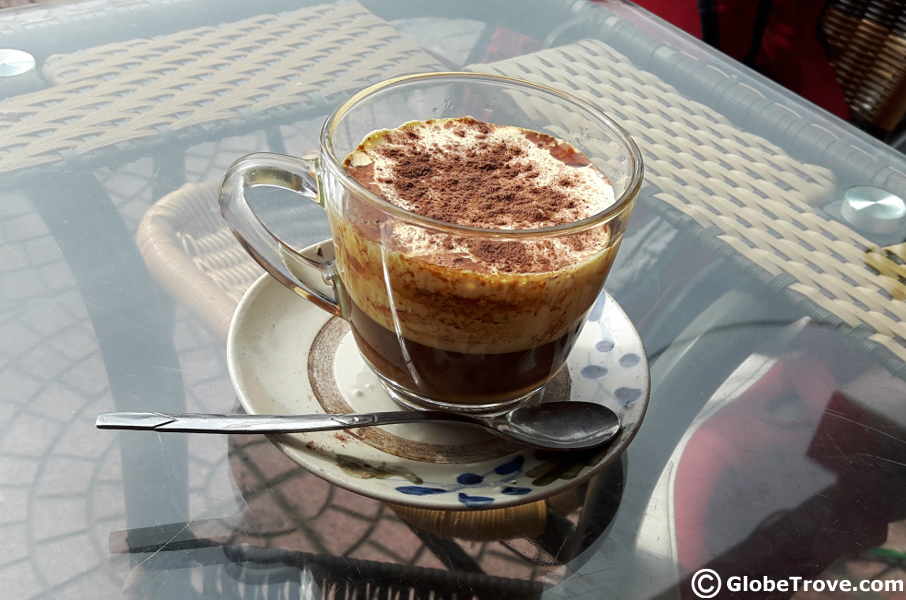 I fell in love with the Egg coffee.
Egg coffee is famous in Hanoi. No matter wherever in Vietnam you go, it is said that the true flavor can only be found in Hanoi. I hadn't heard about the egg coffee till I went to Cat Ba island in Hanoi. That to I wouldn't have known about it if someone hadn't mentioned it in passing. I loved the coffee so much that I tried getting it in other parts of Vietnam but all the coffee I had failed to meet muster.
Even if you aren't fond of coffee, try some of the coffee shops around Hanoi. The coffee is legendry!
RELATED ARTICLES: Vietnamese Coffee Is Definitely A Social Ice Breaker
I was in love with the Vietnamese food. Even though we had just two days in Hanoi, I still managed to try a lot of the street food. In fact all the meals that we had in Hanoi were all at small stalls along the streets.
THERE IS SHOPPING FOR EVERYONE
I did not have much of time to explore but there is a lot of shopping opportunities. We were heading to Sapa so I wanted something warm to wear. So I browsed through the numerous jackets of that were available. Columbia and North Face jackets were available for real cheap. I was looking at them because we were due to head out to Russia in the midst of winter and I needed warm clothes. Everything looked way too real to be true. It was later that I learned that most of the stuff was replicas. I finally bought a light jacket in Sapa but that was more because I did not have enough time to shop in Hanoi.
THE LITTLE MEN OF VIETNAM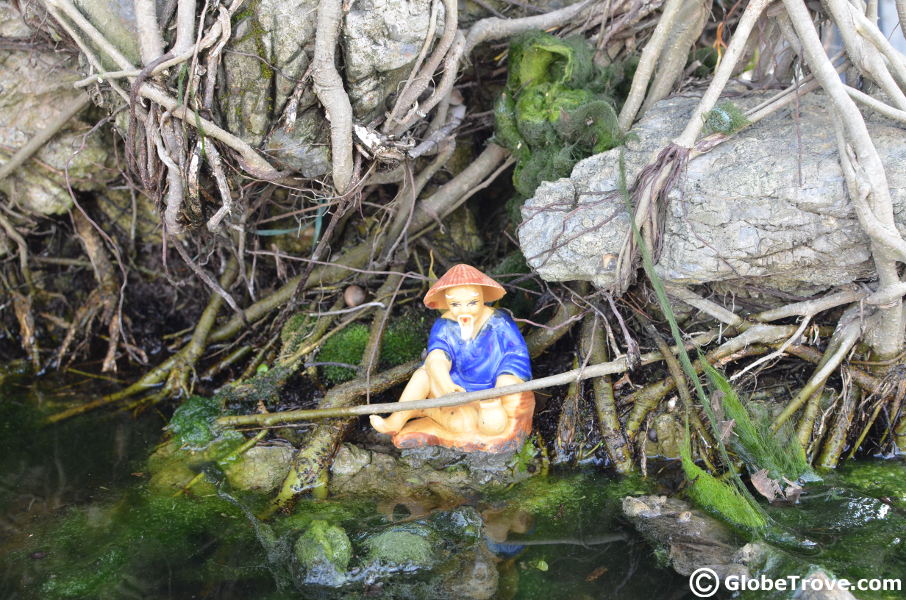 One of the numerous tiny sculptures I found.
These cute little sculptures are hidden in different parts of the country. I first began to notice them in the Temple of Literature in Hanoi. They are small tiny replicas that are used as garden ornaments and depict a variety of different activities that the form a core part of the Vietnamese way of life.
RELATED ARTICLES: The Little Men Of Vietnam
As with every part of the world, Vietnam poses its own set of challenges. That being said, as I was writing our Hanoi travel guide, I was thinking about all the travel accessories that one may need in the city. That's why I drew up a quick list of accessories that you should consider.
Mosquito Repellent is one thing that I don't travel in South East Asia without. Not everyone country has their mosquito problem under control. That means that if you don't have a mosquito repellent at hand, you are probably going to be the target of numerous mosquito bites. While that is annoying, what is scary is the fact that these mosquitoes carry a number of diseases that can put a serious damper on your vacation. Dengue and Malaria are two top diseases that can drive fear into a traveler's heart. So stay safe and carry a repellent that suits you.
I never leave home without a small first aid kit. Ensure that your kit contains Band-Aids and your usual daily medications. I carry enough for my entire trip and just a bit more. You never know when you may get delayed or if you misplace a strip of something that is important for you. I would suggest scanning your prescription so that you can show it to the medical personnel if required. Don't forget to include your medicines for an upset stomach and diarrhea. Many people don't do too well with a change in diet. God forbid you develop diarrhea!
Sometimes the wash basins and the toilets are really unhygienic. It's times like this that I am glad that I have tissues and hand sanitizer at hand. While I would not suggest lugging it all the way from home, you can buy stuff at the markets and chemists.
I guess the sunscreen depends on which time of the year you visit Hanoi and how sensitive your skin is. Like mosquito repellent, sunscreen is another item that I don't travel to South East Asia without. Shawn has had a couple of nasty sunburns and we have learned our lesson since then. Ever since then I have been adding this as a tip in all our guides related to South East Asia. That's how it made its way into our Hanoi Travel Guide.
We spent only two days in the city. Two days may even be an overstatement. We however managed to cover a large amount of ground during the time we were there. We could have used either private or public transport but we chose to wander around the city by foot. It was doable and it definitely helped us understand how the city functioned.
I've used that information to draw up a short two day itinerary of Hanoi. I hope that helps other travelers plan their visit to Hanoi better.
RELATED ARTICLES: A Brief Overview Of Our 2 Day Hanoi Travel Itinerary
Hanoi is a fascinating city. I feel bad that I had just two days in the city. I meant that I had to rush through everything instead of savoring the hum that is peculiar to Hanoi. All said and done, we were short of time. With just three weeks to discover Vietnam, we could afford to spend just two days in Hanoi. I'm glad that we made the most of it. I hope this Hanoi travel guide helps you to plan your stop at Hanoi better.
*This post contains affiliate links.