"Oh, Vietnam? That's like, a foodie's paradise!" Friends said when I mentioned where I was popping off to in the dead of winter. When I decided to book a trip to Vietnam I didn't know a thing about the country. So, like many travellers, I took to Google and Pinterest to plan my itinerary. But let's be honest, I just looked at pictures of what I'd eat there. So I poured over Pinterest, Googled as much as possible and hit up friends who'd been to Vietnam before and asked for advice. Thankfully, it's a country which predominantly uses rice flour and fish sauce rather than soy sauce so, as someone with a gluten allergy, I was pretty much safe to eat most things. Finally, departure day came and, armed with a massive list of things I 'absolutely had to try', I set off for Vietnam, excited to explore it's culinary delights. Boy, was I not disappointed. From the north to the south, delicious meals and snacks could be found in every nook and cranny of this beautiful, chaotic country.
There's so much to gorge yourself on but here's my list food in Vietnam you must try!
FOOD IN VIETNAM: Delicious Meals You Should Try!
BÁNH HỎI THỊT BÒ XÀO – Stir-Fried Beef With Rice Vermicelli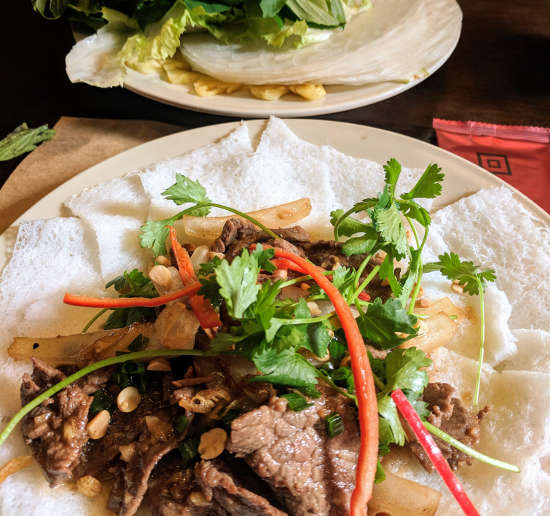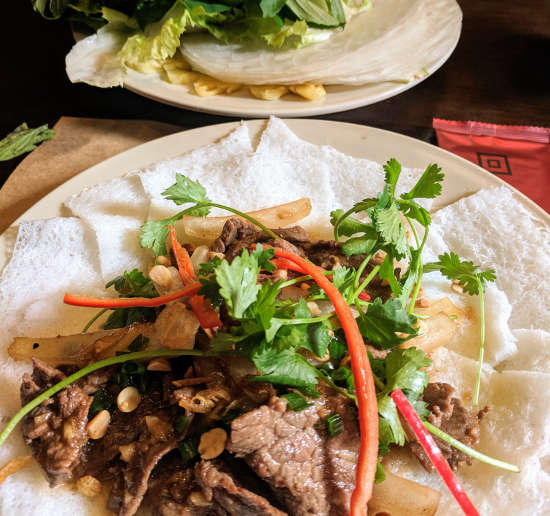 When you are looking for food in Vietnam and you don't mind the splurge!
Honestly, this dish was a wonderful intro into Vietnamese cuisine. The thinly sliced, marinated beef is covered with smoky chili oil, roasted peanuts and fresh al dente vegetables. Underneath is a delicate pile of woven rice noodles that easily soaked up the marinade. Typically, it is served with herbs like Thai basil and cilantro, as well as fruit like pineapple, which added just the perfect amount of tart-sweetness. Mine came with rice paper so that you could added everything into it, rolled it up and eat it like a spring roll. I found this for 180,000 VND which is about 7.50 USD. Not a bad price! Looking back, it was one of the most expensive meals I had in Vietnam.
PHỞ GÀ OR PHỞ BÒ – Rice Noodle Soup with Chicken or Beef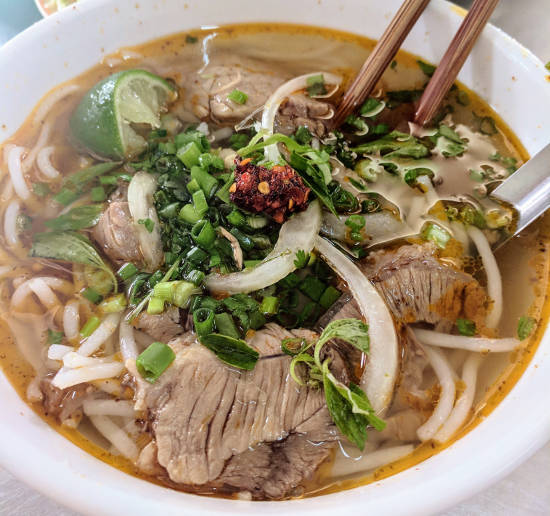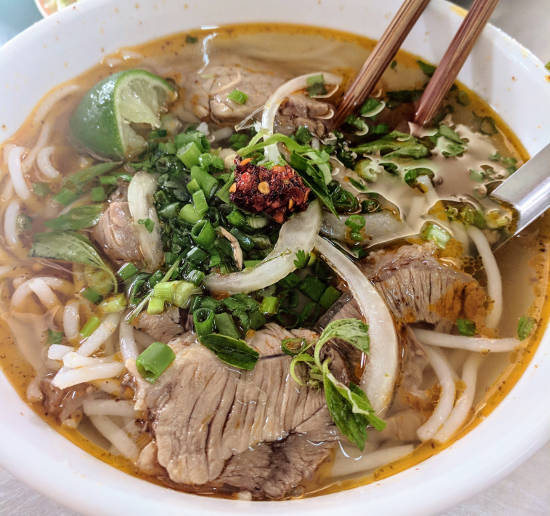 A bowl of soup is probably the most popular food in Vietnam but they don't call it soup!
When most people think of Vietnamese food, they think of Phở (pronounced fah) which is a flavorful soup with fresh herbs, rice noodles, broth and onion. You can usually find it with chicken (Gà) or beef (Bò) and served with an array of condiments like Sriracha, bean sprouts, chili oil, cilantro, green onion, ginger and limes. The beautiful thing about Phở is the broth which tastes slightly different each place you go: some will be sweeter while others might have more spice or salt. An interesting fact I learned was Phở is each for breakfast, not lunch or dinner like we do in the western world. Of course, that means you'll want to eat it for breakfast everyday! And at 30,000 VND, or 1.30 USD, per bowl, it's definitely possible to do so.
CAO LẦU – Thick Rice Noodle with Sliced Pork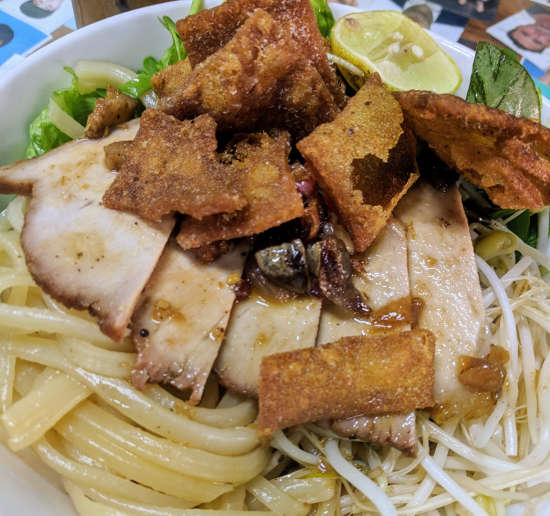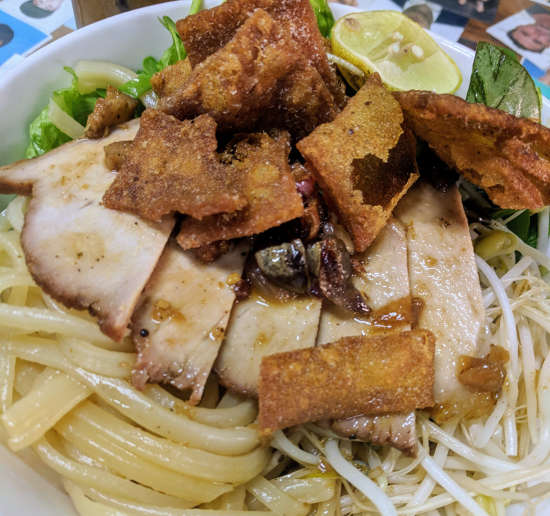 Appraising the food in Vietnam should be done keeping the local specialties in mind.
Honestly, I dream of this dish, it was that good! Since this is a local speciality I will tell you right now you'll only find it in Hội An so I really recommend making a stop there. It's a delicious bowl of thick rice noodles that are slightly chewy, marinated and braised pork, fish sauce, fresh herbs like Vietnamese coriander, Thai basil and mint, with crispy, fried pork rind. The noodles here are really the showstopper as, according to locals, they can only be made in Hội An using water from a local well that has no impurities. This legend is what makes the noodles are so delicious and why it's become a famous Vietnamese dish. I really recommend getting Cao Lầu at Bánh Mì Phượng (located at 2B Phan Chu Trinh, Cẩm Châu, Hội An) – it's delicious and only 50,000 VND which is about 2.15 USD.
BÁNH MÌ – Baguette with Meat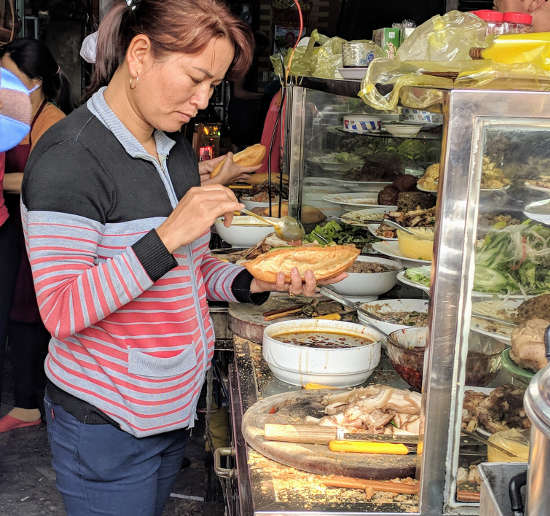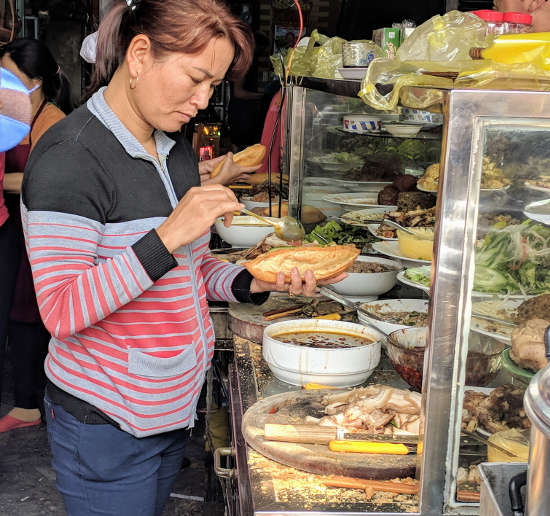 Food in Vietnam can be eaten on the go and a baguette is something you can't go wrong with!
Since I'm gluten intolerant I wasn't able to eat this but my husband, Alex, did and he swears it was the best he's ever had. Since he's a bánh mì fiend I took his word for it. Bánh mì is probably the most iconic Vietnamese dish besides, Phở, and can vary depending on what region of the country you are in and what meat is available that day. That being said, you start off with a warm, fresh French style baguette, sliced open to house shaved beef, pork sausage, pickled vegetables, jalapenos, herbs and spicy sauces like chili mayo and chili oil. It's also one of the easiest things to pick up and eat on the go since you'll find shops and stalls everywhere selling them. According to Alex, Bánh Mì Phượng had the best of all the ones he tried. Of course, this is the same place Anthony Bourdain ate bánh mì at so can you really expect anything less? You'll find most bánh mì at a frugal price of 25,000 VND which is about 1.07 USD.
FOOD IN VIETNAM: Yummy Snacks You Should Try
BANH XEO – Sizzling Pancake
While it looks more like an omelette than a pancake, this dish is made with ground rice flour and turmeric which is what gives it the yellow colouring. The reason it's called a sizzling pancake is when the batter is poured onto the hot pan or onto a grilling slab, it makes a pop and sizzling sounds, hence the name. Usually it's made with meat like shrimp & grilled pork belly, but I've also seen it with calamari or beef or just vegetables. It's served hot with bean sprout, green onion and peanut sauce. Depending on where in the country you are, it might also be served with large leaves of lettuce or rice paper which you use to make a loose spring roll. It's a surprisingly light so it can be a snack or addition to your meal. At 25,000 VND, or 1.07 USD, I'd say add it to your meal.
BÁNH BAO VẠC – White Rose Dumplings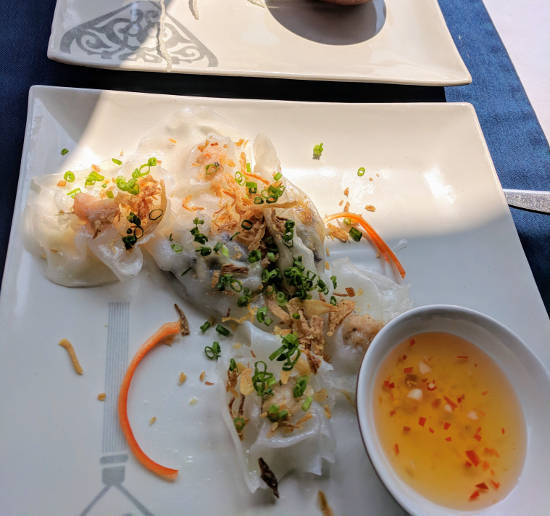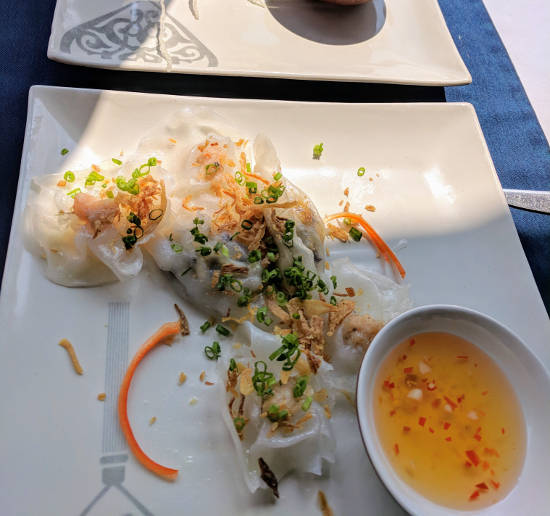 Ask anyone about the food in Vietnam and they will invariably talk about the white rose dumplings!
I was not leaving Vietnam without trying these delicious beauties. They're so lovely rice dumplings that look like little white roses on the dish! The White Rose Dumpling is famous in Hội An and is made with minced shrimp and sealed inside a thin, rice dough. It takes meticulous hands to make the dumplings look roses but it's worth it as bánh bao vạc is not only flavourful but Instagram worthy. They're served with crispy thin onions and peanuts on top, as well as with a yummy chili shrimp sauce for dipping. Make sure you have a good grip of them with your chopsticks as they're slippery. Price will depend on what many are on the plate, usually it's a snack or appetizer, but 6 pieces were about 80,000 VND or 3.44 USD.
CHÈ CHUỐI – Sweet Coconut Tapioca & Banana Dessert
If you have room for dessert, I recommend trying this dish. It's basically a bowl of warm tapioca pudding with sweetened coconut milk and ripe banana. It's a very simple dish but oh so delicious. Some places will serve it cold with crushed peanuts and black sesame. I only tried it warm but I'm sure the cold style is perfect for Vietnam's hot, humid summers. This dessert was about 15,000 VND which is 0.64 USD. At that price, you can believe I saved room for dessert.
KING ROTI – Sweet Cake Dumplings
Okay so King Roti isn't the name for the dumpling but the name of shop you can get these sweet pastry like dumplings at. You'll find the shop easily – even though it's tiny it always has a massive line every day. They are made with wheat flour so those who are gluten intolerant, like me, can't have them but my husband and our friends devoured them like the world was ending! The buns come in several flavours like macha, chocolate, vanilla and salted coffee. Yes, you read that right. Salted coffee. While that one wasn't as popular with our group, the chocolate and macha were huge hits! The filling is like a creamy custard but lighter and the outside is almost crunchy and chewy. Worth braving the line? I'd say so. You can find King Roti at 34 Hàng Gai, Hoàn Kiếm, Hà Nội. They were 14,000 VND each, so about 0.60 USD.
CÀ PHÊ TRUNG – Vietnamese Egg Coffee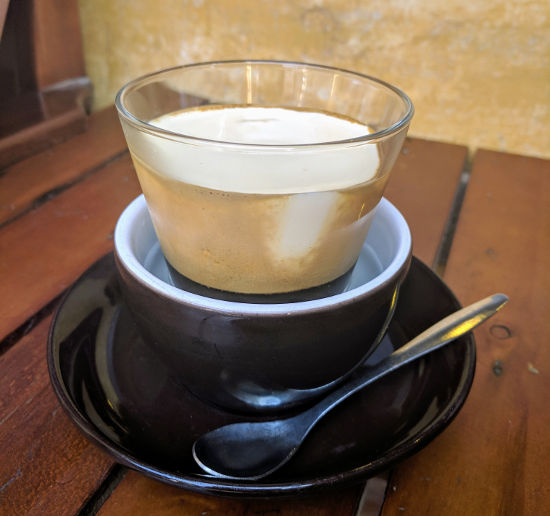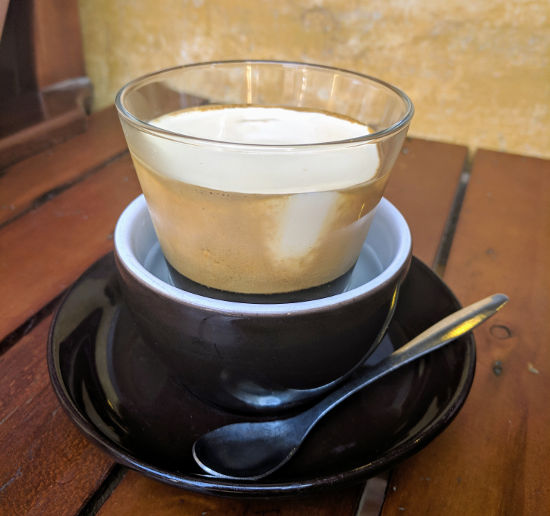 Not looking for food in Vietnam but a warm drink? Join the locals for a coffee Vietnamese style!
Before you scoff at this one, there's not a whole egg inside the coffee. Cà Phê Trung is Vietnamese coffee served with a thick, rich cream on top made of egg yolk, condensed milk, water and white sugar. It's traditionally served in a shallow bowl of water so that the egg cooks. It's absolutely, freaking delicious and you'll want more than one cup but best enjoyed slowly since it's very sweet and rich. Some people even say it tastes like Tiramisu! A cup is about 50,000 VND which is 2.15 USD.
TIPS FOR EATING IN VIETNAM
Most everything is served fresh. Since lots of dishes are served with herbs and vegetables, you're more likely to eat fresh ingredients.
While I never got sick from eating or drinking anywhere in the country, alway make sure you're being service bottle water and bagged ice. When in doubt, ask for no ice.
Learn some of the language like "xin chao" pronounced sin-chow which means hello and "cam on" pronounced gahm-ung which means thanks. Tibits like this go a long way when speaking with locals.
Look at how the locals are eating. If everyone is sipping broth straight from the bowl, do it! It's a fun way to 'become a local'.
Carry cash with you. While most places will take credit cards, its easier to pay with cash. Tips are not necessary but leaving leftover change is considered nice when the service was spectacular.
I do hope these delicious dishes inspire you to book a trip to Vietnam and experience the culinary excellence for yourself!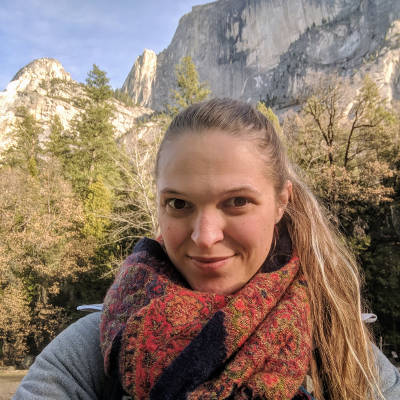 ABOUT THE AUTHOR
Though sunny California is home, Andy loves to travel – whether it's across the ocean or within the US, she's always looking for the next big adventure. When she's not travelling, you can find her backpacking, camping and cooking. To read more of her work, check out her blog, Thousand Mile Boots, or say Hello on any of her social media accounts using the handle @1kmileboots.
*This post contains Affiliate links
**Photographs in this post are not the property of GlobeTrove and have been submitted by the author.