When I planned my trip to Indonesia, I had not the slightest idea that I would end up in a remote village in one corner of Lombok. Browsing through Airbnb, I found a homestay that seemed just perfect for me and had great reviews. I took a leap of faith and booked it.
Only much later did I realize, the homestay is located in a local village and far, far away from the beautiful beaches of Lombok. I had two choices, cancel and not get a refund or just go with the flow and go with the flow, I did.
That's how I ended up in Tetebatu- a beautiful village located a few kilometres from the southern boundary of Mount Rinjani National Park.
A GORGEOUS FIRST IMPRESSION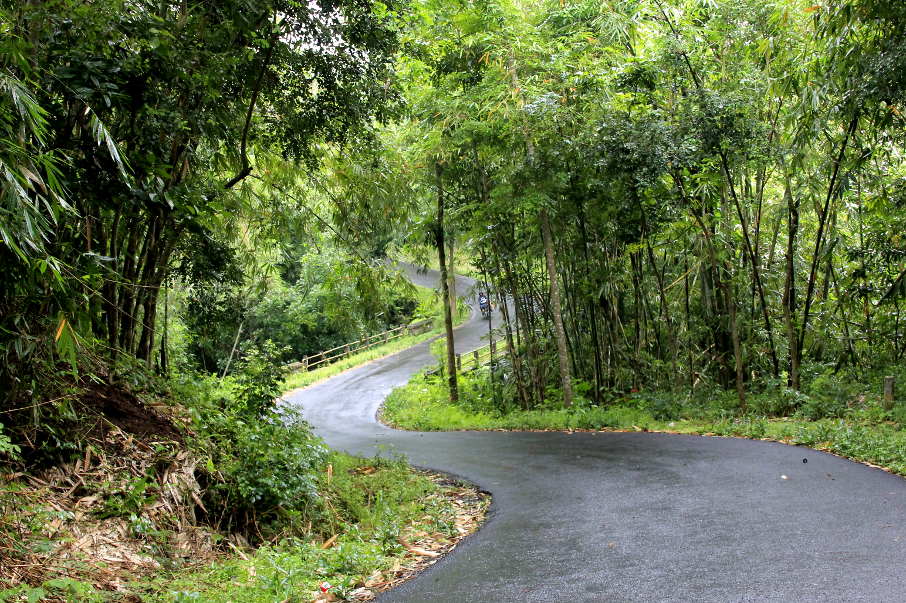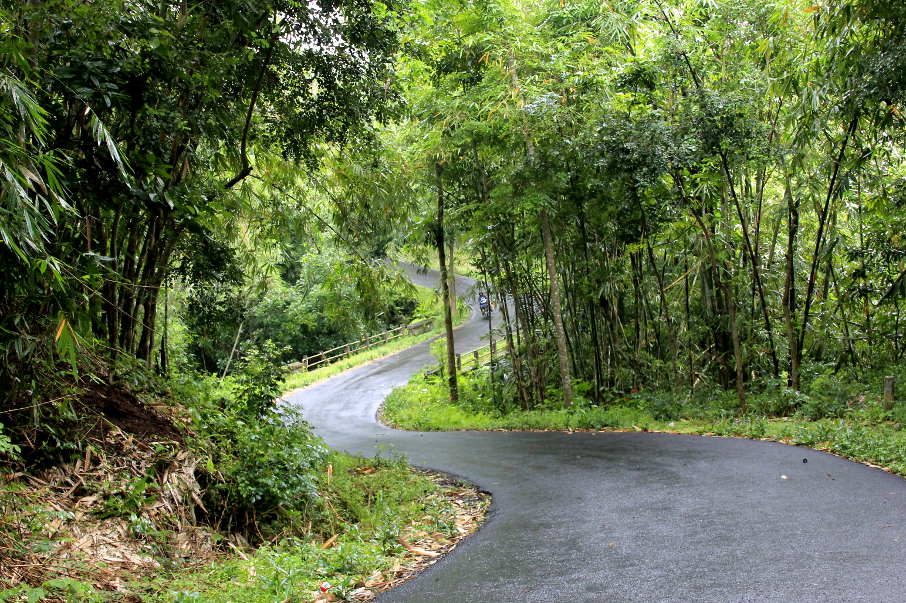 the beautiful roads of Tetebatu.
While riding in a cab from the airport, the first thing that struck me about Tetebatu is its simplicity and untouched beauty. Unlike Singapore, the trees were not shaped to look a certain way, the houses were not built all alike and life seemed to have remained strangely simple.
Of course, I am not trying to romanticize poverty but there was something about these people and their unpretentious life that made me want to give up my city life and move here immediately.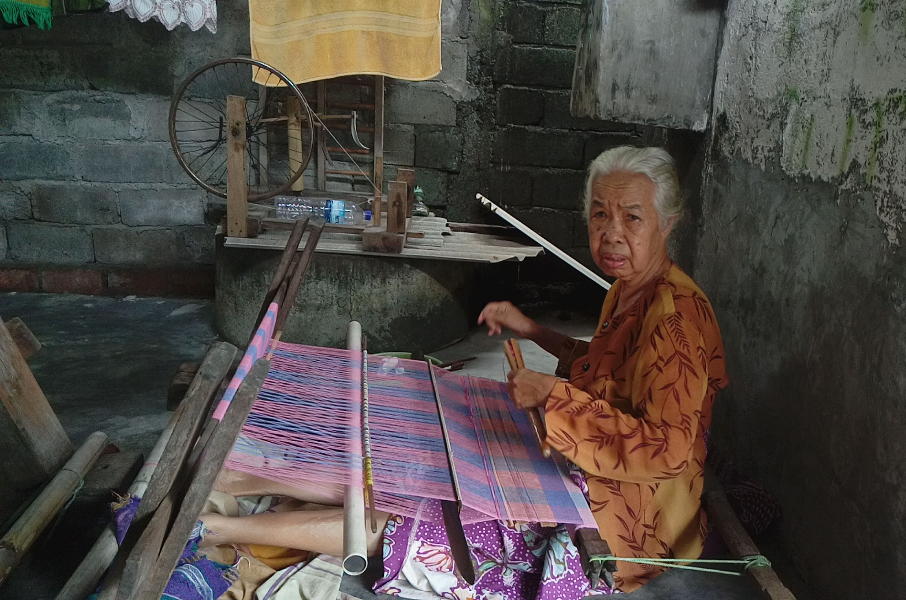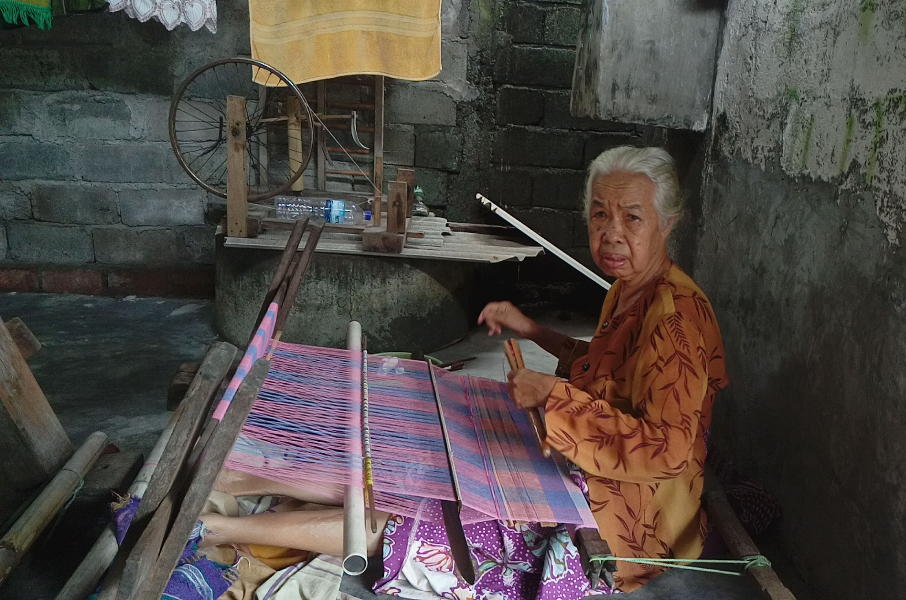 Sarong weaving in Pringasela( a neighbouring village).
A long ride from the airport finally dropped me off to my homestay where a lovely Indonesian family greeted me with smiling faces. Through the next few days, I met every member of their big family and they all took turns showing me around.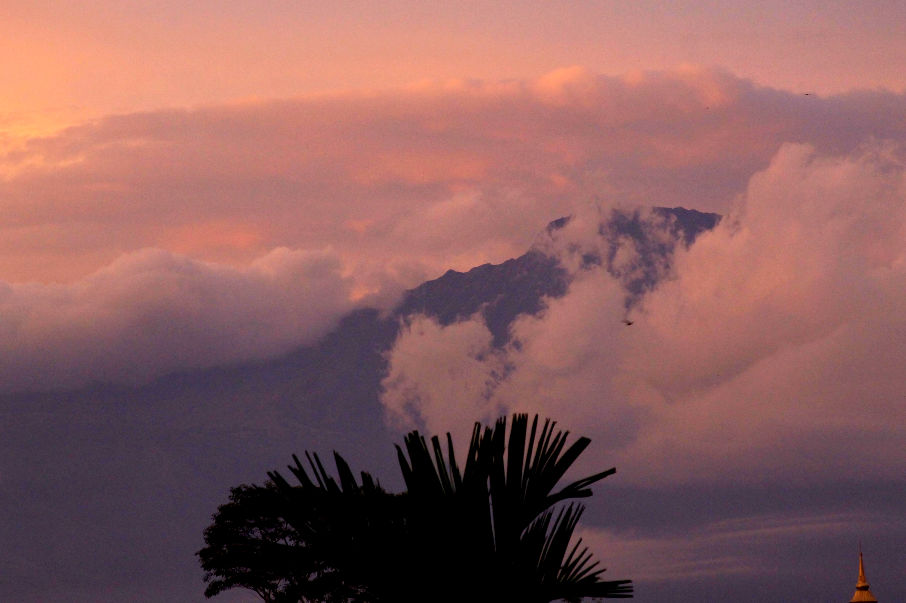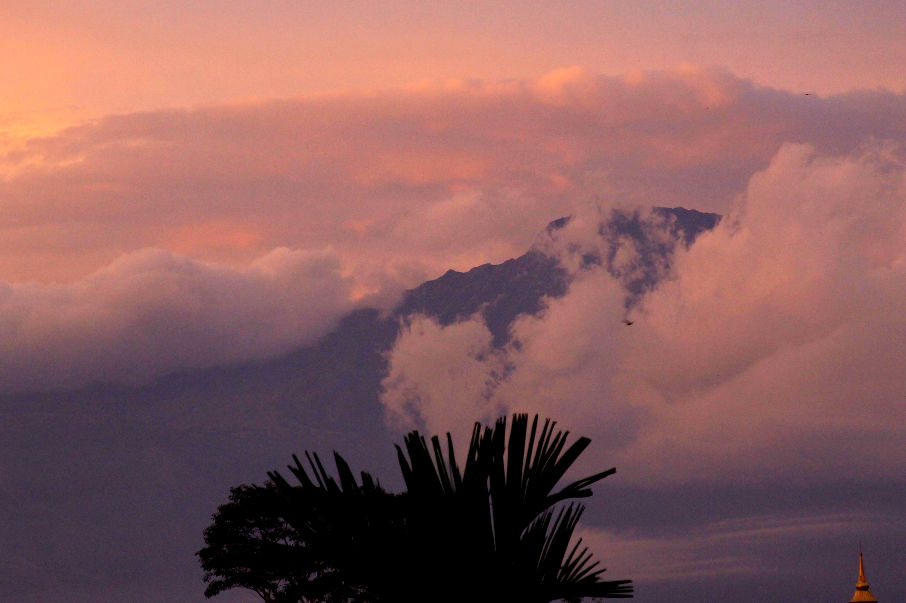 Sunset and Mount Rinjani.
We rode through the lush green rice terraces while enjoying occasional glimpses of Mt. Rinjani and reached the neighbouring villages. I was shown how Sarong (a traditional Indonesian costume) is made and how rice wine is produced. A lady in another village made a ring for me out of bamboo, right in front of me! When I told her thatI was previously travelling with my mother, she made one for my mother as well.
Although every local person stared at me like I am an alien, the warmth shown to a stranger deeply touched my heart. They don't get tourists at their end of the world, a few backpackers from European countries once in a while but they are so excited when someone does visit their community.
WATERFALLS, FORESTS AND WHAT NOT!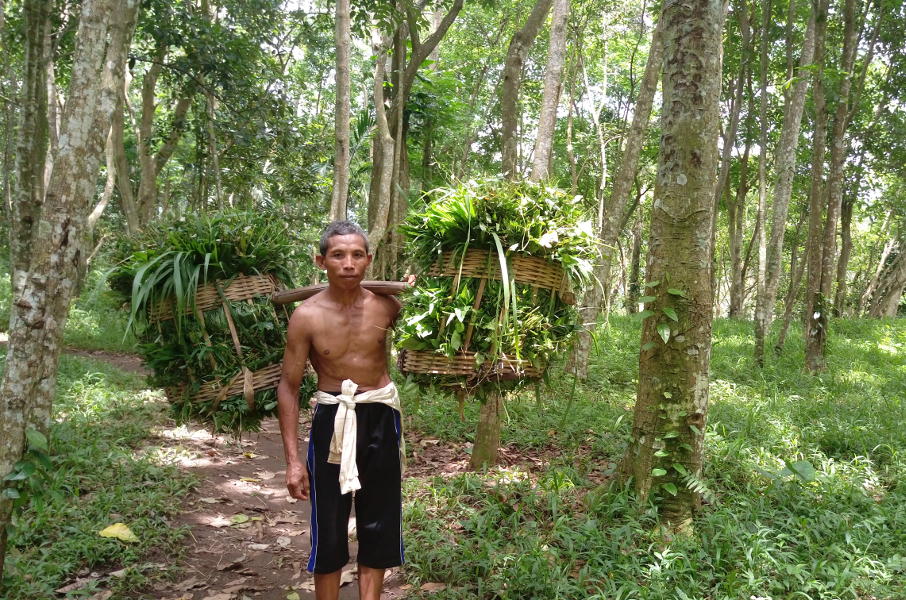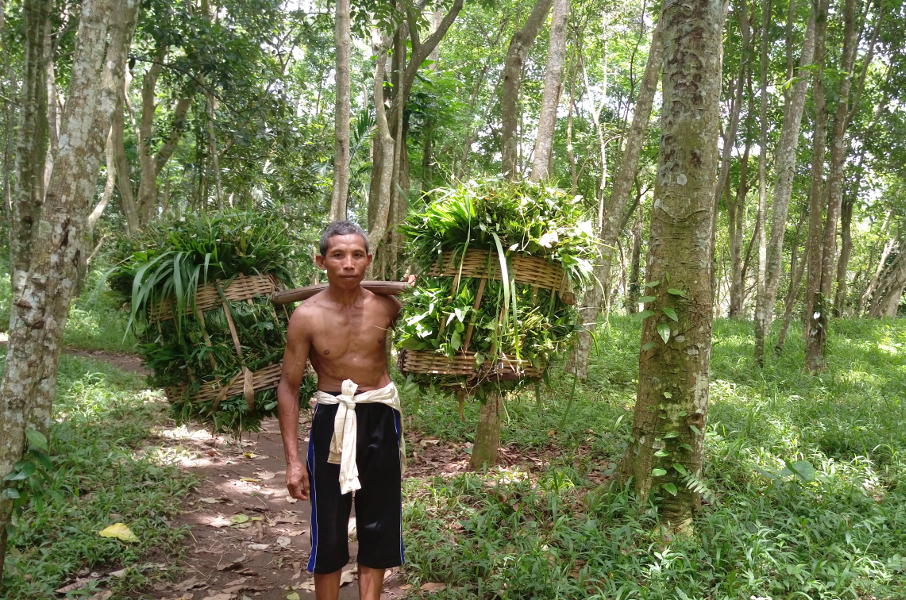 Locals carrying things out of the Black Monkey Forest.
Tetebatu is blessed with abundant miracles of nature. From dense forests with black monkeys to hidden waterfalls and stunning rice fields, Tetebatu has it all. Best of all, the lack of tourists keeps this beauty absolutely pristine. My dream to beat the tourist trail and truly enjoy a local culture at last came true.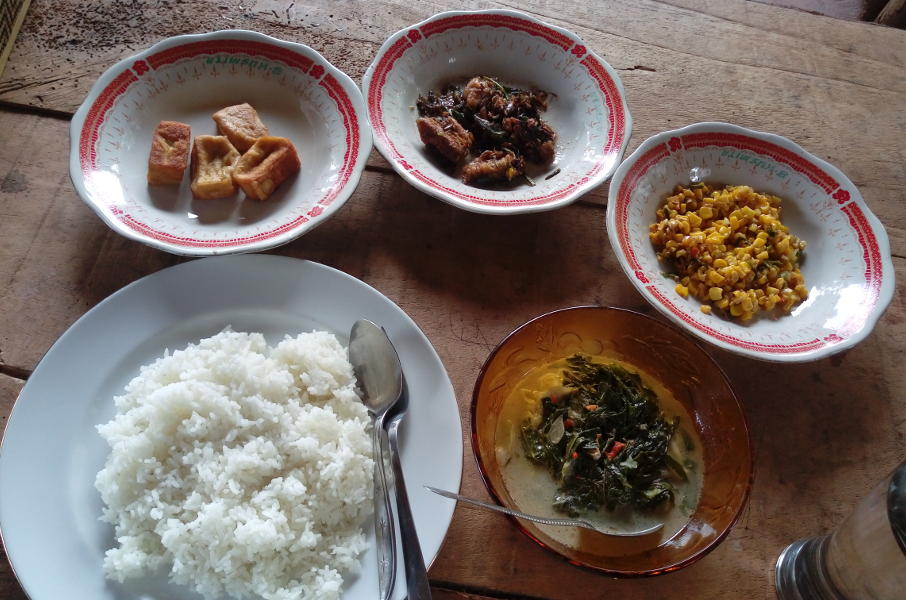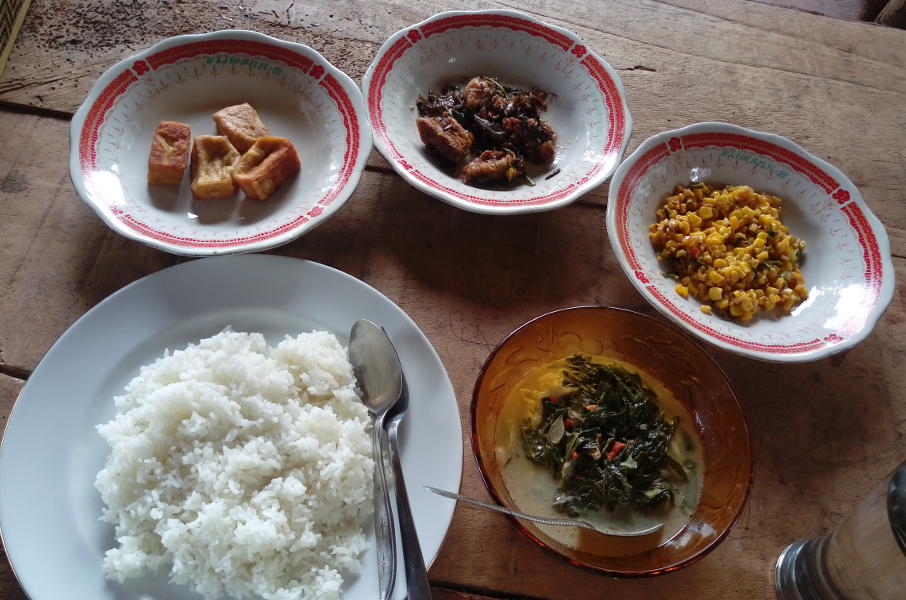 Home made local Indonesian cuisine.
There is something about the air of Tetebatu that calms your soul and pulls you back every time you think of leaving. The surprised looks followed by big smiles, the modest lifestyle, the spectacular views of the mighty Rinjani, the fresh water from the waterfalls, the delicious Indonesian meals and the sound of chickens calling out every morning, beckons me to return even today.
The few days I spent in Tetebatu was the highlight of my Indonesia trip and one of the greatest experiences I had till now. Sometimes, things don't go as expected but if you go with the flow and make the best of whatever situation you face, you may be rewarded with a thousand unforgettable memories.
Tetebatu is a village. The main mode of transportation is motor bike. Expect nothing more. If you can't drive, the locals are willing to show you around
The beaches of Lombok and Bangsal harbour (from where you get ferry to the Gili islands) are really far from the village. 2-2.5 hours. Hence, it is wise to keep that in mind while planning an itinerary.
Tetebatu is quite pocket friendly but the people do need money. Do tip generously if you can afford it.
No hotels are available yet in these villages (fortunately or unfortunately) so homestays are your only option.
The village is quite safe for solo travels but there is nothing to do after sunset, except chatting up the locals. Make use of this time to get to know the local lifestyle a bit more.
Wifi connection may be quite weak. It helps if you purchase your own sim card and data plan.
Although the roads can get extremely bumpy and rough, the locals are great with their motorbikes, so if they are showing you around, don't worry!
There are no ATMs here (as far as I remember), so carry enough cash.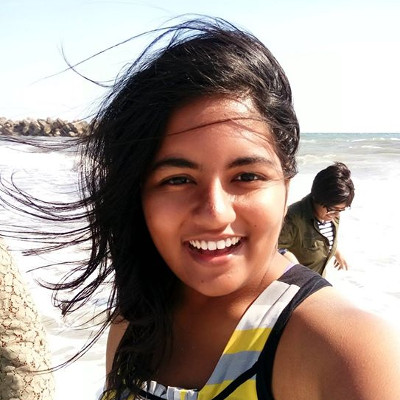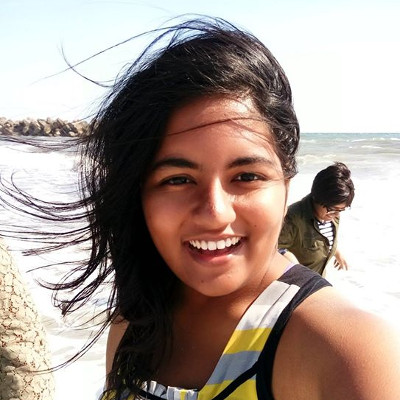 ABOUT THE AUTHOR
Madhurima is a cultural purist at heart, for whom travelling has been a passion for as long as she can remember. She loves discovering off-the-beaten track places and delving into the unknown. She is never satisfied with visiting the top 10 attractions or staying in fancy hotels.
She believes in doing everything "the local way". Eating local food, staying with the locals, understanding their culture &beliefs and celebrating local festivals is her motto while travelling. After all, when we understand people's views from different cultures, we become a bit more tolerant every day, thus leading the way to a harmonious society.
You can get read her work at The Other Side or get in touch with her on Facebook or Instagram
*This post contains affiliate links.
** Photographs and pictures have been provided by the author for use in this  post and do not belong to Globetrove.