I'm a Marriott girl. I love the brand and we always tend to gravitate towards the Marriott hotels in the city whenever we can. Due to a multitude of reasons, that wasn't something that we could do in Egypt. The option on our plate was the InterContinental City Stars Hotel. Luckily for us, the hotel did not disappoint. At first glimpse, the hotel gives you a palatial feeling. It is a feeling that continues throughout your stay. The Egyptian décor including the pyramids and Sphinx sure add to the allure. The hotel does have a lot of plus points which I will enumerate in a bit.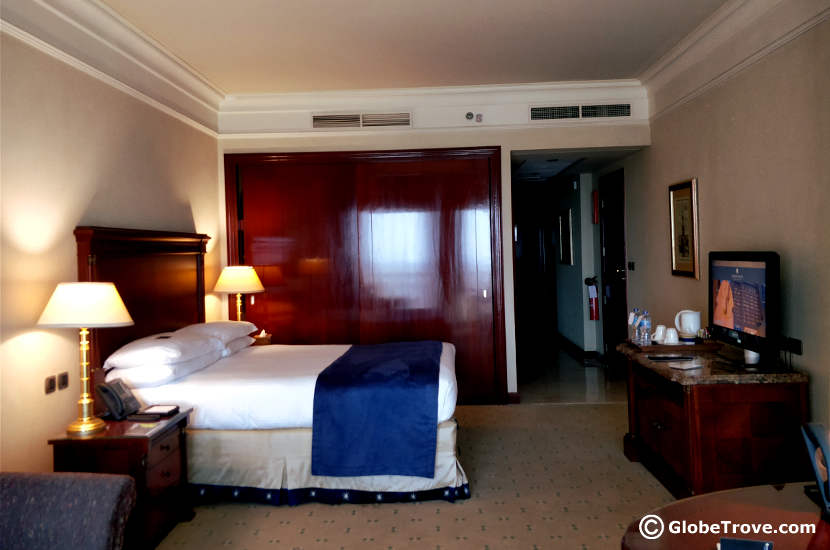 A glimpse of the room we stayed in.
The room that we stayed in for the four weeks that we were in Nasir City was spacious. It had all the standard stuff that you would expect. Since we got an upgrade on arrival (Yaay!!!) we also had a small attached kitchen. The fact that we did not use the kitchen because of the inadequate cutlery was immaterial. It existed and if you do want cutlery then you have to have a long discussion with the hotel or, so we learned.
Like in all hotels you have the option of smoking rooms and non-smoking rooms. If you don't smoke and cigarette smoke annoys you then DO NOT opt for a smoking room. Smoking is like a pandemic in Egypt. We accidentally exited on a smoking floor once and the smoke was unbearable. So, save yourself the misery.
RESTAURANTS IN THE INTERCONTINENTAL CITY STARS HOTEL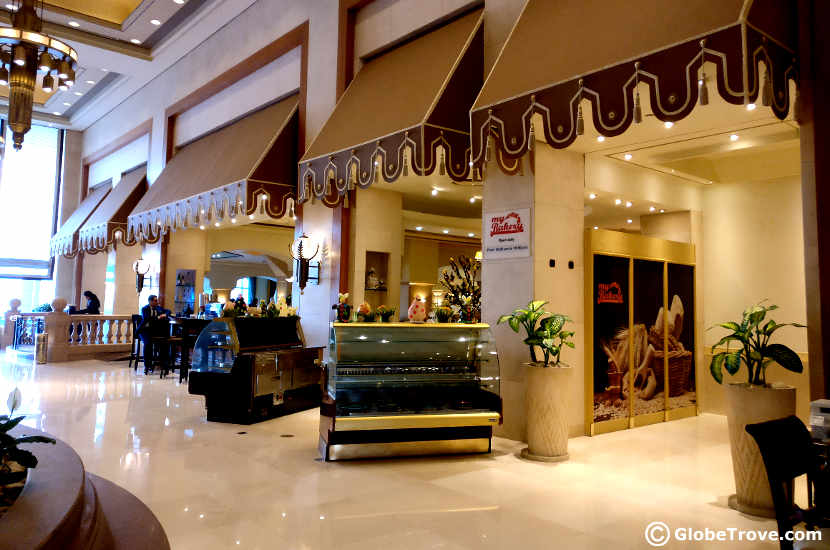 This is where we caught our morning breakfast.
One thing that the InterContinental City Stars hotel has in abundance is restaurants. There are multiple cuisines to choose from. Egyptian, Lebanese, Italian, Japanese… Those are the ones that I noted while walking around. In addition to this there are a couple of places to catch a drink or to sit by the pool and drink. Fair warning, sitting by the pool may not be the wisest choice on a cold evening but in the hotter months I can see how it could get appealing. If you aren't in a mood to dress up and head out, you can always order in from one of the restaurants.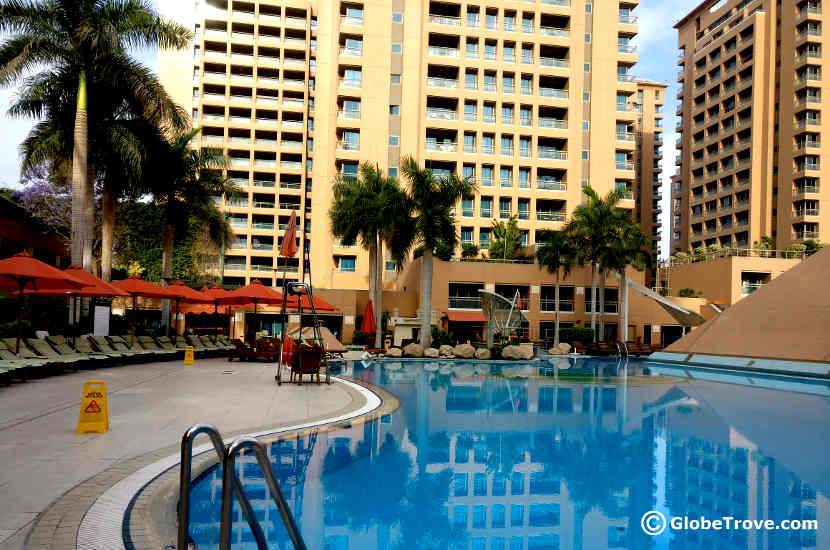 A glimpse of one part of the large swimming pool.
We don't always use all the amenities that are offered in a hotel. When you stay for a long duration, the hotel does become more like home. That's when you start exploring and that is exactly what we did. InterContinental City stars has a facilities area that is shaped like a pyramid. The facilities area is surrounded by a pool which is rather deep so its great for a swim.
The gym faces the pool, so you have a good view while you sweat it out. Talking about the gym, we found that it was large and well equipped. There are trainers round the clock should you decide that you need help. Aerobics classes are conducted at different times throughout the day and are free so don't hesitate to try them out. We went for a variety of them including belly dancing and Zumba. It's a lot of fun.
You can also sit in the hydropool and watch the blinking lights above. Its really relaxing. Let's not forget about the Sauna and the spa which are also available in the complex. There are also a couple of other activities like Squash and table tennis that are available, but we didn't explore those options.
It really doesn't add up as an amenity, but I thought that I would mention it here. The InterContinental City Stars hotel is attached to the City Stars mall. This gives you access to one of the biggest malls in Cairo. You have a variety of restaurants to choose from. There is also a movie theatre and plenty of shopping if that picks your fancy.
All in all, we found the InterContinental City Stars hotel a great place for a long-term stay. The amenities and the services provided felt comforting and it was easy to settle into a schedule. I know that when Shawn goes back the next time, he plans on using the same hotel so that speaks for itself.
So if you are in Cairo and you are looking for a luxury hotel closer to the airport, then I would suggest the InterContinental City Stars hotel. You can use the link to check the hotel out in more detail.
*This post contains Affiliate links
**This is not a sponsored post. All opinions are our own. GlobeTrove has not been compensated in anyway for this review.