What comes to mind when you think of Bali? Do you see sandy white beaches with turquoise waters lapping the shore? You might be surprised to find out that beautiful beaches like these are best visited on Bali's neighbouring island of Lombok. Lombok has long been Bali's less visited, less developed sibling, but the island is quickly developing, and for good reason. The two islands both share a Kuta, but the Kuta in Bali and Kuta in Lombok couldn't be more different from each other.
Kuta Lombok has easily become my favourite travel destination. I originally went there to learn to surf, and left having fallen in love with the beaches and town of Kuta Lombok. Kuta's popularity is just on the verge of booming, as more roads become paved and more and more hotels move into the area. Now is the time to visit Kuta before it explodes with tourism on its pristine beaches.
THINGS TO DO IN KUTA LOMBOK
There are two main reasons people visit Kuta: to surf, or to chill out at the beach.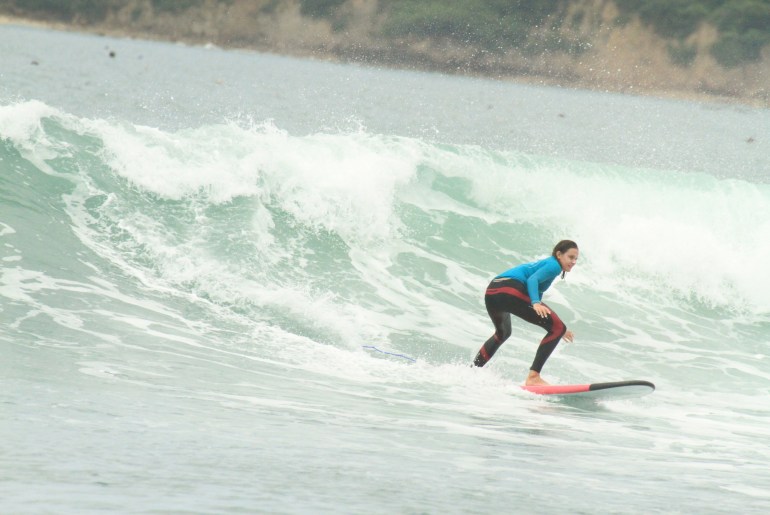 One of the most popular activities in Kuta Lombok is surfing.
Even if you have little to no experience surfing, Kuta is the perfect places for both beginners and very advanced surfers. There are dozens of surf schools in Kuta, all of which will provide in water guiding. That's because when you surf around Kuta Lombok, you typically surf a reef break, not a beach break. To reach a reef break you'll need to catch a ride with a local fisherman, and once you're out in the water your local surf guides can help you catch waves. The best time to surf in Kuta Lombok is during rainy season when the waves and big, slow rolling, and glassy. You'll catch rides that seem to continue endlessly – it is an incredible feeling to ride a wave for so long!
I was pretty nervous when I first learned to surf in Kuta, but my lovely surf instructors immediately helped me to lose that nervousness. The locals in Kuta really know what they are doing, and surfing is a way of life there. You can feel comfortable and confident entering the water with them.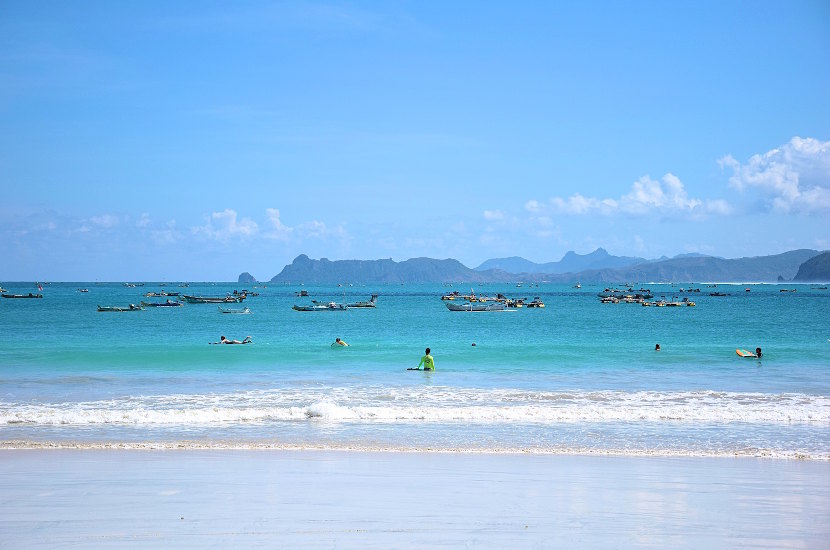 The second popular activity in Kuta Lombok is enjoying the gorgeous beaches.
The beaches of Kuta Lombok are equally as amazing as the surfing here – these are beaches that are almost too good to be true! In Kuta Lombok you'll find the gorgeous beach of Tanjung Aan, which is spotted with wooden warungs and small restaurant shacks. Seger Beach in Kuta is another great spot to visit – it is where locals and tourists alike gather to watch the sun set. There are several beautiful beaches that are a short motorbike ride away from Kuta like Mawun, Selong Belanak, and Tampah beaches. All of the beaches around Kuta Lombok aren't too busy and are very photogenic. When you visit Kuta, you'll definitely want to rent a scooter for the duration of your visit, so you can zip up the road to visit these beautiful beaches. Just be aware that you might have to stop every so often for a herd of buffalo crossing the road, or the occasional goat running by!
WHERE TO EAT IN KUTA LOMBOK
Although Kuta Lombok is still developing, it isn't short on great places to eat.
– Try your first jackfruit taco at The Mexican In Town.
– Have a piece of blueberry cheese cake at Kenza.
– Cool down with gelato at Le Too Much.
– Or, if local food is more your vibe, grab a plate of nasi goreng at one of the many warungs that line the streets of Kuta.
WHERE TO STAY IN KUTA LOMBOK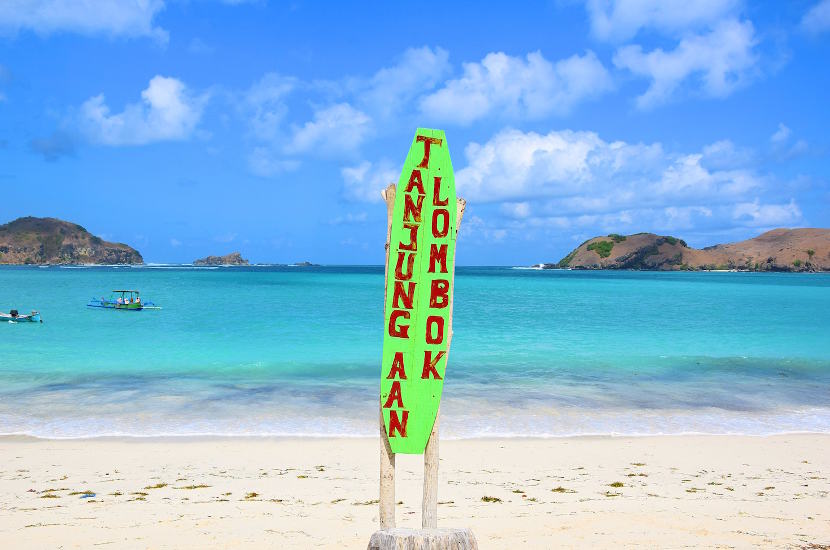 The beach at Kuta Lombok looks so relaxing doesn't it?
Since Kuta is quickly developing there seem to be new hotels popping up all the time, but one of the best additions to the hotel scene in Kuta is Origin Lombok. Origin Lombok is a short scooter ride from the centre of town (around five minutes), but is in a lovely, quiet secluded area where you can get plenty of rest and relaxation and hang out by beautiful pool. The rooms at Origin are all big and very well designed with a clean and crisp open format. One of the selling points for me was also that Origin takes environment sustainability seriously and does its part to keep the island of Lombok in good condition. Origin Lombok also has a great restaurant of its own with a large menu and a fantastic morning breakfast. At Origin you can rent a scooter or catch their shuttle that brings guests to the centre of Kuta Lombok.
HOW TO GET TO KUTA LOMBOK
If you are in Bali or arriving from abroad, the best way to reach Kuta Lombok is by air. You can fly into Mataram Airport on dozens of airlines, and typically for a very cheap price. Mataram airport is about a 40 minute drive from Kuta. If you're already in the Gili Islands, take a local boat over to the north of the island (you'll likely have to wade through the water as there is no pier at the time of this writing), and hop in a taxi that can drive you down to Kuta. The ride between the north of Lombok and Kuta will take around three hours.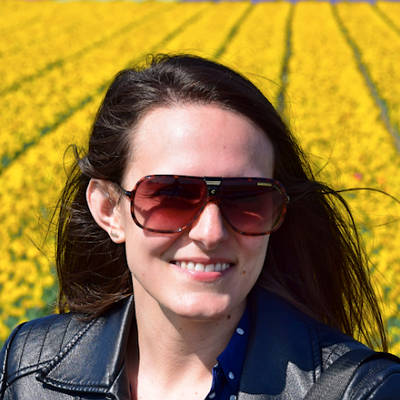 ABOUT THE AUTHOR
Gabby is a native (Northern) Californian who spent the majority of her 20's living the expat life in Amsterdam, the Netherlands, exploring Europe and beyond. 27 countries later, she's relocated back to her home base in California where she explores her passions for the travel and the outdoors, and blogs about it on Boarding Call.
*This post contains Affiliate links
** The photographs in this post are not the property of Globetrove and have been provided by the author.