We have always dreamed off one of those exquisite Maldives holidays. It's the stuff of dreams, right? Like everyone else, we also strongly believed that the elusive Maldives holidays were beyond us. It is just too expensive… I mean who can afford to spend $400+ a night? Not us. In January our world came crashing down when we had a miscarriage. It's odd how you can be over the moon with happiness and then be so extremely sad that your soul feels crushed. We needed a vacation desperately to connect with each other and to feel alive again. That is how we started searching for a place where we could find ourselves again and we were drawn to the idea of a Maldives holiday once more. Not sure if our budget could handle it, we plunged into researching the country. That was when we found that there were three tiers of expenses that one could incur. The extremely expensive, the mid-range and surprisingly the budget range. Since we wanted a bit of indulgence, we settled for the mid-range. It inspired us to write an Addu Atoll travel guide so that others like us will not write off the country just because they think it is too expensive.
NAVIGATING THROUGH THE ADDU ATOLL TRAVEL GUIDE
As usual, our travel guides are long as we try to encompass all aspects of information that a traveller may find useful. We also realize that every reader comes to the travel guide searching for different titbits of information. To make access to this information easy, we have provided a couple of links below. Click on the link to go to the part of the Addu Atoll Travel guide that you want to access. We hope that you find the information helpful in planning your Maldives holidays.
ADDU ATOLL TRAVEL GUIDE: Facts About Addu Atoll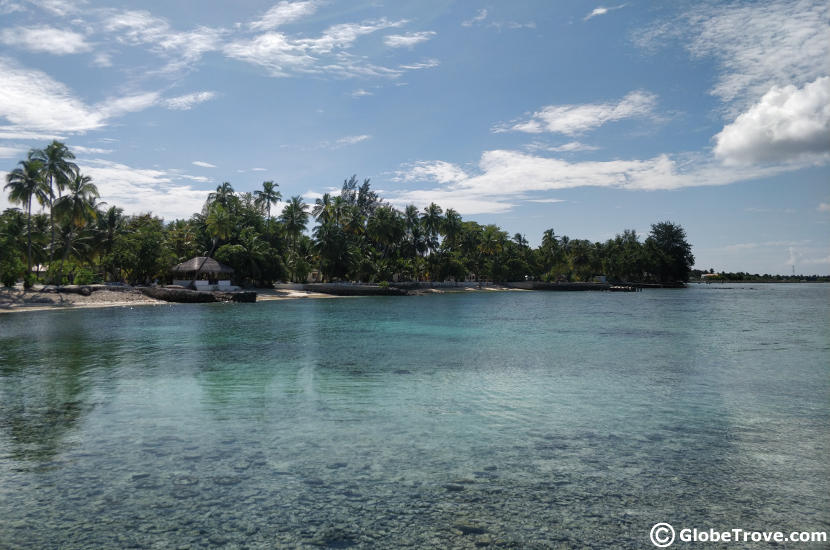 Addu Atoll is situated in the south of Maldives. It is a heart shaped atoll that is compromised of a number of islands that are mostly uninhabited. The inhabited islands of the island are Gan island, Feydhoo, Maradhoo-Feydhoo, Maradhoo, Hithadhoo, Villinigili and Herathera islands. While the Villinigili and Herathera islands can be accessed only by boat, the other islands are connected by a highway which we shall talk about later.
Addu Atoll has an interesting past. Gan island was once occupied by the British forces who set up base on the beautiful island. The current airport also served as their airport back in the day. Today the airport serves as a port of entry for flights to land from Male and Sri Lanka. Larger carriers from other countries are due to start their services soon. Gan island, Feydhoo, Maradhoo-Feydhoo, Marahoo and Hitadhoo are relatively close to each other. Quite recently, bridges connecting the islands were built and a highway now passes from one tip to the next, making access to all the islands easy.
The landscape of the atoll is gorgeous. Did I mention that the atoll is shaped like a heart? It made the perfect place to sped Valentine's day in. Though we did not plan it out that way, it was a happy coincidence. Gan island is uninhabited with the exception of one luxury resort. The other islands are populated with Hitadhoo being the most populous. Hitadhoo also has some mangroves and a fresh water lake (We aren't kidding!). Coconut trees dot the landscape everywhere. The outer side of the atoll is lashed by waves while the inner aspect of the atoll is much more peaceful. This makes Addu atoll a great place for different kinds of activities. The varied landscape of the islands makes them a perfect place for the perfect Maldives holidays. Did I also mention the lack of crowds?
Our Addu Atoll travel guide would not be complete without talking about the weather. The Addu atoll is located very close to the equator. This means that the sun is generally very hot. On a general day, the temperature sores around 30-31oC. Being an Indian the sun shouldn't bother me too much. In fact, I have never had a sunburn in my life. Within two days of being on the island, I already had the beginnings of a nasty one. So be careful, slather on the sunscreen and make sure you check on your skin. The islands do have their own share of rains. Generally, the clouds burst overhead and are accompanied by lightening and thunder. It usually lasts for just part of a day or night. The streets however do get clogged with water, but it recedes quickly as the sun comes up. The plus side is that snorkelling and diving after the rains is gorgeous because all the fish are out.
The currency in Maldives is the Maldivian Rufiyaa. At first Shawn had scoured the internet to find out what the local transactions were like. His research told him that it was easy to transact in dollars. Once we were on the ground however, it became increasingly apparent that if you were going to spend in dollars you were going to be charged more. With that in mind we came to a quick decision. Pay the hotels in dollars and for everything else use the local currency. Except for diving… That we did in dollars too. As for the rest… Well if you eat like a local you quite literally spend around 2-3 dollars a meal, provided you have the local currency. So, our advice would be to convert a couple of dollars. Where do you convert? We were put in touch with a local (he runs the gift shop across Equator village on Gan island) who kindly helped us for a small fee. If you are heading in from Male, I would suggest exchanging the money there.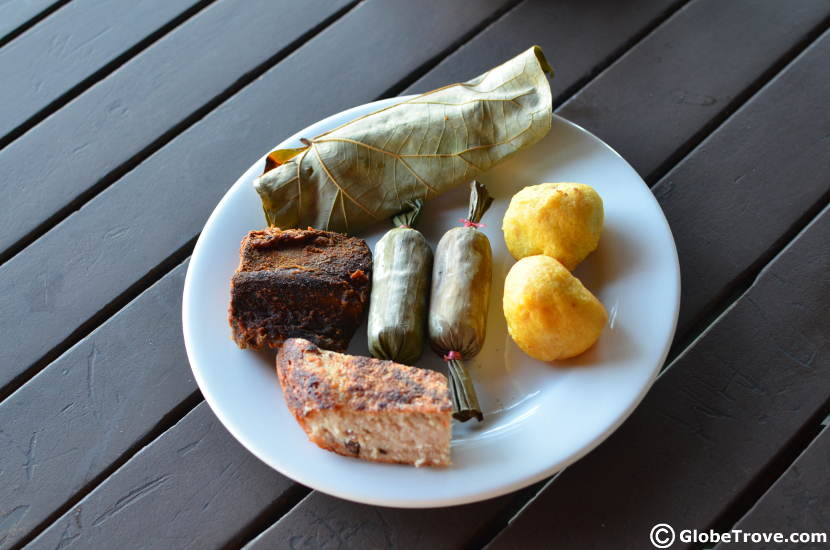 Don't forget to try the food on you Maldives holidays.
Being islands, cultivation and the rearing of animals is pretty limited. What isn't available on the island is brought in by boat from Male. With that in mind, it becomes pretty obvious that vegetables and fruits are generally more expensive. Fish is the staple diet. Almost every traditional Maldivian dish that we ate had tuna in it which seemed to be the favourite fish on Addu atoll. The locals love to chill by the side of the beach with snacks. In the evening you will find everyone out enjoying the Maldivian cuisine with a cup of black tea.
RELATED ARTICLES: Exploring The Food In The Maldives
WHY SHOULD YOU CONSIDER SPENDING YOUR MALDIVES HOLIDAY IN ADDU ATOLL?
Located at the South of Maldives, the Addu atoll is not as populous as the capital city. It is quiet, laid back and beautiful. In addition to this, the atoll has some of the best-preserved coral in the world. Despite snorkelling and diving in different locations across south-east Asia, Addu atoll was the only place we have ever seen blue coral. Quite recently a friend told us that a reef with blue coral means that it is healthy as blue coral is the first to get bleached. The people on the island are pleasant and welcoming. Everyone speaks and understands English so moving around the island is easy.
ADDU ATOLL TRAVEL GUIDE: Facts For The Visitor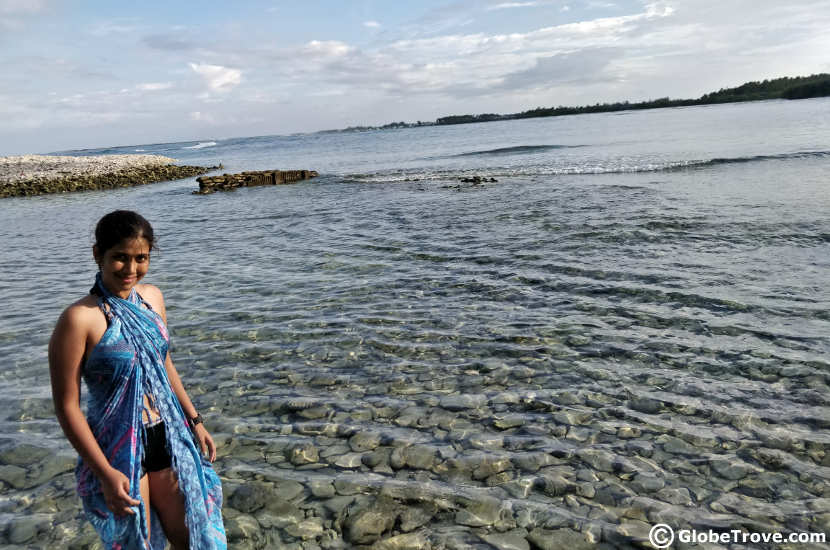 Understanding the basic facts of a place is a great way to determine if it is a place you want to visit. Once you make up your mind however, you need to do a great deal of research. Even if you aren't a big planner and like to go with the flow of it, you will find that it is always handy to have the information at your fingertips. We've compiled a few facts and tips that will help you in your day to day travel across the islands.
TRANSPORTATION TO ADDU ATOLL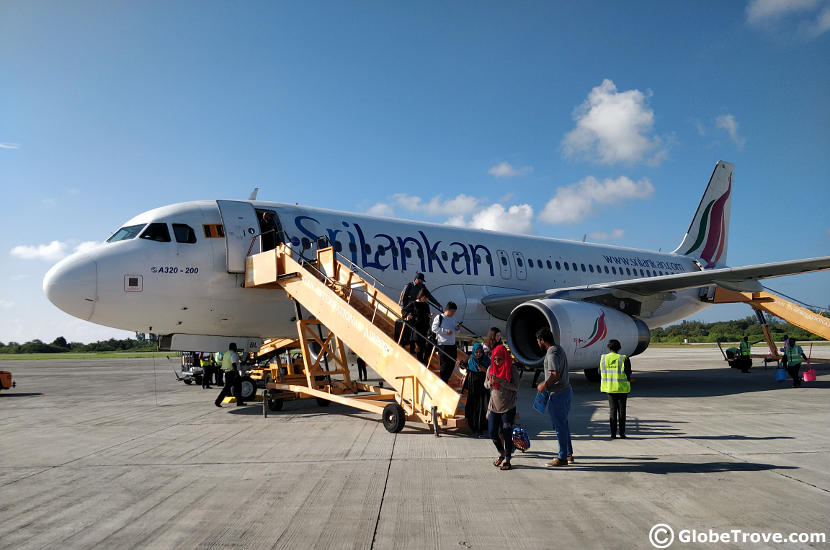 Gan island airport is gorgeous making it the perfect place to start your Maldives Holidays.
Getting to Addu atoll can be quite a task if you aren't heading to the atoll via Sri Lankan airlines. As of now, the flights that land at Gan island International airport are from Male and from Colombo, Sri Lanka. This means that the cost of reaching Addu Atoll via Male weighs heavily on one's pocket. We were lucky that our flight route was via Colombo and the cost was similar to that of flying to Male. While we were in Addu, we were told that other international carriers are due to open routes to Gan island in the upcoming months. This will make Addu atoll easily accessible and much cheaper to get to. Another mode of transport that we discovered was to take a ferry from Male or the other islands. 540 km is however a long distance to cover by boat and that in turn means that the journey is almost as expensive as the flight from Male.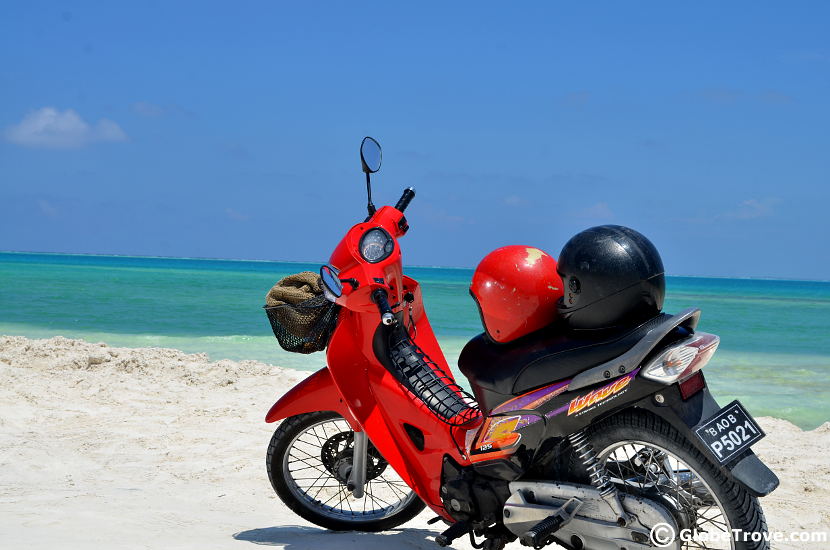 We used a scooter to travel through Addu Atoll during our Maldives Holidays.
One thing that almost everyone worries about on their Maldives holidays is the transport. As mentioned before a highway connects four islands of the atoll. This makes it easy to access different parts of the connected islands, the airport and the ferries. The temperatures however soar and walking around mid-day can be a task. The transportation options that you have at your disposal are walking, cycling, taxis or renting a motorbike.
TRANSPORTATION BETWEEN THE CONNECTED ISLANDS
Transportation to and from the airport is usually provided by the hotel. Make sure you ask before you pay. Cycles can cost anything between $7 to $11 per person. It all depends on where you rent from. Hitadhoo is cheaper than Gan but it is quite far. We rented a motorbike for $100 for a week. They usually charge by hour. Haggle a bit and you can get a day rate. The longer you rent the better the rate. We rented the bike from the gift shop across Equator village. Bear in mind that the motorbike was a geared bike and not an automatic bike, so it can be rather difficult if you don't know how to ride one.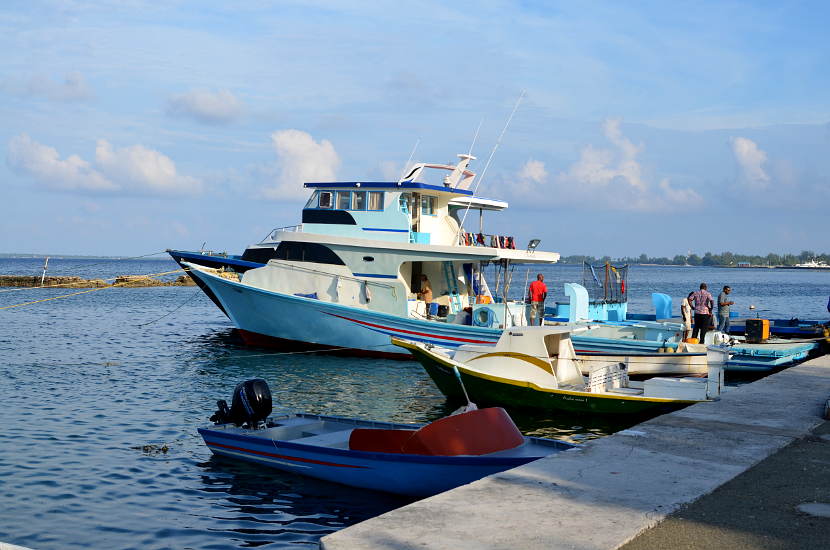 The ferries are a cheap way to move from island to island during your Maldives Holidays.
A lot of the resorts provide their own transport to the neighbouring islands. That however can cost an arm and a leg. The cheaper way is to take the ferry. Head out to Feydhoo harbour to check out the ferry timings. The ferries are really cheap in comparison. You can also take your cycle/motorbike across for a fee. You need to arrive an hour in advance to book your spot as the ferry fills up quickly. Taking your bike across means that you aren't dependent on the bus schedules and you don't have to pay and exorbitant price for the taxis.
We already have an in-depth explanation about how the Maldivian currency works above. In case you missed it, we will just have a recap. Payment for the hotels and diving is easier in dollars. If you plan to eat and shop in the convenience stores like a local, then convert a few dollars to Maldivian Rufiyaa so that you aren't charged extra. If you fly in from Male, it is advisable to exchange your money there. If you do land in Addu atoll directly like we did there is the Maldivian bank on one of the islands which should do the job for you. We exchanged our money with a local at the gift shop across the Equator village on Gan island.
One of the things that worried me a lot when I was heading to Addu atoll was the dress code. A lot of people talked about Male and the resort islands. Since there was not much information on Addu Atoll I was a bit flabbergasted at what to do. That is why I am making a conscious effort to document the dress code in our Addu Atoll travel guide.
In general, the basic idea is to cover up. Bikinis are cool if you are on one of the resorts. If you want to swim off one of the reefs which aren't part of the resorts (i.e. Feydhoo, Maradhoo-Feydhoo, Marahoo and Hitadhoo) then coverup. A simple t-shirt should do. While it is safe all across the island and no one says anything, the Addu Atoll has a deeply religious community. The women wear headscarf's, but they do not expect you to do the same. It is nice to adhere to the cultural norms by not wearing extremely revealing clothing. The Addu governing body is set to open a bikini beach in the near future. In addition to the cultural aspect, I found that the t-shirt helped keep sunburn away.
ACCOMMODATION ON ADDU ATOLL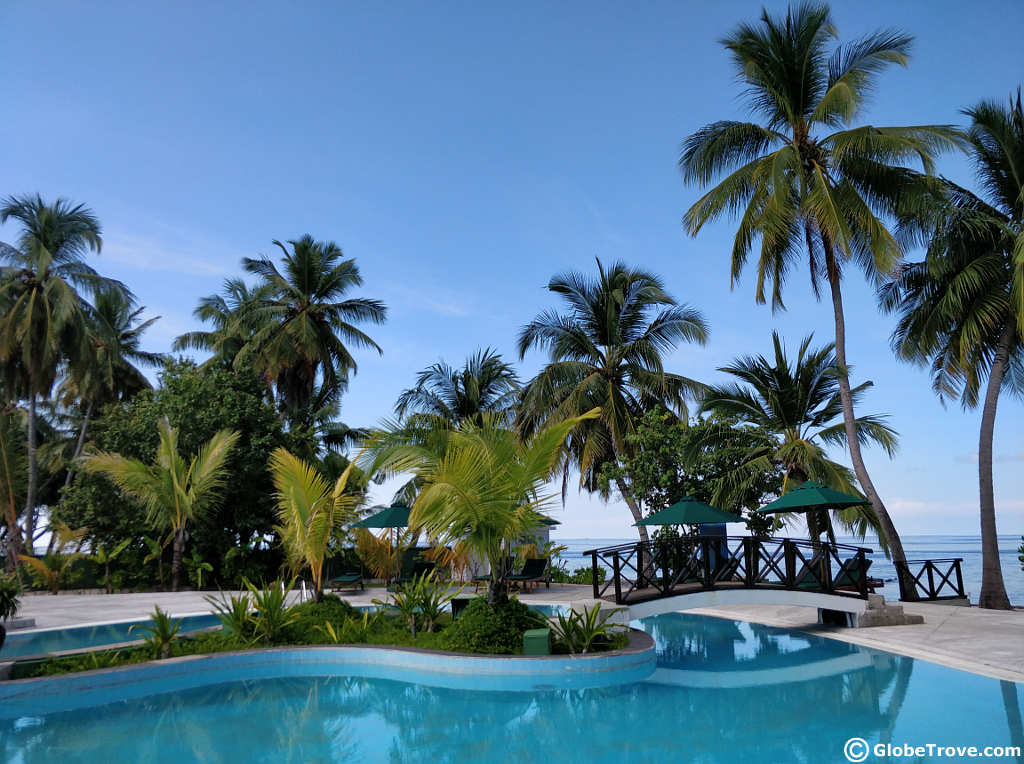 Finding the perfect accommodation is part of the perfect Maldives holidays.
I plan to have an in-depth article on the accommodation on Addu Atoll soon and I will link to it as soon as I do. Like I explained, Addu atoll has different layers of accommodation. The Shangri-La on Villingi island is the most luxurious. That makes it simultaneously the most expensive.  The next in line is the Canareef resort. It isn't as expensive as the Shangri-La but that doesn't mean that it isn't expensive. The Equator village on Gan island is cheaper than Canareef and is more easily accessible. While Wave Sound on Maradhoo-Feydhoo and Pebbles Inn in Hitadhoo fall in the lower bracket. They however do not have the facilities that the first three offer. Cheaper accommodation is now emerging as the number of international flights flying to Gan island are due to increase. This means that in the near future, flying to Addu atoll will be easier and a whole lot cheaper. You can use the widget below to scour through the accommodation available. We like to use this website because of the ease of booking and cancelation as well as the perks that you get when you reach genius level.
RESEARCH ARTICLES: A Guide To The Hotels In Addu Atoll, Maldives
HOW TO CHOOSE A LOCATION TO SPEND YOUR MALDIVES HOLIDAYS IN ADDU ATOLL
Our Addu Atoll travel guide is designed to help you plan your holiday. We also want to help you understand which island in the atoll is best suited for your Maldives holidays. With that in mind we have divided it into the following categories.
THE ALL-INCLUSIVE INDULGENT BUDGET
If you are looking for a place to indulge yourself and the price that you pay isn't something that bothers you, then think about heading to Villinigili. The Shangri-La is gorgeous and is the stuff of dreams. A cheaper option to the Shangri-La is the Canareef Resort. Unlike the Shangri-La, the Canareef resort does not offer over water bungalows. The Equator Village on Gan island is not as impressive as the Shangri-La or the Canareef resort. It is however cheaper and located on Gan island very close to the airport. Bear in mind that everything at the resort is expensive and that the local markets are rather far away so you have to cycle or rent a motorbike to get to them. Buses ply every 3 hours and are not very reliable.
Wave Sound by 3 S is located on Maradhoo-Feydhoo and Pebbles Inn in Hitadhoo fall and this falls within the mid-range budget. We visited Wave Sound and it would be wise to note that while the pictures do depict it as a beach resort and it is located at the beach, you can't swim or snorkel there. The deeper end of the reef is lashed by waves which makes Wave Sound strategically placed if you want to surf. The surf however is variant and dependent on seasons so contact the hotel to know which season is the best.
Pebbles Inn is in Hitadhoo which makes it close to a lot of the local shops. It is easy to access different parts of the city by foot and it is also close to the snorkelling reefs. Unlike Wave Sound it isn't located on beach and has a road separating it from sandy harbour.
We didn't get a chance to visit any of the budget accommodation, but we did note that cheaper accommodation was available across the islands. We will be adding on to this section as and when we visit the atoll again. You can however browse through some of the accommodation below.
ADDU ATOLL TRAVEL GUIDE: Places To Visit On Addu Atoll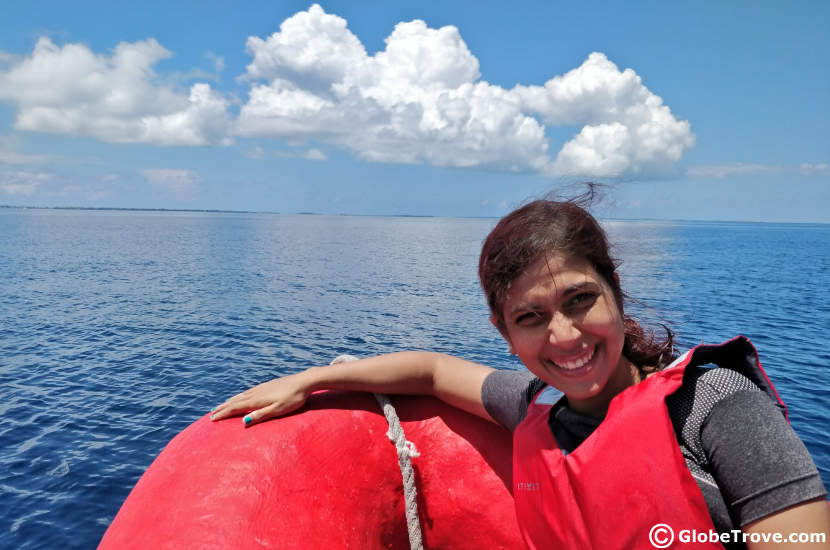 Addu Atoll is a heart shaped atoll located near the equator and is a perfect place to spend your Maldives holidays. There are so many places to discover in the Atoll that our mere seven days failed to cover everything. We plan to head back and add to this list as and when we do. Till then, take a look at all the places that we have listed in our Addu Atoll travel guide.
Gan island is not really inhabited. It is home to the Gan Internationally airport. So, if you have flown into Addu Atoll, Gan island is probably the first island that you will set foot on. Gan island was inhabited by the British forces till 1970 so you can see the remnants of their rule at different parts of the island. The reef of Gan island is beautiful, but it can only be accessed if you are staying at Equator village. They don't let non-guests enter. Don't worry though. There are plenty of other beautiful reefs to see.
Feydhoo island has the Feydhoo Harbour. Duh… I know. It is from this harbour that a lot of the goods that are required for daily living in the Addu atoll arrive. In addition to this, the Feydhoo harbour is also the spot where the ferries to the other islands dock. Despite what would seem to be intense activity, the Feydhoo harbour is quiet and peaceful.
The Western Coast of Maradhoo-Feydhoo island offers a gorgeous view of the sunset. It is also popular because of the waves that lash the coast. It said to be a surfer's paradise. The weather however determines which season the coast has the best waves. So if you are visiting Addu Atoll with the sole purpose of surfing, it would be wise to contact the resorts in advance.
Maradhoo is one of the most populated islands on the atoll. It has gorgeous beaches on the East. You can spot the locals swimming in the water every evening. The western coast like Maradhoo-Feydhoo is lashed by waves. The west coast isn't the most pristine part of the atoll, largely due to the garbage dumping ground in the vicinity.
I think that among all the islands that are connected, Hitadhoo has a lot to see and offer. A fresh water lake, a mangrove which you can kayak through, walking paths through the forests and coral reefs are just a few of the things that the island has to offer.
ADDU ATOLL TRAVEL GUIDE: Money Saving Tips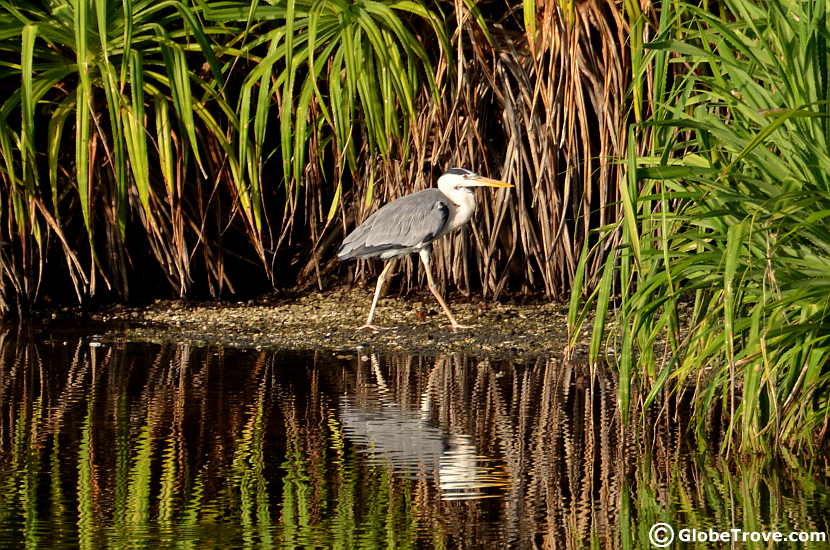 Saving money is definitely on everyone's agenda. The more time that we spent on Addu Atoll, the more we realized that it was definitely possible to have Maldives holidays which fell in the budget zone. Here are a few tips that will help you along the way.
Get some local currency and don't always spend in dollars.
Eat at the local joints. They are clean, hygienic and you get the local experience. In addition to all those perks, a meal for two usually costs $2-4.
Bargain when you are buying packages for snorkelling boat trips and diving. You may get a better price. The rule of thumb is to try and book for more than one day at once.
Visit the local convenience stores. They are well stacked with local delicacies.
Use the local ferries instead of the island transfers that the resorts offer.
ADDU ATOLL TRAVEL GUIDE: Accessories That You Should Carry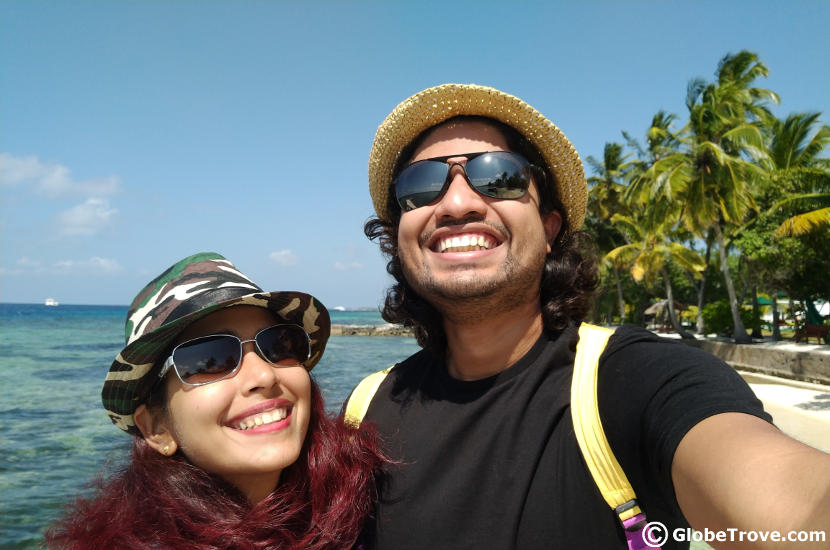 As with every place that you travel to, the type of things that you carry is different. It would be remiss of me not to include a list of accessories that you should carry in our Addu Atoll travel guide. When packing bear in mind that you will be spending your vacation at the equator.
Renting equipment in the Addu Atoll gets expensive. It does not matter what kind of water sport you are indulging in. Buying your own snorkelling mask and fins in advance certainly is cheaper in the long run. The plus side is that you have equipment that fits you perfectly and one that you don't have a deadline to return.
You definitely will want to have a t-shirt that protects you from the sun when swimming. Luckily there are numerous options out there. Today's swimming t-shirts also have a SPF protection that is around 50 which is great. Honestly, anything that keeps the sun from burning your skin will be a big relief.
Do not think about heading to Addu atoll without sunscreen. The sun is hot enough on a regular day but without realizing it you will find that the sun at Equator is more intense than it feels. While you are shopping for sunscreen make sure that you get sunscreen that is water resistant too.
A sarong is multifunctional. It helps you cover up after a dip in the ocean. It can be used to dry yourself if you don't have a towel. It can even be spread out like a picnic blanket. Maybe it's the feminine side of me that finds the sarong appealing but it is definitely one of my favourite travel accessories.
One thing that I did not expect during our Maldives Holidays was the presence of mosquitoes. Head out with short pants during dusk and the nasty critters descend on you with glee. Unfortunately, we had forgotten our mosquito repellent at home. Don't make the same mistake that we did.
ADDU ATOLL TRAVEL GUIDE: Experiences That You Should Try
No matter where in the world you go, you will find that there are unique experiences. That is one of the reasons why you should do your research and decide which ones you would like to indulge in. Here are a couple of experiences that we found particularly interesting.
A Maldives holiday is the stuff of dreams. While we did not go through the islands in the North of the Maldives, we managed to explore the South. Few people head out to Addu Atoll because it is out of the way. The atoll is gorgeous and beautiful. That was one of the reasons why we put together an Addu Atoll Travel Guide. We strongly however believe that with the number of international airlines planning their routes to Gan island, that scenario is going to change.
Have you been to the Maldives? Which part of the country have you been to? We would love to hear all about your experiences.
*This post contains Affiliate links