We found ourselves taking the short but scenic journey from Tissamaharama to Ella by bus. We had done our research and found ourselves a nice budget accommodation in Ela. Our choice? Nimsara Homestay. I can't recommend it highly enough. I think that the strong points about this accommodation was definitely the customer service. The owners of the accommodation were very friendly and went out of their way to strike up a conversation with us and tell us about the local life in Ella. I will get into an elaborate review in just a bit. Before that, lets take a look at our review in a glance shall we?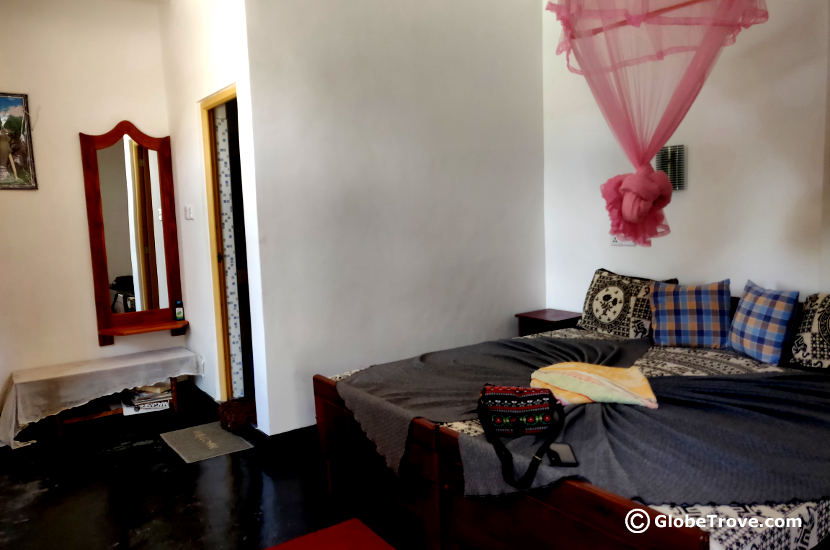 Inside our room at Nimsara homestay.
Nimsara homestay is located very close to the city centre of Ella. It is a delightful spot with quaint rooms and a balcony where you can stretch your legs out on. Their view however has been compromised but I will get into that in just a bit. Before we start with a detailed review, let's go through how Nimsara Homestay ranked on our five point scale.
| | |
| --- | --- |
| CLEANLINESS | |
| WIFI | |
| LOCATION | |
| VIEW | |
| COMFORT | |
| CUSTOMER SERVICE | |
As I mentioned before, Nimsara is located close to the heart of the city. It would take you a five minute walk to reach it. Be warned that the slope heading up to the homestay is a bit steep but it is well lit by street lights in the night. Since it is located close to the city, it has access to restaurants, grocery stores, the bus stop and the train station. The homestay once had a gorgeous view of the city and the valley below. Unfortunately, a construction has cropped up in front of it and has taken away a good deal of their view.
The room that we were provided came with an attached bathroom and was a quaint airy place. It had two sets of doors. One was a French window which could be opened if you wanted to it. It brought in a lot of light into the room making it look very inviting. The small terrace like area in front was not fully done up but it had a couple of chairs that one could lounge on. We also could dry our clothes on the line on the terrace which was great since we really needed to replenish our wardrobe.
Nimsara homestay does offer a lot of additional facilities. Home cooked food on demand is one of the most popular facilities availed by the residents here. The owners will bring up a hot cup of tea which is particularly relaxing when it is raining outside. The sheltered patio makes a great place to sit and enjoy it. Cooking classes are popular in Ella and Nimsara homestay also conducts them at your convenience. You can even request to be taught special dishes which you liked. They do organize tours and provide transport to the spots that are little harder to reach on foot. You would need to arrange it in advance since the owner also drives a school bus and would need to make adequate arrangements.
The customer service of Nimsara homestay was beyond excellent. They offered advice about all the best things to do in Ella. They sat us down and explained about the culture of the city, how they cook their food and why. It was an interesting conversation as we battered information about our countries and found so many similarities that it surprised us! One thing that you will notice is that in Nimsara homestay, you are always greeted with a smile.
Have you been to Ella? Where did you stay? We would love to hear about your experience in the comments below.
*This post contains Affiliate links
**This is not a sponsored post. We paid for our own accommodation and the opinions expressed are our own.