One thing that we learned very quickly is that the best part about Kota Kinabalu is the food. Sea food to be precise! Everything is fresh and tasty. It also leaves some room for experimentation. Take seaweed for example. One of the famous salads here involves seaweed. Trust me it is delicious. Wait… I'm getting ahead of myself.
Let me take you through the different places to eat in Kota Kinabalu. After staying here for almost 3 weeks and visiting numerous places to eat in Kota Kinabalu I have managed to put together a sizable list.
Malaysia is known for its street food. Just because Kota Kinabalu lies on the island of Borneo doesn't mean that its street food is anything other than amazing. In fact there are a number of places where you can catch a bite to eat. It is hard to list them all because every street and every corner has some vendor selling some form of street food. I'm just going to list places that are popular and have a number of vendors who sit together. Bear in mind that I visited Kota Kinabalu during Ramadan. I'm not entirely sure if the number of vendors are the same during the rest of the year.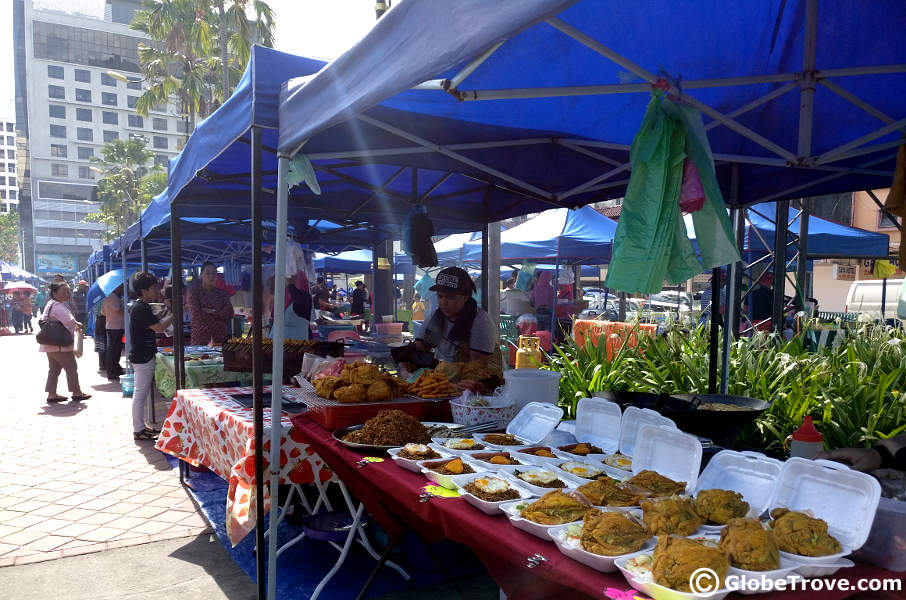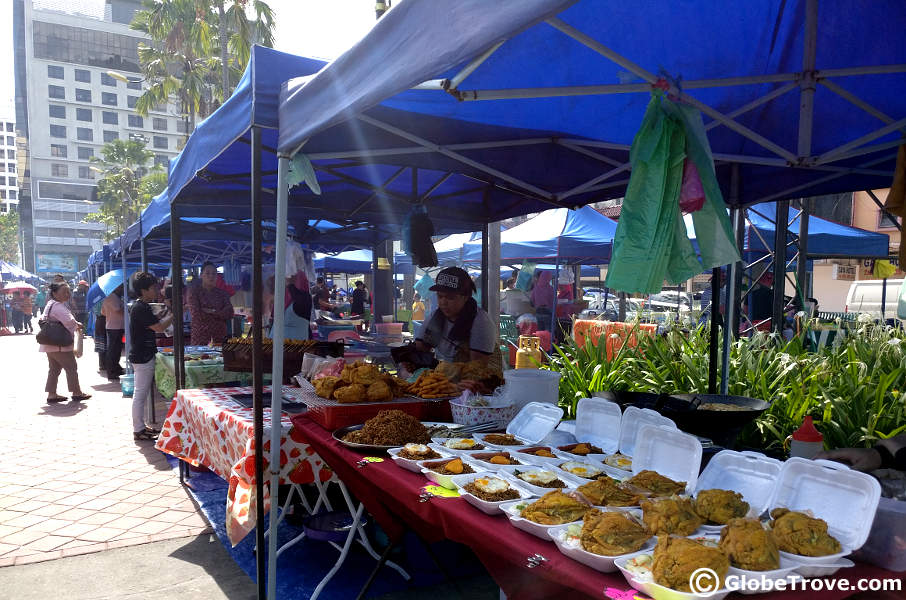 This was Gaya street during the Ramadan period. It was so hard to decide what to eat!
Gaya Street is famous for its numerous restaurants. If you walk around Gaya street in the evening, you will find a number of vendors who set up shop. They start around 2 pm and are fully active by around 5 pm. All you have to do is stroll down the numerous lanes and you will find different varieties of the local cuisine. You can even wash down the food with different flavored juices that are on sale. The only problem that you will encounter here is that there are just too many choices. It is hard to decide and just pick one item to eat. Among my list of places to eat in Kota Kinabalu, this street ranks really high because of the variety, quality and cost of the food.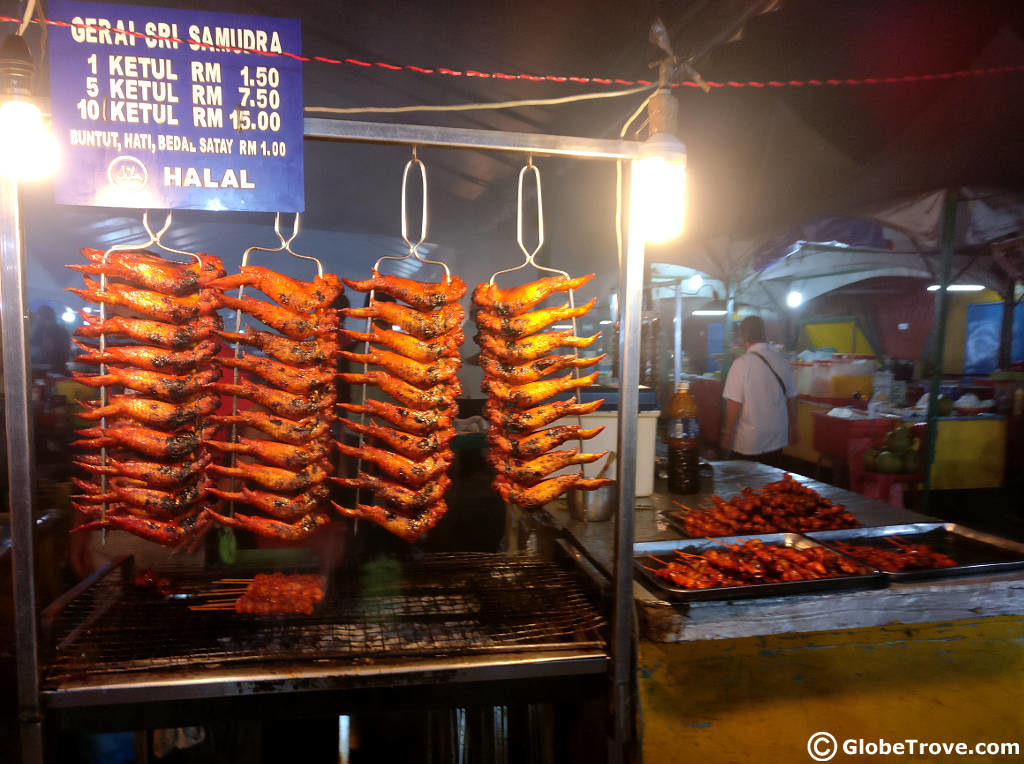 The only place with more food than Gaya street is the Night market!
Located just opposite the Le Meridian is the Kota Kinabalu night market. It is probably one of the first things you will hear about the moment you hit land. Bear in mind that nothing has been exaggerated. The night market presents a great place to eat food and you can even enjoy a great view if you sit closer to the coast. Our first dinner at Kota Kinabalu was at the side of the docked boats. A large steamed ray fish and steam rice was our poison for the night. It definitely hit the spot and best of all it was cheap. How cheap? RM 11 for two people!
My advice would be to roam around a bit. Each food stall will have their own prices. Some are more expensive than others. Some charge per kilo while others charge per 100 gms. The type of fish available also differs from stall to stall. Look around and take your pick.
Some people like to eat healthy and it's a personal choice. Other people are forced to do so because of illness. For me it's a mix of both and that is why I am always on the lookout for good place to catch a healthy bite. Smoothies and juices are always the most natural choice. Since I know that there are other people who struggle to find the right place to eat like me, I just had to include some of the healthier restaurants in my list of places to eat in Kota Kinabalu. The plus point to it is that they served really amazing food!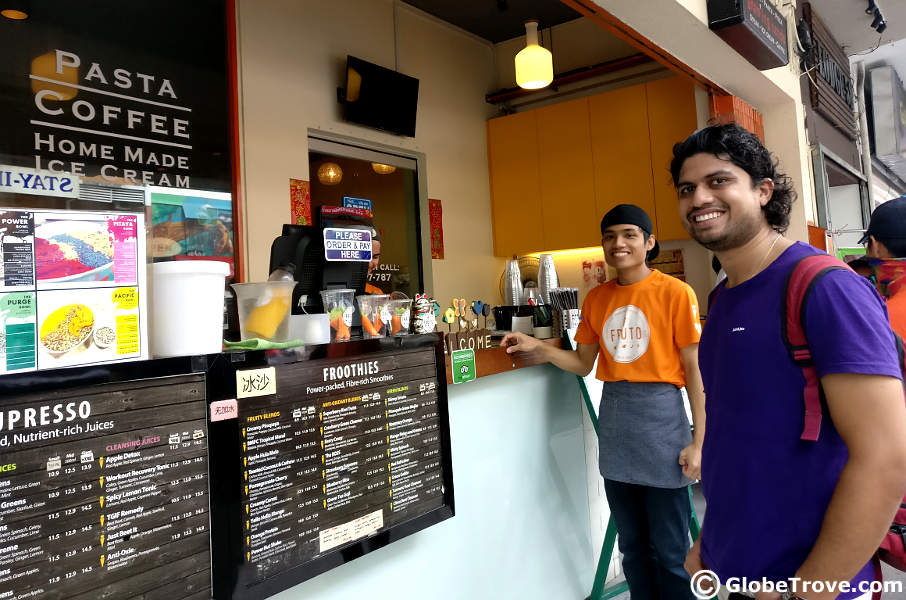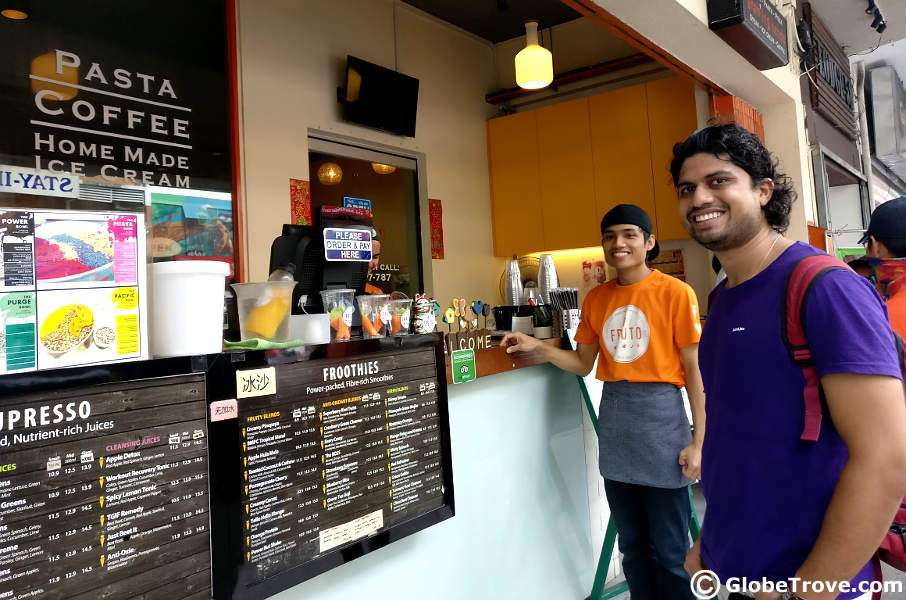 Fructo Juice Bar was one of my all time favorite places!
The Fruto Juice bar was the first place that caught my attention. I was not very hungry because I had just had a very late breakfast. Neither was Shawn. We were strolling down Gaya street (Jalan Gaya) when we stumbled across it. I constantly suffer from bouts of Irritable Bowel syndrome (IBS). This gets particularly worse after a long flight where I can't control what I eat. The Fruto Juice bar was definitely a slice from paradise for me. It was just what I needed.
What did the Fruto Juice Bar have to offer? A range of innovative juices, smoothies and power bowls was on the menu. I went with a Biru Biru smoothie while Shawn had a blended juice. Suffice to say that it was exactly what we needed on a hot tropical day.
Price range is around RM 10 -16 depending on what you choose. It also depends on the size of what you order.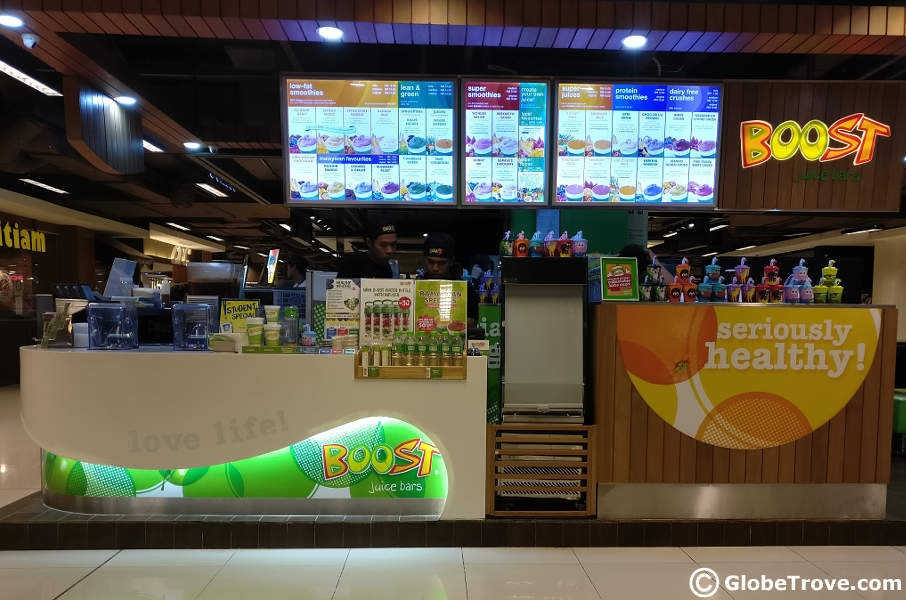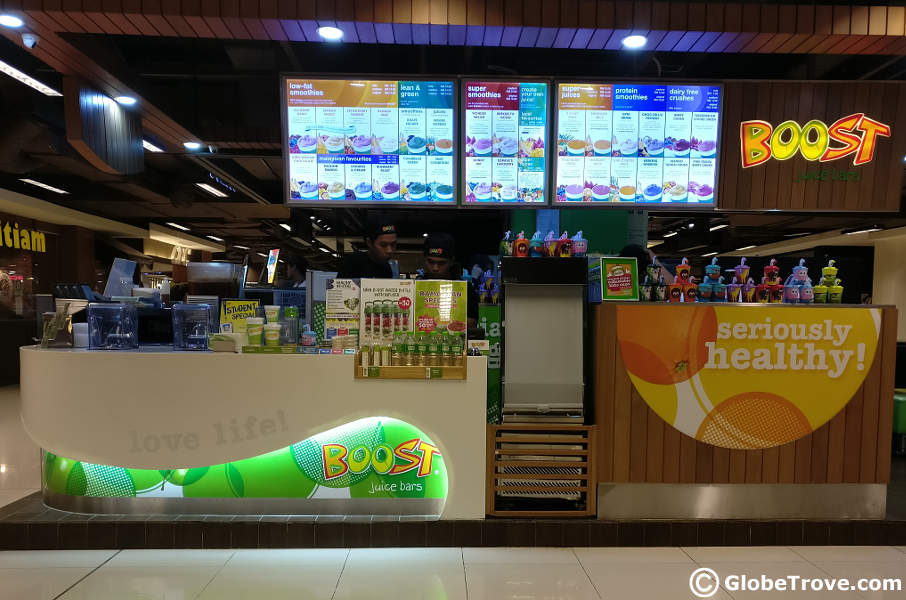 Another healthy discovery!
Boost Juice bar is another place that I absolutely loved. It is located in the Basement of the Imago shopping Mall. Like the Fruto Bar, the Boost Juice bar has everything from juices to smoothies. For me it was healthy snack mid day. You can also pick up a pamphlet which will tell you everything about what goes into the mix. By that I mean the fat content, dairy content, allergy info, caffeine content, fibre etc. It also gives you a break up of all the calories that you consume.
If you aren't sure what to order then ask the staff. They are really helpful. I had the wild berry juice and loved it. The prices range from RM 10-15 and the juices come in three sizes so you can choose how much you want.
The lifelines of many bloggers are the cafes that they visit. For me a good café has a number of criteria that it is must. It should be clean, have good food, give me access to Wifi and I shouldn't be hustled about. I love my cafes to be relaxing where I can pen down my thoughts or my notes with just enough noise to be mentally and emotionally stimulated.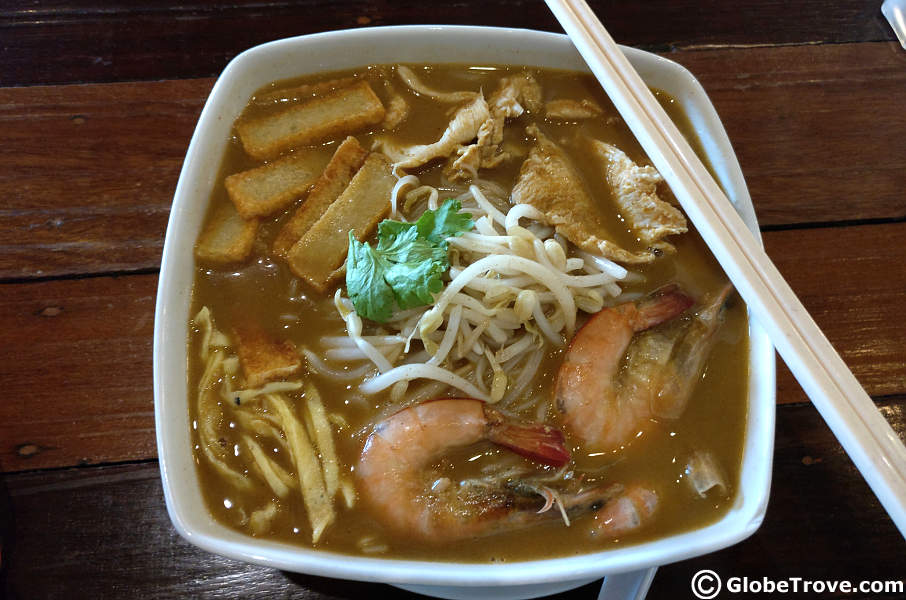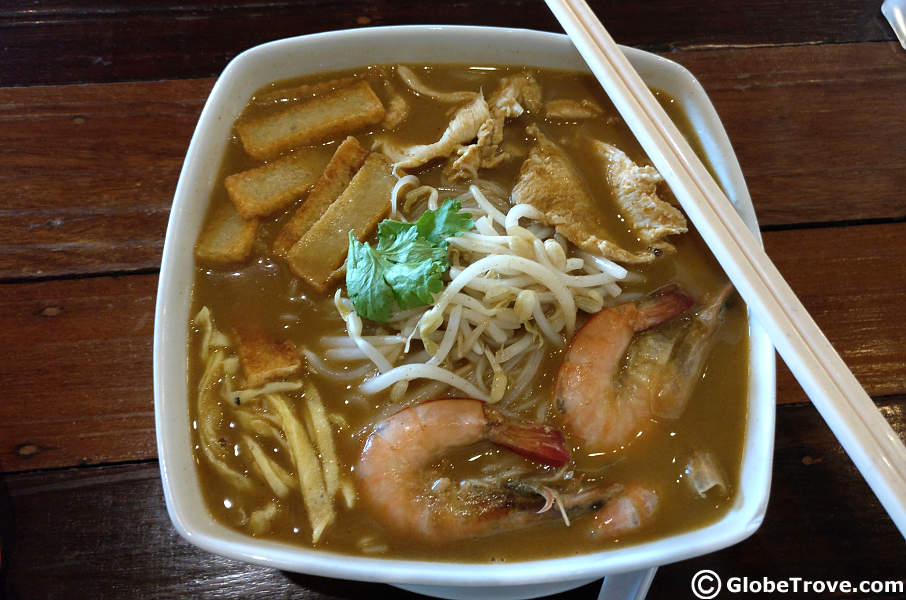 My first Laksa was at Grabbing hands cafe.
The Grabbing Hands Café is situated at the same place where the Fruto Juice bar is. In fact they share the same seating arrangements. Grabbing Hands Café serves Malaysian food. The prices range from RM 12-35 . You can also pair your food with alcohol.
I tried their combo lunch deal that was on offer. One main course + one desert for 12.9 MYR. For the main course I tried their Laksa which was decent. The portions were large and I had to parcel most of my Laksa to take home.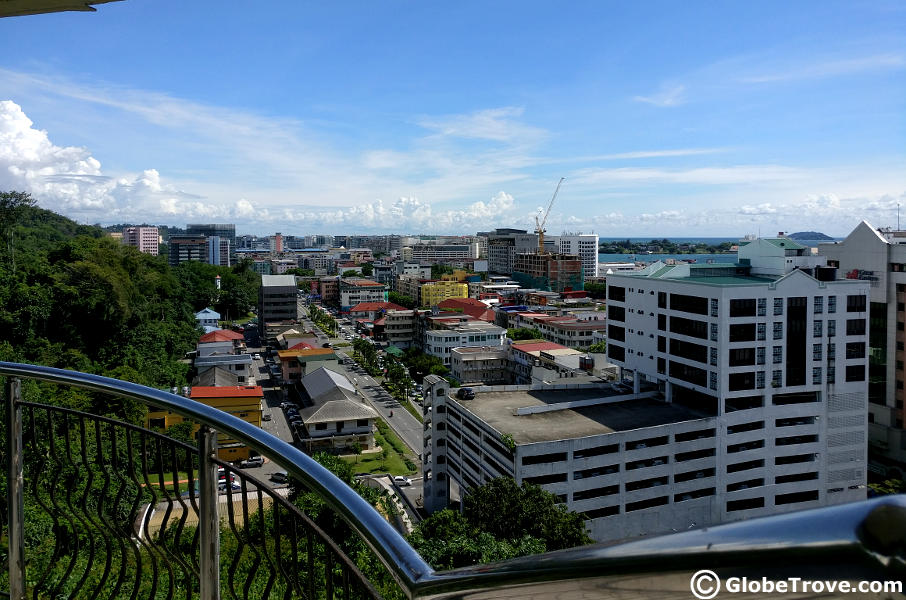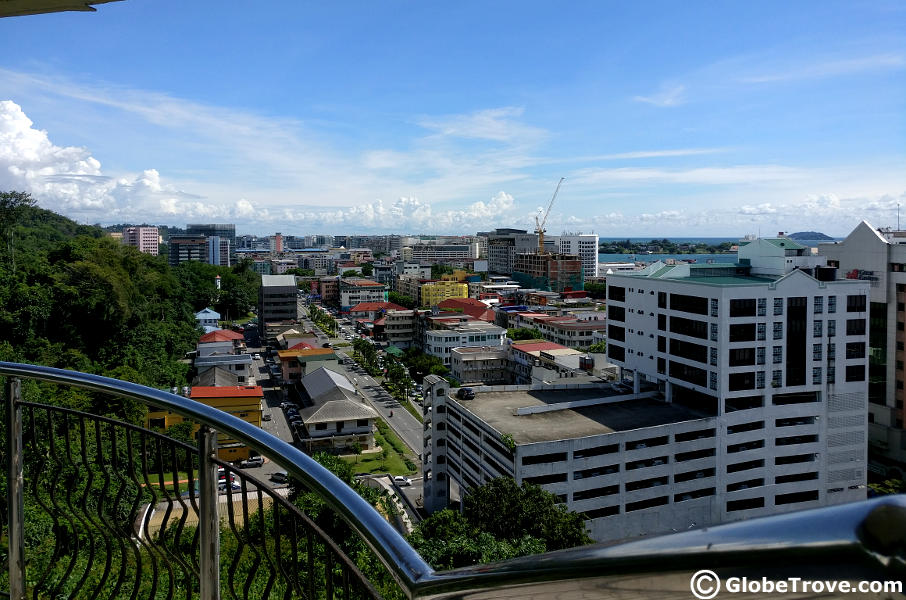 KK View Cafe definitely comes with a spectacular view.
If you are looking for a place to chill and enjoy the view then KK View café is the place to be.
Shawn had decided to get his PADI certification done and that led me with some time on my hands. I had initially decided to head back to the hostel but as I passed the staircase to view point something stopped me. I decided to make the climb up by myself. That's when I was startled to find a quaint little café at the top.
I was quick to take a seat, pull out my notebook and relax. Not many people come up this way except an odd group of tourists. The gentle breeze tends to take away the heat but be careful! It can quickly turn into gusts just before the arrival of a storm. I watched Kota Kinabalu bathe in warm sunshine before it got drenched in torrents of water. It was captivating to witness the fickle mindedness of nature.
While I did not eat anything up at the KK View café, I did note that they had a number of combos that were available. The price range of these was between RM 10-25. I did have some nice Chinese tea and a can of coke. Always pays to stay rehydrated!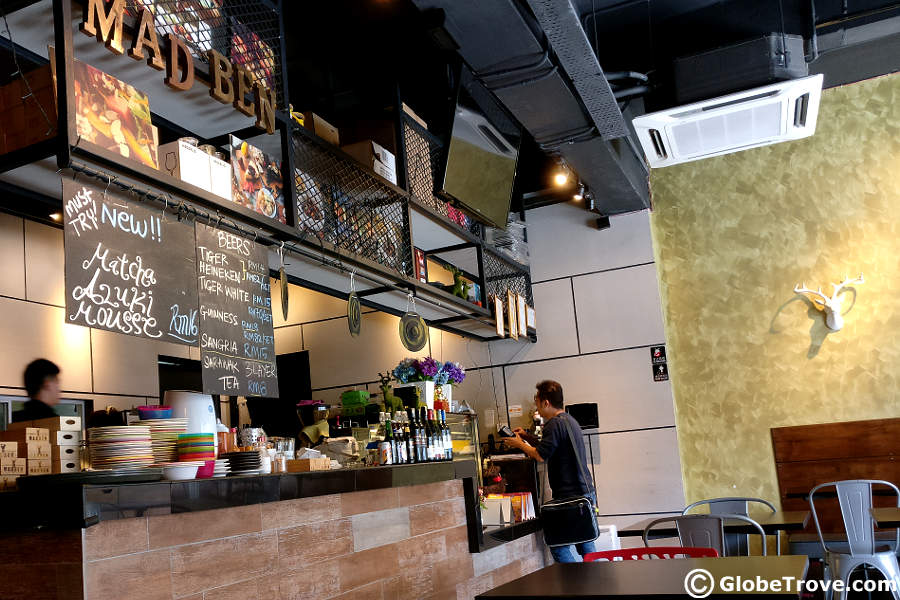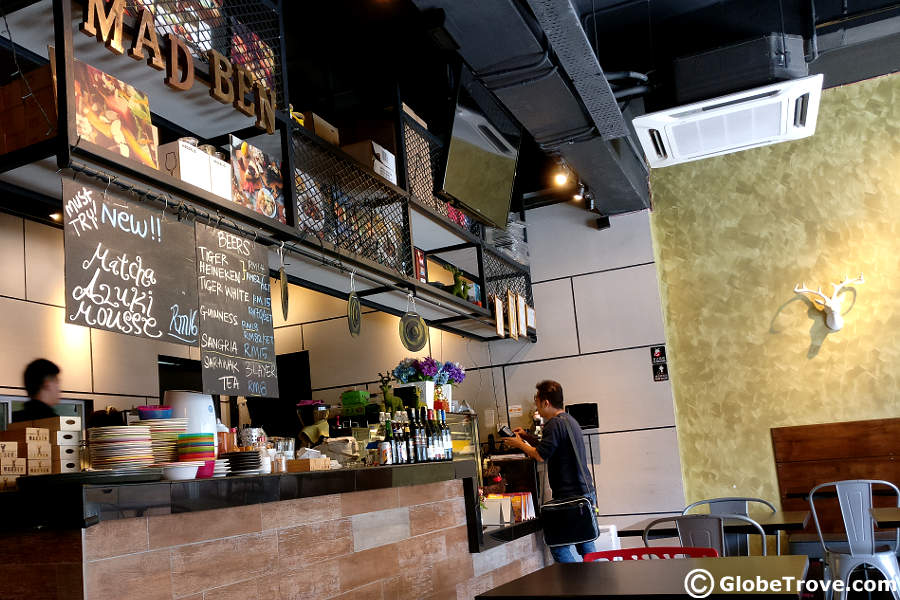 I loved the ambiance of Mad Ben cafe. It was quiet and peaceful. Just what I needed.
I was craving for a nice quiet place to sit and relax. A quick glance through trip advisor brought Mad Ben Café to my attention. I must say that I loved the ambiance. Since it was Ramadan and I wandered in around 3pm the café was virtually empty. I ordered a lamb shoulder (RM 28) which came with mashed potato and coleslaw. It was tasty enough for me to consider going back again.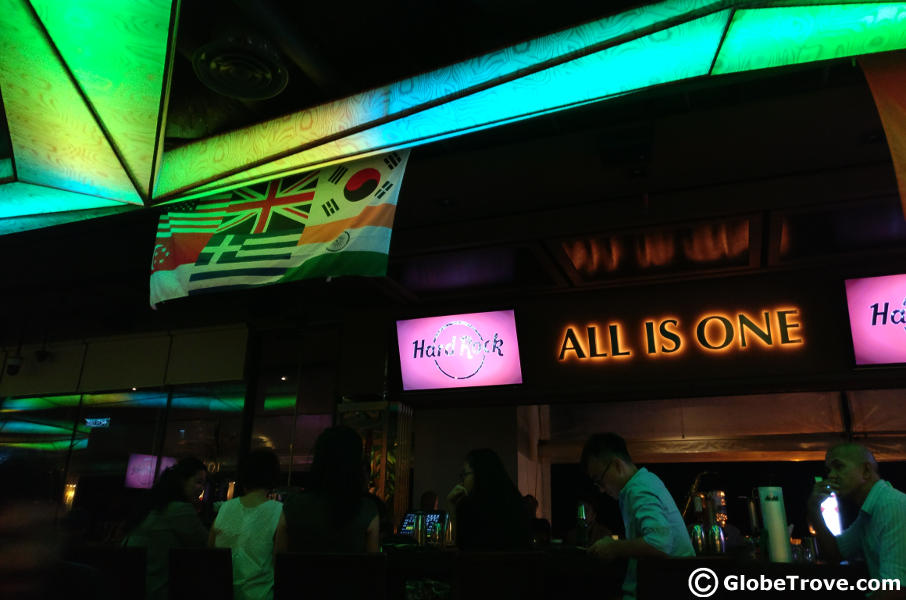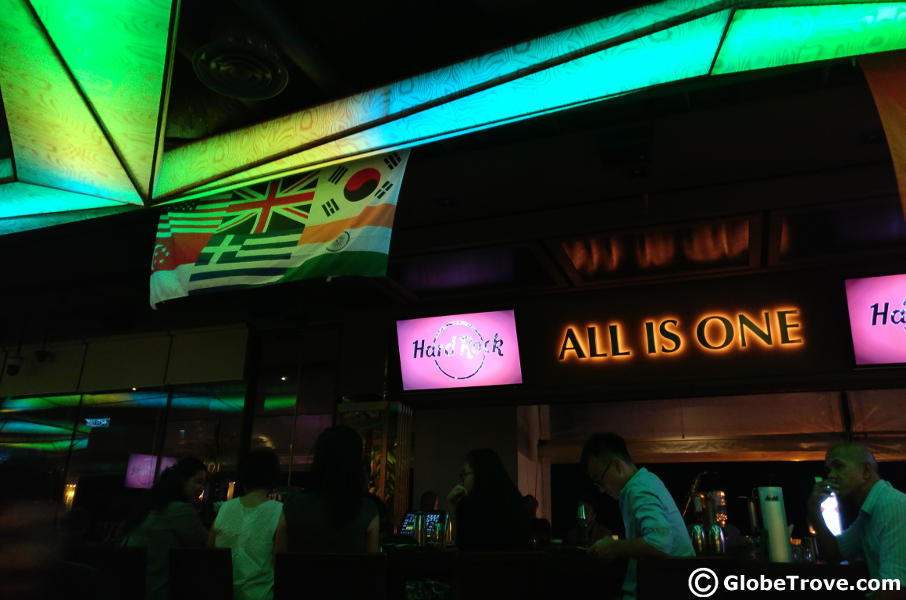 Would you believe me if I told you that I had never been to a Hard Rock cafe before?
The Hard Rock Café is famous around the world and I can't believe that it was the first time that  I was visiting one of their outlets. While we didn't catch a bite to eat at the Hard Rock café (it was way too expensive for us!) we did have a couple of drinks. I got to meet some of Shawn's colleagues while we watched a game. The music was awesome and it added to the overall ambiance of the café. Bear in mind that the live music starts only after 9 pm.
KOTA KINABALU AND ITS DIFFERENT CUISINES
One of the things that I realized when compiling my list of places to eat in Kota Kinabalu is the numerous different kinds of cuisines that you can taste and relish on the island. I was in the city for little over two weeks but by the end of it I had tasted Malaysian, Chinese, Japanese, Korean, Irish, Italian, American, Mexican and Hungarian cuisine. A bit much but that's ultimately where I drew my inspiration for this post.
Eating Malaysian cuisine in Malaysia is a no brainer. With so many different cuisines in Kota Kinabalu it is very hard to find a place that specializes in authentic Malaysian cuisine. While the night market is great place to start sometimes you want a bit more. Most of the time you will find that the restaurants that you go to have a menu that mixes different cuisines. Indonesian, Malaysian and Thai are popular mixes. From what I have heard the tastes sort of mingle together so much so that I often found it hard to define which was which.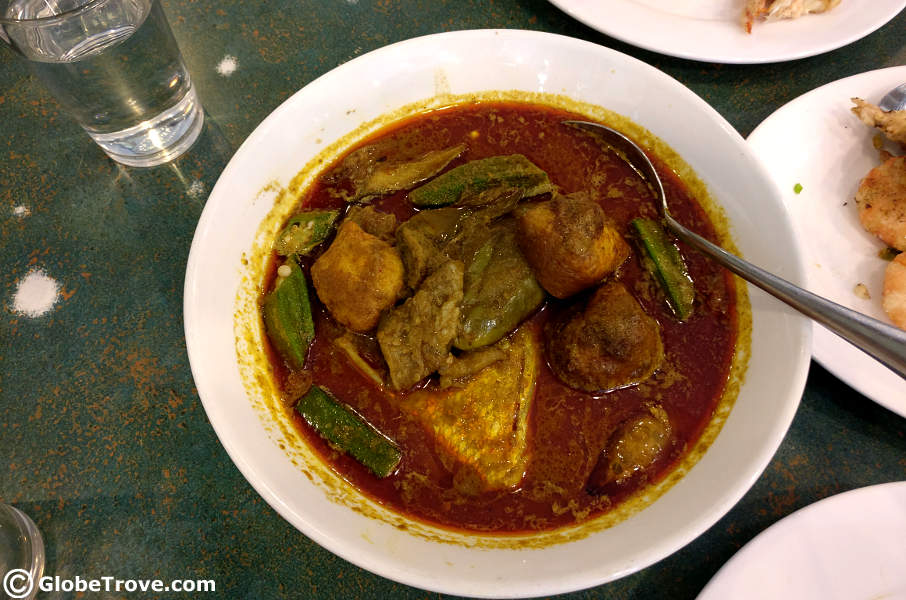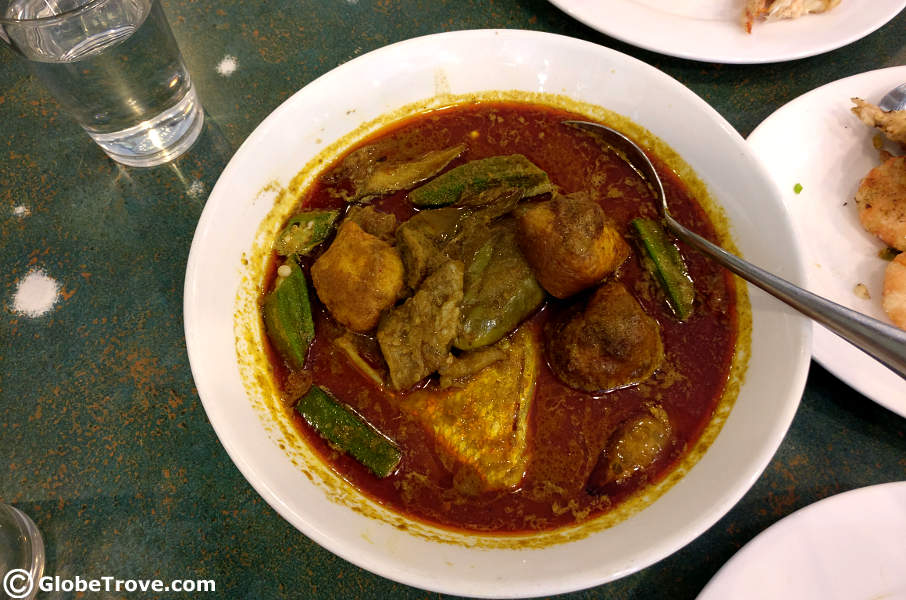 We went to Sri Melaka one afternoon. It was a spontaneous idea and one that I definitely did not regret. We ordered the fish head curry and salted prawn. Now the food was oily especially since the prawn was deep fried but I absolutely loved the curry. I think it was the first spicy item that I had tasted in a while.  If spice isn't your thing then don't worry there are plenty on non spicy dishes that you can try out too.
I must warn you about the sizes of their dishes though. We ordered a small size curry and it was more than enough for two people. In fact we had some left over. I can't even begin to imagine how big the medium and large portions are. Sri Melaka is definitely one of the best places to eat in Kota Kinabalu.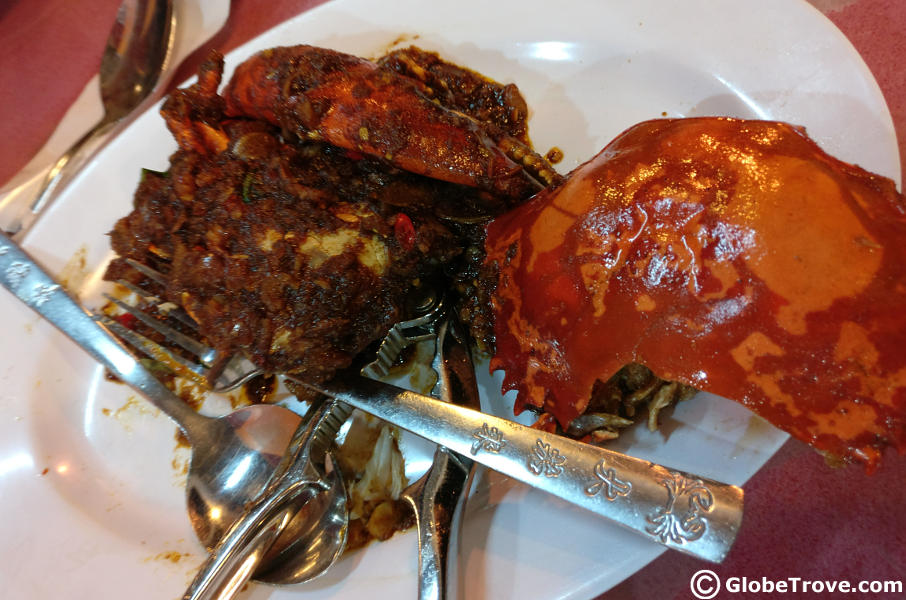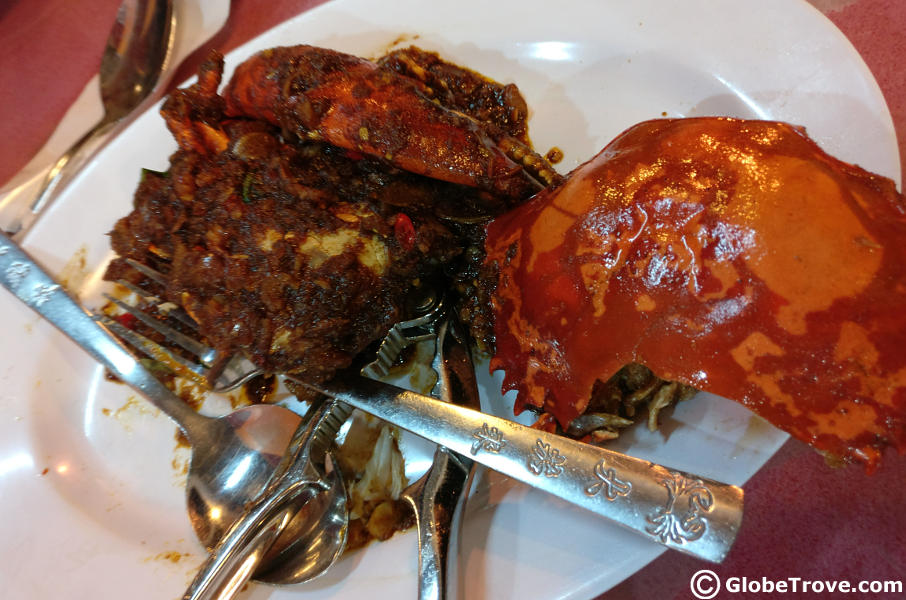 Kota Kinabalu's famous seafood joint.
Welcome Seafood is among one of the local favorite places to eat in Kota Kinabalu. It isn't exactly my kind of place because it has live seafood floating in their tanks. I guess I'm squeamish but I decided to plough through it.
We ordered steamed crab, spicy crab and sambal squid.  The food was fresh but I wasn't too pleased with the squid. Shawn loved the food though. Of the three dishes the spicy crab was my favorite. I can't really remember how much Shawn paid for the squid but the crab was RM 30 each. Welcome seafood functions a little different from the other restaurants. You choose your seafood and then you need to choose the way you want it cooked. That way you can cater to your own tastes.
Fresh fish of the coast of Borneo makes Kota Kinabalu an ideal location to try Japanese cuisine. The sushi especially is exquisite. We visited some restaurants so frequently that we became a regular with our own 'regular' table. The best part about the Japanese cuisine was that it was cheap when we compared it to India. I will not even begin to describe how fresh the fish tasted.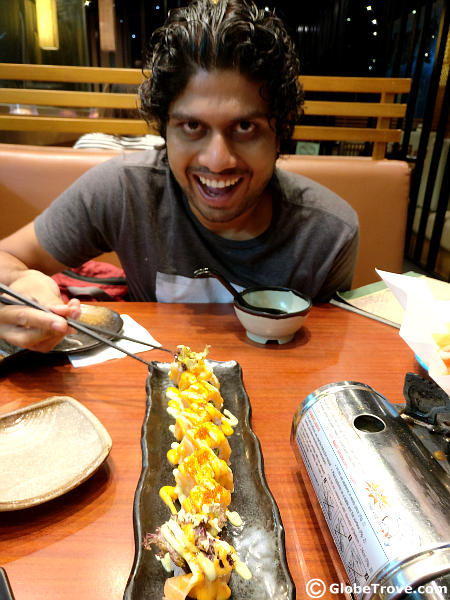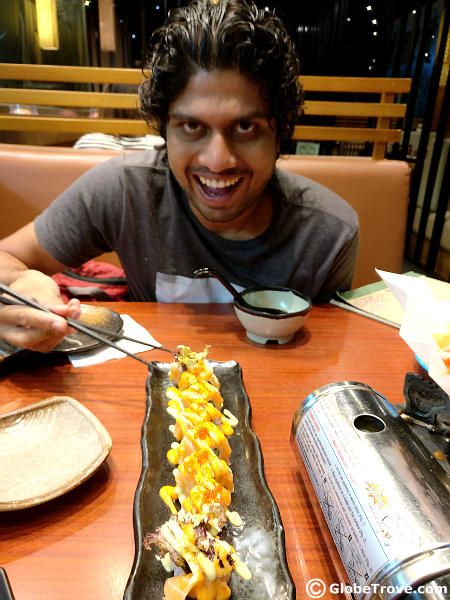 Shawn sure loves his sushi!
Sushi Tei was the first Sushi restaurant that we tried out in Kota Kinabalu and till date it is our absolute favorite. If you sit in the center of the restaurant you will see a number of color coded plates carrying the local sushi favorites past you. Pick what you want. Your waitress will provide you the color code and the charges. You can also order the specials which are pretty good too. We even tried the salmon sashimi and it was awesome!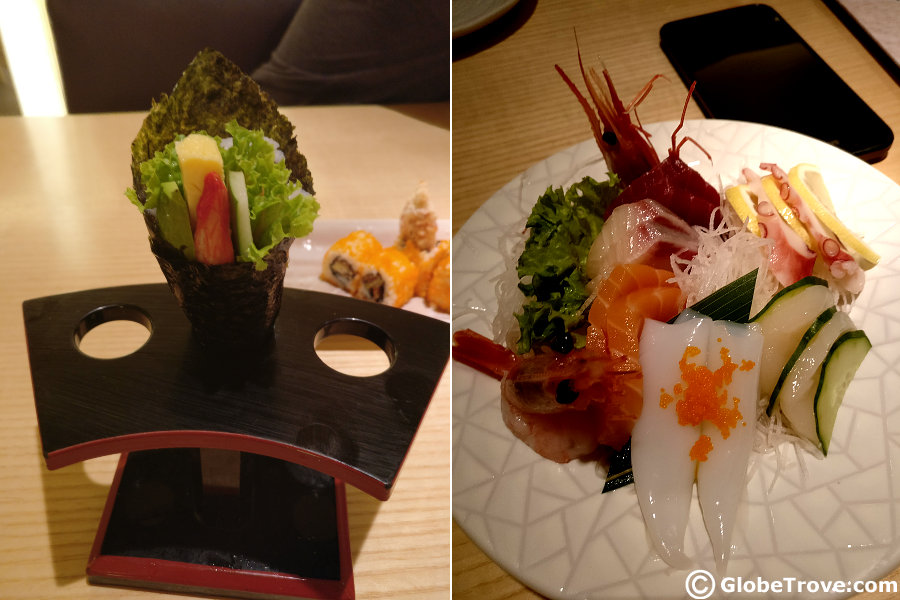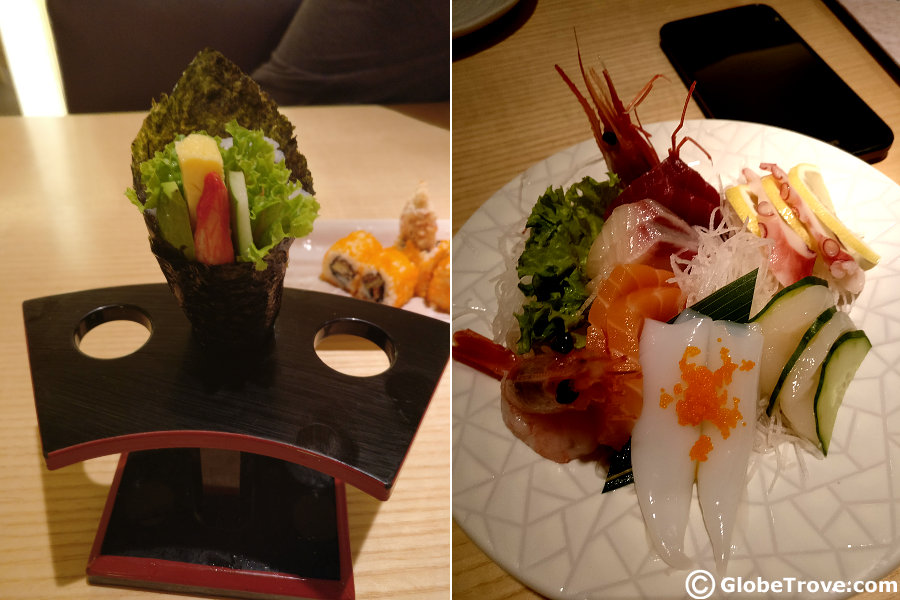 Sashimi and Sushi… Life can't get any better or can it?
ZanMai was the second sushi restaurant that we tried out. We landed up visiting it after a helpful Le Meridian employee suggested it. ZanMai is situated in the Imago Centre mall and was definitely more active than we expected. It had a varied menu but unfortunately for me most of the sushi was topped with deep fried crab. My inability to eat oil because of my irritable bowel syndrome limited the menu for me. I did however try the Temaki which was amazing. Shawn had a bowl of rice and beef which was good too. We tried a plate of Sashimi which was not just limited to the salmon. The fish was amazingly fresh but Sashimi is definitely an acquired taste! Maybe after a few more tries we will enjoy it better.
Italian cuisine is so popular around the world and yet there are those people who can make it well and those that don't. We tried two Italian restaurants in Kota Kinabalu. One of which delighted us and the other was a disappointment. I'm just going to add them both to the list here because it is simpler and while we were disappointed with Little Italy it wasn't all that bad either!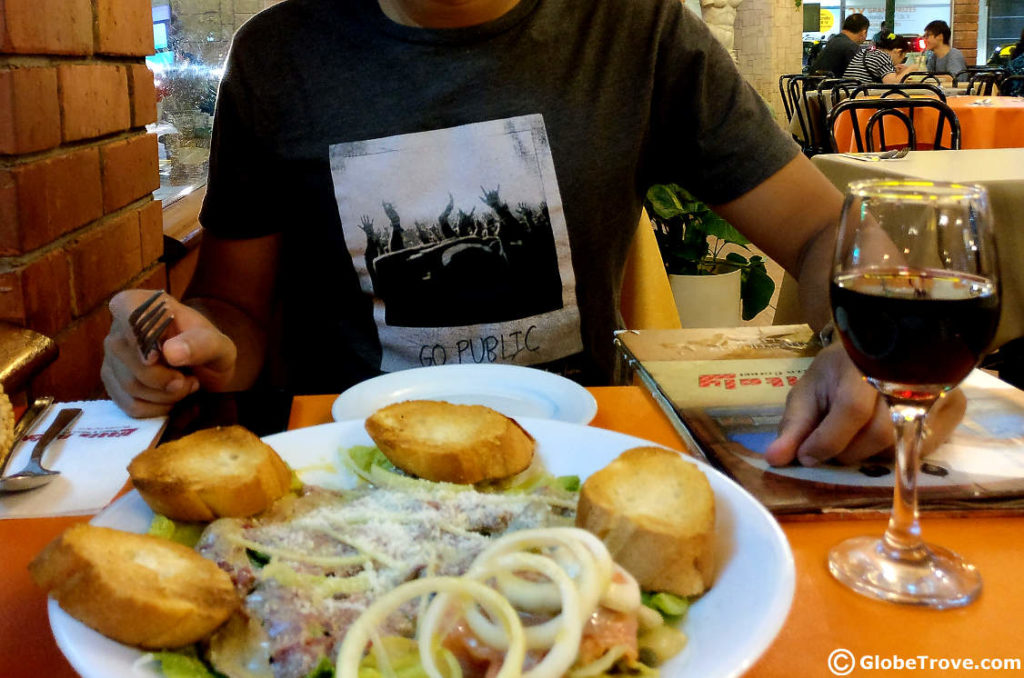 I don't know why I really wasn't too impressed by Little Italy. Maybe because I wasn't feeling well which resulted in me nibbling on the food. It was one of those days where my Irritable Bowel Syndrome gets the better of me.
Don't get me wrong. The food was good but it was more average than the wow that I was expecting. We had a starter. I can't remember the name of the dish but it was beef marinated in olive oil and vinegar. It was quite nice. The ravioli was okay too. A glass of wine for Shawn and a bread basket completed our course.
The whole thing came up to RM 113 after tax which I found was way too much compared to all the other restaurants that we had eaten at before. That being said the food was not entirely disappointing. A tad bit overpriced maybe but not disappointing.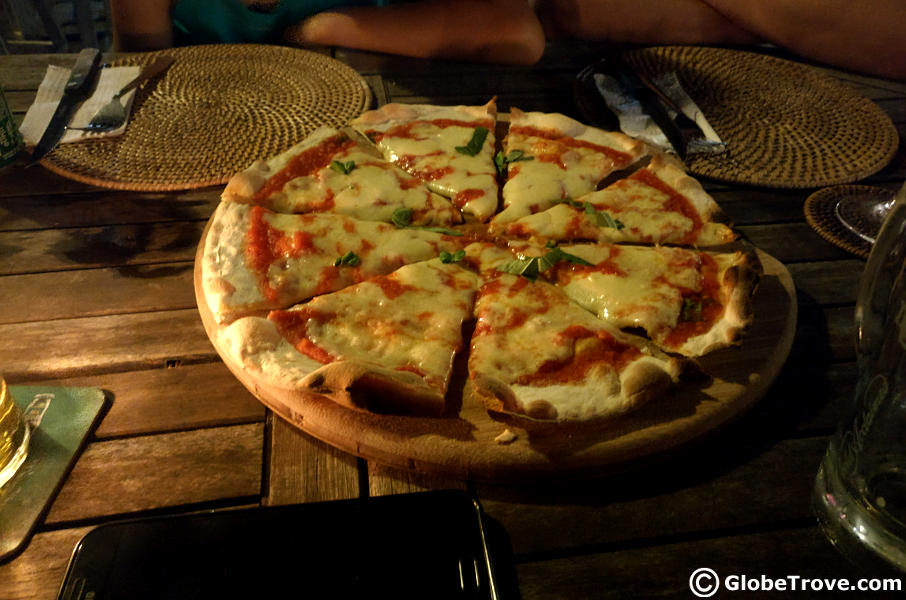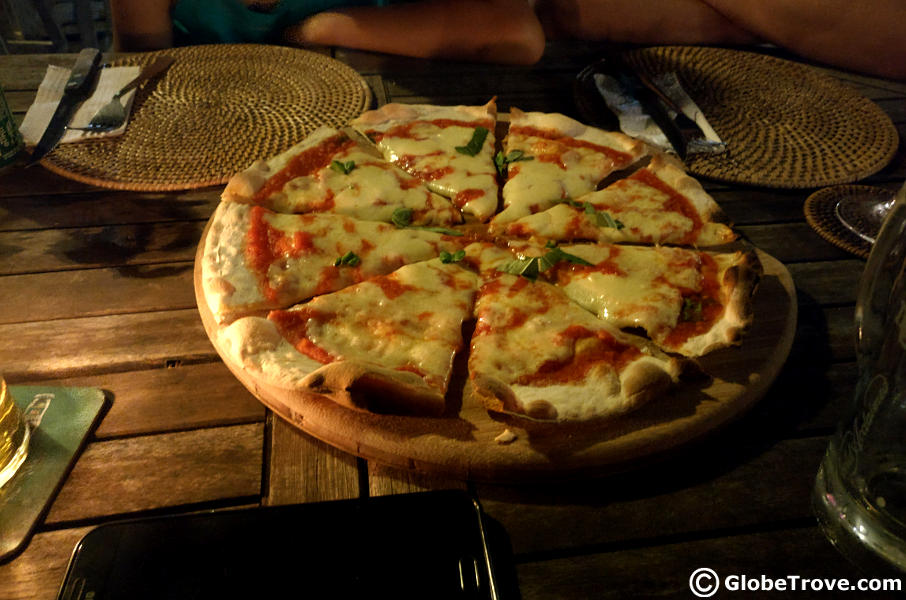 I drool every time I look at this picture. The pizza was too good to be true!
After Little Italy I was hesitant to take on Italian but we decided to brave it and head to Gusto Food and Wine after a number of people suggested it. There is one thing that you should know about Gusto food and that is that the food takes long to come. In fact they even have a sign that says 'Slow Food'. It made me laugh but I certainly appreciated the warning. That being said the food is sure worth the wait.
Since we visited Gusto Food and Wine as a group we got a chance to taste a number of different items. I loved the mussels and the 4 cheese pizza. The pasta and the bruschetta were also pretty good. It was definitely one of my favorite places. An added bonus is the fact that it is located on the waterfront so you have a front row view of the sunset.
Korean food is extremely popular among the residents of Kota Kinabalu. People say that it is because of the number of Koreans that live and visit the area. There seems to be a Korean restaurant at almost every turn. That being said it would have been terrible not to catch a bite at one of these restaurants. Hence I'm using my experience to enrich the list of places to eat in Kota Kinabalu.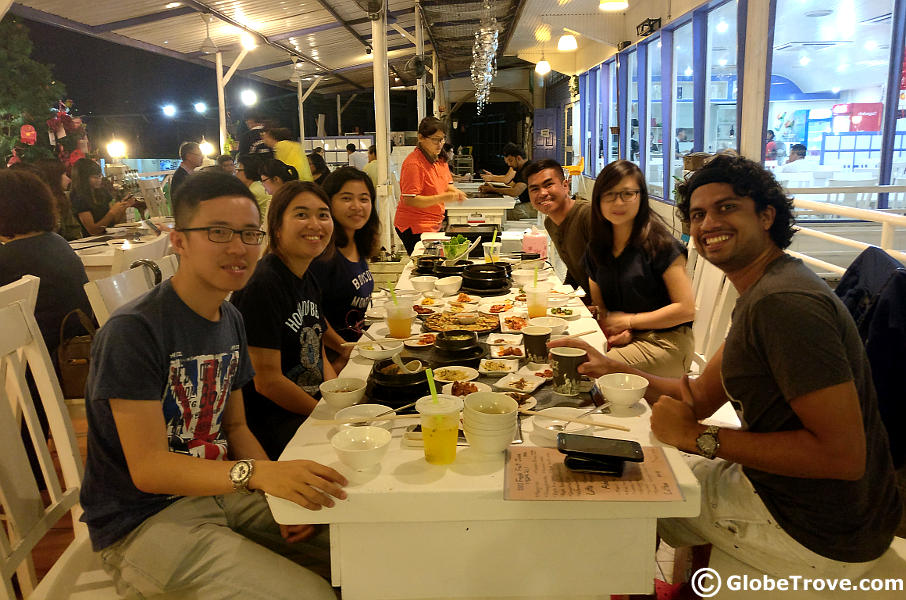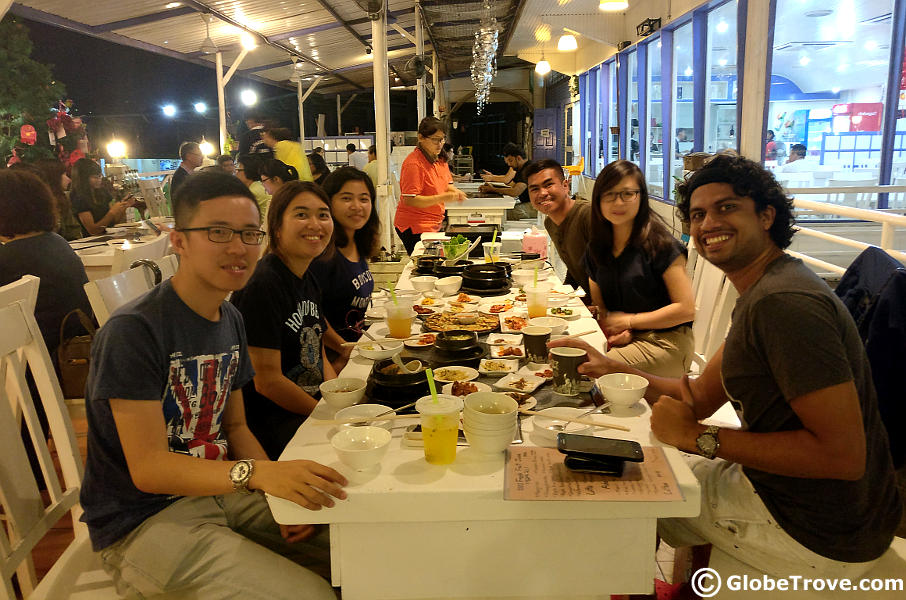 A Korean meal is a social meal. This is us being social!
There is a first time for everything. We had our first taste of Korean food at Bab's in Kota Kinabalu. I had no idea what to expect. What we were served however just blew our mind away. Almost 12 starters accompanied a set which was designed for 2 people. We were seven of us and with two sets and a few add ons we just managed to finish 90 percent of our meal.
Being my first experience with Korean food I can't really tell you whether it was the best place to eat it Korean food in Kota Kinabalu but I can tell you that it was popular. Our more experienced friends seemed to like it. I personally had a like hate relationship with it. There some things that I loved and some items that I didn't care much for. That being said I would definitely recommend the Maesil tea. My mouth drools as I think about it today.
Costs for dishes are varied. You could pay around RM 100- 150 for a set that serves 2-3. That I think was the most expensive option on the table. There are a number of other dishes that are tasty and cheaper too. The steamed egg was delightful and the Shawn definitely enjoyed the Korean pancakes! I can't even recall the names of the rest of the dishes that made their appearance!
Quick tip: If you haven't eaten Korean food before be prepared to be overwhelmed. It's a lot of food and a lot of different flavors. If rumor has it right then the Korean food in Kota Kinabalu is really worth scouting out. It's an acquired taste but there is something for everybody.
Chinese cuisine is certainly very popular in Kota Kinabalu. It may be because of the large number of Chinese tourists that visit the city every day. A friend told me that many Chinese consider Kota Kinabalu a dream vacation. I'm not sure about that but Kota Kinabalu definitely is a great place for a holiday.
The Chinese food in Kota Kinabalu is however a little different from the Chinese food that we are used to back in India. I think it is modified to suit the Indian palate and while the food in Kota Kinabalu is more to the Malaysian taste. That being said Chinese cuisine in itself is very varied and that was a new learning for me.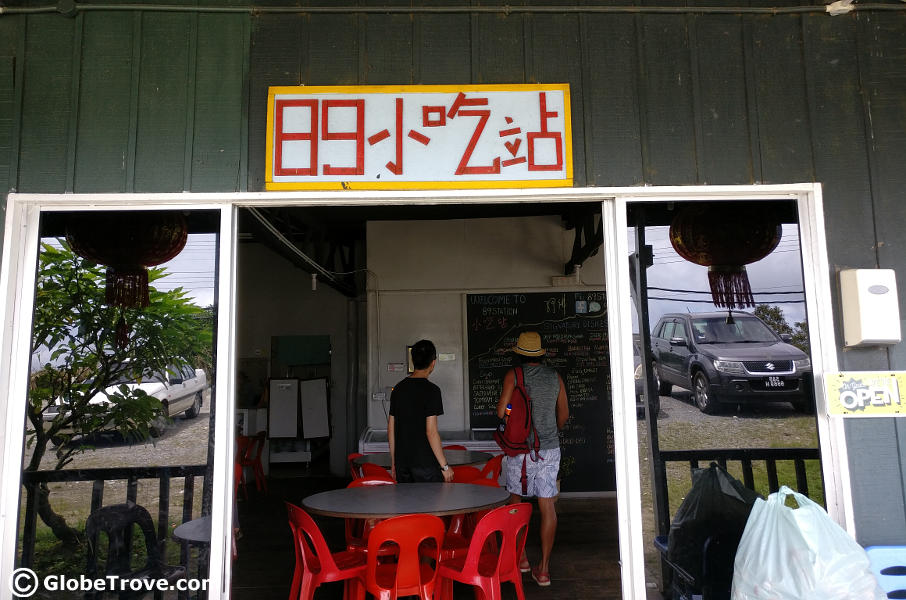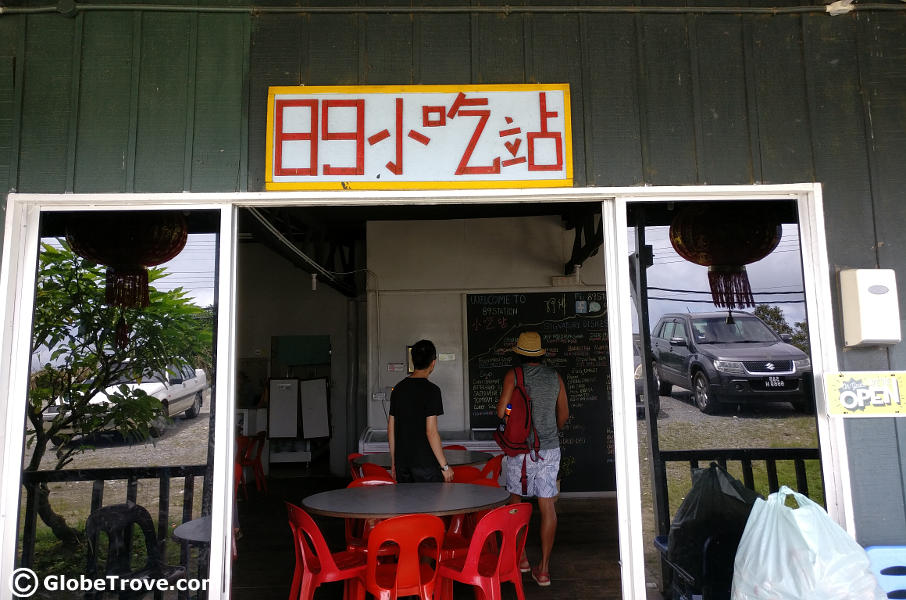 Finding a popular joint in the middle of nowhere. Thank you Tham!
89 Station is a popular restaurant that is not located in Kota Kinabalu city. How did it get popular and how did I stumble across it? The credit for finding this quaint little joint goes to our friend Tham. If you are heading out to visit Mount Kinabalu then this restaurant is a great place to stop at for lunch. It is popular with both the locals and the Chinese tourists. We saw throngs of people swarm in and out of the place as we sat and ate our meal.
Being at a total loss we asked Tham to order our meal. We had a seafood claypot with bean curd, fried squid, sweet and sour pork and two teas. Oh let's not forget the three plates of rice! The grand total came up to just RM 47. That however wasn't the only thing that impressed me. I loved the clay pot. It came to the table bubbling over and remained warm till the meal was over.
5 Star Hainese Chicken Rice And Pork BBQ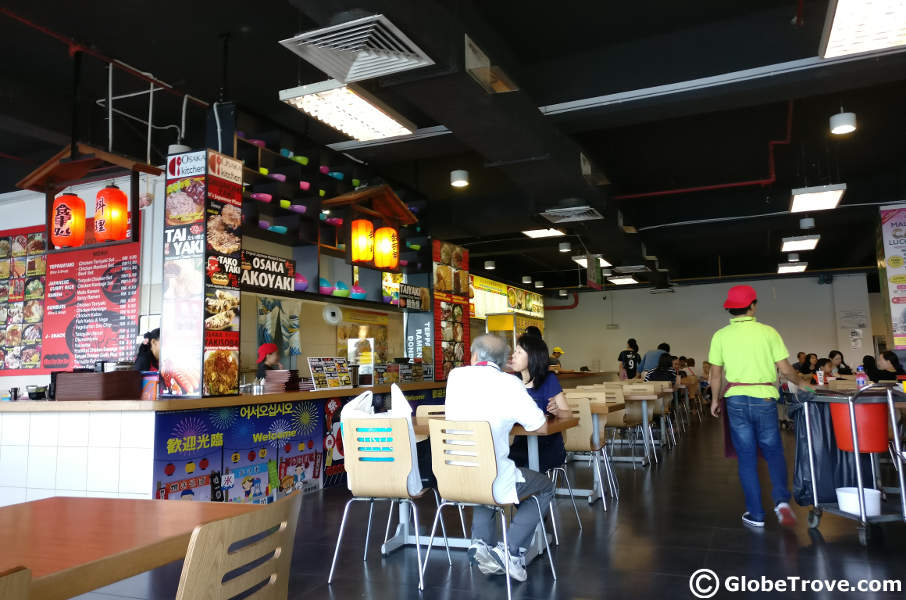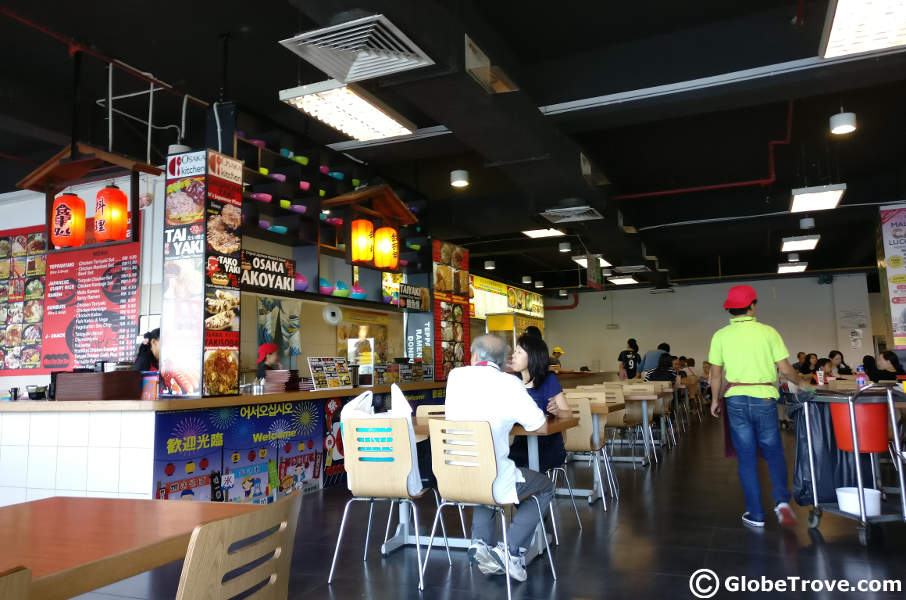 So many outlets. We picked the one in a food court with a view.
I think there are a number of 5 Star Hainese Chicken Rice And Pork BBQ outlets. We found one in the food court at Suria Sabah. I ordered a Seafood fried rice and paid around RM 9.50. The food arrived quickly enough. The rice came accompanied by a small clear soup bowl. It was a meal large enough for Shawn and me. The food was average. It's a cheap meal and you get a great view while you eat.
Chinese Restaurant Kongfu Ramen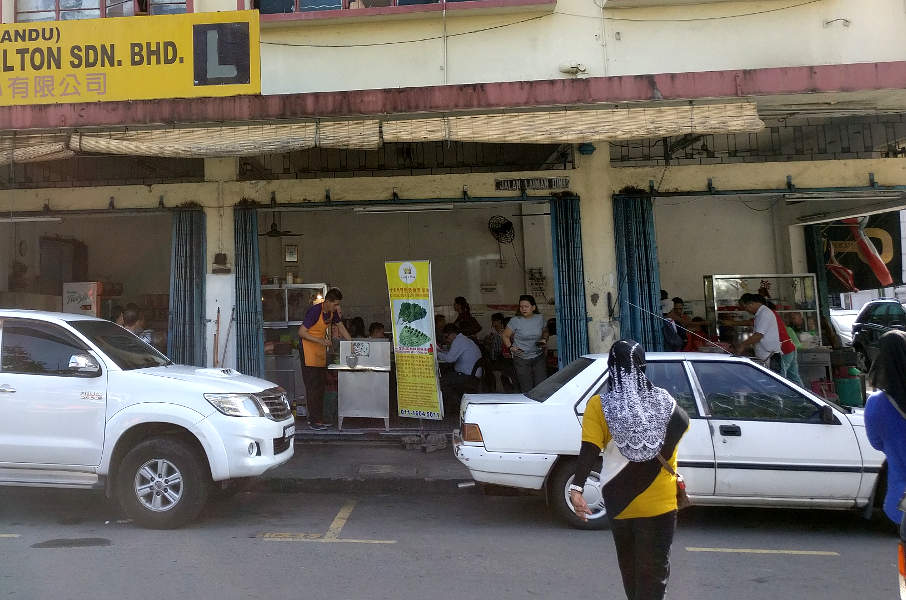 There are so many little joints like this all over Kota Kinabalu.
We decided to get a cheap bite at one of the smaller joints close to Shawn's office. The Chinese Restaurant Kongfu Ramen is actually three or four stalls under one roof. Shawn ordered a tea and I had a cold coffee that we paid RM 5.20 for. Shawn saw a pork Bao that he definitely wanted and that was RM 2.
That was all good but then I ordered a soup. Since everything was in Mandarin (I think) ordering was difficult and I pointed to what I wanted. The soup came quickly enough. It was plain broth and not oily. So that was a plus and I was pretty happy till I was presented with the bill which was RM 11. We paid it and started our day.
No matter which part of the world you head to, there is going to be a part of you that will experience the craving for a steak or a rack of ribs. When you think of that you think of the good old American favorites.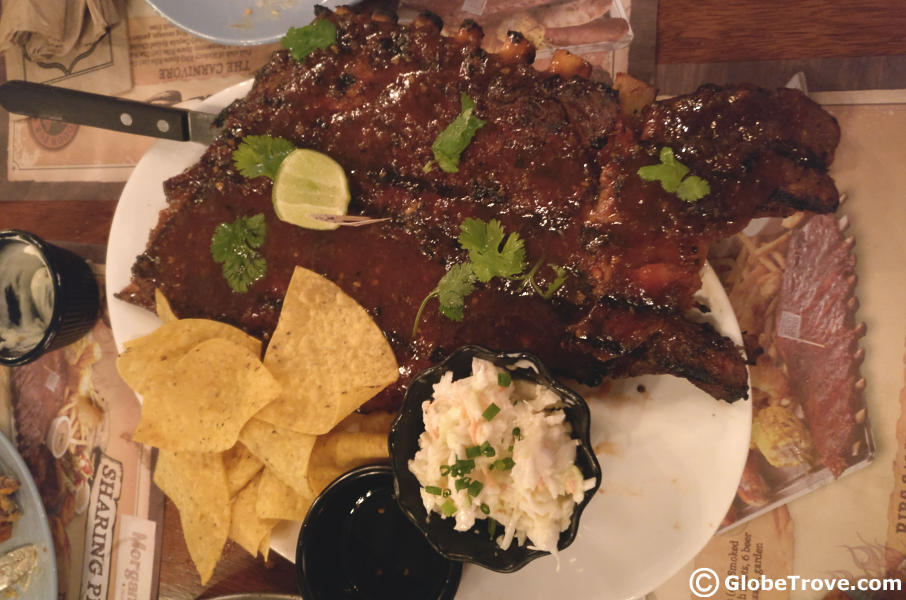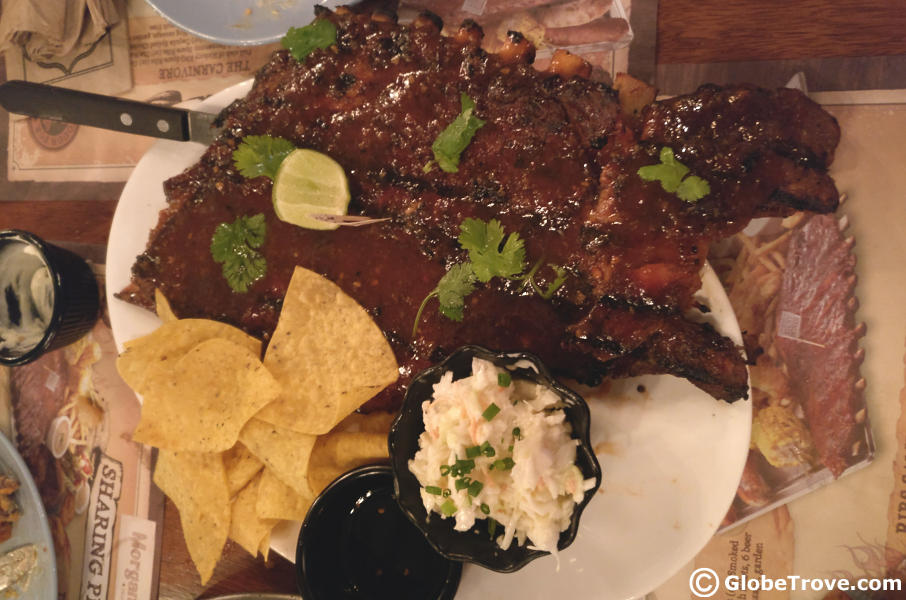 Located in Imago mall lies Morganfield's which is famous for their pork ribs. Their advertisements will keep telling you that size does matter and they aren't kidding. Every single item that arrived on the table was humongous. From the starters to the drinks to the ribs… Five hungry people couldn't put everything away. For starters we had nachos and a sharing platter. We barely finished tasting it when our main course arrived. Ribs come in two sizes. Full and half! Shawn and I shared a full rib and we still had leftovers. The others struggled even with their half ribs.
Everyone had to pack their meals to go and they were eating it the next day for lunch. We paid about RM 100- 130 per person but we ordered way too much. I think if you go at a moderate pace you can do it at around RM 80-100.
I have never tasted any Hungarian dishes before. So when I saw that one of the restaurants that specialized in Hungarian food was at the top of the list I had to try it out. That restaurant was none other than Chilli Vanilla.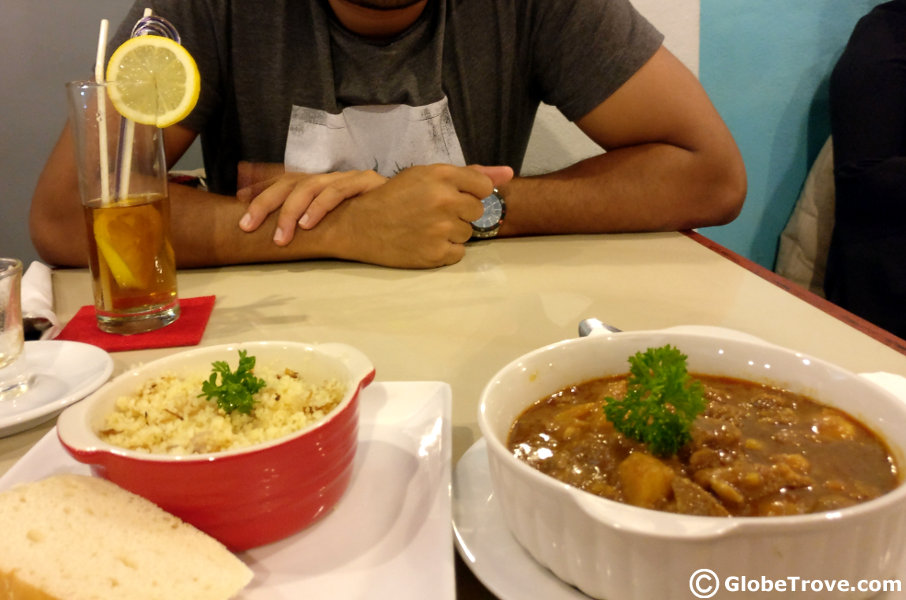 The fun of eating different cuisines is  a joy untold.
Despite being such a popular place, you could pass by Chilli Vanilla and not know it. I know I would have if I wasn't with my nose buried in the map. Unfortunately for me most of the Hungarian food involved a lot of oil that was not good for my Irritable bowel syndrome but Chilli Vanilla did have a number of other alternatives that suited me well. In fact they had vegetarian and gluten free dishes too!
We ordered the tortillas (which were heavenly!), the lamb stew (absolutely divine!) and a pasta (good but not as impressive.). After tasting everything it left no doubt in my mind that Chilli Vanilla ranked high upon my favorite places to eat in Kota Kinabalu.
Mexican food is popular around the world. My experience had been limited to nachos, tacos and tortillas. That's what people in India call Mexican food. I've always known that the country has much more to choose from. One food item that I have always wanted to try was the Mexican chilli and Kota Kinabalu gave me a chance to do just that.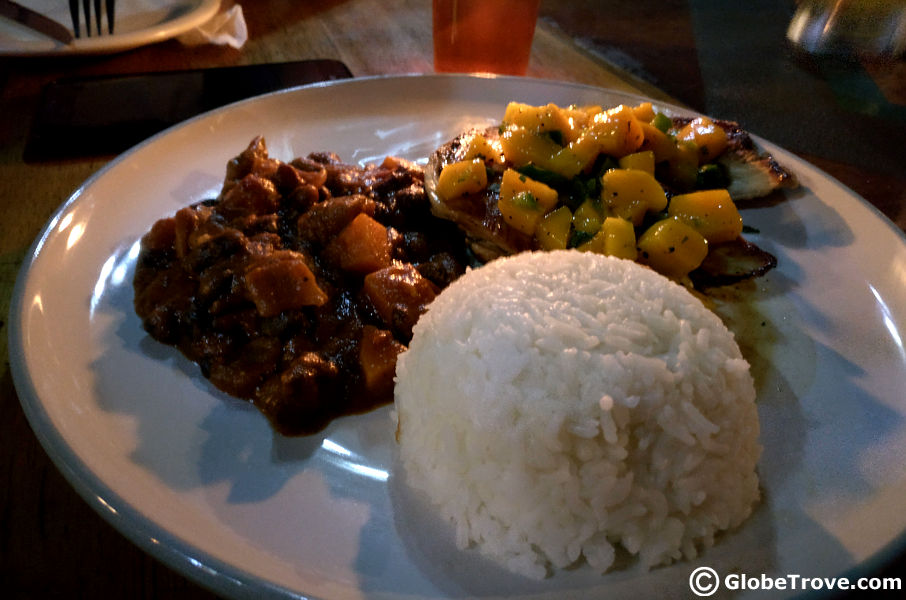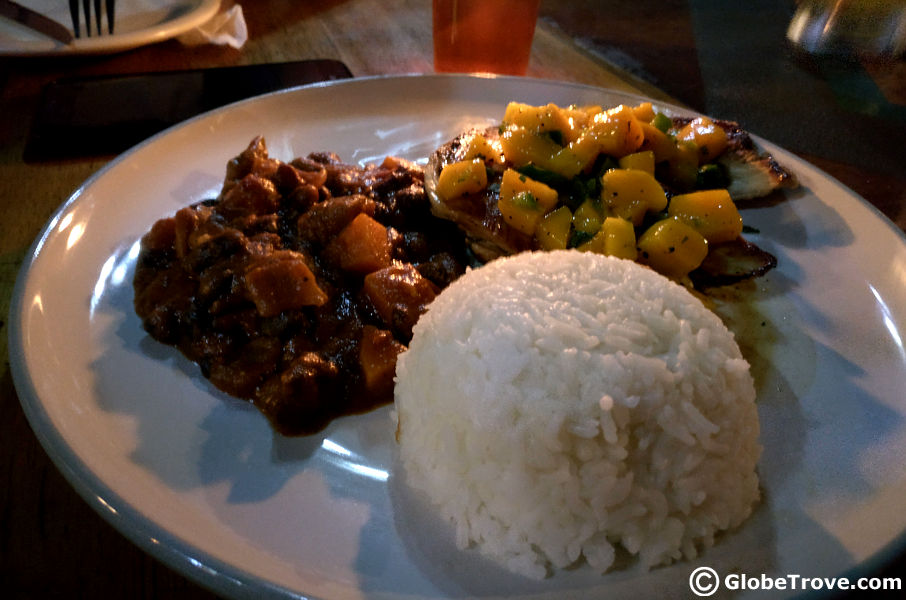 The chilli was nothing short of exquisite!
It was going to be our last meal in Kota Kinabalu. We wanted to grab a quick bite and run back so that we were rested before our flight. The temptation to try just one more restaurant was way too strong to resist. This time we chose Mexican. We were hanging around wondering whether to go since there was just one person sitting an eating there. The man gave a shout out saying that the food was good and in we went.
Our short meal turned out to be a rather long one. We started eating at 7 pm but wound up home in the wee hours of the morning. We had some of the chilli and it was delightful! The Margaritas are amazing there. We took a pitcher and them some more. A pitcher, a plate of chilli and chicken, a cocktail (espresso) and a single margarita later and our bill was just RM 124. Not too shabby for a wonderful night out.
We all have that craving for sweetness every once in a while. I experienced this gut wrenching desire when I was in Kota Kinabalu and that lead me on a quest to find something to satiate my desires. That being said not many places are open at 10 pm at night. So what did I find? Secret Recipe! That however is not all. We even found a quirky desert parlor during the day that we had to add to our list of places to eat in Kota Kinabalu.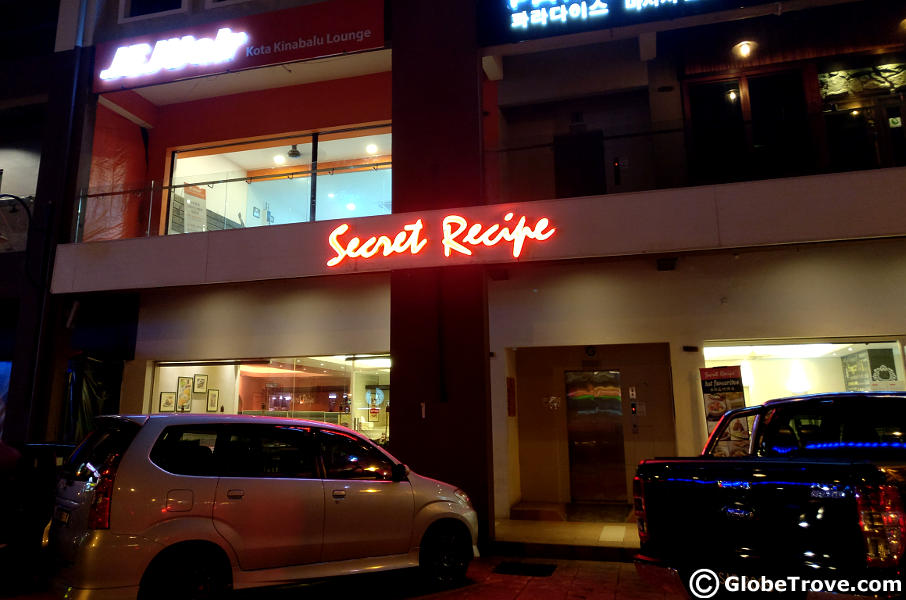 Secret Recipe was not only located close to our hotel, it had also been recommended by one of our friends because the restaurant is apparently famous for their cheesecake. Luckily for me it was open late at night and we ordered a strawberry and marshmallow cheesecake slice to go. We also ordered another cake (which was not cheesecake) but I do not remember the name. The cheesecake was way better. Then again I'm not a big fan of cream cakes. The cost of a slice of cake can range from RM 9-13.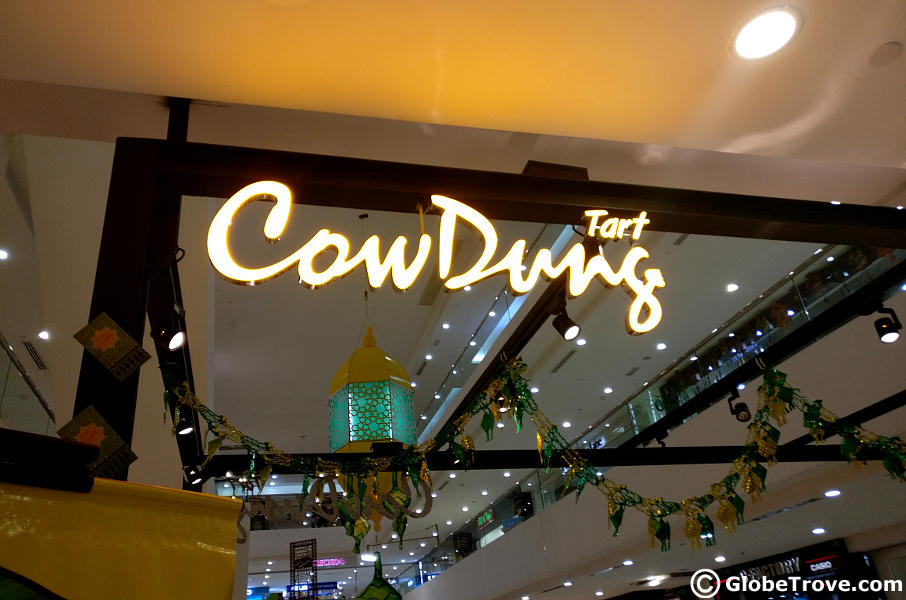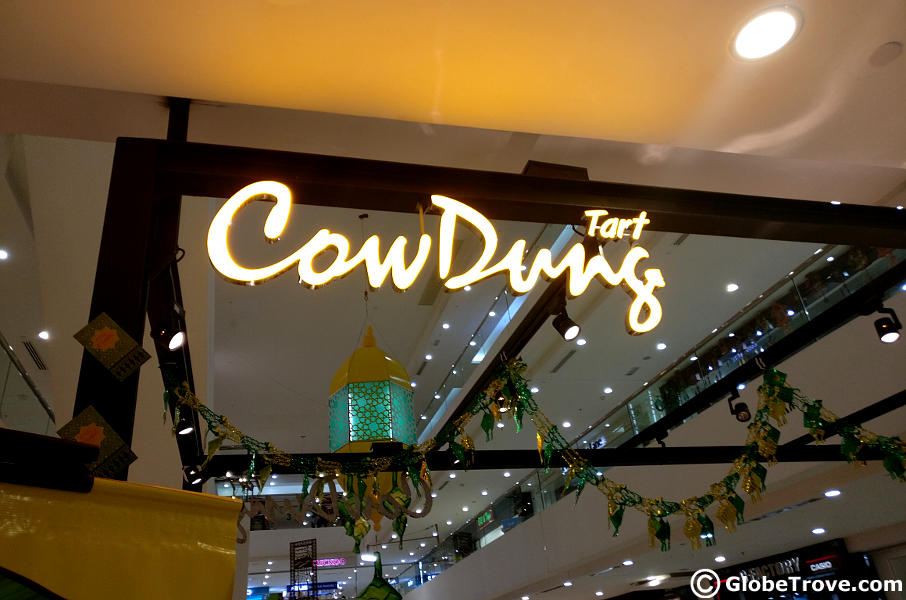 Quirky and tasty. I can't believe I just said that!
We stumbled across a small shop called Cow Dung when we were walking through Suria Sabah. At first I thought it was a spelling mistake. Then I realized it wasn't. Cow Dung is a desert parlor that makes these amazing pastries. The base is pastry, the shape is made of marshmallow (I think), the centre is cream cheese and the toppings determine your flavor. I chose blueberry. You could also go for chocolate, oreo, tiramisu, matcha or original.
There are some different combos that are available. A single pastry cost us RM 6.50 but it was so worth it!
PLACES THAT FAILED TO IMPRESS
No matter which part of the world you go to, there are always those places that fail to impress. Sometimes it depends on a particular taste, sometimes it is because the menu is way too overpriced for its quality and sometimes it is a matter of wrong choices. Everyone has their own preferences. That being said these are the places that failed to impress me in Kota Kinabalu.
Le Meridian Breakfast Buffet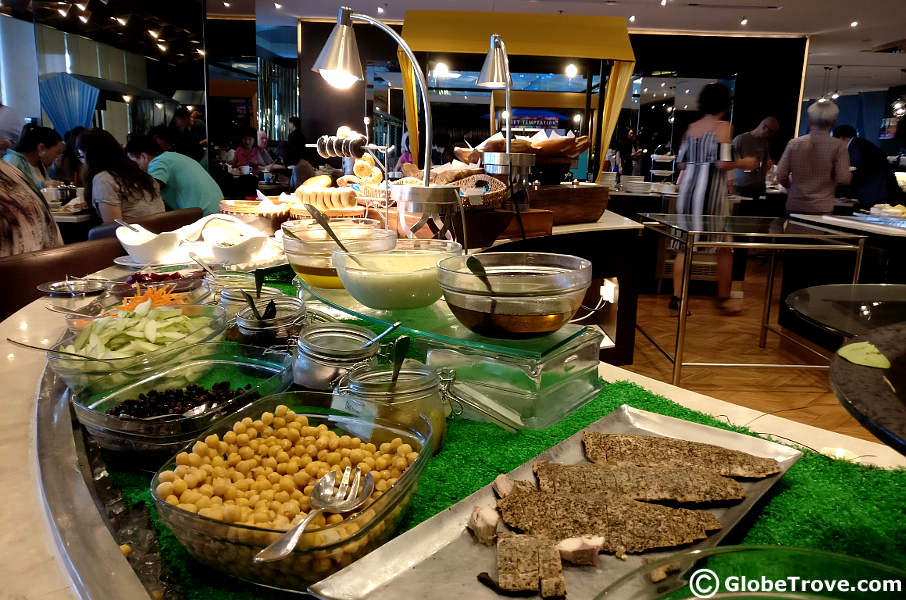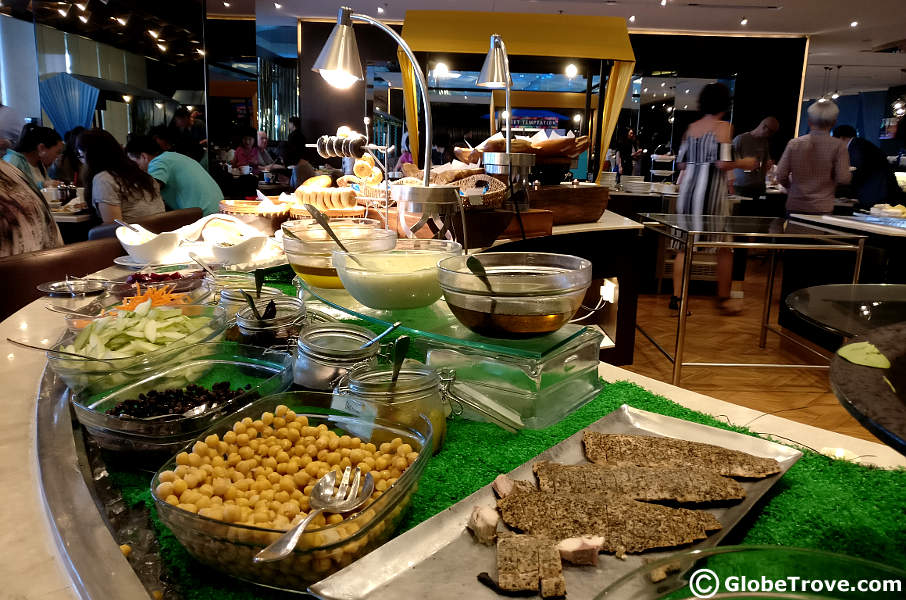 I think the Marriott chain of restaurants has spoiled me royally. It was my first time at the Le Meridian and I couldn't help but miss the Marriott. The buffet was average. I mean they do have a number of live counters but the selection of food did not impress me. The part that clinched the deal was the coffee. To start your day you need a really good cup of coffee and when you are at a 5 star restaurant you expect nothing but the best. I ordered a cappuccino and what I got tasted like a double espresso. Nope! That didn't work.
The Shamrock Café is located on the waterfront. I heard about it from one of the backpackers who said that it had some good Irish cuisine. Unfortunately our visit there was a complete disaster. Our first thought was to order a beer. Most of the beers from the tap were not available so that wasn't an option. We chose to go for a bottle.
Then we ordered beef nachos. It was a nice place to sit in but the nachos took so long to come. 30 minutes later when our beer finally arrived, we reminded the waitress about the nachos and she looked so confused. I guess she forgot that we wanted nachos. 15 minutes later and the nachos still hadn't come. Another waitress passed by and we asked her. She said she would check. After 10 minutes we finally got our plate of nachos.
To be honest the nachos tasted pretty good so Shawn went ahead and ordered a steak for himself. He asked that it should be medium-rare. This time the food came quick enough (read 30 minutes) but instead of being medium-rare the steak was rare. To make it worse, the steak was more fat than meat. Wasn't a pleasant eat at all. Can't blame me for being disappointed!
At the end of two weeks I felt as if I had just covered the tip of the iceberg. There are just so many places to eat in Kota Kinabalu that it is hard to know where to start. My suggestion would be to narrow it down to the kind of cuisine you like. That helps immensely. I hope that you found my extensive list on the places to eat in Kota Kinabalu useful.