Mahabaleshwar and Panchgani are hill stations that is located in Maharashtra, India. Both the hill stations are located very close to each other and most of the sights in the vicinity can be accessed from both locations. With that in mind, I thought that it would be prudent to combine the places to visit in Mahabaleshwar and Panchgani in one big post. So here goes…
Situated in the Western Ghats of India, Mahableshwar and Panchgani offer a cover of green that is a relief to the eyes. It doesn't come as a surprise that most of the places to visit in Mahabaleshwar and Panchgani are related to nature. True, there are some historical sights. These however can't help but be green too. That is probably why both the hill stations are popular for honeymoons.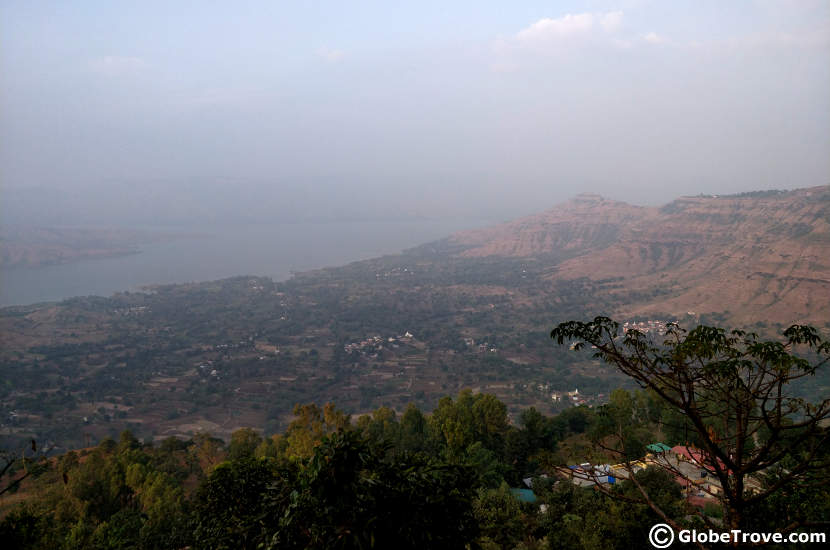 Parsi point was misty when we arrived. The view was still worth it though!
I think that the Parsi point is one of the most easily accessible places to visit in Mahabaleshwar and Panchgani. In fact, the Parsi point is located on the main Mahabaleshwar – Pachgani road. The point reminded us of a small park. It had a number of spots that one could use to gaze into the valleys. We arrived rather late in the evening when the mist was settling so we did not get to see far enough. One can well imagine what a beautiful sight it is on a clear day.
A few vendors dot the entrance. The evening crowds grabbed the local street food and set down to enjoy the view. I must warn you though that the park gets full and noisy. We stopped for a short while before we headed to our accommodation.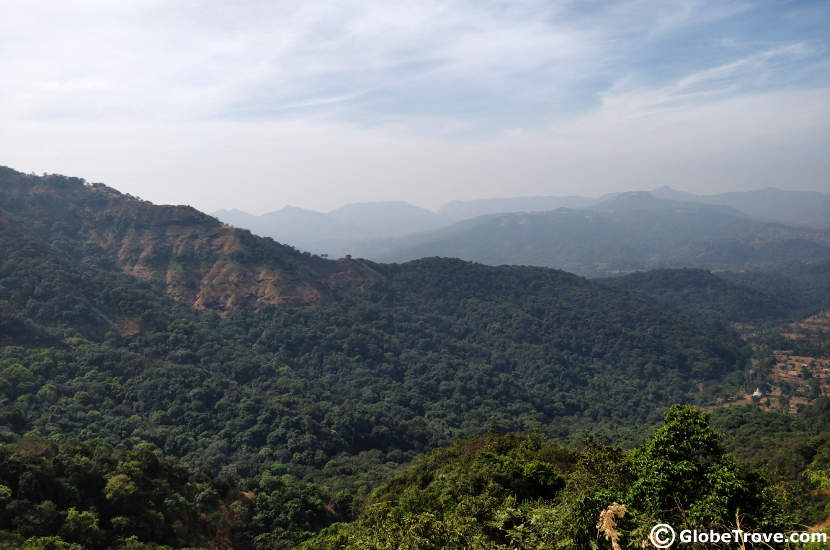 We had better luck the next day when we visited Table land. The views were gorgeous!
I'm a little confused whether Table Land and Asia plateau is one and the same. Nevertheless, Table land is a beautiful place to stop and take a walk. We reached Table land quite by accident. Table land is the second highest plateau in Asia and it provides a gorgeous view into the surrounding landscape. A number of horse drawn carriages come into view as soon as you reach on top of the plateau. Table land appears as a large expanse of land. You can actually see the definition of the edges of a plateau. Ten-year-old me would have loved to see the practical aspect of our school geography lessons.
I think that Table Land is one of the best places to visit in Mahableshwar and Panchgani. Particularly early morning. This is largely because there is no shade and the sun would be scorching mid-day.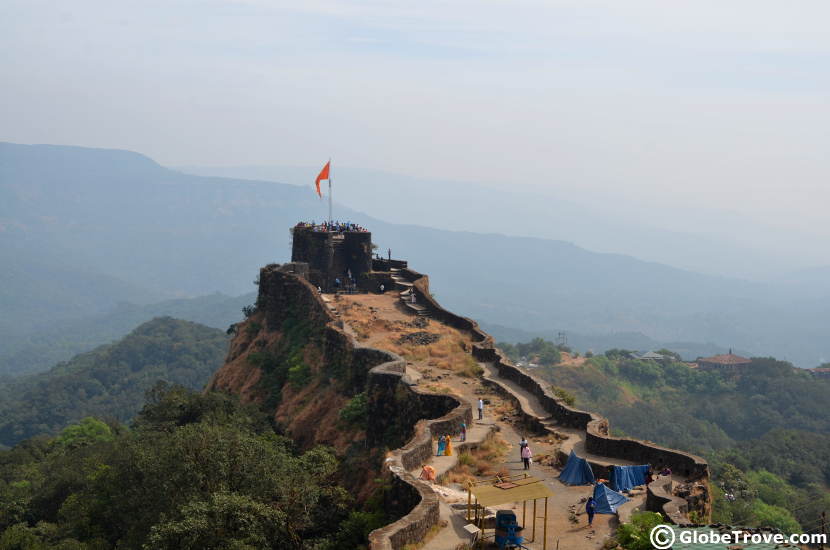 One of the popular places to visit in Mahabaleshwar and Panchgani is Pratapgad fort.
When talking about the different places to visit in Mahabaleswar and Panchgani, it would remiss of us not to mention the forts. The Maharashtra's western Ghats are dotted with numerous forts curtsey of Shivaji Maharaj (A famous Maharashtran king).  Pratapgad fort is the closest of these forts. We were told that most of these forts required a trek to get too. Pratapgad however was more easily accessible. The road took us almost completely to the top and where the road ended, the steps began.
RELATED ARTICLES: A Day (Well Spent) At Pratapgad Fort In Maharashtra
MONKEY POINT, CASTLE ROCK POINT AND ARTHUR'S SEAT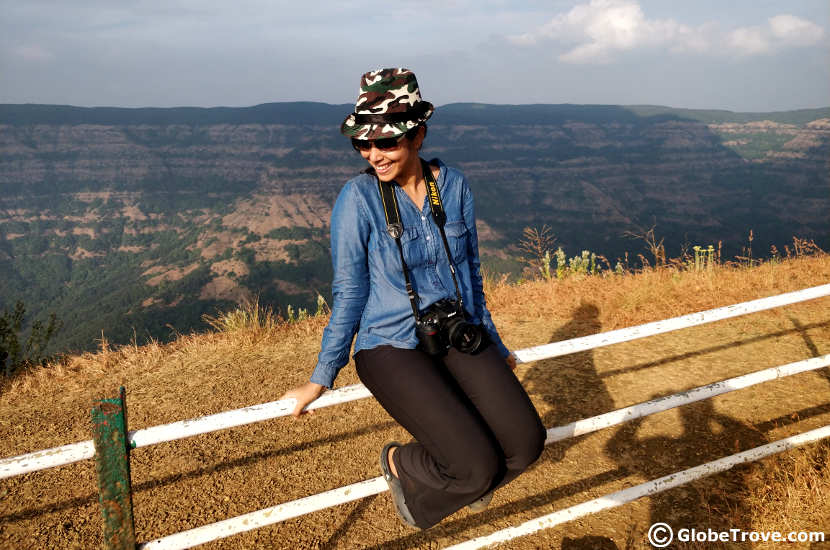 Me being a monkey at Castle rock.
Monkey point is another popular view point in Mahabaleshwar. This point is easily accessed by car. In fact, there is even a large parking lot for buses and cars next to it. Hawkers peddle their wares and you can catch a quick bite to eat. Be forewarned though. The parking lot may be large, but it gets full fast. A small mud road takes you towards Castle rock point and Arthur's seat. Both are view points and rank high on most tourist's places to visit in Mahabaleswar and Panchgani list. These view points can be accessed only by foot. Motorized vehicles are not allowed on the road. The walk is easy enough and it is quite pleasant.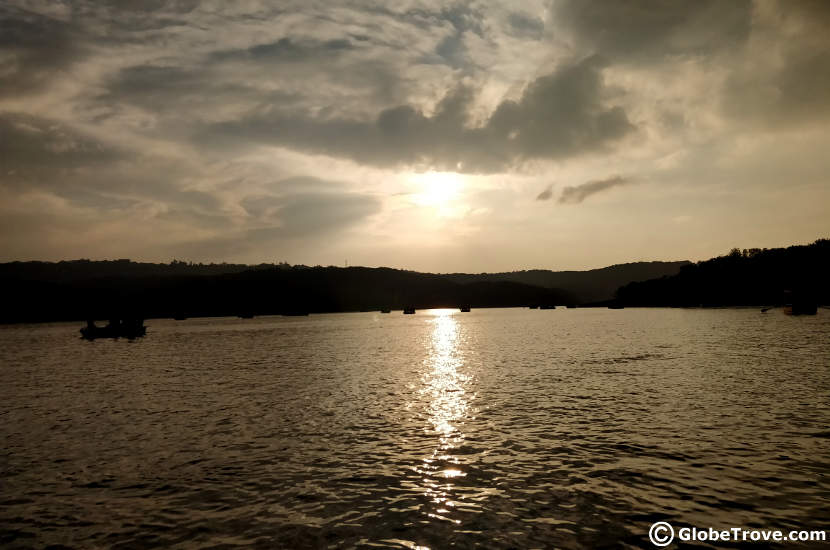 Shawn's idea was perfect and watching the sun set from the middle of Vena lake felt so serene.
Vena lake was not on our list of places to visit in Mahabaleshwar and Panchgani. We drove past it on our way to Pratapgad fort and that's when we noticed it. The crowds there were mindboggling. Shawn noticed boats perched on the side of the lake. Being the water baby that he is, he wanted to get in them. That's how at the end of the day we headed over to Vena lake. We got a boat which we could row on our own and spent an hour on the water. The best part about the whole adventure was going to the far end of the lake which was quiet and peaceful. We watched the sun set before turning back to return the boat.
The Mapro fruit garden is probably the busiest of all the places to visit in Mahabaleshwar and Panchgani in the evening. You can spot it easily when you drive from Panchgani to Mahabaleshwar. It's packed we people jostling each other to get in. We reached the fruit garden rather late at night since we wanted to avoid the crowds. The highlight about the place was the ice-cream and the strawberries.
There are so many places to visit in Mahabaleswar and Panchgani. It is hard to narrow on just a few. With just about 24 hours in our hands, these were the spots that we managed to cover. I need to be honest though, we covered everything at leisurely pace. We took time to pause, watch and listen. We explored and marvelled. It felt good to take travel slowly.
Have you been to Mahabaleswar or Panchgani? What spots would add to the list? We look forward to hearing about your adventures in the comments below.
*This post contains Affiliate links