Every once in a while you take a trip that simply changes the game. The kind of trip where everything sort of falls in place and all the stars align and it's all so frigging beautiful it makes you delirious. That my friends, was my Bali experience.. Epic, gorgeous and utterly unforgettable. Bali was the trip of a lifetime, the island where i made memories to last forever and the birthplace of my travel blog Tia Does Travel. I had just returned from China when i made the decision to travel to Indonesia and what better place to go to than Bali, where a friend of mine from London is now living and working in. Me and two girlfriends joined my expat friend in Bali in the beginning of July.
Now I was initially worried about travelling in July due to the ''Monsoon Season'' in Asia which typically runs from June to November but we only got 1-2 showers for our 15 days there! The weather was fantastic, the girls were amazing companions, our Villa (Villa Josie) was so gorgeous it made my head spin and Bali was just…travel goals. One of my favourite Asian Destinations – Spiritual, laid back and stunningly beautiful Bali was a dream come true.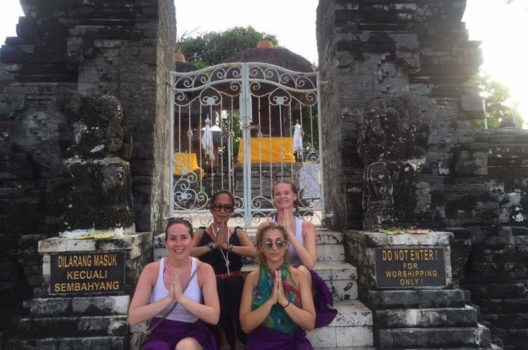 Hunting for waterfalls In Bali
In all of my travels I am always in search of something special. Exploring nature and wildlife is one of my favourite things to do while I am away- and those types of experiences are usually the ones that stick with me. They are the ones that hold a special place in my heart, and that is the primary reason why I choose to travel to tropical Destinations.
To see Mother Nature at her absolute best.
And so in true Tia Fashion, while in Bali I was searching. This time I was chasing a waterfall in Bali.
Bali has a plethora of waterfalls to visit, all beautiful in their own way, but the one that took my breath away was the Tegenungan Waterfall.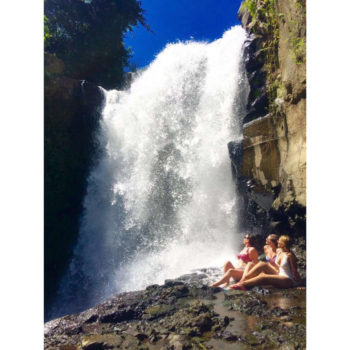 Lounging by Tegenungan waterfall in Bali.
Tegenungan is a popular waterfall and is one of the few that isn't located high into the mountains. In fact, Tegenungan is very conveniently located between the provisional Capital of Despansar and the popular Ubud Town (about 10km drive) – yet still safely hidden away from any city hustle and hustle! As much as i love exploring remote locations, sometimes you just need a bit of convenience so you can see and experience as much as possible!
Tegenungan Waterfall Location: Kemenuh, Sakawati, Gianva
We very conveniently had a local driver, so off we went to exploring Tegenungan, geared up for an adventure with cameras at the ready! As we got closer to the waterfall, we could see winding paved village roads beautifully lined with rice fields on either side.
At the end of the road we arrived to a neat (for asian standards) parking lot and entrance with ticket booths. A Ticket costs 10,000 IDR – an equivalent to 1 dollar! I giggled at that, knowing that in my country of Cyprus we would charge 10 times that. In true Asian fashion, souvenir and art stores as well as street food carts are lining both sides of the entrance area.
There are also a couple of restaurants – I especially liked the Balinese style duck at Bebek Tamarind which i enjoyed AFTER a good few hours at the waterfall- coz who has time for food and adventure and nature are calling !
We started descending stairs- lots and lots of stairs and the deeper down we went, the denser the jungle got. Various viewpoints along the way showing an impressive green panorama ..and then you start to hear the water. The further down you descent the louder the noise gets and then THERE is was.. in all its full, majestic, jaw dropping glory. Whoa.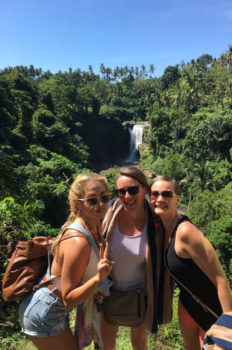 Tegenungan waterfall in Bali is a gorgeous spot.
The water volume was impressive to say the least, and i remember just standing there for a minute, taking it all in – the cascading water of Tegenungan came down hard into the plunge pool and the surrounding dense foliage, creating waves and swirls and making a sound so deafening i could hardly hear my friends screaming at me to take my clothes off and hurry up inside.
So off we went tippy toeing along the vast pebbly base to get into the water, and let me just tell you – when the water is rushing in and swirling all around your feet with that kind of force, remaining ladylike isn't the easiest of tasks!
TIP: The plunge pool at the base of the Tegenungan waterfall is large, and goes deeper as you go in, so i would keep a very close eye to children not being left unattended. There are also pebbles and rocks or various sizes at the bottom of the pool so anyone that lacks strong legs or steady steps should wear some sturdy shoes!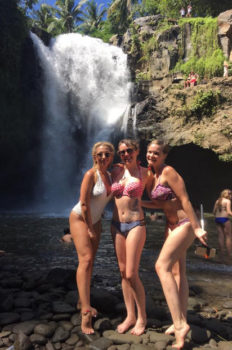 One more pose at Tegenungan waterfall in Bali.
We found a big wooden log to sit on and take in the views sounds and colours and or dear poor driver took on ''Instagram boyfriend'' Duties for the day – by taking an embarrassing amount of photos and videos.
After taking in every inch of the plunge pool and surroundings, we started to explore the varying highs that can be climbed around the waterfall – a short walk into smaller pools of softly trekking water and a climb through the jungle to sit right at the top of the waterfall.
I remember feeling so elated at that moment, the cascading water spraying in my face, my friends by my side witnessing all the miracles that this Earth has so graciously provided us with. It reassured me that i was right to follow my heart to Bali and to travel in general – and made every painstaking step i made saving money to travel absolutely worth it.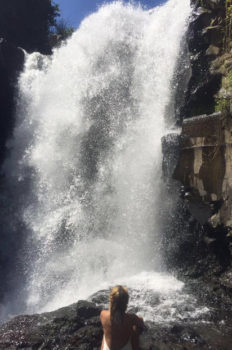 One final pose at Tegenungan waterfall in Bali.
Pure magic.
We returned home tanned and exhausted, but elated and with our hearts full.
Chasing a waterfall In Bali was one of the most memorable actions i took during my Indonesia travels and Tegenungan will always have a special place in my heart!
Happy travels to everyone, and I hope you have enjoyed this article!
Tia
Xoxo
Have you chased a waterfall in Bali? We would love to hear about your experience in the comments below.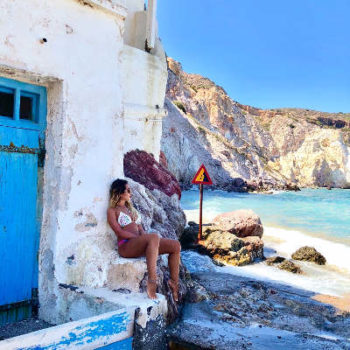 ABOUT THE AUTHOR
Tia is a Greek Cypriot Travel blogger and a Dancer/Choreographer. Her biggest passion is traveling far and wide to exotic destinations and she believes in doing that as well as possible. She is always on the lookout for affordable luxury and places to spoil yourself without breaking the bank. Tia has danced in the pouring rain in China, chased sharks in Belize, got lost in NYC, climbed mountains in Costa Rica, and bathed elephants in Thailand. She has eaten her way through Italy and Dubai, found Nemo in Egypt, beach hopped the Greek Islands and stood In awe at the waterfalls in Bali. She believes that life is way too short to only learn one culture, food or language and her ultimate goal is to see as much of the world as she possibly can for as long as her legs can carry her! Her website inspires wanderlust and provides detailed ultimate guides to various Destinations.
Tia blogs about her adventures at Tia Does Travel. You can also catch her on Instagram and Pinterest.
*This post contains Affiliate links
** The photographs in this post are not the property of Globetrove and have been provided by the author.