Our trip to Sri Lanka was a spontaneous decision. We wanted to escape from the busy city life and get a breath of clean fresh air. We did not have our itinerary planned. In fact, all that we had was a hotel booked in Colombo where we would crash on the day that we arrived. While it wasn't the first time had been backpacking, it was the first time that we left our plans completely fluid. It was scary and at the same time I found it liberating. The freedom that came along with the lack of pre-planning is rather intoxicating and I definitely want to do it again.
Sri Lanka's main international airport is in Negombo which is a major city that is situated a short distance away from the country's capital city Colombo. We arrived in the middle of the night and chose a hostel in Colomobo (Thambili Island @Stubbs) where we would stay. I have to admit, compared to the rest of the country, Colombo is expensive, but we had our reasons why we needed to stop there. The temporary driving permit was one of them. In retrospect, I would probably have chosen to stay in Negombo the first few days but it wasn't like the stay was all that bad. Just more expensive than we planned.
DAY 1: Colombo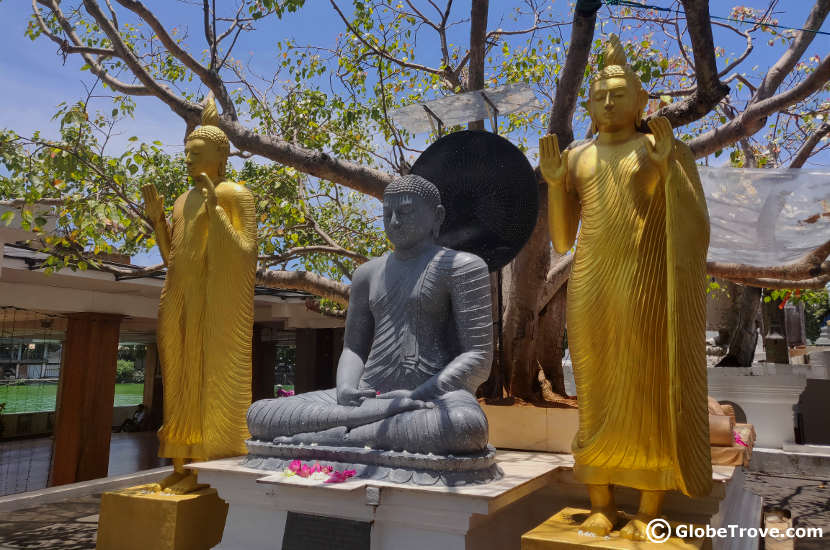 Our first stop during our 2 weeks in Sri Lanka was Colombo.
GETTING THERE: We took a UBER from the Negombo airport to our hostel.
WHERE WE STAYED: Thambili Island @ Stubbs
Since we arrived late at night and were in Colombo early morning, I'm just going to start with the day we started exploring the city. Our Day 1 of our 2 weeks in Sri Lanka was rather calm and peaceful. We wanted to ease into our holiday and that was exactly what we did. We got up late, so we felt rested and then headed out to explore the city.
Our first stop was the Independence square since it was on our way to the city. The gorgeous quiet gardens around it meant that we landed up spending a good deal of time here. The monument itself was very pretty and it seemed like a nice place to hang out. A lot of the locals sat around chatting working while tourists like us came and went.
There are a number of beautiful temples in the city but we did not have much time so we chose to visit two temples that were the Seema Malaka temple and the Gangaramaya temple which were very close to each other. The temples are really gorgeous. You can follow the links to see just what I mean. After a lunch date with an old friend and her husband who gave us a crash course on Sri Lankan cuisine and advice on the food we should try in Sri Lanka we headed out to the centre of the city where we found ourselves inside the gorgeous red mosque. Time really flies when you are having fun and by the time we were done with the city, we chose to head to the sea face to watch the sun set.
DAY 2: Galle And Unawatuna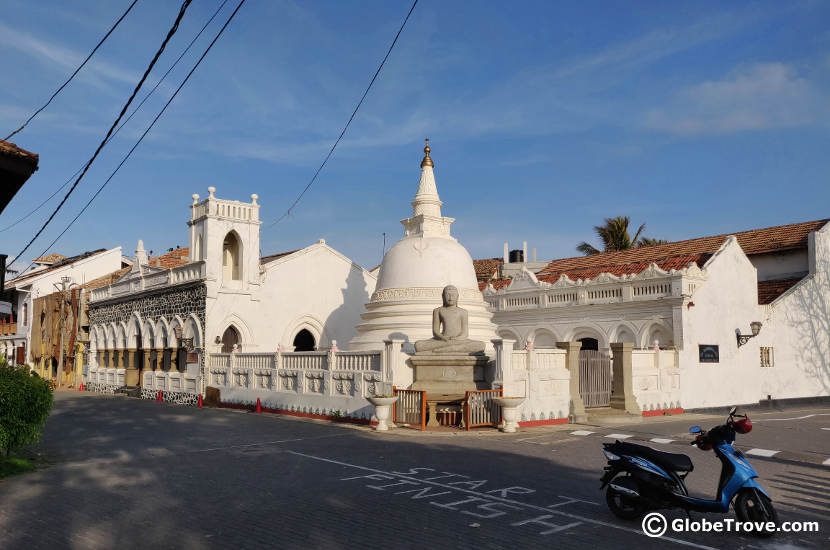 One of our favourite stops during our two weeks in Sri Lanka was Galle.
GETTING THERE: We have a detailed guide of how we travelled from Colombo to Galle and Unawatuna by bus. If you are headed that way, I suggest checking it out.
WHERE WE STAYED: Hansa Villa
Day two of our 2 weeks in Sri Lanka involved getting up early, packing our bags and heading out to get a temporary driving permit so that we could drive in Sri Lanka legally. Luckily for us the bus stand to get to Galle was close by and the process was quick. We arrived at our accommodation in Unawatuna somewhere in the afternoon and rented a bike so that we had the freedom to roam around. I've written how we got a rental motorbike in our guide to Unawatuna which you can find in the related articles below so I won't repeat myself.
We were very tired that day so after resting for a bit, we headed out to for lunch before heading out to Galle fort which was one of the highlights of our stay in the area. I think that visiting the fort in time for the sunset was one of the wisest decisions we made. Since we had a late lunch, we were not particularly hungry at dinner and we picked up a snack on our way back to our accommodation. A short stroll on the beach concluded our day.
DAY 3: Unawatuna
Unawatuna is one of the gorgeous spots that should be on your Sri Lanka itinerary.
Day 3 in our 2 weeks itinerary in Sri Lanka was rather laid back but interesting. We were up early and headed out to spend the day at the beach which was a short walk away from our accommodation. We spent the morning lazing on the chairs of one of the restaurants and sipping cocktails mixed with the local alcohol. Definitely our kind of vacation! When the sun got too hot, we headed back home for a cool shower and headed out to explore the area. Our choices for the days exploration included a Buddhist peace stupa and Jungle beach . If you've read our post about Jungle beach, you have probably had a good laugh and it still brings a smile to my face. The day ended with a delicious romantic dinner on the beach. Honestly, after that day I half wanted to stay in Unawatuna for just a bit longer if you know what I mean.
DAY 4: Tissamaharama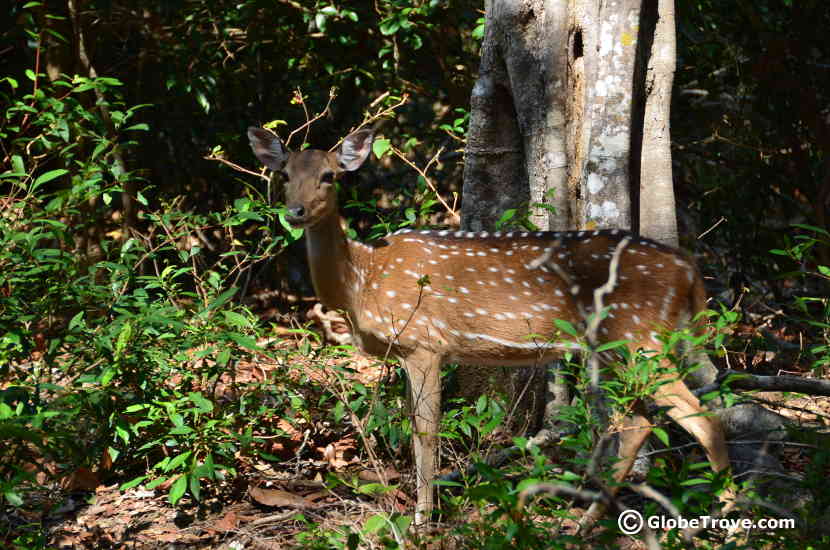 The Yala National Park safari made it on to our list of things to do during our 2 weeks in Sri Lanka.
GETTING THERE: We took the bus from Galle to Tissamaharama. You can follow the link to our post about the journey if you need a more detailed understanding of how to make the journey.
WHERE TO STAY: We stayed at Nature Resort
Day 4 of our 2 weeks in Sri Lanka started off a little late in the day. We caught our bus and reached Tissamaharama in the afternoon. It took us a while to reach our accommodation and then we had a bit of an issue with our room so we ended up feeling disgruntled. Don't get me wrong. The place was nice, clean and the wifi was great but we booked the cheap room which looked very different in the photographs and ended up in a small room with no windows and barely enough room to move around so we had to upgrade.
Anyway, after the rough start, we decided to explore the city. We booked a safari for the next day and walked around the city which was relatively small. I think the nicest thing to do in Tissamaharama was to sit by the lake and watch the world go by. It is quiet and peaceful. It was so nice that we returned the next day for a troll again.
We ended the day searching for a place to eat dinner and found a lovely restaurant called Hotspot where we loved the ambiance and the food so much that we requested the chef to give us cooking classes the next day after our safari. After a bit of persuasion, he said yes which was amazing. We turned in early that night because the safari started early the next morning.
DAY 5: Tissamaharama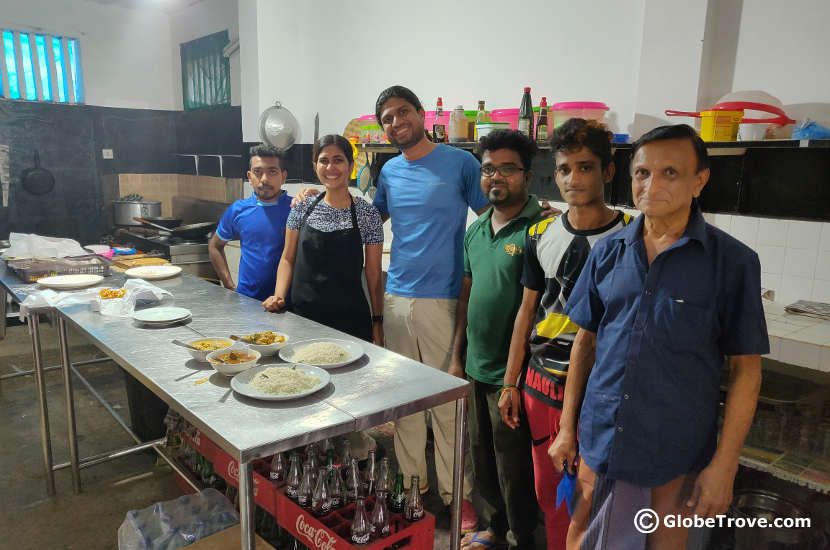 Let's not forget adding a cooking class to the Sri Lanka itinerary.
I have to admit that getting up early the next day was rather difficult since we were tired. One thing that I can say is that getting up early was so worth it. Remember to carry water when you travel on your safari though, it gets hot and you will get thirsty. We planned on carrying some fruits but ended up forgetting them in our rush. After rather eventful safari, we returned to the city to for our cooking classes. It took us an hour to learn the differences between Indian cooking and Sri Lankan cooking and we learned how to make our favourite dishes which included the lentil curry and the pumpkin curry. Yummm… It makes me drool even today. Our day ended with us sitting and chilling by the side of the lake. I think that is one of my fondest memories of the city.
DAY 6: Ella
The infamous Demodara bridge made its way onto our list during our 2 weeks in Sri Lanka.
GETTING THERE: We took the bus from Tissamaharama to Ella. I was a little nervous about this journey because I read that the frequency of the buses isn't that good especially in the evening. In the end, we did not have much of a problem. I've written a post about our experience and you can click on the link in case you need more details.
WHERE TO STAY: We really love our quaint accommodation in Ella. We stayed at Nimsara Homestay
Our Day 6 of our 2 weeks in Sri Lanka symbolized that the holiday was half way done and we couldn't believe that time had flown by so fast. We started out from Tissamaharama rather early in the morning. The journey to Ella was scenic and rather quicker than we expected. After a quick stop in our accommodation, we decided to head to Demodara bridge which is a popular landmark that requires a short hike. There are a number of trails that can take you there, but we found a rather scenic route.
Since we had planned to spend another day in Ella we weren't in a rush to see everything in a day. After our trek, we found our way to the Ella flower garden restaurant where we enjoyed some of Sri Lanka's fragrant tea while enjoying a rather spectacular view.
DAY 7: Ella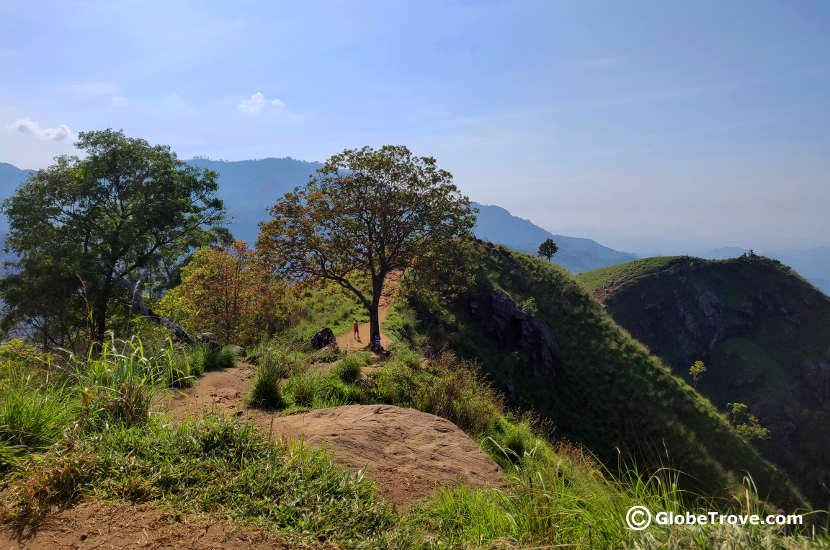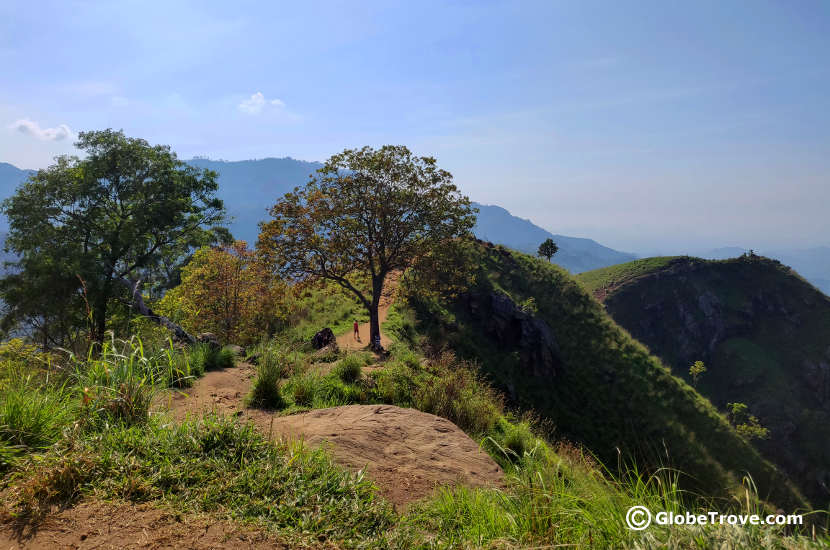 Quaint Ella was a respite from the cities that we visited during our 2 weeks in Sri Lanka.
Our second day in Ella was rather relaxed. We headed out to Little Adam's peak which turned out to be a surprisingly easy trek with a gorgeous view. We spent a good deal of time at the top and returned back famished. After a quick brunch we realized that the over cast day meant rain. That quickly put a halt to our exploring, so we decided to stay at home and play some of our travel board games instead. We carry them for occasions like this!
DAY 8: Kandy And Dambulla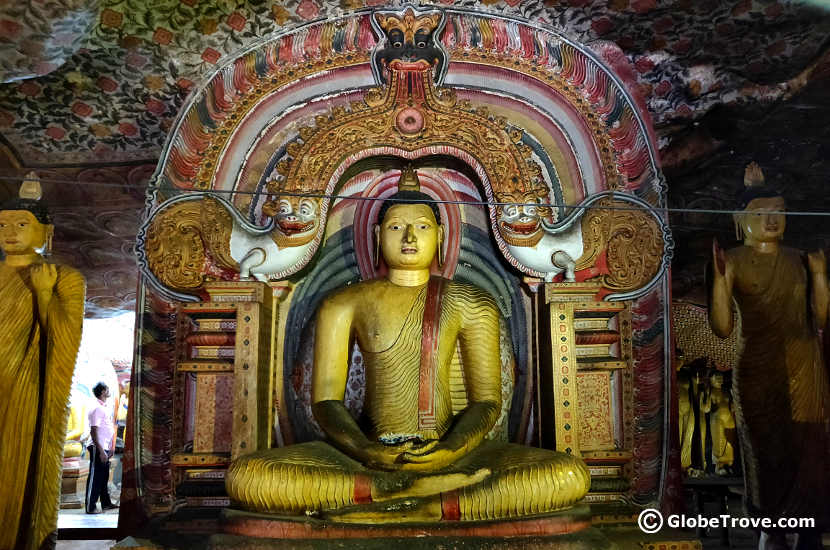 During our 2 weeks in Sri Lanka, we spent the most time in a town called Dambulla.
GETTING THERE: We took the train from Ella to Kandy which was one of the most scenic journeys that we took in Sri Lanka. From Kandy we took a bus to Dambulla.
WHERE TO STAY: Richwin Villa
This was one long journey. We decided that with the number of days we had in hand, we did not have time to spend in Kandy. The train journey from Ella to Nuwara Eliya is the most scenic but the journey is rather long. By the time we reached Dambulla it was late afternoon, and this was despite the fact that we started our journey at 6 am. As can be expected, we were exhausted and there wasn't much that we could do on our first day in Dambulla. We did however head out and walk around the town to get a feel of it.
DAY 9: Polonnaruwa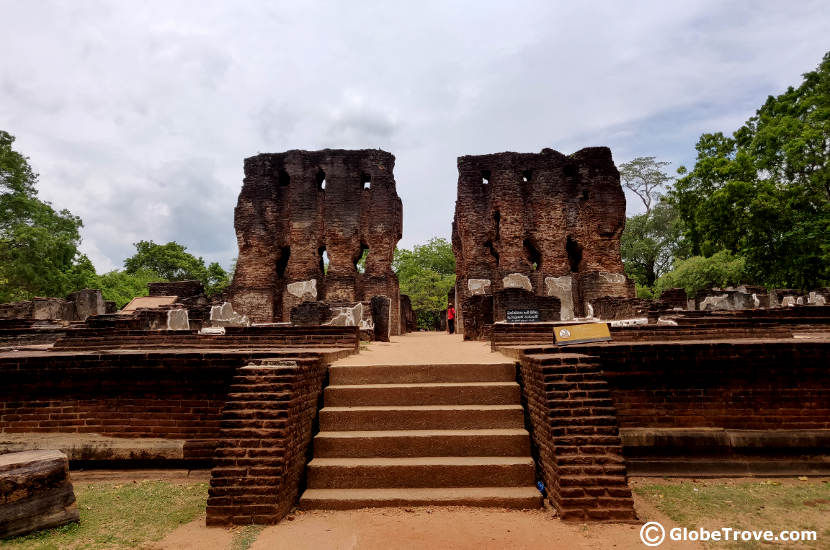 My favourite UNESCO site that we visited during our 2 weeks in Sri Lanka was Polonnaruwa.
Dambulla continued to be our base for the next couple of days. Day 9 in our 2 weeks in Sri Lanka turned out to be rather eventful. We initially planned to visit Sigiriya that day and then head on to Polonnaruwa. Unfortunately, we did not realize that SAARC passports get a 50 percent discount on the entrance ticket and we hadn't carried ours. Rather than head back all the way, we headed to Polonnaruwa instead where we realized that the same rule applied to this UNESCO heritage site too. There was no way we were wasting our day so we paid the whole price and started our exploration of the ancient city of Polonnaruwa. I have to admit that I think that this particular UNESCO site was the prettiest and the best restored among all the sites that we had visited in the trip.
On our way back we stopped to watch an enormous horde of elephants drinking water at a watering hole. We could watch them from the side of the road which was rather amazing. We tried to count the number of elephants and it was rather hard but our count went as high as 40! We had never seen a sight like that before.
DAY 10: Sigiriya And Anuradhapura
Sigiriya and Anuradhapura were two other UNESCO sites that made their way onto our Sri Lanka itinerary.
We were determined to visit both Sigiriya and Anuradhapura. So on our 10th day of our two weeks in Sri Lanka, we got up early, ensured that we had a full tank of fuel and hit the road with our rented motorbike. I thought that we would probably spend just an hour at Sigiriya, but I was mistaken. The museum, the climb and exploring the city at the top was too much of a draw to breeze past. AT around 11 am, we found that we had to tear ourselves away from the UNESCO site or we wouldn't make it to Anuradhapura in time.
The journey to Anuradhapura may have just been 70 odd kilometres but on the motorbike it seemed extremely long. Luckily Shawn and I love long bike rides in the countryside. Anuradhapura was far more spread out than Polonnaruwa was. It did not help us much that the map provided wasn't in English and wasn't quiet as accurate. The city however is really interesting as the old city and the new one merge to form one entity. The ride back home was peaceful. We stopped on the way to catch a bite to eat. Our choice was a cob of corn which was freshly plucked and by the locals.
DAY 11: Trincomalee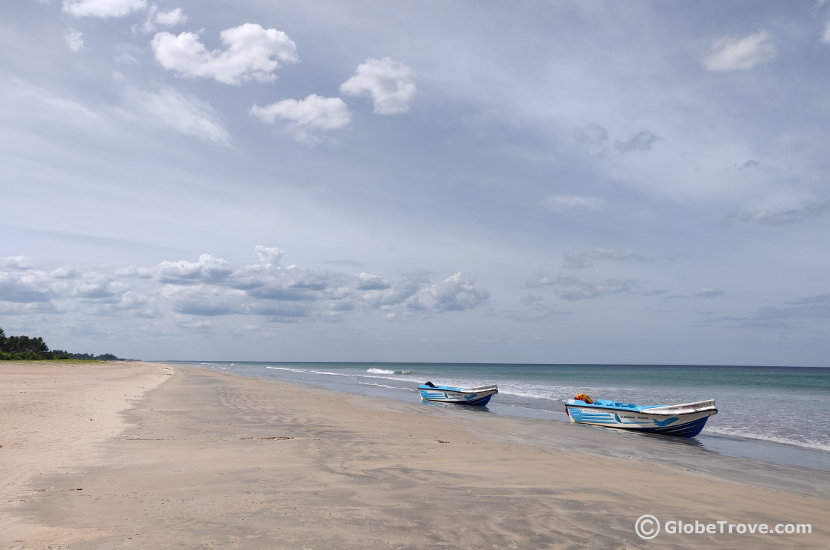 We stopped in Trincomalee during the end of our two weeks in Sri Lanka.
GETTING THERE: We took the bus from Dambulla to Trincomalee.
WHERE TO STAY: Natraj Hotel
Day 11 was when we decided that we wanted to head to Trincomalee for some rest. We however still needed to visit the Dambulla cave temple first. We thought that it would be a half an hour adventure. We landed up spending three hours there. That meant that we left to Trincomalee later than expected. The bus journey was pleasant, and we had a quick stop on the way to catch a bite to eat. We arrived in Trincomalee in the afternoon and were rather pleased to see how close to the beach our accommodation was.
Our main goal in Trincomalee was to kick back and relax. I did not want to be in a city and not see the sights in Trincomalee either. So in the evening we headed out to catch a glimpse of the temples, visit a popular fort and walk down the sandy stretch of the beach while the sun set.
DAY 12: Trincomalee And Pigeon Island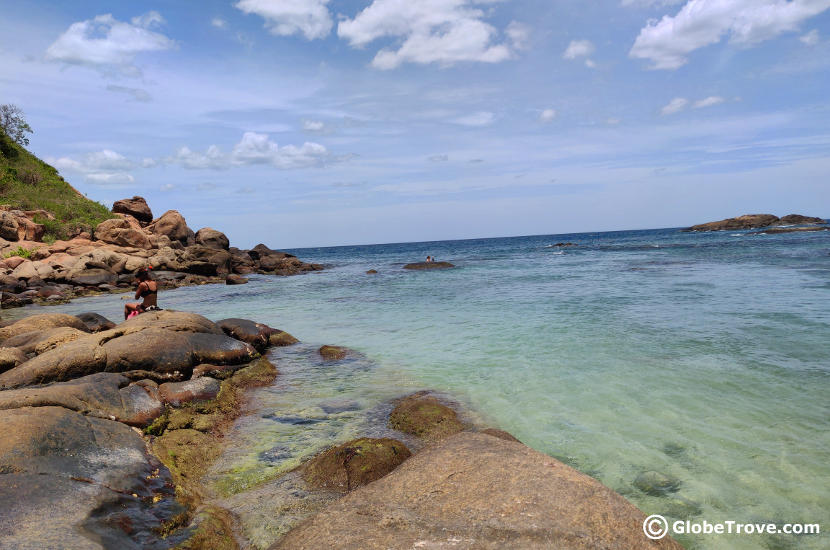 One of our days during our two weeks in Sri Lanka was spent on Pigeon island.
Shawn and I had been lugging our snorkelling gear all over Sri Lanka and we finally got to use it at the fag end of our 2 weeks in Sri Lanka. I have to credit Shawn for this. He planned our day to the T. We left to Nilaveli beach in the morning and caught a boat to Pigeon Island National Park. It was a gorgeous spot where we enjoyed snorkelling in the different coves. We also got robbed. Sigh! But that is a different tale which you can read if you follow the link in the related articles section to the post we have written about it.
After spending as much time as we could on Pigeon Island, we headed back to our accommodation to have a shower and rest. Shawn managed to twist his ankle and had a nasty sunburn. He did insist on hobbling along the beach in the evening.
DAY 13: Trincomalee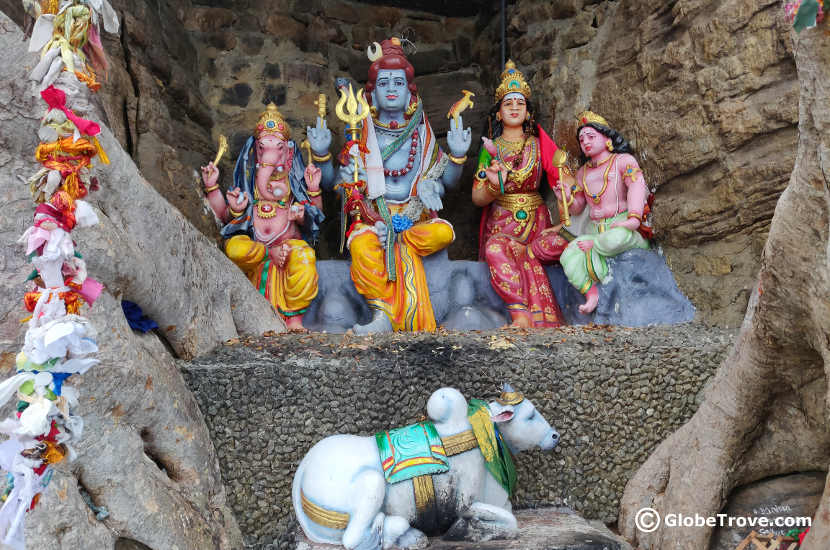 One last day in Trincomalee before our 2 weeks in Sri Lanka came to an end.
This was our last day before we headed back to Colombo and then on back home. We chose to relax on the beach and enjoy the view. We found a quaint little place where we could get a couple of beers and sit in the shade. I get rather nostalgic as I remember this day. It was a simple day with no complex plan. Just some quality time with each other.
DAY 14: Colombo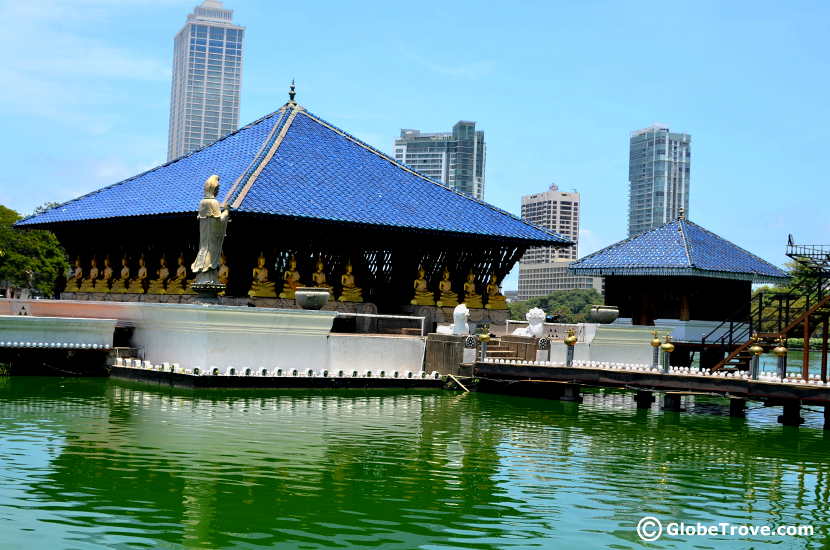 The end of our two week itinerary in Sri Lanka.
GETTING THERE: We took a bus from Trincomalee to Colombo.
We knew that we had a long journey ahead of us, so we caught our bus early in the morning. We had a late-night flight and we were not too worried about it since we had a good buffer where time was concerned. The journey was particularly tiring because even after we reached Colombo, we had to head on to Negombo airport and take a flight home.
We reached Colombo around 4 pm and spent a while wandering around the city before we bid adieu to Sri Lanka. 2 weeks in Sri Lanka had made an impression on us and we found that we had fallen in love with the simple country with beautiful landscapes, friendly people and delicious food!
Have you been to Sri Lanka? Which places did you visit? We would love to hear about your Sri Lankan itinerary in the comments below.
*This post contains Affiliate links