Ah, the Maldives! For years, these gorgeous islands had been my unattainable dream. "It's so expensive to visit the Maldives!" and "I'll never have enough money for the Maldives!" had been my main excuses up until a few short years back.
My doubts and excuses for not visiting the Maldives ceased when a friend of mine let me know about the island of Maafushi. It turns out, Maafushi is one of the most affordable Maldivian islands! Thus, I stopped making excuses and started planning my trip. Yay, Maldives!
Here are the main reasons why you should choose Maafushi for your Maldives vacation.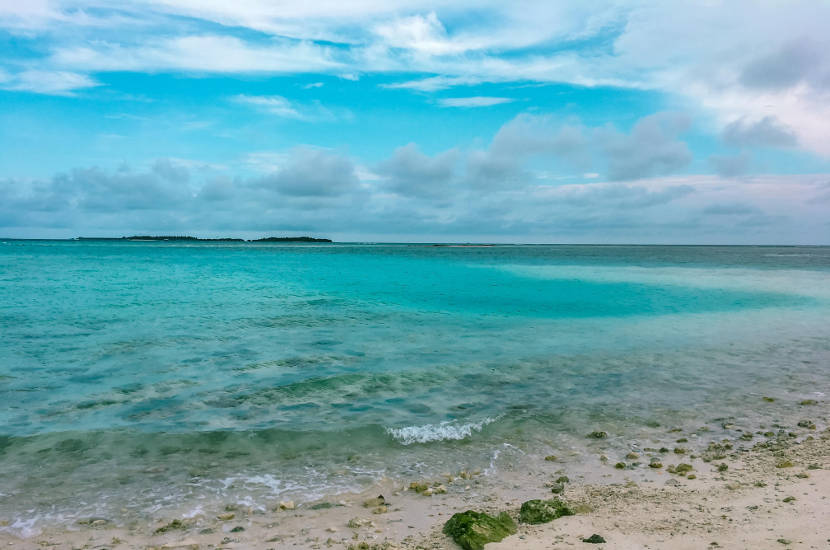 Just look at that clear water… Makes you want to jump in!
There are two types of islands in the Maldives – public and private ones. The private islands are usually one whole resort, and this is where you can usually find the infamous water villas. Maafushi is a public island, which means two things – first, some locals live there, and second, you need to dress appropriately. You can find a few different hotels on the island, prices start at about $50 per room per night. However, you can find AirBNB offers and stay with the locals for even better prices! This is something that you can't do on private islands in the Maldives, so if you want to save money – choose a public island.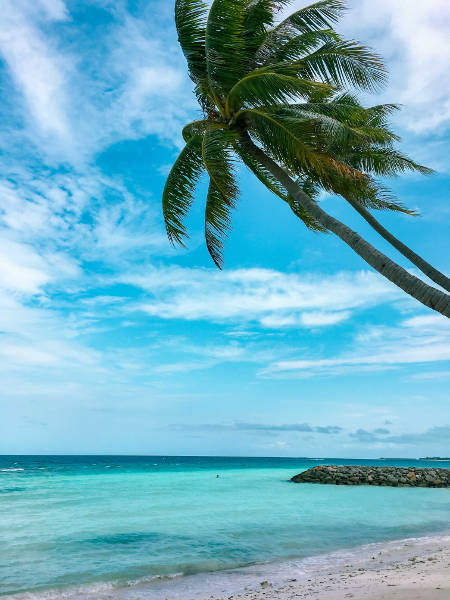 Not all the beaches allow bikinis but that doesn't make it a reason not to visit them!
As the Maldives are mostly Muslim, some common decency needs to be complied with. When you are visiting Maafushi, you can't wear bikinis on the beach. Weird, right? You should really respect these rules and their religion and keep your shoulders and knees covered. Come on, it's not that hot!
Some public islands have specialized bikini beaches – these are usually secluded with some sort of "fences". Maafushi is not a very large island (you can go around it on a 20-30-minute walk) and it doesn't have that many beaches. The Bikini Beach is located right in front of the Arena Beach Hotel, which was our choice for staying on Maafushi.
Take a look at the underwater views!
Maafushi offers you the Maldivian experience just as much as the expensive resorts do. You don't need to spend $1000 per night for a water villa – you can enjoy the white sands and turquoise waters just as much on a public island and a normal hotel. And Maafushi is absolutely gorgeous! The beaches and coastline is breath-taking, even when it's stormy and raining. I have seen many sunsets in my life, but none like the ones in the Maldives – and Maafushi offers these just as much as the expensive resorts.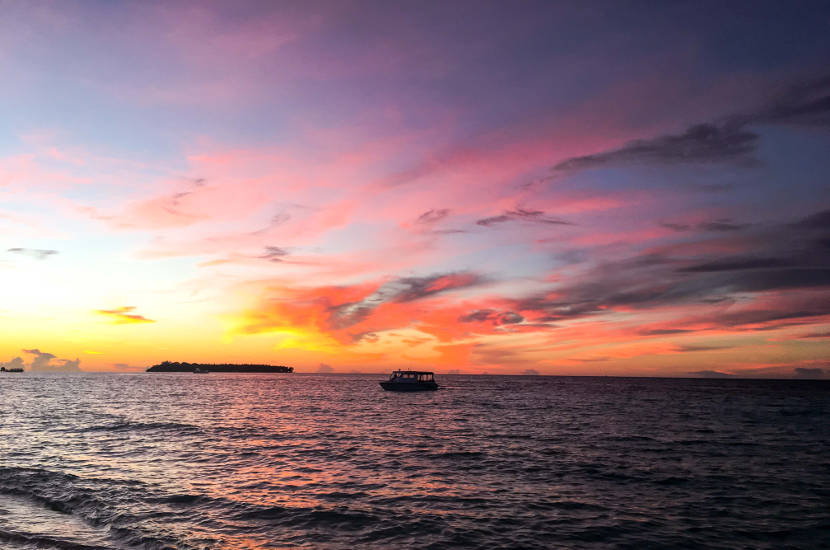 The sunsets in Maafushi is gorgeous! 
As an avid snorkelling fan, the Maldives were the perfect place for me! Some islands in the Maldives have spectacular house reefs with many fish, but others don't. In addition, the house reefs of some islands could be too dangerous for you to enjoy them.
Luckily, the reef in Maafushi is great – shallow, a few different fish species that you can spot, and the current is not strong at all. The best place to snorkel is right in front of the island's bikini beach. But make sure you always swim with a T-shirt on, otherwise you risk spending your vacation with severe sunburn!
ABOUT THE AUTHOR
Rosie is an explorer, a dreamer and is in love with sea and sunsets. She currently live in my hometown – Varna in Bulgaria, but is on the road all the time!  With 18+ countries, 80+ flights, she just can't get enough of the world! Her blog,
Trips With Rosie,
has many important practical travel tips, itineraries, and fun things to do all over the globe. You can catch Rosie on
Instagram
too!
*This post contains Affiliate links
**Images are provided by the contributing authors and are not the property of Globetrove.