I first heard of the Marine Ecology Research Center (also known as MERC) when I was checking out the things to do in Kota Kinabalu. Located on the Gaya island off the coast of Kota Kinabalu, the Marine Ecology center is a part of Gayana and is a little off the beaten path. Why? Simply because the Gaya island resorts are an expensive alternative to the popular Sapi, Manukan and Mamutik islands. In order to visit you need a private boat to take you over or you need to be staying on the island. Both of which can get extremely costly. Luckily there is a not so costly alternative. Day trips!
MARINE ECOLOGY RESEARCH CENTER (MERC)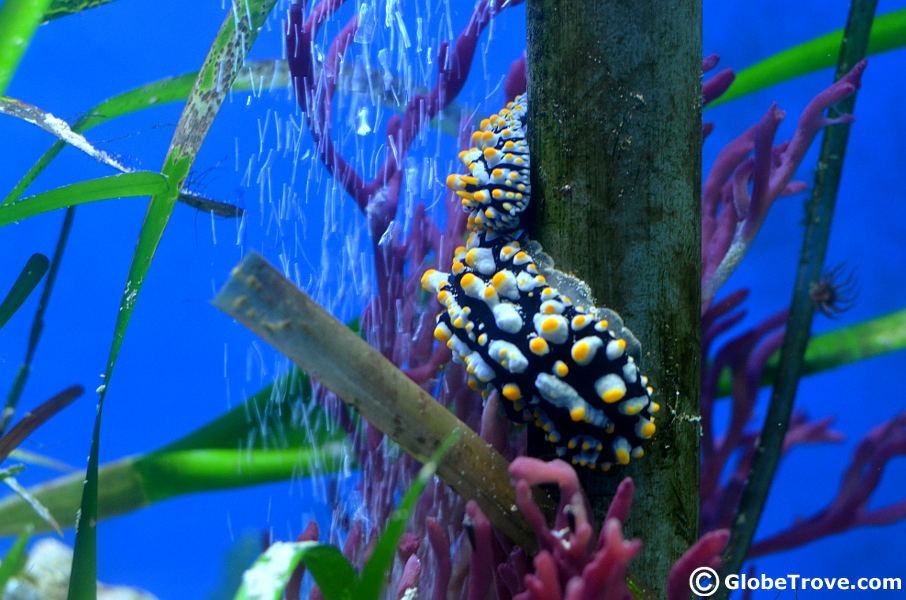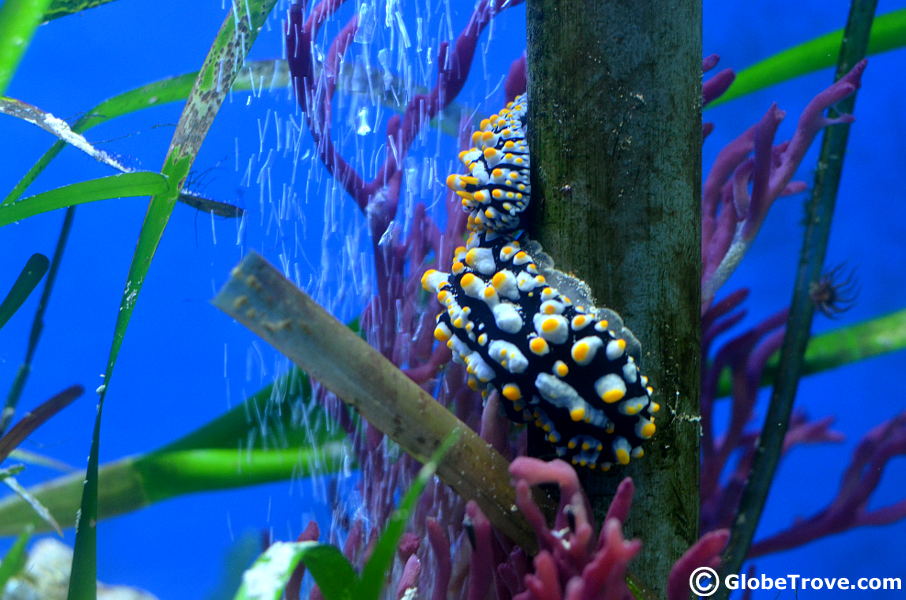 Learning about Marine life from the experts!
Everything seems to fall into place the moment you set foot on Gaya. The MERC employees are notified of your impending arrival. It is a short walk from the jetty to the MERC center. We were greeted by one of the employees who immediately escorted us to a small auditorium where we watched a 15 minute video on what MERC aims to do.
MERC initially started out to conserve Giant clams. It is the video that told us about the seven different species of giant clams that live around the coast of Borneo. These clams however are going extinct for a number of reasons. In order to protect the species, MERC was set up and the center now breeds and releases clams into the waters around Gaya.
As time progressed the center also started working with coral restoration projects. Some of their works can be seen as you snorkel in the waters surrounding Gaya. They use a variety of techniques to create artificial coral reefs and enhance the growth of coral. Much to the satisfaction of everyone, these techniques seem to be working.
A SHORT TOUR AND A LEARNING EXPERIENCE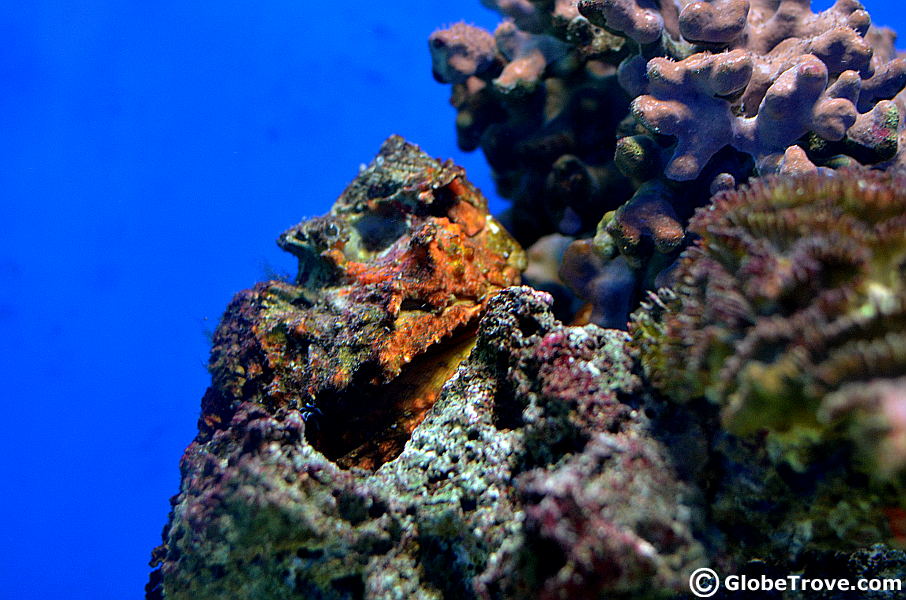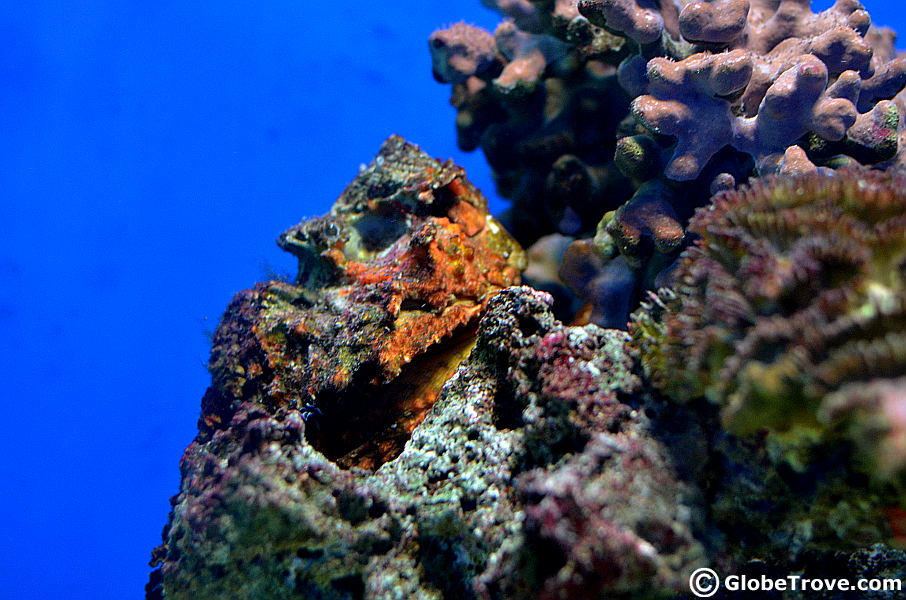 With the short video done, we were taken to see the different species that were housed within MERC. It Was here that we first caught sight of the stone fish. Don't worry if you haven't spotted a stone fish when snorkeling or diving. These guys are so notoriously good at camouflaging that it took me a while to spot the guy even though I knew that he was there!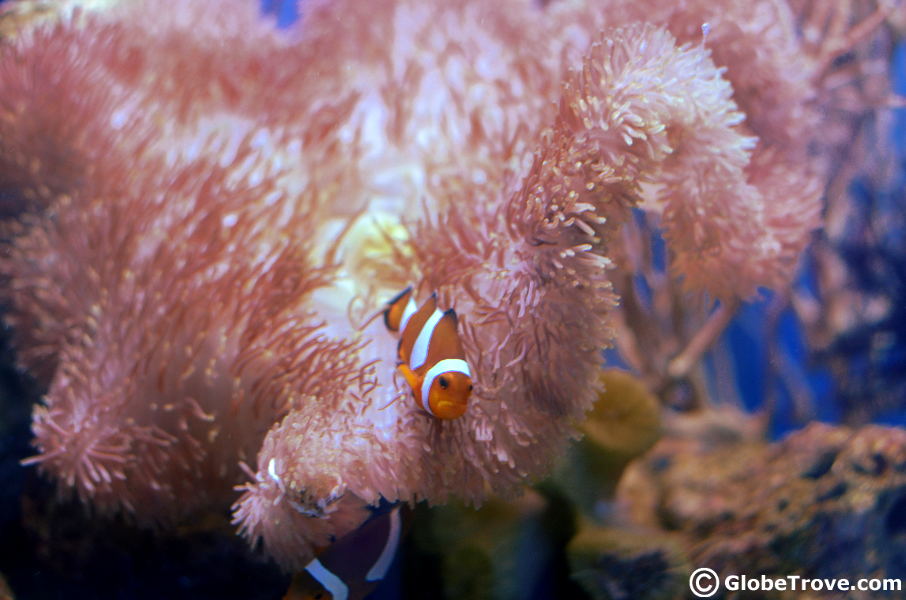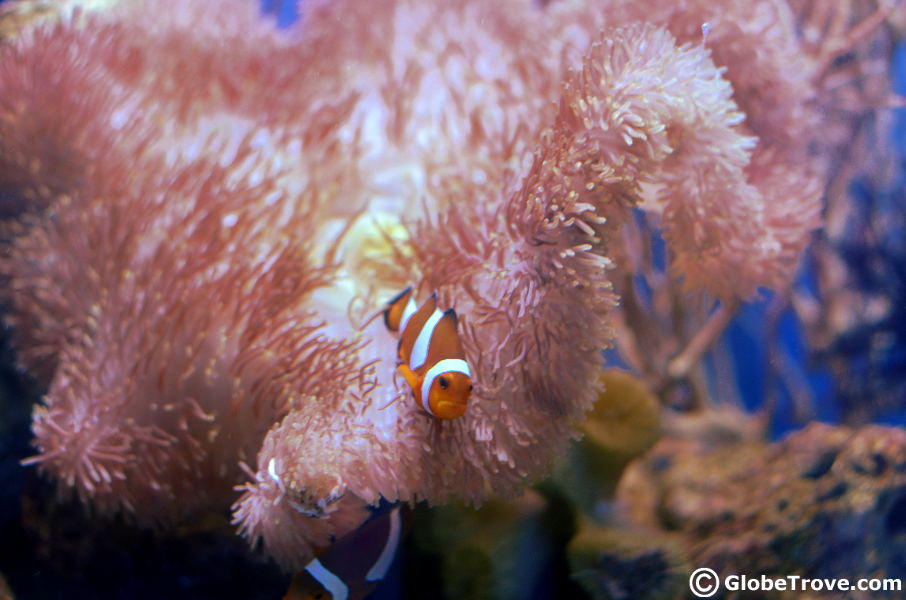 We also caught a glimpse of the famous clown fish. The one that we popularly know as Nemo. You can see them when you dive or snorkel and they are really quite pretty. What we didn't know is that the pretty thing that the clown fish live in is called a sea anemone. Looks pretty and you do feel tempted to touch it but DON'T! Sea anemones have a nasty sting. In fact, the sea anemone is a predator. After implanting itself on a rock it waits for its prey to swim into it. The tentacles then paralyze the poor fish with its toxins. The clown fish is the only species that is known to be resistant to this toxin. Hence it doesn't seem to mind the sea anemone at all.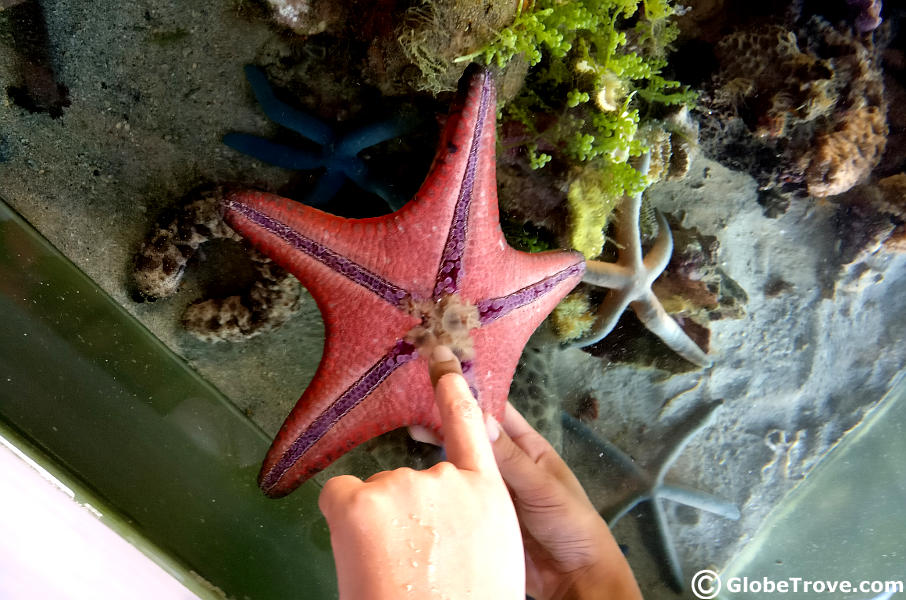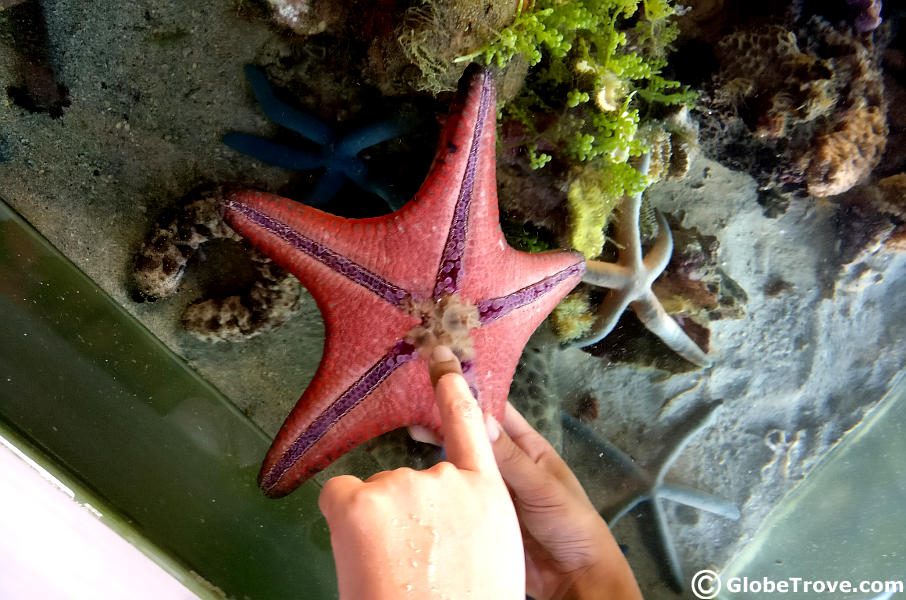 Life is all about learning.
One of the most interesting parts of the short tour was the hands on experience. One of the tanks houses star fish and sea cucumbers. At first I was very hesitant to touch the sea cucumbers. They looked so much like slugs that it really went against my grain. After a bit of encouragement, I did and I must admit that I don't have the same response now. The glass allows you to see how the starfish and the sea cucumbers use their mouth parts. I spent a good amount of time marveling at how the different sea creatures survive.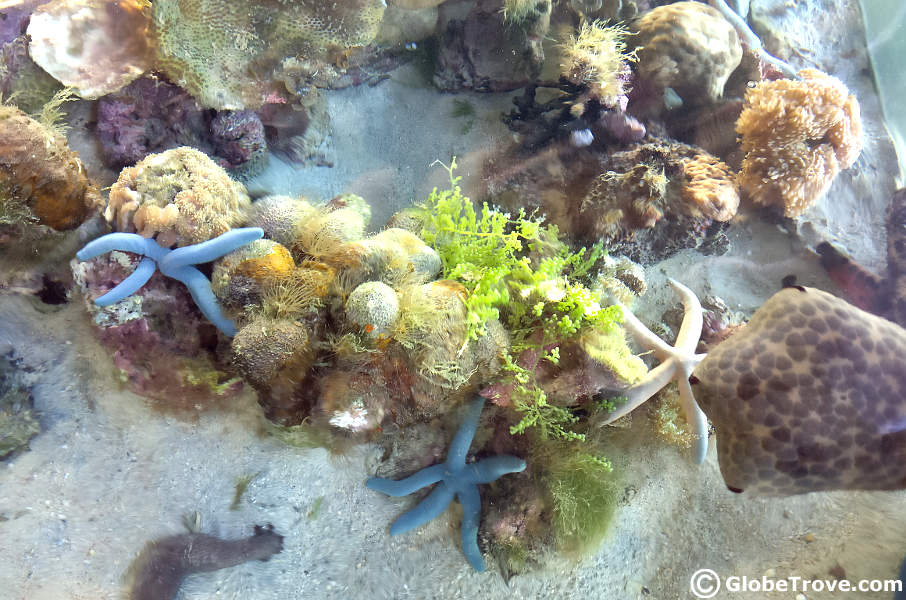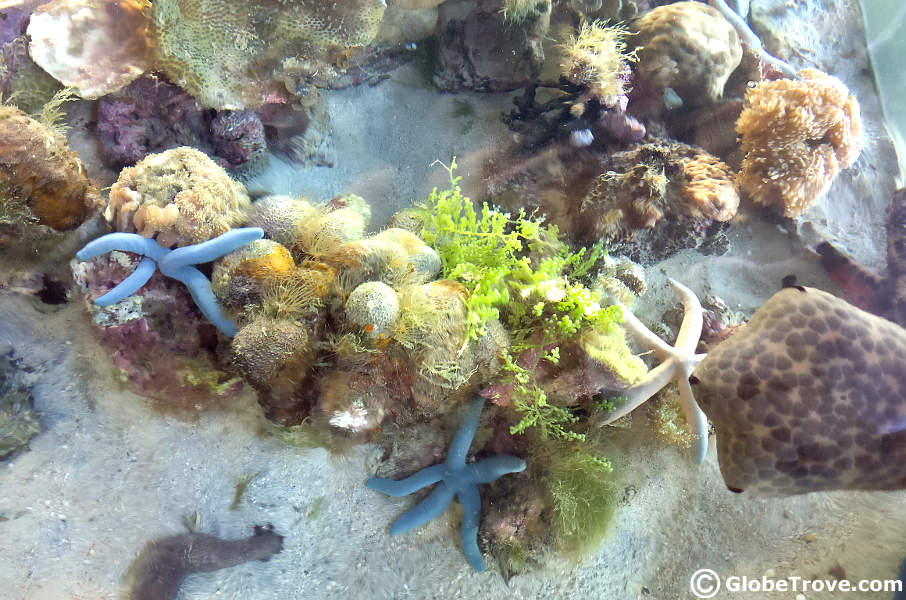 A view of the starfish tank.
I guess I tend to forget just how diverse the marine world is! The Marine Ecology Center (MERC) on Gaya was a good reminder about how diverse and yet how fragile our marine world is. It reminds us just how big a role we have to play in keeping this ecosystem alive. For me it was reminder to do my part however small it maybe.