We did Anuradhapura in combination with Sigiriya which turned out to be a really tiring day. In retrospect, we wouldn't have done it differently largely because of the time constraints that we had. Plus, we wanted to head to Trincomalee before our holiday came to an end. Located in the Northern Central district of Sri Lanka, Anuradhapura is one of the ancient capitals of the country. The city hasn't totally disintegrated into ruins and thanks to the Sri Lankan government restoration work on the parts that are less well maintained are under way. A noteworthy fact is that like Sigiriya and Polonnaruwa, the ancient city of Anuradhapura is a UNESCO world heritage site.
A lot of people head over to Anuradhapura and stay in the city. This gives them a whole day or more to explore the heritage site. Some take tours from either Dambulla, Kandy or Polonnaruwa. We decided to head there on our own from Dambulla. Now there are a couple of local buses that ply between Dambulla and Anuradhapura. They are easy enough to catch. The city however is much larger than Polonnaruwa so moving around would need some form of transport. Many tourists prefer a bicycle. Since we had already rented a motorbike for the day, we headed to Sigiriya first and then headed out to the ancient city. While the journey was rather long, the route was scenic, and it worked out well for us because we got a chance to explore the entire city complex.
ANURADHAPURA: Entrance Fees And More
The entrance fees to the ancient city of Anuradhapura can be obtained at Archaeological museum. The cost of the ticket is 25 USD which translated to 4100 LKR (depends on the exchange rate) while we were there. It is important to note that the SAARC countries have a 50 percent discount on the entrance fees if they produce their passport. That was how we managed to pay 2050 LKR per person instead of the whole price. Another important thing to note is that the ancient city of Anuradhapura is open from 7 am to 5:30 pm every day.
While Anuradhapura is an ancient city, it still has a number of religious sites that are in use. It is interesting to note how both the ancient world and the modern world collide. That being said, there are a couple of things that you should note when you visit. I'm just going to list a few things that I think people should pay attention to when they head there.
Like I said before, Anuradhapura has a lot of religious sites. It is important that you understand this and enter the religious sites paying due attention to the cultural practices. This includes keeping your shoulders covered and removing your hat and shoes.
When you take photographs, ensure that none of them are taken with your back to the Buddha. This is considered disrespectful.
Be respectful and don't make a lot of noise. Do not disturb the people who are praying and give them way.
VISITING THE SIGHTS IN ANURADHAPURA
We managed to get our hands on a brochure for the ancient city. Unfortunately, it wasn't one that was in English. It did have a map on it that came in rather helpful because it told us about the general direction in which the sites were. I should warn you that the map isn't exactly to scale and in some instances, we found ourselves going on a wild goose chase. Then again it may have just been my map reading skills. Lol.
Now to quantify and list everything is going to be rather difficult, but I will try and give you an idea of what to expect and what to keep your eyes open for. As you approach the ancient city, you are bound to see stupas. It doesn't matter which direction that you head in from. In fact, we saw so many stupas that we had stupa fatigue (not sure if that is a real thing!) at the end of the day. It may have also been that we were very weary after the running around in the days running up to that day.  I'm going to walk you through some of the amazing places that we stopped at on our journey through the ancient city of Anuradhapura.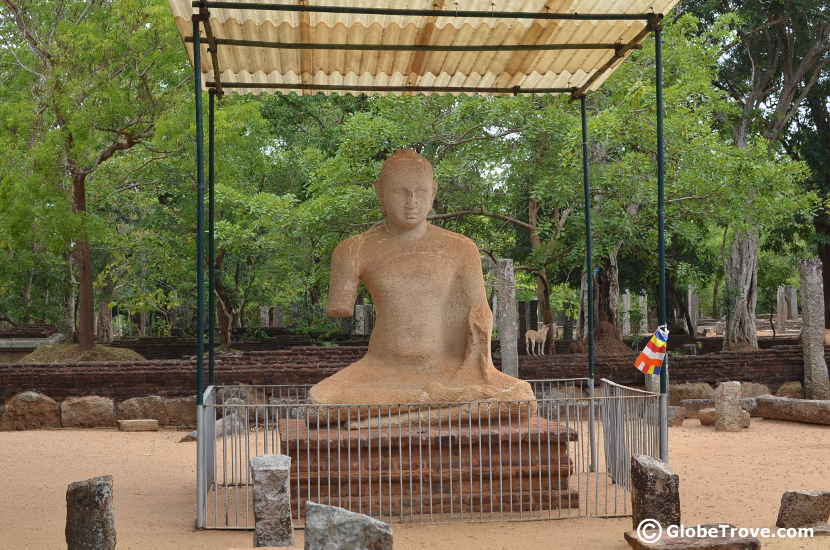 A sculpture in the museum in Anuradhapura.
As soon as we got our ticket at the museum, the guard came over and knocked off a stub. We were rather surprised and after a bit of questioning, we were able to discern that it was the stub that granted us entrance into the museum. The Archaeological museum is currently under renovation, so its main building is shut down. That does not mean there is nothing to see. A number of statues and artefacts cover the outer expanse of the museum. It shouldn't take you long to walk through them.
I had a bit of trouble pronouncing this name. It is a bit of a tongue twister. Nevertheless, it was also the place that we probably spent the most of our time in. It may have been largely because it was the first stupa that we visited. The Ruwanwelisaya Dagaba is a beautiful stupa which is painted white. It is currently still in use as a religious site. The stupa is one of the world's tallest standing ancient monuments and it is also one of the Solosasthana or the 16 places of veneration. It therefore should not come as a surprise to see numerous devotees making their way to this spot.
Walking distance away from the Ruwanwelisaya Dagaba is the Lovamahapaya. Make sure you head towards it too. A little after it is the Wel Bhodhiya which is another religious structure. Like the Ruwanwelisaya Dagaba, this too is an active religious site.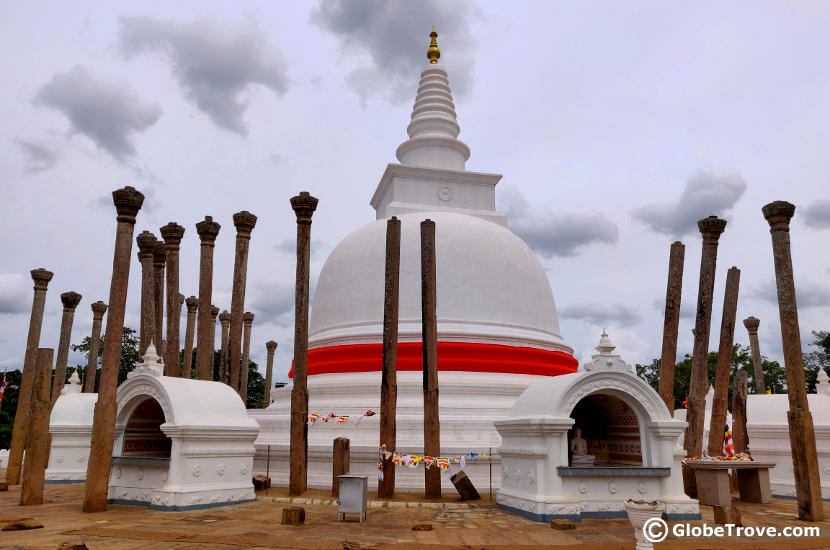 Thuparamaya Image house in Anuradhapura.
400 meters north of Ruwanwelisaya Dagaba is a stupa called Thuparamaya. This stupa is said to have been constructed by King Pandukabhaya. Some of the documents say that it was the first Buddhist shrine in Sri Lanka. The inscription also said that it contains the relics of Lord Buddha. A number of Kings worked to restore and maintain this shrine. In my opinion, it is one of the prettiest stupas in Anuradhapura.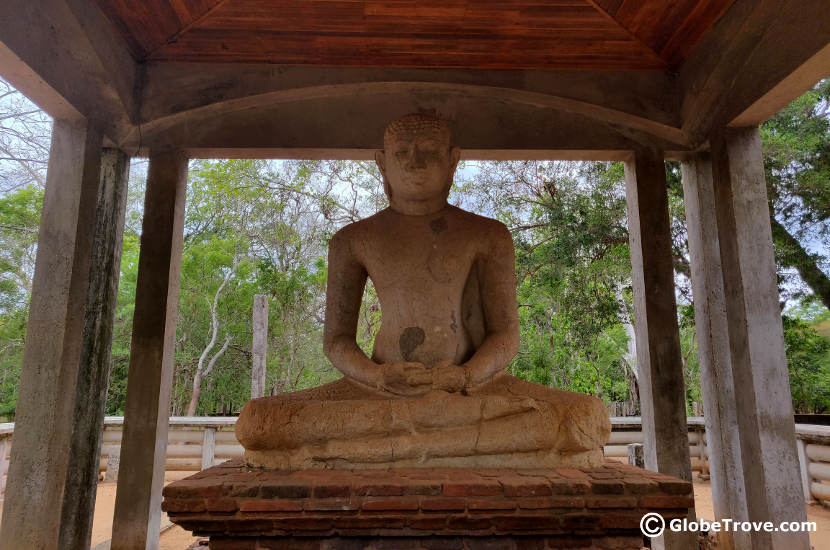 The Samahi Buddha in Anuradhapura.
We heard a lot of buzz about the Samadhi Buddha and we also realized that one of the stubs on our ticket was dedicated to it. The Samadhi Buddha is supposed to be the most exquisite Buddha image found in Sri Lanka. It belongs to the 5th -6th century A.D. and is sculptured in the Gupta style. It is said that the image may have had gilt and jewels on it too. It gets its name because the Budha is positioned in Samadhi posture. There is also a Bodhi tree shrine here that is definitely worth visiting.
While still within Anuradhapura, the Isurumuniya temple requires a separate ticket to enter. The ticket costs 200 LKR per person and is available at the entrance of the temple. Unlike most of the other places of interest, the temple is differently structured. You can climb up a rock face (its an easy climb) and catch a glimpse of the stupa on top of it. Religious shrines are present at the bottom of the rock face. The temple is famous for the carvings that it holds. It is still an active religious site so there are numerous devotees pouring in at any point of time.
Anuradhapura has a lot to see. I would have loved to do it at a more a relaxed pace but with the time considerations that we had, it was the best that we could manage. It is a gorgeous place to visit and one that I highly recommend. If you do have to choose between Anuradhapura and Polonnaruwa, I would suggest Polonnaruwa. It may not be the most popular choice, but it is easier to move around and while I loved both places, I enjoyed Polonnaruwa more.
Have you been to Anuradhapura? We would love to hear all about your experience in the comments below.
*This post contains Affiliate links