When we booked our holiday to Indonesia, I was torn between wanting a bit of luxury or backpacking like we usually do. In the end backpacking won out. I guess at the end of the day, once you have a taste of the backpacker experience, you can never have enough. Our first stop on our journey was to Nusa Penida. Since we had just a week in hand, we did not want to waste time. The question however was how would we get from Bali to Nusa Penida by boat and where would we get the tickets. Would heading out early morning be enough or would we be taking a risk? We had way too many questions but in the end we decided to wing it and this is how we made it across. Hopefully, it will not worry you as much as it did us.
FERRY POINTS TO GET FROM BALI TO NUSA PENIDA
I did my research before we reached Bali. There are two different harbours that you can leave out off. Well, not exactly harbours but more like terminals. These are none other than Padangbai and the other is Sanur. The previous time we had taken a boat from Bali to Gili Trawangan from Pandangbai and this is a feasible spot if you are staying closer to Padangbai. Padangbai also has local ferries which are cheaper but I have heard that there is no fixed schedule for those. Since we were heading out from the airport we chose to head out via Sanur. Shorter distances, more populated and hopefully more boats.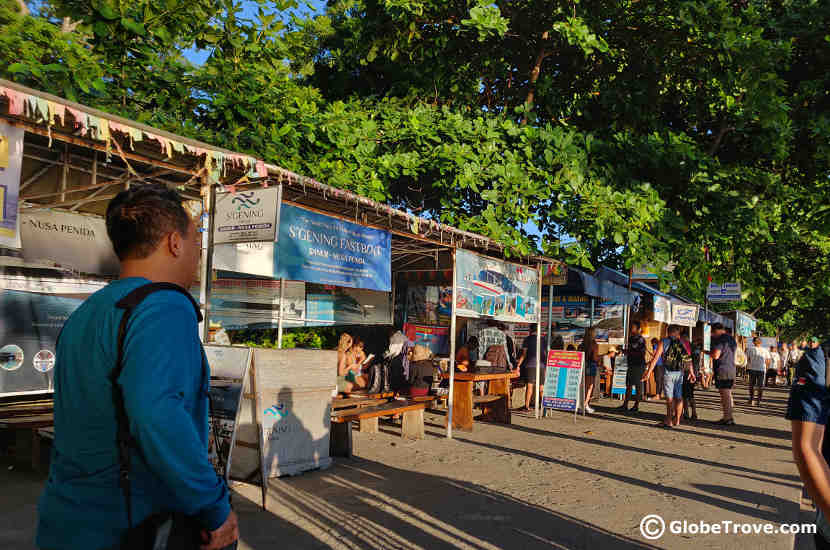 The harbour at Sanur where numerous ticket offices are stationed.
If you have been to Bali before, you know that the lines for the visa on arrival are really crazy. While we touched down at 12:30 am, we found ourselves getting out of the airport only at 3 am. We thought that we would get up late and get a ticket but when we reached the hotel, they told us that we needed to book our ticket a day in advance. Ooops! They also told us that the boat out of Sanur leaves at 7 am and if we wanted a ticket to head there before that. Which meant minimal sleep. Sigh!
We picked up our ticket at the first company that we got (Angel Billabong) and we paid 200,000 IDR/ person for our tickets across. They did quote 350,000/IDR for a return journey with a flexible return date. We did not choose the second alternative because we wanted to move on to the next island from Nusa Penida. The boat that we were given was due to leave at 8 am which made us a bit restless because we were tired and would have appreciated a few more minutes sleep. The boat finally did depart at 8:30 am later than expected but we were glad that we left early because we got more time on the island and did not spend a lot of time stressing over it. Another noteworthy fact was that the boat that left from Bali to Nusa Penida was full when it left.
I would also like to add that we travelled during the non-peak season. People's experiences may differ if they travel when the influx of tourists is at its max.
THE JOURNEY FROM BALI TO NUSA PENIDA
I wanted to talk a bit about the whole trip across as there are somethings that are really worth mentioning. One of them is that since Sanur is mostly a beach area, there is no technical boardwalk that leads up to the boat. They dock a little way off shore and you need to walk through some amount of water to get in. Shoes and sandals are kept in a plastic box before entering. You then join the line to get on the boat.
Now it depends on the weather and how far off they have docked but there is the potential of getting wet. It also depends on how tall you are. A wave got me right up to my hips but I am short. Hahaha! Luckily we knew of the possibility and walked in with our swimwear on. We dried out quickly enough.
The rest of the journey from Bali to Nusa Penida by boat was uneventful. We stopped at the harbour in Nusa Penida which was close to Toya Pakeh. You immediately see a bunch of people asking if you want a taxi or to rent a motorbike. The rental price is 70,000 IDR/day for a motorbike just so you should know. Our host from Govardhan Bungalow however sent us a free pickup and we agreed to rent the motorbike from him for the same price which was so much more comfortable.
WONDERING WHERE TO STAY ON NUSA PENIDA?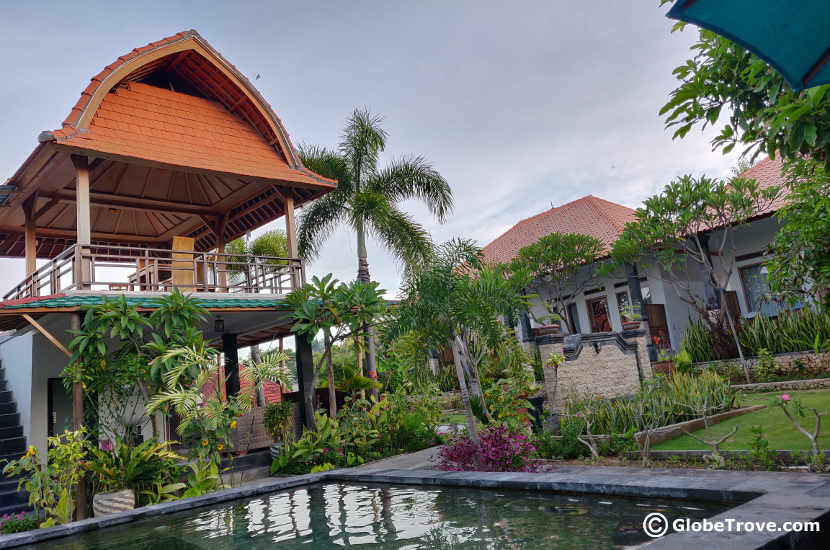 Govardhan Bungalows were our pick of accommodation and we did loved it!
I can't recommend Govardhan Bungalow enough, especially if you want to explore the island. Located a little way out from the main road, the access road is a bit off a steep walk, but it is worth it because the noise of the traffic does not affect you. The rooms themselves are very luxurious and comfortable, the pool is great, but the staff are excellent. They ensure that your every need is catered to. One of my favourite activities was to get up early and sit in the breakfast area watching the sunrise and Mount Agung come into view.
Have you travelled from Bali to Nusa Penida? What was your experience like? Let us know in the comments below.
*This post contains Affiliate links