Our last trip in our short vacation was from Nusa Lembongan to Bali. I think of all the trips we made this one had me a bit nervous just because of the weather conditions. I had heard that sometimes when the weather got bad, the ferries across were cancelled and we had a lot of rain in the days preceding it. The seas were a bit rough compared to our previous journeys in the week. Nevertheless we had a very smooth journey across and this is how we got everything in order before we crossed.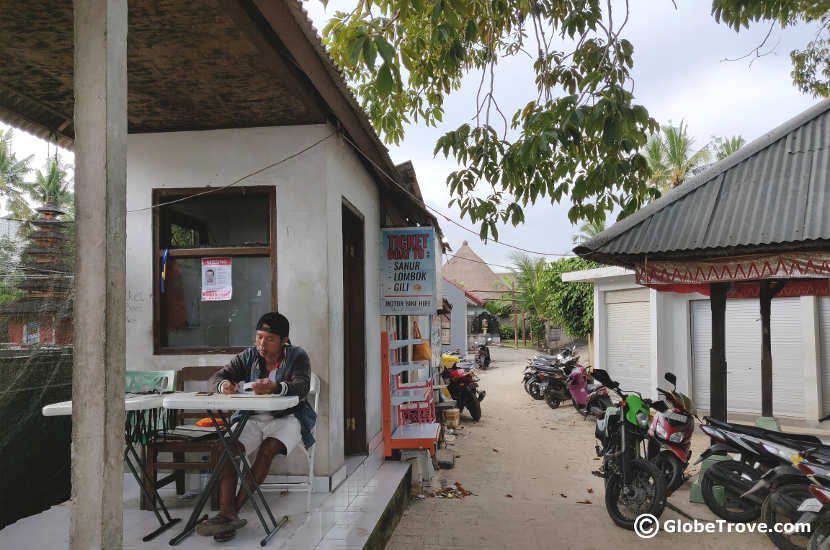 The ticket office at Nusa Lembongan.
If you are crossing over from Nusa Lembongan to Bali then there are a number of places where the ferry plies across from. Mushroom beach and Jungubatu beach are the two places that we were found. We chose Mushroom beach because it was very close to our accommodation and we did not have to worry about transport. We booked a flexible ticket (you can leave at anytime provided you show up 15 minutes before departure) the previous day and like our journey from Bali to Nusa Penida we paid 200,000 IDR/person.
The first boat leaves at 7 am in the morning but since we loved the breakfast at our accommodation, we thought it would be wiser to catch a bite to eat and then catch the 8 am boat which would mean that we would have the whole day in Bali. Turned out to be a wise decision.
If you are heading out to Nusa Lembongan from Bali, note that the boats leave either from Pandagbai or from Sanur. The costs and experience is similar to the one we had when heading from Bali to Penida. Pandagbai is also the harbour for boats leaving from Bali to Gili Trawangan.
CATCHING THE FAST BOAT FROM NUSA LEMBONGAN TO BALI
The fast boat from Nusa Lembongan was very similar to the one that we took to Nusa Penida. We had to wade through a bit of water to get in but it wasn't deep. Just a little higher than our ankles. Our shoes were put into a plastic box like before and we clambered in. This time the boat was almost empty. The water was choppy so we had a bumpy ride but it wasn't too bad.
I expected to dock close to Sanur like we did last time, however that was not the case. This time we found ourselves on a sandy beach which was a bit different to the rocky face we used to clamber onto the boat the previous time. That being said, we used Grab to catch a taxi and take us to our accommodation and we got a car very easily.
Wondering where to stay on this leg of your journey? As you can see from the map above, there are so many options and they really confused us. It took us a while to narrow down to the ones that we liked and we chose to look for location in combination with the number and quality of reviews. These were the options that we chose while we were in the area and we were very happy with them.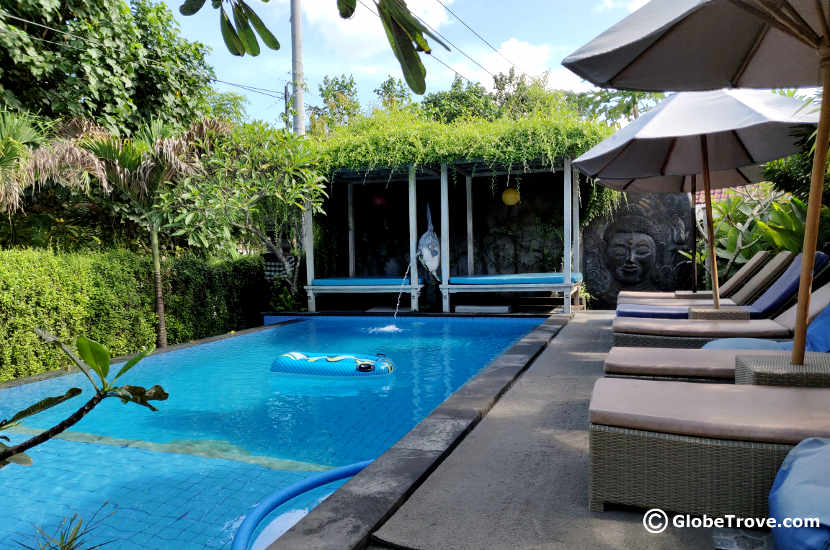 A glimpse of the pool at Koji huts.
Koji Huts: If you are wondering where to stay in Nusa Lembongan I would recommend taking a look at Koji Huts. They have a lovely clean pool, their accommodation is clean, large and airy. It is also very close to all the activities in and around Mushroom beach. A big bonus is that their breakfast is by far the best we had on our trip!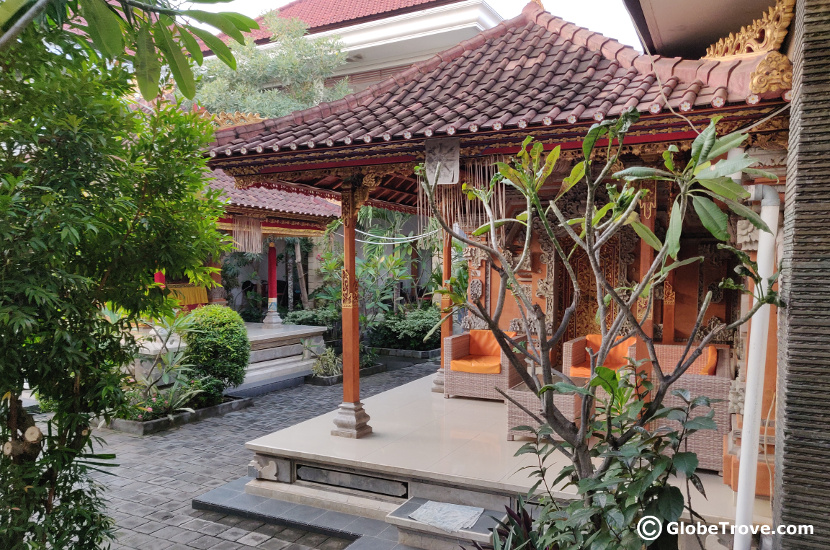 A pic from the ground floor. Our room had a view of the pool area but I just managed to get this one as we were in hurry to leave in the morning.
The Kutaya: We wanted to stay close to the airport since we had an early morning flight. The Kutaya was perfect for our needs. While we initially booked it just for a place to lay our heads down at night, we were rather surprised to find the room large and the bed comfortable. The swimming pool looked extremely inviting even though we really did not have a chance to use it. The best part was that it was a short walk from the accommodation to the airport so we did not have to get up extra early or worry about early morning transport/traffic.
Have you taken the fast boat across from Nusa Lembongan to Bali? What was you experience like? Let us know in the comments below.
*This post contains Affiliate links